Sources for this article include Timothy D. Kehr and an extensive interview with Bill and Helen Diehl in 2013.  Many thanks also to the Pavek Museum of Broadcasting and radiotapes.com.

ST. PAUL PIONEER PRESS AND DISPATCH
William Franklin Diehl was born in February 1926 and began his career in the media as a paperboy for the St. Paul Pioneer Press and Dispatch in 1941.  A phenomenal increase in subscriptions parlayed him into the job of copy boy when he graduated from High School in 1943 at the age of 17. In 1944, while taking evening classes at Macalester College, he became a copy editor (he also took film classes at the U of M).
In 1948 he became a Sunday movie columnist, and in 1950 he was promoted to movie editor with his column "Look 'n Listen."
He remained movie editor until 1985, and continued writing his column until he retired on May 31, 1996.
---
WMIN RADIO
His radio career started in 1948 at WMIN in the Hamm Building in St. Paul.  Below is a photo of Stuart A. Lindman holding pictures of Steve Cannon, Merle Edwards, and Bill Diehl in 1949.    Diehl left WMIN in January 1950.
---
KSTP-TV
In the summer of 1950 he did a movie gossip show on KSTP-TV called "Screen Stories," which he wrote, produced, and presented.  KSTP wanted him to stay but he wanted to keep his Pioneer Press job.
WMIN RADIO
He went back to WMIN in the fall of 1950 and stayed until early 1956.  There he had shows called "It's Your Diehl" and "Diehl's Caravan," where he played pop tunes, Broadway hits, and the songs of the day.  He worked mornings, and also on Sundays from 3:30 to midnight.
---
WTCN RADIO AND TV
From late 1955 to 1957 he was also at WTCN, mostly doing radio but also some TV.
---
WDGY
In the fall of 1956 he moved to WDGY, where he did the afternoon Top 40 show.  WDGY had become the first rock 'n' roll station in the Twin Cities earlier that year, and Diehl was the station's star DJ.  He was also the music director from 1957 to 1961 and got consistently top ratings.  He mostly brought in his own records, because the station's were "too scratchy."  Diehl was known for his phenomenal record collection, which he and his wife Helen bought mostly from Phil Moe at Pyramid Records on 11th Street in Minneapolis.  An early Storz ad described Bill this way:  "Top newspaper columnist, impersonator, humorist, inside-show-biz authority, business-newsman, full-fledged movie critic."
TEEN DANCES
In 1957 Diehl was asked to M.C. his first teen dance, at the Armory in St. James, Minnesota.  After that he made almost nightly appearances at local dance clubs with local bands such as Mike Waggoner and the Bops, the Trashmen, the Castaways, the Accents, the Underbeats, Gregory Dee and the Avanties, the High Spirits, the Chancellors, and others.  He became so sought-after that he often made three appearances a night on the weekends, with wife Helen rushing him from one venue to another.
The Underbeats' Rod Eaton remembers this about Bill:
Here's someone who needs no introduction – at least not if you listened to WDGY or attended dances in Minnesota during the 1960s. Bill Diehl was everywhere. As a radio disc jockey he not only had a commanding on-air presence, he also had the ability to showcase local bands' records. He MC'd dances all over the state several nights each week. And as a partner in Central Booking, he and Dick Shapiro worked with at least half of all the local bands. Bill appeared on stage with the Underbeats many times. He'd rush in, grab the mic, rev up the crowd, maybe give out a few records, chat with the band, then zip off to his next appearance.
Over time Bill became a friend, a fan, and a supporter. As movie reviewer for the St. Paul Pioneer Press Bill had private screenings of new films. He'd sometimes ask one or two bands to join him. The Underbeats saw the second James Bond film with Bill Diehl. Bill once invited us, and our wives and girl friends, to have dinner with him at his club. I'll bet other members gave us some strange glances that evening. He always sent gifts as, one by one, musicians got married. Bill's future wife Helen was an elementary school teacher. So Pat, nearing the end of her studies at the University, spent a day in Helen's classroom learning the realities of teaching. Bill Diehl was as much a part of the local rock scene as any of the bands. He played a major role in putting Minnesota music on the map.
---
BAND BOOKER
As he got to know the ballroom owners and the bands, he began to get them together as a favor to both.  The booking union was skeptical when he told them he didn't take a commission.  They were eventually convinced, but made him join the union as a licensed booker.  He and Dick Shapiro ran Central Booking for several years.
Bill actually belonged to five unions:
AFTRA – American Federation of Television and Radio Artists
ANG – American Newspaper Guild
IBEW – International Brotherhood of Electrical Workers – required in order to spin his own records
AGVA – American Guild of Variety Artists – required to appear on stage
AAAA – Associated Actors and Artistes of America
---
RADIO WONDERS
As a promotion, in November 1958 Jim Ramsburg cooked up the Radio Wonders basketball team.  WDGY Jocks teamed up with professionals Ed Kalafat, Bobby Cox, Jim Springer, and Corky Devlin, possibly former Minneapolis Lakers.  The team could not play high school and college teams, but would go out to small towns for exhibition games.  Some not so happily as others, he admits.  Proceeds would go to a charity mutually agreed upon by the two teams.  The photo below, provided by Jim Ramsburg to the Pavek Museum of Broadcasting, shows Jack Thayer holding the ball.  Clockwise from Jack are Bill Diehl, Don Kelly, Dan Daniel, Stanley Mack, and Ramsburg.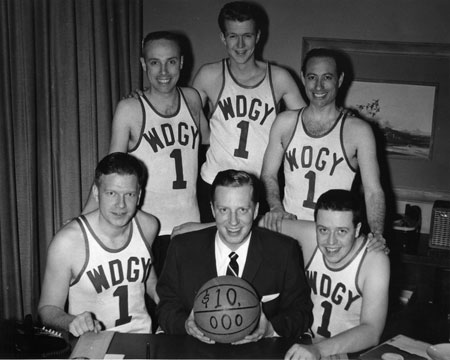 ---
WINTER DANCE PARTY
Diehl also M.C.'ed national acts as they appeared in the Twin Cities.  One was the Winter Dance Party, starring Buddy Holly, Ritchie Valens, and the Big Bopper, when they appeared at the Kato Ballroom in Mankato on January 25, 1959 and the Prom Ballroom in St. Paul on January 28. The three stars died in a plane crash six days later. On the day the musicians perished, Diehl did a three-hour show on WDGY playing nothing but songs by the three young stars.  Hear Bill Diehl talk about "The Day the Music Died" on an MPR piece from 2009.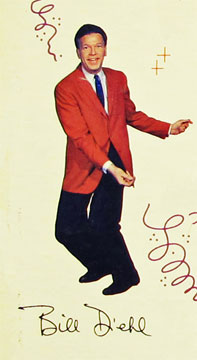 Bill twisting on the cover of a WDGY promotional album
---
A FUNNY THING HAPPENED….
In 1965 he played a part in bringing the Beatles to Minneapolis. On the air, he promoted the Beatles event with phone-ins with George's sister, Louise Harrison Caldwell.  He traveled to Chicago to see the concert there and took home movies, which can be seen on a DVD produced in 1995 by KSTP-TV called "The Beatles:  Minnesota Mania!"  The DVD includes an extensive interview with  Diehl and members of Minnesota bands from that era and is available from Video Beat     Diehl M.C.'ed the Minneapolis show and was hailed with boos when he announced that the concert would end if the audience rushed the stage.
---
WCCO RADIO

As rock 'n' roll changed, so did Bill, and he jumped to WCCO Radio on September 1, 1967, starting at the State Fair broadcast center.
In 1974 he did a weekly series of "Sunday Specials" for WCCO Radio, including a series of 50th anniversary specials. In 1988 he was removed from the weekday shift. He turned down Saturday or Sunday nights, and focused on doing commercials and special projects. He left WCCO in 1996.
Below is an undated page, probably out of a WCCO sales brochure, that focuses on Diehl's history, calling him a "show business buff."  I hope you can read it.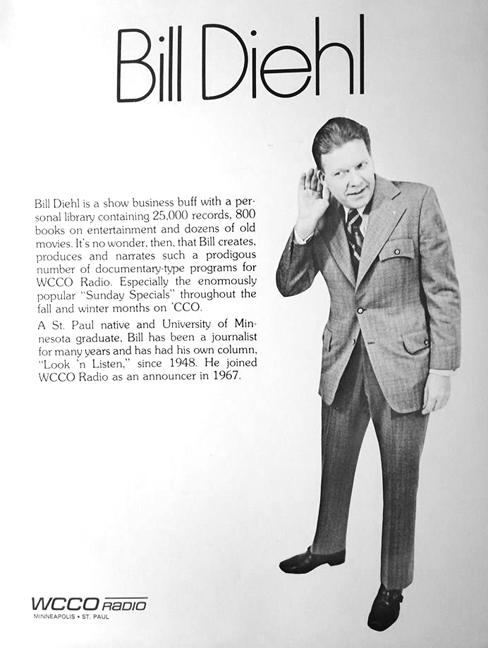 ---
HELEN
1967 was also the year that he married his devoted wife, Helen, who was his true partner, driving him to the various emcee jobs and enabling him to make up to three events on busy nights.
At one time the Diehls had over 75,000 albums, representing all kinds of music.  Some had never been played.  Most of them were sold at two sales in the 1980s.  They also have about 800 books on entertainment and a collection of over 400 old movies, including all of the Laurel & Hardy films. Bill and Helen founded the local chapter of the Laurel & Hardy club The Blockheads in September 1966.
---
WALLY MCCARTHY
In the fall of 1969 he began a series of commercials for Wally McCarthy's Lindahl Olds on Highway 494 and Penn Ave.  He did remote broadcasts from the dealership every Saturday morning, and the promotion became incredibly popular, making lots of money for McCarthy.  Diehl would continue to be "Bill Diehl for Oldsmobile" until he left WCCO in 1996.  (The site is now Best Buy headquarters.)
Bill Diehl's voice is instantly recognizable to just about anyone who lived in the Twin Cities in the last half of the 20th Century.  He is a cultural icon – our own Alan Freed – and worked incredibly long hours to provide us with the rock 'n' roll we desperately needed.  Thank you, Mr. Diehl!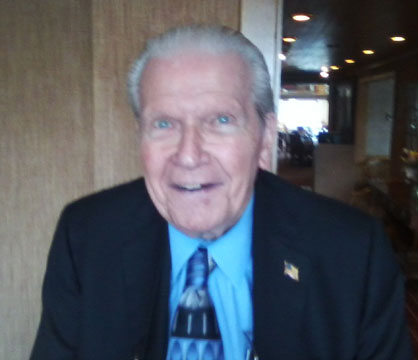 Bill Diehl, March 26, 2013.  Pardon the blurry picture I took with my flip phone – he looked great!
---
WHO WAS BILL DIEHL?
Here is a meditation on Bill's career, sent in by a "St. Paul man who loves radio" on the occasion of his death.
July 20, 2017
Bill Diehl, who died this week at age 91, was a hard-working newspaper columnist and radio broadcaster, probably the most important entertainment figure in the state of Minnesota in the 1960s.
He had an entertainment column in the St. Paul Dispatch (movie reviews, gossip about stars, etc.), wrote regularly for the St. Paul Pioneer Press, was a popular DJ for the rock 'n' roll radio station WDGY, did a record-rating column for the Youth Page of the Saturday Dispatch (essential reading), and did a lot of broadcasting work for WCCO, the highest-rated radio station in town. His opinion could make or break a film in the Twin Cities (and thus in Duluth, Rochester, Wabasha, and Crookston) – he seemed to have considerably more clout than the Minneapolis movie columnist (Will Jones) who was much more sedate, much less readable, and who had no radio presence at all.
Bill was caught up in the complexities of the 1960s. On the one hand, St. Paul was culturally very conservative in those days (much more than today), symbolized by the dominant position in the skyline of the Cathedral of St. Paul. On the other hand, rock 'n' roll was a steamroller, and in the first half of the '60s in Minnesota, Bill was driving it at WDGY. He had so much clout in terms of rock 'n' roll, Beatles manager Brian Epstein, an exceptionally shrewd fellow, picked him to emcee the band's 1965 concert at Metropolitan Stadium in Bloomington. If you look at photos of the Beatles press conference prior to the Met concert, you see that all the microphones are WDGY mikes. That's Bill's doing. The Beatles let him dine at their table and partake of their freebies at the Leamington Hotel for the two intense days they were in town. (John Lennon later described Beatles tours as "Satyricon!!!")
So Bill was cool. On the other hand, Bill was shocked, shocked I say, by film nudity, which was a major flash point for the cultural shift of the '60s. I well remember his appalled reaction to "Blow-Up" (1966) including his horrified description of the girls in it: "topless AND bottomless." (Wait a second here, did Antonioni shoot "Blow-Up" at the Leamington?)
A further complication arose from Bill's fear of hurting the movie business in the Twin Cities. He seemed to be in bed with some of the local movie heavy-hitters including the Mann family which owned some theaters and did all kinds of movie stuff "out on the Coast." (Bill devoted an awful lot of column space to Mann family projects.) He could kill a movie or open it big-time (he published a rave for "Butch Cassidy" on a cold night in 1969; the Riviera Theater was packed to the rafters that night).
Bill aspired to serious reviewing but ended up confused, twisting this way and that to try to please all his constituencies, from the archdiocese to the Manns to the kids.
Meanwhile he tried to preserve his aura of hipness for the lucrative disk jockey gig. This venture eventually failed. He and his WDGY cohorts were perceived as old fogies by about 1966-67 and lost major market share to the hip challenger in town, KDWB. WDGY seemed to hate the Rolling Stones; KDWB loved 'em. Bill apparently saw the writing on the wall. Ever flexible, he shifted his broadcasting from WDGY to WCCO, the very definition of mainstream. He made a ton of money at 'CCO hosting Saturday morning broadcasts from "Wally McCarthy's Lindahl Olds" where you could get a free hot dog." Bill's affection for Oldsmobiles far exceeded his enthusiasm for "Blow-Up" or the Rolling Stones.
---
1965 INTERVIEW
The following interview with Bill Diehl came from an article "The a' Go Go Spotlight" by Jim Karnstedt in the October 1965 issue of Twin City a' Go Go.
            The Rajah of the Records, the Deacon of the Discs, the Purveyor of the Platters and the Wizard of the Wax with all the Musical Facts.  That's only part of the story of WDGY personality, Bill Diehl.  He also handles a successful booking agency, writes in the St. Paul Dispatch and coordinates special events. Last week, I managed to catch him in one of his spare moments.
T.C. a' Go Go:  How did you get started in your radio career?
Bill:  I was writing an entertainment column in the St. Paul Dispatch which caught the attention of Sev Widman of WMIN.  He thought it was wild and asked me to fill in on a radio show for the vacationing announcer.  Soon after, I had my own show on WMIN.
T.C. a' Go Go:  Did you have any radio training at the time?
Bill:  No, as a matter of fact, I used to read the newspaper out loud in order to get the proper pronunciation and phrasing.
T.C. a' Go Go:  What made you take up radio announcing?
Bill:  I used to sit in the John, of all places, and I thought it would be great to be on the air.
T.C. a' Go Go:  Where did you go from WMIN?
Bill:  KSTP asked me to do a TV show called "Sunday Screen Story." So, I wrote it, produced it, and starred in it with no experience along those lines at all.  After that, I declined a full time job at KSTP because the station said I'd have to leave the St. Paul Dispatch.  Then I returned to WMIN for awhile and later joined WTCN TV where I did news, weather, movies, and other numerous announcing.
T.C. a' Go Go:  How did you land the job at WDGY?
Bill:  Jack Thayer, who then managed the station hired me to do a Top 40 show, which achieved the highest ratings in the station's history.  I did a request show, "Nightbeat," and now on Sunday, "Your Opinion Please".  Now my announcing is more confined to the weekends.  I also coordinate WDGY's special events like the WDGY AquaTEENIAL Spectacular and the WDGY Winter Carnival Spectacular of 1964, which attracted 20,000 people: 16,000 inside and 4,000 outside the St. Paul Auditorium.  It was the largest crowd in the auditorium's history.
T.C. a' Go Go:  What is the most memorable event in your radio career?
Bill:  The one I always remember is the time I fluffed a commercial at WMIN.  I mean real bad!  Stuart A. Lindman consoled me and said everything would come out alright and I guess it did.
T.C. a' Go Go:  What do you feel is the most exciting part of radio announcing?
Bill:  It's the thought that at a 50,000 watt station like WDGY, your voice reaches out hundreds and hundreds of miles to thousands and thousands of people.
T.C. a' Go Go:  Where have your travels taken you?
Bill:  I've been behind the Iron Curtain three times in nine years.  My secondary purpose in traveling throughout Europe was to polish up on my German and French and taking 16mm color films.
T.C. a' Go Go:  What other public speaking do you do?
Bill:  I've made many speeches for both public and private organizations.  They include the Lions Club, Kiwanis Club, Optimist Club and many others.  More than anything, I suppose, is the regular MC work which includes more than I can possibly name.  The biggest event recently, of course, was the Beatle Concert.
T.C. a' Go Go:  What are your reactions on the bad publicity the Beatles received?
Bill:  The story was blown completely out of proportion.  I thought it was extremely unfair for that cloud of bad publicity to be pushed over the name of the Beatles.   I got over sixty calls in my home that night.
T.C. a' Go Go:  I understand that you have a lot to do with the bands.  Could you briefly explain this?
Bill:  I have been booking bands in the Midwest for quite awhile now.  Recently, I auditioned ten of them.  I'm now, in addition to my regular bands, booking five of those ten.  I'm especially proud of Suzie Q. and the Originals which I feel is going to be a very popular group.
T.C. a' Go Go:  What are some of the bands that you book?
Bill:  Let's see, there are the Accents, the Underbeats, Avanties, Chancellors, High Spirits, Del Counts, Gestures, Coronados, Froggy and His Friends, T.C. Atlantic, the Deacons, Suzie Q and the Originals, the Expressmen, and quite a few more.  I'm in the process of consolidating with Dick Shapiro of Path musical Productions into the Central Booking Agency.  We'll handle a good part of the dance dates in the upper Midwest.
T.C. a' Go Go:  What is your opinion on the long hair issue?
Bill:  I believe it's purely a matter of personal taste. The arguments in schools seem a little hard to believe.  However, it does depend on the age bracket.  Ten and twelve year olds are bound by their parents to do as they're told.  When they reach sixteen to twenty-one, they're more sophisticated and should be able to decide for themselves.  It's just a passing fad and you can see it diminishing already.
T.C. a' Go Go:  Could you give me a brief rundown of your daily activities?
Bill:  It starts with my day at the newspaper.  As entertainment editor I check clubs, theatres, call Hollywood and New York and usually attend a movie screening in the morning.  In the afternoon I write my six-day-a-week entertainment column, "Look 'N' Listen," along with my Saturday record column, "Platter Poll."  I do band bookings in the late afternoon.  From about six to eight PM I get in a movie screening and afterwards a personal appearance or two. Lastly, I run out to the station to tape dance commercials.  Sometimes I'll go twenty-four hours without a wink, but eventually I'll catch u p.
T.C. a' Go Go:  How can you afford to give away the prizes at dances?
Bill:  Well, I'm unmarried, don't smoke, and I'm certainly not a drinker, so it doesn't put a big dent in my pocketbook.
T.C. a' Go Go:  With what top stars have you been associated in your past?
Bill:  Just about any of them. Grace Kelly and I had to share out of the same lemonade glass.  I've stayed at Robert Mitchum's house numerous times and I've hob-knobbed with Bing Crosby.  Also, my work necessitates interviews with a great many stars both in the movie and recording industry.
T.C. a' Go Go:  Being a personality, do people bother you much?
Bill:  They don't really bother me, but I do get calls twenty-four hours a day from people asking all kinds of wild questions.  Girls will call me with their personal problems, but I don't mind that because it's quite flattering if I can help someone who really needs it.
T.C. a' Go Go:  What general advice can you give to someone following a career like yours?
Bill:  They should have an appreciation for the arts and a solid background in English.  We don't communicate by smoke signals anymore, so it is very important to be knowledgeable on a variety of subjects.  Most important, you shouldn't worry about what people say about you.  Just believe in yourself and what you are doing and you'll be on the road to success.
---
In 2016, a committee of music lovers created a new award dedicated to Bill.  Please see a separate page for the particulars of this special award program.
---
THE PASSING OF THE RAJAH
Bill Diehl passed away on July 19, 2017, at the age of 91.  Below are three excerpts of his extensive obituaries.
THE ST. PAUL PIONEER PRESS
NEWSPAPERMAN BILL DIEHL – WHO CHAMPIONED THE BEATLES, STONES, LOCAL BANDS – DIES
By Ross Raihala, July 19, 2017
William Franklin Diehl always considered himself a newspaperman, first and foremost. But his 53-year tenure covering entertainment for the Pioneer Press was just the start of the résumé of a man who changed the way pop culture was covered, and consumed, in the Twin Cities.
Radio listeners knew him as "Bill Diehl, the Rajah of the Records, the Deacon of the Discs, the Purveyor of the Platters and the Wizard of the Wax, with all the musical facts." When he wasn't ruling the AM airwaves, he appeared on local television, emceed teen dances and concerts, booked and mentored young rock bands, introduced local audiences to the Beatles and the Rolling Stones, befriended Hollywood stars like Grace Kelly and Judy Garland, collected everything from records to World War II memorabilia, and traveled the world while documenting it all on 16mm film.
Diehl died Wednesday in hospice care at St. Paul's Sholom Home East. He was 91. He is survived by his wife, Helen, who said Diehl died from complications after a fall that left him with limited mobility. There will be no funeral or memorial service, per his wishes. His cremains will be spread at Lake Itasca, where he proposed to Helen, whom he married in August 1967.
"He loved St. Paul and he loved the newspaper," said Helen Diehl. "He was a workaholic and he was always on time. We loved the same things and we had a great life together. I'm thankful I had him for as long as I did."
CHANGED THE FLAVOR OF THE NEWSPAPER
A St. Paul native, Diehl got his first taste of the newspaper business as a carrier at the age of 11. Each morning, he'd get up at 4 a.m. and was on the streets a half-hour later delivering what would eventually become a route with 250 customers. That attracted the attention of associate publisher Hal Shugard, who summoned Diehl to the Pioneer Press and Dispatch office. Diehl thought he was going to be fired but instead was offered a job at the newspaper upon graduation.
After completing his senior year at St. Paul Central High School in 1943, Diehl started working at the newspaper while taking night classes at Macalester College and the University of Minnesota. His first job was serving as a debt collector for the circulation department, but he soon angled his way into a copy boy position in the newsroom.
Almost from the start, Diehl made an impact. "War was taking its deadly toll at the time, and death notices were dominated by fallen servicemen," he wrote in his final Pioneer Press column in 1996. He persuaded the editors to print an image of the flag as part of any death notice involving a member of the military. It caught on so quickly that the Minneapolis Star-Journal started doing the same thing a month later. "I was told by our want-ad executives that my flag idea quickly spread to papers across the nation," Diehl wrote. "But it started here, and it continues. And (yes, I'm boasting) I am particularly proud of that."
Diehl also adored the English language and puns, and as a copy editor he brought new flair to the previously stuffy approach to writing headlines. One of his first was atop a story about a saxophone player who was arrested for drunken driving after a particularly wild night. Instead of "Drunken musician is fined," Diehl went with "Sax player goes on toot."
In 1950, Diehl pitched then-managing editor Fred Heaberlin an offer described by late Pioneer Press columnist Don Boxmeyer as such: "Bill said he'd write a daily column, handle all television listings and write a Sunday column, plus a gossip column, a record column and cover nightclub acts. All for about $2 a week and a peanut butter sandwich." Heaberlin's response: "Who could refuse a deal, or a Diehl, like that?"
Diehl took full advantage of the position, earning sources inside Hollywood and, at one point, reviewing five or six new films a week. He talked about some of the stars he met during a 1965 interview with Twin City 'a Go Go, a "magazine for Twin City young adults on the go." As Diehl said at the time: "Grace Kelly and I had to share out of the same lemonade glass. I've stayed at Robert Mitchum's house numerous times and I've hobnobbed with Bing Crosby."
BUDDY HOLLY, ELVIS, BEATLES, STONES
"Legendary" is how Boxmeyer described the sheer number of Diehl bylines in the newspaper. But Diehl was about much more than cranking out column inches. His radio career began in 1948 at WMIN when he was offered a gig subbing for a vacationing DJ who asked Diehl, "You know how to do a radio show, don't you?" Diehl lied and said he did and then hit the public library and read a book about how to become a broadcaster.
That was just the start of Diehl's radio career, which included a decade at WDGY helping to establish the Top 40 format as the "Rajah of Records," and 26 years at WCCO, where he did Saturday morning remote broadcasts for an Oldsmobile dealer. "You could pop right on out to Wally McCarthy's (Lindahl Olds) showroom and have a hot dog with Bill," wrote Boxmeyer.
In 1950, Diehl also made his television debut at KSTP, Minnesota's first commercial television station. He hosted a summertime show, "Screen Story," about the entertainment business. He once again learned the ins and outs of the position through the public library. Diehl impressed station owner Stanley E. Hubbard so much that Hubbard offered him a full-time job. Diehl offered to work nights and weekends but refused to leave the newspaper, and Hubbard wasn't interested in sharing him. "I picked the Pioneer Press."
Diehl turned his radio fame into another job, making personal appearances and emceeing live events. In 1958, Diehl introduced Buddy Holly, Ritchie Valens and J. P. "The Big Bopper" Richardson on stage in Mankato and at the Prom Ballroom in St. Paul, six days before the three musicians died in a plane crash. In 1964, Diehl emceed the Rolling Stones' first local performance, in the Danceland ballroom at the Excelsior Amusement Park. The following year, he did the same thing for the Beatles at Met Stadium in Bloomington. He accompanied the Fab Four for their entire stay in town, which he later wrote was "48 hours of unparalleled excitement."
Mike Waggoner's Twin Cities band the Bops was one of the first groups Diehl took under his wing. "Bill was almost a spokesman for a generation," Waggoner said. "We were just a bunch of kids trying to play music in roller rinks, on flat-bed semis and wherever we could. He championed what we did. He was tremendously busy, but also generous with his time. He not only enjoyed what he did every day — writing for the newspaper and playing records on the radio — he enjoyed seeing the rest of us develop our skills.
"Bill was a very caring, very sensitive fellow who wanted people to do the best they could with whatever they had."
When he wasn't ruling the AM airwaves, he appeared on local television, emceed teen dances and concerts, booked and mentored young rock bands, introduced local audiences to the Beatles and the Rolling Stones, befriended Hollywood stars like Grace Kelly and Judy Garland.
Diehl's tireless schedule took a toll on his personal life. In his early years, he lived with his first wife, Marilyn, in a $75-a-month furnished apartment in Highland Village. "That's all I could afford." "I didn't have any money. … (Marilyn) gave up after a while. She wanted a divorce."
And while Diehl championed the burgeoning rock 'n' roll movement, he was also a conservative unafraid to take entertainers to task.
An early supporter of Elvis Presley, Diehl was unimpressed after seeing the 21-year-old play the St. Paul Auditorium in 1956. "On stage, Elvis, you were nothing but a male burlesque dancer," he wrote. "Your gyrations were straight from strip-tease alley. Happily, you did leave your clothes on." He went on to praise Presley as a fine example to kids for not smoking or drinking but went on to ask: "Why, Elvis, do you then resort to your 'Pelvis Presley' routine?" He ended the column in a huff, concluding that "in show biz, nothing grows in dirt."
An immaculate dresser himself, Diehl took Mick Jagger and company to task about their lack of grooming. "They looked like they'd slept in their clothes for a week and hadn't eaten for two," Diehl wrote of the Rolling Stones. "Soap must have been a dirty four-letter word to them."
"STAR WARS," WORLD TRAVEL
Diehl also kept readers fully informed on the sexual content and politics of films he reviewed, warning of "total frontal" or "rear male" nudity. At the same time, he wasn't afraid to champion movies he loved. In 1977, he raved about a film by the name "Star Wars."
George Lucas' space epic, Diehl wrote, "brims with suspense and interest for everyone, and in every age bracket … Its storyline is simple and direct and marvelously executed. Spellbinding and captivating, the footage in stunning style shows the potential of screen Entertainment with a capital 'E' (as opposed to those dreary, mindless offerings in which the cast can do nothing more than disrobe and engage in sexual gymnastics). You'll want to see 'Star Wars' again and again."
Diehl's film writing even made an impact on St. Louis Park natives Joel and Ethan Coen, who paid tribute to Diehl in their 1996 film "Fargo." In the scene where William H. Macy's character Jerry Lundegaard tries to strike a business deal with his father-in-law, he gets rebuffed with the line: "If I wanted bank interest on $750,000, I'd go to Midwest Federal. Talk to old Bill Diehl."
Stan Turner knew Diehl professionally for years and formed a friendship with him in the '80s when Turner was the main news anchor at KSTP-TV. Turner had the opportunity to sit down for a one-on-one interview with President Ronald Reagan, and Diehl was impressed with the results. "Bill wrote me the nicest note, saying he appreciated that I treated the president with respect at a time when many were not."
The pair soon bonded over broadcasting, pop music and other shared interests, and Turner became "a very privileged member of his circle of friends." Diehl and his wife, Helen, did not have children and were able to spend their free time traveling the world, hitting every continent except Antarctica. ("Bill said he didn't want to go somewhere where the birds were dressed better than he was," said Helen Diehl.)
"They didn't go to danger zones, but if you name any other place, they'd have been there," Turner said. "They went into China, Southeast Asia, northern Europe and North Africa. He had a great interest in World War II and visited many battle sites."
Over the course of the last handful of Saturday nights each year, Diehl and his wife would invite friends in groups of eight or so for dinner and a screening of footage Diehl shot around the world.
"He would narrate the films, reading from a travelogue script he wrote in his own hand," Turner said. "There were three reels, and Helen would serve dinner between them. It was mesmerizing and always a great evening. Just like in his movie reviews, Bill loved puns and wordplay. They were such gracious hosts, we often would stay until midnight. I don't know how they had the stamina."
In his final Pioneer Press column in 1996, Diehl wrote that "I have been granted more fun, thrills, excitement, more of just about everything than any reasonable human being could expect."
Diehl dealt with health problems in his 80s but still managed to get out from time to time. A year and a half ago, he was Waggoner's guest of honor at his 75th birthday party. "He was in a wheelchair and relatively immobile, but still sharp as a tack," Waggoner said. "It was uncanny how his recollections were absolutely bright and articulate and on point. He loved to tell the stories, and we all loved to hear them.
"He became influential without trying to be influential. He believed strongly in youth and reinvention. I don't think the man ever gave up on trying to be current. He personified professionalism and was always a very modern man. He was a gentleman and a friend, not only to me, but to so many others.
"He was Bill Diehl. He is Bill Diehl, and he meant so much to all of us."
---
MINNEAPOLIS STAR TRIBUNE
Media showman, Minnesota's rock 'n' roll 'godfather' Bill Diehl dies at 91:  He helped shape Minnesota's burgeoning rock scene in the 1960s.
By Crystal Duan, July 22, 2017
Back in the days when there were "showmen," Twin Cities media personality Bill Diehl embodied the concept. In a career that spanned more than half a century, he was a radio disc jockey, a film critic, a newspaper columnist, an entertainment emcee and a star in his own right. Diehl passed away Wednesday while in hospice care at St. Paul's Sholom Home East. He was 91.
Born in 1926, Diehl started working for the St. Paul Pioneer Press as a paperboy at age 15. From there, he managed to land a job in the newsroom, eventually becoming the paper's lead movie critic and befriending many Hollywood stars. He also helped establish the Top 40 format for Twin Cities radio stations, moonlighting as an on-air personality for WMIN (now known as KMNV), WDGY and WCCO.
Steve Moravec, a radio station consultant in St. Paul, was 19 when he met a "glib and clever" Diehl at WDGY in the 1960s. Moravec remembers admiring the "commanding figure."
"I don't know how he did what he did," Moravec said of Diehl's varied professional pursuits. "I don't think I have ever in my life had as much energy as Bill Diehl did for years and years."
Diehl will be remembered as "the godfather" of the midcentury Twin Cities music scene, according to Moravec. For years, Diehl used his role as a radio personality to help Minnesota musicians book live shows and otherwise promote their work. He was a mentor and adviser to several local acts, introducing audiences to their music with airplay and by emceeing concerts.
Dal Winslow, of the Minneapolis band the Trashmen, said Diehl was an essential figure during the band's early days.
"He was the one who said, 'You guys gotta record that song,' when we first came out with [the 1963 hit single] 'Surfin' Bird,'" Winslow said. "And we went back and played it for him at the radio station because that's how helpful he was, and he said, 'You should cut it down and rerecord it,' and offered all sorts of helpful advice like that."
Diehl is survived by his widow, Helen.
There will be no funeral or memorial services, per Diehl's wishes.
---
MINNEAPOLIS STAR TRIBUNE OBITUARY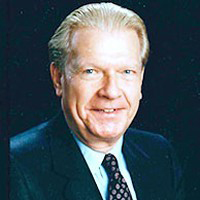 Diehl, William F. "Bill" 91, of St. Paul, Minnesota, after a long illness, on July 19, 2017. Survived by wife, Helen; brother, Dr. James (Gayle) Diehl; sister-in-law, Mrs. Phyllis Nelson; nieces and nephews; great (and great, great) nieces and nephews. Preceded in death by parents, Mr. and Mrs. Frank (Ellen) Diehl; sister, Mrs. Joan (Howard) Nelson.
Bill Diehl was a newspaper columnist, Radio broadcaster and pioneer television broadcaster. He worked at the St. Paul Dispatch/Pioneer Press for 53 years. He was at WMIN from 1948-1956; WDGY for 11 years, and WCCO Radio for 26 years. At WDGY, he was "the Rajah of the Records, the Deacon of the Disks, the Purveyor of the Platters, and the Wizard of the Wax with all the musical facts." Along with his broadcasting duties, he was a popular Emcee for musical acts, including Buddy Holly. He played a significant role in bringing the Beatles to Minneapolis in 1965.
After beginning as a paperboy at the St. Paul Dispatch, he was employed by the paper as a copyboy, rising to have his own column, "Look and Listen" by 1950. He was Entertainment Editor and film critic until 1985; continuing to write his own column until 1996. Bill and Helen Diehl had an extensive library of albums and classic films and were founders of the Blockhead Tent of the Laurel and Hardy Club "Sons of the Desert." Our thanks to the Nurses and Staff of Sholom Home in St. Paul, Minnesota, as well as to the Hospice caregivers. Memorials preferred. O'Halloran & Murphy 651-698-0796
Published on July 23, 2017
Save
Save
Save
Save
Save