Barry Siewert (Barry McKinna)
Barry Siewert was born and raised in St. Louis Park. He has a brother Bruce who was an all-star basketball player at Park High in the 1950s.  Their mother Newnie, a former Miss Fergus Falls, is an accomplished artist and community volunteer.  Father Wally was a WWII veteran of the Battle of the Bulge, receiving a bronze star and a purple heart.  He worked as foreman of NW National Life Printing.  The family lived at 3924 Xenwood Ave So.
Barry graduated from Park High in 1965, and started his career in broadcasting. He began as Barry "McKinna", on-the-air at KDWB radio. He has interviewed countless artists, and was the first person to play a song not on a record in the Twin Cities. It was a tape cartridge in 1971 of Elton John's "Crocodile Rock."
Following his time at KDWB, he went back to using his real name and was on-the-air at many radio stations, including: WDGY, WWTC, KS95, WLTE, and K102.  He also spent many years anchoring the news and sports on local Channel 11 TV.
Barry has recorded and produced music, has organized and played with many bands, including "The Rocker Brothers Band."
His company, BSC Studios, creates and produces business videos and radio/TV commercials and produces various consumer shows.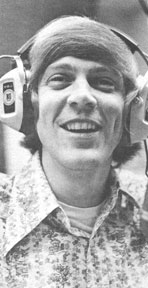 Barry at KDWB, 1973.  Photo courtesy RadioTapes.com
Save