Jimmy Reed – KDWB (1966 -1967), KRSI (1969), WDGY (September 23, 1969 – 1984), WLOL (1986)
James Arthur Rud was born on October 2, 1936.  An interview in the St. Louis Park High School Echo tells us that he went to Brookside Elementary School, same as me! The interview says that he got his inspiration to pursue broadcasting when Bud Kraehling came for career day. He graduated from Park High in 1954.  Next to his name in the yearbook it says "Don't mention motors or you will get him started." He worked on the school paper, big time in Hi-Y, in a school play, and on the badminton team!
Jimmy graduated from Brown Institute in 1959.  Back to the Echo interview, it says that Jimmy got the idea for his double entendres dfrom Laugh-In; it was so successful he was hired from KRSI to WDGY. From a 1970 ad:  "Jimmy Reed moves Hit Sound '70.  Putting it all together every night from 7 to midnight.  Come into Reed's world.  Much More Music is Jimmy's specialty."  Jimmy opened his first show at WDGY by stating he was "..out on pass from the suburban rest-home."  (KRSI was on Excelsior Blvd. in St. Louis Park.)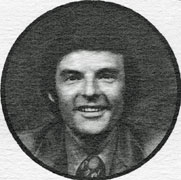 After he left WDGY in 1984, he apparently went to WLOL, as evidenced by the very end of this aircheck, discovered by Jeff Lonto.
Jimmy died on June 16, 2017, in Red Wing at the age of 80.  He had been living in Farmington.  I am very sad that he died before I had a chance to talk to him, but I couldn't find him.  His obituary in the Red Wing Republican Eagle reads:
He was born on Oct. 2, 1936, to Geraldine (Feeney) and Norman Rud, Sr., in Minneapolis. Jimmy graduated from Brown Institute in 1959, and began working in radio. His radio personality name was Jimmy Reed and he worked for KDWB, KRSI, and WDGY. Jimmy adored music and in the 1970s an ad promoting his radio show used the tag line "More music is Jimmy's specialty." He also owned Reed's Pizza in Prior Lake.