Thank you to Mike Chase for information for this page.
In 2016, a new Minnesota award was inaugurated with the Bill Diehl Music Awards.  The Executive committee was made up of Dennis Donovan (Chair), Rick Shefchik, Jimmy Greenwell, Chuck Schneider, and Mike Chase. 
The award was named for Bill Diehl, who was a champion of local bands during his tenure as a disc jockey at WDGY from 1956 to 1967.  He played their records on air, made personal appearances at their dances, and booked them at local venues.  He even had a hand in bringing the Beatles to Minneapolis in 1965.
2016
The first award ceremony took place on October 2, 2016, at Mancini's Lounge in St. Paul.  The sole honoree was Jim Johnson.  Music was provided by the Del Counts.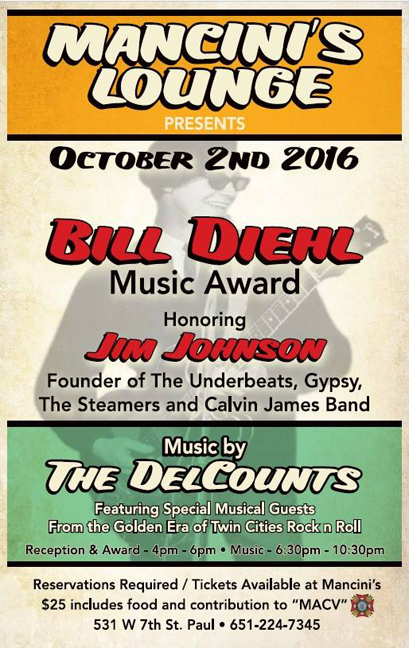 ---
2017
The second annual Bill Diehl Award ceremony took place at Mancini's on October 8, 2017.  The distinguished honoree was Tony Andreason, lead guitarist of the Trashmen.  Mike Jann, Keeper of the Flame of the T-Men, gave a stirring introduction of Tony and their long association.  Dance music was provided by Free and Easy.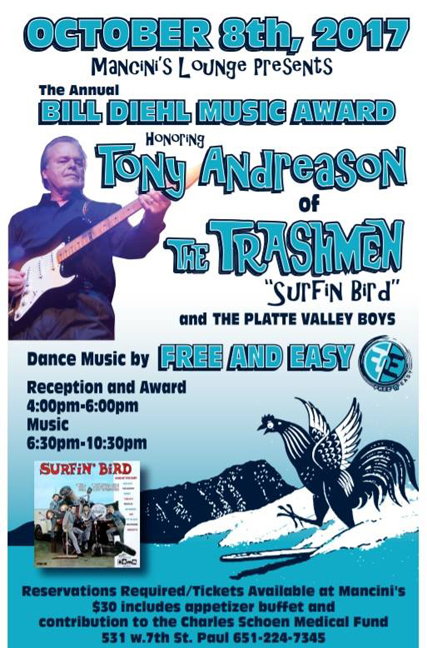 ---
2018
The third annual Bill Diehl Music Awards took place at Mancini's on October 7, 2018.  There were two honorees:  Charles Schoen of the Del Counts, and James Walsh of Gypsy and the Underbeats.  Music was provided by the Underbeats and Gypsy.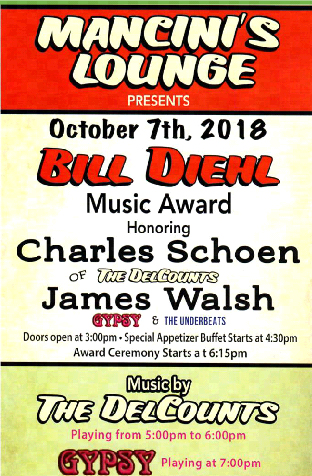 ---
2019
The fourth annual Bill Diehl Awards took place on October 6, 2019 at Mancini's.  This time there were three awardees:
Zippy Caplan of the Litter
Dale Menten of the Gestures, who played the group's big hit "Run, Run, Run" solo
Mike Waggoner of Mike Waggoner and the Bops, who proved he still had his Rock 'n' Roll chops!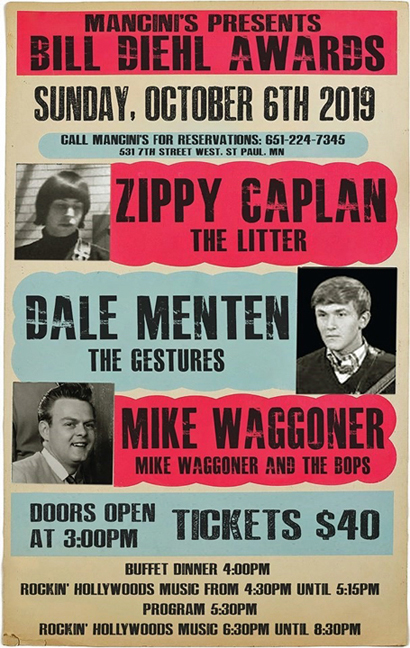 The Rockin' Hollywoods provided music for dancing.
---
After 2019, the Bill Diehl Music Awards were suspended because of the Covid epidemic.