4900 Olson Memorial Highway, Golden Valley. Opened in the late 1940s or early '50s. On October 13, 1952, the Pete Cavanaugh Trio with Rona Rae opened for a two-week stay. There was a "tragic fire" on April 4, 1954. In February 1956 there was entertainment in the Bamboo Cocktail Lounge at the rear of the club and in the main dining room, serving Cantonese Style Chinese or American food.
In 1959 the Minneapolis Spokesman reported that management refused to seat three black patrons, who sued and received damages. This incident may have led to the change of ownership and a complete turnaround in policy.
IRV SCHECTMAN
In 1960 the club was purchased by businessman Irv Schectman. From Schectman's obituary in the StarTribune, September 29, 2003:
Businessman Irv Schectman built the White House restaurant and nightclub into a success by being among the first to bring national jazz acts to the Twin Cities, and by emphasizing creamy Northern Italian cuisine. Schectman owned the Golden Valley club from 1960 to 1983.
Schectman's early business was rugs, first as a partner in Minnetonka Rug Mills, which made cotton throw rugs, and then with the Chenille Rug Co., which made room-sized rugs woven on looms. The factory could only make so many rugs a year, and Schectman, who traveled the country selling them, often sold out the factory's production in nine or 10 months so he could spend most of the summer at home, where he loved to golf.
After cheaper tufted rugs made in the South made it unwise to stick with Chenille, Schectman bought the White House in 1960. To its existing Chinese menu he added familiar tomato-based Italian dishes.
In 1966 he and broadcaster Herb Schoenbaum devised "A Festival of the Elegant Arts," said Leigh Kamman, a jazz broadcaster for Minnesota Public Radio. The restaurant's Bamboo Room started booking nationally known jazz acts such as Charlie Byrd and Roland Kirk for 10-day engagements. Schechtman bought radio spots to advertise his nightclub music, and Kamman and Schoenbaum programmed it onto the air waves "and kept the flame alive," Kamman said. Through Schoenbaum's connections in South America, Schectman also booked emerging Brazilian acts such as Manfredo Fest and Sergio Mendes, Kamman said.
The music ended in 1969. Within a year, Schectman started La Societa dell' Elegante Pranzare Italiano, translated as the Society for Elegant Italian Dining, to keep enticing what one reviewer called the cigar-and-mink crowd. A new menu of tomatoless Northern Italian cuisine ran each Monday night for a month: five to six courses and two or three wines. Until 1973, the price stayed under $10.
"In the 11 years I continued the society, I never — and I emphasize never — repeated a single course," Schectman said when he sold the restaurant in 1983. He retired and moved to California. The restaurant reverted to Chinese cuisine, closed within a few years and was torn down in 1991.
Irv's son Paul was kind enough to add this information about his father:
My father was an upstanding member of the Minneapolis community and had two major business enterprises during his lifetime. His initial business was in the carpet manufacturing industry. He and his partners shut down their carpet manufacturing mill based in Minnesota in the lat 50s. My father did not want to move our family down to Dalton, Georgia where the manufacturing needed
to be done in order to be viable. My father and mother refused to raise our family in the racist south. For that I am most grateful.
My dad was a dynamic entrepreneur, and provided many opportunities to a broad spectrum of people that work for him in the community.
He turned the White House (a dump of a restaurant at the time of purchase) into one of the top three gourmet restaurants in Minneapolis. ( Including Harry's and Charlie's ) The restaurant earned a 4 Star Mobil rating but my father refused, saying that it only deserved 3 stars.
He created and expanded the jazz club into a very progressive club. Cal Tjader, Sergio Mendez, Jose Feliciano, Charlie Byrd…. all performed there many times. Many of these performers would spend time at our home, giving me a rich and diverse cultural exposure to music and hip creative people. I was so lucky to have this exposure as a kid.
My father arranged for Helicopters to fly patrons from the large back parking lot to numerous Vikings games. Buses were regularly scheduled to Minnesota Gopher games. During the 60s my father arranged numerous junkets for patrons and friends to Las Vegas, Hawaii, and Mexico.
Professional Ice Capades quality shows performed outside in the rose gardens for several years during the sweltering summers. The performers had to skate quickly!
My father sold The White House and retired to Rancho Mirage with my elegant mother Jacqueline Schectman. Sadly she passed away from lung cancer at age 60 in 1989.
The restaurant is no longer there. It is now an office building.
A lot going on in 1963:
The "Career Girl Dinner" came with a choice of 3 entrees and an after-dinner cocktail, all for $1.95!
Will Jones reported that Irv bought 100 portable charcoal grills for the customers to use at their tables in the outdoor gardens. "On Saturday nights, waitresses will bring the menu to the table in the raw: a tray of assorted steaks and ground concoctions, already marinated and seasoned. Diners will select their dinners and cook them themselves. It's a one-price deal $3.50 for the complete dinner. If a lazy soul asks to have his meat cooked inside by a chef, that can be done, too, but the price goes up to $4.50." Wonder how that went over.
Geordie Hormel's new quartet, Dick Burgess Trio with vocalists Rosalee Brown & Dave Brown, and Monette Malvar, former lead in the Flower Drum Song. Four shows nightly.
The Front Lounge had a gaslight decor with entertainment.
The main dining room surrounded a tropical garden and featured Polynesian food.
THE APARTMENT
The cocktail lounge downstairs at the White House was a members-only key club called the Apartment in 1963-65, with "small instrumental combos or female vocalists in low cut gowns" [who don't] "conflict with intimate cocktail conversations." In 1964 the Apartment also featured a bikini fashion show. It may have featured even more than that, given this naughty ashtray from the collection of Mark Youngblood: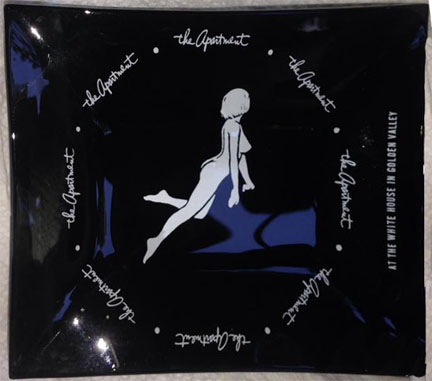 1964: "Don't miss tonight's cocktail party – you'll be pleasantly shocked!" The waitresses were called Bambi Girls; in 1965 they were described as "shapely girls in split skirts." The place was generally a jazz venue, although Augie Garcia reportedly performed solo here in 1969, early '70s.
June 1969: Ozel Turkbos. Also The Americana '69 for dancing.