WYOO/U100 – 980 kc
980 AM was originally staid WPBC from 1949 to 1972.  Apparently WPBC was trying to hang on:  an ad in what appears to be called WPBC Metropolitan Magazine, dated April 1972, says:
WPBC MAKES THIS BOLD CLAIM:  IF you are an ADULT ….. who likes POPULAR MUSIC from TODAY and YESTERDAY but your nerves can't stand the LOUD NOISY TEEN-AGE MUSIC….. YOU WILL LOVE the GENTLE TENDER TOUCHING RELAXING selection of EASY LISTENING POPULAR MUSIC on WPBC AM and FM STEREO!  It's MODERN… but MILD!  It's IN… but NOT far out!!!!  Try it for a week.  You'll LOVE IT!!!!!
---
WYOO
Well, they didn't love it, and at noon on November 2, 1972, oldies station WYOO signed on for the first time with "See You Later Alligator" by Bill Haley and His Comets.  WYOO was owned by Fairchild Industries, an Aeronautics company from Maryland that was looking to diversify.  The new manager of operations was William Stewart, ironically replacing WPBC owner Bill (and wife Becky Ann) Stewart.  General Manager was Marlin D. Schlottman, formerly with WLOL.
---
U100
On August 26, 1974, live at the Minnesota State Fair, the oldies format became "boogie," with KDWB alumnus Rob Sherwood heading up a wild and crazy format as U100.  Sherwood and the rest were at their antic best, cooking up contests and announcing test answers to kids.  Check out airchecks and more at RadioTapes.com, where the home page features newly-discovered TV commercials from 1974 – 1975.  One even has a snippet of Loni Anderson!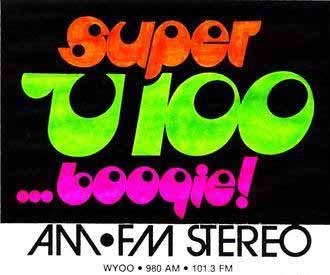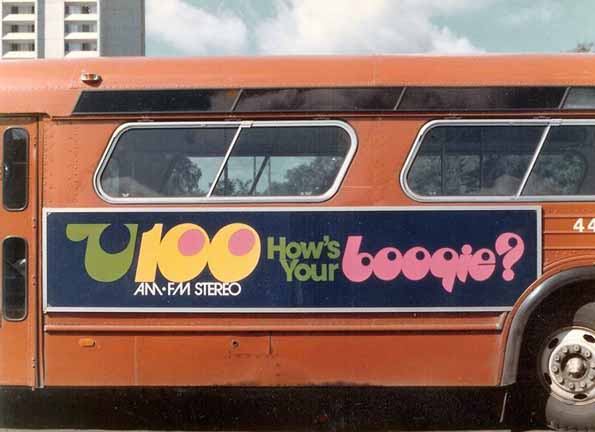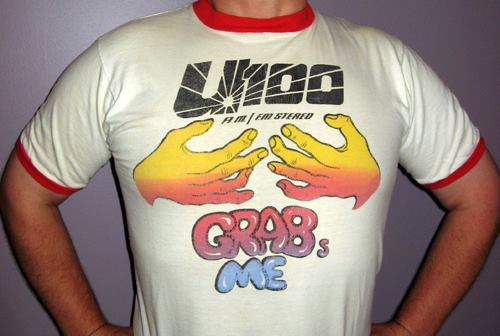 ---
U100 signed off for the last time at midnight on Wednesday September 15, 1976.  JoJo Gunne was the last jock.
KDWB morning personality True Don Bleu launched the new KDWB-FM simulcast the following morning at 6 AM, replacing WYOO-FM. The first song was Bad Blood by Neil Sedaka.
The following Monday, 980 AM (WYOO-AM) came back on the air as WAYL.
---
The story from Wikipedia:  (Punctuation fixed by me)
After two years of wrangling and obtaining start-up funds, WPBC officially signed on the air on October 18, 1949. The station was owned by the People's Broadcasting Company, founded by former WCCO announcer Bill Stewart and his wife Becky Ann. In contrast to WCCO and KSTP, WPBC carried no network programming, and were live and local all day. The station in the early years played a variety of middle of the road pop music and standards, and was even considered an innovator in the concept of singing jingles.
The Stewarts took a rather conservative approach in programming the station. They shied away from the likes of Elvis Presley and most early rock and roll music, which they described as "junky music with morally degrading lyrics." Their philosophy extended to commercials as well, to the point that they rejected advertising from beer and tobacco companies. Allegedly, the Stewarts would go so far as to use the sharp end of a compass to scratch away the grooves of tracks on albums that didn't meet their standards of "nice" music, in order to prevent rebellious D.J.s from playing them. As they were limited by their then-daytime only license at 980 AM, they started up WPBC-FM at 101.3 MHz in August 1959, simulcasting the AM station.
Advertising sales for the stations paled in comparison to the competition, and managing both stations became a burden for the couple, so the Stewarts sold the station in 1972 to Fairchild Industries for $1.5 million. Fairchild subsequently dismissed the entire staff and overhauled both stations.
---
Super WYOO
On November 3, 1972, the AM station was relaunched as WYOO, picking up an oldies format (with rock and roll included). A few days later, WPBC-FM became WRAH and programmed an automated album oriented rock format. When the oldies format of WYOO started to slide in the ratings, more MOR music was added, but ratings slid even further. Fairchild contemplated selling the station. The general manager (Mike Sigelman) and program director (Rob Sherwood) (1974), both hired from established Top 40 station KDWB, felt a major change needed to be made.
The decision was made to change to a Top 40/hard rock format, in contrast to what they saw as the rigid, bland presentation of other similar stations in town. They kept the WYOO call letters, to avoid the hassle and long process of changing call letters with the FCC. Mike Sigelman (General Manager) Rob Sherwood (program director), both hired from KDWB, hired Bill Hartman straight out of WMMR at the University of Minnesota to become a full-time promotion director. Rob and Bill would sit in the basement of the radio station playing air checks and other sources of radio information on disk. They both became enamored with an air check album that contained KFRC, the San Francisco "powerhouse." It was a very high energy top 40 presentation featuring Dr. Don Rose and Ed O'Brien. It was on that day that Rob and Bill decided to emulate KFRC and use the phrase "powerhouse." With Mike Siegelman's OK, they decided to call the new station "Y100."
Bill Hartman, as promotion director, convinced Rob and Mike that it was very important to launch the new station at the Minnesota State Fair, exposing the new format to 1.3 million people that attended the fair for 12 days at the end of August to Labor Day every year. Rob flew to Dallas to supervise cutting new jingles for Y100 at the media "jingle" production company "PAM's." Bill Hartman commandeered the U of Minnesota theater production company to help create an exterior façade that would cover a small trailer to remote broadcast from the State Fair. Everything was ready and in place on the first day of the Minnesota State Fair, and Rob had the format and jingles ready to go on the air.
Unfortunately, Mike Siegelman received a letter of "cease and desist" from Heftel communications in Miami, which owned "Y100 Miami." Rob and Bill were in a state of shock, and the decision was made to not launch the station on the first day of the State Fair. In the meantime, Rob flew to Dallas to recut the jingles. Rob and Hartman decided to use "U100" because of the dial position on an FM tuner – you barely had to turn the dial to fine-tune between 980 AM and 101.3 FM – they were within a couple millimeters of being "in line" on a 1970s-style AM/FM stereo tuner. Consequently the launch of U100 was delayed three days. As Hartman and a crew worked 24 hours to changed all the logos and artwork on the broadcast trailer, it was a very hectic time for this brand-new, soon to be record-breaking FM station. The actual graphics and billboards were created by Sid Rich and his advertising agency at the time in 1974.  People walking by the facility at the Minnesota State Fairgrounds would comment, "what is this?" U100 "the twin cites powerhouse" playing top 40 and album rock from the speakers with no one in the booth! A lot of people thought it was a broadcast training center like Brown Institute or something.
Finally, Rob Sherwood arrived back in Minnesota with new jingles for the Twin Cities powerhouse station U100. ..This is the true story of the birth of U100. The entire concept, advertising and promotion was headed and created by Mike Siegelman, Rob Sherwood, and Bill Hartman. "Super U100, the Twin Cities powerhouse" was the original catch phrase, used on-air and in promotion and advertising beginning on August 26, 1974.
The program director, Rob Sherwood, used this opportunity to abruptly change the format of both stations, debuting the AM and FM simulcast of "Super U100" with a Joe Cocker song and a two-minute montage of the new station's new jingles. The new U100 quickly became the topic of conversation throughout the area with its rowdy, outrageous mix of Top 40 and hard rock. With a constant bombardment of loud jingles, the jocks would scream "YEEEEWWWW ONE HUNDRED!" and "BOOGIE!" when they weren't giving the time, temperature ("it's 72 degrees in Frriiidleeeeey!") or bad jokes. "Right on Super U" became a catch phrase on the station and among its fans. The presentation was tight, fast-paced and very up-front.
During the next two years, U100 quickly became the most talked-about and Number one rated radio station in town. Competition was fierce with five rock radio stations at the time, and compared to U100, WDGY, KDWB and KSTP seemed a bit tame in their original on-air presentation.
Original staff consisted of Rob Sherwood, Jeff "Mother"Robins, Benny Blore (Bill Hartman) Jerry Brook, "U.S. Steele" (Steve Gibbons) Art Snow (The all night snowman) Scott Cannon, "the Tall" (Brother Bob) Robert Hall", Doug McKinnon, (Captain Billy in the morning) Michael J. "Donuts" Douglas (news man)… Later on, the following talent also became a part of the station:  Jerry St. James, Mesa Kincaid, Patrick M. "Cookin'" McKay, Chucker Morgan, and Jo Jo Gunne. As an added advantage, U100 was the first Twin Cities top 40 station to broadcast simulcast on the FM dial in stereo (in addition to 980 AM).
U100 sold and broken up
In early 1976, Fairchild Industries decided to put both stations on the market. The owner of easy listening FM station WAYL was interested in the AM operation, to simulcast WAYL's signal and expand coverage in parts of the metro area. Since one company could not own more than one AM or more than one FM station in the same market at the time, they needed to find a buyer for the FM station, and sought out the owners of various AM stations in the area. Doubleday Broadcasting, owner of KDWB, wasn't actively seeking an FM station at the time but offered to buy 101.3 FM in February 1976 after they were offered a rather generous deal for $750,000 that included WYOO-FM and the building in Eagan that housed both stations. KDWB's general manager at the time, Gary Stevens, claimed that they did not buy WYOO-FM to shut down a competitor, but rather to take advantage of what they saw as a good deal.
---
WYOO today
The WYOO call sign has resided on an FM talk station in Panama City, Florida since 1993.
Save