1370 AM went through more ups and downs than probably any other local radio station.  Doing the research for this page has taken all of my resources, from the all-important Facebook, Star Tribune, and Wikipedia, broken links, bad info and all.  Let's hope this is sort of right.  Special thanks to Jeff Lonto and Alan Freed!
THE BUILDING
The building was the old WPBC studio on Stinson Blvd., near Broadway, abandoned because of freeway construction.  The State put it up for sale, and three cheeky guys, Roger Wilson, William Woods, and Dave Herman, put in a bid for $200.  Since it was the only bid submitted, they were handed a building worth $35,000, complete with air conditioning, transmitting equipment, control board, and "paneled studios and offices."  For $7,000 they moved the entire concrete block structure 25 miles across town.
The studio, transmitter, and a 3-tower directional antenna array were located off Military Road in Woodbury (just east of Newport).  The street address was 6541 Military Road.  A fair portion of its signal pointed away from populated areas, making it audible only to its intended audience in South and West St. Paul.
---
WMKT
Reported the Minneapolis Star, "The new station will go on the air in early May with a music format, said Herman, 'and not all that yakety-yak you hear on some stations.'"  (April 13, 1965)
The station was licensed as 500-watt daytimer serving South St. Paul.
The station began broadcasting on July 1, 1965.  The manager was Roger D. Wilson, and in an ad for sales people he called the station "Katy Radio."
Early disc jockeys were:
Tom Kaye and Bob Lulline (1965 to 1966)
Denny Long (1966 to 1967)
Jay Daniels, Phil LaManne (1966 to 1968)
Dick Daniels, Ed Lowell, Harvey Moss (1968 to 1969)
Doug White, Tony Young, Dee Carr, and Tom O'Neal (1969 to 1970)
The last listing in the Minneapolis papers as WMKT was April 11, 1970.
---
KDAN
The station changed its call sign to KDAN in March 1970.  The initial format was apparently Modern Country.
There were a few periods of time when the studios were remotely located in (glassed-in) studios across from the 1st floor elevators of Metro Square shopping mall in downtown St. Paul.
The KDAN Remote "Caboose" Studio was used in the early 1970s for commercial remote broadcasts and for broadcasting from the Minnesota State Fair.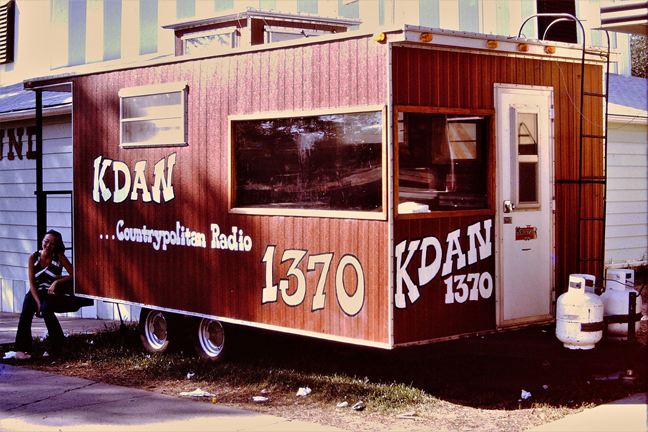 Paul Johnson recalls the remote surroundings of the transmitter and other memories of the tiny station:
To make a once-per-day required base current reading at the bottom of the center tower meant you had to trudge through chest-deep snow in the winter. In the summer, you waded through chest high weeds – and as important as noting the amperage, was pulling (and, for sport, counting) any number of wood ticks that would jump on you for the ride (I counted 27 one day.)
It was automated country with a Schaffer pegboard sequencing unit when I was given the duty of being the station's Program Director in early 1975 – added to my duties of being production coordinator for the short-lived Viking State News Network. VSNN had taken over the station on a management agreement and, in reality, nobody else at VSNN wanted the PD job.
In 1976, U of M student Gregg Lindahl joined for summer employment as music director. With the aid of conviction to principle, an innovative approach to tweaking the automation to liven up the sound and programming our own currents and recurrents, p*ss, vinegar and a well-crafted letter and position paper to Jim Duncan, then R&R's Country Editor, we managed to get KDAN appointed as the 75th Country reporter for the fledgling trade paper. 36 years later, I'm still in the radio game – with more than my fair share of terrific experiences. KDAN may not have been much…but it provided me opportunity – and a beginning. I'll always be grateful for the little station in the funky building on Military Road in Newport.
---
Steve Valeri donated the KDAN lighter holder shown below.  I didn't know there was such a thing, but I'm guessing it was probably from the Country era.  Many thanks to Steve for this truly unusual artifact!
---
DISCO
Sometime between March 1976 and January/February 1979, the station flipped to Disco.  Radiotapes.com has an aircheck by DJ Phil Conklin playing "The Music You Wanna Hear," submitted by Al Arneson.
---
In 1980 KDAN was airing the syndicated Wolfman Jack Show.
---
On August 28, 1981, the station was purchased by Soho Broadcasting, Stanley Soho, President.
By 1981 it was back to Country, testified by Chris McKay:
In 1981 I had just graduated from Brown Institute, and was the CHIEF ENGINEER at KDAN AM 1370! I was the only one there with a GRTO [General Radiotelephone Operator license]. The format was "Country With A Kick."  There was a three tower directional array, and a transmitter that looked more like a refrigerator. We sold spots "a dollar a holler."
---
A PEEK INSIDE
Alan Freed points out that the 1982 film, "Purple Haze," shot in the Twin Cities, used the mighty KDAN 1370 South St. Paul for a scene.  Jeff Lonto:  KDAN was depicted as an FM underground rock station, the complete opposite of what it actually was.  Freed:  KDAN, being a daytimer, was a perfect station to shoot at because it was off the air from sunset to sunrise, so a film shoot wouldn't interfere with normal operations if the filming was overnight. And this scene was a night scene. That clock is probably showing real time.  Screen grabs below courtesy Alan Freed.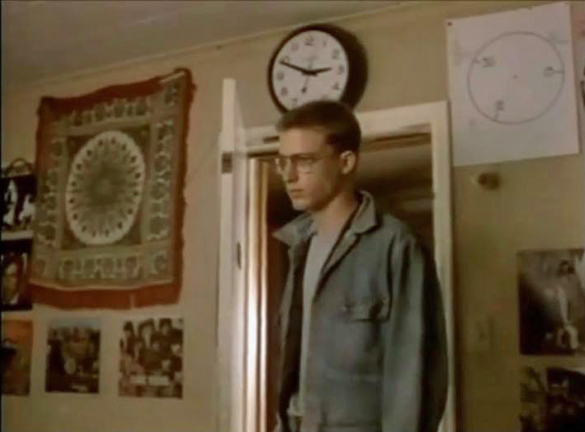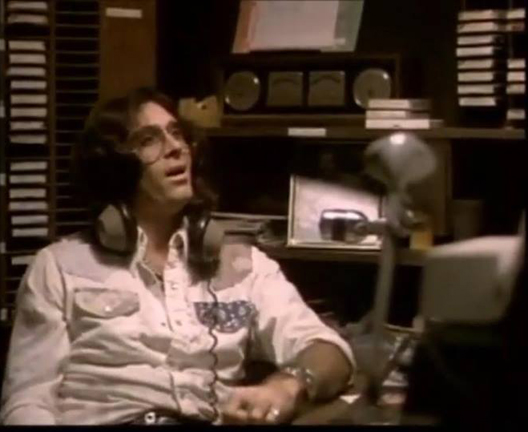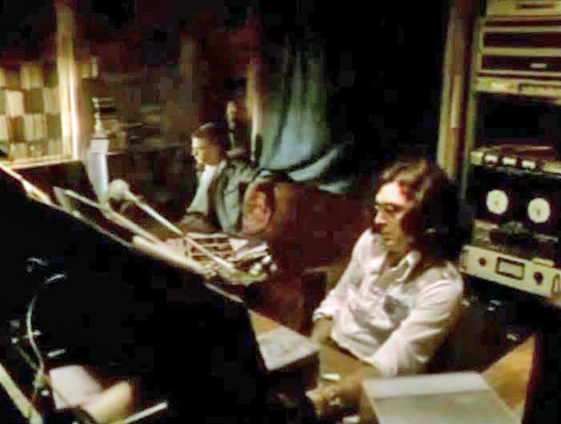 Bad news from Wikipedia:  "Despite receiving positive reviews in some mainstream publishings, Purple Haze was a flop. It faded into obscurity shortly after its release."
---
THE END OF KDAN
Wikipedia says that the station went through jazz, and all news formats.  The Broadcasting Yearbook for 1983 indicates that the format was country.  The Yearbook also gives the personnel as:
Michael Scroggins, General and Program Manager, Program Director
Jean Myts, Commercial Manager and News Director
Mark Scroggins, Music Director
Scott Christensen, Chief Engineer
Regardless, it went bankrupt by 1983 and left the air. Last mention in news listings was on September 13, 1983.  The station had a country format at the time and was owned by Benita Soho of Los Angeles, doing business as Newport Broadcasting.
DARKNESS FELL
And then, nothing.  Did the snakes and ticks take over the studio?  Who had the key?  What happened to the records?  So many questions.
---
KMAP
But then on May 2, 1988, new life came to our little station in the form of KMAP.  Broadcasting Yearbooks for 1984 through 1987 show that the name had been changed when KDAN went dark in 1983.  Those Yearbooks and a Minneapolis Star Tribune article dated April 30, 1988, provide the details below.
The 1989 Broadcasting Yearbook reported that the station was now owned by Newport Broadcasting.  The Star Tribune article also reported that Al Alonzo reported to Newport.  The station's address was given as 287 E 6th Street, St. Paul.  Personnel listed were:
Al Alonzo, Vice President and Program Director (also identified as General Manager by the Star Tribune)
Don Vincent, Musical Director
Dave Edwards, Chief Engineer
The station's format was described in the Yearbook as Urban Contemporary.  It was also described as 90 percent dance music in a TV interview on YouTube.  The article in the Star Tribune outlined the new program:
 Mornings featured DJs Larry Fitzgerald and DonOvan Staar Johnson, formerly of KMOJ
 Jan R., brought in from New York
Alonzo himself was to do the afternoon drive.
Ed Garrett of KTCJ, 7-midnight
From Midnight to 6 am they would broadcast "The Quiet Storm," a syndicated program of laid-back music.
Drew Durigan:  "I DID hear them very well in 1988 as KMAP. Format was Urban and they were targeting inner city Minneapolis. They claimed to be running 5,000 watts."  On the banner below is an outline of Downtown (St. Paul?) and the slogan "Beat of the Cities."
THE END OF 1370
A search through the Broadcast Yearbooks and the Star Tribune turn up no evidence that the FCC ever raised the station's hours or wattage, so KMAP was apparently operating beyond the parameters of its license. The station again went dark, this time for good, but when?
Wikipedia says July 1989.
Alan Freed, an employee to June 1989, says July 1989.
The Star Tribune lists the station until January 6, 1991
The Star Tribune published the last program note ("Radio Rey," Saturdays 9 to 1) on June 14, 1990.
The broadcast license was cancelled by the FCC in February 1991.
As for ownership, that, too, is a jumble.
Wikipedia says the station's last documented owner was KMAP Broadcasting of Tampa.
The Broadcast Yearbook cited Soho Broadcasting through 1988 and then Newport Broadcasting.
Alan Freed:  Al Alonzo still owes many of us our final paychecks. And he skipped out on the landlord, too. It has been my opinion that a big lightning storm in July 1989 was an excuse for the station to shut down operation.
And so goes the history of one of our most obscure radio stations.  What became of the building?  Where is the equipment?  Only the snakes know for sure.