KSTP- AM – 1500 kc
1953
It's unclear when KSTP started playing rock 'n' roll.  In late 1953 there were shows called "Saturday Date" and "Rhythm at Random," but what they played is anyone's guess.
1954
Shows in 1954 include:
Saturday Juke Box
Jack Horner's Corner
Record Rack
Shows with Don Hawkins, Johnny Morris, and Jimmy Valentine
Clubtime
1955
New shows in 1955 include:
Young Ideas
Melody Fair
Radio Fan Club
Shows with Henry J. Taylor, Bill Ingram, and Don Riley
The station was also still playing "Fibber McGee and Molly" and "The Lone Ranger."
On October 3, 1955, an ad boasted that the station would play more music and had a new record library.  The shows were identified by the name of the DJs, which included Morris, Rodger Kent, Riley, Valentine, and Ingram.
1956
In July 1956 the station stopped playing all night country & western, with Harry Zimmerman playing an hour of jazz, and hour of show tunes, and two hours of country.
1957
In January 1957 Will Jones of the Trib said that the station claimed that classical music has doubled its nighttime ratings in a matter of a few weeks.  At that time the station was also playing show tunes, Lawrence Welk, and shows like "Dragnet," Bob Hope, "The Great Gildersleeve," and biographies.  Harry Zimmerman was playing the "Sweetest Music in Town."
Something happened on January 14, 1957, but the ads weren't clear.  "It's a NEW concept in news coverage!"  "Scientifically Designed Entertainment"  "$100,000 worth of better listening"  "Big Big Big 40,000!"  "All on the Northwest's QUALITY station"
In August 1957 the station claimed to be "first with Twin Cities Housewives" based on a telephone poll of 388 people.
In September/October 1957 it announced "new programming," with "more music, more news, more often."  By October it was a big-time rock 'n' roll station, at least until that December, with DJs Rog Kent, Don Hawkins and Harry Zimmerman.  The station's music survey was Top 15 Teen Tunes, and included 5 Top "Comers" selected by a High School Panel of Experts.  Those songs were not rock 'n' roll.
There was apparently a change of heart; ads from the mid '50s asked:
"tired of one-note guitar players and hiccup singers?"

"like to crawl in a hole when you hear rock and roll?"

"you don't have to listen to rock and roll!  Just tune to 1500 on your dial!
Jeff Lonto says that they became a "middle-of-the-road" music station for years, also carrying NBC news and NBC's "Monitor" on weekends.
1958
One highlight of the station's programming from about 1958 to 1973 was Leigh Kamman, whose jazz programs emanated from Freddy's night club in Minneapolis and featured performances by Count Basie, Ramsey Lewis, Errol Garner, and Ella Fitzgerald.
---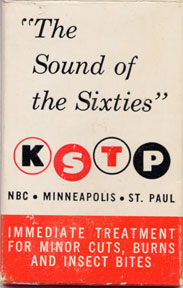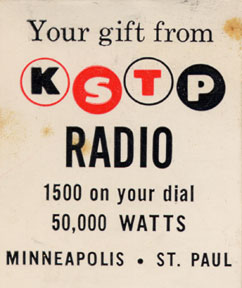 ---
1970
In about 1970 there was a shake-up of personnel.
1973
In the summer of 1973 KSTP entered the top-40 competition "with rapid-fire disk jockeys playing records in uninterrupted clusters.  The jocks shouted, snarled and chanted the KSTP slogan that was spilling from billboards and buses all over town," according to a 1977 Strib article.
Jack Nugent said they went from 13th in the market to 2nd in 105 days.  The competition clobbered WDGY, which succumbed in 1977.  In 1973-75 Chuck Knapp and Charlie Bush in the morning, Machine Gun Kelly and others livened things up. The slogan was "15 KSTP–THE MUSIC STATION."
The Insider made note of the change to a rock format, "playing a mix of current and older top 40.  Their playlist is appealing, though their disk jockeys are somewhat obnoxious."
---
1975
---
John Hines replaced Knapp in about 1975, and Rob Sherwood arrived in 1976, after U100 was sold. He stayed until February 1978.
1977
In November 1977 the Insider reported that the station was "working around to the album rock format from Top 40."
1979
Around the fall of 1979 it went to "adult contemporary, and they also picked up Bob Allard's and Larry King's talk shows in the late evening. Soon they added Monday Night Sports Talk with Reusse and Soucheray.
1981
The station continued to play music until news and talk completely took over in August 1981. The switch to talk was gradual over two years.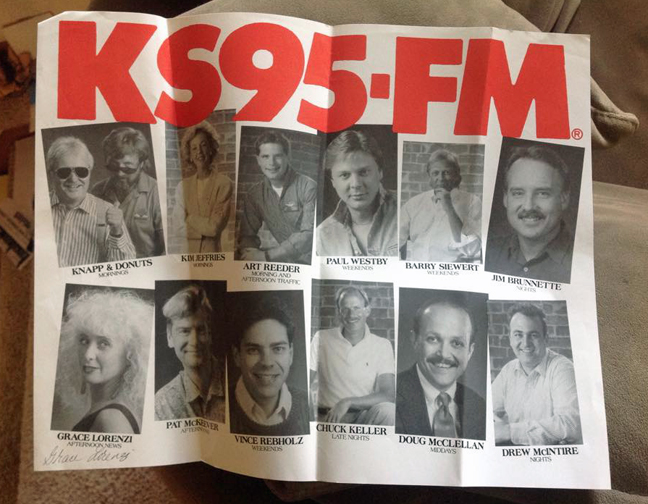 For great airchecks and pictures, see:
http://radiotapes.com/KSTP.html and
http://twincitiesradioairchecks.com/kstpam70s.html
Return to Twin Cities Radio
Save