WPBC – 980 kc
WPBC (People's Broadcasting Co.) was owned and operated by Bill and Becky Ann Stewart and went on the air in October 1949.  The Stewarts had worked at WCCO in various capacities since 1944.  They built their studio on Stinson Blvd. in the Minneapolis northwest terminal district practically from scratch, and most of the personnel acted as stockholders, officers of the corporation, and on-air talent.  The format on the 500 watt station was folksy to the point where it may have out-folksied WCCO.
I've been ignoring this station because I couldn't believe that Bill and Becky Ann would ever broadcast anything resembling rock 'n' roll, but listen to this, from an article of the TV section of the Minneapolis Tribune, September 7, 1969:
Anybody who has heard WPBC in recent years might have found it ludicrous to have listed to founder-owner Bill Steward the other morning as he remembered the tough radio days of 1954 and 1955.
Radio was going through a fearful period in the face of the TV monster, and Stewart and his co-owner wife, Becky Ann, urgently called their staff together.
"We asked them what WPBC should be playing and it was almost unanimous that we should play the top 40, rock and roll," Stewart recalled.
"I remember that the No. 1 tune was Ernie Ford singing 'Mule Train,' and can you imagine me calling from home on the phone that we weren't playing 'Mule Train' often enough?"   ….
"The turning point came one night around Christmas 1955 when we turned in the Tommy and Jimmy Dorsey Show on TV and they had on Elvis Presley," Stewart remembered.  "They predicted that he and his music would be the wave of the future, and when we heard what he sang and how he sang it, we began to be concerned.  My wife and I had long discussions late into the evening.
"If we had to play junky music with morally degrading lyrics, we'd get out of the business."
Well, they got out of the rock 'n' roll business but stayed in the radio business until November 1972, when the station was sold and became WYOO.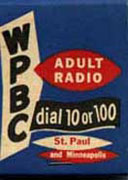 Save