WMIN – 1400kc
This venerable station was around for a long time, and occasionally tried on new names, including:
WMNS
KTWN
KEEY
KLBB (1981)
This page, like this website, sticks to pre-1975, and tries to focus on popular music.
The station began as WMIN in the summer of 1936, when St. Paul furniture retailer Edward Hoffman began broadcasting at 1370 kHz. In 1937 the station had a 15-minute program on Sundays featuring black singers that was advertised in the Minneapolis Spokesman.  On December 9, 1938, Tom Coleman's Famous Swing Trio, with Florence Ward, appeared at a dance at Pioneer Hall, 588 Rondo, advertised as being broadcast on WMIN's Down Beat Program.
WMIN was reassigned to the 1400 kHz in 1941.  Around that time, a young Leigh Kamman and his friend Sev Widman hosted "Studio Party Wham," named after a Jimmie Lunceford tune, showcasing big bands, small combos, and jazz.  Kamman produced live broadcasts from Mitch's Roadhouse in Mendota and hung out at the Club Casino in the Hotel St. Paul where the big bands played.  After the war, Kamman produced "We Call it Jazz" concerts at the Calhoun Beach Hotel and hosted "The Swing Club" on WLOL.  Kamman left for New York in 1950.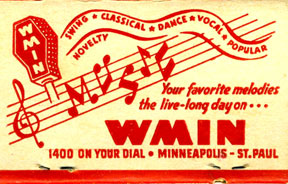 ---
In July 1948, Chuck Mulkern had a fifteen-minute show called "Hillbilly Hits."
From late 1953 to mid 1955 WMIN had tons of shows that might have included some jump tunes.  While there were clearly some country/western shows – "Saturday Hoedown," "Western Favorites" – and perhaps some old time songs – "Tin Pan Allan" was on a lot – there were others with intriguing names:
Ralph (Smith) and His Records
House of Records
Top Tunes
(Judy's) Juke Box
Your Rhythm Review
Most importantly, WMIN had three powerhouse disk jockeys:
Bill Diehl worked at WMIN from 1948-49 and from 1951-55.  His shows were variously called "Diehl 'n Music," "Diehl's Caravan," and "It's Your Diehl."

Steve Cannon was at WMIN from 1949-54.  Presumably the shows "Cannonball Express" and "Cannon Fodder" were his.   In a column dated January 24, 1954, Will Jones of the Trib called Cannon a "Hep Talking radio disk jockey."

Merle Edwards was at WMIN from 1949-55 and had shows like "Merle Edwards' Caravan" and "Merle's Mad House."  Bill Diehl tells the story that a car dealer called Slawik Motors wanted to sponsor a show, but it insisted that the DJ call himself "Hub Cap."  The station approached Diehl, but he thought the idea was ridiculous – he was a columnist for the St. Paul Pioneer Press, after all, and had a recognizable name.  So they convinced Edwards to do it and he became Merle "Hub Cap" Edwards.  David Hersk remembers that Edwards had a late night show where he called himself "Uncle Merle" and played plenty of rock 'n' roll in 1954-55.  "I remember recording "Rock Around the Clock" from a WMIN broadcast on my Wilcox Gay recorder. Merle announced me when I called in, and gave me five seconds of dead air to start my home recorder at 78 rpm." "Rock Around the Clock" was recorded in 1954 and became big news in 1955.
---
WMNS
In 1954 the call sign for 1400 AM briefly changed to WMNS, reflecting a change to a full service format of music, news and sports.  The call letters were changed back to WMIN later that year.
---
BACK TO WMIN
On November 8, 1954, WMIN hosted a four-hour remote from the new Melodee Record Shop at 704 Hennepin Ave., advertised in the Minneapolis Spokesman.
In September 1956 a Will Jones item in the Trib referred to WMIN as the anti-Presley station, with a DJ called "Alice Presley" playing Benny Goodman records.
By the end of 1956 WMIN was participating in the contest craze and calling itself "Music City."
WMIN was still resisting the rock 'n' roll bandwagon in January 1957, when it was playing Easy Listening.
In April 1957 the station was owned by the Franklin Broadcasting Co., William F. Johns, Jr., Vice President and General Manager.  Jack Hazlett was Station and Sales Manager, and Ralph R. Smith was Program Director.  Studio and Transmitter were at 611 Frontenac Place, St. Paul.  It had only 250 watts.
In 1957-58 WMIN put weekly ads in the Minneapolis Spokesman, the city's black-owned newspaper, urging readers to listen to Lou House, possibly the only black DJ in the market. The "Lucky Lou" program was on Sundays and was described as "Jazz and Bits and Pieces of Music."
We do know that the station was playing rock 'n' roll from the WMIN Top 40 dated August 4, 1958. The number 1 song that week was "When" by the Kalin Twins; Elvis had two songs, Ricky Nelson, Bobby Darin, and Duane Eddy were represented as well.  But also Doris Day, Dean Martin, and Patti Page.  The September 22, 1958 survey advertised "Down Beat," the "Longest radio show in the Twin Cities."  It was also the "Twin Cities' ONLY station with Future-Phonic Sound."  The disk jockeys were Ralf Smith, Jere Smith, Dan Allan, Jack Douglas, and Lou House.
---
NEWS
WMIN adopted an all news format in mid-July 1962. In September 1962 it was advertised as the only all news station in the country.
---
KTWN
In November 1962 the call letters were changed to KTWN. On December 10, 1962, the station launched one of those call-in shows where people argued with the host, who was called Norman Frederick.  For his own protection, his real identity was kept secret.  (Will Jones, Minneapolis Tribune)
In February 1963, familiar names Stanley Mack and Lou House were on the air.
Then this oddity shows up: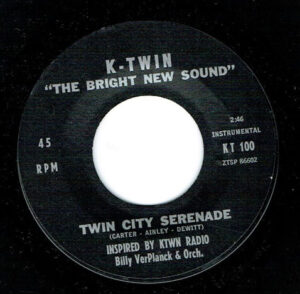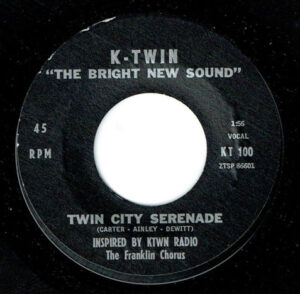 The photos of the 45 come from Discogs.com, which says that it was recorded in 1965, but that doesn't compute with what's below.
---
BACK TO WMIN
On June 3, 1963, KTWN began programming by its new owners, K-TWN, Inc., headed by Gene Posner, President of Cream City Broadcasting, Milwaukee.  Cream City purchased the station from Franklin Broadcasting of New York.  The daytimer station was authorized for 1,000 watts.
The new owners immediately requested permission from the FCC to change the call letters back to WMIN.   Will Jones announced the change in his column on June 18, 1963, and said that the format would go to country/western, folk and ethnic programming.
Airchecks from 1964 indicate an emphasis on "news and prophesy."   Old Joe Clark played country music.  "Yonny Yonson" played old time (polkas, waltzes and shoddiches) from 9 am to noon and 3-6 pm.  The station's address was 611 Frontenac Place in St. Paul.
In August, 1965, Texas Bill Strength went on the air at WMIN after being with KEYD/KEVE  (1955 to 1958) and  KTCR (1962 to 1965).
In 1967, WMIN went to full-time country.
---
KEEY
1400 AM changed its call letters again in January 1972 to KEEY AM, to match that of its FM sister station, and installed a soft rock format separate of the FM, which aired Beautiful Music.
KEEY seemed to specialize in handing out these FM radio station directories, which seem to me to advertise the competition more than anything else.  I have a few examples, but don't have the provenance – they probably came from Jeff Lonto.  And although this page is about the AM station, what the heck.  Also, they are not necessarily in the right order.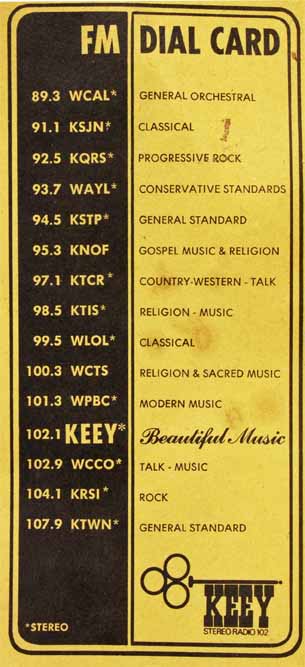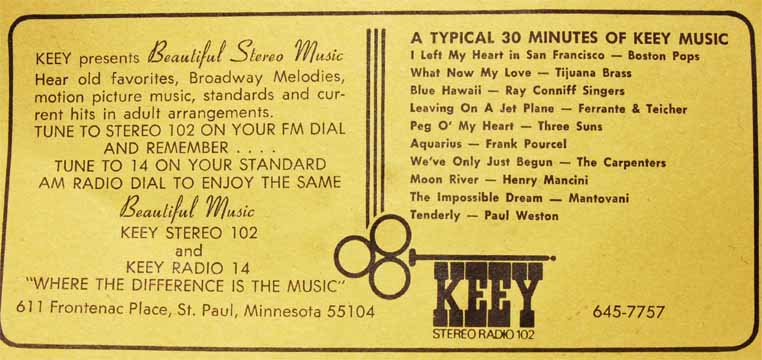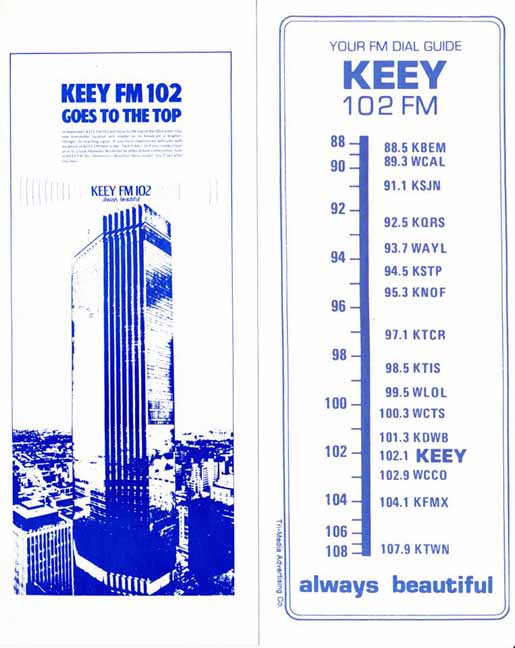 ---
In about November 1973, the WMIN call letters moved to 1010kc (formerly polka and country station WJSW).  The paper called the new WMIN's format "variety."

And fortunately I can stop at 1974, for there are greater minds than mine that can keep going past this Golden Age.  Although I adored KLBB, which 1400AM took on in 1981.
For airchecks from WMIN, see http://twincitiesradioairchecks.com/wmin.html
Save
Save