WCOW
The precursor to KDWB was founded in 1951 by Nick, Vic and Al Tedesco, sons of Italian immigrants from the province of Calabria.  They were born in St. Paul's Swede Hollow.  From the early 1940s to the early '70s the brothers owned and operated 11 radio stations throughout the Upper Midwest.
---
Reinhard Steinley became the first General Manager of WCOW on July 1, 1951.  The station was located at 8th and Wabasha in South St. Paul, conveniently adjacent to the stockyards. Brother Al Tedesco wanted to call it WPIG or WHOG, but Vic protested the barnyard connotation.  Nick came up with WCOW, which was deemed somehow "more dignified." It was also appropriate:  their records were labeled either O for Old Time or W for Western.  Guy Lombardo records were used as a transition between the hillbilly songs and religious programs, reported Will Jones in the Trib on August 18, 1952.  The station signed on with a cowbell.
---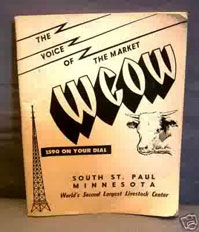 In 1952 everyone on the staff had a corny western name:
Rodeo Ralf Smith
Arizona Al Tedesco
Valley City Vic Tedesco
Nevada Nick Tedesco
Denver Don Doty
Buffalo Bob Montgomery
Jolly Joe Zingale
Sidesaddle Sore Sam Sabean
Packhorse/Pecos Paul Denault -There was also a Packhorse Paul and/or a Pecos Paul – same guy?
Sam Sabean (aka Sam Sherwood) started out with the Sam Sabean Show in 1954, which became Hobo Sam and His Bum Program from about November 1954-March 1955.  From there he went on to be Milkman Sam until about 1956.
The early shows were pretty clearly just country/western affairs:
Remotes from Schlief's Little City
A daily show dedicated to Whoopie John records
Rhythm Roundup
Radio Ranch
Western Hit Parade
Frankie Yankovic
Cow's Tail (wonder what that was?)
---
In 1955 there were some new shows:
Grove Nite Club
Serenade in Blue
Beach Party
Disc Derby
---
Most importantly, in March/April 1955 there appeared "Mr. Rhythm," a/k/a Joe Zingale, who played an honest-to-goodness Rhythm & Blues show, according to Sam Sherwood.  Read more about the show in 1955, and about Zingale under Twin Cities Disc Jockeys.
---
WCOW became WISK
Save