WWTC started out as WTCN radio, 1280 kc AM.
The call letters were changed to WWTC on October 2, 1964, after the station was sold to Buckley-Jaeger Broadcasting.  At the time it was programming Classical music.
---
I have absolutely no idea what is going on here.  Did they bring Imogene the horse inside Jennings?  And as many times I tried to get Jim Jennings to talk to me, he ducked me every time.  So maybe we'll never know. Oh wait!  The Strib is online now!  Imogene was giving free rides in the parking lot for a new ad campaign.  Thank goodness for Will Jones!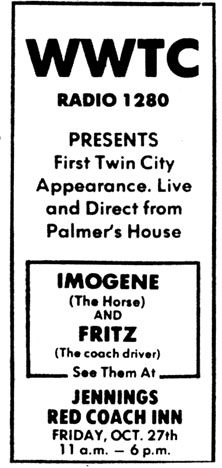 Jack Reynolds became General Manager in April 1971.
---
SOFT PROGRESSIVE
The Insider reported that it was moving toward "soft progressive" in September 1971, when Dick Driscoll came back to the station after Dick had turned KQRS from classical to progressive.
---
SPECTRUM
In April 1973 there was an ad for WWTC Spectrum, "If you're not thrilled with KSTP, WYOO, KEEY, or WLOL."  All things to all people, apparently:  "Every twenty minutes it's a different color of spectrum.  Humor from a local Twin City news item.  A unique look at sports.  The why behind recent legislation.  The why behind a cheeseburger.  This is WWTC Spectrum.  Always a different color of Twin Cities life.  The colors range from bright to blue, from funny to warm, from entertaining to informative."  I guess that means no music.
I'm sorry the ad below is so hard to read.
---
NIS
On June 18, 1975, 1280 switched to NBC's News and Information Service (NIS).
On the day the station switched over, rival station KEEY, published this rather gruesome ad.  The text is rather small; it reads:
Today WWTC Radio trades violins for violence
June 18, WWTC radio replaces every bit of music with news.  Now, we're not trying to put down all-news radio stations.  But if you listen to radio to soothe your nerves, reports of mideast tension, recession and crime just might produce the opposite effect.
That's why we'd like to call your attention to the music of KEEY-AM at 1400 on your standard radio dial.  The best of what you're about to give up on WWTC is what we play all the time on KEEY.  Along with enough news to give you information, but not anxiety.  What's more, we do it selectively enough to fill just the news you want.  At the time you want it.
Think of it this way.  You're not losing WWTC, you're gaining a KEEY.
---
NIS ended in May 1977 but WWTC continued the all-news format with its own staff.  Bob Allard's call-in show nearly caused a riot on July 14, 1978, when he hosted Nazi Steven Martinson.
---
GOLDEN ROCK!
Bob Short bought the station from Buckley Broadcasting in early (in or before March) 1978.  It changed its format to "Golden Rock" on October 1, 1979. This was a fun station. The promotional flier or whatever below was posted on Facebook, and I don't know what the class designations mean.  I do know that Nancy Rosen's name is spelled wrong.  Oops!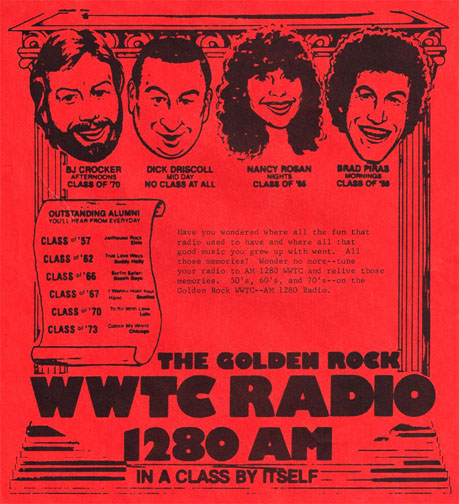 ---

---
The caption to the photo below, from Minnesota Music magazine, 1980, reads
WWTC AM Radio is something of an oasis in the local radio market.  More than a nostalgia station, more than a mixture of rock 'n' roll history and local rock trivia, 'TC offers listeners personality  programming and a fun sense of belonging to a rock 'n' roll community.
---
---
Alan Freed posted the photo below of WWTC's control center taken in 1981.
---
---
I'm going to stop here – I should have stopped long ago, since this website only goes to 1974.  I leave it to smarter people than me to figure out the history of this craziest of stations.  Thanks to all contributors.
As always, much more information and many airchecks are available at www.radiotapes.com/wwtc.html and http://twincitiesradioairchecks.com/wwtc.html