The Black Sheep Club, 901 Marquette, was supposed to be one of a chain of members-only "Key Clubs" that required patrons to pay a sometimes hefty fee for the privilege of admission. In February 1963 the club held a series of Open Houses, advertising their three rooms:
The Speakeasy Room had a Roaring '20s theme with a Dixieland combo and flapper girls
The Theodora Room was decorated in crystal and velvet and featured Toby Prin at the piano and songs by Lola
The Oriental Room featured Japanese hostesses singing and dancing traditional songs. In June 1963 belly dancers replaced the demure Japanese girls.
In June 1963 Will Jones wrote about this place as if it had been there awhile. The Four Lads were performing on June 5.
An ad in the July 1963 Select Twin Citian is pretty cute so please bear with me. It's hand written and all typos are intact here:
Dear Mom & Especially Dad,
Today I sketched a belly dancer … in a fabulous oriental room where everyone sits around on the floor, on pillows. There's a plush carpet on the stairway that goes from the oriental room to the dining room. Right at the top of the stairs there's a great chandelier that I understand is worth about $5,000.00, WOW!
In the main dining I met a nice old guy who plays a mean "Ricky-tic" piano. His piano sits in front of a big original painting of a nude (which I didn't sketch for your benifit!) (mercy!)
The rest of my evening was spent in a nifty room called the "Speak easy" where total choas reigns after nine P.M. Before I forget they've got some real top entertainment coming up … Margaret Whiting … Vaughn Monroe and the Cordettes. If you need a membership call Mr. "Bill" Arndt.
I've got to run now as I'm going over there for lunch. Great Food at Noon! Love, Bob P.S. send money.

The project was undercapitalized, and two employees sued for back pay and took the furniture, which ended that.
Subsequent clubs at the location were:
The Ram's Club
Shaw's Cove – in March 1968, "Introduces a new concept in Night Club Entertaining," featuring 6-man comedy/musical group called the Second Edition.
Bradford's opened in December 1968 by Bernie Beaumont and lasted until at least 1974. The Bradfords was a group from Bradford, England.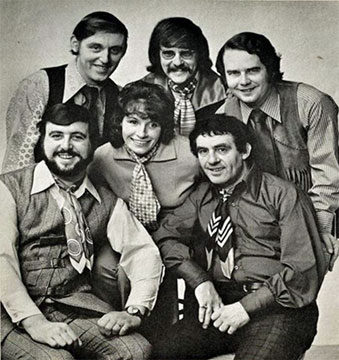 Zachariah's was a country place that featured the Sky Blue Water Boys. It opened in October 1975.