The Minneapolis Aquatennial is a summertime celebration that started in 1940 as a way to boost the profile of the city.  At the time the Foshay Tower was the only building that could be called a skyscraper, but optimism was high that Minneapolis would grow into a major metropolitan city.
National figures were brought in to perform and to ride in the two parades:  the daytime Grande Day Parade and the nighttime Torchlight Parade.  The following may not be a complete list, but it's a start.  Much of this material has come from Pam Albinson's book, Seventy-Five Years of the Minneapolis Aquatennial, Nodin Press 2014
---
AQUATENNIAL 1940
National guests at this very first Minneapolis Aquatennial were:
Bob Hope, Grand Marshall
Gene Autry and his horse Champion, Grand Marshall
The Melody Ranch Gang
Chief One Bull (92 years old and last of the great Lakota warriors famous for the defeat of General Custer)
Patty Berg, golfer, who gave a demonstration at Theodore Wirth Park
Over the Rainbow
See the brilliant Auditorium Evening Stage Revue, "Over the Rainbow," presenting an enormous stage cast of dancers, singers, skaters and top-notch vaudeville artists from all parts of America.  Novel scenic and lighting effects, elaborate and gorgeous costumes, and thrilling acts from New York, Chicago, Frisco and other cities will enthrall you.  Two and a half hours of breath-taking entertainment will be climaxed by an inspiring finale, "America," in which the entire company of 200 will take part.
Aquatennial songs
Western Airlines executive Mason Mallory wrote "Minneapolis at Aquatennial Time," the official festival theme song.   Gail Farrell, a singer with the "Lawrence Welk Show," made the song popular in later years, and it was also recorded by the Soidaires with the Red Wolfe Trio.
"Aquatennial Swing" was another song from 1940, written for the festival and the Minneapolis Tribune.  The music was written by George Barton, Jr., band leader at the Nicollet Hotel, and the words came from band members Tommy McGovern and Oscar Hirsch.

First line of the song:  "Greet your neighbor  with a howdy, call him pal but don't be rowdy"
First line of chorus:  "Coast to coast and sea to sea, from Oregon to Tennessee, all roads lead to Minneapolis"

Another song from 1940 that may or may not have been associated with the Aquatennial was simply called "Minneapolis," written by Hazel Bertram Butterfield:  "A song dedicated to beautiful Minneapolis, the city of lakes and parks."
The Aqua Trot:  A new dance was created for the festival, and regional dance competitions were held in nine towns along the Mississippi River and at the Excelsior and Marigold Ballrooms.  On July 23, 1940, winners of these competitions met on Nicollet Avenue for a final dance competition.  Then 10,000 people participated in a street dance on three blocks of the closed-off street.  The dance was a basic "shag" step interspersed with actions that represented Minnesota sports.  A ton of borax spread on the street made it easier for dancers to glide.
---
AQUATENNIAL 1941
Entertainers who came for the festivities included:
Joe Louis, boxer
Paul Whiteman and His Band
---
AQUATENNIAL 1942
The third annual Aquatennial was held from July 18 to 26, 1942.  The Opening Day "On-To-Victory" Parade started at 3pm on Saturday, July 18. Instead of a series of smaller sectional parades throughout the City as in previous celebrations, in 1942 all units were combined into one large parade.  (Minneapolis Daily Times, April 20, 1942)  Col. William H. Donahue was Grand Marshall.
The parade featured thousands of servicemen marching in formation, and 30 Army and Navy planes flying above in formation.  A huge duo-twin five inch gun mount from Northern Pump was to roll along with the parade – the first time that heavy artillery was to appear in a "northwest" parade.  [This gun, counted as a float, was the Grand Sweepstakes Award Winner in the parade.] There were 35 floats, including models of the U.S.S. Minneapolis, exhibited by Minnesota Federal Savings and Loan, and a destroyer, sponsored by General Mills.  (Minneapolis Sunday Tribune and Star Journal, July 12, 1942)
Also featured were 18 bands, 16 drum and bugle corps, and 25 marching units. Over 100 majorettes attended training sessions organized by the committee.  Prizes were awarded to the best baton twirlers in various categories, and to the ones who sold the most buttons.
In 2022, 91-year-old Facebooker Bill DeCoursey, Sr. shared this memory and video of the 1942 Opening Day Victory Parade.  The video can be seen on YouTube. 
My brother, Fred F. DeCoursey and his wife, Violet Satre DeCoursey, filmed portions of the Minneapolis Aquatennial Parade on Nicollet Avenue in 1942 just before Fred enlisted in the Army to serve in the South Pacific. They are pictured at the lead-in to the clip. The preview of the parade shows them enjoying life in preparation of their wedding 80 years ago on June 6th, 1942.  Vi, in her job as an employee of National School Studios, dealt directly with representatives of Eastman Kodak Company, and had access to the scarce supply of 8mm Kodachrome color movie film during WWII.
I also watched this wartime parade as a ten year old with my sister, Judy, from a window in the Telephone Company building between Nicollet and Marquette where she was working at the time. I'm the little boy who pops up just prior to the parade. The lady on the sidewalk behind me is my mom. Note the World War II patriotic theme of the parade.
The day after the Opening Parade, the Minneapolis Tribune reported that 38,000 people had participated in the parade, and an astounding 380,000 people had watched it.  The North High and Patrick Henry marching bands tied for first place.
John Boles, star of screen and radio, was one of 25 acts that arrived from Chicago for the Aqua Follies.  This was a show staged by swimmers and divers at the Theodore Wirth pool.
The 1942 celebration also included a Music Festival – a series of eight concerts at Lake Harriet by groups such as Norwegian singers and the Park Board Band.  Admission was a 25-cent war stamp.  (Minneapolis Star Journal, July 9, 1942)
A midway was set up at Parade Stadium by Beckman and Gerety Shows.  It included a "Midget Village."  (Minneapolis Tribune, July 20, 1942)
A horse show was staged at the Pastime Arena in St. Louis Park.  The arena would later become the Roller Garden skating rink.
The Twighlight Parade started at 6:30 pm on Wednesday, July 22, 1942, and was dedicated to war workers who were unable to see Saturday's parade.  This parade followed the same route as before.
---
AQUATENNIAL 1943
Two "Back the Attack" parades were held on July 31 and August 4, 1943.
Brigadier General R. B. Rathbun of the Minnesota State Guard was Grand Marshall at the first parade, and Col. Harold N. Rogers headed up the Twighlight parade.
---
AQUATENNIAL 1944
With most entertainers probably out rallying the troops, the Aquatennial's celebrities were in other fields:
Sister Elizabeth Kenney
Minneapolis Mayor Marvin L. Kline
---
AQUATENNIAL 1945
Newly-elected Minneapolis Mayor Hubert Humphrey served as Grand Marshall of the Grande Day Parade.  He subsequently served this capacity in 1966, 1967, 1976,  1977 as U.S. Senator and U.S. Vice President.  In 1978 his wife, Muriel, served as Grand Marshall of the Parade as U.S. Senator.
---
AQUATENNIAL 1946
Opera star Robert Merrill was in town for the celebration.
---
AQUATENNIAL 1947
National performers included Gordon MacRae and singer/actress Joan Caulfied.  There was also a street dance, as evidenced by the photo below.
---
On July 24, 1947, the Minneapolis Auditorium was the location of an "Aqua-Teen-Twirl," with teen-agers dancing to the music of bands directed by Jerry Dibble, Bud Strawn, and Bruce Dybvig.
---
AQUATENNIAL 1948

National performers gracing the City of Lakes included:
Arthur Godfrey – on WCCO Radio from Minneapolis Auditorium on July 24
Alan and Sue Ladd
Marjorie Main ("Ma Kettle")
The program was more geared toward athletics than entertainment in early days.  And selling seat covers.

---
AQUATENNIAL 1949
Visiting celebrities included:
U.S. Vice President Alben Barkley, Grande Day Parade Grand Marshall
BeBe Shoppe, Miss America
Bob Hope
Arthur Godfrey
Hubert Humphrey
Major General Paul L. Williams, Commander General of the 10th Air Force in Indiana
Fernando Chiriboga Villagomez, Mayor of Quito, Ecuador
Charles Coburn, actor
Mary Durey, Centennial Queen
Art Mooney provided music for the Coronation Ball
---
Radio Day
Starting in 1949, radio station owners and their guests were invited to a special days of events.  12 bands roamed the downtown streets, and were especially popular in front of Minneapolis's major hotels:  the Andrews, Curtis, Dyckman, Leamington, Normandy, Radisson, and Pick-Nicollet.
---
---
AQUATENNIAL 1950
Visitors included:
Eddie Cantor
U.S. Vice President Alben Baarkley
Joan Blondell
Jannette David, Miss Denmark
Garry Moore, TV personality
Annapolis Midshipmen
Trygve Lie, Norwegian diplomat and first Secretary-General of the United Nations
Alan Ladd
The big show was at the Minneapolis Auditorium on July 22, 1950, under the auspices of WCCO, with Cantor, Moore, and local talent:
Janette Davis
Cedric Adams
Bob DeHaven
The Vikings
Tony Grise (or was it the Vikings' Tony Grise?)
Jeanne Arland
The Choralaires
The Velvatones
Gus, Jim, and Curly
Hjalmer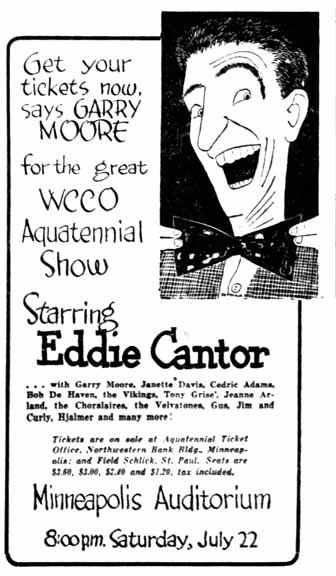 ---
AQUATENNIAL 1951
Celebrity guests included:
Faye Emerson
Alan Ladd, actor
Dennis Morgan, actor
Ken Murray, actor
The Chordettes
Colleen Gray, actress
Clayton Moore – The Lone Ranger!
Again, WCCO had the franchise on the big show at the Minneapolis Auditorium, held on July 21, 1951.  The show can be heard on Radio Tapes.com.  In addition to the celebrities, local radio stars were:
Cedric Adams
Bob DeHaven
Laurie Anders
Burt Hanson
Frank Butler
Gordon Eaton
The Choralaires
The Carillon Singers
Wally Olson's Orchestra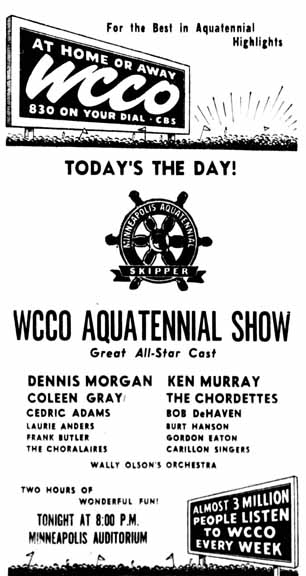 ---
AQUATENNIAL 1952
National stars attending included:
Bob Hope, Grand Marshall
Ken Murray, actor
Helen Westcott, actress
Zacharay Scott, actor
Laurie Anders, actress who worked with Ken Murray
Verne Gagne, wrestler
Gorgeous George, wrestler
Edger Bergen with Charlie McCarthy and Mortimer Snerd
---
AQUATENNIAL 1953
A big Aquatennial show took place on July 18, 1953, broadcast over WCCO Radio.  Performers included:
George Jessel
Victor Borge
The McGuire Sisters
LuAnn Simms
Other celebrities in town included:
Arlene Dahl, actress from Minneapolis
Bob Hope
Marion Marlowe, singer
Frank Parker, singer.
---
---
According to the photo below from the 1953 Aquatennial Parade, the Chordettes starred in a music festival at Parade Stadium:
---
AQUATENNIAL 1954
Many stars came to Minneapolis for the summer celebration in 1954:
Mae Winn
Robert Francis, actor
Clarabell the Clown (from Howdy Doody) entertained kids at Powderhorn Park
Betty Carr
Vera Ellen, singer and dancer
Carlos Thompson, actor
Art Linkletter, TV personality
Jack Carson, actor
Helen O'Connell, singer
Curt Massey, singer and TV host
Ramona Gerhard
Dave Garroway, TV personality
Major General Charles E. Yaeger
---
Choral groups such as the Carillon Singers, under the direction of Edith Byquist Norberg, entertained audiences for the fourth straight year.
---
The photos below are both called Aquatennial Street Dance, 1954 – Day and Night?
---
Minneapolitans loved to dance!  On July 20, 1954, there was an "Aqual canopy show" on top of the Donaldson's canopy between Sixth and Seventh Streets on Nicollet Ave.  Music was provided by Bruce Dybvig's Royalaires.
---
AQUATENNIAL 1955
Guests began to get more interesting in 1955:
Mamie Van Doren, blonde bombshell
Sherre North, blonde bombshell
Tab Hunter, blonde bombshell
Buddy Rich, drummer
Jimmy Hatlo, creater of "Little Iodine" comic strip
Jimmy Carroll, tenor
Randy Merriman and Bess Myerson, hosts of "The Big Payoff" TV show
Carol Richards
Gary, Bob, and Cathy Crosby with the Modernaires
WCCO sponsored the Aquatennial Show on July 16, 1955, at the Minneapolis Auditorium, starring Bob Crosby, Jan Murray, Guy Mitchell, and the Modernaires.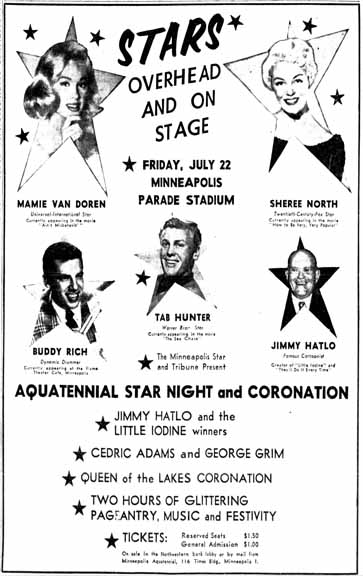 ---
AQUATENNIAL 1956
Celebrities visiting for the festival included:
Peter Lind Hayes and Mary Healy, vaudeville, movie, and TV actor couple
Felicia Sanders, singer
Cypress Gardens water skiiers
Charles Schultz, creator of "Peanuts" comic strip
Barbara Lang, blonde bombshell
Anne Francis, actress
Natalie Wood, actress
Rin Tin Tin, Rand Brooks (Corporal Boone) and Jim Brown (Lt. Rip Masters) from the TV Show "Rin Tin Tin."  Former youngsters recall an appearance at Powderhorn Park.
Joaquin Capilla, 1956 Olympic High Dive winner
Don Cherry. On July 20 a quickly organized Don Cherry fan club of St. Louis Park High School girls, Jane McCanney, President, came to Wold-Chamberlain Airport to greet him.  They "will wear blue suede shoes and cordially invite Cherry to step on them."
Thanks to Kevin Carlson, we find that the Toppers were not some rowdy Rock 'n' Roll group, but more of a barbershop quartet, as seen on the Arthur Godfrey Show.  Here is a page from the January 14, 1956, issue of Cashbox Magazine, found by Kevin.  These are decidedly NOT teen idols!
---
On July 28, 1956, as part of the Minneapolis Aquatennial, a show was presented at the "Bloomington Stadium."  Performers included:
Ray Price
Ferlin Husky
Cowboy Copas
Simon Crum
Lonzo & Oscar
Hushpuppies
Wilburn Bros.
Carlisles
Mitchell Torok
Radio Dot & Smokey
Sugar Foot Collins
Ida Red
Kentucky Travelers
Johnny "T"
---
AQUATENNIAL 1957
The Aquatennial went All Out in 1957:
Col. Marion E. Carl, flying ace, Grand Marshall, Torchlight Parade
The Crew Cuts
Jayne Mansfield
Jimmy Stewart
James Arness, Matt Dillon on "Gunsmoke"
Bob Barker, host, "Truth or Consequences."
Frank Allison, "Kukla, Fran, and Ollie"
Eddie Fisher, singer and actor
Roger Williams, pianist
Mike Connolly, Hollywood reporter
Sid Lippman, songwriter
Esther Williams, Grand Marshall, Torchlight Parade
James Bonn, pianist
Emcees at the Queen of the Lakes Coronation were Cedric Adams and George Grim.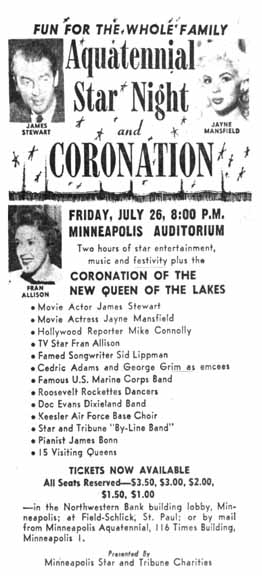 In 1957 a new Aquatennial theme song, "MINN-MINN-MINN-MINNE-A-PO-LIS, Minn.," was written by V. Arthur Koivumki.
---
AQUATENNIAL 1958
Guests were more mainstream this year:
Richard Nixon, U.S. Vice President, Grand Marshall, Grande Day Parade
Esther Williams, Grand Marshall, Torchlight Parade
Dave Garroway, host, "The Today Show"
Don McNeil, host, "Don McNeil's Breakfast Club"
Max Shulman, "Humorist-Author"
Carol Richards and Dick Noel, Singers
Sid Lippman, Songwriter
Emcees at the Queen of the Lakes Coronation were Cedric Adams and George Grim.

---
 AQUATENNIAL 1959
A long list of luminaries here in town in 1959:
Admiral Arleigh A. Burke, USN Chief of Naval Ops, Grand Marshall, Grande Day Parade
William Egan, Governor of Alaska, Grand Marshall, Torchlight Parade
Mahalia Jackson, singer
Vic Damone, singer
Woody Herman and His Band
Steve Lawrence, singer
Catherine Emma
Larry Gray
Captain Kangaroo and Mr. Greenjeans
Jerry Mathers, "Leave it to Beaver"
Arlene Dahl (possibly)
There was also a Hawaiian Review, led by hula expert Nona Beamer, in honor of Hawaii's entry into the United States in 1959.
---
AQUATENNIAL 1960
Dignitaries in 1960 included:
Major General John S. Guthrie, Grand Marshal of the Grand Day Parade, July 16
Captain Edward L. Beach, commander of the nuclear submarine Triton, Grand Marshal of the Torchlight Parade, July 20
"Music on Parade," an Aquatennial Spectacular, took place on July 17, 1960, at Met Stadium.  Performers included:
Mahalia Jackson – World's Greatest Gospel Singer
Lambert, Hendricks, and Ross, a very cool jazz trio
Woody Herman and His Thundering Herd
Vic Damone
500-voice choir
An International Festival of Jazz was held at Coffman Memorial Union at the University of Minnesota on July 18 and 19, 1960, but the papers didn't seem to have any details.
Children's Day on July 19, 1960, featured:
Duncan Renaldo, the "Cisco Kid" of TV
Huckleberry Hound
Yogi Bear
Quick-Draw McGraw
Teddy Snow Crop, an advertising character for a frozen food company
Bozo the Clown as the Master of Ceremonies
---
AQUATENNIAL 1961

Celebrities who joined in the fun included:
Buddy Ebsen
Marilyn Maxwell, actress
Lassie!
Gardner McKay, actor, "Adventures in Paradise" TV show
Annette Funicello
---
TV Host Jack Daly brought his show "Queen for a Day" to the City for the duration of the 1961 festival.
In 1961, the Minneapolis Cine Club filmed the ten-day festival, and produced a 28-minute movie, The Aquatennial Story, with sound and color.
---
AQUATENNIAL 1962

Guests for the Best Days of Summer included:
Judith Bueno
Evandro de Castro Lima, ballet dancer, costume designer from Carnival in Rio
Don McNeil, host, "Don McNeil's Breakfast Club"
Cypress Gardens Water Skiing Group
In 1962 a new song, "Her Majesty the Queen," was written to honor the Queen of the Lakes.  It was performed for the Coronation Ball by the Naval Band.
---
Our own Pam Albinson was named Queen of the Lakes in 1962!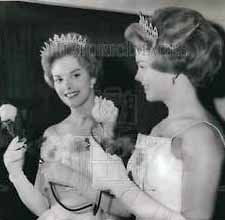 ---
The show before the Grande Day Parade at Parade Stadium featured Willie Peterson and his 40-piece band, including 12 trumpets, nine trombones, and four sets of drums.  Bill Diehl was the emcee.
The show before the 1962 Torchlight Parade featured Captain Cresso, who (according to Vic Burton of the Minneapolis Daily Herald) "is supposed to roll down a giant coaster slide in an aqua rocket car, sail through the air and land in a net."
---
Rick Beresford shared this photo of the Silvertones, who came to Minneapolis to represent the Alexandria Chamber of Commerce at the Aquatennial.  They played on the plaza of First National Bank. That's Karl Tegland in the sunglasses, then a 14-year-old Rick, and Bruce Phelps on organ at the right side of the photo.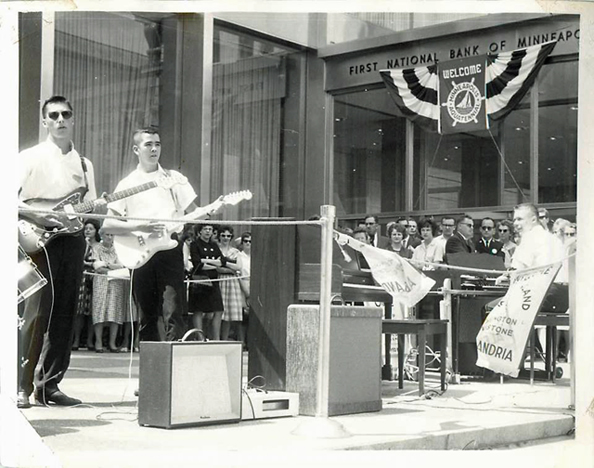 ---
AQUATENNIAL 1963

Celebrities who came to celebrate with Minneapolis included:
Tippi Hedren, actress and West High alum, Grand Marshall, Grande Day Parade
Kirby Grant, actor, "Sky King"
Martin Milner and Glenn Corbett, actors, "Route 66"  (in town to film an episode)
Ferrante and Teicher, pianists
Everly Brothers
Rufe Davis, actor, "Petticoat Junction"
Horace McMahon, actor, "Naked City"
---
On July 19, 1963, WDGY presented an Aquatennial Music Spectacular at Parade Stadium.  Headliners were:
Little Peggy March
Tommy Roe
Mike Clifford
Ray Stevens
---
---
---
Not to be outdone, on July 23, 1963, KDWB and William A. Meyer promoted an Aquatennial concert by "the Dynamic" Ferrante & Teicher at Metropolitan Stadium, playing the exciting themes from "West Side Story," "The Apartment," "Cleopatra," and "Exodus."

---
AQUATENNIAL 1964
Celebrity guests for the 1964 Aquatennial included:
Gene Autry, Grand Marshall
William Windom, actor
Mike Stokey, game show host
Pat Suzuki, actress
Jan and Dean "riding skateboards pulled by a car on tow-ropes"
Marty Robbins, country singer
Ross Martin, actor
Richard Long, actor
Stubby Kaye, actor
Sebastian Cabot, actor
Connie Hines, actress, "Mr. Ed"
---
A new event in 1964 was something called "Organ Fantasy," held at Parade Stadium.  It featured keyboard artists:
Eddie Dunstedter, formerly at the Minnesota Theater, on the Wurlitzer
Shay Torrent, staff organist at Cominsky Park in Chicago
Axel Alexander, German composer and arranger.
Torrent and Alexander were on tour with their "Duo Concert," playing Hammond organs.  Speakers for the event cost $20,000.
Gary Gimmestad remembers the Castaways on a float in the Parade doing "Liar, Liar," but the Castaways don't seem to remember that.
---
On July 17, 1964, WDGY sponsored a rock 'n' roll show at 8:30 pm  at Parade Stadium in conjunction with the Aquatennial.  Acts included:
Jan and Dean
Johnny Cymbal
Johnny Nash
Betty Everett
Jerry Wallace
The Initials
New singing sensation Frankie Randall, with his song "Girls in Summer Dresses."  Could not find this on YouTube.
The caption for the photo above read:
THE SOUND OF STARS fills the air at the Aqua WDGY Music Spectacular.  The records spin and spin all year long.  Each year  new names attain star rank and come to entertain at this exciting show.  Argos Record's Johnny Nash, RCA's Frankie Randall, Mercury's Jerry Wallace, and Kapp's Johnny Cymbal will be among the many to thrill you.  A Skipper Pin Event.
---
AQUATENNIAL 1965
Guests for the festivities included:
Miguel Guajardo, General Coordinator of the Mexican Ministry of Tourism, Grand Marshall, Grande Day Parade
Johnny Mathis, singer, Grand Marshall, Torchlight Parade.  Johnny also performed at the Young America Show at Parade Stadium on July 22.
Ed Nelson, actor, "Peyton Place"
Mike Douglas, talk show host
Lynn Borden, actress, "Hazel"
Bobby Rydell, singer
Bobby Vee, singer
Edgar Zelle (Jefferson Bus Co.)
Major General Winston P. Wilson
The Village Stompers, Dixieland band, performed July 19-24 at Southdale, sponsored by the Southdale Merchants Association
Marv Denis IV
Randy Brown
The Young Americans
Frank Fontaine – "Crazy Guggenheim" on the Jackie Gleason Show
The Aqua Holiday Show replaced the Aqua Follies.  Entertainment included the singing duo of Nelson Eddy and Gale Sherwood.
---
There were many activities for Teens in 1965:
Aqua Teen Key Club at Capp Towers, July 16-25
Aqua Teen Fashion Show, Young-Quinlan Rothschild, July 16-25
Aqua Beach Part Teen Dance, Lake Harriet, July 17
Teen Day, July 19

Aqua Teens in Aqua Downtown
Teen Art Exhibit, Young-Quinlan Rothschild
Teen Stage Show
Hobby Show
Pool and Billiards Finals
Aqua-WDGY Teen Show and Dance, Minneapolis Auditorium

Aqua Teen Dance, 9th and Hennepin, July 22
Teen Beach Party, Lake Harriet, July 24
---
A Downtown Aquatennial Variety Show included jazz acts:
Mary Davies (a/k/a "Carmen the Nurse)
The Jerry Mayeron Jazz Group
The Herb Schoenbaum Jazz Trio
The Dave Moscoe Trio
---
The "Greatest Midwest Talent Hunt Ever" was planned for the 1965 Aquatennial, with the winner receiving $1,000 and a guest shot on the Jackie Gleason Show.  The talent search coordinator was Robert Benham.  Contestants competed in four categories:  Vocal, Instrumental, Dance, and Misc.  (Minnetonka Record, July 1, 1965)
---
AQUATENNIAL 1966
Celebrities in town for the 1966 festival included:
Hubert H. Humphrey, Grand Marshall, Grande Day Parade
Agnes Moorhead, actress
Dale Robertson, actress
Russell Johnson, actor, "Gilligan's Island"
Van Williams
Bruce Lee
Rear Admiral Paul E. Trimble
Rear Admiral Richard Fowler
Allen King, commedian
Winnipeg Police Band
NORAD Command Band
The Travelers, folk music group
Jay Chau, "Kato" on "The Green Hornet"
Dorothy Collins, TV personality and singer
Bert Parks, game show host
An Aqua Pops program presented "The Sound of Music," with Dorothy Collins, "America's singing sweetheart," and "The Music Man" with Bert Parks.
---
JIMMY REED ON THE FLAGPOLE
In conjunction with the Aquatennial, KDWB disc jockey Jimmy Reed spent (a reported 21 days) on top of a flagpole in downtown Minneapolis starting on July 5, 1966.  Don Betzold recalled, "It wasn't really a flagpole. It was a small shack hoisted on a small tower on the corner of 9th and Nicollet. I stopped and visited him one morning, and he lowered a Bob Dylan album for me. Although he broadcast his morning show from there, there were reports that he went inside the adjacent Young-Quinlan-Rothschild building at night. I don't recall if he spent 21 days up there, but it was a while."  A KDWB "Fabulous Forty" survey that Don donated to the Pavek Museum of Broadcasting called the shack a "four-story-high flag pole playhouse."  John Pratt saved an article from the Minneapolis Star reporting that four hoodlums set the crepe-paper wrapping on the 40-ft. pole on fire.  "Police said the wood snow fence frame beneath the paper had ignited at several points.. The whole tower and Reed's escape rope would have burned had the wood had a chance to get a good start."  Reed slept through the whole thing.
---
Also for the Aquatennial, "Where The Action Is" came to Minneapolis in July 1966.  Clark did his intros from Lake Calhoun, and showed a turtle race and karate exhibition. Apparently the format of the show was to go to various places and film acts lipsynching to their songs.  Then each week Clark would be at one of the locations, show a clip of one act from that location, then the rest of the acts were from various other locations.
The Minneapolis episode aired on August 16, but the only act shown that performed in Minnesota was Mitch Ryder and the Detroit Wheels, who lipsynched "See See Rider/Jenny Take a Ride" and "Takin' All I Can Get" from a pontoon boat in the lake.  The other acts were in other geographical settings:  Brenda Lee was in California ("Bye Bye Blues" and "I'm Sorry"), Keith Allison was in Tokyo ("Brown-Eyed Handsome Man"), Steve Alaimo sang "Hold On, I'm Coming" from Central Park in New York, and Steve and Tina Mason sang "You Got What it Takes" from California.  Bullwinkle sold Cheerios and kids were encouraged to buy Stridex pads for "excited skin."
Although Paul Revere and the Raiders were not in the episode, they must have been there and taped a performance there for future airing; supposedly they were the victims of an airplane strike and were stranded in Minneapolis for two days after filming.  Their song "The Great Airplane Strike" resulted.
The Happenings were also there doing "See You in September."  The show is now available on DVD:  Where The Action Is Volume I at www.thevideobeat.com – check out the Rock 'n' Roll TV section.
---
AQUATENNIAL 1967
Celebrity guests included:
Hubert H. Humphrey, U.S. Senator, Grand Marshall, Torchlight Parade
Phillip Pillsbury, Honorary Grand Marshall
Alan S. Boyd, Former U.S. Secretary of Transportation, Grand Marshall, Grande Day Parade
Anita Bryant, singer
Herb Shriner, game show host and humorist
Brigadier General Arthur Adams
M. Charles Lucet, French Ambassador
Emmett Kelly, clown
Julius La Rosa, singer
Nancy Ames, folk singer
Jim Lange, host, "The Dating Game"
Sally Field, actress, "The Flying Nun"
Dolly Holliday
Martin Landau, actor, "Mission Impossible"
McDonald Carey, actor, "Days of Our Lives"
---
Here's a groovy  float made by the Schumaker team for McDonald's.  Trouble is, nobody can seem to identify the band.  Steve Schumaker says it's from 1967, although the "A-Go-Go" fad was more of a 1965 thing.  Anyone?
---
Other 1967 Aquatennial events include:
The Sonny and Cher show without Cher, July 14, 1967
Aretha Franklin, July 19, 1967
An incident at the Torchlight parade set off the 3-day North Side riots.  For a day-to-day description of those events, see my page for the St. Louis Park Historical Society, Race, Creed, Color.
---
AQUATENNIAL 1968
Visiting celebrities included:
Peter Graves, Martin Landau, Greg Morris, and Peter Lupus, actors, "Mission Impossible"
Gordon Murray
Olavi Munkki, Ambassador from Finland
Lorenz Petersen, Consul General from Denmark
Bengt Odevall, Counel General from Sweden
Oyvind Scott-Hansen, Consul General from Norway
Per  Bertil Kollberg, Minister Plenipotentiary from Sweden
Walter U. hauser, Consul from Germany
Esko E. Ranta, Vice Consul from Finland
Bob Keeshan, "Captain Kangaroo"
John Gallos, "Clancy the Cop"
Allan Lottsberg, "Willie Ketchum"
Mary Davies, "Carmen the Nurse"
Aretha Franklin
Robert Taylor, actor
Emmett Kelly, clown
Nicollet Mall opened in time for Aquatennial events.
---
AQUATENNIAL 1969
Dignitaries who appeared at the Aquatennial in 1969 included:
Maurice Stans, Secretary of Commerce, Grand Marshall, Grande Day Parade
Arthur Godfrey, Celebrity Grand Marshall, Grande Day Parade
His Excellency Frank H. Corner, New Zealand's Ambassador to the U.S., Grand Marshall, Torchlight Parade
Gale Gordon, actor
Raymond Bailey, actor, "Beverly Hillbillies"
Bob Keeshan, "Captain Kangaroo"
Bridget Hanley, David Soul, actors, "Here Come the Brides"
Mike Farrell, actor, "Days of Our Lives"
Gene Bua, actor, "Love of Life"
Karen Carlson, actress, "Here Come the Brides;" married to David Soul
Rufe Davis, actor, "Floyd Smoot" on "Petticoat Junction"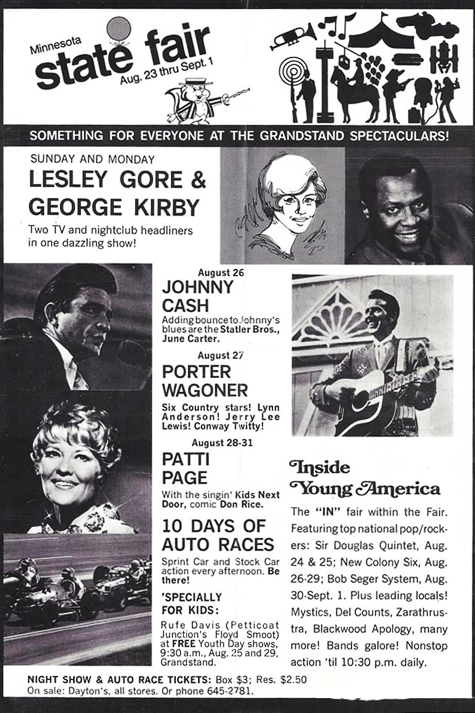 GRANDSTAND SHOWS
August 22:  Buck Owens and the Buckaroos, with Susan Raye and Billy Walker
August 23 and 24:  Lesley Gore and George Kirby
August 25:  Johnny Cash, June Carter, the Statler Brothers, and the Carter Family
August 27:  Porter Wagoner, Lynn Anderson, Jerry Lee Lewis, Conway Twitty
August 28 – 31:  Patti Page, The Kids Next Door, the Stebbings, and comic Don Rice
YOUNG AMERICA
August 24 and 25:  Sir Douglas Quintet
August 26 – 29: New Colony Six
August 30 – September 1:  Bob Seger System
LOCAL BANDS:
Mystics
Del Counts
Zarathustra
Blackwood Apology
DIONNE WARWICK
Dionne Warwick headlined the opening night show on July 18, 1969, brought in by promoter Arnie Sagarski.  The concert was at the Minneapolis Auditorium and was co-sponsored by the Aquatennial and WDGY, whose "All-American" disc jockeys served as hosts.  Accompanying Ms. Warwick was Woody Herman and his Orchestra.  Gary Puckett and the Union Gap may have also been on the bill.
Activities included a line-dance (as in the Parkettes) competition and a "highly amplified" Beach Party at Lake Calhoun.
---
AQUATENNIAL 1970
Dignitaries included:
Secretary of the Air Force, Dr. Robert Channing Seamans, Jr., Grand Marshall of the Grande Twighlight Parade
Isaac Hayes, Celebrity Grand Marshal of Twighlight Parade
Takeso Shimoda, Japanese Ambassador, Grande Marshal of the Torchlight Parade
Marty Krofft, producer of H.R. Puffinstuff, Celebrity Grande Marshal of the Torchlight Parade
---
Events associated with the 1970 Aquatennial included:
Aqua Soul Spectacular, starring the Isaac Hayes Movement, July 17, 1970, at the Minneapolis Auditorium.  Scott Bartell's review tells us that the show was less than spectacular, with only a third of the Auditorium filled and a really terrible sound system emitting feedback but no volume.  The warmup group was the local show band Showtime I and II.  They were followed by the Memphis group the Mar-Kays.  The Isaac Hayes Movement had polish, power, presence, and "soul to spare," according to Bartell, but given the small house and sound problems, Hayes "did not pull out all the stops and show us everything."  Still, "everyone seemed basically satisfied."  (Minneapolis Tribune, July 19, 1970)
Victor Borge and the Minnesota Orchestra, July 18, 1970, at Northrop Auditorium
Schweigert Band Contest, July 19, 1970, at the NW National Life Plaza
Aquateen Scene Show, July 21, 1970, at Har Mar Mall
Torchlight Parade, July 22, 1970
Beach Party at Lake Calhoun, July 26, 1970
The Aquatennial Admiral's Ball was held at the Pick-Nicollet Hotel on July 17, 1970.  Performing were Danny's Reasons, Thundertree, the Sir Raleighs, and Joey Hyatt.
---
AQUATENNIAL 1971
Dignitaries attending the 1971 Aquatennial included:
Honorable George Walter, Prime Minister of Antigua, Grand Marshall, Torchlight Parade
Honorable Branford M. Taitt, Grand Marshall, Grande Day Parade
Mark Wilson, Illusionist
Bahamas Goombay (This is actually a form of music and the instrument used to play it.)
Lt. General James H. "Jimmy" Doolittle
Jamaica Military Band
The WMIN Shower of Stars appeared at the Minneapolis Auditorium on July 18,1971, featuring:
Roy Clark
Sonny James
Hank Thompson
Sammi Smith
Ray Price
There was also a Beach Party at Lake Calhoun on July 25, 1971.
---
AQUATENNIAL 1972
These people were very famous in 1972:
David Cassidy (!), actor, "The Partridge Family," Grand Marshall, Grande Day Parade
Honorable Nevelle Kanakeratne, Ambassador from Ceylon, Grand Marshall, Torchlight Parade
Honorable Lakshmi Kant Jha, Ambassador from India
Ritha Devi, dancer from India
Pot Rum Steelers
Lt. General Ira C. Eaker, USAF
Senator Walter Mondale
Kim Carnes, singer
Dave Ellington
B.J. Thomas was scheduled to perform on July 28, 1972 but the show was cancelled because of illness.
David Cassidy performed on July 30, 1972.
---
AQUATENNIAL 1973

Visitors to our fair city in 1973 included:
Honorable Simcha Dinitz, Israelii Ambassador to the U.S., Grand Marshall, Torchlight Parade
Billy Graham, Grand Marshall, Grande Day Parade
Admiral John S. McCain, Jr., U.S. Navy
Donald Duck and Mickey Mouse
Colonel Sanders
Larry Linville, actor, "M*A*S*H"
Arnold Stang, actor
Hubert H. Humphrey, U.S. Senator
Walter Mondale, U.S. Senator
Samika Kaura
---
Doc Evans and his Dixieland Combo performed at the Aquatennial Schweigert Jazz Contest.
---
KDWB sponsored an Aquatennial Beach Party/Rock Festival at Lake Calhoun on July 19, 1973.  It was organized by Don Cline and Chuck Buell from KD.  Rain kept the crowd to 5,000 – 10,000.  Performing were Tony Joe White, Brownsville Station, and Don Bleu and the Upper Division.  Rain cancelled Marshall Tucker, but they came back the following Tuesday and performed at Minnehaha Falls, as did the band Straight Up.
---
AQUATENNIAL 1974
Visiting dignitaries included:
Captain Eugene A. Cernan, Apollo 17 Astronaut
Bob Keeshan, "Captain Kangaroo"
Errol Mahabr, Minister of Industry from Trinidad and Tobago
Rear Admiral Warren H. O'Neil, U.S. Navy
Alex Dreier, broadcaster and actor
Royal Court of Aloha Week, Honolulu
Strategic Air Command Band
Tom Poston, actor
Gale Storm, singer and actress
Chris Darrell, 1974 King of Mardi Gras
Santana
Melba Montgomery, country singer
Maritime Life Hatters, steel drum orchestra
Trinidad Drum and Bugle Corps
Johnny Roventini, "Johnny the Bellboy" for Phillip Morris cigarettes
---
The first annual Aquatennial Polkarama was held at the Leamington Hotel, with dance instructor David LaVay providing an exhibition of polka moves.  Six, count 'em, six polka bands performed for the happy feet:
The Mroszinske Brothers
Dr. Lester Schuft
Florien Chimielewski
Rod Cerer
Wally Pikal
The Polish Brass with Roger Stigney
The Marityme Dance drew 2,000 people, dancing to Don Cavitt's Band and The Road Gang.
Alas, this website stops at 1974…