On July 19, 20, and 21, 1967, KDWB and the Aquatennial sponsored "Happening '67" at the Minneapolis Convention Hall.

The T.M.C. Insider reported that the event was:
unofficially planned to make Minneapolis the place "where it's at" this summer.  KDWB and the Aquatennial are hoping that a lot of the flower children from all over the country will congregate at "the world's largest happening" in the Minneapolis Auditorium.  … Happening '67 will be a three day psychedelic feast – That's right, a three day freakout.  In the stage area will be sheets of brilliant silver mylar, interspersed with fabrics as colorful as possible, to accent the silver.  There will be three screens.  From the back, projectors will flash colored lights which are electronically controlled so that they keep time with the music – pulsating when the timbre of the music does.  Cost for the lighting equipment – $100,000.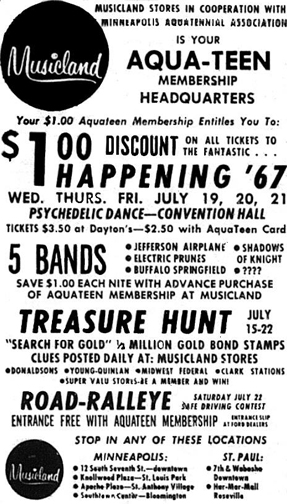 Appearing were:
Jefferson  Airplane (These photos taken at the July 19, 1967, show)
---
Buffalo Springfield
The Shadows of Knight
The Electric Prunes
The four groups played in rotation over the three days.
---
---
REVIEWS
Will Jones gave a generally good review of the event, describing three huge rear-projection screens that had colored lights and images flashing on them from behind, frequently in synchronization with the music.  "Sometimes the shadows of what appeared to be nude go-go dancers appeared on the screens.  Our party strolled behind the screens to see what went on behind there [and found] go-go dancers in bikinis making those lively silhouettes."  They were chased away by the police though, which Jones said "put a crimp in the proceedings."  He also cited a young man who was not impressed:  "'This isn't really very well done at all.  There aren't enough lights.  Not enough things popping.'  He looked around the hall slowly with his experienced eye and then announced, 'They need at least five or six more big lights.'"
Molly Ivins, then a Tribune staff writer, observed "If most of the kids were hippies, then they were too young to grow beards.   Their clothes ranged from Carnaby Street Moderate to All-American Slob.  The Jefferson Airplane was the big hit of the evening.  The Airplane has more fun, more noise, more style and more hair than the three other groups.  The kids danced, sat, lay down, or just stood listening to the music and watching the lights and a no-sense film made by Marcus the Hippie and his friends."
Beverly Kees from the Minneapolis Star focused on the disinterest of the audience the unspecified night she attended, counting the house at 2,100.  She never mentioned the bands or who was in them, except for the Airplane.   "For the most part the teens watched silently and unsmiling."  "During infrequent and brief pauses between songs, applause was sporadic."  The last group, the Airplane, got more attention and applause.  "The teens applauded and quietly walked out."
Ric from Facebook remembered, "Neil Young did not play with Buffalo Springfield. It was Doug Hastings, from the Daily Flash, who filled in while Neil had left the group for awhile. I was disappointed. The Airplane did not play at least one of the dates as Buffalo Springfield headlined the day I was there."  Larry says, "I  don't remember any chairs. They played on a stage a few feet above the dance floor."
---
The KDWBeat Magazine, August 26, 1967:
KDWB – Where The Action Is!  For three nights the Jefferson Airplane, Buffalo Springfield, Electric Prunes and Shadows of Night filled the flour city with their flower music.  "Happening '67" was a total experience.  Each group wished they could have stayed longer, but about 11:30 each night, some guy would come in and yell, "Hey, they're rolling up the sidewalk!"
On Friday all the groups were taken out to Lake Minnetonka for an afternoon on the largest boat on the lake.   Even though most of the people were from California, they were truly impressed.  The groups said they really hated to leave the twin cities. The Jefferson Airplane said that they wished they could have stayed longer, but they had to get out to the airport because someone had written "Spirit of St. Louis" across the fuselage.  The Electric Prunes asked, 'Is St. Paul really putting Minneapolis on?' And then they were gone."