There are many articles, websites, and videos that tell the story of Tiny Tim and his career.  This page focuses on his life and death in Minneapolis.
Herbert Buckingham Khaury was born in New York in April 1932.  He came to national prominence when he appeared on the very first episode of  "Rowan and Martin's Laugh-In," on January 22, 1968.  He only had one "hit song," but it was a big one – a 1920s chestnut, "Tip Toe Thru the Tulips."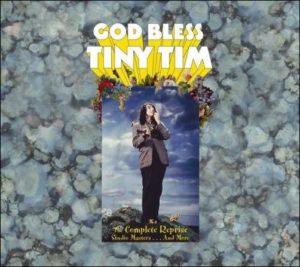 ---
LOCAL PERFORMANCES
On October 18, 1968, Tiny Tim played the Metropolitan Sports Center.  Local band the Sir Raleighs opened up the concert, which also included Joe Tex; Tommy Boyce and Bobby Hart; and the Young Rascals as the headlining act.
David Hicks remembers:
I was an usher for Bob Sims (who had the ushering concession) from 1966 to 1971 and I saw many of these concerts. The Tiny Tim concert at Met Center was sort of neat to me. He entered the stage (the stage was not at the end of the arena but on the side right in front of the hockey benches) with the lights out from one of the entrances for the hockey team and I was asked to escort him to the stage. He had a wireless microphone which was quite new at the time, and was talking to the crowd in an eerie voice as we entered the arena. There I was walking with Tiny Tim escorting him by the elbow from the dressing room to the stage. For a 17 year old kid it was quite a thrill.
---
WINTER CARNIVAL 1970
The WDGY Winter Carnival Spectacular, February 4, 1970, was a "terrible flop," according to the Insider, with less than 1,500 in attendance.  Performing were Tiny Tim, Al Martino, and Johnny Nash.  The Cowsills were also mentioned in the brochure.  Arne Sagarsky was the booker of the show.
A blurb in the Tribune dated February 15, 1970, reported that the Tiny Tim show lost $10,000, but the loss went to the promoter (presumably Sagarsky) and not the Winter Carnival.  Only 1,000 attended his show, despite his recent appearance on Laugh-In.  Maybe all the performers were at the same show and the reporter was blaming it on Tim?
---
COMPETING EVENTS
On January 6-10, 1971, Tiny appeared at the International Auto Show '71 at the Minneapolis Convention Hall.  WDGY advertised the show on its 30 Star Survey.  Appearing with Mr. Tim would be Miss Vicki, Pat Butram (sic) (Mr. Haney on "Green Acres"), and Barnabus and Donna Wandrey from "Dark Shadows."

---
On the last day of the Auto Show, January 10, 1971, Tiny Tim was booked at the Depot.  After a week where people could get to see him for free, not to mention seeing him on KSTP-TV's "Dial 5" program,  this may not have been the smartest move.
And, as would be expected, by all accounts this show was poorly attended.  Tiny didn't care, telling Star reviewer Scott Bartell that "even if there's only one person – the tables and chairs are listening."  Tiny was interviewed by local TV columnist Forrest Powers, where it was revealed that Miss Vicki was pregnant and that Mr. Tim had not been asked back to "Laugh-In," the show that launched his career.
But according to Bartell, it wasn't necessarily a bad show – in fact, he called it "funny and engrossing."
He began with "The Waltz of the Bells" and "The Good Ship Lollipop."  Then he brought the band in for a super-long medley beginning with a World War I tune asking war critics, "What kind of American are you?," switching to "Bad Moon Rising," and proceeding through a very mixed bag of perhaps a dozen more fragments of songs. …  He gives different treatment to all his songs — relative reserve on older tunes; writhing on the floor and throwing his necktie away on "Great Balls of Fire," singing "Yankee Doodle Dandy" through a bullhorn to get the old Victrola effect – yet he stamps each song with his own identity and people can't help laughing and enjoying themselves.
At the same time he commands a strange respect – perhaps for sheer guts, but also because he does some things very well.  For instance, he manages  a duet with himself, imitating Sonny and Cher on "I've Got You Babe."  I guess it is that ambiguity  that makes his work so captivating.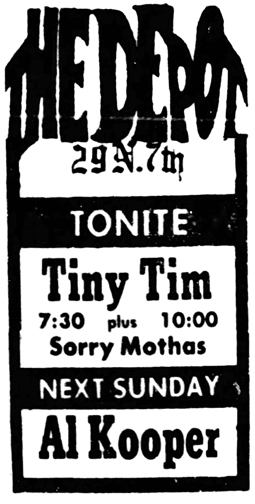 ---
Tiny Tim had bottomed out in 1992, and moved to Des Moines to be near his new manager, local promoter Steve Plym.  He was still there in January 1995.
---
In September 1996 Tiny performed at Lee's Liquors in Minneapolis.
---
MISS VICKI
Tiny Tim married "Miss Vicki" on The Tonight Show on December 17, 1969.  The event was watched by 40 million people (84 percent of the viewing audience in New York City, cited David Richards of the Washington Post).  Victoria Budinger, age 17 at the time, later revealed that the marriage was a "loveless sham."  The couple had a daughter named Tulip Victoria in 1971, separated in 1972, and divorced in 1977.
---
Locally, record store owner Don Leary capitalized on the event by placing this ad in the Minneapolis Star:  (thanks to Bill Roy for the find!)

---
MISS JAN
A 1984 article reported that Tiny Tim was down on his luck and he was about to embark on a tour with a circus in Illinois.  He told reporter Bill Stokes that he had been secretly married on June 26, 1984, to Jan Alweiss, but the marriage was being annulled because he refused to have sex with her unless it was to create children, and she didn't want to have kids.  He remarried Miss Jan at a horror theme park on Halloween, 1994, on The Tonight Show With Jay Leno, but they divorced in June 1995.
---
MISS SUE
On August 18, 1995, Tiny, at age 60, married his third wife, Miss Sue (Susan Marie Gardner), a 39-year-old Harvard honors graduate.  The wedding was held in a Catholic church in Minnetonka with 700 guests and scores of TV reporters in attendance.  Sue spent her early childhood in Minnetonka and Hopkins, with pictures of Tiny Tim plastered on her walls.  The family summered in the Twin Cities and spent winters in the San Diego area.  In 1975, when Sue was 19, her mother Janice died of cancer; Janice had met her husband of 28 years at St. Louis Park High School.
Miss Sue had an exceptional sensitivity to chemicals; in an August 23, 1995, Sun-Sailor reporter Jay Maxwell noted that she was living in a hotel in Eden Prairie – Tiny lived in another room in the same hotel – until their new house was rid of any materials that would irritate her condition.  Filmmaker Max Sparber identified the house as 5145 Zenith Ave. So. in Minneapolis.
---
THE DEATH OF TINY TIM
On September 28, 1996, Tiny collapsed and fell from a stage after a heart attack just as he began singing at a ukulele festival [Ukulele Hall of Fame] at the Montague Grange Hall in Montague, Massachusetts. He was hospitalized at the nearby Franklin County Medical Center in Greenfield for 11 days before being discharged with instructions not to perform again because of his health.  His response was "If I live 10 years, it's a miracle.  Five years, it's even more of a miracle.  I am ready for anything that happens."
Sparber noted that Tiny performed for a free meal at the Lincoln Del in St. Louis Park a week before he died.  Fishman's Deli, the successor to the Lincoln Del, was said to have a photo on its wall of him buying a large sausage, taken at that visit.
Sparber says that Tiny's penultimate performance was for the Minneapolis League of Catholic Women.
While playing at a gala benefit at the Woman's Club of Minneapolis on November 30, 1996, Tiny had a heart attack on stage. This account was on the Internet but the origin is unclear.
Tim almost fell coming up the marble staircase and Miss Sue tried to support him. Miss Sue asked him how he was feeling and Tiny told her he wasn't taking his medicine (he had a habit of this). There was a lovely dinner, but Tiny didn't eat much. After the meal, Tiny was introduced to the bandleader, and was given a very cold reception. The bandleader didn't know Tim was to perform that night. He refused to have his band back Tiny on stage saying the band didn't know the songs. Tiny asked, "You don't know I'm Looking Over a Four Leaf Clover?" Tim was told he would have to play without accompaniment. Tim would be called to perform at 9:00 PM. 9:00 arrived, then 9:30 and 10:00 went by and he still hadn't been called to perform. Sue wanted to get her stepmother and tell her that Tiny was going home, because he was exhausted and didn't feel well. Sue's stepmother went to find the lady in charge. The bandleader called a break without introducing Tiny. It was a terrible insult to him. A guest vocalist should always be introduced at the end of a set, when the crowd is warmed up. The crowd had filtered out of the room leaving on a few people. This was a deliberate insult by the bandleader. The lady who ran the affair went up to the microphone and introduced Tiny to an empty room. Tiny got up and stood at the microphone. The cords were tangled around his feet and his ukulele was out of tune.
Tim was sick but didn't want to disappoint the guests. People were applauding him. Sue went to take his arm because of the uneven footing and because she could see him shaking. He waved and blew kisses to the audience, something Tim always did at the end of every show. Sue took Tim's arm and asked if he was all right. He just stood there and said, "No, I'm not." Those were the last words he ever spoke. Tim collapsed on the stage. A doctor started CPR. The ambulance was there in a matter of minutes. They worked on him for half-hour, there on the floor. The EMT's told Miss Sue that Tim would probably not make it, but Sue already knew that. They worked on Tim for another hour and fifteen minutes at the Hennepin County Medical Center before they gave up. Miss Sue was with him when he died.
The Star Tribune reported that over 700 people attended Tiny Tim's funeral at the Basilica of St. Mary in Minneapolis on Wednesday, December 4, 1996. Footage can be seen Here.
There was a cast of characters that could have filled a Dickens novel.  Women in long fur coats, women in black leather jackets, one guy in a Vikings jacket, another in a purple business suit, a bag lady with her cart in tow, children in their Sunday best, men with dreadlocks, women with beehives.  They came to honor the ukulele player with fluttering falsetto voice and Dickensian name, Tiny Tim.
The mass featured the playing of Tiny's song "Sunshine Cake" from a 1971 children's album.  "Everyone called him Tiny during the service except when the priest said prayers, when he was referred to as Herbert Khaury."  Over 500 people filed past the open casket, where Tiny lay with his ukulele, a stuffed rabbit, his rosary beads, a book about children, and some tulips.  All the local an entertainment TV networks were represented.  Miss Jan sobbed by the casket.
---
Tiny Tim's remains are entombed in a mausoleum in Lakewood Cemetery, Minneapolis.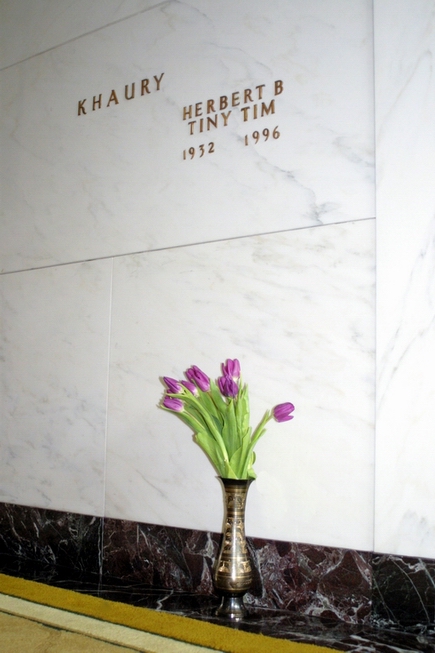 God Bless us all, Tiny Tim.
---
SOURCES
"Tiny Tim searches for new applause under the big top" – Bill Stokes, Chicago Tribune Service – Onward, October 2, 1984
"Miss Vicki speaks out:  My Bizarre Marriage to Tiny Tim" – Hillary Sweeney, Star Magazine, February 28, 1995
"God Help Us Every One – Tiny Tim:  Fame, Failure and the American Dream" –  David Richards, Washington Post, February 19, 1995
"Engagements:  Gardner-Khaury" – Minneapolis Star Tribune, August 3, 1995
"Vases, towels top Tiny Tim's wedding gift list" – People – Minneapolis Star Tribune, August 1995
"Miss Sue's marriage is the latest in string of life-altering events" – Jay Maxwell, Sun-Sailor Lifestyle, August 23, 1995
"Third wedding and a …  Tiny Tim and Miss Sue are married in Minnetonka" – Jay Maxwell, Sun-Sailor Lifestyle, August 23, 1995
"Unconventional Pop Figure Tiny Tim Dies" – (Associated Press) Washington Post, December 2, 1996
"Characters convene to mourn Tiny Tim" (from staff reports) – Minneapolis Star Tribune, December 5, 1996