Timothy D. Kehr was a force in the Twin Cities music and television arenas for over 45 years. The following are his radio and TV achievements.  Information was provided by Timothy and by his good friend Tom Garry.
---
MUSIC
Timothy started promoting concerts and music when he was still in grade school.  Before he had graduated from high school in 1964 he was a veteran music reviewer, booking agent for most of the Twin Cities top teen bands, and was friends with Danny and the Juniors, Bobby Darin, and other bands of the era.
Timothy went to probably every rock 'n' roll show at the Prom Ballroom, including the ill-fated Winter Dance Party on January 28, 1959.  In the book The Day the Music Died, author Larry Lehmer describes a 12-year-old Timothy as a backstage regular, interested more in the music business than the music.  He was well-known by the security guards and had access to the dressing room in the basement, where the performers were playing cards.  He had brought a photo of Buddy Holly, hoping to get it autographed.  I mentioned to Timothy that I had come across this reference while re-reading the book, and he responded, "I AM EVERYWHERE!"  And he was!
When the Rolling Stones made their infamous appearance at Danceland, it was Timothy who was responsible for getting them to and from the gig, and it was his car that was pelted with tomatoes (but not eggs).
In college he produced "Liar, Liar," by the Castaways (Billboard #12). In 1967 he arranged and produced "Nowhere to Run" By the More-Tishans. He also published two music publications: the Music Scene and the Insider. He also hand picked the original members of the Litter ("Action Woman").
He once gave a custom made guitar to John Lennon and spent time with the Beatles in Chicago.
After graduation Timothy went on to secure recording contracts for Crow ("Evil Woman Don't Play Your Games With Me"), Northern Light ("Minnesota") and others.
In 1967 and '68 he wrote the column "Musically Yours" for the local TV Digest.
From April to June, 1967, he edited nine issues of the Music Scene newsletter for B-Sharp Music Store, owned by Jim Lopes.
From July 2 to December 18, 1967, he edited 12 issues of the T.M.C. Insider for the Trestman Music Store.
From 1968-1980 he worked for Columbia and Epic Records, Motown, 20th Century, and Polydor. During this time, Billboard Magazine named him executive of the year from 1972 through 1978. While at these companies, he was given numerous Gold Records for his contributions to the success of many hit records and artists.
In 1980 Timothy left the record business to open his own advertising agency in the Twin Cities. However, in 1983, he briefly returned to the music business to manage John Maddock, a children's entertainer and produce two albums by Maddock under the name of "Captain Cookie." At the same time he also developed himself as a local television personality as a host of late night television from 1976-1986 and as a talent in television ads.  (see below)
For nearly 20 years he owned and managed multiple popcorn stands at the Minnesota State Fair.  One of his more famous employees was a young friend, Kenny Rogers, when Timothy helped the First Edition secure a stage spot at the Fair for a couple of years.
---
In 2005 Timothy was inducted into the Minnesota Rock/Country Hall of Fame. And in 2006 he was inducted into the Iowa Rock and Roll Hall of Fame.  From 1997 to his death he was also a voting member of N.A.R.A.S. (the Grammy awards.)
In 2010 Timothy was inducted into the South Dakota Rock 'n' Roll Hall of Fame, and he was also inducted into the North Dakota Rock 'n ' Roll Hall of Fame.
In November and December 2010 Timothy broadcast the True Oldies Christmas Show on 740AM WDGY from 10AM-1PM on Saturdays. He used his personal collection of 100s of rock 'n' roll Christmas CDs. The Christmas CD collection includes everything from Bill Haley to Danny and the Juniors to Bobby Rydell to the Beatles to Bobby Vee to Paul and Paula to Jackie Wilson to Jimi Hendrix to Dion to Jimmy Buffett.
---
TELEVISION

Timothy's on-air "debut" was Sunday, February 15, 1976 on WCCO-TV at 10:30AM. The program was "The Serials." He sold the idea to WCCO-TV on a trial program using a beginning episode in an Ace Drummond serial. The program drew more than 400 letters of praise and WCCO-TV put the program on the air for 13 weeks. "The Serials" was broadcast Saturdays at 2:00 PM beginning April 10, 1976.
Timothy's next program on the air came on May 28, 1978 (Memorial Day weekend). He planned an all night movie party from midnight til 5:00AM on KSTP-TV, showing all 12 episodes of Flash Gordon. Timothy was the emcee, broadcasting live from a car dealership. He underwrote the program. The event was in a manner worthy of Los Angeles. There were searchlights, free popcorn, prizes, trivia questions and Timothy hosting between chapters of the movie. The Twin Cities had been used to midnight sign-offs prior to Timothy's all night TV shows.
Timothy returned on all future holidays and on a regular basis on KSTP-TV through April 30, 1982. On May 30, 1982, KSTP-TV attempted to duplicate his unique shows with their own show and host. He moved to WTCN-TV to compete against KSTP-TV. Timothy won.
In August 1982 Timothy brought his shows which were now broadcast from 12 Midnight Til 2:00AM On KMSP-TV and broadcast them through 1987.
In 1988 and 1989 Timothy broadcast a half-hour show called "TV Classics" on KTMA-TV, Channel 23, at 10:00PM every Friday night.  His sponsor was the Chef Cafe at Franklin and Chicago in Minneapolis (pictured below).  Here is one of his famous chicken commercials.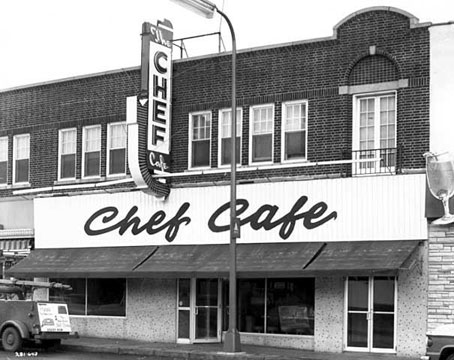 And here is a still of Timothy, eating that famous fried chicken:
Since those early days of "Late Night Movies With Timothy D. Kehr," Timothy appeared in many radio and TV commercials which were continuous from 1978 through today.
In 1980 Timothy started his own advertising agency, which was in operation until his death. Two of his more memorable commercials were "Chicken Wings" and "Sober Cab," which aired for years.
Timothy was creator, host, producer, and underwriter of these programs, many of them broadcast years before there was any programming past midnight. He also used his own library of public domain films to broadcast on his programs. He was a true pioneer in Twin Cities broadcasting without ever receiving a paycheck from any station.
---
Timothy D. Kehr passed away on September 10, 2013, after a battle with melanoma cancer.  I don't remember how I first got introduced to Timothy (perhaps through Patrick Devine), but he became my mentor very early in the course of my Twin Cities rock 'n' roll odyssey, even though he really didn't know me from adam.  He introduced me to dozens of people, gave me countless pieces of information, corrected me when I was wrong, and supported me 100 percent.  I will miss him as a source of knowledge and experience, but mostly as a friend who returned every phone call and responded to every email.  IN ALL CAPS.
Thank you, Timothy.
---
Article from StarTribune
---
Save