Described by one wag as "Dylan before Dylan," Koerner, Ray, and Glover performed authentic roots music that remained true to its original flavor.  The trio consisted of:
"Spider" John Koerner
Dave "Snaker" Ray
Tony "Little Sun" Glover
Although all three were from Minneapolis, they first got together in New York City in the spring of 1962.  On March 24, 1963, they recorded their seminal album "Blues, Rags & Hollers" in Milwaukee, produced by the trio and Paul Nelson, editor of the Little Sandy Review.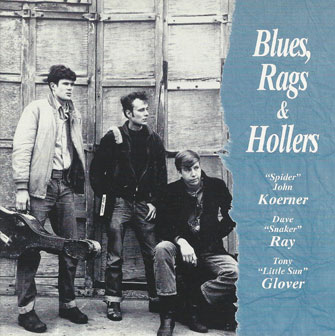 The album was first released in June 1963 on red vinyl on Audiophile Records, a "hobby label" owned by E.D. Nunn, the heir to Nunn-Bush Shoes. Only 600 copies were pressed. The album was reissued in November 1963 on Elektra Records with four of the original songs deleted.  In February 1995 the album was reissued in CD by Red House Records, with the four deleted songs restored and the Elektra mono restored to stereo.
In June 1963 Will Jones notes:  "They make a big point of going back to the true roots of folk music and a painfully detailed set of liner notes gives full credit whenever they have borrowed material and ideas from such heroes as Leadbelly and Blind Lemon Jefferson."  "Just for laughs" Jones said he liked to compare the album to something called "Folk Tunes Swingin' Band Style" with Tony Martell and his orchestra doing "Greensleeves," "Mary Ann," "Buffalo Gal," and "Scarlet Ribbons" with a smooth '40s big-dance-band sound.  "That, too, is folk music, folks.  The contrast is startling, to say the least, and either extreme is preferable to the middle ground described in the Koerner-Ray-Glover liner notes: 'Half-baked pop adaptations being palmed off as real folk music.'"
The original album was followed up with "Lots More Blues, Rags and Hollers," recorded in September 1963.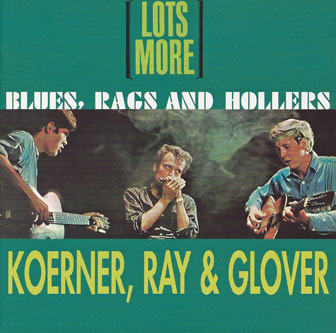 There has been much written about this treasured and unique part of Twin Cities music history, and I won't try to reinvent the wheel here.  Together or individually, these men have influenced many, many local and national musicians.