This page is about John Denver's early ties to Minnesota.  Wikipedia says that he lived in Edina from 1968 to 1970, when he and his wife Annie moved to Aspen.
MITCHELL TRIO
Denver joined the Mitchell Trio in 1965, replacing the group's namesake, Chad Mitchell.  One correspondent remembers seeing him perform with the Mitchell Trio "(for $1) at a Monday night teen concert at Dayton's eighth floor auditorium circa 1967-68 during my sophomore year in high school."
As a member of the Mitchell Trio, Denver participated in a show at Northrop Auditorium on November 2, 1966, that also included Carolyn Hester and Godfrey Cambridge.
Denver appeared on the Mike Douglas Show in June 1967, one of many appearances to come.  Neal Bond found the photo below on the Chad Mitchell Trio Facebook page!  It may not be from the June 1967 appearance, but close enough!
Denver left the Mitchell Trio in December 1968 and it broke up in 1969.
On May 11, 1969, Allan Holbert of the Minneapolis Tribune highlighted Denver in his "What's Doing?" entertainment column.
---
SOLO
Denver had his first solo engagement at a night club in Aspen, Colorado.  He started playing mostly colleges.
From May 12 to June 1, 1969, Denver played the Golliwog Lounge at the Sheraton Ritz Hotel.

On May 22, 1969, Minneapolis Star entertainment columnist Don Morrison gave Denver a glowing review of the Golliwog show.
---
ANNIE
John Denver fan Corrine Smith sent in some Minnesota-related excerpts from Denver's memoir, Take Me Home, An Autobiography." (Harmony Books, 1994)
John first met Annie (Ann Marie Martell) "in the spring of 1966. The Mitchell Trio had performed a concert at Gustavus Adolphus College in St. Peter, Minnesota, and afterward we were invited over to the Student Union, where there was a charity drive going on."  (p. 76)  And he talks about talking with this girl named Annie who "filled me with wonder."
They connected again "in the fall," when "the trio came back to Minnesota to do a show in Mankato." (p. 77)
Denver married Annie in her home town of St. Peter, Minnesota, on June 9, 1967.
---
THE EDINA CONNECTION
Annie said in a May 18, 1969, article in the Minneapolis Tribune that they spent their first year in Chicago, but he was gone so much that they moved back to the 'Cities, "where I have so many friends going to school or teaching."
Denver's account in his memoir gave a bit of a different explanation of the move from Chicago to Edina:
Chicago just proved to be too expensive for Annie and me, and after a year we moved to Minneapolis, where we found a nicer place for less money. I think it says a lot about who we were then that we moved into a staid suburban development rather than a place near the university and its Sixties counter-cultural haunts. Someone coming from a folk group might have been expected to do otherwise. (p. 86)
By at least that time they were living in a new apartment building in Edina.  It has been confirmed by the Hennepin County Library that he was listed in the phone book under his real name, H.J. Deutschendorf Jr., at the Brookside Court Apartments, in Edina.  This is is literally around the corner from where I grew up!  I was 12 in 1969.  Wonder if I knew who John Denver was?  Far Out!
---
SUNSHINE ON MY SHOULDERS
It is fairly substantiated that he wrote the song "Sunshine on my Shoulders" while living in Edina.  Jon Bream of the Minneapolis StarTribune reported that Minnesota weather inspired the song.  Denver told him, "It was one of those late-winter early-spring days.  It was one of those cold, dreary days where everything is gray.  Spring is in fact happening.  That's why the song is slow and melancholy."
However, here is a story from Dave Swanson:
John's in-laws the Martells lived not too far from us on Fish Pointe Road on Prior Lake. The neighbors were the Killebrews. The Killebrews had a tennis court behind their house and when John was in town he was often seen playing tennis with Harmon. He wrote "Sunshine on my Shoulders" while sitting on the dock on Prior Lake.
Wikipedia only says it was written in Minnesota.  Here are some particulars about the song:
"Sunshine on My Shoulders" was first released on Denver's LP "Poems, Prayers, and Promises" in 1971.  The album version features an extra verse, not heard on the single. In addition to Denver's wondering on if he had a day and a song in the second verse, Denver wonders if he had a tale, and a wish. The song ends with the words "Almost Always," being held on until the song's end.
When it was released as a single in 1973, it was remixed with the addition of strings and woodwinds.  The single was originally the B-side of "I'd Rather Be a Cowboy," released in August 1973.  The song began to receive airplay on adult contemporary radio stations and was re-released as an A-side (with "Around and Around") in January 1974. It entered the Billboard Hot 100 at number 90 on January 26, 1974, and moved into the number one spot nine weeks later, remaining at No. 1 for one week. The song also topped the adult contemporary chart for two weeks in 1974.  Billboard ranked it as the No. 18 song for 1974.
The full length single mix with the second verse has been released on most of Denver's hits compilations.  There was even a 7″ release with the "short version" on one side and the "long version" on the other.
---
B S & T
An odd pairing was on July 29, 1969, when Denver opened for Blood, Sweat, and Tears.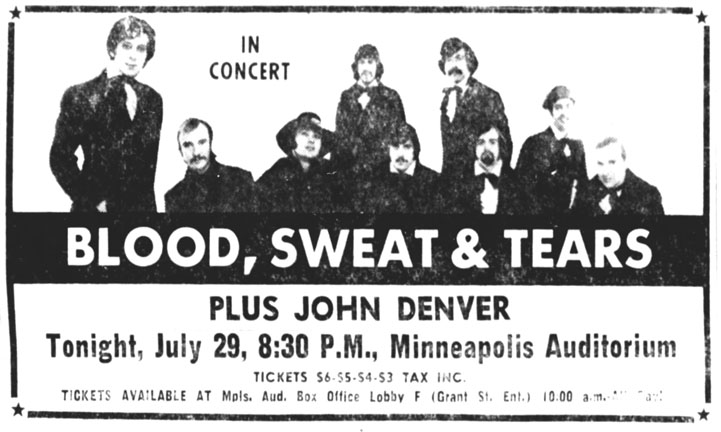 ---
RHYMES AND REASONS
Denver's album "Rhymes and Reasons" was released on August 31, 1969.  This album included his version of "Leaving on a Jet Plane," the song that Peter, Paul, and Mary had made famous.  On most of his early publicity, he was identified as the songwriter of "Leaving on a Jet Plane."
---
EDINA REVOLTS
On September 10, 1969, Denver appeared at Edina High School to perform for students who had walked out of classes.  Patrick Boulay explains on the blog of the Edina Historical Society:
The school board, in an attempt to save money, was letting go teachers after they had been there long enough to get to the highest pay grade and then replacing them with cheaper new teachers.  The coaches protested by not coaching practices of games.  The football game that Friday had no faculty coaches present.  Some former players who were over 21 volunteered to coach/supervise so the team wouldn't have to forfeit.
About 1,200 students – approximately half of the student body – walked out in solidarity with the teachers and coaches; the walkout became a sit-in, and "they put us all in the gym."  Student Council President Kristin Carlander knew Denver and asked him to perform for the students.  He was remembered to have said "I'd like to do a medley of my hit," which was "Leaving on a Jet Plane," which had entered the Billboard chart on October 25, 1969, stayed on the chart for 17 weeks, and was #1 for one week.  The song had actually appeared on the trio's 1967 album "1700."
Denver appeared on Bill Carlson's local TV show "This Must be the Place" the following Saturday night, September 13, 1969.
---
Denver was scheduled to appear on the Merv Griffin Show on October 3, 1969.
---
John Denver appeared at the Hamline University Fieldhouse on October 23, 1969.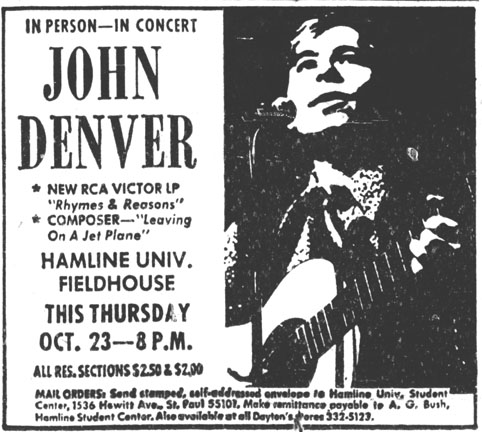 ---
1970
This was a very transitional year for John Denver – he was doing a smattering of local and national talk shows, some national variety shows, but still a great number of college gigs in Minnesota.
On January 29, 1970, he appeared at Anoka High School's Snow Days.
On March 1, 1970, he appeared with the Vogues at the Highland Arena at Mankato State College.
On March 8, 1970, he appeared at the Myrum Memorial Fieldhouse at Gustavus Aldolphus College in St. Peter, Minnesota.
On March 9, 1970, he appeared at Concordia College in St. Paul.
---
BILL AND NANCY
On June 13, 1970, Denver flew in from Washington, DC to be the soloist at the the wedding of local celebrities Bill Carlson and Nancy Nelson. Denver famously wrote the song "Follow Me" for the occasion. It always seemed a little incongruous to me, since both had big careers that don't seem to jibe with the song's lyrics, but that's the story.
---
CONCERT FOR PEACE
On August 9, 1970, Denver gave a "Concert for Peace" at the Guthrie.  It was a benefit he did for the People's Commission of Inquiry, a group of people going to Paris to help broker a peace agreement with the North Vietnamese.  A review said that the overflow crowd was very receptive.
---
BANK JINGLES
During these early days (in or before 1971), Denver wrote and recorded a couple of 60-second jingles for Northwestern National Bank, whose slogan was "May we Help you Today?"  One is available on YouTube; words below.  (Thanks, Steve Laboe!)
Oh I love the changing seasons
Green and growing all around
Smiling faces laughing children
Making such a joyful sound
In my dreams I see tomorrow
Time and children of my own
Someone who will stand beside me
Helping me to make ourselves a home
If your eyes can see tomorrow
Though it might seem far away
If you have some dreams to build on
May we help you today?
---
On September 16, 1970, Denver appeared on the Smothers Brothers Summer Show.
On November 19, 1970, a long interview by Peter Vaughan appeared in the Minneapolis Star.
On November 21, 1970, he was one of the entertainers at the Minneapolis Junior League Holiday Ball, held at the Radisson South.  He was nervous, as this was not his usual kind of audience, but Margaret Morris of the Minneapolis Tribune reported that the crowd was "attentive" during his 40 minute performance.  She also reported that he wore a gray and black Edwardian suit with a red carnation.
---
MOVE TO ASPEN
It is a little unclear when the Denvers moved to Aspen; as we see below, John was in Minnesota many times in 1971 for concerts, including benefits.  One passage from his memoir may clear the matter up or muddy the waters:
It was Christmas 1970. Mountain promontories had always been part of the equation for us, and when the numbers for "Country Roads" kept growing, I figured we could afford our dream house.  [When they couldn't afford a house there, they were convinced to buy land instead and build a house later.]  Just the land alone cost all the money we had at the time. We rented a place in town [presumably Aspen] and began to count the days. It was going to take another year before we could start to build. For 365 days, I fantasized about what living there was going to be like. (p. 106)
---
1971
On January 1, 1971, he appeared on an episode of "This is Tom Jones."
On January 6, 1971, Wendell Anderson was inaugurated as Governor of Minnesota.  Denver and Trini Lopez entertained 7,000 guests at the Governor's Ball.  At midnight, Denver led the crowd in a moving rendition of "America the Beautiful."  (Minneapolis Star, January 7, 1971)
On January 28, 1971, Denver performed at the Centennial Student Union Ballroom at Mankato State College.
---
On February 18, 1971, Denver performed at Northrop Auditorium as a benefit for Kevin Bauer, a University of Minnesota cheerleader who broke his neck during cheerleading practice on October 27, 1970.
---
On March 26, 1971, Denver participated in an event for Roger Goodall at the Macalester Field House.  Also performing were the Rococo Band, the Sorry Muthas, and Mary Zimmerman.
Denver's album "Poems, Prayers, and Promises" was released in April 1971.  In addition to the title song, the LP includes "My Sweet Lady," "Take Me Home, Country Roads," and "Sunshine on my Shoulders."
---
Still performing both locally and nationally, Denver performed at the Anoka Ramsey State Jr. College (now Anoka Ramsey Community College) in Coon Rapids on May 1, 1971.
Kenny Christensen tells this story:
My wife has worked for Anoka Ramsey Community College for 15 years.  A year ago the college was celebrating an anniversary.  They were pulling out various memorabilia from the past including concerts.  My wife noticed that they had no record of John Denver having played there in 1971.  She knew I had attended the concert, as I was a huge fan.  They argued that John had never played there until she provided them with a copy of the ticket stub.  I didn't go to very many concerts, but when I did, I saved my ticket stubs and laminated them to my favorite album for the artist.  Poems, Prayers, and Promises had just come out and I attached the stub to my album.  The college included the ticket stub copy in their archives now.
---
On May 23, 1971, Denver and Peter Yarrow participated in a Dump the War Mass Peace Rally at the Met Center.
---
The Guthrie scheduled two concerts on June 18 and 19, 1971, which sold out immediately.  In response, they added another one on June 20, which sold out in three hours.  The concerts were recorded, as Denver wanted to put out a live album, but apparently his record company resisted, and as far as I can tell, no live album from these sessions was ever issued.
In appreciation for the support given to him at the Guthrie concerts, Denver made a free appearance on Wednesday, June 23, 1971, at the Minneapolis Dayton's 8th Floor Auditorium to meet his fans.
On October 1, 1971, Denver appeared at the Benedicta Arts Center at St. Benedict's College in St. Joseph, Minnesota.
---
John Denver performed many, many concerts in the Twin Cities before his untimely death in 1997 at the age of 53.  Those are listed in the Events section of this site.