Dubbed the "Godfather of Minnesota Rock" by Tom W. Tourville, Augie Garcia is a Twin Cities music legend.  I don't normally follow the careers of individual artists, but given the importance of Augie's career in Twin Cities music, and the availability of information about where he played thanks to the newspapers.com database, I thought I'd try to put together a chronology of what music venues he played at over the years.  This is NOT a biography of Augie Garcia by any means, but perhaps an attempt to follow his musical footsteps.
---
SOURCES
The following was gleaned from several sources, including:
An audio piece on the Current
An inventory of photos at the Minnesota Historical Society
Articles from the archives of the Minneapolis Star and Tribune.  Most of these come from the entertainment column "After Last Night," written by Will Jones for the Minneapolis Tribune.  What would we do without Will Jones?
Tourville's book Minnesota Rocked!! The 1960's, 4th Edition (approx. 1996)
A multi-page article by Dave Hill in the September 1972 issue of the Insider
A 1964 Ph.D. thesis by Robert Stebbins on the history of jazz, and
Interviews with family members.
Please contact me with additions or corrections.
---
EARLY YEARS
Augustine Rudolph Garcia was born on February 19, 1932, in St. Paul.  Although of Mexican-American heritage, Augie became known more for jump blues rather than Tex-Mex. Growing up on the West Side Flats in St. Paul, his uncle Frank Garcia Pascquale taught him Mexican songs as a child and bought him his first guitar, which he had embraced by age 9. His father taught him "La Bamba" at age 10 (long before Ritchie Valens' hit came out).  He favored songs by the Mills Brothers, the Ink Spots, the Hi-Los, and the Four Freshmen.
1947
In 1947, at age 15, he made his TV debut on KSTP-TV, possibly on David Stone's Sunset Valley Barn Dance.  In a 1993 interview he said the group was paid in canned goods from Stokely's Fine Foods – peas and tomatoes.
1948
In 1948 he was in a Caribbean-flavored group called the Boleros.  Fellow band members were Al Capiz, Jesse Lopez, and Dick Rowley.
---
1949
The photo below from 1949/50 shows Augie and the Boleros performing on the Arle Haeberle show on WTCN-TV.
---
1950
In 1950 Augie participated in the annual Festival of Nations at the St. Paul Auditorium, playing Mexican music.  There he met some musicians representing Italy, and they formed his first rock 'n' roll band.  The group was eventually made up of Joe Sarro, Mike Continelli, Wally Flanagan, and Dom Tallarico.  They were called the Continentals after Continelli, who played bass.
---
1951
RIVER ROAD CLUB
Stebbins:
In 1951 Garcia and drummer Jesse Lopez opened at the River Road Club with a small jazz group playing a Shearing style.  The band broke up a few months later when the men were called into service.  (sic)
1952 – 1954
Augie enlisted in the Army in September 1952 and served in Korea until released in July 1954.  During his time in service, he was exposed to the rhythm and blues he became known for. He was particularly taken with Fats Domino records:  "It was a rock, a shuffle sound that I liked," he told the Insider.  He also liked Louis Prima.
The story also goes that during a stop in Hawaii he fell in love with Bermuda shorts as a fashion statement. They became his trademark and he wore them winter and summer.  Augie's brother Bob remembers their mother cutting off the legs of his pants, even on his tuxedos.
---
1954
RIVER ROAD REDUX
When he returned from Korea he began working for NSP and put the band back together, calling it the Augie Garcia Quintet.
Stebbins:
In 1954 the [small jazz] group was playing at the River Road Club again, but they never sold very well as a jazz band.  As the years went by, they converted to rock-and-roll, a formula which brought them considerable success.
They played what he called "blues," later "rhythm and blues," with songs like "Goin' to Chicago" and "Let the Good Times Roll."  The term "rock 'n' roll" hadn't been invented yet – they called their music "kicksy."  He always had a black sax player.  They were regulars at the River Road Club from 1954 to 1958.  The band played eight times a week – every night and an extra matinee on Sundays.
MHS photos show the band performing in front of a banner that says they were featured on the Key Room Show on KEYD-AM.  The banner gives the show's host as Dave Reau, and the time slot as 11-11:15 am.  The Key Room was broadcast on Saturday mornings starting at 9:00 am.  Available ratings books show that the show ran until 11:15 am from November 1953 to August 1954; to 11:30 am from September to October 1954; to 11:00 am from November 1954-April 1955; and to 11:30 am from May to August 1955.
---
1955
THE PRESS BEGINS
The first article in the Minneapolis papers on Augie, dated March 29, 1955, was substantial:  a long piece by Will Jones entitled, "Under the Bridge Hides a Hot Guitar."  It's long but bears repeating in full, as it is Augie's introduction to the Twin Cities.
Just finding the River Road club, a beer joint that lies at the end of a narrow road that winds along the river under the Mendota bridge, is a small accomplishment in itself.
Once you get there – as I did over the weekend – the reward comes in the form of a short, barrel-chested guitar player named Augie Garcia.
Garcia works in Bermuda shorts, pink-and-charcoal argyle socks, a sleeveless kind of pink toga, and a pair of moccasins that look like sacks.  He plays a guitar that could have been designed by Salvador Dali.
His quartet includes a drummer with a loud, relentless beat and a piano player who stands up while playing.  They work under a dim blue spotlight.
Garcia hunches over his guitar in an ape-like pose, sweats profusely, and hoarsely chants such inspired lyrics as "Drinkin' wine, spo-dee o-dee."
A college-age crowd keeps the dance floor jammed.  They work, too, and enjoy it.  They were pretty tolerant about letting a couple of pairs of old married folks two-step around the edge of the dance floor, the better to observe the fun.
In fact, I got bumped and shoved less on that dance floor than I do in the Flame room.  Garcia plays Friday, Saturday, Sunday and Wednesday nights.
The band blasting it out at the River Road Club.  Below are Augie on guitar, Willie Brown on saxophone, and Buddy Davis on piano.
---
1956
AUGIE, ZINGALE, AND ELVIS
In May 1956 Augie was approached by WCOW DJ Joe Zingale ("Mr. Rhythm"), who had a rock 'n' roll show in the afternoons. The DJ asked if Augie would like to open for Elvis Presley, who was scheduled to play the St. Paul Auditorium in the afternoon and at night in Minneapolis. The weather was bad and it was Mothers' Day, so audiences were scant.  Augie was not mentioned on the advertising in the Minneapolis papers – the St. Paul papers are not available to me.  It is unclear whether Augie was scheduled to open for Elvis in St. Paul only.  He is not mentioned in any review that I found in the Minneapolis papers, so the response to his performance comes from eyewitness accounts only.
Augie and his band performed "Ivy League Baby" and "Hi Yo Silver."  The reaction to Augie's set was so enthusiastic and frenetic  – kids were yelling and standing on their chairs – that Col. Tom Parker was worried that he would upstage the main attraction. Legend has it that the Colonel yanked Augie off the stage by his jacket, either after the second song or in the middle of the third.  "There wasn't supposed to be any competition," Augie told reporter Chuck Haga in 1993.
Augie's brother Bob doesn't remember it quite that way, but does remember that Augie only played two songs and was supposed to play for half an hour.  The Garcia family came to see Augie and didn't stay to see Elvis!
Drummer Johnny Lopez's obituary told the same story:  (Minneapolis Star Tribune, January 23, 2006)
[Johnny] never tired of telling friends and family that Presley's manager… ordered him and the rest of the Augie Garcia Quintet to leave the stage before its 1956 performance at the St. Paul Auditorium was over.  "Colonel Parker was afraid that Elvis would be outplayed by a bunch of Locals," said Lopez's Daughter, Margo Lopez-Ulrich of Minneapolis.  "They had a packed house and they really had the place rocking."
HEADY TIMES
These were the fun days for the band – playing every night to packed houses, and making some money, too.  Mike Continelli's ex-wife Florence told her nephew Mike Nilles this anecdote about their new-found fame and fortune:
Both Mike and Augie bought brand new MGA convertibles – they were real hipsters. Only problem was that Uncle Mike had to drop the top even in the winter in order to transport his bass fiddle!
---
W. 7th STREET REC
By May 1956, Augie had moved to the W. 7th Street Rec. (formerly Stransky's Bar) in St. Paul.
---
1957
Item from Will Jones, January 11, 1957:
Some local rock-and-rollers – Augie Garcia, Bill Samuels and Teddy Guzman – will play for a rock-and-roll dance party in the Prom Monday Night [January 14, 1957].  Two local vocal groups, the Septones and the Chickens, also will be featured.  Leigh Kamman will emcee.
An ad dated January 15, 1957, said that Augie was playing at the W. 7th Street Rec. on Tuesdays.   Doc Evans was playing on Thursdays.   By May 10, he was playing nightly and Sunday afternoon.
There are many fun photos of the band at its best at the W. 7th Street Rec, and I will post them here.  What's amazing is that they didn't all end up in the hospital after falling off that tiny stage!
---
1958
1958 saw the Augie Garcia Quintet at a variety of venues.
On March 3, 1958, the Quintet made a special performance at the Marigold Ballroom, with vocalist George Davo.  Or Darvo, depending on which ad you look at.
---
On March 18, 1958, Augie and his band entertained at a "mixer" thrown for high school students attending the state basketball tournament.  The event was hosted by the Panhellenic and Interfraternity councils at the University of Minnesota at Coffman Memorial Union.  Other entertainment was provided by local high school talent:
The Vincents, from St. Louis Park
The Blue Cats, from Robbinsdale
The Continentals, a vocal group from Washburn
Borghilde Larson, a comedienne from Northfield
---
THE JAZZ LAB
On March 19, 1958, Will Jones reported on a police raid on a place called the Jazz Lab, located at 815 Payne Ave. in St. Paul.
It's an old house where people go to sit in candle-light and listen to jazz on a hi-fi, and talk about it, and maybe eat spaghetti or something.  You see persons like Augie Garcia there.
The rest of the item turned into a non-story about how the police were convinced that a book discussion group must have been drinking because of the number of cars outside.  It's unclear whether Augie was playing jazz or listening to it in the blurb above, but there it is.
---
On May 4, 1958, Will Jones reported that Augie was at the W. 7th Street Rec.   The Insider interview revealed that the River Road Club changed hands, which prompted the move of the band.
Augie, who still wears Bermuda shorts all year long, is there every night but Monday with his band and his guitar by Picasso, supplying dance music for the generation that comes as close as you can come in St. Paul to being beat.
There's more light in the W. 7th Rec. than there was in the last place I observed Garcia in action (somewhere under the Mendota bridge).  This fact makes viewing the dancers, for us aging noncombatants, much easier.
May 14, 1958, Will Jones:
Augie Garcia, his Bermuda shorts, his guitar and his band are all going to report back to the River Road club, under the Mendota bridge, on May 21.  Garcia made his first big rock-and-roll splash there, and then left on account of money.  Now that's what's taking him back there.  The owner pushed up the budget.
---
On June 3, 1958, Augie returned to the Marigold for another special dance.
---
CRYSTAL COLISEUM
Another early Rock 'n' Roll venue was the Crystal Coliseum.  The 1958 ads are not very interesting, so I won't post them, but I'll give the dates that I found.
The earliest I found was Tuesday, June 24 – the ad said that Augie also performed on Saturdays and Sundays.
The next date was Tuesday, July 8, also mentioning Saturdays and Sundays.
After that, we have:
Tuesday, July 15
Monday, July 21
Tuesday, July 29
He may have been playing the Crystal Coliseum and the River Road Club at the same time; evidence is the item below:
July 7, 1958, Will Jones:
The only instrument that isn't amplified electronically, in Augie Garcia's band at the River Road club, is the drum.  "Sometimes Augie gets carried away and doesn't realize when it's quitting time," said owner John Gospeter.  "When that happens, I just pull the fuse and he's out of business."
On July 18, 1958, Augie was one of the guests of Mary Jo Tierney on her local TV show on Channel 9 at 3:30 pm.
---
1959
The only gigs I found in 1959 were two stints at the Crystal Coliseum:  one in July and one in October, and both on Sundays only.  These ads are a little more interesting, so I'll post them.
---
1960
February 2, 1960, Will Jones:
Augie Garcia will return to his old haunt, the River Road Club at Mendota, Friday night [February 5].  Garcia and band will appear there Tuesdays through Sundays, with matinees on Sundays.
---
SWEDE'S
July 11, 1960:  Will Jones wrote a long article entitled "Swede's Swings in Long Pants."  Here are some excerpts:
The folks at Swede's are entertained nightly by Augie Garcia – the same Augie Garcia who used to wear orange shorts and blam out rock 'n' roll at the River Road club, yet not the same Augie Garcia at all.
Garcia, always a showman, has matured into a well-rounded entertainer.  His group has matured from blasting rock 'n' roll exclusively to become a lively, versatile, driving group, playing some contemporary jazz, Latin numbers, novelties, and a little rock 'n' roll too.
And Garcia has promoted himself, literally, out of the knee pants.  "I used to wear the shorts winter and summer," he said.  "When I started wearing them, five or six years ago , I was one of the first around here to wear bermudas.  But I walked into Sub and Herb's, over by the campus, not long ago, and everybody in there was dressed just like me.  I decided if I still wanted to be different, I'd have to go back to long pants.
Between numbers, Augie plugged the judo club he had set up in the basement of Swede's.  Some 15 regulars at Swede's had joined – no women allowed.
---
Here's a stray Crystal Coliseum show on December 10, 1960.  The place would burn down on June 5, 1961, ending the career of one of Twin Cities' earliest rock 'n' roll dance venues.
---
PHIL'S BLUE ANGEL
Augie played at Phil's Blue Angel from December 20, 1960, to April 30, 1961, when the dance hall closed down, one article said.  He had to go to the Musicians' Union 73 to attempt collection of $629 that was owed to him.  No indication as to whether Augie got his money, but there were many machinations going on within the unions.
---
1961
On Saturday, April 15, 1961, Augie and his band took a night off from the Blue Angel and performed at the Walker Art Center's Annual Ball.
On May 4, 1961, Augie and his band opened at the Lakeview Inn in Spring Park, playing Thursdays through Sundays.  This gig didn't last too long – he was at the Loon by June 6, Tuesdays through Sundays, with long sessions starting at 4 pm Sundays.
---
INAUGURAL BALL
Augie and his band performed at the Inaugural Ball of Mayor Arthur Naftalin on July 3, 1961.  Will Jones reported:
Bandleader Augie Garcia was beset on one side by city all old-timers who kept asking him to play a beat they could dance to, and my university types who kept urging him to stay with the Lake St. beat.  Garcia usually favored the latter, and the ones who couldn't get with the beat at least had a good show to watch.  Prominent in the cast of dancers were all sorts of young Naftalins.
When asked to play "Anniversary Waltz" for the Naftalins' 20th anniversary, which coincided with the inaugural, Garcia gave it a jazz treatment.  That was all right with Mrs. Naftalin.  She can't stand "Anniversary Waltz."
---
On August 30, 1961, Will Jones reported that the Invitation of the Week was for the wedding reception of Augie and Donna Simmer on September 11 at the Loon.  "Married guests can phrase their own jokes."
THE TWIST COMETH
The end of 1961 was the dawn of the Twist Era, and Will Jones reported that a movie called "Hey, Let's Twist was opening at the Uptown Theater on December 22, 1961, to capitalize on the craze.  The following night, Saturday, December 23, 1961, Augie Garcia and His Twisters (a name used just for that night) would play live on stage for a twist contest at 8:30 pm.
Meanwhile the twisters have pretty much taken over the Loon, where Garcia plays regularly.  And Willie Brown, Garcia's sax player, has blossomed as a twist singer.
THE LOON
In about October 1961, Augie and his band moved to the Loon Club on Lake Street, which later became better known as Mr. Lucky's.  It had just morphed from the Friendship Club that April.  It was a rockin' place, hosting such early rock 'n' rollers as Bill Haley, the Champs ("Tequila!"), Wanda Jackson, Conway Twitty, Jerry Lee Lewis, Bo Diddley, and local groups like Roscoe and His Little Green Men.
The first ad found was dated October 15, 1961, where he was appearing "nightly."  Also October 29.
Then a gap, and two more ads in 1961, where he started on December 12, and was appearing nightly on December 16, 1961.
---
1962
Augie continued at the Loon in 1962.  They were obviously having fun with the Twist!  On February 3, 1962, there was a Battle of the Bands between Rosco and His Greenmen (Direct from Mars) vs. Augie Garcia (Direct From Earth).  How silly.  Although these ads usually only mentioned Augie's name, he was still performing with his Quintet.
Another fun show must have been Tony and the Knights ("The Peppermint Twisters") vs. Augie Garcia's "Taco Twisters."  Hardly correct today!  Same show advertised on February 16.
---
BACK AT THE BLUE ANGEL
From April 13 to August 7, 1962, the Minneapolis Star and Tribune were on strike.  On May 1, 1962, the Minneapolis Daily Herald was created by businessman Maurice McCaffrey to pick up the slack.
On May 18, 1962, the Herald published an ad for the Blue Angel Room, featuring the Augie Garcia Quintet, playing Wednesday through Friday, and Saturday and Sunday.  I guess that leaves out Monday and Tuesday.  Slow days.
DUFFY'S
Augie and his band took over the revolving stage at Duffy's starting on September 10, 1962.  On September 18, 1962, the Herald published the ad below announcing Augie's change of venue:
McCaffrey intended for the Herald to continue, even after the Strib's strike ended, and it did for a while, but the last issue of the Herald was on October 1, 1962.
On October 1, 1962, Will Jones of the Tribune filed this report:
At Duffy's, the theme is chaos…  In the two dance rooms, Augie Garcia and quintet make conversation impossible in both simultaneously, thanks to the revolving stage in the wall between the rooms.
Garcia started out his engagement there with a piano as part of his instrumentation, but the piano player complained his fingers were getting sore and bloody from trying to make himself heard.  An organ was substituted for the piano, and there's no trouble hearing that at all.
On October 16, 1962, Jones reported that singer Shari Farris has "bounced" out to Duffy's to sing with the Quintet.
Augie and his band opened for national acts like Chubby Checker and Little Richard at Duffy's.
This ad is a bit hard to see, but lists the members of Augie's ensemble:
Augie on guitar
Don Rustad on sax and vibes
Art Resnick on organ
Shari Ferris, Songstress
Jesse Lopez on drums
Ellen as the Twist Girl
Of course it was 1962, so the Twist was featured, but the band also played Jazz and Ballads.
---
1963
On July 3, 1963, Will Jones reported that guitarist Bryce Robertson joined up with Augie's group at the Twin Lights on W. 7th Street in St. Paul on Wednesday through Saturday nights.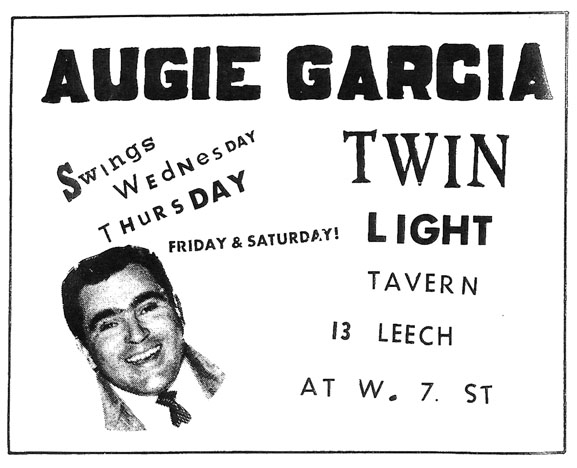 ---
On August 9, 1963, Augie and the band opened Frank Seifert's, which replaced the Key Club.
On August 19, 1963, Will Jones observed,
The combination of Augie Garcia's band and the old Key Club sound system adds up to so many decibels that life in the dance-hall part of Frank Seifert's is unbearable …  It'll take some engineering…
It appears that Augie's band was at Seifert's until September 20, 1963.
---
HALL OF FAME
The Hall of Fame was located at the All Star Bowl in the Midway Shopping Center.
Augie was there in December 1963, and he could have been there in January 1964 as well.
---
1964
Augie's band opened on February 18, 1964 at Papa Joe's on W. Broadway.  On March 2, 1964, Will Jones noted that the sign at Papa Joe's still had the old name of the place, the Northern Bar.  "For a long time it was strictly a rock 'n' roll place, but Garcia is mixing in some jazz, Latin and show numbers," reported Jones.
HIATUS
In 1964 the band broke up and Augie went back to being an ironworker, which he did for a total of 31 years until he retired in or before 1993.
---
1969
SINGLE
Augie started up again as a single in 1969, first at Hafner's on the East Side of St. Paul, then at the St. Paul Holiday Inn.
Another place he worked as a solo in 1969 was the newly refurbished Nob Hill Room at the White House.  Will Jones observed that the "newly haberdashed" Augie was almost as elegant as the new room.  (Tribune, November 23, 1969)
Garcia, who was playing rock on an electric guitar in these parts before some of the kids who are now dancing to that kind of music were even invented, has worn some pretty wild outfits in his career.  The stage uniform was orange bermuda shorts in the early rock days.  Later it was karate robes, when he was giving karate lessons between sets in the basement at the old Swede's on Lake St.
Now it's fancy ruffled lace evening shirts with his dinner suit as he does a complete musical about-face, picking genteel solo Flamenco guitar to accompany the piccata of veal.
Don Morrison's column in the Minneapolis Star about the refurbished Nob Hill room indicates that Augie had been playing there from at least November 7, 1969.
1971
In February 1971, Augie and Ross Phillips began stints entertaining at the Golden Fox restaurant.  Unclear whether they were working together.
---
1975
The last performance ads for Augie found in the Minneapolis papers were in 1975.
The first was for a gig at a place called Adam's Rib, located on the 494 Strip.  The text read, "That fabulous guy is putting it all together again.  Tuesdays thru Saturdays 8:30 pm until closing."
The second was for Awada's Bar and Restaurant.
---
1981
A profile of Augie was presented on a show called "NightTimes:  Magazine," on Channel 2 on February 3, 1981, at 7 pm and February 4 at 12:30 am.
1984
The Minnesota Rock Reunion Record Show was staged on Sunday, March 25, 1984, at the Holiday Inn in St. Paul.  The program featured record and souvenir collectors and dealers as well as appearances by former members such classic Minnesota bands as the Trashmen, Castaways, Jokers Wild, The Litter, Stillroven, Underbeats, Gregory Dee, and Augie Garcia.
1989
In early May, 1989, Augie was performing regularly at Garcia's restaurant (no relation).
1993
In a July 8, 1993, interview with Star Tribune reporter Chuck Haga, Augie said that he played private parties and weddings about once a month, and would like to do more, but karaoke, like disco before it, had done a number on live music, and was much cheaper than hiring a live band.
1996
On April 20, 1996, Garcia participated in a reunion concert at the Prom Expo Center in St. Paul. He wore his signature shorts and sang the old songs, and "the people just went nuts," said his brother-in-law David Hase.  Members of the band that night were Maurice Turner, bass; Gary Berg, tenor sax; Don Rustad, alto sax; Johnny Lopez, drums; and Cornbread Harris, piano.
---
AUGIE GARCIA DAY
April 20, 1996, was also designated Augie Garcia Day by Norm Coleman, Mayor of St. Paul.  The Proclamation Read:
WHEREAS,  Augustine "Augie" Garcia was born and raised on Saint Paul's West Side and he rose to become a musical legend; and
WHEREAS, Augie Garcia is celebrating forty-five years as a renowned performing musician; and
WHEREAS, Augie Garcia has gnerously contributed his time and talents to benefit organizations such as Guadalupe Area Project and Our Lady of Guadalupe Church; and
WHEREAS, Augie Garcia has been a musical pioneer and has paved the way for many artists to enter the music business; and
WHEREAS, Augie Garcia has often been described as the "King of Twin Cities Rock 'N' Roll";
NOW, THEREFORE, I, Norm Coleman, Mayor of the City of Saint Paul, do hereby proclaim Saturday April 20, 1996 to be
AUGIE GARCIA DAY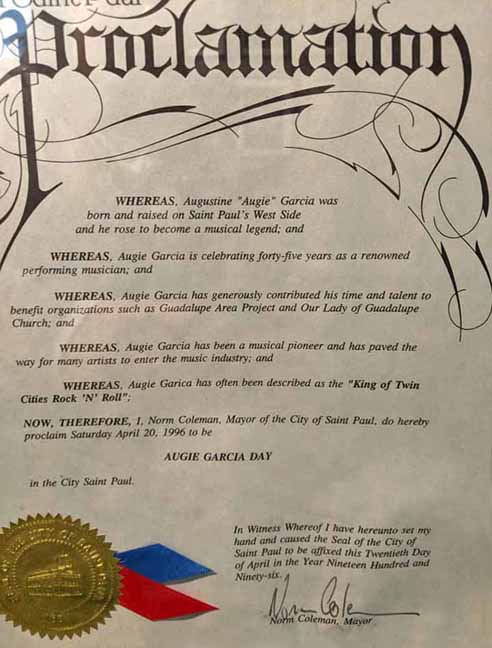 ---
Another reunion show followed in June 1996.  A VHS tape of one of the reunion shows is available for viewing at the Gale Family Library, third floor of the Minnesota Historical Society.
---
1998
Garcia was instrumental in building the Korean War Memorial in St. Paul, erected in 1998.
1999
Augie Garcia died at his home in Roseville on August 6, 1999, of throat cancer. Survivors included his wife, Nancy, and daughters Angie and Elena, all of Roseville.
---
OTHER VENUES
The Padded Cell  (per Insider interview)
The Torch (per Insider interview)
Sherwood Supper Club
Viking Lounge, Holiday Inn
Duff's
His show always included a song in Spanish, and he always played "La Bamba."
---
MUSICIANS
Members of the Augie Garcia Quintet over the years included:
James "Jimmy" "Cornbread" Harris on piano (Jimmy Jam's father)
Willie Brown on sax
Gary Berg on tenor sax
Don Rustad on alto sax
Johnny Lopez (Jesse Isadore Lopez Sr.) on drums
Buddy Davis on Piano
Maurice Turner on bass (Prince's uncle)
Mike Continelli on bass
George Avaloz
Francisco (Kiko) Rangel, sax
Eugenia Rangel
Bryce Robertson on guitar (July 1963)
---
RECORDINGS

According to the Insider interview, Augie Garcia made four 45 rpm records, eight sides.  The interview said that those four records sold about 100,000 copies.
Those sides were listed in the interview as:
Goin' to Chicago
Let the Good Times Roll
Hi Yo Silver
Ivy League Baby
Drinkin' Wine Spoli Oli
Hello Baby
Fannie Brown
River Road Boogie
NORTH STAR RECORDS
Three of the records were made on the North Star label.  North Star was located at 1936 University Ave. in St. Paul, and recorded mostly old time and polka music, distributed only in the Midwest.  Augie's records were reportedly recorded in someone's house on Payne Avenue in St. Paul.
"Hi-Yo Silver"/"Going to Chicago" – North Star 2025 –  was recorded in 1955. Many have cited this as the first Rock 'n' Roll record made in Minnesota.
In an interview with Jon Bream of the Minneapolis Tribune (May 7, 1989), Augie described the recording of "Hi Yo Silver:"
We were all in one room when we set up, but toward the end of the recording we had one guy down the hallway because of the loudness of the drummer.  It was kind of comical because I would say, "OK, guys, are you ready?" because we couldn't even see one another.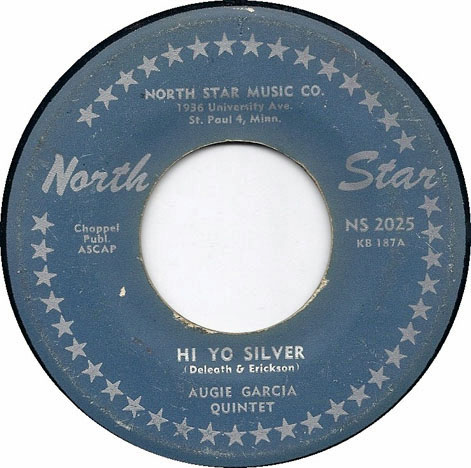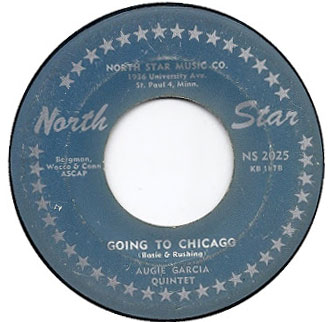 ---
"Drinkin' Wine Spoli Oli"/"Hello Baby" – North Star 2023 – was also recorded in 1955.  This number is lower than No. 2025 above, which begs the question of which actually came first?
Jeremy Hage says,
I think "Drinkin' Wine" came first. Not only because of the number, but also because it was released as a 78 also. I'm guessing the 78 didn't sell well so they never pressed any 78s in later singles.
So maybe THIS was the first Rock 'n' Roll record made in Minnesota.  Signs seem to point.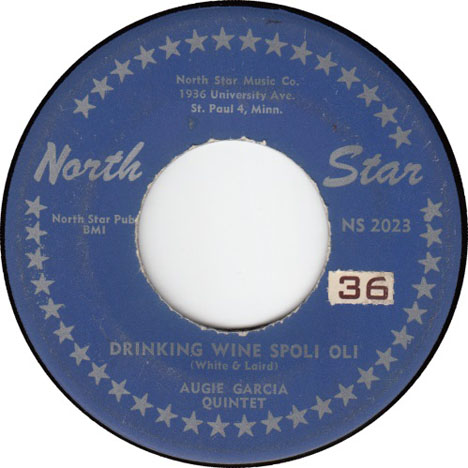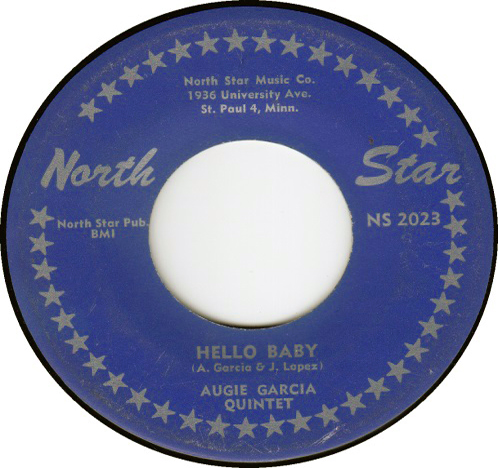 ---
"Ring-A-Ling"/"Be My Guest" – North Star 2065 – was recorded in 1957.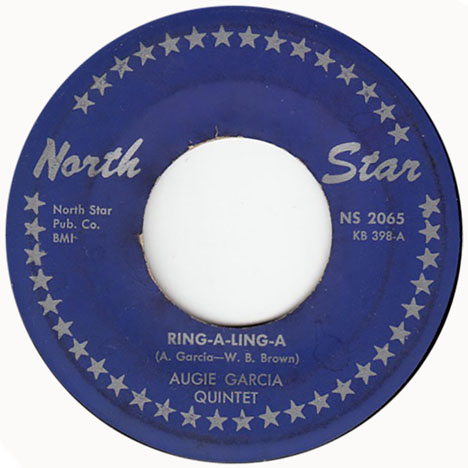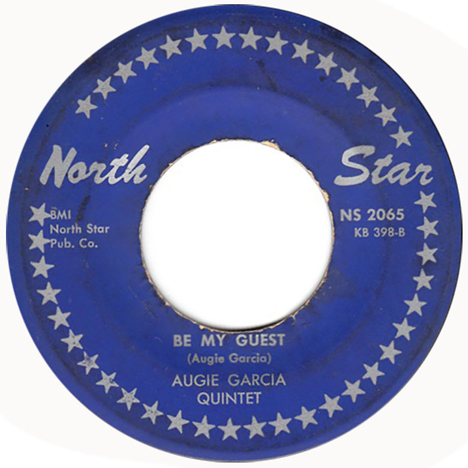 ---
KIRK RECORDS
There were also two sides recorded on the Kirk label:
"Ivy League Baby"/"Let the Good Times Roll" – Kirk TJ I133 – was recorded in 1956.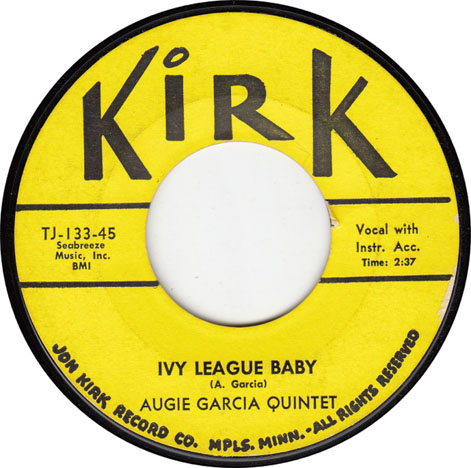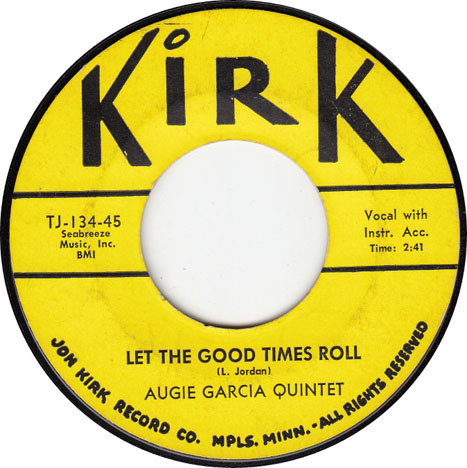 Local record expert Derik Olson says:
The Kirk record was pressed on cheap vinylite, and the glue they used to affix the label was poor quality, so all copies I've seen have the labels coming off, or missing entirely. I've never seen any other record from the Kirk label, so it was probably the only release.
"Fannie Brown" and "River Road Boogie," mentioned in the Insider interview, were not found in any database I looked at.
---
RIVER ROAD BOOGIE

In 2015 the History Theater presented the play "River Road Boogie," the story of Augie Garcia written by Joe Minjares.  Ricardo Vazquez did a great job portraying Augie.  The band in the play was fantastic. One fun thing was that the lady next to me had actually seen the band and said that they always wore sunglasses!
My take:
One of the key plot lines was that Joe Zingale, the disc jockey who had set up the Elvis gig, was pushing them to go on the road so they could make the Big Time, but Mike Continelli didn't want to leave his wife and child.
Not knowing anyone personally, but being familiar with the help Joe Zingale had given the band, I was upset that the playwright had demonized Zingale and made him the bad guy who was pressuring them to go on the road.  I even asked Mr. Minjares if he hadn't overstated that point, and he admitted that he had.  Artistic license or dramatic tension is one thing, but I'm not convinced it has its place in a History Theater.
Mike Continelli's family:
I asked Mike Nilles, Mike Continelli's nephew, for his and his family's opinion of the play, and he generously provided this analysis:
The Continelli family made ourselves available to the playwright and the producers before it went it into production. At first we were excited to find people (my mom and two aunts) who were around and familiar with the band's history, but suddenly they quit responding to us. We found out why – they dramatized the story greatly, making my uncle Mike the antagonist, to Augie's protagonist. They invented three grossly false premises about him:
1) That Mike and Augie met in Korea during the war. Mike was stationed in Stuttgart, Germany, and had met Augie previously in St Paul, forming the Continentals, as the biography above states.
2) That Mike was continually haunted by the fact that he had shot and killed someone in the Korean conflict. See point #1. He wasn't even there and the last time an American soldier shot someone in Germany was about 10 years before my uncle arrived there.
3) That Mike was the reason Augie's band didn't get signed by a major label in Chicago, following their frenzied set in front of Elvis. In the play they depicted him as holding the band back from fame and fortune because he couldn't commit to touring, since he was married and had children. This would have been around 1956 according to the play, right after the Elvis show. According to Mike's ex-wife, Florence, she was his girlfriend back then, and they got married in 1957.  But their first child, my cousin Constance Continelli, wasn't born until 1964. Others have indicated that it was indeed Augie who was reluctant to tour, due to his domestic priorities.
We understand the use of "artistic license"  in theater, and the revised story made for more dramatic tension.  However, it painted an unflattering picture of my uncle, which was not what he was like. He and Augie were both the founders and the "madcap" souls of the group – as you can see in many photos of the band – and had lots of fun together. So this depiction was especially upsetting to his relatives because Mike and Augie were lifelong friends. I remember Mike flying from Reno (his home) to St. Paul for an Augie tribute.  We were all sadly disappointed by the play.
Save