The White House was located at 4900 Olson Memorial Highway in Golden Valley.  But the early iterations of this club/tavern/roadhouse did not have an address, but were described as being on Sixth Ave. N (which would become Olson Memorial Highway), a mile west of the City Limits of Minneapolis in Golden Valley.
MAX
Max was Max Pallags, who was described as a Golden Valley farmer.  In November 1904, he had a tavern (Max Pallag's Place) at 3100 Western Ave. (later Glenwood Ave.) at Keegan's Lake (now Wirth Lake), just outside the Minneapolis City Limits.  In November 1905, this tavern took great advantage of a new law closing the saloons in Minneapolis on Sundays.  An article in the Minneapolis Tribune described him as doing bang-up business.  (November 27, 1905.)
Another early bar was on Sixth Ave. N on Keegan's Lake, owned by J.B. Gilbert.  The Tribune reporter said that many people went back and forth between the two Golden Valley bars.
The bars were eventually shut down in  December 1909 when the Minneapolis Park Board bought their property for Theodore Wirth Park.
---
MAX'S PLACE
After he was forced to close down his place on Glenwood and Wirth Lake, Max opened Max's Place on Sixth Ave. No.  Max's Place was described as a "popular wayside night life haunt."  The question of the day seems to be, when did Max open Max's Place?
The City of Golden Valley Historic Context Study, issued in December 2020, states that Max built it in 1912.
A 1913 Atlas seems to show that Max's property was on the south side of Sixth Ave. N., with Sweeny Lake on the other side.  That would made the address an odd number, though, and when the place eventually got an actually address, it was 4900.
Legend seems to have it that it has been in situ since 1919.
The first hit on newspapers.com was on  August 22, 1928, when Max's was raided by Federal Dry Agents, who found illegal and faked alcohol.  Max and Henry Henning were arrested.  (Minneapolis Tribune, August 24, 1928)
In April 1930, Federal Prohibition agents were at Max's to padlock it for a year, but their final search found alcohol, and they arrested proprietor Max Pallags, who had two prior liquor convictions, and George Link.  (Minneapolis Star, April 11, 1930)
An interesting note is that Mrs. Max Pallags had obtained a 3.2 beer license for a tavern in Plymouth in July 1933.
Max died on June 4, 1936, at the age of 68.
FIRE #1

By 1934, Pete Doran had become the proprietor of Max's Place.  Pete and his wife probably lived in the two-story building.  The "roadhouse" burned down on April 13, 1934, starting about 4:30 am.  Pete and his wife were aroused by Deputy Sheriffs, and Mrs. Doran dragged Pete to safety when he was overcome while battling the flames.  The Minneapolis Star showed the wreckage of the place, and also a picture of Mr. and Mrs. Doran.  (April 14, 1934)
---
1935 – 1938
PETE DORAN'S TAVERN

By April 30, 1935, the place was rebuilt – Golden Valley's report says by Pete Doran and Jack Ennis.  It was now called Pete Doran's Tavern.  Pete advertised the place up for sale in May 1938, saying the seating capacity of the place was over 400!
---
JOHNNY DORAN'S TOWN AND COUNTRY CLUB
This was not to be confused with the much more well-known Town and Country Club in St. Paul.
Below is one of a few ads that say Johnny Doran's Town and Country Club; the others in 1939 on February 18, August 6, 1939, and October 1 seem random.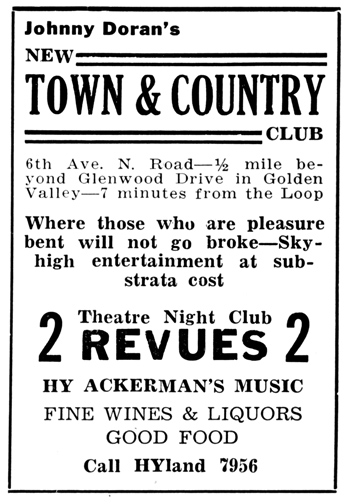 The ad below is the last Town & Country Club ad I found.  Not sure why this says watch for Grand Opening:
---
1940 – 1943
THE TURF CLUB
Again, this is not to be confused with the Turf Club on University Ave. in St. Paul.
The first ad for the Turf Club was found in June 1940.
In October 1941 the Turf Club was advertised for sale, and was said to seat 500 people!
Norm Garvey was the manager, and Vic Lessine the orchestra leader in 1942.
---
This was the last ad that came up under Turf Nite Club:  January 1, 1943.
---
Below:  priceless souvenir of the Turf Club from the collection of Mark Youngblood.


In June 1943 the owner advertised to sell the club, calling it the "Finest nightclub on outskirts of North Minneapolis."
---
1943 – 1949
THE SHAMROCK INN

By August 14, 1943, Jack Radisch owned the bar, which he renamed the Shamrock.  Not that there weren't a million other Shamrock Bars in town!  Radisch claimed "We Are Known For Good Food" and promised dancing every night. They played no favorites, advertising in Our Time, an organ of the Hennepin County Farmer-Labor Party and the Republican Register.
The ad below is the only one I found.  There was a War on.
On August 15, 1949, the liquor license of the Shamrock Bar, 3834 Olson Highway, was transferred to Douglas M. Larson.  Doug Larson changed the name to the White House.  The Golden Valley report says that it was so named because of its its all-white décor, including the long, white bar.
---
1949
THE WHITE HOUSE
The first ad under the new name, published on December 10, 1949, said that the place had been "newly decorated."
---
1951
Compared to what it became, the photo below shows that the White House in 1951 was not much to look at, at least on the outside.
---
1952
MIKE TROUP
On February 5, 1952, the liquor license held by Douglas Nelson was transferred to the newly-formed Tee-Vee, corporation, owned by Maher J. "Mike" Troup and Victor D. Levine.  Troup was the owner of a gas station in North Minneapolis and a WW II Veteran.  Levine was the son of Vic Levine who owned Vic's Theatre Lounge on Hennepin Ave.
There had apparently had been problems at the White House, as the Golden Valley Council warned him not to bring the Village any notoriety.  The White House was arrears in its taxes and owed $1,700 to its employees, which Troup promised to pay.  (Minneapolis Tribune, February 6, 1952)
On October 13, 1952, the Pete Cavanaugh Trio with Rona Rae opened for a two-week stay.
---
1953
FIRE #2

Damage estimated at $60,000 was incurred in a fire on January 12, 1953. Despite the assistance of the Crystal and St. Louis Park Fire Departments, a lack of water deterred their efforts, and the building burned to the ground.
The blaze was reported at 1:32 am.  The liquor store was saved, but only the front wall of the restaurant was left standing.  Defective wiring was deemed to be the cause of the fire.  (Minneapolis Star, January 12, 1953)
The restaurant was rebuilt at an estimated cost of $144,000.
---
SUNNY JIM
If you can believe the report of "Sunny Jim," the Golden Guernsey Kid, who somehow had his own gossip column, the White House was completely rebuilt and redecorated" and is really loaded with that stuff that call atmosphere."  He described Mike Troup as the sole owner and proprietor – perhaps Levine stepped out of Tee-Vee (are we really taking the word of a child in a Sunny Jim hat?)
Golly!  The whole thing was decorated in an Oriental style with just a touch of modernism…  The lights are sorta Japanese lanterns except that they're bigger and are all different colors.  There is a 70-foot long window made of thermo-pane that looks out onto a beautiful garden.
The Bamboo Lounge is one of the quaintest things I have ever seen.  There are bamboo bird cages hanging from the ceiling and the chairs are built very low…  All the lights are very low in this room and there is an air of intimacy about the place.  Downstairs there is a room they call the Dragon Room, for private parties for six to 160 people.
Finally, Sunny Jim tells us that the food is prepared and served under the personal supervision of Charles Woo, who was the manager of John's (a famous Chinese restaurant) for about 30 years.  Thank you, Sunny Jim.  Or whoever you are.  (Minneapolis Tribune, October 20, 1953)
---
1954
FIRE #3

For the second time in 15 months, fire swept through the White House on Sunday, April 4, 1954.
Two firemen were sent to General Hospital for smoke inhalation, while 12 others were treated at the scene.  Firemen from five other suburban departments were called in to assist Golden Valley:  Crystal, Hopkins, Richfield, Bloomington, and St. Louis Park. A Hennepin County Sheriff's Office rescue squad crew helped revive the firemen at the scene.
The fire was first discovered at about 5:15 am by two porters who were cleaning near the front of the club.  The fire took five hours to extinguish, exacerbated by plastic covered furnishings that gave off heavy, acric smoke. The fire was believed to have started in the rear of the basement.
Damages ran to $175,000, including $50,000 in liquor.  Proprietor Mike Troup said that the loss was almost total and only partially covered by insurance.
(Minneapolis Star and Tribune, April 5, 1954)
---
ROOMS IN THE CLUB
The club was rebuilt, this time for the last time.  Perhaps this is a good time to try to sort out the different rooms of the White House.  This is a stab in the dark, so if you have additions or corrections, please contact me!
THE MAIN DINING ROOM
This room had the bandstand and the large dance floor.  Was this what they were, by 1962, calling the Garden Dining Room?
THE BAMBOO ROOM
This intimate cocktail lounge at the rear of the club (next to the Main Dining Room) goes back to at least 1953.  It featured a "romantic Polynesian atmosphere."
NOB HILL
On November 7, 1969, Don Morrison of the Minneapolis Star wrote a column about how the White House was replacing the "ticky-tacky Tahitian motif that characterized the old Bamboo Room for years" with "a singularly elegant lash-up called the Nob Hill."  Owner Irv Schectman brought in a team of San Francisco architects to redesign the first floor rooms around their standing walls.  The main room was redecorated into a gas-lit 1890s mode.  Etched glass windows form a divider between the main dining room and Nob Hill.  Deep, curving banquettes, upholstered in red leather line the walls.  Object d'art from San Francisco junk and antique shops decorated walls and ledges.
Nob Hill offered quiet entertainment – in November 1969, Augie Garcia was doing his solo act on flamenco guitar.
---
FRONT LOUNGE
Taking a chance here.  A February 1960 ad talks about a cozy Front Lounge.  Wondering if this turned into the….
COCK AND BULL LOUNGE
In the dizzying changes in room names, we find the Cock and Bull Lounge from at least June 1962 to 1964.  It had an "elegant 1890s decor."  Ragtime Charlie played a 130-year-old piano – now that's a piano bar!  Where it was in the building is unclear.
---
THE APARTMENT
This was a cocktail lounge in the basement of the club that, in 1953, was called the DRAGON ROOM.
In about 1962 it was transformed into THE APARTMENT, a members-only key club with "small instrumental combos or female vocalists in low cut gowns" [who don't] "conflict with intimate cocktail conversations."  The waitresses were called Bambi Girls.
In 1964, advertising copy read, "Don't miss tonight's cocktail party – you'll be pleasantly shocked!"   The Apartment also featured a bikini fashion show. It may have featured even more than that, given this naughty ashtray:
---
THE LIBRARY
The key club concept must have gone by the wayside in the Apartment by 1972, because it was revived for a new room within the Apartment called the Library in April 1972.  Membership to the Library was $10 a year or $20 for a life membership.  The Library featured:
A solid wall lined with books contributed by the membership
A genuine fireplace
Built-in color TV
A magnificent oval marble dining table for eight
Home size bar
Game table handcrafted from the hatchcover of the S.S. Ernie Pile Liberty ship, recently removed from the U.S. Naval Service
Contemporary chess and checker sets
---
Back to our Chronology:
1956
---
RACIAL DISCRIMINATION
On October 1, 1956, two black men and two black women came to the White House at about 11:30 pm and were not allowed to be seated, despite the fact that there were several empty tables.  Although some of them had been there before, they were told that Hadda Brooks, the black pianist and singer providing the entertainment that night, "does not care to perform to a mixed audience."  One of the couples, Douglas and Jacqueline Thompson, filed a civil suit in Hennepin County District Court against owner Mike Troup for $500 each plus costs, for their "humiliation, embarrassment and inconvenience."  The sum was the maximum permitted under Minnesota's anti-discrimination statute.
In 1959 the Minneapolis Spokesman reported that the couple received damages.
---
1960
IRV SCHECHTMAN
In April 1960, Mike Troup sold the club to businessman Irv Schectman.   Troup died in 1964 at the age of 47.
From Schectman's obituary in the StarTribune, September 29, 2003:
Schectman's early business was rugs, first as a partner in Minnetonka Rug Mills, which made cotton throw rugs, and then with the Chenille Rug Co., which made room-sized rugs woven on looms. The factory could only make so many rugs a year, and Schectman, who traveled the country selling them, often sold out the factory's production in nine or 10 months so he could spend most of the summer at home, where he loved to golf.  Cheaper tufted rugs made in the South made it unwise to stick with Chenille.
Irv's son Paul adds:
He and his partners shut down their carpet manufacturing mill based in Minnesota in the late '50s. My father did not want to move our family down to Dalton, Georgia, where the manufacturing needed to be done in order to be viable. My father and mother refused to raise our family in the racist south. For that I am most grateful.
He turned the White House (a dump of a restaurant at the time of purchase) into one of the top three gourmet restaurants in Minneapolis. (including Harry's and Charlie's). The restaurant earned a 4 Star Mobil rating, but my father refused, saying that it only deserved 3 stars.
To its existing Chinese menu he added familiar tomato-based Italian dishes.
---
---
1962
The Minneapolis Daily Herald took over for the striking Minneapolis Star and Tribune in the summer of 1962.  Night Beat reporter Vic Burton described how Toni Lee Scott was rotating between the Bamboo Room and the Apartment, which was apparently a common practice.  (May 4, 1962)
ICE SHOW
Burton also described the miniature 40-minute ice show in the new outdoor garden. Tables were set up around a 10′ by 12′ rink, and dinner was served rinkside.  Three shows were given each night plus a Saturday matinee.
The month-long (approx. June 20 to July 20) The 1962 show of precision skating featured:
Robin Nelson
Gladys Jacobs, 1956 U.S. figure skating champion
"Venita," a skater from Columbia
Nancy Emerson, a local girl making her professional debut
Owner Schectman's son Paul described these shows as:
Professional Ice Capades-quality shows performed outside in the rose gardens for several years during the sweltering summers. The performers had to skate quickly!
Schectman himself quipped that "if a June outdoor ice show proves to be a hit, he's all set to sponsor an outdoor aqua show in January."  (Minneapolis Daily Herald, June 14, 1962)
---
1963
The "Career Girl Dinner" came with a choice of three entrees and an after-dinner cocktail, all for $1.95!
Will Jones reported that Irv bought 100 portable charcoal grills for the customers to use at their tables in the outdoor gardens. "On Saturday nights, waitresses will bring the menu to the table in the raw: a tray of assorted steaks and ground concoctions, already marinated and seasoned. Diners will select their dinners and cook them themselves. It's a one-price deal $3.50 for the complete dinner. If a lazy soul asks to have his meat cooked inside by a chef, that can be done, too, but the price goes up to $4.50." Wonder how that went over.
Entertainment included Geordie Hormel's new quartet, the Dick Burgess Trio, with vocalists Rosalee Brown & Dave Brown, and Monette Malvar, the former lead in the Flower Drum Song. Four shows nightly.
---
THE SIXTIES
These were big, fun years at the White House.  Son Paul describes some of the action:
My father arranged for Helicopters to fly patrons from the large back parking lot to numerous Vikings games. Buses were regularly scheduled to Minnesota Gopher games. During the '60s my father arranged numerous junkets for patrons and friends to Las Vegas, Hawaii, and Mexico.
One such trip was a four day trip to Las Vegas in March 1967.
An undated flier provided by performer Tom Prin states that:
During the 1960s, Apartment members were privileged to see and hear over 200 star talents such as Jose Feliciano, Sergio Mendes and Brasil 66, Charlie Byrd, Jackie Cain and Roy Kral, Buddy De Franco, Cal Tjader, Big Tiny Little, and so many others.  There is a resurgence of better music coming to the fore now and we have quadrupled our budget to present the very best talent.
---
1964
The White House had already become a jazz venue.
MEADE LUX LEWIS
Meade Lux Lewis was a boogie-woogie piano player and composer who had been appearing in the Twin Cities since at least 1946.
From  Wikipedia:
Lewis was quite fond of the Minneapolis area, where a niece lived, and would visit as often as he could. He appeared annually at the White House Restaurant in Golden Valley. He began a successful three-week engagement there in May 1964. Around two a.m. the morning of Sunday, June 7, leaving the parking lot of the White House and heading east on Olson Memorial Highway, Lewis' Chrysler Imperial was rear-ended by one Ronald Bates, who was traveling an estimated 80 mph. Lewis' car was pushed 400 feet, impacting a tree and killing him instantly. He was 58. Bates survived, but his passenger died the following day.
---
1965
In 1965 the waitresses were described as "shapely girls in split skirts."
---
1966
Entertainment was diverse in 1966:
---
From Irv Schectman's Obituary:
In 1966 Schectman and broadcaster Herb Schoenbaum devised "A Festival of the Elegant Arts," said Leigh Kamman, a jazz broadcaster for Minnesota Public Radio. The restaurant's Bamboo Room started booking nationally known jazz acts such as Charlie Byrd and Roland Kirk for 10-day engagements. Schechtman bought radio spots to advertise his nightclub music, and Kamman and Schoenbaum programmed it onto the air waves "and kept the flame alive," Kamman said. Through Schoenbaum's connections in South America, Schectman also booked emerging Brazilian acts such as Manfredo Fest and Sergio Mendes, Kamman said.
The Festival lasted until 1969.
Son Paul:
He created and expanded the jazz club into a very progressive club. Cal Tjader, Sergio Mendez, Jose Feliciano, Charlie Byrd…. all performed there many times. Many of these performers would spend time at our home, giving me a rich and diverse cultural exposure to music and hip creative people. I was so lucky to have this exposure as a kid.
---
1969
Turkish film star and belly dancer Ozel Turkbas was apparently a popular entertainer at the White House.  The ad below is for March 1969, and she was also there that June.
The Americana '69 performed for dancing.
In November 1969, Augie Garcia included the new Nob Hill at the White House on his itinerary when starting up his solo act.
---
1970
From Schectman's Obituary
Schectman started La Societa dell' Elegante Pranzare Italiano, translated as the Society for Elegant Italian Dining, to keep enticing what one reviewer called the cigar-and-mink crowd. A new menu of tomatoless Northern Italian cuisine ran each Monday night for a month: five to six courses and two or three wines. Until 1973, the price stayed under $10.
"In the 11 years I continued the society, I never — and I emphasize never — repeated a single course," Schectman said when he sold the restaurant in 1983.
---
1971
---
1976
A restaurant review indicates that the only entertainment available was in the Apartment, which was still a private club requiring screening and a membership fee.
1983
Paul:
My father sold The White House [in 1983] and retired to Rancho Mirage with my elegant mother Jacqueline Schectman.
Jacqueline passed away from lung cancer at age 60 in 1989.  Irv Schectman passed away on September 10, 2003.
---
TAI  PING
Schectman sold the restaurant in January 1983, to Philip Yen, and it was closed on January 15.  Yen, who had owned the Mandarin Yen, obtained a liquor license on April 7.  He opened a Chinese restaurant called Tai Ping that same month.  The food reviews were great.
---
1984
But in September 1984, the ads for help were suddenly identifying the place as the "Whitehouse," and then stopped.
1986
On March 18, 1986, everything inside the building went up for auction, including a chandelier that was a smaller copy of the one in the Vienna Opera House.  The item again reported that the building had been used as a restaurant since 1919.
The three-acre property was sold in December 1986 to a developer.
1991
The White House was torn down in 1991.
1995
In a report dated March 1995, the White House site was identified to be contaminated with volatile and semivolatile organic compounds, possibly construction material dumped there before the restaurant was built.
The site is now Sunrise Senior Living Center, if I'm correct.