Probably one of the most famous musical acts emanating from Minnesota was the Andrews Sisters.  They were apparently born in Minneapolis, and spent much of their childhoods in the exurb of Mound, Minnesota.  The following is the text of a plaque erected in the City of Mound in their honor, written by Tom Rockvam in 2006.
The Andrews Sisters, LaVerne, Maxene, and Patty, grew up in Mound, Minnesota.  They spent all of their summers here from 1917 through 1931, living in a house that today would be at 2506 Commerce Blvd.  They also spent a lot of time at their  Uncles' (Pete and Ed Sollie) grocery store, which today would be at 2567 Commerce Blvd.  When they won an audition at the Orpheum Theater in 1931, they were hired by Larry Rich, a vaudevillian, and that was the beginning of their 65-year show business career.
They spent all of their childhood summers in Mound and visited every chance they could as adults, which included at least one week each July throughout their very busy and successful careers.
Maxene, especially, had a deep love for Mound, buying 13 acres of land on Westedge Blvd. in 1951.  When she died in 1995, she was cremated and some of her ashes were spread on the Pacific Ocean and some were spread on Lake Minnetonka at the Mound swimming beach.
They recorded over 700 songs on the Decca label, sold over 90 million records, had 113 charted hits, had 12 gold records, were the first female group to have a gold record go platinum, were in 18 movies, and were the first and only female vocal group to be inducted into the Vocal Group Hall of Fame in 1998.  They had 46 top ten hits in their career, which is more top ten hits than Elvis Presley or the Beatles.
During World War II, they entertained over 161 million armed forces personnel, both in the United States and during their USO tours abroad.  Daily they brought upbeat music, laughter, happiness, and hope to everyone during World War II, which was a dark period for Americans.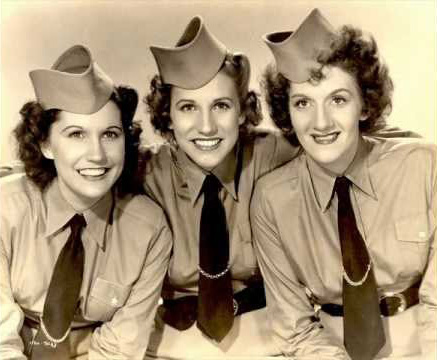 Patty Andrews said that because of all her happy memories in Mound, the only way she could describe Mound is that "It is Heaven on Earth!"