Here is a look at some of the acts who came to entertain us at the Minnesota State Fair through the years.  This page is far from complete, and I'm finding some errors, but I'm updating this as fast as I can.  Many thanks to Steve Grainger, former archivist of the Fair, who led me to the online Annual Reports.  And thanks to Jon Burseth, who sent me the link to the August 1980 issue of Mpls. St. Paul Magazine, which had a huge collection of factoids about the Fair!
Thanks also to those who have sent in their snapshots from performances they have attended.  If you have any photos or stories to share, please contact me!
---
HISTORY AND ENTERTAINMENT
The Minnesota Territory held three Territorial Fairs starting in 1854.  Early fairs focused on agricultural exhibits and competitions, reflecting its original purpose of encouraging farming in the State.
The first Minnesota State Fair was held in 1859, the year after statehood.  In its early years during the 19th century, the Fair was held in many different locations. The first was held near Downtown Minneapolis.  Some were not far from the current site, but others were held in Greater Minnesota, including Rochester, Red Wing, Owatonna, and Winona.
The Fair was cancelled in 1861 and 1862 because of the Civil War and the Dakota War of 1862.
In 1865, New York newspaper editor Horace Greeley delivered an address on what Minnesotans could expect for the future. Among his predictions: that the state's farmers would soon be able to control rainfall by firing heavy artillery into the upper air currents.
For a time in the 1870s, Minneapolis and St. Paul held competing fairs.
In 1884 a committee was put together by the Minnesota State Agricultural Society, the Fair's governing body, to select a permanent site. The committee chose the Ramsey County Poor Farm, which was about halfway between Minneapolis and St. Paul.  Ramsey County deeded the 200-acre site, worth an estimated $150,000 at the time, over to fair officials free of charge.
The first State Fair at its present location opened on September 7, 1885. The site was then 210 acres but is now 322 acres.
Entertainment has always played a big role – particularly the races held in the Grandstand. The original Grandstand was built in 1885, and the current Grandstand was built in 1909.  Major improvements were made in the late 1930s and in 2002.
In 1898, one of the lowest attendances of any Minnesota State Fair was attributable to an outbreak of typhoid fever in July among a regiment of soldiers just back from the Spanish-American War. They were being quartered on the fairgrounds.
In the early days, musical Grandstand entertainment consisted of spectacular acts with casts of thousands.  Gradually formulas changed as Fair administrators took note of changing tastes of audiences.
The following are some highlights of early years of State Fair music – random at first, then every year starting in 1957, when Ricky Nelson (and Brenda Lee) blew the roof off the Grandstand on Children's Day.
---
1866
In 1866, the fair, held in Rochester, was generally conceded to be a bore. The only excitement occurred when a steed named Sleepy David dropped dead in the middle of a race.
1888
A unique attraction of the 1888 fair was a parade of 1,200 traveling salesmen.
1893
Scheduling issues between the Fair and the World's Columbian Exposition in Chicago caused the 1893 Minnesota State Fair to be canceled.
1895
The fair showstopper of 1895 was the famous St. Cloud Bicycle Band. Band members played march music while pedaling around a dirt track.
1897
In 1897, it was widely advertised that a dog would parachute from a balloon and land right in front of the fair's grandstand. Hearing of the event, the local humane society threatened fair officials with jail terms if any animals were mistreated during the fair. So it was a toy dog that floated down from the heavens and into the fairgrounds.
1899
In 1899, a grand pageant and fireworks display reenacting the American Navy's attack on Manila during the Spanish-American War was staged. It was such a smashing success that subsequent fairs featured "The Burning of Moscow," "The Destruction of St. Pierre," "The Last Days of Pompeii," "The Fall of Pekin(g)," "The Siege of Jericho" and "Rome Under Nero."
1906
In 1906, Dan Patch, a harness race horse owned by M.W. Savage of Minneapolis, set a world's record for a mile in front of a cheering crowd of 93,000. The record stayed on the books for over 30 years.
1908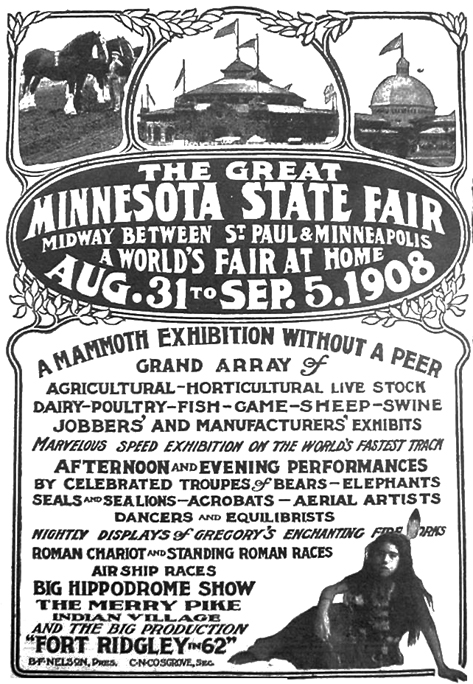 1912
---
1920
In 1920, a big attraction on the Midway was a preserved corpse that was allegedly Abraham Lincoln's assassin, John Wilkes Booth.
1923
The 1923 Minnesota State Fair and Northwest Dairy Exposition, September 1 to 8, 1923, had an entertainment program that was expected to be "easily the most stupendous bill of its kind ever contracted by any fair in America," and would cost $150,000.  Events included:
17 Spectacular Circus Acts
Lillian Boyer in her Thrilling Change from a Speeding Automobile to an Airplane, Climaxed by Wing Walking and Parachute Drop
Automobile Races, featuring Sig Haugdahl and his famous 3-mile-a-minute racing car
200 harness and running horses
Auto Polo, America's newest and most dangerous sport
"Battle in the Clouds" each night by veteran aces Lieutenants Brock and Faulker
Fireworks spectacle "India," featuring elephants and a cast of 700.
Dozen famous bands and orchestras
Midway featuring 23 big attractions, recruited from all parts of the world.
Scores of Educational Exhibits
Mamouth Livestock and Poultry Show
Eighty Acres of Farm Machinery
Northwest Bulletin, September 1923
---
1927
John Phillip Sousa and his 70-piece band played at the Minnesota State Fair from September 3 to 10, 1927.  Sousa dedicated the new march "Minnesota" as the official march of the University of Minnesota.  When the University president refused to meet him at the fairgrounds, Sousa presented the march to fair officials instead.
---
Another feature of the 1927 Fair was that children under age 12 were admitted free.  The Midway shows were provided by Morris and Castle Shows, carrying 40 train cars of shows and riding devices.  (Hennepin County Enterprise, August 18, 1927)
---
1930
The 1930 Minnesota State Fair and Northwest Livestock Show took place on August 30 to September 6.  The ads for these huge events were usually quite compact with small lettering.  Attractions included:
Open air circus acts
Auto and horse races
Aviation thrill shows
"Inspiring bands"
A fireworks show called "The Awakening."
Ye Old Mill
Carnival Rides
Whoopee Way! – perhaps a precursor to the Midway?
A 60-ton whale and other aquatic specimens
A race between motor and beast in the lion's den
Boy Scout Indian Village, featuring real Indians
Livestock show
60 acres of moving machinery
---
1932
Although 1932 was the first fair to have four Ferris wheels in one spot, the event was a bust at the admission gate in this Depression year. Adding insult to injury, Phil Stong's novel State Fair also appeared and credited Iowa with having the nation's best state fair.  These State Fair ads tend to be long and skinny and unreadable if I post them in their entirety.  Below is the guts of a 1932 ad.
---
1933
The climax of Thrill Day, September 8,  was a collision between two locomotives, one marked "NRA" and the other "Old Man Depression," before an overflowing grandstand crowd.  On August 24, 1933, the Redwood Gazette described what would happen:
The leviathans of the rails will be in readiness at each end of the track and in full view of the thronged grandstand; the engineers will open the throttles wide, tie down the whistle cords and leap for life.  The two thundering monsters will speed toward each other in a mass of steam and smoke – then the crash!!
Footage of this remarkable crash can be found Here.
---
1935
The Night Show, called the State Fair Revue, made its premiere in 1935, according to this ad in the Hennepin County Review.
SOARING TO NEW Heights of Grandeur . . . Tapping New Fields of Amusement . . . State Fair Revue, a Musical Extravaganza, will be Presented for the First Time to Grandstand Patrons.
NEW AND MODERN Scenic Designs . . . Revolving Stages . . .  Gorgeous Costumes . . . Improved and Spectacular Lighting Effects . . . Dance Ensembles Direct from Radio City's Music Hall . . . World-Famous Stars of Stage, Circus and Filmland . . . All Combine to Make State Fair Revue the Finest ever Produced.
FIVE FEATURE NUMBERS are Introduced in this Super Musical Creation . . . "Flying High" . . . "The Opera" . . . "The Circus" . . . "The Follies" and "Rise and Cheer."
FESTIVAL OF LIGHT . . .  A Smashing Fireworks Finale, Climaxes this Great State Fair Revue. . Every night.    BEST SHOW IN HISTORY!
---
1936
Thousands looked on as the fair's Thrill Day was capped by a dirigible balloon exploding above the infield. Less than a year later, thousands would look on in horror when the German dirigible, the Hinden-burg, exploded at Lakehurst, N.J., killing 36 people.
---
1938
The ad below for the 1938 Night Show is full of hyperbole; hopefully it is large enough to read.   It comes from a publication aimed at visitors to Minneapolis.
---
1941
In these years, State Fair shows were usually spectacular productions with casts of thousands.  1941 was no exception, EXCEPT that on the first night, August 23, there was a special show starring Edgar Bergen and Charlie McCarthy, plus:
Ted Weems and his "Beat the Band" Orchestra
Buster West, film Comedian
Paul Remos and His Toy Boys
Lois Wolner and Her Singing Commanders
and 12 Other Top Attractions
On the rest of the nights, August 24 – September 1, there was the World's Greatest Outdoor Spectacular:
New!  Dazzling!  Different!  Greatest Extravaganza of the Ages…  A Musicomedy Studded with Stars from Broadway, Hollywood and Radio… Combining Beauty, Color, Comedy and Rhythm… 400 Living Artists…  Five Stirring Episodes…  57 Stellar Acts.. 40 Chic Chorines.. A Fast-Moving, Hilarious Grandstand Production That'll Made You Rock and Roar with Laughter… All Climaxed by Glorious Fireworks.
---
1942
Auto racing was suspended in 1942 because of gas rationing.
---
1943
In 1943, the Ramsey County Historical Society reports that the Hippodrome, some of the other livestock buildings, and 50 acres of land surrounding them were taken over by the government for an airplane propeller manufacturing plant run by the A.O. Smith Corp.  Livestock, horse, and poultry shows were suspended.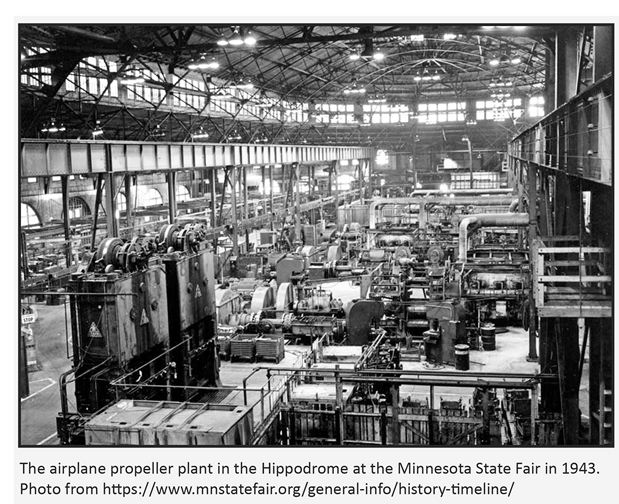 ---
1945
The Fair again closed because of World War II because of a shortage of fuel and wartime travel restrictions.
---
1946
The Fair was again closed in 1946 because of an outbreak of polio.  The Hippodrome had been so badly damaged by use for the airplane factory that it was demolished in 1946.

---
1947
A 1947 poll in the Minneapolis Tribune, which showed that only 7 percent of fairgoers named the Midway as their favorite attraction, sparked a crusade to banish the carnival from the fairgrounds. The fair's bookkeepers had some figures of their own, however. For every dollar spent at the admission gate, 77 more cents were spent on the rides, sideshows and games of chance.
---
1948
Sally Rand, a dancer famous for her wardrobe of fans and bubbles, was the toast of the town during 1948'sfair week. Between shows and posing for newspaper photographs, she even found time to address the St. Paul Rotary Club. Her topic: "The Importance of 4-H Clubs."
---
1949
1949's program only listed the evening's entertainment quite casually as the State Fair revue.
But out on the Midway, the big entertainment was the tent of Gypsy Rose Lee!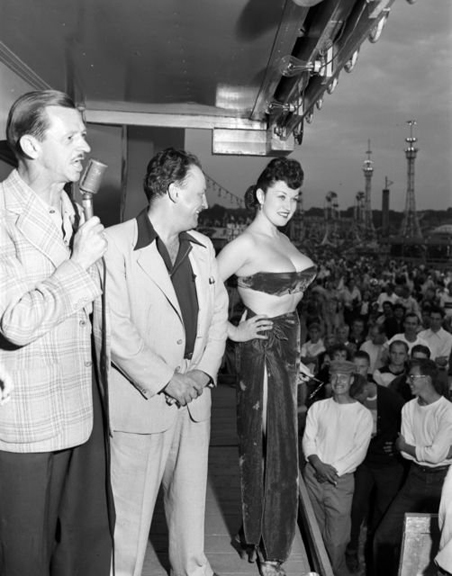 ---
STOOGES!
But much ink was given to the arrival of the Three Stooges, who weren't really appearing at the Fair, but at the Radio City Theater with Bing's little brother Bob Crosby.  It was billed as a "Giant State Fair Week Stage-Screen Show!" and their live show alternated between the showing of the movie "Africa Screams."
---
1951
Stunt pilot Carl Ferris, with costar Kitty Middleton riding on his wing, failed to pull out of a steep dive and crashed, in full view of 18,000 people watching from the grandstand. Both were killed and it was the last aerial thrill show presented at the fair.
---
1955
A tradition of the fair had been Children's Day, where kids ages 15 and younger were admitted to the Fair for free and treated to a special morning Grandstand show, either for free or for a nominal amount for tax.  Up through 1954, the special Grandstand show consisted of circus and vaudeville acts.
But in 1955, there was at least a special feature, albeit not a musical act.  It was Gene Autry and his horse Champion, sponsored by WCCO TV and Radio.
---
1957
It was pandemonium when Ricky Nelson, just 17 himself, appeared at the 1957 Children's Day show on August 26.  He played to more than 30,000 fans (according to the Fair's Annual Report)  from a stage erected "a zip code away in the center of an enormous racetrack"(according to Ricky's biographer Philip Basche.)
Also appearing were the Four Preps, who dressed in silver lame jackets in order to be seen.  But all eyes were on Nelson, who wore a cream colored jacket, white and burgundy polka dot shirt, and a white tie.  With a limited repertoire, he also sang numbers by Elvis and the Everly Brothers.
Also performing at the 10 am show was Brenda Lee, who was just in Sixth Grade.  While in town the two "TV and juke box stars" appeared on the local TV show "Treasure Chest."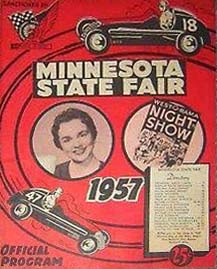 ---
1958
Tommy Sands was the teen idol chosen to play at Children's Day on Monday, August 25, 1958.  Although temperatures were in the 40s, the Fair's Annual Report estimated that 35,000 kids came by the busload to see the show that morning.  Fair officials provided 30 mounted patrolmen between the Grandstand and the stage to prevent the star from being mobbed like Ricky Nelson did the previous year.  Tommy, almost 21, was backed by a group called the Raiders.  Appearing with Tommy was Gabby Hayes.  The regular show was called "Star Spangled Spectacular."
At about 2 pm the rains came, and the evening Grandstand show was cancelled.  The Annual Report says that Tommy's evening show was transferred to the Horse Show.
Also in 1958, it was clear that attendance would hit seven digits for the first time in history and a special reception was planned for the millionth visitor. As the turnstiles kept clanging, fair officials grew worried that Number One Million would be a married person out on the town with someone other than his or her spouse. Everything was on the up-and-up with Robert Karklin of St. Paul, however, and he seemed rather excited to get a new wristwatch along with free admission to the fair.
---
1959
Children's Day was August 31, 1959, and featured some safe Western stars.  Standing room only crowds saw:
Johnny Horton
Gabby Hayes
The Chipmunks
Rosemary Bailey (10-year-old concert organist – or was she 13?)
Claude Gordon's Orchestra
---
1960
The official program just described the night performance as an "All-Star show, Stage and Circus Acts, Fireworks."  The following ad, in slightly different iterations but with no more details, appeared throughout the Fair.  Somehow the performers were really famous but their names didn't merit mentioning!
---
CHILDREN'S DAY
It's only thanks to the newspaper columnists that we find out who performed on Children's Day, the only day that popular music was performed in the early days.  Otherwise the acts were woefully poorly advertised in the newspapers.
1960 had two Children's Days, with kids 15 and under getting in free.  Shows were at 10:00 am.
On August 29, the acts were:
15-year-old Brenda Lee
David Nelson.  David was Ricky Nelson's 23-year-old brother, and performed as a "catcher" in a trapeze act.  He worked 32 feet above the ground with a net, catching his three co-workers, Del and Babs Graham and Walter Long.  The Grahams taught him the techniques for a movie, "The Big Circus."  One of the columnists informs us that he did his act wearing baby blue, rhinestone-trimmed tights.
Johnny Cash
Gordon Terry (in a red jacket)
Johnny Western (in a tartan jacket)
Clowns, circus, and vaudeville acts
Ann Marston, Archery champion
The Browns ("an on-key singing group" per Barbara Flanagan)
Fireworks
Frankie Masters and His Orchestra
On September 2, the show featured:
Anita Bryant
Neil Sedaka
Paul Evans
David Nelson
Gordon Scott (the current Tarzan)
Clowns, circus, and vaudeville acts
Ann Marston, Archery champion
Fireworks
---
BREAKING UP THE CLUB LIDO
And this happened on Saturday night, August 27, at about 11:00:  about 60 young men between the ages of 16 and 20, broke up some displays on the way to the Midway, with the intent of "breaking up" the Club Lido girlie show.  The Fair's police force prevented the youngsters from reaching the Midway, and the "young toughs" failed to follow up on their threat to come back on Sunday.  Why they wanted to bust up a girlie show was not explained.  (Minneapolis Tribune, August 29, 1960)
---
1961
The official Grandstand ads were again very bereft of detail, and the one below basically ran the entire run of the Fair.
In 1961, a longtime fair favorite, Leon Claxton's Havana Revue featuring "scads of sultry sepia sirens," showed up with a new name-the Harlem Revue. No explanation was given.
---
CHILDREN'S DAYS
There were two Children's Days in 1961, where kids 15 and younger got in free to special 10:00 am shows.
The first was on Monday, August 28, 1961, a scorcher.  22,000 kids saw:
Ricky Nelson, now 21, made a return performance in a maroon suit, Barbara Flanagan reported.  Police were ready for mooning girls with mounted troops on the grandstand racetrack.
Tony Bellus, reportedly another teen idol, who played guitar and accordion.
Rocky and Bullwinkle
Pallenberg's Bears
Harmon Killebrew also made an appearance, tossing a few baseballs into the crowd and holding a batting demonstration.  Here he is in a white shirt and skinny tie!
 September 1, 1961,  was the second Children's Day, with:
The Four Preps
Dodie Stevens
Huckleberry Hound and Yogi Bear
Tony Bellus
Harmon Killebrew
Pallenberg's Bears
---
FREAK SHOW NEWS
Dick Best, the manager of the freak show, was interviewed by the Minneapolis Star. Best called the Minnesota State Fair the "Christmas" for all freak shows, where he could gross $40,000 over the ten days.  He opined that show business was the therapy that gives the "Freak" a full life.  The article described some of the freaks, including Betty Lou Williams, who had one head, two bodies, three arms, and four legs.  With her earnings he was able to put her 11 siblings through college and buy her father a 260-acre farm.  Betty Lou stayed with Best and his wife until her death at the age of 21.  (August 28, 1961).
---
1962
GRANDSTAND SHOWS
The year 1962 ushered in the modern Grandstand show model, with a rotating cast of celebrities.  Headliners were:
August 25-27:  Dennis Day – "brilliant comedy and musical show"
August 28-30:  "Glamorous Jane Russell in a dazzling performance"
August 31 – September 3:  Jimmie Dean
Each night also featured the Warren Covington Orchestra, chorus, variety acts, and thrill shows.
On the Midway in 1962 could be found a baseball-playing chicken, a kissing rabbit, a drumming duck and a second chicken that danced the twist.  Everybody was doing the Twist in 1962.
---
CHILDREN'S DAYS
Two Children's Days were held in 1962.  Performers on August 27 were:
Bobby Vinton
Joe Dowell
Diane Emond – a 14-year-old from Minneapolis
Leroy Van Dyke
Clowns Emmet Kelly, Jr. and Carl Marx
Mark Wilson, TV's "Allakazam"
---
The second Children's Day was on August 31, 1962.  Performers were:
Freddie Cannon
JoAnn Campbell
Diane Emond
Acts from the night show
---
1963
GRANDSTAND SHOWS
The Grandstand Show was called the North Star Spectacular.  Headliners were:
August 24 – 28:  Rosemary Clooney, Buster Keaton
---
August 29 – September 2:  The Smothers Brothers, Buster Keaton
---
Acts appearing all ten days in the Grandstand were:
The Rhythm Masters.  A lengthy article in the Tribune on September 1 explained that the Rhythm Masters was a group of seven teenagers who sang, tap danced, and played instruments, and actually lived with their managers, Mr. and Mr.s Emery Clay in Canoga Park, California.  They were spending the summer on a tour of fairs, traveling in a bus.
Zacchini, the Human Cannonball
The Warren Covington Orchestra
The Amandis
The Appletons
Nip Nelson
Dockey's Basketball-playing Dogs on the new zoom-up panoramic stage
A helicopter aerial Act
---
CHILDREN'S DAYS
A change was made to Children's Day in 1963:  previously, kids 12 and younger got in the Fair gates free, and kids 15 and younger got into the special 10:00 am Grandstand show for free.  Starting in 1963, the age limit for free gate entrance was raised to age 15.
The first Children's Day was on August 26, 1963.  Performers were:
Paul & Paula
Rooftop Singers
Libby Horne
Rhythm Masters.
The Yeomen (from Edina)
Zacchini, the Human Cannonball
Carl Marx, the clown
Libby Horne
Libby Who?  She was the same age as Brenda Lee and made a record in 1957, but just didn't click.
The second Children's Day was held on August 30.  Performers were the same except that instead of Paul and Paula, Bobby Vinton performed.  James Darren was originally scheduled for the second show but was replaced by Vinton.
---
TEEN DANCELAND
1963 was the first year that teens had their own area at the Fair. It was described as in an Alpine setting across the street from the east end of the Grandstand.  Dance sessions would be from 1:30 to 4:30 pm and between 7:30 to 10pm.
Will Jones said that the "Ballroom" opened with a "blast of electric guitar music" at 1:30 on August 24.
The customers crowded in – some to listen and others to jiggle around to the driving sounds of rock 'n' roll.  Girls dance alone, together, or with any of the boys brave enough to get out onto the floor.  (Minneapolis Tribune, August 25, 1963)
Barbara Flanagan also described it as Teen-age Danceland "ballroom," and estimated one night's attendance as 1,000 boys and girls, jiggling and jumping.  Fair police chief George Cockriel said that in past years groups of teen boys had staged rowdy incidents after dark, particularly on the Midway, but such was not the case with Danceland in operation.  In fact, Cockriel said, "We're having more trouble with adults.  I wish they could be as orderly as the teen-agers."  (Minneapolis Tribune, August 28, 1963)
KDWB may have been a sponsor of Teen Danceland.  Performers included:
The Starliners
Rooftop Singers
The Galaxies
The Yeomen
Rhythm Masters
Libby Horne
The Corvets
Mike Waggoner and the Bops
An item in Bob Murphy's column in the Minneapolis Star dated September 28, 1963, said that Morrie Steinman, a movie press agent from St. Paul, operated the 1963 Teen Danceland.  Steinman died in 1976, and in addition to his work as a public relations consultant an theatrical promoter with Monogram Pictures, his work with Teen Danceland was noted.
Don Morrison noted in his column that Teen Danceland was one of the most successful new features of the 1963 State Fair.  (Minneapolis Star, September 2, 1963)
Of course, the nature of the dancing I saw would seem to preclude opportunities for trouble.  It is characterized by a vast physical and spiritual remoteness on the part of the participants.  Dance partners establish a 6-to-8-foot cordon sanitaire between each other and go about their business in complete isolation.
Will Jones took his own swipe at the phenomenon in his column on September 2, 1963:
The crowds that jammed the fairgrounds yesterday added 10 degrees to the temperature of Teen Danceland, where hot hands wheedled warm whacks from electric guitars.
By 8:30 pm, 2,500 persons had been in the 95-by-60-foot room that makes up Teen Danceland.  It was so crowded that the youngsters were twisting in the washrooms – and there was a line of youngsters a block long waiting to get inside.
---
From the 1963 MSF Annual Report:
Commonwealth Avenue echoed to a new sound this year – the beat of rock n' roll music as young dance enthusiasts from the Twin Cities and across the upper midwest flocked to "Teen Danceland."  Initiated this year, Teen Danceland hosted more than 20,000 teen-agers who in turn were entertained by local rock n' roll bands and guest celebrities.  Teen Danceland's proven acceptance has encouraged your Board to initiate expansion into a complete "Teen Age Fair" which will include teen exhibits, entertainment, fashion shows, talent contests, etc. for the 1964 Fair.
The last word goes to Willie Murphy, who was interviewed by Jim Walsh for a piece called Midway Memories, minnpost.com, August 24, 2017.
I remember playing out on the Midway, it must have been '63, with some band I didn't know but they needed a bass player.  We played several days, eight yours a day, one set.  The main song we played over and over again was, "Stick Out Your Can, Here Comes the Garbage Man."  I remember I signed a lot of autographs.  Thesse kids from the country thought we were hot – that's pretty funny.  Then I remember the "Harlem in Havana" show – all black people, with a band and singers and dancers and they did Top 40 R&B hits, and that was great.  The band was really good, and as a budding musician,I was really interested in that.
---
1964
GRANDSTAND SHOWS
August 29 – September 2:  The New Christy Minstrels and Anita Bryant
September 3 – 6:  Al Hirt and John Gary
Also on the Grandstand "North Star Spectacular" were:
The State Fair Orchestra, directed by Jack Gillespie
The Manhattan Rockets precision dance group
Nip Nelson, Master of Ceremonies
The Twin Eagles Sky Divers
The Four Step Brothers dance team
Don Rice, humorist
The Half Brothers novelty act
Roy Clark, singer-comedian (THE Roy Clark??)
The Bumpy Spectaculars, tumblers
Gus Augspurg and his Jungle Wonders
The Sky Cycle High Act
The final Grandstand show on September 7 was cancelled because of rain.
---
1964 CHILDREN'S DAYS
Two Children's Days were held in 1964:
On August 31 the entertainment was provided by:
Bobby Vee
The Yeomen
Gus Augspurg and his Jungle Wonders
The Bumpy Spectaculars
The Sky Cycle High Act
Other special entertainment from the night show
At the second Children's Day on September 4, 1964, the Osmond Brothers replaced Bobby Vee.  The other acts were the same.
---
OTHER ENTERTAINMENT 1964

The Yeomen and the Last Straws performed in the Hippodrome on August 29, 1964
Gene Eyman's Orchestra performed in the Home Activities building, also on August 29, 1964
---
TEEN-AGE FAIR 1964

Last year's premiere of the Teen-Age Fair was so successful that it was expanded into its own space in 1964.  On August 24, 1964, Will Jones at the Minneapolis Tribune wrote in his "After Last Night" column that last year's space was being repurposed (a word that didn't exist in 1964?),
The Danceland at the State Fair building that was Teen Fair last year is being turned into the Li'l Old New Orleans Concert Hall this year.  Three Dixieland bands – headed by Doc Evans, Harry Blons and Bob Gruenenfelder – will alternate there.
Here's the Annual Report's… report:
Based on the success of the Fair's Teen-Age Dance held in  1963, it was decided that additional facilities aimed at teenage interest should be provided in 1964.  In keeping with this idea, a three-and-a-half acre area near the Midway was fenced off and completely devoted to the teen-agers.  This area, called the "Teen-Age Fair" had daily events and exhibits such as the "battle of the bands," hootenany, fashion shows, custom cars, Miss Teen Northwest beauty pageant, etc.  The Teen-Age Fair attracted better than 100,000 admissions and proved to be one of the most popular as well as noisy places on the  Fairgrounds.  Admission to the Teen-Age Fair was 50c.
Because of its success, it is planned to  continue this event again in 1965.  It should be noted here that the deportment of the teen-ager, not only in the Teen-Age Fair but over the entire grounds, was of the very best and seems to prove that if activity is provided to keep the younger element occupied, disturbances are considerably lessened.  It is also interesting to note that the Royal American Shows' Midway, in spite of the Teen-Age Fair competition, again shattered its income record by grossing $493,120.03.
Activities included:
Fashion shows
Cosmetics lessons
Dance contests
Motorcycle displays
A booth for shooting a quick round of pool
Karate demonstration
Per Eddie Eiss, "There was a tent that had a large electric car racing set up, as that was a fad at the time."
Also per Eddie:  There was a booth that let people doing some kind of painting that involved spinning a wheel."
Some notes from the 1964 Teen-Age Fair:
Century Camera had a booth where kids could have their pictures taken with full-sized cutouts of the Beatles (Will Jones, August 22, 1964)
42 bands kept up a 133-hour rock 'n' roll marathon.   Three bands played at any given time.
52 singing groups participated in a "long-winded Harmony Hootenany" (Will Jones, August 26, 1964)
The first four hours it was open, more than 5,000 teenagers of varying ages had paid their 50 cents to get in.
The Safari Bash consisted of paying 25 cents for the privilege of bashing an old used car three times with a sledge hammer.
The B Sharp Booth featured the self-described "Garage Band" the Count Downs, featuring Gary Narducci.  Here they are, in their garage, with their B Sharp equipment:
---
THE MADRAS PLAID JUNGLE
Tribune writer Jerry Kirshenbaum reported on the "Madras plaid jungle" on September 3, 1964
Kirshenbaum listed the bands Johnny and the Hurricanes and the Underbeats as some of the professionals on hand.  Hmm.  The Underbeats were locals.  He also gave advice on how to tell the pros from the novices, according to one St. Paul kid:  "The pros wear lizard-skin pants."
Another band, identified as a novice, was the Aristocats, who wore "powder blue cardigans, navy blue shirts and leopard-pattern ascots."   The band featured a 13-year-old drummer named Scott Sansby, who became one of the most prolific rock drummers in the Twin Cities.  The article quoted his father, Jerry Sansby:  "You think it's loud out here.  You outghtta be at our house when they practice."
Kirshenbaum also commented on fashions:  "Loafers are still in.  Socks are out.  Shades (sun glasses) are in.  So is hair, very, very in.  Combs are out.  Shirttails are in – er, out.  And so on.
He noted that there was a "gradual construction of a Mount Rushmore – style memorial to the Beatles.  The memorial is being fashioned from sculptor's clay.  It will be a pink national monument, but nobody will say which nation gets it."
---
FROM HOLLYWOOD
The production was somehow produced by a California-based company – Hal Sloane was the associate producer.  It may have been some kind of franchised idea used at fairs across the country.
I'm not sure of the source of the following ballyhoo.  Sorry for the bad reporting.
Straight from Hollywood – a 3-acre "Fair within a Fair" for teeners.  Non-Stop Record Hop, Battle of Bands, Custom Car Caravan, Fashion and Beauty Shows, Karate demonstrations, Miss Teen Northwest competition, Hootenanny, dance contests, and MUCH more.  Continuous program, all ten days and nights  Adjoins the Midway, west of Grandstand.  Admission (50 cents) covers all attractions.  (Accompanied by cartoon of the State Fair Gopher playing a guitar)
---
BATTLE OF THE BANDS
The Battle of the Bands in 1964 had 40 groups.  If your band was in it, please let me know!  So far there were:
The Casualties was the first band to play live, and started out with "Hello Josephine."  The Casualties eventually became the Sir Raleighs.
The Lancers
Michael's Mystics
The Trolls, with Eddie Eiss.  Eddie says, "I forget just how many tents there were with stages for the bands. Not many. We played in one of them, not the big one."
Danny and the Night Sounds, featuring Danny Stevens.  Danny's group reportedly took first place in the contest, although I could not find a result in the paper. Later that year, Danny started a new band, this time calling it "Danny's Reasons."
---
FABIAN!!
The Miss Teen Northwest contest was held at the Teen-Age Fair.  19 entrants paraded in evening gowns, but the bathing suits were replaced by "white overblouses and black shorts."  16-year-old Miss Bloomington, Patty Ann Cannon, won the competition.
Fabian, his own self, 'coptered in on September 4, 1964, to present Patty Ann with a bouquet of roses, a gold loving cup, and a kiss.   All Patty Ann could do was cry, but the crowd went wild as the teen idol brushed away her tears.  He wore a dark brown suit and vest, white shirt, and a gold tie. (Minneapolis Tribune, September 5, 1964)
Fabian was on a publicity tour for his latest film, "Ride the Wild Surf," and was immediately off to his next stop in Green Bay.  Fan Diana LeMay had made him a large tiger-shaped cake, which he graciously accepted, but caused him to confer with staff as to how to transport in the helicopter!    (Minneapolis Star, September 5, 1964)
Patty Ann was awarded a $750 wardrobe and an all-expense paid trip to Hollywood in the spring, where she was chosen third runner up in the Miss Teen-Age America contest.  Patty taught Spanish and French at Kennedy High School and now lives in Florida.  And she's still beautiful!  Thanks for the Facebook update, Patty!
---
1965
The North Star Spectacular Grandstand shows at the 1965 State Fair included the following.  The snarky editorial comments are from an article in the Minneapolis Tribune by Allan Holbert dated August 30, 1965.
August 28 – September 1:  Mary Wells with Dixieland clarinetist Pete Fountain, who was a replacement for the originally-scheduled Al Hirt.  Hirt asked to be released from the commitment when he was signed to a CBS-TV summer program "Fanfare" on Saturday nights.  (Minnetonka Record, July 29, 1965).  The August 29 show was cancelled due to rain.
Holbert:  Fountain was a graduate of the Lawrence Welk school of music; knows what a big audience wants and gives it to them, namely melody.  He doesn't talk or joke or fool around, he just plays.
Holbert:  Miss Wells does mostly ooh=ooh=aah blues songs at about the same tempo and no better and no worse than a lot of other blues and rhythm singers do.  Included was "My Guy," which was, she said, "No. 1 last year."  I completely forgot.
September 2 – 6:  Roger Miller and The Ray Charles Singers (not to be confused with the Raelettes).  Their hit was the lovely "Love Me With All Your Heart."
All shows:
Master of Ceremonies Pete Pederson.  Holbert:  Tells some jokes, most of which are no funnier than they are tasteful.
The Young Steps dance team.  Holbert:  Acrobatic and tap dances to really up-tempo big band tunes.  Brother Bernie never stops smiling
The Brook Sisters.  Holbert:  Three sisters who play fast and furiously on piano, drums, and organ.  The little chubby one with the pigtails plays drums as easily as most kidis her age skip rope
Don Rice, comedian.  Holbert:  His slow, dry Iowa-bred humor grows on you.
Roger Ray, comedian:  Holbert:  His jokes are cornier than Rice's but he got his share of laughs by clowning around with a marimba.
Sharon Carnes, singer.
Holbert:  Minnesota's own Sharon Carnes looked just like a pretty local girl who's gone off to make good in New York, which she has…  There was occasional disagreement between the singer and Jack Gillespie's Orchestra.
The Nerveless Nocks, aerial act
The Manhattan Rockets, precision chorus line
The State Fair Orchesta, led by Jack Gillespie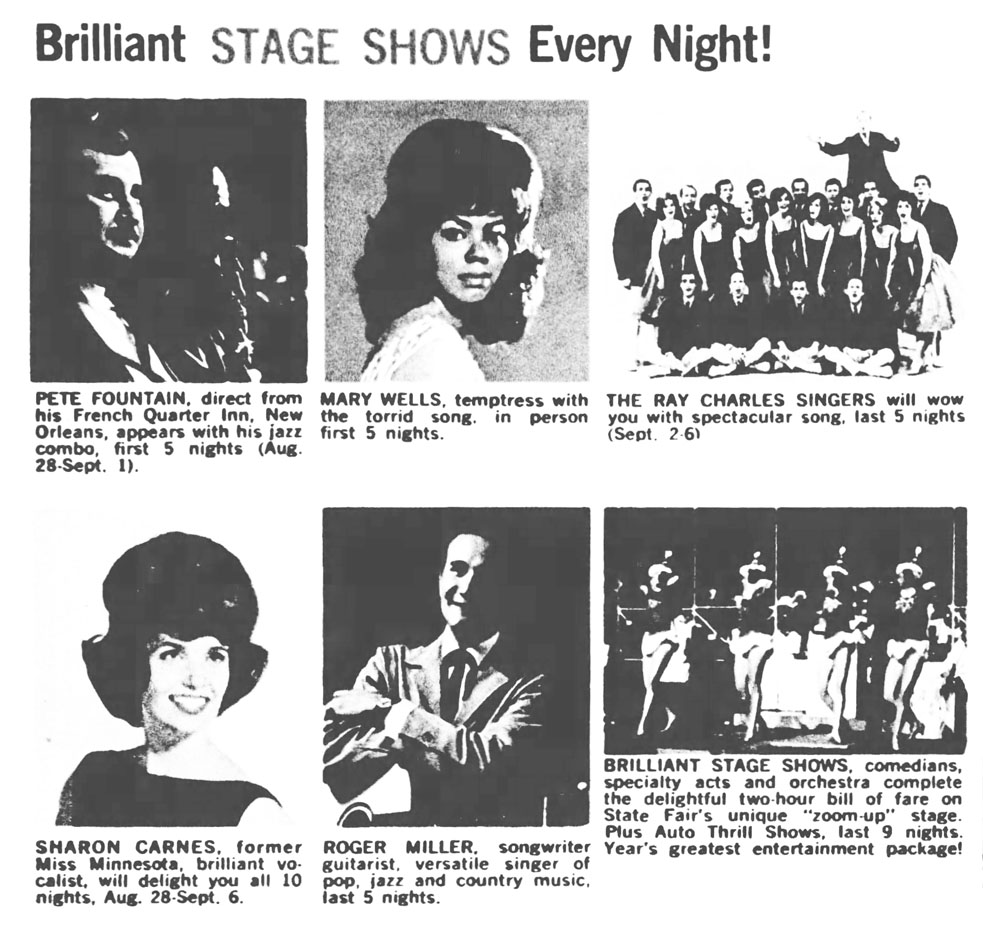 ---
CHILDREN'S DAYS 1965

The first Children's Day was August 30, 1965, although the free Grandstand show had to be cut short because of bad weather.  Entertainment consisted of top acts from the night show.
Mary Wells
Young Steps
Brook Sisters
Yeomen
Nerveless Nooks aerial act
The second Children's Day was held on September 3.  Appearing at the free Grandstand show were Roger Miller and the other acts listed above from the night show.
---
TEEN-AGE FAIR 1965

A major improvement was the construction of a carousel-type dance pavilion approximately 100 ft. in diameter, which was used continuously through the dances and fashion shows.  More permanent facilities were planned for 1966.
---
The mascot of the Teen-Age Fair appears to be Fairchild in a Beatle wig.
---
Activities at the Teen-Age Fair included:
A 50-group Battle of the Bands vying for a Hollywood contract
Fashion and beauty shows
Karate demonstrations
Custom and classic car exhibits
Hootenanys
Miss Teen Midwest Contest
Motorcycle and scooter shows
Music store booths
---
TEEN BAND CONTEST 1965

At total of 67 bands competed in a nine day teenage band contest.  The winner was Susie Q and the Originals, from St. Paul.  Members were:
Sue Drude, 17.  Sue went on to have a successful singing career, and at one point was chosen as Miss Minnesota in the Miss Universe pageant.
Darlene Vogel, 17
Connie Bigelow, 16
Rob McViegh
Kelly Vincent, 15
Prizes included a recording session.  Susie Q and the Originals also won an appearance on the Ted Mack Amateur Hour, which aired in the Twin Cities on Channel 4 on September 12, 1965, at 4:30 pm.  Also on the show were Crowley's Tumbleweeds, another St. Paul group.
Other top bands mentioned from the contest were:
The Xpressmen, Harding High in St. Paul
The Sir Raleighs, South Minneapolis
The Bad Omens, Columbia Heights
There was a separate "harmony hootenanny" competition, won by Christoper Weber, 18, from Bloomington, who "bills his solo folk singing act as 'Christian.'"  (Minneapolis Tribune, September 6, 1965)
---
A search in the Strib for references to the Teen Fair in 1965 found these tidbits:
A complaint from a 16-year-old that everyone there was smoking.
A picture of a girl dancing in the "teen stockade."
An observation that Donaldson's girdle booth was very popular.
B-Sharp advertised for Go-Go girls to dance on stage with the guys.  Me!  Me!
Canada Dry's Wink pop was designated the official drink at the Teen-Age Fair.
---
WHO ASKED YA?
Allan Holbert, the Tribune's future music critic, hated teens, I guess:
The loudest action, except for the auto races, was up at the Teen-Age Fair, where teen-age girls in funny clothes were watching teen-age boys in funny haircuts play loud and funny music on their electric music makers.
---
1966
GRANDSTAND SHOWS
The North Star Spectacular shows at the Grandstand shows were:
August 26 – 30:  The Supremes, with:

Jerry Van Dyke
Joie Chitwood's Thrill Drivers
Comedian Yonelly
Ron Urban, magician,
The Harmonica Hi-Hats
Anden's Poodles
Aerielest Celeste
Manhattan Rockets dance group
Emcee Bob Potter of WCCO-TV
State Fair Orchestra, directed by Eli Barnett

August 31 –  September 4:  The Smothers Brothers with George Kirby
---
CHILDREN'S DAYS 1966

The first Children's Day was staged on August 30, 1966, with a Grandstand show that was free for kids under 16.  Featured performers were:
Bobby Vee
Chieftones
Acts from the night Grandstand show.
The second Children's Day was held on September 2, with the following performers:
The Enemies
The Chieftones
Entertainment from the night Grandstand show.
---
YOUNG AMERICA CENTER 1966

The Teenage Fair was replaced with a permanent Young America Center, across Commonwealth Ave. from the Midway.  The Young America Center was completely enclosed, with a permanent wall providing a backdrop for 61 cabana-style booths along two sides of the Center.  An exhibit building was constructed on the eastern end to provide additional facilities for fashion shows, stage presentations, and similar attractions.  Together with the existing carousel dance floor at the west end of the Center and a complete re-surfacing project, these additions created a considerably approved attraction.  Attendance leaped past the 120,000 mark.  (Annual Report, page 6).  Bob Mecay was the Entertainment coordinator.  The center featured permanent display booths, a circular dance pavilion and a fashion building, all built last year.  Admission was 50 cents and approximately 100,000 teens came through in 1966.
There doesn't seem to be a record of the schedule of bands that played at the Young America Center in 1966, unfortunately.  I'll make a list as I get more information.
The Chieftones (billed as an "All-Indian band from Canada")
The Enemies
The Fabulous Flippers
The Exotics
T.C. Atlantic (see below)
---
THROUGH A TEEN'S EYES, 1966

In an article for the July 22, 1981, issue of Sweet Potato, Daniel Gabriel reminisced about his first encounter with the Teen Fair.  He remembered it as 1965, but it has been established that it was 1966.
When my circle of friends hit the Teen Fair for the first time we were astounded.  There a full half-dozen makeshift stages scattered around the grounds, equipment piled on each.  We spent the afternoon scrambling from stage to stage, digging one band after another.  There was a pudgy fellow in a too tight suit who did a bad Eric Burdon imitation, an Indian band called The Chieftones, who wore headdresses and stamped their feet in time to Top 40 hits and – just for novelty – an all-girl band (The Exotics) decked out in knee-high boots and white lipstick.  Their specialty was choreographed dance steps during the instrumental breaks.
.  .  .
As darkness descended, the headline act took the stage:  TC Atlantic.  While we bopped in abandon, they punched out a very danceable string of R&B tunes:
It's Gonna Work Out Fine
Mona
Stand By Me
Spanish Harlem
They were tight, and with their stovepipe trousers and flowered ties they had the visuals down as well.  TC Atlantic became my personal favorite – trendy mods, but with a flair for the classic.
---
THE BALLAD OF CHAD AND JEREMY
The English singing duo Chad and Jeremy were hired to play at the Young America Center for the first five days of the 1966 Fair.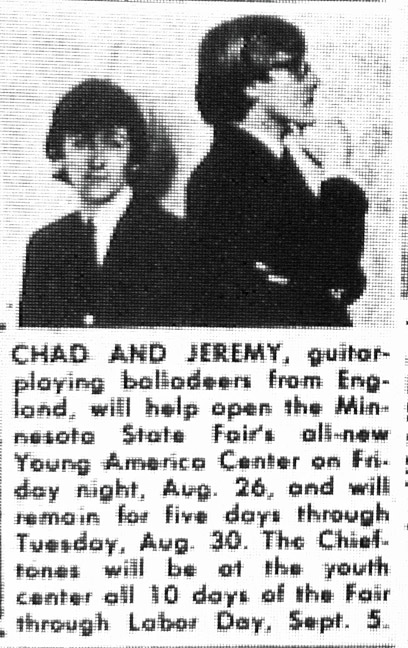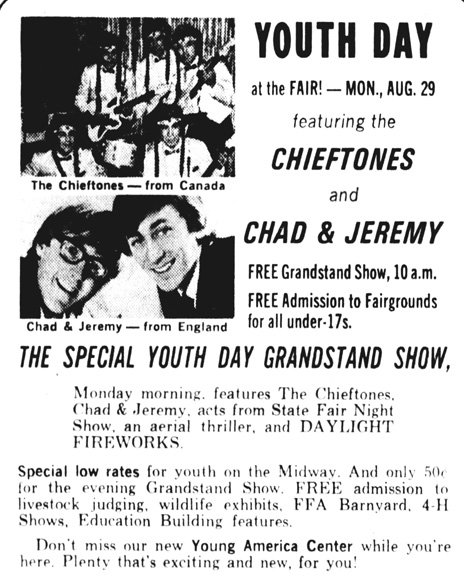 But a brou-ha-ha erupted when the pair walked out of the Fair after only two of their scheduled 15 performances on Saturday, August 27, 1966.  The duo took their instruments back to the St. Paul Holiday Inn where they were staying after the two Saturday shows, and just didn't show up for the Saturday night show.  When a fair official called the hotel, he was told that they had checked out at about 6:00 pm.  Bobby Vee, found on vacation in Detroit Lakes, stepped in to play the rest of their dates. The picture below was found in the negatives of WCCO-TV, leading us to believe it was a pretty big deal.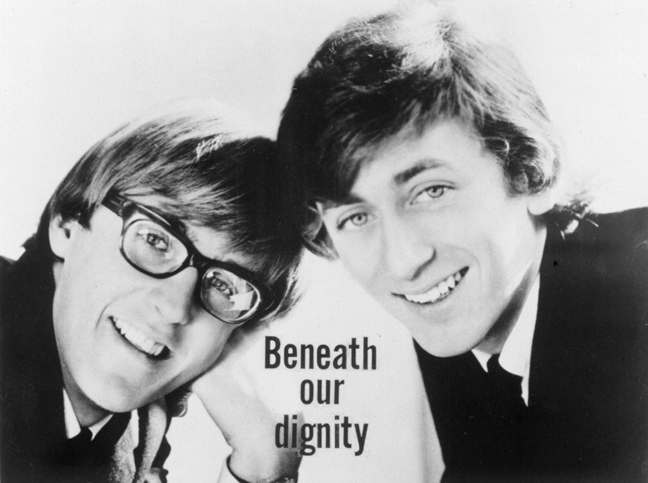 On August 31, 1966, the Minneapolis Star reprinted a story originating from Los Angeles that explained the misadventure.  They said they had been told that they would appear on the Grandstand with the other big stars, but found themselves in a "teen pavilion" that consisted of a "hastily constructed wooden tent where people could freely wander in and out." (The space was about 45 ft. in diameter which, with cramming, could accommodate 135 standing teenagers, reported In-Beat Magazine in October 1966.)  They charged that teens did not have to pay to see them (which was not exactly true) and that they were exhibited "just like an awful side show, a sort of bearded lady-cum-dancing-bear act."  They acknowledged that their walkout was not professional but they were taking a stand against deceptive bookings.
The pair lost out on their $6,000 fee, a $6,000 breach of contract penalty, and potentially $7,500 in agents' commissions.
Funny how the State Fair report that goes through the Fair day by day doesn't mention this episode…
Now Jon Burseth writes of his experience at that show:
I was a bit surprised to see them in a venue where there was no admission charge and no seating. People, mostly teens presumably (I was still 19 at that time) were free to wander in, listen for bit, and then leave. Which is what we did. (I might've stayed longer, but my girlfriend, Jenni, was not really into that sort of pop music, so we listened & saw & moved on.) We were there long enough, though, to have the guys introduce their bass player; none other than J.W. Guercio! (Their drummer, on the other hand was a local guy, whose name did not ring any bells for me, so I didn't take note. I wish I could find his name now.)
James William Guercio, if you don't know, was all over the place in the '60s and '70s, working with the Buckinghams, Chicago, Blood, Sweat & Tears, the Beach Boys, Zappa, and… well, Wikipedia can tell you more.  I'm sure he's fabulously wealthy and he played bass for Chad and Jeremy, right here on our Teen Center Stage!
If you were the drummer, speak up!
---
1967
GRANDSTAND SHOWS
August 25 – 29:  The North Star Spectacular, featuring:

The Baja Marimba Band
George Kirby
The Fuller Brothers
Diane Shelton
Berosinis
The Berasek Chimps
Ma-Ho-Pin aerial act
West Harrison, comedian
Manhattan Rockets
State Fair Orchestra
Bob Potter, WCCO-TV, emceed

August 30 – September 3:  Bob Newhart with the Young Americans ("Western Union")
---
CHILDREN'S DAY 1967

The first Children's Day was held on August 28, 2967, and kids under 16 were treated to a free morning Grandstand show featuring:
The Flippers
Candy Candido
Gene Holter's Wild Animals
The second Children's Day was on September 1, and featured:
The Kingsmen
Candy Candito
Gene Holter's Wild Animals
---
YOUNG AMERICA CENTER 1967

The Young America Center at the State Fair was the place to be, with performances by:
The Fabulous Flippers
The Kingsmen
The Sandpipers
The Jade Set – an Oriental pop-variety group
The Hot Half Dozen
The Litter
---
1968
GRANDSTAND SHOWS

Premiere Night, August 23:  Coronation of Mrs. Ameria with  comedians Allen and Rossi.  Mrs. America was Mrs. Joan Fisher of Salt Lake City.
August 24-27:  The Fifth Dimension with Frank Sinatra, Jr. and Ballet America with its lightning-paced choreography of the early American West.  Shows opened with Joie Chitwood Thrill Show.
August 28:  Country and Western Night.  Stars from the "Opry" recreate their hits:  Marty Robbins, Sonny James, Hank Williams, Jr., Connie Smith, and Lamar Morris.  This was the Fair's first foray into Country music, and drew a record-breaking 15,000 people to the Grandstand on August 28.
August 29 to September 1:  International Nights with Jack Jones and the National Ballet of Mexico.  Rain almost cancelled the shown on the 31st, but iti was somewhat rearranged and staged as usual.
---
CHILDREN'S DAYS 1968

Children's Day was held on August 26, 1968, and featured a free Grandstand show in the morning to those under 16.  Performers included:
The American Breed
Ventriloquist Jimmy Nelson
The second Children's show was at 9:30 am at the Grandstand on August 30, and featured:
The Grassroots
Jimmy Nelson
Candy Candido
---
 ADMINISTRATION PARK BANDSTAND 1968

---
INSIDE – YOUNG AMERICA 1968

August 24-28:  The American Breed, Mystics
August 25-26:  The Fabulous Flippers
August 29 to September 1:  The Grassroots
August 30 to September 2:  The First Edition (presumably with Kenny Rogers)
"Plus fashions, exhibits, clinics, continuous music and pow.  Open noon to 10:30."
The following are snapshots of the Grassroots, taken by Luise Barton.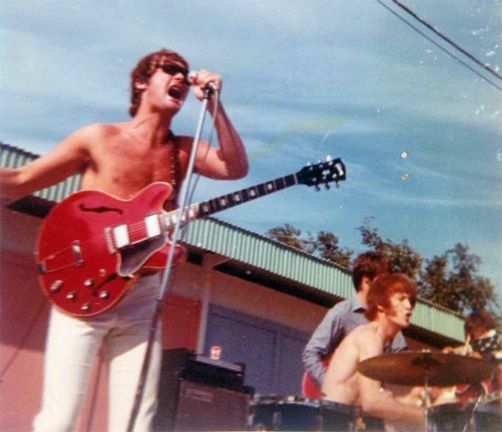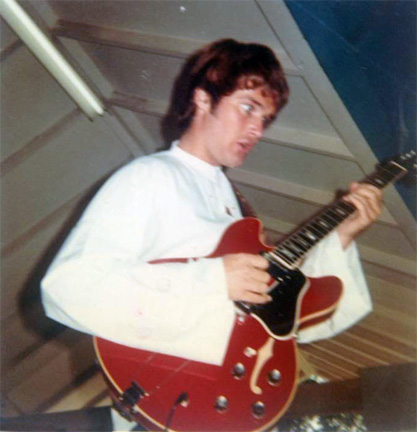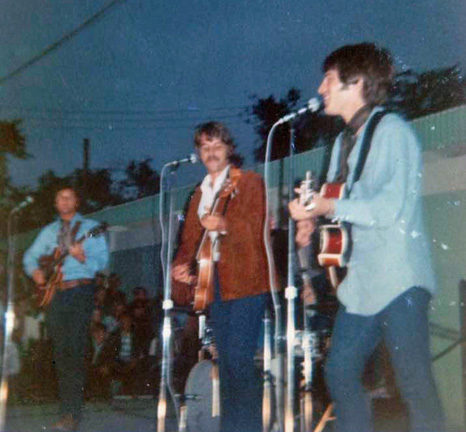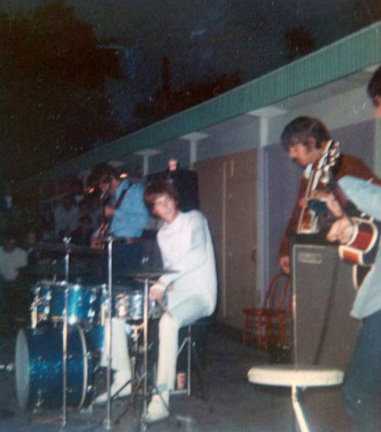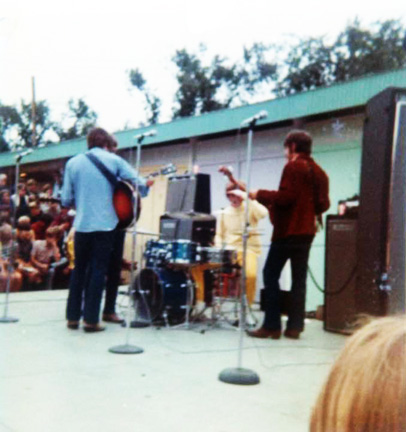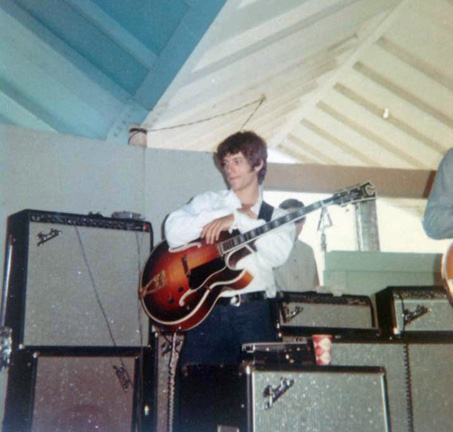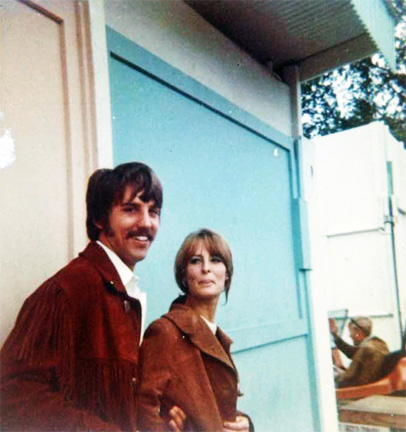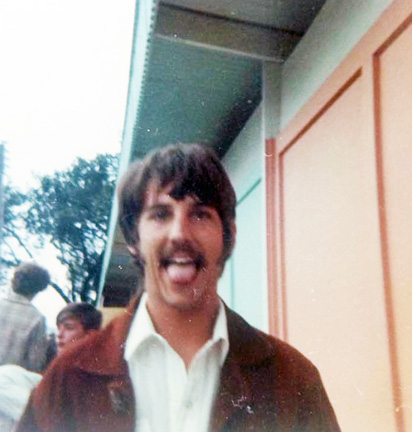 ---
1969
GRANDSTAND SHOWS
1969's Grandstand shows continued to be middle-of-the-road (or perhaps even off road):
August 22:  Buck Owens and the Buckaroos, Susan Raye, and June Carter Cash, the Carter Family, and the Statler Brothers.  Billy Walker and the Tennessee Walkers
August 23 -25:  Lesley Gore,  George Kirby, the Brothers and Sisters, Larry Griswold
August 26:  The Johnny Cash Show with the Statler Brothers, June Carter and the Carter Family, Carl Perkins and the Tennessee Three.  For the  first time in the history of the Grandstand show, the show sold out to an SRO crowd of over 24,000l  The reserved and box seats for this show were sold out ten days beforehand, with 10,000 left for general admission.  A Fair publicist said there hadn't been a night like it since the Depression when a car was given away at every concert.  During the afternoon the police were called to the Grandstand after a ticket booth was nearly destroyed by the surging crowd.  Cash sang 19 songs and two encores, including:

A Boy Named Sue
Folsom Prison Blues
Gray Stone Chapel Here at Folsom
I Walk the Line
Ring of Fire
Daddy Sang Bass
Johnny Yuma

August 27, 1969:  Porter Wagoner, Dolly Parton, Jerry Lee Lewis, Lynn Anderson, Speck Rhodes, and Conway Twitty
August 28 – 30, 1969:  Patti Page, Don Rice III with the Kids Next Door, Stebbings Dog Act, Duo Armedis Dance Team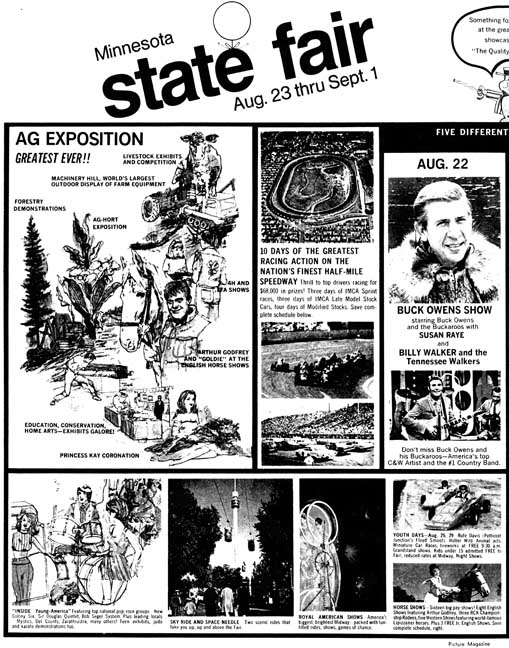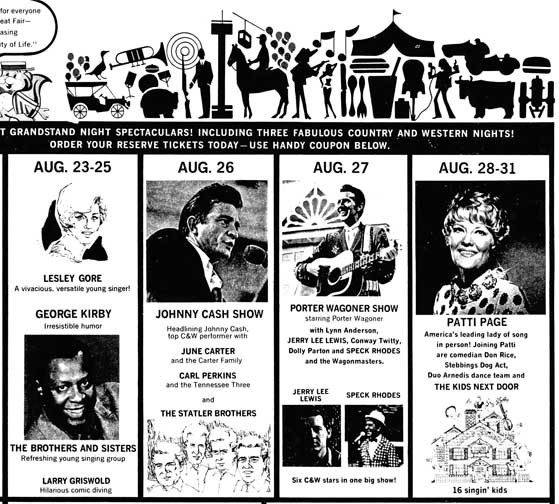 ---
CHILDREN'S DAYS, 1969

The first Children's Day was held on August 25, and the entertainers included:
The Sir Douglas Quintet
Rufe Davis from "Petticoat Junction"
Candy Candido
Holter Wild Animal Circus
The second Kid's Day was held on August 29.  Instead of Sir Doug, the New Colony Six performed.
---
1969 HORSE SHOW
Arthur Godfrey and his high-stepping Palamino, "Goldie" were featured during eight English horse show performances.  The plaus three rodeos and five western horse shows drew 52,290 spectators.
---
GRANDSTAND PARK 1969

Up with People
The Fair Tyme Singers performed at the bandstand and six days at the night show.
---
INSIDE – YOUNG AMERICA 1969

The 1969 youth fair at the State Fair was called Inside Young America.  National acts were:
August 23-25, 1969:  Sir Douglas Quintet
August 26-29, 1969:  The New Colony Six
The Bob Seger System, August 30 – September 1, 1969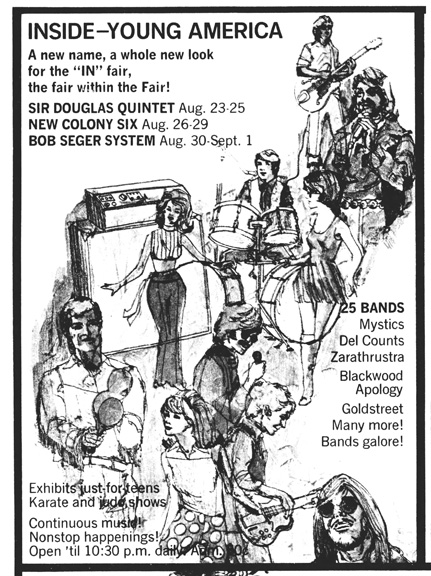 ---
Local acts included:
The 19th Amendment
Mystics
DelCounts
Zarathustra
Goldstreet
Blackwood Apology
C.A. Quintet:  August 25, 30, and 31, 1969
100,000 kids paid 50 cents to see music, karate and judo demonstrations, fashion shows, etc.
---
1970
GRANDSTAND SHOWS
A new format was introduced for Grandstand shows in 1970.  Instead of just one show per night, some of the performers did two shows.  The highlight was when Johnny Cash drew 26,000 people for his two shows.
August 28:  Sonny James, Jeannie C. Riley, Faron Young, Bobby Wright, and Jimmy Davis
August 29:  Bobby Vinton, the Cowsills, and the Impact of Brass.
August 30:  Bobby Vinton, the Cowsills, the Impact of Brass, Mlle. Louise and her Parisian Doves, Jack Durant and the Meener Trio.
August 31:  Bobby Vinton, the Cowsills, the Impact of Brass, and the Fair Tyme Singers
September 1:  The Johnny Cash Show with June Carter, the Carter Faamily, Carl Perkins, the Tennessee Three, and the Statler Brothers (2 shows)
September 2 and 3:  The Lawrence Welk Show (2 shows)
September 4:  Petula Clark, Art Linkletter, the Fair Tyme Singers, the Golddiggers (Dean Martin's chorus girls), Gerard Soule with his dogs.
September 5:  Petula Clark, Art Linkletter, and the Golddiggers
September 6:  Charlie Pride, Johnny Duncan, the North Door Singers, and the Fair Tyme Singers
---
CHILDREN'S  DAYS 1970

The first Children's Day was on August 25 and the morning Grandstand show featured Candy Candido, the Trinidad Tripoli Steel Band, and Gene Holter's circus animals.
The second Children's Day was on September 4, and added the racing Sipolt brothers, the baton-twirling Lieb Sisters.
---
Fess Parker (TV's Daniel Boone and Davy Crockett) was featured at the eight English and five western horse shows as well as the three rodeos in the Hippodrome.  Parker appeared with the group The New Establishment.
---
ADMINISTRATION PARK BANDSHELL 1970

Trinidad Tripoli Steel Band
North Door Singers
Betty Rydell Trio
Barbara Mandrell
Fair Tyme Singers
Phillip Whitecloud Indian Dance Troupe
Up With People
This bandshell was substantially improved and made permanent right after the 1970 fair.
---
YOUNG AMERICA'S MIND ODYSSEY 1970

The 1970 youth pavilion was called Mind Odyssey, and promised "no bubblegum."  Nova Lights put on the light show, as they did at the Labor Temple.  Among the activities were performances by Shakespeare in the Street. The guys in Pepper Fog remember that it was very hot, not helped by the fact that the stage area was all painted black.  Close to 100,000 young people came to the special area of the fair in 1970.
National headliners were:
August 30 – September 2:  James Gang (with Joe Walsh).  Local group Pepper Fog opened for them two days in a row, says famed P-Fog keyboardist Gregg Inhofer.  "

We opened with "Funk 49," a James Gang tune.  Their manager told us to knock it off.  We thought it was ok since they had just come out with "Funk 49."

 

Kids, can't take em 

anywhere."  
September 3 – 7:  Sha-Na-Na
---
The Insider listed no less than 13 local bands for your dancing pleasure:
Mystics  (August 31, September 1 and 5)
Marauders
White Lightning  (September 2)
System  (August 31)
Big Island  (September 5)
Danny's Reasons (September 2)
CA Quintet (September 6)
Sir Raleighs  (August 30)
Zarathustra
Fenatiks  (August 30)
Pride and Joy
Peace
Sunshine World (September 1)
Kiwani (September 2 and 6)
Syndicate (September 5)
Dave Lowe also remembers that his band, Karisma, played at Mind Odyssey that year, and posted this photo to Facebook:
---
Copperhead also performed, as evidenced by the photo below:
---
1971
GRANDSTAND SHOWS
August 28, 1971:  The Carpenters, John Davidson, Della Reese, and the Harmonicats (two shows)
August 29, 1971:  The Carpenters, John Davidson, Della Reese, and the Harmonicats (one show)
August 30 and 31, 1971:  Tony Sandler & Ralph Young, the Doodletown Pipers, Wes Harrison, and the Skeets Trio
September 1, 1971: Tammy Wynette, George Jones, Loretta Lynn, Jack Greene, Osborne Brothers, Roy Acuff, Jeannie Sealy and the Smokey Mountain Boys.  This show drew over 11,000 spectators.
September 2 and 3, 1971:  Liberace with Julie Budd and the King Kovaz Auto Thrill Show
September 4, 1971:  Neil Diamond and Odetta (2 shows).  More than 24,000 people attended these shows.
September 5, 1971:  The Charley Pride Show, with Conway Twitty, the Betty Rydell Trio, Johnny Duncan, Alex Houston with Elmer, and the King Kovaz Auto Thrill Show (two shows).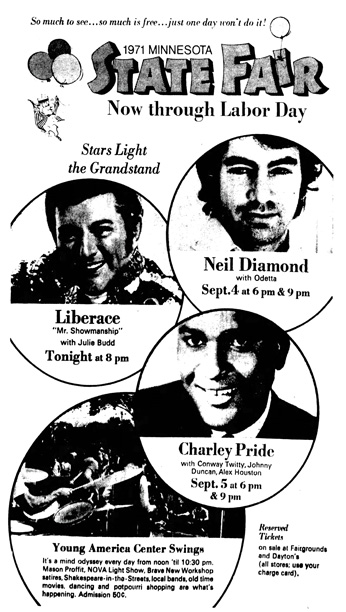 ---
CHILDREN'S DAYS 1971

August 30 was the first Children's Day, with a free 9:30 am show in the Grandstand for those under the age of 16.  Performers were the Serendipity Singers, the St. Louis Park Parkettes, Candy Candido, and Gene Holter's Wild Animals.
The second Kids' Day was on September 3, with the same performers.
---
Festus (aka Ken Curtis) of the TV show Gunsmoke was the star of an English Horse Show in the Hippodrome on August 30 and 31 and September 1.
---
ADMINISTRATION BANDSHELL 1971

1971 saw the construction of the new bandshell that featured free entertainment.  The first year presented:
The Trinidad Tripoli Steel Band
Betty Rydell Trio
Sound Generation
Serendipity Singers
Fair Tyme Singers
---
YOUNG AMERICA MIND ODYSSEY 1971

"It's a mind odyssey at Young America Center. The talents of Mason Proffit, Sugarloaf, NOVA Light Show and Brave New Workshop draw young people noon 'til 10:30 each day."

National acts were:
August 28 – September 1:  Sugarloaf
September 2 – 6:  Mason Proffit
Richard Hanson shared this story about Sugarloaf on Facebook:
I spent an afternoon hanging out with this really cool guy. Watching groups, talking music and discussing musical icons.
The announcement came over the loudspeaker that Sugarloaf would be starting in 5 minutes in the pavilion furthest from the entrance.
We started making our way towards the area.
Got under the roof and he turns to me, says, well.. I gotta go. We shake hands and he walks towards the stage, up the stairs to the stage and picks up the bass guitar and starts making certain it was in tune.
All day talking and he never mentioned he was the bass player from Sugarloaf… The reason I was there that day.
I LOVE the long version of "Green-eyed Lady!"
Here's another story:
Had some friends that were smoking pot under a tree at the top of a hill. All of the sudden a bunch of these guys on horse back start riding towards them. Hey. Cool. Here comes the rodeo and we've got a prime spot. They were a bunch of Sheriffs. Luckily they were underage.
His friend said:
I was there – Mason Proffit was playing. I thought it was funny because "Two Hangmen" was being played at the time.
---
Jack Murphy shared these photos of Mason Proffit on Facebook:
---
The Insider listed 17 local bands that played at the 1971 Teen Age Fair.  Wish I had written them down.  If anyone has the list, please let me know!  Somewhere it says that on August 30, the bands Light, the Paisleys, and Danny's Reasons performed.
Mind Odyssey also featured Nova Lights, the Brave New Workshop, Shakespeare in the Streets, and Old Time  Movies.
Paul Metsa shared this funny memory with Jim Walsh for his piece, "Midway Memories,"  minnpost.com, August 24, 2017.
The State Fair was an annual trip my family took where we pick up Grandma and Grandpa Paul in Mora, Minnesota (Mom"s folks) and spent a day at the fair.  In 1971, Grandpa and I were traipsing around the Midway and saw an exhibit that said something to the effect of "Experience an LSD Trip."  Game on.  Grandpa and I entered what I remember to be a railroad car with a hippie gal taking tickets replete with Granny Glasses and a tie-dyed dress.
Once inside we were welcomed by "White Rabbit" by the Jefferson Airplane on 11 There was a headache-inducing strobe light, incense (no peppermints), and a display behind glass of what looked like two poorly rolled joints and a hypodermic needle.  That is about all I remember and felt comfortable enough when we left to know Grandpa Paul was not inspired enough to buy a van, move to the coast, and follow the Grateful Dead.
---
1972
GRANDSTAND SHOWS
Sonny and Cher with David Brenner:  August 26 – 27 (three shows over two nights)
John Denver with Kenny Rogers and the First Edition:  August 28
Sonny James, Lynn Anderson, Del Reeves, Tom T. Hall, and Tex Ritter:  August 29
Bobby Goldsboro, Anne Murray, and George Kirby:  August 30 – 31
Merle Haggard, Sammi Smith, and Waylon Jennings:  September 1
Neil Diamond:  September 2 (two shows)
Up With People:  September 3 (relatively light crowds at their two shows)
Night show productions were coordinated by Mark Markson and Bob Potter.
---
CHILDREN'S DAYS 1972

Children's Days were held on August 25 and September 1.  The Annual Report was short on details of the special Grandstand shows.
---
ADMINISTRATION PARK BANDSHELL
This bandshell was built in 1971 and performances were free.  Some of the performers in 1972 were:
The Betty Rydell Trio
North Door
Caldwells
Blly ThunderKloud and the Chieftones
The Trinidad Tripoli Steel Band
Di Martinos
Jack D' Johns
Fair Tyme Singers
---
YOUNG AMERICA CENTER 1972

The following is the schedule of national performers at the 1972 Young America Center: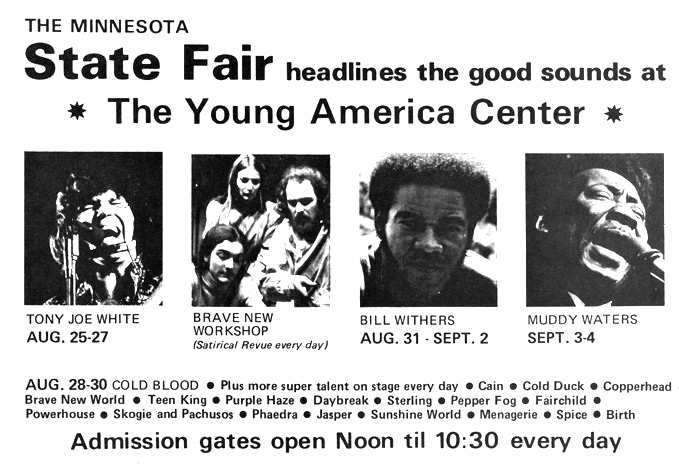 Brave New Workshop (Satirical Revue every day)
August 25-27, 1972:  Tony Joe White
August 28-30, 1972:  Cold Blood.    Cold Blood was "a jazz-rock band that has some national fame. Lead singer Lydia Pense's style was compared to that of Janis Joplin….  Remarkably, Lydia Pense and Cold Blood still performs today."
August 31 – September 2, 1972:  Bill Withers
September 3-4, 1972:  Muddy Waters
---
Also appearing were the biggest of the local bands, as reported by the Insider:
Litter
Pepper Fog
Cain
Cold Duck
Copperhead
Teen King and the Princes
Purple Haze
Daybreak
Sterling
Octopus
Blackbone
Danny's Reasons
Fairchild
Powerhouse
Skogie and the Flaming Pachucos
Phaedra
Jasper
Sunshine World
Brave New World
Menagerie
Spice
Birth
---
1973
GRANDSTAND SHOWS
August 24:  Demolition Derby
August 25:  Mac Davis with the Fifth Dimension (2 shows)
August 26:  Mac Davis with the Fifth Dimension
August 27:  Dawn featuring Tony Orlando with the Brady Bunch Kids (2 shows)
August 28:  Bill Anderson, Donna Fargo, Tommy Overstreet, Leroy Van Dyke, and comedian Jerry Clower
August 29 and 30:  Pat Boone Family and Rich Little
August 31 and September 1:  Engelbert Humperdinck with nightclub comic Morty Gunty**   Humperdinck fell ill and was not replaced – these Grandstand shows were cancelled.
September 2:  Charley Pride, Johnny Russell, and ventriloquist Alex Houston and Elmer (2 shows)
** In case you wondered about Morty Gunty, he appears to be straight outta da Catskills.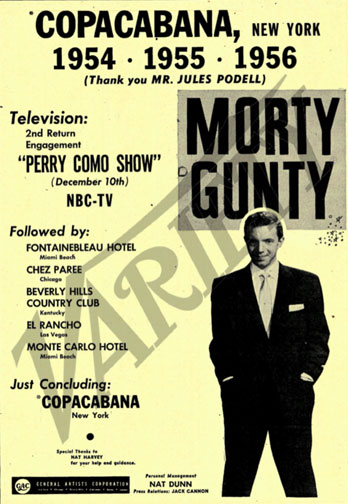 ---
CHILDREN'S DAYS 1973

The first Children's Day was held on August 24.  At 9:30 at the Grandstand kids under 16 were treated to a show featuring:
Candy Candido
Holter's Wild Animal Show
Little Angels of Korea
Merlin the Magician
The second Children's Day was on August 31, with the same line-up for entertainment.
---
ADMINISTRATION PARK BANDSHELL
This is probably an existing venue with a sponsor's name attached to it these days.  In 1973 it was a fairly active music venue.  Based on State Fair Schedules published in the Minneapolis papers, the following are some of the (presumably all musical) acts presented at the Bandshell:
Harry Blons and His Gentlemen of Dixie
Primo People
Jack D'Johns
Musical Harts
Just Two Plus One
Don Cavitt's Sounds of the '30s and '40s
Amateur Talent Contest
Benny Dixon and the Rebels
Michael Harris
---
EDUCATION BUILDING
The State Fair Schedules published in the newspapers show musical acts taking place in the Education Building.  Some assumptions are made on my part.
Rex Accordion Band
The Reedy Family
Jimmy Lee and the Lee Sisters
Star Promenaders and Jr. Lost Corners
Tom Bednars
America
**  It should also be noted that the Ted Johnson Trio performed daily at the Hippodrome Exhibit area.
---
YOUNG AMERICA CENTER 1973

In the ten years since its inception, almost one million people were admitted to the Young America, at 50 cents a ticket except for 1965 when the price went up to 75 cents after 6 pm.
The 1973 State Fair youth pavilion listed three "up and coming national acts" and many other local acts on its schedule.  Those considered up and coming in the Annual Report are indicated in red.
Gates opened at noon every day.
August 24
Minnesoda:  Afternoon
Zulu:  Afternoon
Spice:  Evening
Harris Nelson, Comedian: 3:45 pm and 8:30 pm
Joy of Cooking:  6 and  10 pm

August 25
Open Road:  Afternoon
The Reasons (Danny Stevens appeared naked in the September 1973 issue of the Insider):  Afternoon
Cain:  Evening
Harris Nelson, Comedian: 3:45 pm, 8:30 pm
Joy of Cooking: 6 pm, 10 pm
August 26
Salt, Pepper & Spice ("Funky as Hell"):  Afternoon
Fairchild:  Afternoon
Brave New World:  Evening
Harris Nelson, Comedian:  3:45 pm, 8:30 pm
Joy of Cooking:  6 and 10 pm

August 27
Purple Haze:  Afternoon
Volcano:  Afternoon
Sterling:  Evening
Harris Nelson, Comedian:  3:45 pm, 8:30 pm
Joy of Cooking:  6 and 10 pm

August 28
Blackbone:  Afternoon
Minnesoda:  Afternoon
Coal Duck:  Evening
Harris Nelson, Comedian:  3:45 pm, 8:30 pm
Gypsy:  6 and 10 pm

August 29
Jesse Brady:  Afternoon
Sterling:  Afternoon
Zulu:  Evening
Harris Nelson, Comedian:  3:45 pm, 8:30 pm
Gypsy:  6 and 10 pm

August 30
Cain:  Afternoon
Rudy ("5 Pieces that will blow your mind"):  Afternoon
Evening:  BeBop and the Hubcaps:  Evening
Bobby Smith, Comedian:  3:45 pm, 8:30 pm
Gypsy:  6 and 10 pm

August 31
The Reasons:  Afternoon
Rose:  Afternoon
Blackbone:  Evening
Bobby Smith, Comedian:  3:45 pm, 8:30 pm
Flash Cadillac and the Continental Kids:  6 and 10 pm

The schedule kind of peters out here, but the list in the Insider does include:
Dean Carr
Sean Blackburn
Joyce Everson
Michael Stone
This is all I found of the last three days:
September 1
Bobby Smith, Comedian:  3:45 pm, 8:30 pm
Flash Cadillac and the Continental Kids:  6 and 10 pm
September 2
Bobby Smith, Comedian:  3:45 pm, 8:30 pm
Flash Cadillac and the Continental Kids:  6 and 10 pm
September 3
Bobby Smith, Comedian:  3:45 pm
Flash Cadillac and the Continental Kids:  6 pm
On Thursday, August 30, 1973, the Minneapolis Star reported that business was way down in the Young America Center, perhaps because teens didn't have any money in this Recession year.
---
WAITING FOR MARCIA
And we love to share stories, so here's a good one from Dan Chinander:
In the early 1970s on a hot and muggy Minnesota morning, my friend Gary and I got to the Minnesota State Fair bright and early. The early entry was to secure a front-row seat on the Dialing for Dollars TV show, hosted by Jim Hutton and Jane Johnston. What was so important to bring two junior high kids to stake out a seat three hours before the show? Marcia Brady! In fact, the entire Brady Bunch was going to be on the show that morning.
Taking a city bus all the way from South Minneapolis, we arrived at the fairgrounds right at 7AM. As soon as they opened the gates, we made a fast beeline to the outdoor stage. With several park benches surrounding the stage, we plopped our little butts down on the dew-soaked bench – row 1 and dead-center of the stage.
Gary and I knew we had a long wait, but it would be well worth it. Within 10 minutes an old man casually walks up and sits down next to us saying, "Hello Fellas! What brings you to the fair so early?" "The Brady Bunch!," we replied. The man went on to say in a kind and gentle voice, "Oh, The Brady Bunch, they're a great group of kids."
By now I knew that voice and I asked him, "Are you Red Skelton?" "I am", He replied. My jaw dropped and with excitement I told him how we always watched his weekly TV shows and that my favorite characters he played were, Clem Kadiddlehopper, Freddie the Freeloader and the Hobo/Clown. After about a half-hour chat, which included a few life lessons and how we should treat people, he shook our hands, got up and said goodbye.
Gary and I were so amazed that he would actually take the time to sit down and talk with us, that for a moment we forgot all about Marcia Brady! But that didn't last very long, and what seemed like an eternity, it was finally showtime.
After a few minutes of greeting the crowd, Jane Johnstone introduced the Brady Bunch. As like in the movies, all realistic motion went to slow motion when my eyes spotted Marcia walking onto the stage. She flung her blond hair over her shoulder and then sent me a direct smile before taking her seat. I nearly melted on that bench when her eyes met my eyes that I didn't even remember any of the interview.
Their time on that stage went by so fast and after a round of applause, the Brady Bunch exited stage left and walked into an RV that was sitting behind the stage. Gary and I spent the rest of the day eating mini-donuts, going on rides, and catching the side-shows including, "Myra the girl without a head." The whole bus ride back to South Minneapolis Gary and I argued who Marcia gave the smile to. And I think to this day we each think her smile was directed to ourselves.
---
1974
GRANDSTAND SHOWS
Liza Minelli:  August 23 (2 shows)
Redd Foxx, Demond Wilson, Slappy White, Gerri Granger, Harry "Sweets" Edison and the Little Steps:  August 24 (2 shows)
Charlie Rich and the Treasurers with Jim Stafford:  August 25 (2 shows)
Demolition Derby:  August 26
Jerry Reed, Tanya Tucker, Jerry Clower, Judy Lynn, and Hank Snow, August 27
Bob Hope with Danny Davis & the Nashville Brass and Dian Hart, August 28
Jim Nabors with the Hager Twins from Hee Haw:  August 29
Mac Davis with the Fifth Dimension:  August 30
Roy Clark, Buck Trent, Diana Trask, The Spurrlows, Jerry Clower:  August 31
Helen Reddy with Jose Feliciano:  September 1 (2 shows)
---
CHILDREN'S DAY 1974

Details on Children's Days were few in the Annual Report, but did state that the entertainment featured Texas humorist Randy Brown.
---
ADMINISTRATION BANDSHELL
Among the groups appearing for free at the Administration Bandshell were:
Billy ThunderKloud and the Chieftones
Jack D'Johns
Don Cavitt"s Sounds of the '30s and '40s
Kithara
Conti Family
Main Street Singers
The excellent and under-appreciated Larry and Lorrie Collins, with the Oklahoma River Bottom Band
Amateur Talent Contest
---
OTHER ENTERTAINMENT  (based on schedules printed in Minneapolis papers)
Education Building:
Rex Accordion Band
The Reedy Family
Hippodrome Exhibit Area:
The Ted Johnson Trio performed daily
Machinery Park:
Territorial Pioneer Log Cabin:
John Mandernach Sextet
Mike Rasmussen's Folk Singers
Evie Gulden, country-western singer
---
YOUTH EXPO '74
The Young America Center was renamed Youth Expo '74 and Music Festival, sponsored by KSTP and Schon Productions.  Admission was doubled to $1 but 25 cent coupons were easy to find.  Gates opened at noon.
Promoters were trying to breathe some life into the dwindling youth center, which peaked in 1966 with 115,000 attendees to a low in 1973 of 78,000. Although the newspapers printed plenty of ads for shows, the official  State Fair Schedules provided no information as to which bands might be playing.  The only information given in the schedules was the time the Youth Expo opened, and that shows were at 1, 3, 5, 7, and 9 pm.
The Insider's description of the grounds was bleak:  a chain link fence surrounding a sheet metal and concrete shelter staging area. Scott Browning didn't agree:
The Teen Center was a fun place to hang out. All day music on site, Record Stores, Clothes Shops, Hippy Boutique items, Black Light Posters, Jewelry. Really sad that they closed that area down.
*Find Out What's Happening With the Under 30 Crowd at the Market Place.  Exhibits Include:
Stereo-Audio
Camping
Records
Clothing
Skiing
Bicycles
Mountain Gear
---
Dave Bowman:
My favorite part in the Teenage Fair (Young America Center) were the local booths that all the musical instrument shops had set up, like B Sharp and Vavro's. You could play their guitars and drums, and local bands would sit in and play a few songs or a set. Totally cool…
---

---
YOUTH EXPO '74
The former Teen Center, then Young America Center, changed its name to Youth Expo '74.  Admission went up to $1, but there were lots of discount coupons.
ENTERTAINMENT, DAY BY DAY, HOUR BY HOUR

The following schedule and groovy commentary comes from a full-page ad in the Twin Cities Express magazine.
August 23
1:  Skogie
3:  Fresh Start (Los Angeles studio musicians)
5:  Kansas.  You may have seen Kansas with Chicago and the Doobie Brothers and Fresh Start with Bachman-Turner Overdrive.  Both energy-packing bands will provide for quite an afternoon warm-up.
7 and 9:  Charlie Daniels Band.  Daniels closely associates himself with one of the most dynamic developments on the contemporary scene, "Southern Music," that hard-to-define, but unmistakable brand of music now coming from the South.
August 24
1:  Rose
3:  Fresh Start
5:  Kansas
7 and 9:  Charlie Daniels
August 25
1:  Jesse Brady
3:  Fresh Start
5:  Kansas
7 and 9:  Charlie Daniels
August 26
1:  Natural Life
3:30  Isis (eight-piece female jazz-rock group)
5:  Renaissance (Progressive Rock)
7:30 and 9:30  Freddie King.  Uptight, upfront, and the no. 1 heavy bluesman, Freddy King is knocking on our door.  If you've tasted the good time of the bluess before, you're set.  If you haven't, baby, this is one show that will teach you what Boogie really means.  Get down!
August 27
1:30  Rush – Canadian rock – a newcomer to Minnesota and quick to grow.  A group we are glad to introduce.  This Rush will soon be a stampede.
3:30  Isis – 8 brass-blowing rock n' roll women who cook their own brand of music.  This dinner for 8 is considered the best women band ever; the hottest new brass band of '74.
5:  Renaissance – rock music in depth.  Special in their music and style.  Combine their English presence, a touch of Yes, ELP, English folk, and the mastery of their ability, and this may be the best "new" band from England yet.
7 and 9:  Freddie King
August 28
1:30  Rush
3:30  Isis
5:  Heartsfield, (Chicago-based country blues)
7 and 9:  Freddie King
August 29
1:  Uncle Vinty
3:30  Isis
5:  Heartsfield
7:30 and 9:30  Wet Willie – BAAAD mothers!  Said with a capital B.  Wet Willie is taking the country by storm.  They're hot and ballsy.  "Keep on Smiling" is the tip of the iceberg.  Underneath you will find a band that is stoning people coast to coast to coast.  Get there early for this one 'cause the crowd will be shakin.'
August 30
1:  Straight Up
3:30  Isis
5:  Heartsfield.  Six people who dig music in all shapes and forms are Heartsfield.  There won't be one persson sitting in the Expo.  Stand up and shake it!
7:30 and 9:30  Wet Willie
August 31
1:  Gypsy
3:30  Hydra-new, hot and hard-Macon, Georgia rock n' roll.  Hydra is not coming up to fool around.  Their music rocks long, loud and hard.
5:  Larry Raspberry and the Highsteppers, ("rock 'n ' roll septet from the South"), have done more to promote dancing in Memphis than anyone since Arthur Murray opened his studio downtown.  With their fine singola-boogie rock n' roll, they're crowd killers and they'll kill you.  When Larry was booked into the show his only comment was "We are very much looking forward to this date as we plan to knock everyone's XXX off!!!"
7:30 and 9:30 Wet Willie
September 1
1:  Skogie
3:30  Hydra
5:  Larry Raspberry and the Highsteppers
7:30 and 9:30  New York Dolls – what the Big Apple of New York is all about.  The Dolls are going to hit and hit hard.  Their press is incredible and response is overwhelming.  Rock n' roll 1974 is the New York Dolls.  You've never seen anything like it.  If you feel it in you, dress for the affair.
September 2
1:  Osage Lute
3:30  Hydra
5:  Larry Raspberry and the Highsteppers
7:30 and 9:30  New York Dolls
---
NEW YORK DOLLS INVADE THE FAIR
Bob Protzman of the Pioneer Press did his best to prepare the Cities for the Dolls; he said one local promoter said "he couldn't wait to see the expressions on the faces of the State Fair's hierarchy when they get a look at the New York Dolls in their platform shoes, bright red lipstick, earrings, tights, occasional miniskirts, necklaces, bracelets, unisex hairdos, and the rest."  He also prepared us for David Johansen's routine of "tying up his arm and injecting himself with an imaginary hypodermic needle while singing 'Looking for a Kiss.'"
The band was two hours late:  a) no cabs would pick them up from Downtown; b) they had to be "dragged in from a drunken stroll down the midway;" or c) two of them had wandered off to get something to eat, take your pick.  When they arrived they were reportedly ticked off that they were not playing in the Grandstand.
Randy Levy at Schon Productions booked the show.
Memories of the show:  (There were two shows each day (September 1 and 2), so audience size and reaction may have differed between them.)
Paul Metsa:
The Dolls were late, and when they arrived and started playing they were greeted by some with beer cans and burning paper airplanes.  They were all wearing eye makeup . . .  (Blue Guitar Highway, 2011)
David Johansen had on bright red lipstick, Johnny Thunders prowled the stage, and Arthur Kane was in a pink tu-tu and I guess in a show of solidarity for us from this northern clime, a pair of big white bunny boots.  The music seemed both ramshackle and rocking.  I didn't know quite what to make of it musically, but I dug the spectacle and had a tale to tell for my buddies back up on the Iron Range.  (As told to Jim Walsh in Walsh's piece "Midway Memories," minnpost.com, August 24, 2017)
Tom Rusch's review in the Insider did note that "this was no fey glam rock."
Chris Osgood shared this story with Jim Walsh for Walsh's piece "Midway Memories," minnpost.com, August 24, 2017:
Johnny Thunders had a slingshot in his back pocket . . . I was impressed that the Dolls were such poor players.  I had never sen a band that had a major label deal that was so sloppy and instrumentally at the 7th grade level.  It was revelatory to me that they were so bad musically and so great philosophically.
Gregory Schilling:
I was at this show. It was quite a strange bill. If I remember correctly it was Larry Raspberry and the High Steppers, then packed to the walls show with Kansas. Then the place rather cleared out and out sauntered the New York Dolls. I was like 10 or 11 years old. Loved the Dolls then and now!
Daniel Flies:
At the end of their set, they gave away WHITE BALLOONS with their "New York Dolls" logo on it in LIPSTICK. They were all over the teen center. 
Scott Browning also remembers tubes of glitter they were handing out.
Robin Goldstein:  "Packed house of raucous fans. It was great."
CP Lawson, perhaps thinking Minnesotans were rubes:  " It was called the Teen Barn. The farmers in bib-overalls had a hard time with it as the band, including Johnny Thunders, wore fishnet stockings, heels and lipstick!"
Lorna Doone (when asked what her best concert was):
OH! How could I ever forget those two days of the NEW YORK DOLLS playing the Teen Pavilion in 1974 @ the MN STATE FAIR? I was dancing on the picnic tables, out of my mind w/the Love of Rock music!
Jeff Miletich:
I remember when the New York Dolls were overhyped and played at Young America. By the third song most (a couple of hundred people) had walked out. They sucked that bad. David "Buster" Johanson has never had an ounce of talent.
After the show the boys went off to enjoy the Midway.
Scott Browning adds that the NY Dolls "were scheduled to do a show at the Orpheum Theater for the first album in 1973 but it was cancelled due to poor ticket sales. I was a big fan of them I don't ever recall any other Twin Cities dates scheduled for them."  The official reason given for the cancellation was that bassist Arthur Kane had a "thumb injury," according to Billboard.  Jim Froehlich remarked, "Arthur Kane's "thumb injury" hadn't healed by the following September because roadie Peter Jordan filled in for him at the State Fair as well, "thumb injury" being slang for "rehab."
Rod Bell says that the New York Dolls concert "spawned all sorts of local bands."
---
THE END OF YOUTH
The New York Dolls may have precipitated the end of the Teen/Youth/Expo Center.  In 1975 the area was remodeled into an exhibit called Heritage Square, reported the Minneapolis Tribune on August 17, 1975.
The area is now the transit hub.