This page discusses the following venues at the same location:
The Stagecoach
Twins Stagecoach Inn
1 & 44 Club
Barbary Coast
Doc Holliday's
---
THE STAGECOACH
The Stagecoach started out as an actual stagecoach stop called the Four Mile House between Shakopee and Savage in the horse and wagon days.
In about 1951, Osborne "Ozzie" and Marie Klavestad found the old place by accident and bought it for a place to display Ozzie's gun collection. They named it the Stagecoach Museum, and over the years it expanded to include the Stagecoach Restaurant, Stagecoach Opera House and the Sand Burr Gulch, a recreated old west street complete with blacksmith, barber shop, saloon, and animated cowboy puppets that acted out jerky wild west scenes for the general public.
---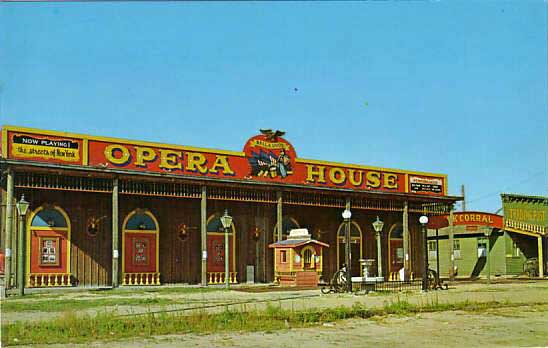 ---
TWINS STAGECOACH INN
In May 1970, the Stagecoach Inn opened – Will Jones characterized it as "an entirely new and separate establishment, a vast two-story frontier-type dining hall and saloon.  Klavestad had held a liquor license but never used it until Ray Colihan and his partners, twins Billy and Jimmy Robertson of the Minnesota Twins, bought the food and beverage concession and the right to the Stagecoach name.  It was officially called the Twins Stagecoach Inn to distinguish it from the museum and theater.  The balcony, called "Reggie's Roost," could hold 400 people, and had a 65-foot bar that Colihan called the longest in Scott County.
---
---
1 & 44 CLUB
The 1 & 44 Club was up and running by about May 1972.  I would love to know the origin of the name!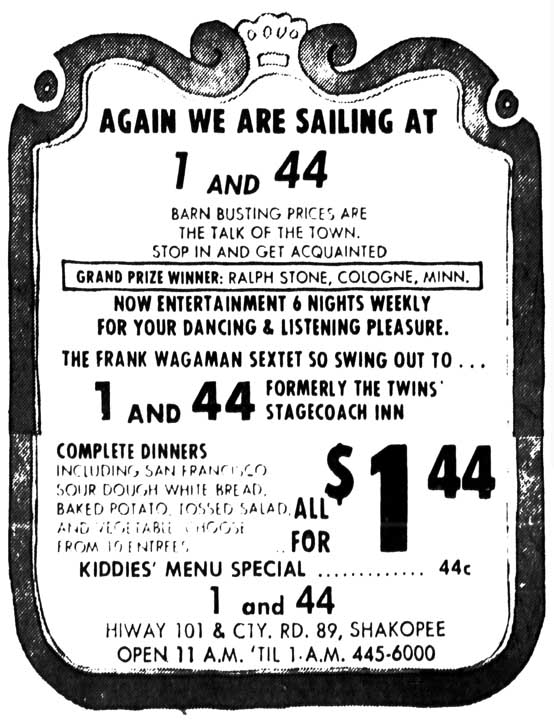 The 1 and 44 was still there in September 1974.  It was mostly a Country/Country rock place, although Chubby Checker did a two-night stand there.
---
BARBARY COAST
This short-lived club followed the 1 and 44, starting in about September 1975.  Apparently the Barbary Coast in general was a hot topic – a major TV movie, a series or mini-series, and a Barbary Coast Jazz Band making the rounds.
But mostly there was Wayne Cochran, as a reader named Len hipped me too.  He sent me this great poster: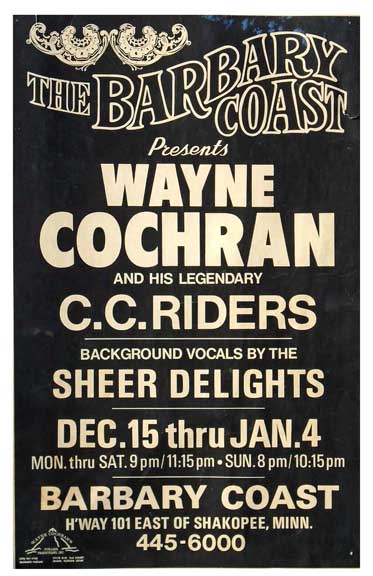 ---
DOC HOLLIDAY'S
Doc Holliday's appeared in about June 1976.
Jon Bream described it as a "two-story, ski-lodge-like bar."
---
Some of the national acts that appeared at Doc Holliday's included:
Dr. Hook, with Willie and the Bumblebees, November 16 and 17, 1976
Larry Raspberry and the High Steppers, October 14, 1977 and October 27-29, 1977
Larry Gatlin, December 9, 1977
Canned Heat, June 20, 1978
Asleep at the Wheel, June 29, 1978
Jimmy Witherspoon, August 11-12, 1978
Johnny Paycheck, January 20, 1979
Billie Jo Spears, January 26, 1979
Bellamy Brothers, March 30, 1979
Asleep at the Wheel, May 15, 1979
---
MURDER AT DOC HOLLIDAY'S
Tragedy struck on May 5, 1979, when Barbara Smith was fatally shot at the club.  In 2021,  Barbara's friend Paul Eggert, wrote to say that he was going to go with her that night but he could not get off of work. Barbara went with her brother Tom instead. Barbara was a 1975 grad of Harding High School – her birth date was November 23, 1957, and she was one of eight children. Paul wrote, "She was in my opinion, stunning. I don't want her to be just a footnote and forgotten."  Barbara's niece Rachel Grove contributed additions and corrections to this account on Facebook.
According to memories on Facebook, Daisy Dillman had just finished "Southern Man" and was taking a break. Larry Lyle Marquardt of Minneapolis and David Kraml of Bloomington had been thrown out for being drunk, and came back with a .308 caliber hunting rifle. Marquardt shot two rounds into the second floor of the building. Barbara was wounded on her ankle, and when she leaned over to look, and was shot again in the neck. Another male customer was seriously wounded as well. The club held 800 people and was packed.  "A group of bikers had the shooter on the ground and were kicking the shit out of him, says one witness.  "Then the law started to defend on the place.  I had never seen so many state troopers and county sheriffs cars in my life."
Marquardt plead guilty and was sentenced to eight years in Stillwater.  The club reopened on May 14, 1979, but the City Council was on its case for fire code violations including overcrowding.
---
THE END OF THE STAGECOACH
A fire on June 21, 1979, was the last straw, doing $10,000 in damage.  Although Montana Star was scheduled to play on June 22-23, 1979, it appears that the last band to play at Doc Holliday's was, in a macabrely appropriate way, called Headstone.  The owners withdrew their application to renew their liquor license and it expired on June 30, 1979.
An ad appeared on November 7, 1979, soliciting someone to lease the 17,000 sq. ft. property.
The Klavestads sold out in 1981 and the place fell into ruin. Widening of Highway 101 spelled doom for the site and most of it was demolished in 1996. Sandra Kenyon thinks the Doc Holliday's site is gone, but the original Stagecoach building still stands as Dahlen Signs, 901 Stagecoach Road, Shakopee.