This page discusses venues that inhabited the building at 21 So. 8th Street, across from Dayton's Garage.
These include:
The Silver Tray Cafe
Sleizer's Restaurant/Club 21
Bowman's Club 21
Club 21
Duff's
THE BUILDING
The building was actually designated as 800-8016 Lasalle Ave. by the City on its building permit cards, and encompassed many addresses.  The first notation for the building is in 1897, for alterations and repairs, so it was obviously built before that time.  21 is always listed as a store and office building.  In 1921 it is listed as a shoe store.
In September 1928 and 1932 it is listed as a cafe.  This could be DeLyon's Candy Shop, which also served hot dinners.  It was typical to see candy stores, or "confectionaries," during Prohibition (1920 – 1933).  DeLyon's  went bankrupt in  September 1932.
---
SILVER TRAY CAFE
By December 1932 it was the Silver Tray Cafe, where you could dine and dance.  The Silver Tray lasted through 1939.  Permit cards show that an addition was built in April 1934.
---
SLEIZER'S RESTAURANT/CLUB 21

Sleizer's opened in 1940, offering Cocktail Music, Dancing, and psychic readings.  It was owned by John W. Sleizer, a native of Germany, who also owned a cafe at 418 So. 4th Street.  Permit cards show $9,000 in alterations were made to the "store" in June 1940.
In November 1944 the club featured Harvey Dale and His Men of Music.
---
The wartime menu below was sent in by Cathy Correa, who found it in her parents' things.  During World War II the family lived in North Dakota, and one of her brothers must have passed through Minneapolis and eaten at Sleizer's.  He kept the menu as a souvenir and it has survived all these years.  Thanks, Cathy, for sending the image, and thanks to the McClure brothers, one who lost his life, for serving their country.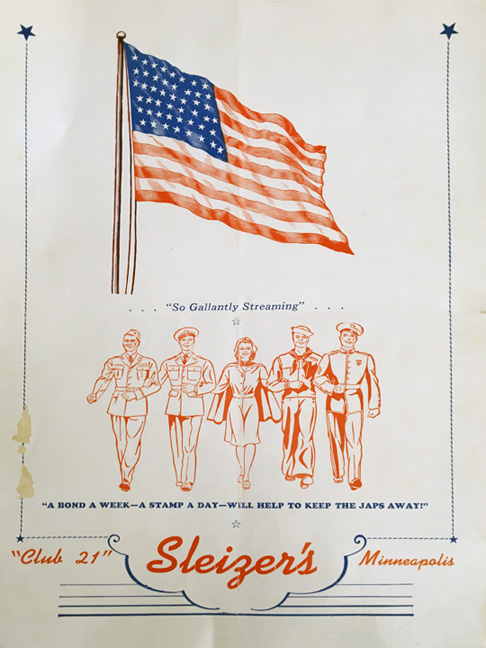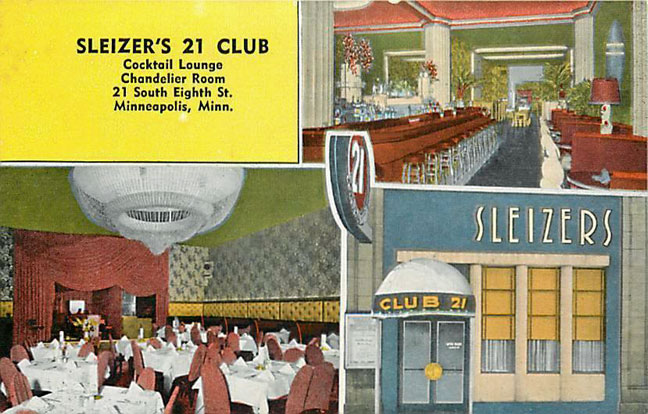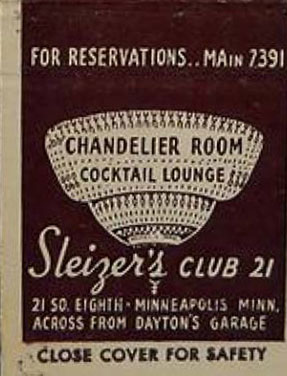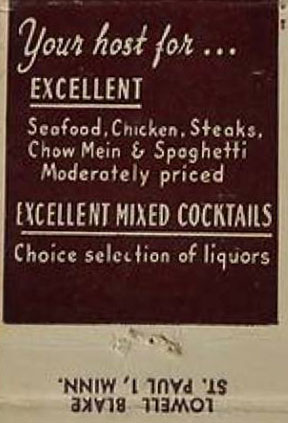 ---
BOWMAN'S CLUB 21
On June 17, 1958, Sleizer sold the restaurant to A.E. "Red" Bowman.  Bowman had been the Federal Sugar Administrator during World War II when sugar was rationed.  He was also a former general manager of Schmidt Brewing Company, and then his own beer distributing company.  Food operations were handled by Harry Doust, the former owner of Harry's Cafe, and later operated the Criterion in St. Paul.  (Minneapolis Star, June 17, 1958)
Will Jones reported on March 30, 1959, that the club installed a dance floor in the dining room in late March, and would begin its new dance policy on April 1.  There was a piano in the front bar.
A comment in a Cedric Adams column in the Minneapolis Star on April 13, 1959, says:
Red Bowman's 21 Club on 8th St. has had such success with its dancing as a feature that Red is about to add a weekly style show as a diversion.
---
CLUB 21
Bowman sold the club in October 1959 to supervise his personal investments.  Bowman's name was eventually dropped and it was more and more referred to as Club 21.
---
DUFF'S
Joseph Duffy, Raymond T. Duffy, and their dad opened Duff's at this location on July 13, 1962.  They had previously owned Duffy's at 26th and 26th from 1953 to 1960.
MINNEAPOLIS DAILY HERALD
The opening was during the 1962 strike of the Minneapolis Star and Tribune, so it was covered by the Minneapolis Daily Herald.  This article, probably written by Irv Letovsky, appeared on July 19, 1962:
JOE, RAY AND DAD:  And they each have their own horseshoe bar.  That's the way it is at Duff's, with the Duffy brothers and their Dad opening up their new club …  When they started converting the old Twenty-One club, the Duffys took a look at the old bar room and decided against one long bar that would make the place look like a single alley bowling house.  To avoid this, they put in three bars:  Joe's, Rays and Dad's.
In the back room, Bea Lee reigns with song in a room which can seat 135 persons.  And the size of the room might be it's drawback, since with 50 people in it it looks almost empty.
The Duffys have been working at Metropolitan stadium since the Twins moved to town [1961], but will now devote full-time to Duff's.  Always popular with athletes, it won't be unusual to find a Viking or a Win in the place on any given night.
THE TRIBUNE
An ad in the Tribune dated May 13, 1963, says "Door to Delightful Dining… in one of the newest and nicest places in town! The Charming Gay Nineties decor… the personal attention by Joe and Ray Duffy, your hosts… the perfect touch with a prepared beverage…the delicious food at down-to-earth prices… the live entertainment and dancing… at this adds up to a delightful dining experience." Dinner was $1.75!
---
DON MORRISON ON PIANO BARS
In his August 12, 1962, column in the Minneapolis Star, Don Morrison discusses Joe and Ray Duffy's courageous decision not to have a noisy piano bar at their new establishment.  Don says it best:
The piano bar fad has spread like cholera in the past couple of years, with the result that a person looking for a quiet drink and some conversation just about to settle for a Pepsi in the YMCA lobby.
Morrison asserts (and I paraphrase) that a nice quiet piano or trio is inoffensive.  But the cacaphonous din of people yodeling around a piano bar offers competition to conversation so severe that you and your wife might as well just stay home and fight.  It's cheaper.
Morrison quotes Joe Duffy as saying,
I walk around town and see 'em six deep at the piano bars and wonder if I'm crazy.  Nevertheless, I hate that noise and hope we never have to bring it in here.  I'd rather make 100 bucks less a night than listen to the kind of rumpus that goes on with a piano bar.
Morrison also gives us a glimpse at the layout of the original Duff's, as it opened:
The front bar is in a rich, masculine semi-1890s style.  There actually are three semi-circular bars along one wall with a few booths and some Edwardian settees on the other.
The spacious back room offers the considerable merit of simplicity, with soft green walls adorned only with gaslight globes in wall brackets.  It is serene in more than just decibel level.  Comfortable banquettes and tables provide uncongested seating.  A small dance floor is serviced by Bea and Her Consorts, who play unpretentious and danceable music.  It is an extremely pleasant room, at which I took one look and settled down for the evening.
---
WILL JONES
On October 1, 1962, Will Jones described the new Duff's in his column in the Minneapolis Tribune:
Duff's is done up in what you might call Semi-Gay 90s.  The front room is just a handsome bar (or rather a series of three bars) that is becoming a sports hangout.  The back room is a listening and dancing room on the quiet side, with the Hal Lichterman trio and singer Bea Lee providing jazz that invites, but does not compel, dancing.  Often as not it stimulates quiet conversation and handholding by the twosomes that seem to favor the room.
Duff's was a hangout for celebrities, especially wrestlers and athletes. And newscaster Dave Moore, they say.
Duff's held the Duff's Celebrity Golf Tournament for many years.
In March 1964, Duffy's at 26th and 26th came back into the family when its liquor license was transferred back to Raymond T. Duffy.  His brother, Joe, would continue to run Duff's downtown on his own.
---
THE PIANO BAR WINS
In September 1964, Will Jones reported that Duff's had a new piano bar called Duff's Upstairs,
a low-ceilinged room where the customers sit on the floor on pillows.  The piano is sunk into a kind of pit so that the pianist is on a level with the customers.  Joan Tereese Blakkestad is in charge of the piano every night.  She's now billing herself simply as "Sweetie."
In 1965 they danced in the Blarney Room.
The Titans were their house band in 1967 – 1969.  I just bought a copy of "Ode to Billy Martin" by the Titans – on the Duff's label, produced by Jim Madison.  Flip side is "Please Don't be Angry," credited to Lorna versus The Titans.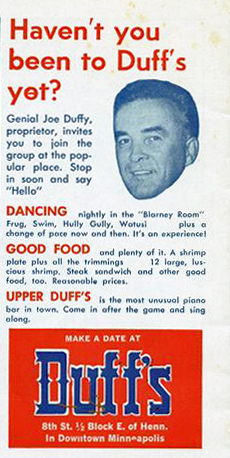 In 1971, Joe Duffy also became a co-owner of Duff's in the Park, in St. Louis Park.  He sold out in January 1976.
Ralph Hitchens was the manager of Duff's in 1972.
Batch was the house band in 1973 – 1974.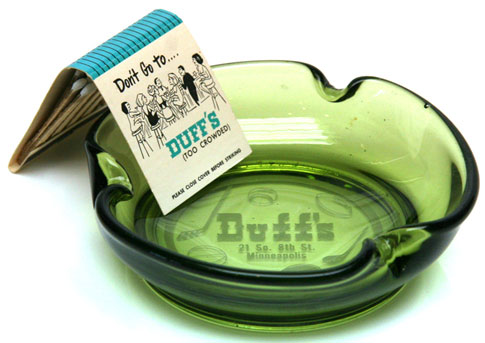 ---
I posted the photo below not knowing anything about it, and Paul Hilcoff provided the answer!  It was taken by Donald Emmerich as part of a study commissioned by the EPA to examine the "adverse effects of modern life on the environment."  And then Robb Henry told me it was his band, Walter Mitty!  Pictured are lead singer Mark Anderson and singer/guitarist Wayne Fish.  Out of the shot are Robb and three other band members.
---
---
Owner Joe Duffy retired in 1977 to become the general manager of the Olympic Hills Golf Club.
The club was bought by Robert McNamara in October 1977.  McNamara was a former all-American halfback at the U of M in 1954, played football with the Winnipeg for four years, and with the Denver Broncos for two years until four knee operations ended his career.
On November 9, 1978, there was a three-alarm fire at the Creative Furniture Store, next door to Duff's.  Duff's suffered smoke damage.
The Jesus People Church bought the State Theater, the Duff's building, and adjacent buildings for about $2.25 million in November 1978.
On December 24, 1978, a five-alarm fire burned the Duff's building to the ground, taking the restaurant and five other businesses with it.  The five degree temperature made fighting the fire difficult when hoses froze to the ground.  There were no injuries, but the roof caved in and the Red Cross found alternate housing for apartment dwellers on the second floor.  Fire investigators concluded that the fire was the result of arson, as it showed signs of being started on both sides of a firewall.  Motives ranged from opposition to the Jesus People Church deal to an attack on the Planned Parenthood office that was in the building.
The building was demolished, in whole or in part, in the spring and summer of 1979.  230 autographed photos of famous customers were destroyed.  One of Duff's most interesting regulars was Edmund Gould, a stockbroker who spent $8,000 to have his own booth and phone installed.  (Minneapolis Star, November 23, 1979)
McNamara had had a lease from the Jesus People Church until 1982, but he wasn't sure the church would honor it.  He also didn't think his insurance would be enough to rebuild, so he decided to relocate instead.
---
829 HENNEPIN AVE.
McNamara moved Duff's to 829 Hennepin Ave., the former location of the Cascade 9.  It opened there on March 1, 1979.