This page has to do with the clubs that have taken residence at 5 So. Fifth Street.  This is basically the basement of 507 Hennepin Ave., and part of what is known as the Hale Block.
Those clubs include:
More Down Stairs
Dave Rooney's Downstairs
Dirty Old Man
Five Club
Sand Box
Cabaret
Cellar Bar
Blitz Bar
For more on the Loeb Arcade and the Hale Block, classic buildings that stood at Fifth and Hennepin, please click here.
ARCADE CAFETERIA
This ad seems to imply that the Arcade Cafeteria was located on the Fifth Street side of the Loeb Arcade, downstairs, so I'll put it here.  The ad promised "Music During Meals," and in 1915 that most certainly means a live performer or band.
---
CARTWRIGHT ORIGINALS
Will Jones reported that this "vast space had originally been occupied by Cartwright's Originals dress showroom."  Cartwright's Originals was a fancy dress shop, located here from about 1946.  It was owned by Mr. Mandell Morgan, who died in 1974. When the storefront had to move when the Loeb Arcade was demolished in 1966, Cartwright's Originals moved its showroom out of the basement.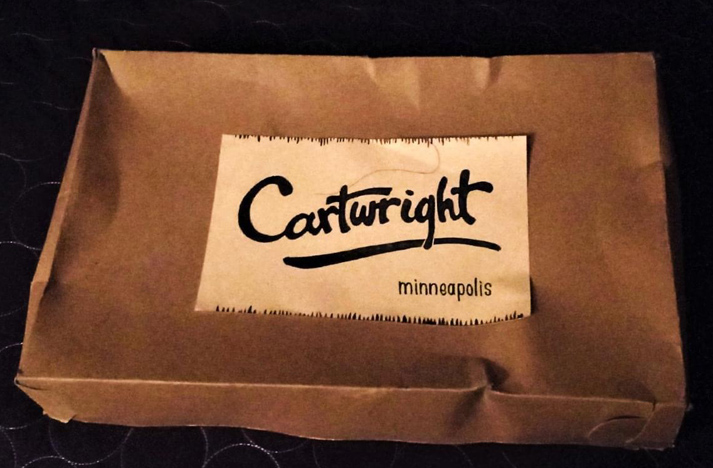 Cartwright Originals moved to 25 So. Fifth, but went out of business on February 1, 1976, when the bookkeeper was convicted of embezzling $200,000 from the business.
---
MORE DOWN STAIRS
More Down Stairs was opened by the owner of the Roaring Twenties, Big Al Cohen, on September 29, 1967.  It a nightclub geared to the 21 to 35 crowd.
The space had a tier for watching and a tier for dancing, reported Jones.  It was an honest-to-goodness bar as opposed to the teen clubs a lot of the bands had been playing.
It was the showcase for Danny's Reasons in 1967 to 1968.
It then featured some of the top local groups, but they realized that once one band played, their following left and the next band's fans came in.
To rectify this, they created a house band called Jumbo in July 1969, made up  of musicians from several bands, intended to created a club clientele.  They also reduced drink prices to 45 cents.
In September 1969, the club's owners, Bobby Bell and Jerry Erickson, abandoned its rock format and hired the Bobby Crea jazz trio and exotic dancers.  They kept the psychedelic lights.  Ads for waitresses dropped off in about October 1969.
---
DAVE ROONEY'S DOWNSTAIRS
In December 1969, Dave Rooney bought the Roaring '20s and the basement bar.  On January 1, 1970, he opened Dave Rooney's Downstairs in the basement space, as a showcase for his trio, which included Charles Gater on bass and Ron Lee on drums.
Despite his remodeling of the place, his fans didn't adjust to the Hennepin Ave. setting, however, and Rooney moved out in May 1970.
---
DIRTY OLD MAN
I'm sure few will remember this short-lived iteration of the downstairs club, named for Arte Johnson's Little Old Man skit he did with Ruth Buzzi on "Laugh In," which was all the rage.  The club opened September 10, 1970.
A hint to the theme was in Calvert's ad for waitresses, who would be called "Downstairs Maids," according to Will Jones.'
There was also a Dirty Old Doorman, who was dressed like the Arte Johnson character, whose job it was to "stand out in front of the club and pinch girls as they come in," explained Jones.
The club was opened by Mel Calvert, an entertainer who had recently had a long stint at the Black Angus.  His act involved "songs and jokes and music on the Chamberlin electronic music machine," per Don Morrison.  Calvert had been out on the road for the last two years before opening this club.
Entertainment included the New Breed 70, a quartet led by Bob Hanson, who played a "competent and interesting jazz rock for dancing and earlobing," according to Don Morrison.
Morrison described the room – "which used to  look like the basement of a state hospital" – as "dressed up with a new bandstand and light panels that are geared with the mikes to change color according to volume and tone."
An early booking was the comedian Professor Irwin Corey.
In March 1971, Will Jones announced the Mel Calvert had closed the club and moved to Bradford's, working as an entertainer.  His article opened, "The Dirty Old Man took a bath."  (Minneapolis Tribune, March 18, 1971)
---
THE FIVE CLUB

According to the ad below, this club opened on May 10, 1971.  The XL5, which had just come from a long run at the Cascade 9, were slated to operate the club as well as be the house band.
---
THE XL5
The photos below are members of the XL5, taken at the Five Club on August 11, 1971.
---
THE SAND BOX
An even shorter-lived club appears to be the Sand Box, which can be found advertised for August 16 – 18, 1971 (Monday – Wednesday) only.
---
CABARET SHOW LOUNGE
The Cabaret Show Lounge was a gay bar from at least December 1974 until mid-1975.
Facebook chat: "It specialized in female impersonators lip-syncing."
---
MURDER AT THE CELLAR BAR
On January 4, 1975, the manager of the Roaring '20s, Gerald T. Collins, was shot five times in the men's room of what was identified in the papers as the Cellar Bar (downstairs).  His killer, Royal K. Hayes, Jr.,  was a "cavalier psychopath" who had escaped in August 1963 from an Oregon state hospital he had been committed to after killing a security guard in 1962.  He came to Minneapolis and immediately got caught robbing a Walgreens at 828 Nicollet.  He was sentenced to 20 years at Stillwater State Prison in 1963, but was paroled in 1968.
Collins was shot with Hayes's gun, but attorney Ron Meshbesher cast enough reasonable doubt that Hayes was acquitted.  Later Hayes would brag about how he beat the rap.  Hayes did do a year for possessing the gun that killed Collins.
But things got grisly when Hayes was found guilty of shooting and mutilating the bodies of two drug dealers at the University of California at Santa Cruz in December 1981.  He was sentenced to death but with the reversal of the death penalty in California, remains on death row indefinitely.  If he is still alive (I found no death information on Ancestry.com) he would be 83 in 2020.
Collins himself was no angel – he'd gone to prison for burglary in 1950, and got five years in 1953 for hitting a policeman with a ball peen hammer when he was caught robbing a bar.  On March 1, 1963, he robbed the Nic-O-Lake Super Valu and he and his partner were found 10 minutes later in his mother's car.  Cops noticed they were nervous and looking around, so they searched the car and found a gun and $12,000.
Out on bond, he robbed a used car lot on E. Hennepin in August 1963, and a grocery store in Coon Rapids and a deli on E. Hennepin in November 1963.  In February 1964, still out on bond, he robbed Erick's Bar.  While the Super Valu trial dragged on with appeals and mistrials, he was sentenced to ten years for the Erick's Bar caper.
Once in Stillwater for the Erick's job, he became an informer for the government, putting former partners in crime in jail.  Some were not impressed.  When testifying on behalf of a criminal, pleading to Judge Miles Lord to give his friend probation, Lord called Collins a "tough, mean burglar" and said that he had been a "bad boy from the time he was 9 years old, a mean, rough kid."  (Minneapolis Star, September 6, 1974)  Still, the man was given probation.  Finally, Collins was sentenced for the Super Valu job, given only five years, concurrent with the ten years he was already serving.  He was released in 1968.
Whether he actually went straight or not was up for speculation, even after Collins died at the age of 42.  As for the motive of the murder, it may have never been determined.  He had alienated good guys and bad guys alike.  Or maybe Hayes was just crazy.
---
BLITZ BAR
April 1976 – 1977
The Arcade clothing store next door is a nod to the old Loeb Arcade Building.
A demolition permit was approved for the New Hale Building on March 13, 1986.