620 Hennepin Ave. was on the notorious Block E in downtown Minneapolis.  It was the home of the:
---
620 CLUB
The 620 Club was probably one of the seemingly thousands of taverns and night clubs that sprung up overnight at the end of Prohibition in 1933.  Bob Fliegel gives the ownership timeline on Facebook – thanks, Bob!
Ernie Fliegel owned the 620 Club with equal partners Max and Henry Winter from 1934 until 1967.
---
Contrary to urban myth, Bob says that his dad told him that Kid Cann knew he was not welcome at the 620 Club, nor were his brothers Yiddy Bloom and Harry Bloom.
This ad tells us that Ben Harris was the manager in 1934.
---
Hard to believe the future Moby Dick's had an orchestra and elaborate floor show!
---
---
WHERE TURKEY IS KING!
Turkey was the specialty of the house at the 620 Club.  Below is Ernie Fliegel, on the owners, with a 22 pound turkey bound for the table of Hubert H. Humphrey, then Vice-President Elect, Thanksgiving 1964.
---
On September 29, 1967,  Ernie Fliegel, Max Winter and Henry Winter sold the 620 Club business/license to Maxim Kunin and Sherman Richter, who retained the name of the bar & restaurant.
---
There must have been quite a run on Turkey items when the 620 went out of business, judging from all the wonderful artifacts out there!
---
If you posted these plates, please let me know!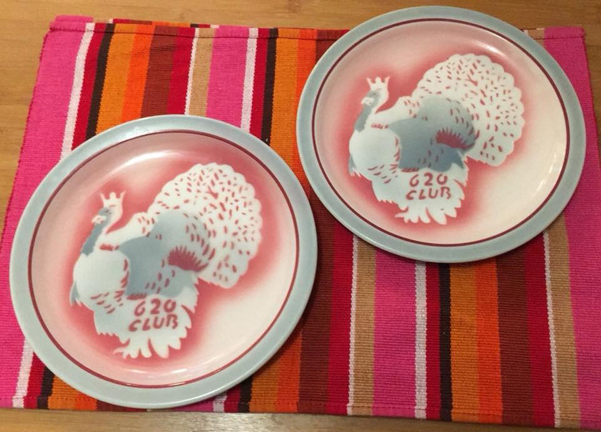 ---
MOBY DICK'S
On March 26, 1971, Kunin and Richter sold the 620 Club business/license to Moby Dick, Inc. Its new owners/licensees, Allan Cohen, Steven Gold, Robert Gold, and Kenneth "Kip" Canton changed the name of the bar to Moby Dick's.
It was one of the places that made Hennepin Ave. so… colorful. In 1972 part-owner Canton admitted that the place "attracts a lot of hustlers, a lot of pimps, not just Mr. Nice Guys."
Most people would admit that Moby's didn't have the best reputation.  But an article by Dali Wiederhoft, a student from Minnetonka, described both the highs and lows of this landmark watering hole.  Some excerpts:
On June 1, 1973, the legal drinking age was dropped to 18.  That night, the line to get into Moby's snaked from the front door to 7th St. to the front of the Venice Cafe.  The place caught on quickly, and you could count on waiting in line every Friday and Saturday night.
Moby's may have been the first truly integrated bar in the Twin Cities.  All types of people were there:  whites, blacks, Native Americans, foreigners, gays, straights, college students, Vietnam vets, any well-known musician passing through town.  …
Moby's was a bar with many firsts.  War veterans who had learned to play foosball overseas  flocked to it.  The video game '"Pong" was introduced there, as were talking pinball machines.  Moby's got a national reputation as the one bar in the Twin Cities that you had to visit when in town.  There was even a black market for Moby's T-shirts.
Then, in late 1975, Moby's began to change with the rest of downtown Minneapolis.  Discos were hot, and so Moby's added a disco to the back of the bar.  What did loud music and dancing have to do with meeting people?  We did just fine before.  We talked to people.
The bars and restaurants downtown started having problems.  As businesses closed and downtown became more and more of a ghost town, Moby's customers began hitting "the Strip" on I-494.  By the late '70s, Moby's had lost many of its regular customers.
For a while the troubles were blamed on the bars with strippers.  Then they were blamed on the discos, then on the blacks who supposedly flocked to those discos, then on the gays, on drugs, on drunks, on street punks and finally on the homeless.  (Minneapolis Star Tribune, November 12, 1988)
---
---
NOT OVER YET
Drummer Bobby Vandell tells us of this '80s respite before the end came:
There was a fairly short era in the '80s when live music returned to Moby's, which we have Steve Raitt to thank for. Steve, as many know, "managed" and booked a number of popular bands in the '70s into the '80s, with Charlie "Woodchuck" Campbell, including Lamont Cranston, Willie & The Bees, The Doug Maynard Band, and The TC Jammers. Steve was always on the lookout for new venues to book his favorite bands into and he was fond of Moby Dicks and its colorful characters as a customer. At some point in the early '80s, Steve Raitt befriended Steve and Bob Gold, who Jeanne mentioned above as two of the clubs owners.
Armed with an over-abundance of charm, Steve had the gift of making people think that an idea they thought yesterday was the worst, was now the best idea they ever heard. I even witnessed him make them believe it was their idea. It took about a half hour for the smooth talking Raitt to convince the Gold Brothers that he should bring a concert size sound system & a hot band into the club and rock the place … And that he did. Oh … he also made them think it would be a great idea for them to promote it and pay Steve to do it. That, my friends, is the art of creating a gig out of thin air .. something you will not learn in any music school. Thanks to Steve, The Doug Maynard Band blew the roof off that joint as did The Bees and The TC Jammers.
During that era, live music venues didn't have "in house" sound systems. The popular bands had box trucks full of sound, lights, and backline that were loaded into each club weekly as the band before packed theirs up. Steve Raitt's system led that pack. Going to a Steve Raitt produced show was an experience like no other for listeners and a master class for other sound engineers. He brought that production into Moby's, set it up in the front room and proceeded to give the rich landscape of characters which included pimps, hookers, thieves, gangs, dealers, hustlers an experience they never had as they navigated the dark and slightly scary real estate we knew as Moby Dick's. I remember escorting Steve's Sister Bonnie in there a number of times, who would on occasion, take the stage. Raitt also suggested that a space upstairs be used as a dressing room .. Let's just say that "off limits" area created some memorable moments, as did those gigs in that very unique, rich and historical club .. Here's to Moby Dick's, the Gold Brothers, and Steve Raitt!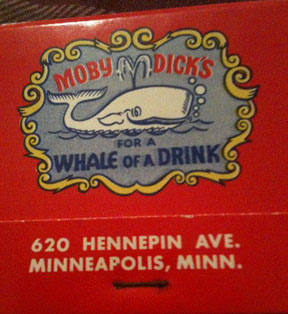 ---
MOBY DICK IS HARPOONED
As part of the cleanup of Block E, Moby's had to go.  Fliegel:  "On October 3, 1988, Moby Dick's licensees notified the licensing dept that they were out of business as of that date."  Co-owner Gold wanted to relocate the bar to the Warehouse District (127 No. Washington) and rename it Herman Melville's, but the artists in the Artists Quarter would have none of it.
Moby Dick's closed for good on Sunday, October 2, 1988, and passed into legend.