The Mermaid is located at 2200 Moundsview Blvd. (Highway 10 and 35W) in Moundsview.  It has grown to become a hotel, event center, bowling alley, and music venue.
You knew you were getting close to the Mermaid when you saw … The Mermaid!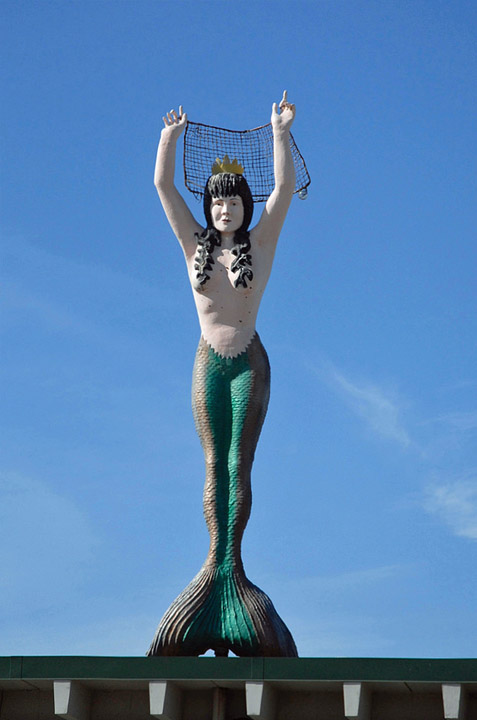 ---
The Mermaid was a Country hotspot.
Here's a story from Tom Campbell at minniepaulmusic.com:
It was spring in 1967 and Keith Zeller and the Starliners were playing seven nights a week at Papa Joe's Northern Bar on West Broadway in Minneapolis.  The Arsenal, a large munitions plant was located nearby. One day the club owners of the Mermaid contacted Keith Zeller and his band and wanted to know if they would play at their club on Friday mornings starting at 8:00 am. The club owners were aware that the night shift at the Arsenal got off work at 7:00 am and Fridays were paydays. They were banking on the idea that the workers just might enjoy hearing a live band after work.
Keith Zeller and company decided to give it a shot. Much to their surprise they discovered there was a market for live rock music at 8:00 am in the morning. The band soon discovered that playing seven nights a week and early Friday mornings was taking a toll on their sleep and the job at the Mermaid ended after a few weeks.
1969-1971: Country & Western music featuring Roger Mews and the Country Good Guys.
Here are a few ads from the Minneapolis Star that show some major acts:
---
On February 6, 2018, the iconic Mermaid came down off of her rooftop perch.  From her Facebook page:
The Mermaid Statue at the age of 54 had to retire due to being structurally unsafe.  She had a very eventful fun life. She was born a 60' blond at the Rubelson Sign Company in Columbia Heights, MN. She listened to a lot of bands in 1960s with Armory workers. She watched over bowling lanes built in '70s. She was almost gone with the wind in 1975 when a 100 mile wind took her down. She was a constant "regular" at the night club Streamers in '80s and in '90s – she even got the nightclub renamed after her. She was a roadside attraction all her life. She will be missed by many… We are still The Mermaid.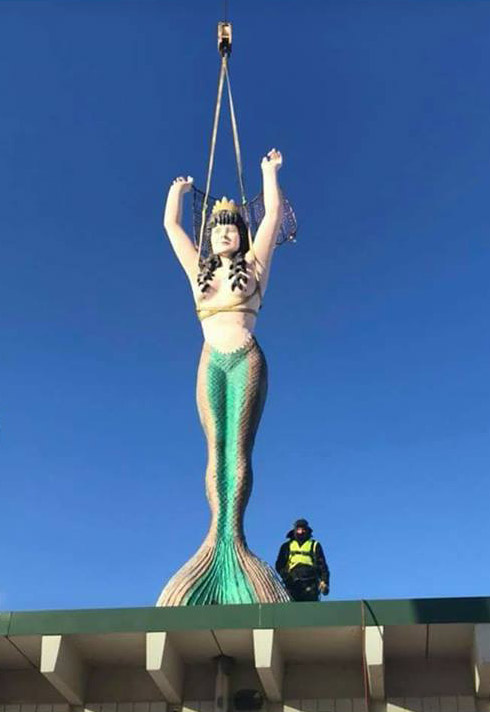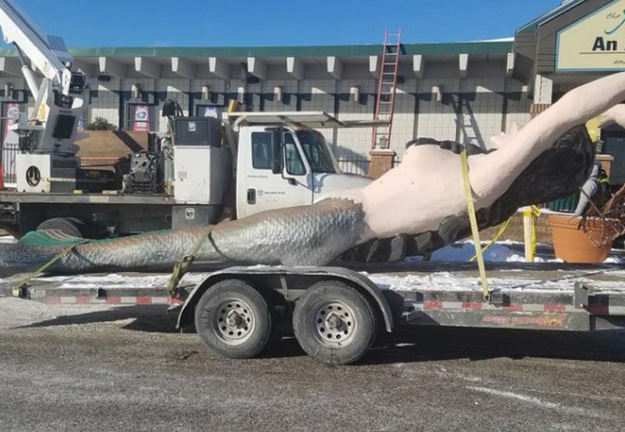 The Mermaid Statue is safe. She is in storage.  We are currently assessing all our options to make her structurally sound again. Along with possibly placing her somewhere else on the property with approval of City of Mounds View. Thank you for all of your support. We will keep you updated.