THE WALKER ART CENTER

Although the concerts listed here were held at the Guthrie Theater, the vast majority of them were booked and sponsored by Walker Art Center. The Walker is a museum that actually started as a collection of items that lumber baron T.B. Walker kept in his mansion at 803 Hennepin Ave., now the site of the State Theater and the Walker office building.  In 1926, Walker built a gallery to house his collection on the site of the present Walker Art Center.  That building was demolished in 1969 and a new building replaced it in 1971.  It was expanded and modernized in 2005.  Ironically, instead of holding T.B. Walker's collection, his museum became known for its collection of modern art.
THE WALKER CENTER ARTS COUNCIL
According to material in the Walker's institutional records, the Center Arts Council (CAC) was a volunteer organization under the aegis of the Walker Art Center that organized performing arts for the Walker.  It was active from 1954 to 1971.  Staff coordinators were James Elliott, John Ludwig, and Jay Belolli.
SUMMER JAZZ SERIES
Before the Guthrie was built, the CAC sponsored various events, notably an outdoor jazz concert series featuring local cornetist and bandleader Paul W. (Doc) Evans.  The concerts were held in a remodeled open-air court at the rear of the Walker, newly painted and equipped with a stage and canopy, lighting, and greenery.  This series, always featuring Evans, began on June 30, 1953, and the first concert drew 700 people, according to Norman Houk of the Minneapolis Tribune, reporting the next day. In 1958, Herb Pilhofer and his modern jazz group took over a significant part of the schedule.  In 1959, attendance for opening night was a record 1,250.  The series continued through 1961.
In 1962 the Minneapolis Star and Tribune were on strike, but the Minneapolis Daily Herald reported that the Walker sponsored a program called "Jazz '62-II," on the south yard of the Walker Art Center.
Another interesting CAC event was called "A Happening in a Mushroom Cave," featuring artist Allan Kaprow in the Wabasha Caves on November 17, 1962.  Other notable events sponsored by the CAC were Bottlenecks I (1970) and II (1971), which were frolics in Loring Park with local bands, theater happenings, etc.
Between the Walker's first concert at the new Guthrie Theater in May 1963 and John Ludwig's appointment as the Coordinator for the Guthrie and the Walker in the spring of 1964, one would suppose that it was the CAC that technically booked the first year's shows at the Guthrie.
JOHN LUDWIG
According to his biography in the Walker's archive, John Ludwig (1935 – 1995) was appointed coordinator for the Guthrie Theater and the Walker Art Center in the spring of 1964.  He was responsible for scheduling events in the Guthrie Theater when the theater company was not using the space.  It was Ludwig, also continuing to rely strongly upon recommendations from the volunteers of the Center Arts Council, who began booking pop and rock performers in the late 1960s, such as Janis Joplin (August 1968), Blood, Sweat and Tears (January 1969), Led Zeppelin (May 1969), and the Who (June 1969).  One CAC member, Suzanne Weil, was in particular a driving force behind the bookings of these concerts that also included dance events along with rock, jazz, folk, blues, and world music shows.  In January of 1969, Ludwig began to devote most of his efforts to the Center Opera Company, which ended its association with the Walker Art Center that same year.
SUZANNE WEIL
Suzanne Weil was hired as a consultant during this transitional period to formalize her longstanding involvement in shaping the Walker's concert program through her active role in the CAC.  Ludwig left the Walker to become the full-time general manager of the Center Opera Company in July 1969.  Weil was appointed full time Coordinator in July 1969 and greatly expanded the Walker's performing arts program with the opening of the Walker's Barnes building in 1971.
She was active on the Jazz Committee and became president of the CAC in 1969.  In January 1969 she was hired as a consultant to assist the Performing Arts Coordinator Ludwig, as he prepared to leave.
It appears that Weil had a great deal of influence on the acts that were booked before she was officially appointed to the Coordinator's position in July 1969.  In an article by Robert T. Smith in the Minneapolis Tribune dated June 10, 1969, he has already identified her with that title and he wrote that she took the job six months ago.  He said that she brought in Pete Seeger (March 22, 1969), Led Zeppelin (May 18, 1969), and Blood, Sweat and Tears (January 16, 1969).
Weil's biography in the Walker archives reads, in part:
Under Weil's leadership, the Performing Arts department presented dance, music, poetry, theater events and residencies.  The program framework that Weil developed continues to shape the Performing Arts at the Walker Art Center.
Weil also became known as a rock promoter after she began scheduling rock concerts on Sunday evenings at the Guthrie Theater.  Weil booked legendary rock musicians at the start of their careers.  Among the artists she brought to the Twin Cities were Elton John, the Grateful Dead, the Mothers of Invention and Patti Smith.  The concerts served to fill many gaps.  Bands on a tour general traveled Sundays without stopping for a performance.  The Guthrie Theater was dark on Sunday nights.  Weil connected the dots and booked acts on Sunday nights, thus providing the area with a popular series of Sunday night concerts.  The concerts also provided much-needed revenue to present poets, choreographers, and avant-garde musicians; the core of the Walker's performing arts program.
Weil had a personal and easy style with the artists she presented, as reflected in her correspondence.  She made sure she knew what the artists required for their visits, as well as their preferences for things as food, housing, and transportation.  Often artists would stay at her house and her hospitality became legendary.
Case in point:  in his column in the Tribune dated June 10, 1969, Robert T. Smith reported that when Pete Seeger came to town, she met him at the airport, drove him to his hotel, and then went home and baked him some some bread.  "What do you do for Pete Seeger?" she said.  "He makes you want to bake bread."
**It should be pointed out that rock acts had been booked at the Guthrie as early as November 1967 with the Butterfield Blues Band, and would have been earlier if the Blues Project hadn't cancelled in July 1967.  Janis Joplin had appeared in August 1968.  Also, the text above might be a little misleading, in that the Grateful Dead and the Mothers of Invention had been to the Twin Cities several times before their Guthrie appearances.
An article called "The New Rock Concert Promoter" in the September 1972 Insider says this about Mrs. Weil:
Her Guthrie concerts are part of the Walker Art Center's commitment to displaying contemporary art forms.  The concerts consistently lose money because she usually brings in acts before they break nationally.  Weil picks acts on instinct and on advice of friends, other artists, and anyone else who offers it.  Her only criterion is that the artists be developmental or experimental…While Weil has capital to work with, she is only interested in breaking even and exposing the talent.
[The assertion above that none of the concerts made money is not necessarily true.  Many Guthrie shows made money that Weil could then use to pay for dance and other events that needed subsidy in the pre-grant era.]
In October 1976, Weil accepted a new position at the National Endowment of the Arts in Washington, CD, as the Director of Dance Programming.  Nigel Redden became the Walker Art Center's Performing Arts Coordinator in November 1976.  Weil subsequently served as senior VP of programming at PBS (1982-1989) and executive director of the Sundance Institute.
SUE MCLEAN
With Sue Weil's departure from the Walker, the Guthrie cemented its interest in controlling the booking of music concerts in-house, eventually hiring Sue McLean as its concert booker, first as a Guthrie staff member, then continuing when she went independent and forming her own agency that had great impact in the Twin Cities music scene.  The Walker did continue to occasionally book a few notable concerts at the Guthrie in subsequent years, such as the opening concert of the New Music America Festival in 1980 which featured a triple bill of David Byrne with a string ensemble, Philip Glass and the art ensemble of Chicago, or later concerts with Ornette Coleman's Prime Time Band.
---
The Guthrie Theater opened on May 7, 1963. Its first production was Hamlet, directed by the theater's founder, Sir Tyrone Guthrie. Guthrie and friends Oliver Rea and Peter Zeisler had been disenchanted with Broadway, and wanted to create a theater with a repertory company that would present the classics. The repertory company included George Grizzard, Hume Cronin and Jessica Tandy. The group advertised in the New York Times, soliciting cities that would be interested in sponsoring such a theater. Of the seven cities that responded, the founders were impressed with the demographics but mostly the enthusiasm of the Twin Cities for the project.
The theater was built on donated land behind the Walker Art Center.  It was planned by architect Ralph Rapson and completed in 1963.  Its 1,441-seat thrust stage was designed by Tanya Moiseiwitsch, with a seven-sided asymetrical platform measuring approximately 32 by 35 feet, raised three steps above floor level.
Michael Bjornberg remembers that
there was a small bar accessed from the seating area that was typically not monitored by security (in those days) – I think it was the "dram bar" perhaps. It would be possible to slip back after shows and mingle with bands.
---
CONCERTS AT THE GUTHRIE

The Guthrie was not built as a concert venue – it was built to present plays.  There were no pillows on the floor, no drinking, no smoking, no dancing, and it was not an interactive experience like the Labor Temple and the Depot had been.  Ticket prices were higher, too.  But it was a way to fill the seats during the off season, and present visually and acoustically perfect music to 1,437 lucky ticket holders.  At first, the Guthrie was used to continue the Walker's Summer Jazz Series.
Below is a listing of mostly national musical acts that have been presented at the Guthrie, probably 99 percent of which were presented by the Walker Art Center.  There are some exceptions here and there, including comedians and local icons such as Koerner, Ray, and Glover.  Some performances that were held in the Walker Auditorium are also listed, either because there are photos, or because they include people like Patti Smith or Allan Ginsberg.  My sources are listed at the end.
---
1963
MODERN JAZZ QUARTET
The first musical performance in the new venue was held on May 27, 1963, by the Modern Jazz Quartet.  It was billed as part of the Walker Art Center's 10th Annual Summer Jazz series, given that the original series started in 1953 (see above).
The Modern Jazz Quartet started in 1951 as four members of Dizzy Gillespie's band, strictly to give Gillespie a break during performances.  The members performing in 1963 were leader John Lewis on piano, Milt Jackson on vibraharp, Percy Heath on bass, and Connie Kay on drums.  They wore formal cutaway coats on stage, and leader Lewis had two degrees at the Manhattan School of Music.
---
SONNY ROLLINS
Sonny Rollins and his Trio played to a sold-out crowd on June 24, 1963.  The performance was also part of the Walker's 10th Annual Summer Jazz series.
Dan Sullivan of the Tribune called the music "angry, perverse, often fascinating and ultimately exhausting."  Sullivan didn't like it,  but he said that "you cannot deny that their music is a frighteningly accurate picture of an age unsure of anything but the force of its will to destruction."  Sonny Rollins' saxophone was "voiced in burps, squeals, shrieks, strangled gasps and just plain clinkers."
Rollins' Trio featured Paul Bley on piano, Roy McCurdy on drums, and Henry Grimes on bass.
---
---
PRESERVATION HALL JAZZ BAND
Kid Thomas and His Algiers Stompers came to the Guthrie to play – not Dixieland, but New Orleans jazz on July 22, 1963.
It was a large band, featuring George Lewis – the Tribune's Allan Holbert described him as one of the greatest clarinetists of this century.  The band was playing at several places around town during the week.  Apparently this was not part of the Jazz at the Guthrie concerts.
---
1964
The Walker's  Center Arts Council sponsored a series of American Folk concerts in early 1964:
Mountain String Band and Banjo Songs, January 25, 1964:  About 1,100 people, "very few in dungarees," came to hear American mountain music.
New Lost City Ramblers of NYC:  Mike Seeger, John Cohen, and Tracy Schwartz. Dan Sullivan of the Tribune called them "smart enough to have smoothed mountain music into a profitable commodity and wise enough not to have perverted it.  They are synthetic but not pseudo."
Roscoe Holcomb of Daisy, Kentucky:  Dan Sullivan deemed them to be the "genuine article – two modest, simple men who remember all the old songs nobody ever bothered to write down."
Dock Boggs of Norton, Virginia
Sullivan congratulated John Pankake, co-editor of the Little Sandy Review for insisting on the real thing for this concert.
---
American Negro Folk Songs and Blues, February 8, 1964:
Bessie Jones and the Sea Island Singers of St. Simon's Island, Georgia.  Program notes consisted of a lesson in the Georgia Sea Islands, and a short biography of Bessie Jones, written by Alan Lomax himself.
Mississippi John Hurt, Avalon Mississippi.  Program notes provided a biography of Hurt, written by Dick Spottswood of Arlington, Virginia.  Will Jones reported that Hurt, 72, was rediscovered about a year prior by record  collector Tom Hoskins from Washington, DC.  Most collectors of his 1928 records had assumed he was dead.  Hoskins found Hurt at home in Mississippi and told him he was going to take him to Washington to record.  Hurt was convinced that the record buff was really from the FBI:  "I knew I hadn't done anything sinful, but I went along anyway.  Now I'm sorry the FBI man didn't discover me a few years earlier."  (Minneapolis Tribune, January 24, 1964)
Sleepy John Estes, Lowry County, Tennessee with Hammie Nixon and Yank Rachel.  Bob Koester's program notes indicated that Estes had gone missing for many decades, and most afficionados of his music assumed that he was much older than he was.  But when he was rediscovered in 1950, he was only 60 years old, and his career was restarted.
This concert (above) included a folk music workshop at 1 pm.
---
Traditional Ballads and Folk Songs, February 22, 1964:
Jean Ritchie of Viper, Kentucky
Doc Watson of Deep Gap, North Carolina with Fred Price and Clint Howard of Mountain City, Tennessee
---
THEODORE BIKEL
Folk singer Theodore Bikel made his first Twin Cities appearance on February 23, 1964, at the Guthrie, presented by the Minneapolis Chapter of the Hadassah.
---
JOHN CAGE
The Merce Cunningham Dance Company appeared on February 25, 1964, accompanied by the music of John Cage and David Tudor – a Walker Center Arts Council concert.
Dan Sullivan of the Tribune called Cage and Tudor's music a "medley of squeaks, squeals, yowls, yammers, explosions, and general clatter."
---
JAZZ AT THE GUTHRIE '64
The Walker Art Center presented a series of four Sunday evening jazz concerts at the Guthrie starring four of the greatest jazz performers of the era.  The series was called the Walker Center Arts Council summer Jazz series.  Incredibly, tickets for these concerts were $2.50, $3.50, $4.00, and $1.75 for students.
The Thelonious Monk Quartet appeared on June 14, 1964.  An article (presumably from the Minnesota Daily) said:
Monk's compositions and innovations in rhythm and harmony have provided major inspiration to modern jazz musicians.  He has played a major role in the birth of be-bop and the avant-garde movement in modern jazz.
Dan Sullivan of the Tribune complained about the short concert of only 75 minutes.  Monk played piano and his sidemen were Ben Riley on drums, Gene Taylor on bass, and Charles Rouse on tenor sax.
The Coleman Hawkins Quartet appeared on July 19, 1964.  With him were Eddie Locke on drums, Paul Neves on Piano, and Major (Mule) Holly on bass.  Hawkins played played tenor saxophone.
The Dizzy Gillespie Quintet appeared on August 19, 1964, before a capacity crowd.  He and his band played for 2 1/2 hours.  In his Quintet were James Moody, on Flute, tenor and alto saxes; Christopher White on bass; Kenny Baron Piano, and Rudy Collins on drums.
The Gerry Mulligan Quartet, with Dave Bailey, Bob Brookmeyer, and Bill Crow, appeared on September 27, 1964.
The Preservation Hall Jazz Band with Sweet Emma Barrett and Her Boys performed on October 18, 1964.   Sweet Emma was the "belle gal," dressed in a flaming red suit and beany to match.  Around her right calf was her trademark band of bells.  She danced and (this is unclear) played banjo while seated in a straight backed chair.  Sidemen included Percy Humprey, Emanuel Sayles, Alcide Pavageau, Jim Robinson, Josiah Frazier, and Willie Humphrey, Jr.  This was a bonus Jazz concert for summer Jazz at the Guthrie subscribers.  The album "Sweet Emma and Her Preservation Hall Jazz Band" was recorded at this session.  Presented by the Walker in association with Jass Inc.
---
1965
GEULA GILL
Geula Gill & Company brought her show to the Guthrie on February 27, 1965, presented by the Minneapolis Chapter of Hadassah.  Ms. Gill was an Israeli singer and actress, and had appeared on the Ed Sullivan Show in 1948.  She could sing in a few languages and several octaves.  She was accompanied by a bass player and two guitar players, who sometimes sang with her.
Allan Holbert of the Tribune said that she and her group were so appreciative to Peter, Paul, and Mary for the song "If I Had a Hammer" that they thought about changing their name to "Abraham, Isaac and Sarah."
---
AMERICAN FOLK MUSIC SERIES
The Walker Center Arts Council presented three Saturdays of Folk music in the Spring of 1965.
Folksingers Almeda Riddle, Mainer's Mountaineers, and Kirk McGee appeared on March 6, 1965.
Folksingers the Lilly Brothers and Clarence Ashley appeared on March 20, 1965.
Reverend Gary Davis, Elizabeth Cotten, and Jesse Fuller performed on April 3, 1965.
---
DUKE ELLINGTON
Duke Ellington and His Orchestra, , performed on March 23, 1965, to a sellout crowd, presented by the Walker Center Arts Council.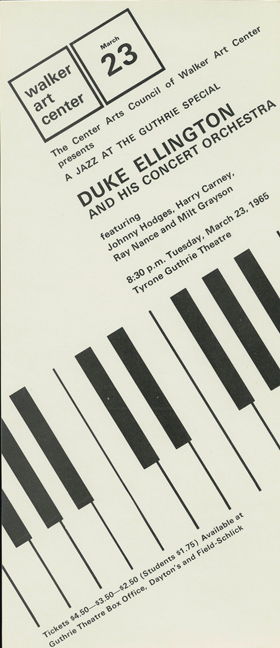 Don Morrison, Star columnist, reflected that he had seen a Duke Ellington show 19 years ago and it was still the same, and still excellent.  Some of the old stars in the band were still alive;  Cat Anderson, Paul Gonsalves, Sam Woodyard, Harry Carney, Lawrence Brown, Johnny Hodges, Cootie Williams, Ray Nance, Milt Grayson, and Mercer Ellington.
---
JAZZ AT THE GUTHRIE '65
The Walker Art Center again presented a series of four jazz concerts at the Guthrie starring four of the greatest jazz performers of the era.  The series was called the Walker Center Arts Council summer Jazz series.
---
CHARLES MINGUS
The Charles Mingus Quintet, performed on May 30, 1965.    The audience was not sold out, numbering about 1,200.
Allan Holbert of the Tribune found the concert for the most part "stimulating, fresh and skillfully presented."  Sidemen were Dannie Richmond on drums, Charles McPherson on alto sax, Lonnie Hillyer on trumpet, and Jaki Byard on piano.  Mingus played bass.
Charles Helm:
I stumbled upon info that this Mingus concert, sponsored by the Walker at the Guthrie, was recorded and issued on albums twice.  The Guthrie concert was first issued on the Mingus album "My Favorite Quintet" (Fantasy label, 1965)  https://www.discogs.com/release/2072924-Charles-Mingus-My-Favorite-Quintet
Then in 1980 it was reissued as one album of the double album set "Portrait" by Charles Mingus on the Prestige label (the other album in this package was a 1964 live show from Town Hall in NYC).
https://www.discogs.com/release/2429223-Charles-Mingus-With-Eric-Dolphy-And-Jaki-Byard-Portrait
For the release of the 1980 Portrait double album the great jazz pianist Jaki Byard, who played with Mingus for both concerts, wrote liner notes.  Below is an excerpt of Jaki's liner notes for Portrait where he describes the generous treatment and reception for the Guthrie show and his encounter with a local woman who was a CAC member (Mingus was infamous for being cantankerous and rude) plus some details on "My Favorite Quintet" and "Portrait."   Cool that this concert was recorded and issued twice on albums and it included this insider info on WAC's Center Arts Council in action hosting concerts. Mingus' band at this concert is well deserving of the album's title My Favorite Quintet.
EXCERPTS FROM JAKI BYARD'S LINER NOTES on the 1965 gig at the Guthrie Theatre in Minneapolis
"……Before the concert, red carpet treatment was in full bloom: limousine service from the airport, cocktails and hors d'oeuves, seminar, then dinner. I noticed this charming older women, all agog over Mingus, just a-chatting away. Finally, she came over to me and right away I asked her: "What the hell is it that you find so intriguing about Mr. Mingus?" She said, "I adore his impudence, he has such enthralling surliness, like an English lord, ya know!" I said, "Uh-huh" (and half understood what she meant). But her statement really helped to turn me on to the behavior of the late Charles Mingus, and I think after that I was more tolerant than ever before of his weird ways."
"My entire association with Charles Mingus was an honor and a treat — including all the moods, temperaments, personality clashes, cooperation, and feelings of accomplishment and self-gratification. I can't find any superlatives strong enough to define what those years meant to me. I left Mingus in 1968 primarily because of domestic obligations, and also because I felt an urge to pursue in my own ways some obligatory missionary work in the growing jazz community. But I continued to appear with him, off and on, until 1976.
Jazz, in my language, is a four letter word spelled L-O-V-E. Charles Mingus was one of the people who taught me to spell."
— Jaki Byard
---
JOHN COLTRANE
The John Coltrane Quartet performed on June 20, 1965. It was a capacity audience.
Allan Holbert of the Tribune  reported that two of his usual sidemen, pianist McCoy Tyner, and bass player James Garrison, had missed a plane somewhere, so local musicians Dub Frazier took over on piano and Maurice Turner filled in on bass.  Elvin Jones was there as his regular drummer, and Coltrane played the sax.  After the first tune after intermission, Garrison and Tyner finally arrived, and Holbert called it a "striking improvement in the caliber of the ensemble work."
---
HERBIE MANN
Herbie Mann performed on August 29, 1965 with his octet.
Mann was described as "the bossa nova pioneer," and an article said that he had created a new "ethnic jazz" by combining African and Latin American rhythms with American jazz.  His sidemen were:
Dave Pike, vibraharp
Jack Hitchcock, trombone
Mark Weinstein, trombone
Jane Getz, piano
Earl May, bass
Bruno Carr, drums
Carols Valdes, conga drums
---
BILL EVANS
The Bill Evans Trio performed on September 19, 1965, as part of the Walker Center Arts Council's "Jazz at the Guthrie" series.  The audience numbered about 1,100.
Evans was originally scheduled to perform on July 18, but illness forced a postponement to a later date.  Evans' sidemen were Chuck Israels on bass and Arnie Wise on drums.  Evans played piano.
Allan Holbert from the Tribune wrote that a lot of local bass players were at the show to see Israels, calling him "tasteful and articulate."
---
ODETTA
Odetta performed at the Guthrie on November 14, 1965, presented by the Walker.  This was Odetta's first appearance in Minneapolis.  The concert was sold out.
Critic James Fuller of the St. Louis Park Dispatch gave this review on November 18, 1965:
Odetta… is the only woman folk singer around who could get away with doing the kind and variety of songs she does.  Her contralto is recognized as one of the great contemporary voices in folk singing.
The opened the program with some cliches of the folk song business – tunes like "If I Had a Hammer" – and with her warm, honest approach made them sound new.  By the middle of the the second half of the program, the crowd was clapping with her on the chain gang songs, and on her third encore, the one "freedom" song she sang all night, the audience joined in the singing and clapping without an invitation.
As reported above, Allan Holbert of the Tribune reported that she started with some overworked folk songs, followed by some more obscure material.  She stayed away from the contemporary protest songs, although she did announce that the next number dealt with a racially mixed marriage.  Then she launched into "Froggy Went a-Courtin'"  She was backed by Leslie Brinage on bass and Bruce Langhorn on tenor guitar.
---
1966
The Walker Art Center ran two concurrent series of musical shows in 1966 – one was the "Jazz at the Guthrie" series, and the other was the "Folk Music at the Guthrie" series.  Both genres were quite popular at the time, and the Walker brought in the best of the jazzmen and the most authentic folk music purveyors.
The Modern Jazz Quartet performed on January 21, 1966, as a special Walker Center Arts Council's "Jazz at the Guthrie" concert.
---
BILL MONROE AND MANCE LIPSCOMB
Bill Monroe and the Blue Grass Boys, with Mance Lipscomb, performed on March 5, 1966, as a part of a Folk Music at the Guthrie series.
Monroe was accompanied by guitar, banjo, bass, fiddle, and Monroe's mandolin.  Maury Bernstein acted as m.c. and told the crowd that the performs would conduct a folk music workshop on March 6, 1966, at the Walker.
Allan Holbert at the Tribune reported that while Lipscomb was a bit hard to understand, he was indeed the real thing.
Tom Scanlan at the Star mused at how many genres Lipscomb sang, and the influence of American "rural Negro music" on music today.
---
The American Jazz Ensemble performed on March 18, 1966, as a Walker Center Arts Council's "Jazz at the Guthrie" late-night special.
---
DOC WATSON

Doc Watson, Gaither Carleton, and the Southern Fife and Drum Corps performed on March 19, 1966, as a part of a Folk Music at the Guthrie series.  Watson also appeared with his son Merle.  He played the guitar, banjo, harmonica, and 12-string guitar.
Tom Scanlan of the Star wrote:
On the same day (March 19, 1966) of Doc Watson's concert, was a performance of the Southern Fife and Drum Corps.  This group was made up of Ed Young, Lonnie Young, and G.D. Young from Como, Mississippi.  Despite their name, they didn't play military music, but "a strange, African-sounding blend of complex rhythms and haunting melody."
But the high shrill, can fife of Ed Young floating over the driving polyrhythms of the bass and snare drums created a memorable experience.  The visual content was almost equal to the musical, with half handing of the player an inseparable part of the artistry.  Their music, a remnant of slave culture popular as late as the last decade in rural Southern areas, was difficult and wearing, but for all that, hypnotically powerful.
---
SERENDIPITY SINGERS
The Serendipity Singers appeared on March 20, 1966, presented by the Minneapolis Chapter of Hadassah.
---
The Landreneau Cajun Band, Norman Kennedy, and Grant Rogers performed on April 2, 1966, as a part of a Folk Music at the Guthrie series.
Grant Rogers, from Walton, New York, sang and played in a "Northeastern" American genre
Norman Kennedy was from Aberdeen, Scotland and sang Scotch and Gaelic songs of his country
Adam and Cyrien Landreneau were from Mamou, Louisiana, and they sang in French.
---
CHARLIE BYRD
Jazz guitarist Charlie Byrd performed two concertos with the Minneapolis Symphony on April 17, 1966, presented by the Minneapolis Symphony and the Walker.
Allan Holbert of the Tribune found his performance to be a disappointment.  Holbert is rough, calling the first of the two concertos "an artistic failure," saying "he forgot notes, he missed notes, he produced a tone that is beneath his capabilities."  The second concerto was better, wrote Holbert.
---
ELLA FITZGERALD
Ella Fitzgerald performed two shows on April 21 and 22, 1966, part of the Walker's "Jazz at the Guthrie" series.  Both shows were sold out.  This may have been the first time that two shows were scheduled at the Guthrie.
The normally reticent Minnesota audience clapped appreciably before and after each song.  She came with a trio headed by pianist Jimmy Jones.
---
Clark Terry and the Bob Brookmeyer Quartet performed on May 22, 1966, part of the Walker's "Jazz at the Guthrie" series.
---
CHARLES LLOYD QUARTET
The Charles Lloyd Quartet performed on May 22, 1966, part of the Walker's "Jazz at the Guthrie" series.
Lloyd's sidemen included Keith Jarrett on piano, Cecil McBee on bass, and Jack Jonette on drums.  Lloyd played tenor sax and flute.
Where magazine's promo said that "Lloyd, along with John Coltrane and Ornette Coleman, is considered one of the foremost men of contemporary jazz.  He infuses the tenor saxophone and flute with a new sound that promises to be the epitome of the New Wave in jazz."  (April 6, 1968)
The headline of Peter Altman's review in the Star was "Charles Lloyd Quartet Concert is Quite Bizarre."  Peter goes on to call it "incredible, frenzied" and said that at least "at least 100 persons huffed out in indignant and conspicuous protest."  He talks about weird harmonies and unpredictable sifts of tempo.  He writes that "the quartet is not an ensemble, it is a conflict.  Its members have imagination, strength, and force.  If you can stand it."
Similarly, Allan Holbert at the Tribune called the performance a "puzzlement."  Sometimes the jazz was cool, spontaneous and exciting.  At other times it was loud and monotonous, almost if the players were putting us on."
---
OSCAR PETERSON
The Oscar Peterson Trio performed on July 24, 1966, part of the Walker's "Jazz at the Guthrie" series.
The Trio had been hit recently by retirements, so the personnel had been changed  Bassist Sam Jones had replaced Ray Brown.  Drummer Louis Hayes had replaced Ed Thigpen
---
MIRIAM MAKEBA
South African singer Miriam Makeba performed to a near-capacity crowd on September 12, 1966, presented by the Walker.
Reviewer Thomas Scanlan of the Star wrote that Makeba "dazzled everyone within hearing.  Singing a repertoire that alternated among her own African music, Brazilian jazz and a variety of songs in English, Miss Makeba seemed to please an enthusiastic audience with everything she tried."  She could sing in three or four languages, and she received a standing ovation.
Jim Fuller of the St. Louis Park Dispatch noted that she was backed by a trio whose names were not in the program, and she had trouble with feedback from the sound system.
---
AHMAD JAMAL
Ahmad Jamal performed on October 16, 1966, presented by the Walker.  It was a capacity audience.
Although the audience  was very appreciative of Jamal's work on the piano, Peter Altman's review in the Star is headlined "Ahmad Jamal Trio is Short on Soul."  Jamal's sidemen were Jamil S. Nasser on bass and Frank Gant on Percussion.
---
DON SHIRLEY TRIO
The Don Shirley Trio performed on October 31, 1966, presented by the Walker.
Lew Reeve in the Star reported that Shirley had an interest in playing the diverse musical forms of Americana.  During the show the trio played a show tune, Protestant hymn, Negro spiritual, military march, and a Scarlatti Sonata.  Members of the trio were cellist Juri Taht and Kenneth Fricker.  Mr. Shirley played the piano.
---
1967
ORNETTE COLEMAN
The Ornette Coleman Trio, performed on April 30, 1967, part of the Walker's "Jazz at the Guthrie" series.  The event attracted half a house.
The rest of the trio was David Izenzon on bass and Charlie Moffett on drums.  Coleman played the also sax, the musettte, the violin and the trumpet.
Reviewer Allan Holbert of the Tribune wrote that some of the pieces were avant garde, and some were more accessible, traditional, which got more applause
---
FOUR FRESHMEN
The Four Freshmen, billed as Jazz Vocalists, appeared on May 7, 1967.
The Four Freshmen were Ross Barbour, Ken Albers, Bill Comstock, and Bob Flanigan.  The Show was sponsored by the Minneapolis Jaycees' Arts and Culture Committee.
---
CANNONBALL ADDERLY
The Cannonball Adderley Quintet, with Nat Adderley, performed on May 21, 1967, part of the Walker's "Jazz at the Guthrie" series.
---
THEODORE BIKEL
Theodore Bikel appeared on June 11, 1967, sponsored by Friends of Torah Academy.
---
NINA SIMONE
Nina Simone performed on June 18, 1967, part of the Walker's "Jazz at the Guthrie" series.
Allan Holbert's review in the Tribune spent half its space focusing on Ms. Simone's outfit:
She was dressed in a sleeveless, formal pants-suit made of what looked like white basketball net.  It was lined, incidentally, with a silky fabric which, in color, could not be distinguished from her skin.  Add to this gold-colored, high-heeled slippers, while, tassled armbands and earrings jangling and swinging three inches from her ears and you have my nomination for wildest-looking soloist in the next Downbeat poll.
The photo below is screen grab from a TV performance on YouTube, and it might be the same outfit: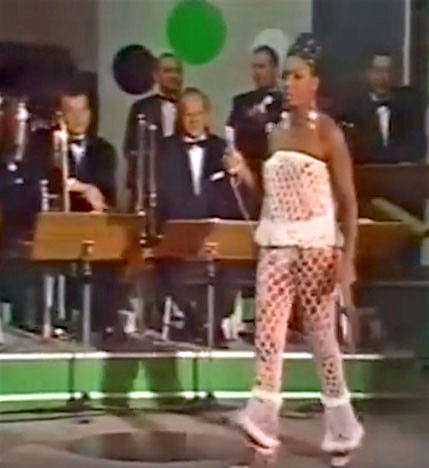 As for her performance, Nina was backed up by her own trio of guitar, bass, and drums players.  Holbert wrote,
Hers is an unusually straight-toned voice that penetrates like a not needle.   It weeps on the sad songs and crackles with fury on the mad songs.  …  She does about everything – pop, protest, blues, gospel, folk.
---
BLUES PROJECT – CANCELLED
The Walker scheduled a concert by The Blues Project at the Guthrie on July 9, 1967.  The show was cancelled 48 hours before it was to go on, ostensibly because of the illness of lead singer Danny Kalb.  This was just after Monterey Pop, and the band was losing its members, according to Wikipedia.
Because of the short notice, tickets had been sold and programs printed.  The program below was found in the file at the Walker Archives.
The file reveals that the opening act was to be a local folksinger named Kay Huntington, who was to play for 15 minutes, and the the Blues Project was to play for 37 minutes.  The show was described as being divided into two halves – the two acts would trade off, but it doesn't sound like it was intended to be two shows.
John Ludwig, the program director at the Walker who had negotiated the contract, was hopping mad at what he called the "arbitrary" cancellation, and in a letter to the group's agent at William Morris in New York, seemed to be calling for proof of Kalb's illness.  The Walker was out $450 in printing costs, and he threatened to pass those costs on to the group.  Apparently that was a lot of money to lose in the Walker's tight budget, and Ludwig was rethinking his decision to book rock groups again.
If this had gone on, this could have been the first rock act ("New York Folk  Rock") at the Guthrie.
---
HORACE SILVER
The Horace Silver Quintet performed on July 30, 1967, part of the Walker's "Jazz at the Guthrie" series.
Allan Holbert of the Tribune deemed Silver's music to be pleasant and highly listenable – a little old fashioned, but with a desire to connect the the audience, which a lot of the newer jazz groups didn't have.  Silver's men were Woody Shaw on trumpet; Tyrone Washington on tenor sax; Larry Ridley on bass, and Roger Humphries on drums.  Silver played the piano.
---
BUFFY SAINTE-MARIE
Buffy Sainte-Marie performed on September 10, 1967, presented by the Walker.
Tom Scanlan of the Star reported that the in-depth series of traditional jazz and folk music concerts have been replace by "a wide-ranging slate of offerings."  Perhaps as a transition,  Buffy St. Marie was booked as a folk singer, although she eschewed the name.  Scanlan tried to describe Buffy's "Unique, Exciting" songs, and his final line in the review was "It is engaging madness."
---
RAMSEY LEWIS TRIO
The Ramsey Lewis Trio performed on September 24, 1967, presented by the Walker.  It was a near-sellout.
Allan Holbert at the Tribune crabbed that even though people enjoyed the show, there was nothing new or experimental about it, therefore, it wasn't stimulating.  He wanted the Walker to bring in "the new, the adventurous, the unproven jazz, the jazz that could practically be exhibited an place else in town."  Lewis's sidemen were Cleveland Eaton on bass, and Maurice White on drums.  Lewis played keyboards.
---
BABATUNDE OLATUNJI
Babatunde Olatunji, a troupe performing African music and dance, came to the Guthrie on November 5, 1967, presented by the Walker. This performance was in connection with the gallery's show of Art in the Congo.
Peter Altman of the Star called it "the most relentless, enervating, overpowering total experience to be seen here in months."
The troupe consisted of five dancers, three drummers; Olatunji was one of the drummers.  He was "spreading the gospel" by taking the show around the world.  He also hoped to give U.S. Negroes a sense of pride in being black by aletring them to their native cultural traditions.
---
PAUL BUTTERFIELD
The Butterfield Blues Band performed on November 12, 1967, presented by the Walker.
There were recent personnel changes:  Elvin Bishop on guitar, Paul Butterfield on vocals and harmonica, Mark Naftalin on piano, organ, and guitar; Bugsy Maug on bass, Phillip Wilson on drums, and a three-man brass section.
A review by Jim Berman in the Minnesota Daily says that the first show was a disaster, but got better in the second.  They were moving away from being a blues band and going into electric jazz.  Berman especially applauded Naftalin's keyboard skills.
Peter Altman's review in the Star was mixed – the headline read "Almost all Electronics & No Content," while the last line said that the concert "moved and grooved."  Again, good marks for Naftalin, who Altman called the melodic center.  Butterfield's harmonica provided the most distinctive sound, a "real Negro blues feeling."  But he felt that the group was uncohesive, and that the music was almost all electronic technique and almost no content.
Altman's review gave no indication that there were two shows.
---
ROCK COMES TO THE GUTHRIE
The way I see it, the Butterfield show was the first rock act to be staged at the Guthrie.  The group was not jazz, not folk, but an electric blues band that had performed at Dayton's in May 1967, and would appear at the Depot in 1970.
Curiously, it would take a few more rock acts – notably Janis Joplin in August 1968 – for the press to pick up on the change.  It wasn't until June 1, 1969, that the Tribune had this to say:
Walker Art Center, formerly famous for its Jazz at the Guthrie concerts, is now getting into more of a Rock at the Guthrie thing.
---
IAN AND SYLVIA
Ian and Sylvia performed on December 1, 1967, presented by the Walker.
Ian Tyson and Sylvia Fricker were Canadian folk singers who were making their first visit to Minneapolis in six years – they used to sing at the Padded Cell.  Sylvia had written "You Were on my Mind," and Tyson had written "Four Strong Winds."
---
RICHARD DYER-BENNETT
Richard Dyer-Bennett, folksinger, performed on December 9, 1967, presented by the Walker.  An audience of 700 came to see him.
According to a review by Phillip Gainsley in the Star, Dyer-Bennet divided his program into four parts:  three of which are geographical and one being poems of Shakespeare set to his own music.  He accompanied himself on the guitar and lute.  He was called back for several encores, in which he demonstrated his mastery of dialects and inflection.
---
1968
RAVI SHANKAR
Ravi Shankar performed on January 17, 1968, to an audience of about 1,500 – about 200 beyond capacity, as chairs were set up on stage behind the performers.  He was supported by Alla Rakha on tabla and a woman tamboura player.
The Walker Art Center planned a lecture-demonstration the evening before Ravi Shankar's concert.  The program about the Sitar and Sarod was presented by Tony Glover and J. Pease, "students of Ustad Ali Akbar Khan" at the Walker.
Either before or after the show, Shankar appeared on Bill Carlson's show "This Must be the Place."
Where magazine wrote that Shankar had left his brother's famous dance company at age 17, where he was a star dancer, to renouse all worldly posessions and retreat t  a small central Indian town to master the art of playing the sitar.  After 7 1/2 years of constant practice, he began his determined mission to bring Indian music to Western audiences.  Raga was enjoying an ever-growing popularity in the U.S., especially because of it by the Beatles and other rock groups.
Peter Altman of the Star noted that Shankar was voted "scenemaker of the year" in the annual Pop Eye poll of the Village Voice, and the entire "in crowd" of the Twin Cities was out in full force to see the genius of the sitar in his first local appearance.  Altman deemed the performance "part brilliant artistry, part extension-division course in Oriental music, and part hip milieu."  Shankar provided copious and relatively coherent explanations of the theories behind Indian classic music, the structural elements in sitar and tabla improvisation, and the principles of Indian harmonics.
The audience came dressed in saris, Mao suits, hip-high boots, and brightly painted neckties, and Altman said they would have come away infatuated had Shankar played 653 choruses of "Three Blind Mice."  But what he did play was five pieces:  an opening sitar solo, and then the long second piece involving conversation with the tabla, supported by the background of the tamoura.  After intermission there was a tabla solo, another sitar solo and a second ensemble piece.
Allan Holbert of the Tribune noted that the ragas began slowly and thoughtfully, then developed into wild, swinging, entrancing climaxes.  In the final number, the melodic and rhythmic action was traded back and forth between the sitar and the tabla.  Holbert concluded his review with "An evening of sitar music is an exotic place to visit, but I wouldn't want to live there every Friday night."
---
JUDY COLLINS
Judy Collins performed on February 18, 1968, presented by the Walker.
She was supported by Bill Lee on bass, and Paul Harris on electric organ.  Miss Collins occasionally played piano.
Collins left Peter Altman of the Star speechless, saying she makes her listener wish that he were a better person.  The headline of his review read "Judy Collins Exposes Her Soul and All its Anguish." Further into his review, he says, "She has a golden alto, breath control and vocal range that outdistance any of her rivals."
Allan Holbert of the Tribune wrote that Collins' material – mostly about love and war – could be called contemporary folk music, presented simply and with very little physical mostion, but with great emotional intensity.
---
JAZZ AT THE GUTHRIE '68
The Walker Art Center presented another Jazz at the Guthrie series in the Spring of 1968.
---
CHARLES LLOYD
The Charles Lloyd Quartet performed on April 7, 1968, presented by the Walker's "Jazz at the Guthrie" series.
Lloyd's Quartet included Keith Jarrett on piano, Ron McClure on bass, and Paul Motian on drums.  Lloyd played tenor sax and flute
This concert was only three days after Dr. Martin Luther King was assassinated, but thankfully Minneapolis was spared violent protests and it was determined that the concert would go on.  There was no mention of Dr. King at the concert, reported Allen Holbert of the Tribune.
Holbert described Lloyd's music as "wild, far-out jazz that has been described as 'post avant garde.'"
---
ARLO GUTHRIE
Arlo Guthrie performed on April 20, 1968, in a show sponsored by the Walker.
Peter Altman of the Star noted that the audience for this show was young and overappreciative of the talent of Guthrie.  Altman found Guthrie to be funny and ready to be an opening act, but not the star.
The obscure, sitar-flavored, semi-agonized singing lacked charm, individuality, life and impact.  Guthrie's flair is for comedy – droll, slow, anti-authority comedy – and he should stick to it…  I found his concert dull and misdirected.  For a short program, it was too long.
---
JAZZ '68
GARY BURTON
The Gary Burton Quartet performed on April 28, 1968, presented by the Walker's "Jazz at the Guthrie" series.
Burton was formerly a sideman with George Shearing and Stan Getz, and his group's sound was described jazz/rock, a new sound in the jazz field.  Burton played the vibraharp (vibes), and his group was Larry Coryell on electric guitar, Steve Swallow on bass, and Bob Moses on drums.  (Where magazine, April 27, 1968)
Allan Holbert of the Tribune wrote that Burton's jazz, based mostly on original tunes, required more than one hearing to be fully appreciated.  The result of the music is fascinating, but not easy to comprehend.
---
MILES DAVIS
The Miles Davis Quintet performed two concerts on May 26, 1968, presented by the Walker's "Jazz at the Guthrie" series.
Davis's backup musicians were Wayne Shorter on tenor sax, Herbie Hancock on piano, Ron Carter on bass, and Tony Williams on drums.  Davis played trumpet.
Peter Altman of the Star called Davis "supercool and hypertense at the same time," walking offstage whenever he wasn't playing.  He performed one number before intermission and three nonstop afterwards afterwards, for a total of 1 3/4 hours of playing time.
---
MOSE ALLISON
The Mose Allison Trio performed on June 23, 1968, presented by the Walker's "Jazz at the Guthrie" series.
Allison performed with two sidemen:  Pete Magadini on drums, and Walt Booker on bass.
Allan Holbert of the Tribune explained that Allison was a white man from Tippo, Mississippi who sounded black.  At the beginning of each half of the concert, Allison did some straight piano instrumentals.  "He has a voice like a lazy, velvet – toned, tenor saxophone."  Holbert wrote that Allison's jazz wasn't avant garde, or even modern.  "But it was melodic without being repetitious and it makes you want to listen and it makes you want to move."
---
MUDDY WATERS
Muddy Waters and his Band performed on July 14, 1968, presented by the Walker.  See an ad on Robb Henry's blog.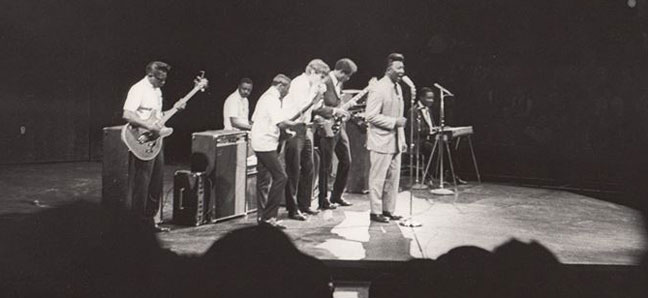 Muddy Waters (guitar and vocals), Otis Spann (piano and vocals), Sammy Langhorn (lead guitar), Luther "Georgia Boy" Johnson (bass and vocals), S.P. Larrie (drums), Paul Oscher (harp).
Tom Scanlan of the Star wrote that Waters and his band blew the roof of the Guthrie.  Waters opened with a half dozen slow, intense numbers from the 1940s and '50s before turning over the rest of the first set to his rock band.  In the second half, Waters returned to do three numbers, using "weird chords and odd jumps … at once more old-fashouned and farther out than anybody on stage."  Then Otis Spann took over.
---
JANIS JOPLIN
Janis Joplin with Big Brother and the Holding Company performed on August 18, 1968, presented by the Walker.  The date had been changed from August 11.
Janis was 25 years old at the time, and had been with Big Brother since 1966.  Members were Peter Albin on bass, David Getz on drums, James Gurley  and Sam Andrew on guitars.  The group's LP "Cheap Thrills" had just been released that month.
The Promo in Where magazine is slightly amusing:
Another folk-rock group, this one from the West Coast, performs at the Guthrie Theater Sunday, August 18.  Big Brother and the Holding Company, a four-man and one-woman group, is being sponsored by the Walker Art Center.  The woman of the group is 25-year-old Janis Joplin, a Texan who is considered the top while blues singer today.  She joined the Big Brother group when it was formed in 1965.  The five project the emotions about which they are singing with a power that has nearly mesmerized audiences.  The present an exciting combination of blues, rock, folk and spiritual rhythms from the irreverent to the zany, with a good measure of humor.    (August 1968)
Janis waves as she leaves the building.  Mike says the photo below was the last frame on the roll, accounting for her fingers being cut off.  Also, there was (of course) Southern Comfort in her cup.
Allan Holbert of the Tribune didn't like the volume or the talent of the band, but he deemed Janis "an exceptionally talented performer.  She has stage presence bursting out all over the place.  Really confident.  She bumps and grinds like and kind of a young Mae West.  She has a fantastic voice that will do about anything for her, although she does seem to mistreat it."  He compares her performance to a minstrel show, where, instead of using black face, she uses black voice.
Daniel Marston of the Star was quite descriptive of her performance:
Janis sang, screamed, stomped, pleaded, and cried, holding the audience in a spell until the last cooing syllable – and thunderous, cathartic, ear-splitting crescendo.  The concert felt like a baptism, like a rite of purification and cleansing.
Somewhere I read that Big Brother noted that it was the first time they had played in a theater venue with no light show and no dancing, but I have no citation for this.
---
DOC WATSON
Doc Watson performed on September 15, 1968, presented by the Walker.  He was accompanied by his son Merle.
Peter Altman's review in the Star reveals that Watson was a blind guitarist and singer from North Carolina.  He was a scholar of folk and bluegrass music, tracing the histories of songs as far back as Elizabethan England.  The first half of the program was dedicated to old-time music.  After intermission he played songs by popular country singers.
---
DICK GREGORY – CANCELLED
Dick Gregory was scheduled to appear on October 6, 1968, sponsored by the Institute of Afro-American Studies.  The appearance was cancelled because too few tickets were purchased.
---
FLATT AND SCRUGGS
Flatt and Scruggs, with the Foggy Mountain Boys, performed on October 13, 1968, presented by the Walker.
Daniel Marston's review in the Star called Flatt & Scrugg's music "fast and friendly," and their humor refreshing.  They played their most famous song, the Theme from the Beverly Hillbillies" and presumably songs from the soundtrack of the film "Bonnie and Clyde."  They were accompanied by the Foggy Mountain Boys, who were not listed in the program.
---
UNITED STATES OF AMERICA – DID NOT HAPPEN

There was one ad that the band The United States of America was to perform on October 20, 1968, presented by the Walker.  But then no more was said about it.  Wikipedia says that the band was seriously breaking up about this time.
Charles Helm wrote:
I'm a fan of this band and was surprised to see them listed in Walker's own archival list of past shows.   I dug out my CD reissue of their only album – the leader Joseph Byrd wrote extensive liner notes for this reissue that describe the very few live shows they played on the "tour" they attempted after the album came out.  They only played three or four cities and Byrd described in detail each show in each town; most went badly.  Minneapolis (and Guthrie) wasn't one of the cities they played…they broke up after the tour.  Guessing that a Guthrie date was, at some point in the works, hence the file on them or single ad listing but no one threw away the file when the gig didn't come together or was cancelled.
---
ODETTA
Odetta performed on  November 17, 1968, presented by the Walker.
Peter Altman of the Star wrote that Odetta's music seemed dated, and when she tried to be more contemporary, she seemed to be contriving her act superficially.  She still had her huge, deep voice.  Disturbingly, Altman observed, "She talks, like many people nowadays, about love and togetherness, but one cannot ignore in her remarks an unadmitted undercurrent of racial hostility and resentment."
---
Blood, Sweat & Tears was originally scheduled for December 8, 1968, but the concert was postponed due to illness.  The show was held on January 16, 1969.
---
1969
BLOOD, SWEAT & TEARS
Blood, Sweat & Tears appeared at the Guthrie on January 16, 1969, presented by the Walker.
Their eponymous album came out that February.  Warren Walsh:  "I was disappointed as I expected the Al Kooper line-up but quickly forgave them when David Clayton-Thomas powered up."
The show started almost an hour late, because one of their nine members – a trumpet player – couldn't make it and they had to do a bit of extra rehearsing with a substitute.  When it did start, the show lasted less than an hour.  But reviewer Allan Holbert of the Tribune called it "one of the most exciting hours of music – classical, jazz, rock, or anything – that's been heard around here in quite a while."  He was mightily impressed with Clayton-Thomas's voice, which he thought sounded as black as can be.  He noted that the sound wasn't perfect because the group had to borrow local equipment for some of their own which was lost or broken in transit.
Peter Altman of the Star wasn't as forgiving.  The 45 minute wait to get in was "outrageous amateurism," and the short show left their fans "disgruntled even more than waiting had."  The "noise" could have "drowned out an atomic explosion," and when the whole band plays at once, it is a "deafening cacophony."  But all in all, those things could be overcome, and he saw much talent in several of the players, and wrote that the group's music has "force, complexity, imagination, and soul.  On a more professional occasion, I'd like to hear more."
---
PETE SEEGER
Pete Seeger performed on March 22, 1969, presented by the Walker.  It was a sellout crowd, with overflow seating on the stage behind him.
Accompanying himself on the banjo or the 12-string guitar, Seeger ran the gamut of  folk tunes, including love songs, protest songs, sing-a-long songs (not popular among shy Minnesotans), old songs, and his own songs.  He moved from one side of the stage to the other in consideration of the people seated on the stage behind him.
---
MICHAEL LESSAC
Local folk singer Michael Lessac, with Music Projection, performed on March 30, 1969.
Michael Lessac
Allan Holbert of the Tribune wrote that Lessac was a guitarist, singer, composer, and teller of not-always-funny stories.  His songs and lyrics could be described as in an "urban folk style."  Lessac was once in the Metropolitan Opera children's chorus and his father is a voice teacher.  He was backed by Bill Perlman on guitar, Doug Kenny on electric bass, and Tony Glover, who played mouth harp on a couch the entire evening.
Music Projection
The warmup group was called the Music Projection – four guitarists, a drummer, and two girl singers who Holbert wrote did an excellent job.
---
LED ZEPPELIN
Led Zepplin played the Guthrie on May 18, 1969, presented by the Walker.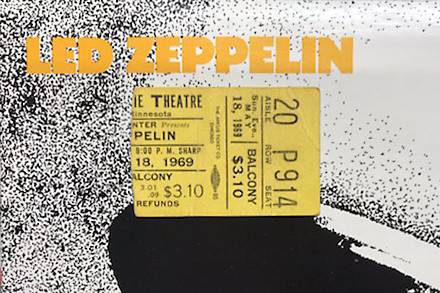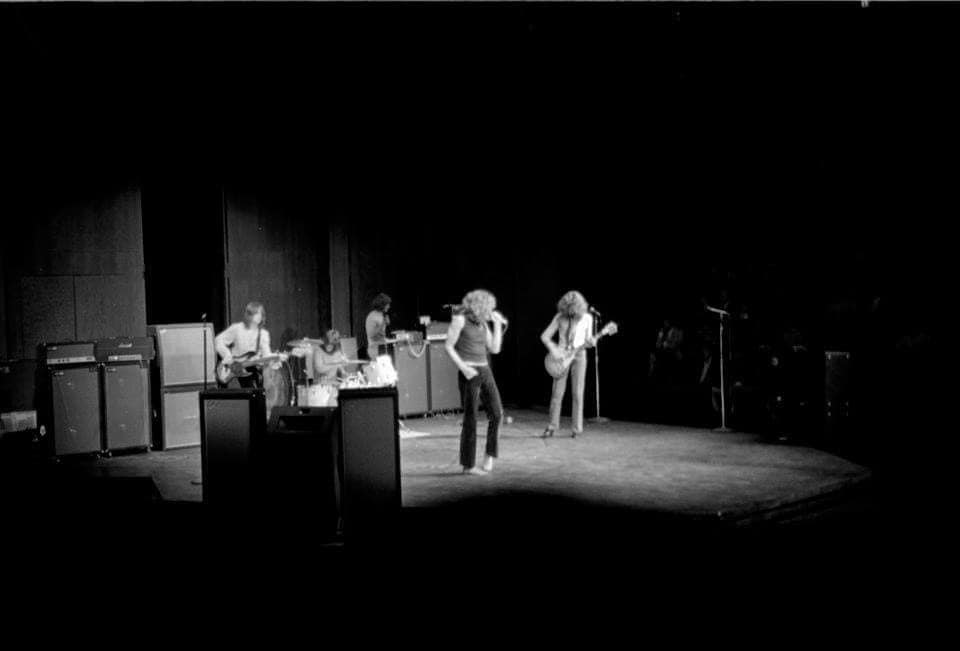 The band started late;  they had trouble with the borrowed equipment they had to use when their own PA system was damaged in transit.  And reviewer Peter Altman of the Star complained about how loud it was.  But this time it was Altman who said it was the the strongest music heard in the Guthrie in quite some time.  "It revealed not just four players of extraordinary talent but a group which understood that ensemble playing implies communication and mutual stimulation among its members.  And all seemed to respect the audience."
The leader was guitar player Jimmy Page, formerly of the Yardbirds.  The others were John Bonham on drums, John Paul Jones on bass, and singer Robert Plant, who Altman described as "a masculine Janis Joplin  He tortures and strains his voice to communicate desperation, uncontrollable agony and delirious joy.  Plant is overwhelming."
It was reported to be an Amazing Show – they played for 2 1/2 hours with no opening act.
---
THE WHO

The Who, with Koerner, Ray, and Glover, played the Guthrie on June 8, 1969, presented by the Walker.  It was shortly before Woodstock.  They had to add a second show as the 7 pm show sold out immediately.
The Who
John Entwhistle playing amongst his fringe.
---
---
Roger Daltry throwing the mike.  Someone said he threw it halfway across the Guthrie audience.
---
Peter Townshend doing his signature jump.
---
A review by Scott Bartell in the Tribune complained that the set he saw was only 45 minutes long.  The first song was "Heaven and Hell," and Bartell said that they exhibited "consistent strength, control and precision."  Bartell noted that Roger Daltry was frustrated by lack of room.  "After that came about six short pieces from 'Tommy,' which had been released on May 23, 1969.  The group went back to three old songs and ended very abruptly after a version of 'Shakin' All Over,' leaving the audience unsure whether to go or stay…  It was a concert worth hearing, but no one could be sure they had really heard a whole concert."
The review in the Star, bylined by Kicky Sherman and John K. Sherman, Jr., focused on the volume, writing that the audience was "bombarded" by the sound:  "Louder than a screaming jet, more powerful than a jack hammer, the Who assaulted, stunned, and delighted a largely young audience."
Steven Adams remembered, "It was the only show I ever went to where someone in the audience asked the act to turn the volume down. Townshend refused. My ears rang for the next two days. Their 'Live at Leeds' album is nearly a song-for-song duplicate of their Guthrie concert."
---
Party Crasher

The Insider reported that as the members of the Who smashed their equipment, "an impetuous boy who attempted to join in got as far as a couple of licks on the drum and guitar before a sideliner gave him the heave-ho.  It was a dramatic ending to a bash of a concert."
Gary Gimmestad reports:
Very near the end and leading up to the much-anticipated destruction and mayhem, Keith Moon slinked offstage while Townsend held focus. As the frenzy came to a fever pitch the floor trap opened and Moon rose out of the pit and circled back to his drums and the real destruction began. However, a stoner approached the stage, walking slowly toward Townsend with his arms outstretched. I don't know what Townsend's thinking was – "This guy is clearly whacked and potentially dangerous and I should just hand over the guitar," or "What the hell, this could be interesting." He did hand over the guitar and the energy was drained from the stage. It ended in anti-climax.
---
Koerner, Ray, and Glover

Koerner, Ray, and Glover opened the Who show and played for about an hour.  It was the Guthrie debut for the trio, and Koerner told a dirty joke.  Reviewer Bartell wrote that they were "not very well rehearsed but they still had their old feeling and kept a nice, steady beat."
The Star review called the KR&G segment refreshing, and they were received warmly by the audience.  They played songs from their early records and ended with the unaccompanied work song, "Linin' Track."  The group had actually split up by this time, so this was a reunion of sorts for the trio.
---
JOHNNY WINTER
Johnny Winter, with the Holy Modal Rounders, appeared on June 29, 1969, presented by the Walker.
Johnny Winter
It was Johnny's first time in Minneapolis.  See a poster on Robb Henry's blog.
Things were getting looser at the Guthrie – despite a no smoking rule at the theater, Tribune reviewer Allan Holbert wrote that one could get high just breathing the air during the Johnny Winter concert.  He  deemed Winter and his band "quite sensational…  Winter's sensuous dancing and body pulsations are probably best appreciated by those in the audience to young to remember Elvis Presley in his formative years."
Holy Modal Rounders

The Holy Modal Rounders featured Peter Stampfel on a green, electric fiddle and vocals.  Holbert described their act as "put-ons of old songs and country-western stuff.  I think they consider themselves more entertaining than they really are."
---
ZAPPA, COOPER
Frank Zappa and the Mothers of Invention (10 members) with Alice Cooper, performed two shows on July 13, 1969, presented by the Walker.
Frank Zappa
Mike Steele of the Tribune wrote that the depth and complexity, the subtlety and compelling richness of the Mothers' music could only be appreciated in person, and the performance at the Guthrie "musically tore the place apart."  The music defies categorization, and the band includes some of the finest musicians in the business, including leader Frank Zappa, who was called the great musical satirist of the day.  The concert was deemed fantastic and exciting, with songs that were few but long.
Reportedly the Zappa show featured mostly instrumentals as it was before Flo and Eddie joined.
Alice Cooper

Alice Cooper was a Zappa discovery and had yet to release their first album.  Reviewer Steele called them five gaunt maniacs who were into some very heavy music and some extraordinary theatrics.  Their act was part rock group, part performance art, and it was so loud that the words were drowned out, but the performance was entertaining.
---
ELVIN JONES
The Elvin Jones Trio performed on July 27, 1969, presented by the Walker as a "Jazz at the Guthrie" concert.
Jones was on drums, Joe Farrell on reeds, and Wilbur Little on bass.
Kicky Sherman of the Star reported that Jones performed to one of the most appreciative jazz audiences the Twin Cities has seen.  The young audience gave the trio three standing ovations.
Allan Holbert of the Tribune wrote a different story.  Although he said that Jones used to play with John Coltrane, he noted that the theater was half filled when the concert started, and many left at intermission.  The problem?
The solos were far too long, much longer than merited by the material in them.  The players, while working hard and with integrity, seemed much more interested in entertaining and impressing themselves than their audience.
---
FLEETWOOD MAC – CANCELLED
Fleetwood Mac was scheduled to appear on August 3, 1969, but on the day of the show the Minneapolis Tribune announced that the the show was cancelled, as was the entire tour.  A telegram in the program file from their New York agent  says "Having probles with Fleetwood Mac immigration."  At the time, members of the group were:
Peter Green, guitar, vocals, harmonica
Jeremy Spencer, guicar, vocals, piano
John McVie, bass
Mick Fleetwood, drums
---
KOERNER & MURPHY
John Koerner and Willie Murphy performed on August 24, 1969, presented by the Walker.
Carol Buckman's review of this show in the Tribune starts out by saying that the stripper that Koerner and Murphy had planned to add to their show had to go, according to State law.  So the show went on without her.  The two were accompanied by two Frenchmen, she wrote:  Bruce Menier, a stern-faced bass player, and Robert Grenier, a toothless drummer.
During the first half, Willie sat slumped over his piano, occasionally smiling through his thick red beard and long, wavy hair.  After intermission, he "came out of his beard" and sent out lyrics of blues.
The two teamed up about two years before, and attracted an audience of mostly college freshmen and high school students wearing beads, beards, and granny gowns.
---
CHUCK BERRY
Chuck Berry, with Spider John Koerner and Willie Murphy, appeared on September 7, 1969, presented by the Walker.
The show was reviewed by U of M student Walter Lide for the Star, who reported that there were hardly any teenyboppers in sight.  He also reported that his backup band "stank."  Berry is known for hiring local bands in the towns he plays and allowing little time for rehearsal.  Also, Lide reported that, although Berry got a five-minute standing ovation, he did not return for an encore.
Sherwin Linton, our local country singer and teller of fantastic tales, has another wonderful story to share with us about meeting Chuck Berry during this stop in Minneapolis:
On September 7, 1969, I attended the concert by Chuck Berry sponsored by the Walker Arts Center at the Tyrone Guthrie Theater. Chuck came out onto the stage for a few minutes past the starting time and announced that the show would be opening in a few minutes, as soon as some business was settled. I assume he was demanding to be paid in cash prior to performing. He then returned to the stage. I believe there was an opening act which must have been Spider John Koener and Willie Murphy. I was not familiar with them at that time. As I recall three musicians waited on stage, bass, drums and guitar.
When Chuck returned he went into his opening song and very soon realized the back-up musicians were not familiar with his music and turned to them and told them they did not need to play. He did the whole show, just himself and his guitar. He introduced the song "My Ding-a-ling," which he had not yet recorded. I wrote down some of the lyrics on my program and began performing it on my shows as a novelty song.
Following the show when I left the theater I saw Chuck walking toward Mt. Curve Ave. and caught up with him and asked if he would autograph my program. He said, "Are you with someone?" and I responded, "Yes, my wife." He said, "I have to leave quickly, you can get into my car and ride to the corner and I'll sign it and you can walk back." He put his guitar and a briefcase into the car. I jumped in and he drove to the corner of Hennepin and signed the program Charles Berry. I thanked him and got out and returned to meet my wife at the theater.
I could not believe it, I had ridden with Chuck Berry. I have read so much about Chuck Berry and with the knowledge of what I have read I am even more amazed. Chuck Berry never trusted anyone. I have also been told it is very rare that he signed his name as Charles Berry. A highlight of his program was a narration of a poem he had written titled "My Dream," which I have only found on one album, "San Francisco Dues." His recorded version is six minutes and varies slightly from his live version of the Guthrie performance. I have seen Chuck Berry several times but meeting him, getting his autograph and riding in his car is an exceptionally special memory and highlight and this signed program is a treasure.
---
SILVER APPLES
Silver Apples appeared on October 5, 1969, presented by the Walker.  The theater was less than half full.
Silver Apples was made up of of a synthesizer named Simeon, the synthesizer's inventor (Simeon Coxe III), and a drummer named Danny Taylor.
Mike Steele of the Tribune was unfulfilled:
First of all, Simeon was used in most of the group's numbers as an organ would be, both for melody and bass.  Only in a couple of numbers, the group's best, did they pull the stops and use electronic music as electronic music with all its strange sound waves, oscillations, squeaks, squeals, wails and moans.
The other things a synthesizer does well involves multiple over-dubbing and sound effects – strange, new sounds that have been very effectively used with rock bands.  But it's almost impossible to get all those effects with one man running the machine trying to cover four instruments and sing as well.
Their concert has all the excitement of a drum solo, but all the dullness of an evening of nothing but drum solos.
Walter Lide of the Star was a little stunned.  His review starts, "I saw them, but I really don't believe them."  After much explanation, he wrote that the instrument sounds really good, and urged people to catch them next time around.
---
STEVE MILLER 
The Steve Miller Band, with the Bonzo Dog Doo Dah Band, appeared for two shows on October 12, 1969, presented by the Walker.
The Steve Miller Band
The Steve Miller Band consisted of Steve Miller, Tim Davis, and Lonnie Turner.
Marshall Fine's review in the Star was hard on the band, calling it too derivative of songs by Cream, Bo Diddley, Chuck Berry, and others.  Fine called them entertaining, but overshadowed by their opening act.
Allan Holbert's review in the Tribune noted the Miller band's excellent musicianship they used to produce a throbbing, hard-driving kind of rhythm and blues rock.  He liked Miller's harmonica playing better than his singing, but it improved when joined by drummer Tim Davis.
Bonzo Dog Doo Dah Band
The Bonzo Dog Doo Dah Band started when they were all in art school together.  Members were Vivien Stenshall, Neil Innes, Larry "Legs" Smith, Rodney Slater, Roger Spear, and Dennis Cowan.
Marshall Fine called the "Dog Band" "an English Mothers of Invention" that did old vaudeville routines during instrumental passages.  They had weird machines that sprayed feathers and blew bubbles, and they executed well-done pantomimes.  Group leader Vivien Stanshall picked his nose while imitating Elvis, and did a very graphic and funny impression of an overly-endowed stripper.  From the pictures, underwear seems to be a key part of the show…
Holbert called the band "one of the craziest, most absurd and most entertaining rock type shows I've ever seen.  What they have is kind of an English and updated version of the old Spike Jones band."  Holbert praised their musical abilities as well.
---
B.B. KING
The B.B. King Band appeared on October 19, 1969, presented by the Walker.  The house was at capacity.
Reviewer Peter Altman of the Star reported that King's concert was presented as if the Guthrie was a nightclub, with King providing comic commentary along with the music.  He had a large, jazz-inclined band with three horns.  The performance was deemed notable for musical traditionalism, personal warmth, and showmanship.
---
JOHN EATON
John Eaton and his Moog synthesizer appeared on November 2, 1969, presented by the Walker.
Eaton played an instrument called a Syn-ket, accompanied by Dick Bortolussi on drums and Clyde Anderson on bass.
Mike Steele of the Tribune called Eaton a member of the new generation of electronic composers, and the only performer who works live with the Syn-ket and the Moog Synthesizer.  His music ranged from extremely cerebral compositions to jazz improvisations.
---
JOE COCKER
Joe Cocker and the Grease Band, opened by the Sons, performed on November 9, 1969. This was Cocker's first Twin Cities appearance.  It was a packed house.
Tony Glover himself reviewed the show for the Star, saying that nobody recognized Cocker at first since he had grown a wooly beard.  He opened with "She Came in Through the Bathroom Window."  He also did "With a Little Help From my Friends" at the end, with an encore of "Delta Lady."
The Grease Band consisted of Christ Stainton (piano and organ), Bruce Rowland (drums), Allen Spenner (bass), Henery McCullough (guitar), and Bobby Torres (occasional conga drums).
He returned on December 14, 1969 to perform at the Prison in Burnsville.
The Sons

The opening act for Joe Cocker and the Grease Band was a group called the Sons, formerly the Sons of Champlin. Members were Bill Champlin on bass and vocals; Terry Hagerty on lead guitar; Geoff Palmer on Keyboards, vocals, and saxophone; and Tim Cain on sax.  They were based out of San Francisco.
Tony Glover called them a surprisingly tight and textured group, with a sound that was more cerebral than "gut-rock."  They had a good sense of timing and dynamics in their program of original material.  Glover reported that the Sons got respectful if not ecstatic response from the crowd.
Mike Steele of the Tribune reported that the Sons were one of the tightest, most together groups he'd heard – no-nonsense, no-hype, perhaps not the best show band, but one of the best purveyors of rock to hit the Guthrie.  Like Glover said, they weren't overly  loud.
---
TIM HARDIN
Tim Hardin performed on November 16, 1969, presented by the Walker.  The show was sold out.
Mike Steele of the Tribune wanted to like Tim Hardin – after all, he had written some great songs, but after a while he perceived that Hardin wasn't working very hard to win his audience, and the concert had become dull and agonizingly indulgent and lazy.  Even when the audience called for an encore, he didn't perform his most famous composition, "If I Were a Carpenter," but "rambled through a few bars of 'Amen' and walked off.  The applause died down fast."  Steele continued, "his slurred bluesy voice obscured many of his lyrics and his lackadaisical attitude finally turned me off."
What Steele saw as laziness, Peter Altman of the Star attributed to shyness.  He characterized Hardin's voice as "bleary" and his demeanor "frail" as he played his guitar.  Altman figured Hardin was more of a songwriter than a performer.
---
ARLO GUTHRIE
Arlo Guthrie played two capacity shows on November 23, 1969, presented by the Walker.
Peter Vaughan's review for the Star said that Arlo was a much better storyteller than a singer, proven by his two monologues, peppered with words like "groovy," "weird," "man," and "way out."
---
INCREDIBLE STRING BAND
The Incredible String Band performed on November 30, 1969, presented by the Walker.
The band's members were Robin Williamson and Mike Heron, two men from Scotland, and two young women identified only as Rose and Licorice.
Allan Holbert of the Tribune had a hard time thinking of something good to write in his review of this performance.  They were having trouble with their sound system, making it impossible to hear the words to their songs.  Plus he found the level of musicianship very low.  The review was pretty harsh:
The band's members don't play in tune (in spite of the fact that they take years and ears to tune up).  They do not play well together.  None of them has much technical ability.  Their songs are long, cutesy-folksy and repetitious.
Holbert described how, after each song, they all got up and changed instruments.  The musical high point, he said, was Williamson's graphic description of how pigs make love…
Tony Glover's review in the Star disagreed with some of Holbert's assertions.  He wrote that the members were all highly accomplished technicians on the the amazing array of instruments they played:  guitar, sitar, mandolin, bass, organ, violin, hammer dulcimer, gimbri, and various flutes.  Glover wrote that most of the material was original, with words by Williamson and music by Heron.
---
1970
SAM & DAVE
Sam Moore and Dave Prater came with their 3 Act Soul Revue on February 15, 1970, presented by the Walker.  The theater was only a little more than two-thirds full.
Allan Holbert of the Tribune found the show to be a "deliciously entertaining" evening of music, theater, and dance.  The band, called the Soul Men, was made up of four saxes, two trumpets, two trombones, two electric guitars, two drummers, and an organ.
One prescient last remark on the part of Holbert was, "I hope someone brings them back to town before they become so expensive that no one around here can afford them."  Just four months later, Sam and Dave split up for the first time, until 1971.
---
THE BAND
The Band, opened by Robert Pete Williams and Rev. Robert Wilkins, performed two sold-out shows on March 22, 1970, presented by the Walker.  About 200 people had to be turned away for each show.
Allan Holbert of the Tribune reported that the first show started about an hour late, and put on one of the best rock concerts that's happened since the Walker changed Jazz at the Guthrie to Rock at the Guthrie.
Ray Olson in the Minnesota Daily reported that the group played 18 songs and two encores, with the second show starting at 11 pm.  There was no posing or posturing – they just picked up their instruments and played.  1970 was a big year for the Band, with many hit songs already recorded and well known.  When the Band strolled offstage at the end of the show, the audience, which had already risen several times during the show, went wild, stood as one, cheering, whistling, and stomping.  They returned, exhausted after two shows.  Johnny Winter appeared in the wings, after his show at the Labor Temple earlier that night.  Richard Manual tore into Little Richard's "Slippin' and a-Slidin'" – Winter did not join in.  A second encore was demanded and received:  The Four Tops' "Loving You is Sweeter Than Ever."
Williams and Wilkins

Opening the Band's show were Robert Pete Williams and Rev. Robert Wilkins.  Holbert wrote that Mr. Wilkins did all of his songs on the same chord, and Williams played some gutsy blues.  "Neither was very impressive, but they were both funky."
---
GORDON LIGHTFOOT
Gordon Lightfoot performed on May 17, 1970, presented by the Walker.  The show was sold out.  This was Lightfoot's first appearance in the Twin Cities
Mike Steele of the Minneapolis Tribune (May 18, 1970) called his work "direct, low key, lyrical and melodic, but still gutty."  The audience was extremely responsive, even though he was "undynamic yet somehow effective… talking very little and singing a great deal."
Onstage with him were an unnamed bass player and lead guitar player.  Songs included
Did She Mention My Name?
Waiting for Doomsday to Come
Early Morning Rain
Hundred Flowers reviewer Harold E. Pipestem, Jr. (that's what it says) was thoroughly impressed and entertained by Lightfoot, who played to the audience.
---
PENTANGLE
The Pentangle performed on June 7, 1970, presented by the Walker.  About 700 people attended.
Pentagle was a London-based band that blended folk, blues, jazz, and rock, according to Tribune reviewer Scott Bartell.  Members were John Renbourn on guitar and sitar, Bert Jansch on guitar and banjo, Danny Thompson on string bass, Terry Cox on drums, and Jacqui McShee on vocals.
Peter Altman of the Star wrote that they played almost unamplified, and that Jacqui McShea's voice was used more as a fifth instrument.  Pieces included an adaptation of a Bach sarabande for guitar and zither, English and American folk songs such as "The Ballad of the House Carpenter" and "Will the Circle be Unbroken?," Indian-flavored selections, a comic version of Thelonius Monk's "Blue Monk," and several numbers that might be labeled contemporary art-songs in a pop vein.  In all, he said, their music was eclectic pop chamber music, and really exceptionally invigorating.
---
JAMES TAYLOR
James Taylor performed on June 21, 1970, to a packed house.  The show was sponsored by the Walker.
Tribune reviewer Scott Bartell wrote that the first song in the concert was "A Little Help From my Friends."  Taylor played for two hours and did two encores, which were fragments of songs that he has recently written, so his last real work of the evening was "Sweet Baby James."
---
FRANK ZAPPA
Frank Zappa and the Mothers of Invention, with Flo and Eddie, performed two shows on July 5, 1970, presented by the Walker.  The theater wasn't more than half full.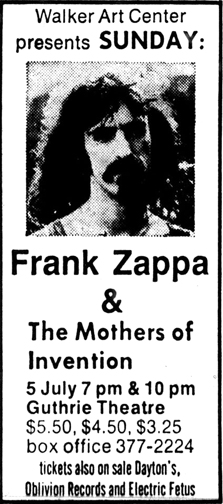 Jim Gillespie of the Star wrote:
It was totally bizarre from the beginning.  Instead of handing out programs, the ushers passed out plastic cylinders with 14 air bubbles covering the surface.  Upon being squeezed – and all of them were – the bubbles popped.  Waiting for the show to begin had the effect of being caught in a fire-fight in Cambodia.
Gillespie wrote that the group had only one horn man now, Ian Underwood, who played electric piano most of the time.  Their vocals had improved tremendously, perhaps with the addition of Flo and Eddie, who he did not mention.
Thomas Utne of Hundred Flowers noted that this was the second appearance at the Guthrie for Zappa in a year and the last on a three week road tour.  He also noted that the Mothers played almost completely different sets for the two shows that night.
Gary Gimmestad remembers:
"it was "truly one of the greatest rock shows ever. The programs for the show were printed on bubble wrap and the effect of the audience randomly popping them was great! The warm-up was a magician who made birds appear and disappear (a local guy I think) and two springboard acrobats. I don't know if this was Zappa's idea or not but it was brilliant. Zappa's guitar skills were clearly evident (much more so than on recordings) and the band was killer. It ended with "Happy Together" – Flo and Eddie were shirtless with banana peels dangling from their waists.
Another memory that has lasted 50 years:  "If I remember correctly, Frank came out picking his nose and flicking boogers at the audience."
Shan Lines tells us:  "Portions of this show ended up on the album 'Chunga's Revenge.'  The entire performance (both shows) was released in 2016 as part of the Road Tapes series."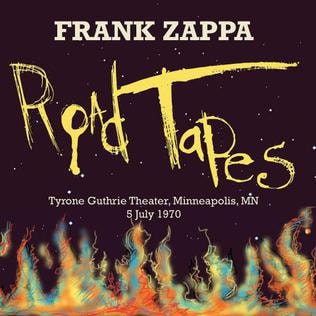 Opening Act?
Gillespie gave no name to the opening act, a team of acrobats cavorting around the stage, and a magician who pulled about nine doves out of the air.  More acrobats followed.  Or maybe this was just part of Zappa's madness.
---
JOHN DENVER
On August 9, 1970, John Denver gave a benefit performance at the Guthrie to an overflow crowd.  Proceeds went toward the People's Commission of Inquiry, a group of 32 Minnesotans who went to Paris in June 1970 to talk to negotiators and discover what terms were needed in the Far East.  Tickets were $3.50 and the event was organized by the Newman Center.  (Minneapolis Tribune, August 2, 1970).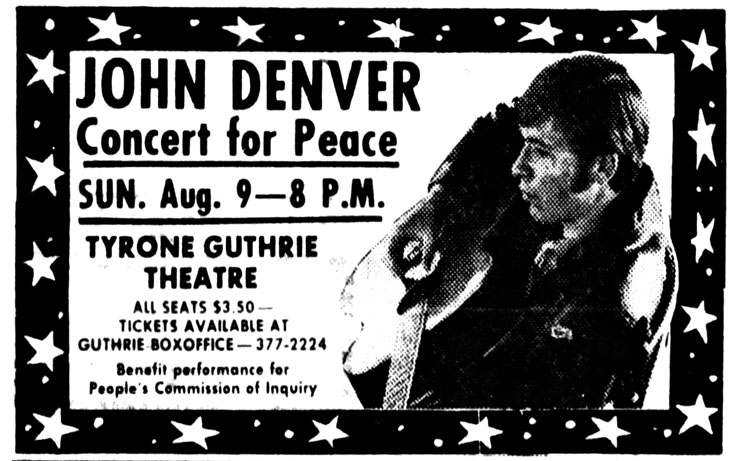 Kristen Bachler reviewed the concert for the Star, and said that Denver sometimes seemed like he became overly emotional during a song, but never insincere.  She reported that Denver tried to get the audience united and actively involved by using sing-alongs, which usually didn't work in Minnesota, but this time it went over.  In all, she called the concert a masterpiece.
---
HOMEGROWN
Homegrown was a showcase for local artists that took place at the Guthrie on August 23, 1970. It started at 4 pm and ended at 10.  The show was presented by the Walker.
The first performer was Ray Alstead, who played acoustic and electric guitar, and a little bit of "railroad humming harp," and was "magnificent," according to reviewer Betty Boop of Hundred Flowers.  Kristen Bachler, reviewing for the Star, wrote that Altsead plays guitar and harp in a jazzy-bluesy way reminiscent of John Mayall and does it extremely well.
Bamboo was made up of Dave Ray on electric guitar, Will Dunicht on bass, Danny Hall on piano, and Jeremy Hall on drums.  Bachler deemed them somewhere between blues and rock, never combining the two satisfactorily.  Betty wrote that they had some trouble with amps and arrangements, but they still put on a "pretty good show."  Scott Bartell, reviewing for the Tribune, found the group to be a little bit sloppy but left the house happy.
John Koerner started by saying "Well, here we are at the Triangle Bar."  Betty's description sounded like Koerner's routine was more comedy than music.
Next came Willie Murphy and his new blues band, in their first performance together.  It was made up of Wee Willie Walker, Russ Hagen, John Beach, Voyle Harris, Gene Hoffman, and Kenny Horst.  Bachler opined that this group did not meet the standards set by the other performers.  They were disorganized and although each musician was fine on his own, they made little attempt at unity.  The vocals of the blues-oriented soul were drowned out by the instruments.  Bartell wrote that the band's rhythm and blues approach with hard-edged jazz horn breaks lost at least half the audience.
Leo Kottke was given the only standing ovation for his work on 12-string guitar and dobro.  From blues to Bach "he did us right," wrote Ms. Boop.  Bachler agreed, calling his the most outstanding performance of the evening.  She said he was not only a fine technician but an excellent interpreter and his music was sensitively as well as brilliantly executed.  Bartell noted that most of his offerings were instrumentals, broken up by whimsical monologues.
The Sorry Muthas were last, with members Papa John Kolstad, Bob Stelnicki, Cal Hand, Bill Hinkley and Judy Larson.  Betty Boop wrote that their good back-porch juggers had gone electric washtub.  They fiddled and spooned and played themselves into "We Shall Not be Moved" with some of that good ol' country music.  Bachler called their music smooth, polished, and lighthearted.  She also wrote that that they played an exceptionally long and varied set which had the audience craving more of the good-time music they do so well.
---
LEON RUSSELL
Leon Russell performed on September 6, 1970, in a concert presented by the Walker.
Star reviewer Dodd Lamberton reported that Russell began the concert alone on the piano singing four numbers.  He  was then joined by his band, which was made up of Chuck Blackwell on drums, John Gallie and Don Preston on guitars, Joe Cooper on Organ and bass piano, and Claudia Lanier and Kathy McDonald on Vocals.
The crowd gave Russell three standing ovations.  Hundred Flowers groused that it was no complement for the musician to be dragged back for encores after they've been knocking themselves out for two hours.
---
YOUNGBLOODS
The Youngbloods appeared on September 20, 1970, presented by the Walker.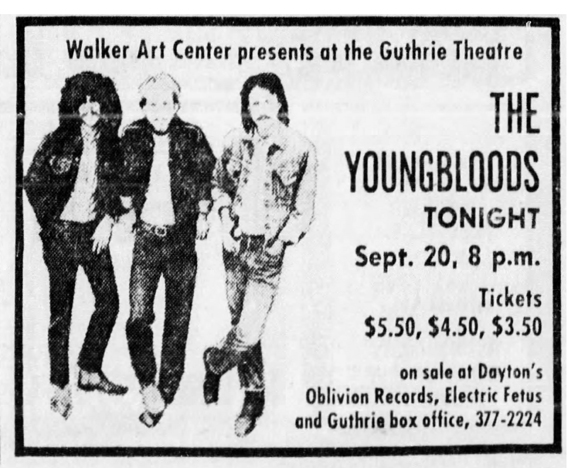 Dodd Lamberton of the Star found this concert to be a disappointment:  despite the group's obvious lack of enthusiasm, the audience loved them and clapped and stomped and made them play three encores.  The show started off well with "Sunlight," a mellow piece, but a perceived lack of response from the audience made them turn to the blues, which triggered a rush to the stage, which Lamberton thought to be unprofessional.
Hundred Flowers counted SIX encores, and concurred that the audience was rather stiff for most of the concert.  The unnamed reviewer said that lead singer Jesse Colin-Young pleaded for the audience to dance, but it wasn't until they played an old rocker that the audience got to its feet.  It was deemed a "contrived but super-happening."
---
LEONARD COHEN – NO EVIDENCE
Leonard Cohen appears in a couple places, appearing on November 11, 1970, presented by the Walker.  There is no evidence in the Minneapolis Star or Tribune that this ever happened.  However, a look in the program file yields no evidence that it didn't happen.  The only unusual thing was a rider to the contract that there be no other act on the bill. 

---
GRATEFUL DEAD
The Grateful Dead gave two shows on October 18, 1970, presented by the Walker.  Both shows were sold out well in advance.
Jim Gillespie, reviewing for the Star, wrote that the Dead "tore the place apart with their patented mixture of rhythm and blues, screaming hard rock and modern country and western."  They opened with "Casey Jones" with Jerry Garcia singing lead and Bob Weir providing vocal support.  Weir handled the more country-oriented material.  There were two extended jams on "Morning Dew" and "Good Lovin.'"  Gillespie was disappointed that they didn't do any acoustic numbers with Garcia playing the pedal steel guitar, but it was a fine night of music.
The reviews mentioned other songs performed:
Mama Tried (by Merle Haggard)
Me and My Uncle (by John Phillips)
Cumberland Blues
Uncle John's Band
Scott Bartell of the Tribune reported that the audience for the first show nearly refused to leave the theater for the audience for ticketholders for the second show until they got an encore.  "They did not get it, and they sludged out with many childish and rude words flung at the stage."
Henry Staten reviewed both shows for Hundred Flowers.  He wrote that the first show wasn't too exciting, but the second was fantastic; "the whole house was standing, shaking, stomping, and having the kind of totally together experience that you always hope a rock concert will bring.  This was one night you didn't even have to be stoned to be turned on."
Robert Borchert shares this remembrance of the concert with us:
Fifty years ago today, on a Sunday night, the Grateful Dead played at the old Guthrie
Theater in Minneapolis. My apartment mate Bill Buchen and I rode our bikes over to the
show from our place near the West Bank. We lived two blocks west of Seven Corners at
the intersection of Washington and I-35W – which was under construction at the time.
The dilapidated building stood in the shadow of the Minnesota Paints factory at a spot
which is now the parking lot for Bobby and Steve's Auto World and a couple blocks from
the new Guthrie Theater.
There were two shows scheduled that night with separate tickets and like most
everybody else with any sense we had tickets for both shows. The Guthrie strictly
forbade, as they still do, the use of any recording equipment at their shows. The lack of
a 'taper' section and no 'tapers' at all were evident then and historically obvious now as
there seems to be no shared recordings of those shows. Even an accurate playlist is
missing and subject to subjective memories of attendees – all of whose memories of that
night are questionable.
Bill had a battery-powered cassette tape recorder strapped to his abdomen underneath
his heavy shirt. A wire ran from the recorder down his sleeve to a microphone at his
wrist. I can't remember if it resulted in anything of quality or even historical interest but
it's long gone now.
It was a few months after the release of "Workingman's Dead" and a few weeks before
the release of "American Beauty." My recollection is that the show was a synthesis of their standard extended improvisations (such as The Other One, Good Lovin,' Dark Star) and some of their crisper cuts from the new albums augmented by their signature
wandering embellishments.
The crowd was enthusiastic but remained mostly seated and moving in place through
the first show. At the end of the first show folks stepped outside chatting and wowing,
many taking the opportunity to imbibe or re-dose the experience enhancing substance
of their choice. With the first song of the second show (China Cat I think?) the audience
exploded, dancing into and down the aisles.
The show ended on the second or third encore with Jerry Garcia coming out alone and
singing Uncle John's Band a cappella and solo until the rest of the band drifted out and
joined him.
---
JOHN SEBASTIAN
John Sebastian performed on November 15, 1970, presented by the Walker.  Podipto, a five-member group from Bemidji, was to have accompanied Sebastian but had a contractual difficulty.
Jim Gillespie of the Star reported that Sebastian came solo, and promised not to leave until everyone had heard all the songs they wanted.  He kept his word.  Throughout the evening, members of the audience called out requests for their favorite songs, and he would pick one of his three guitars and sing it.  For his talent and affability, Sebastian garnered three standing ovations and played two encores.  For one of them he did  harmonica solo that included every style from campfire on the prairie, to Chicago blues to Cajun dance music, all done perfectly.  "Has the man no shame?" asked Gillespie.
---
ELTON JOHN
Elton John, with Podipto, performed on November 29, 1970, presented by the Walker.  The theater was two thirds full.
Elton John
This concert was a special matinee, arranged because of a play that was scheduled in the evening.  It was scheduled to start at 2:30 pm.  Tickets were a mere $4!
Tribune reviewer Scott Bartell wrote that his first two numbers were performed alone at the piano.  After that he brought out Nigel Olsson on drums, and Dee Murray on electric bass.  All of the songs performed were written by Elton John and Bernie Taupin except "Honky Tonk Woman."  During the song "Burn Down the Mission," he kicked over his piano stool and got the audience screaming on their feet.  He promised to come back in April and called them "the best audience.. and the best stage I've played in the U.S."
Peter Altman of the Star saw right away that this was "an artist who will be a great star soon."  He had great versatility and skill and at first played very intricate, balanced arrangements.  As the concert went on, they move away from the orderly and toward exciting, long, improvisatory rock numbers.  In two fantastic final medleys, he kicked away his piano stool and attacked his keyboard from standing and prone positions, danced dionysiacally around the stage, incited the audience to sing and clap, and generally annihilated convention.  He was sure that they were discovering a rare young artist.
The Insider reported that he wore a purple cape and yellow bib overalls with a decal of Donald Duck on them.  Altman called this a disguise and chalked it up to shyness.
Podipto
Bartell wrote that Podipto was a five-member group from Bemidji who had recently released an album on GRT.  They had appeared with James Taylor, and would have appeared with John Sebastian at the Guthrie the week before but for a contractual difficulty.  Bartell found them to have a bright, fresh sound, a bit like Creedence.  They sang all of their own compositions, which were quite pleasant, although the lyrics were rather simple-minded.
Altman also liked Podipto, calling them easygoing and sensitive, in the western or folk vein.  The were no match for Elton John, but they were charming, and deserved to be heard from again.
---
DAT FEELIN'
This was a benefit for The Way Educational Center, a Community Center for North Side teens.  It was presented on December 6, 1970.
40 Twin Cities area musicians participated in an original 2 1/2 hour production that traced the development of American music from slavery to psychedelics.  The show was written by Milt Williams of the Black Studies Department at the University of Minnesota, and was produced and directed by Tom Tipton, a Minneapolis public relations and advertising executive.  The Minnesota chapter of the Public Relations Society of America Sponsored the show.
The show was a sellout – 200 to 300 people were turned away at the door.  And some of the more famous people in town who were in or at the show were mentioned in Margaret Morris's gossip column in the Tribune.  An estimated $10,000 was raised for The Way.
---
LEO KOTTKE
Leo Kottke had his first solo performance at the Guthrie on December 26, 1970, presented by the Walker.
Tribune reviewer Scott Bartell reported that Kottke played 25 songs, starting with "Vaseline Machine Gun."  He only sang a few songs, and "his usually strong and emotional voice sounded a bit unsure and unsupported."  Bartell thought his between-song anecdotes and one-liners were even better than Arlo Guthrie's.  After a standing ovation he played an encore of "Watermelon" and "Turtle Hills."
Jim Gillespie, reviewing for the Star, called Kottke an extraordinary guitarist and a genuinely soulful vocalist.  He noted that Kottke was an absolute master of bottleneck playing.  And his witty repartee between songs was just as funny as his music was masterful.
---
1971
NEIL YOUNG
Neil Young, with John Hammond, performed on January 14, 1971, presented by the Walker.
This was the first concert that the subject of ticket scalping came up.  Tribune reviewer Mike Steele reminded us that less than a year ago, a Crosby, Stills, Nash, and Young concert was boycotted and cancelled for its high ticket prices.  This time, for a solo concert by Young, the concert was sold out within two hours after they went on sale, with no advertising.  Suzanne Weil of the Walker sent the tickets over to Dayton's (the only ticket outlet while the Walker was under construction) on December 31, 1970, with instructions to sell them on January 2, 1971.  Word of mouth did the rest, and they were gone.
Weil had asked Young to do two concerts, but he wanted one, long intimate evening.  He felt bad about the boycott and wanted to give a good concert here.  He took a lot less money to perform at the Guthrie, a relatively small house.  Weil said she felt bad that so few people could get to hear him.  She wasn't worried about scalpers, but she was a little concerned about people without tickets showing up and having to hire security.
Peter Altman of the Star noted that Young's songs evoked few bursts of applause, but the response to his total performance was exceptionally strong and generous.  He only played 12 songs, but he had a cold and had slipped a disc three weeks ago, so he was a bit fragile.  He alternated between piano and guitar, playing familiar songs and new material.
Two years later, Marshall Fine mentioned this Guthrie concert when reviewing another Neil Young concert, held in the Met Sports Center in 1973.  He wrote that even though the Guthrie concert was only 45 minutes long, "the audience left awed and touched by the beauty and intensity of Young's performance.  It was possibly the most intense concert stage in Minneapolis until the Rolling Stones' appearance in 1972."  (Minneapolis Star, January 8, 1973)
John Hammond

Scott Bartell of the Tribune wrote that Barry Knight introduced Hammond, which the audience was apparently not expecting and grumbled about but ultimately approved.
Altman described Hammond as a white blues singer.  His "show of skill and fluency in an adopted "authentic" style drew admiration, but little enthusiasm," wrote Altman.
---
TAJ MAHAL
Taj Mahal performed on February 4, 1971, presented by the Walker.  It was a sold-out show.
Scott Bartell reviewed the show for the Tribune.  Mahal had a new band and Bartell thought he was a gas!  There was a long delay to get in, with construction at the theater forcing everyone into the passageways while the sound system was being set up.
Mahal began on his ambira, a little African thumb piano.  He launched into some blues, then did the song "Rollin' Into Phoenix" solo on the five-string banjo.  After his first half dozen songs he brought on his new band:  John Simon on keyboards, John Hall on guitar, Grag Thomas on drums, and Bill Rich on bass.  There was also a horn section of Howard Johnson, Earl McIntyre, Bob Stewart and Joe Daley.  This was a special horn section were made up of flugelhorn, valve trombone, bass trombone, E-flat tuba, double B-flat tuba, and sax or trumpet.  Bartell wrote that the four tubas used on "Sweet Mama Genise" could get overwhelming, they were always completely under control.  They used the tubas again with "Big Kneed Gal Blues," as subtly as a French horn quartet.
After 13 songs Mahal and his band left the stage, but the "wildly approving crowd made them come back and do their new 'Divin' Duck Blues.'"
The unnamed reviewer in Hundred Flowers wrote that in the first set when Mahal was by himself,
he told us in his slow, steady voice how he grew up in the South, and how he got into music because he felt that blacks were becoming Americanised faster than we were ready to, and we were leaving some of the best parts of our African heritage lost in the past.
He or she wrote that
the band looked like a cross between heavy Black Panthers and hard core freaks.  The black men in the brass section were dressed in leather and tweed; the white electric rhythm section was very informal in blue jeans and old shirts.
---
FRIENDS OF FRITZ
No, this wasn't a benefit for Theodore "Fritz" Mondale, but a gathering of musicians playing for a seriously ill fellow musician.
The concert has in honor of Frederick "Fritz" Scheurer, who had been a bass player for the Minnesota Orchestra since 1949.  He had had both kidneys removed, had undergone two unsuccessful kidney transplants, and required treatment with an artificial kidney machine three times a week.
Included were performances by the:
Minnesota Chamber soloists:
Violins:
Ronald Balazs
Ruben Gonzalez
Carl Nashan
Richard Boberts
Kensley Rosen
Nancy Rosen
Violas:
Gaetano Molieri
John Tartaglia
Cellos:
Stanley Atkins
Robert Jamieson
Double Bass:  James L. Clute
Harpsichord and bass:  Robert F. Chickering
Minnesota Orchestra Brass Quintet:
Ronald Hasselman, Trumpet
David Kamminga, French horn
Ronald Ricketts, Trombone
Clement Volpe, Trumpet
Stephen Zellmer, Trombone
A Percussion ensemble from the Minnesota Orchestra:
Paula Culp
Marvin Dahlgren
Elliot Fine
Herb Pilhofer's Jazz Quartet:
Herb Pilhofer, piano
Jay Goetting, bass
Dave Karr, flute and saxophone
Marvin Dahlgren, drums
Debb Johnson, a jazz-rock group:
Bill Armstrong, guitar
Bill Barber, piano and trumpet
Doug Bronson, trumpet
Glen Davis, trumpet
Peter Enblom, trombone
Jim Johnson, bass
Peter Johnson, drums
Dave Moore of WCCO-TV was master of ceremoies and joined with Minnesota Orchestra pianist Philip Brunelle in a performance of Poulene's "Fairy Tales of Babar the Elephant for Piano and Speaker."
---
BEEFHEART – COODER

Captain Beefheart and his Magic Band, opened by Ry Cooder, performed on February 11, 1971, presented by the Walker.
Captain Beefheart
Peter Altman of the Star reported that of the original 1,000 in the audience, about 100 walked out, and he wished he could have been one of them.  His review was harsh:  There was no evidence that Beefheart's egotistic, deranged formula could produce appealing identity or intelligent musical style.  He encouraged the members of the band, who wisely went under aliases, to look for jobs with other groups as soon as possible.  Numbers were interminable and disorganized.  There was no attempt to express feelings and no dialogue between players.  It was impossile to understand what Beefheart was singing.  And the way Beefheart kept blasting his horn into a microphone, causing screeces and distortions was excruciating.
Scott Bartell of the Tribune found the show "hard to evaluate."  He described how each member of the band entered the stage individually, each with some schtick and costume.  One of the fans in the front row shouted to the scoffers, "if you don't dig it, you can leave!" and many did, as noted above.  "It may be that Captain Beefheart is in many ways holding up a mirror to an absurd world but I don't find his vision very moving or exciting; occasionally, it was good theater."
Richard Paske was at this concert and remembered this about Captain Beefheart's performance almost 50 years later:
He put the bell of his soprano directly over the mic and made sounds never dreamed of by Bechet, Lacy, or 'trane. The bass player, sporting a stache microns-thin that curved in huge loops extending at least a foot from his face, played nothing but double-stops the entire gig on his steer-horned Danelectro. Memorable!
Ry Cooder

In contrast to the Beefheart debacle, Altman found Cooder's set very appealing and Cooder a gifted guitar player.  He performed a set of traditional blues songs, about half the time playing mandolin, electric and acoustic guitars.  On other songs he was joined by Steve Ferguson on on piano and a bass player and drummer.  This was Cooder's first time in the area, and he was deemed a musician of taste, lyrical sensitivity and charm.   Altman said it was too early to tell whether he would become a star.
---
IAN AND SYLVIA
Ian Tyson and Sylvia Fricker performed on February 28, 1971, presented by the Walker.  The house was nearly full.  This was their second show at the Guthrie.
The Tribune's Scott Bartell wrote that Ian had a cold, and that they were accompanied by guitar player David Wilcox.  They performed over 20 songs, but seemed to lose energy in the second half of the show.  After their first encore, Ian left the stage and let Sylvia finish with a sort of down song about an addicted youth, and the evening just sort of faded out.
Peter Altman's review for the Star was very different.  He wrote that the concert started out badly but suddenly turned around and after two encores the crowd went home highly pleased.
---
GORDON LIGHTFOOT
Gordon Lightfoot performed on March 7, 1971, presented by the Walker.
This was Lightfoot's second concert in less than a year at the Guthrie.  Reviewer Jim Gillespie of the Minneapolis Star (March 8, 1971) called him a "charming performer with a warm, intimate stage presence and a good sence of humor."  He played six and twelve-string guitars, and was accompanied by Rick Haynes on electric bass and Red Shea on acoustic lead guitar.
Songs played included:
Did She Mention My Name?  (Opener)
Boss Man
Bitter Green
Ribbon of Darkness
The Canadian Railroad Trilogy
The Auctioneer
Ten Degrees and Getting Colder
Gillespie wrote that he got a standing ovation at the end of the concert and that he deserved it.
---
Scott Bartell of the Minneapolis Tribune (March 9, 1971) was highly complimentary of sidemen Shea and Haynes.  He reported that Lightfoot presented a mixture of old and new songs, including:
If You Could Read My Mind, currently popular at the time
Me and Bobbie McGee
Come to the Door
Home From the Forest
Pony Man
Bartell did have this beef:
Though his singing and playing (and that of his accompanists) were spirited, his sensitive lyrics were the best thing about the concert.  His double-takes and wisecracks, however, got a bit tiresome and seemed unnecessary, sometimes coming in the middle of an otherwise serious song, breaking the mood  Perhaps he has retained to many of his techniques for drowning out the "beer-bottle symphony" learned while he was playing in bars.
---
MILES DAVIS
Miles Davis performed two shows on March 19, 1971, presented by the Walker.
Jim Gillespie of the Star reported that Michael Henderson had been scheduled to play bass, but was stuck in a holding pattern over Chicago, so Keith Jarret covered by playing the bass octave of his electric organ with one hand while providing intricate accompaniments and solo work on the electric piano with the other.  Gillespie deemed it a most impressive display of virtuosity.  Other band members were Gary Bartz on alto and tenor saxophones, Airto Morierea on Latin percussion, and Jack DeJohnette on drums.
Miles, of course, was Miles, prowling about the stage in his buckskin pants, never smiling, picking up his hor to blow just the right note at the right time.  His high-heel booted foot came down on the wah-wah pedal to produce sounds I've never heard come out of a trumpet before.
Gillespie reported that the concert lasted only an hour and 15 minutes but it was enough.  It was either one long piece or several short pieces woven together – the music never stopped.  Not all of it worked, but when it did, it was "some of the most exciting and moving music ever heard in the Guthrie."
Richard Paske wrote the following piece on this concert and its aftermath in December, 2010.  It is in the Walker archives, as well as in his three-part article commissioned by the Walker regarding all the concerts he heard there. The Miles piece is also on a Keith Jarrett website.  It is reproduced here with his permission and thanks.
Miles at the Guthrie, 1971
March 19, 1971 is a night I'll always remember. That night Miles Davis brought what some call his last great band to the Guthrie Theater in Minneapolis in two concerts presented by Walker Art Center. When I first got wind that these concerts were to take place – one at 7:30 PM, the other at 9 or 9:30 PM, I immediately reserved two tickets for the late show. Sometime later the piano player Tommy O'Donnell called me and asked me to play bass on a trio gig he had booked for a 10 PM opening party on the same night at what was then the Crawford-Livingston Theater in the old Science Museum building in downtown St. Paul. I agreed to take the gig but only if I could exchange my late-show tickets for early-show tickets. As fate would have it, tickets were available in the center section nearly in the front row! All of this happenstance led to my attendance at the early show and to one of the most indelible memories in my life as a listener.
First, a little background on the evolution of Miles' sound – the sound of his band – in the months prior to the Guthrie concert. In the late summer and early fall of 1970, Miles' working group had morphed into new form by replacing Steve Grossman with Gary Bartz on saxophone and losing  keyboardist Chick Corea and bassist Dave Holland when they left to form their own band with drummer Barry Altschul and later, multi-instrumentalist Anthony Braxton. Continuing with Miles were Keith Jarrett on electric keyboards, Jack DeJohnette on drums, and Airto Moreira still contributing his other-worldly Brazilian percussion sounds. The most significant change came with Holland's replacement – the R&B electric bassist Michael Henderson. At 19, a veteran of bands led by Stevie Wonder, Aretha Franklin, and Marvin Gaye, Henderson brought the Funk – the real Funk – that Miles had been seeking to get "…up in [his] music…" ever since he went electric in the late 1960s. This band – with the addition of John McLaughlin contributing soaring electric guitar lines – was represented on the LP Live/Evil. More recently the raw live recordings that led to Live/Evil were released on a 6-CD set The Cellar Door Sessions 1970.
For the 7:30 PM Guthrie show that night the hand of Mid-western Winter Fate intervened. Funkmaster Henderson was hung up over Chicago in a snowstorm so his flight didn't arrive in time for the early show. I don't recall if they announced his absence or not – with his usual stage reticence Miles sure didn't say anything about it to the waiting audience. But here's where my indelible musical memories of that night truly begin. Jarrett had his electric piano and electric organ set up in their usual wedge near the front of mid-stage right.  (Jarrett's reference to "…those pieces-of-shit electric toy instruments…" belie the absolutely amazing music he made with them on this night and on all of the recordings of this period).  DeJohnette was further back on the stage in the center, with Airto on stage-left surrounded by his strange array of exotic sound-makers. Throughout the evening Bartz and Miles would walk from the far edge of the thrust stage-left each time they played melodies or took solos. Miles, of course, provided plenty of his trademark glares and scowls.
Once the music began, so did my immersion in it, courtesy primarily of Jarrett and DeJohnette. The two had much musical history together – famously on 1966's Forest Flower:  Charles Lloyd at Monterey – and their musical telepathy on this night reflected their total simpatico. I remember Miles, Bartz, and Airto as all performing with fiery passion and consummate skill, but it was Jarrett and DeJohnette who took me on a journey I'll never forget. Because Henderson's bass lines were missing, Jarrett had to step up and supply them, which he did with his left hand on electric organ. That left his right hand for comping and soloing on electric piano.  Necessity being the mother of invention, Jarrett and DeJohnette became a rhythm section of three in two. Their history together and the circumstance in which they were placed allowed them to link themselves together into one musical mind for the entirety of the set. As I listened, I closed my eyes and was taken on a journey into deep consciousness as if I were a sea creature diving down, down, down into the depths of the ocean.  As I dove down I lost all awareness of anything but the sounds that were carrying me. All verbiage disappeared from my mind. Jarrett and DeJohnette's musical interplay became the only language in existence. Their instruments became one instrument, their musical voices one voice. As I was carried close to the bottom of this immersive sea of consciousness, literal thought would begin to creep back into my mind. I would hear myself thinking again as one does in normal daily life. I would begin to journey back up to the surface of normal consciousness. I would open my eyes and see Jarrett's upper body rocking forward and back as he played just feet from where I sat. And then out of the blue KeithJack would play something so profound that I would close my eyes, reverse course, and continue my downward journey towards the depths once more. This process – down, a little bit up, down again – happened over and over again during the entire set of music. When it was all over I knew that I had heard music that came from the deepest fount of inspiration – perhaps even something eternal.
Well, you can imagine that the gig I played over in St. Paul at 10 PM that night was going to be unlike any other gig I had ever played in my life. Amplifying the mental state I was in were the states of pianist Tommy O'Donnell and drummer Dick Bortolucci who were both at the same early show.  I remember that when I arrived at the gig with bass and amp in hand, Bortolucci and I could hardly contain ourselves as we tried to articulate in words what we had heard at the Guthrie. Borto told me that after arriving in downtown St. Paul he simply drove around in circles because he couldn't get himself to get out of the car and carry his drums in for the gig. He, like I, didn't want the experiences that we had just had to end, ever. Well, of course, the experiences did have to end and we did have a contract to fulfill. And man, did we ever!  Tommy O'Donnell is legendary in the Twin Cities for his ability to bend traditional jazz standards into clouds of ethereal gossamer. That night, Tommy, Dick, and I did all that and more for the after-theater crowd in attendance. Inspired by Miles et al we couldn't just play regular, standard B-flat party music. We stretched the boundaries of the normally acceptable into music that tried its best to pay homage to the music we had all heard earlier that night. That night was almost 40 years ago and I remember it like it was yesterday.
Coda I: Two nights later I heard the same Miles band as above with the addition of Michael Henderson on electric bass at a jazz club in Milwaukee. I remember the music as being very good, but not spectacular. After the experience I had had at the Guthrie it's probably unfair to compare the two concerts, but it's also unavoidable. Other than the unlikelihood of repeating the kind of peak experience I had at the Guthrie, there are probably two other reasons that the music didn't soar to the same heights (or dive to the same depths). First, the jazz club environment didn't create the same sense of cocoon-like intimacy afforded by the Guthrie Theater.  (Ornette Coleman says that jazz clubs are about two things – booze and f*cking).  Second, as skillful as Michael Henderson was as an electric bassist who was giving Miles just what he wanted, there's no way he could compare to the consummate musical mastery of Keith Jarrett. Plus, he didn't have as much history with DeJohnette as did Jarrett.
Coda II: I traveled to Europe that summer and ran into Gary Bartz outside the men's room of Ronnie Scott's in London.  I engaged him in conversation about the Guthrie gig, thanking him profusely for his contributions to my magical musical evening. We then talked about Keith Jarrett and his unique musical genius. Words seemed to fail both of us.
---
JETHRO TULL
Jethro Tull, with Brethren, played two shows on April 1, 1971, presented by the Walker.
The Program listed the members of the band as:
Ian Anderson, who was described as leader, spokesman, dancer, composer, plays flute and multitudinous instruments.
Clive Bunker, drums
Martin Barre, lead guitar and occasional flute
John Evan, piano and organ
Jeffrey Hammond-Hammond, bass
Reviewer Scott Bartell, reviewing for the Tribune, called the group an amazing bunch, doing good theater on top of the music.  They only did eight numbers, but they were all long and many-faceted, often making contrasting passages between quiet solos by Anderson and heavy ominous ensemble movements.
Jim Gillespie of the Star was impressed by the comedic dimensions of the group – the attire, mime and gestures.  Unfortunately, the group's musical abilities didn't measure up to Anderson's high-energy vaudeville, he wrote.  And although all of the songs are original, they used the same basic formulas, and it began to get boring after a while.
Bretheren
Bartell wrote that this group was supposed to have a jazz-tinged Gospel sound, but only one man appeared, playing blues on acoustic guitar while screaming his head off.  The drummer and pianist joined him for the fourth song.  The Guitarist  switched to electric, but was met with a dead amp, and was evidently so disheartened he just kind of left near the end of the last song, to be followed by the other two.  "It was very sad."
Gillespie explained that the group had lost its bass player, and had equipment trouble, but complimented the lead singer for his very strong blues voice and said they may develop into a first rate group.
---
DON ELLIS AND FRIENDS
Don Ellis and Friends played two shows on April 4, 1971, presented by the Walker.
Don Ellis was a jazz trumpet player and drummer who was from Minneapolis.  He had put together a big band of 21 players, including a string quartet, a woodwind quartet, a brass septet, three drummers, a pianist, and a bass player.  Star reviewer Jim Gillespie  wrote that the group played extremely well and the musicians were all talented.  Most of their songs were in exotic time structures.  During one song, Ellis worked with some electronic equipment which allowed him to play a duet with himself via delayed tape loop and used a distortion device to drop the sound of his horn to a booming bass.  These effects were startling in 1971.
Tribune Reviewer Allan Holbert called Ellis's music explosive and thoroughly unpredictable, saying that the group kept shifting from one musical bag to the next.  While Gillespie praised Ellis's trumpet playing but not his drumming, Holbert thought that he did a terrific job at either instrument.  It was a one-of-a-kind band and a powerful evening of music.
Will Shapira reviewed the show for the Insider, calling it a heart-pumping set.  It opened with "The Final Analysis," which featured the band's new pianist, Miltho Liviev, from Bulgaria.  The second song was "How's This for Openers?" in which the strings produced some weird, eerie, haunted-house music.  Other tunes included "Euphoric Acid," "Loss," featuring an Ellis solo, "Ellis Is," featuring the woodwinds, and the grand finale, "Strawberry Soup," which ended in a "roaring, antiphonal crescendo as the band scattered all over the theater in small groups and tied it all together in a ribbon of funky blue."  After two hours and 15 minutes the audience wasn't satisfied, so the group (Shapira counted 18 men and 2 women) presented a trimmed-down version of "Pussy Wiggle Stomp."
---
ALLEN GINSBERG
Allen Ginsberg did a reading on April 14, 1971, presented by the Walker.  HOWL????
John Greenwald started his review of this program for the Star by calling Ginsberg "a very strange guy."  He began his appearance with a Hindu chant, then sang songs by the English poet, William Blake, both accompanied on a harmonium, a small, accordion-like instrument shaped like a box.  From there he moved to his own poems, chanted another mantra, and paused for intermission.
After the break he read more poems, sang more songs, and chanted more chants.  A third session continued for those who wanted to stay, after five minutes of meditation in a cross-legged posture.
One of his poems, characterized by Greenwald as a long homsexual fantasy, was heard in absolute silence, then given a fit of applause.  Afterward, Ginsberg told the audience that he was staying at the Gay Liberation Front's Gay House while he was in town.
The review ended:
Ginsberg seemed at all times to want to be helpful.  "And what's the work?"  he asked in an elegy to Jack Kerouac, a friend and fellow writer.  "To ease the pain of living," he said.  "Everything else is drunken dumb show."
---
VAN MORRISON – CANCELLED
This concert kept coming up on some lists but not others, never with a date.  Finally a look at the file in the Walker Archives gives the potential date as April 18, 1971.  A letter from Van's management, signed by Mary Martin and dated February 18, 1971, reads:
It is with sincere regret that we have been forced to cancel all Van Morrison dates during the months of March and April due to the fact that Van's band has disbanded.  We hope that you will understad — we apologize for the inconvenience that we have caused.  We have every intention of fulfilling our contracts and obligations to you in the future if you are able to fit Mr. Morrison into your schedule.
Looking at the personnel on his albums at that time verifies this.  His album, "Van Morrison, His Band and the Street Choir," was released on November 15, 1970, with a sparse band of six musicians and several singers.
His next album, "Tupelo Honey," was released on October 15, 1971, essentially with the start of the Caledonia Soul Orchestra.  This band was twice the size, with only three holdovers from the last album:  Van's wife Janet Planet (nee Janet Rigsbee); saxophone player Jack Schroer; and vocalist Ellen Schroer.
Can you imagine hearing Van Morrison in the intimate confines of the Guthrie?
He would first appear here on September 13, 1974, but it was at the Minneapolis Auditorium. Not the same thing at all.
---
LAURA NYRO
Laura Nyro, opened by Podipto, performed to two packed houses on April 25, 1971, presented by the Walker.
Tom Murtha reviewed the concert for the Insider:
Her voice was a little less restrained than on her records, but it was truly glorious in its honest lack of polish.  The audience was completely enamored of her haunting intensity and modest demeanor.  She returned twice to do a total of five encore songs, finishing up with one of her newest, "I am the Blues.  These two concerts tonight have been like two wonderful parties," she breathed before she left the stage.
Mike Anthony at the Tribune noted that, with the exception of Carole King's "Up on the Roof," all the songs she sang were her compositions, with lyrics of poetic sensibility and highly musical melodic lines.  She sang with clear, rich tones that found trouble only in the upper register wher they occasionally turned a bit shrill.  He wrote that she communicated best to women – and there were a lot of women at the Guthrie that night – for her songs are messages to women in rural and urban life.
---
KRIS KRISTOFFERSON
Kris Kristofferson performed on May 3, 1971, presented by the Walker.
Star critic Peter Altman found Kristofferson so laconic that he was afraid the singer was going to fall asleep midsong.  But despite the fact that he was not an exciting performer, he was a winning and strong one.  Without any burts of showmanship or dynamism, he held most of the smallish audience rapt.  Most of the songs he sang were his own compositions, without poetic pretense and devoid of emotional posturing and self-indulgence.  He was backed by Donnie Fritz on organ, Billy Swan on bass, and Terry Paul on guitar.
---
ELP
Emerson, Lake & Palmer, with Mott the Hoople, performed on May 11, 1971, presented by the Walker.
There doesn't seem to be a review in the Minneapolis papers, but Michael Bjornberg saw the show and provided this review:
I am responding to the Mott the Hoople/Emerson Lake and Palmer show. I fully knew who both bands were and their reputations as rock bands. The audience was largely shaped by ELP's first albums hits and light jazzy feel that is a more middle aged soft rock/jazz crowd.
Mott the Hoople warmed up. Mott came on strong and the soft rock crowd never knew what hit them.  Minutes into the first song, 2/3 of the audience went back out into the lobby to wait for ELP. Then after they finished their set and a break, the crowd came back in for ELP.
ELP was getting good air play with Take a Pebble, Lucky Man and The Three Fates – appealing to a very different expectation for the show. If you had not known about Keith Emerson's showmanship – well a surprise was waiting for the listener.
It started with Keith Emerson in a fur vest with no shirt and tight leather pants. He began to play the Hammond organ and his "Knives in the Keys" routine while riding the organ across the stage. It was not one of the three "popular" songs – likely "Barbarian" or "Knife Edge."
That did it for the crowd again – a large group left for the night. Leaving the rest of us to enjoy what we came for.
Keith Emerson stabs knives in his Hammond-1971 – Bing video
I thought both bands put out great shows that night. I got exactly what I came for. Keith Emerson was in top form. The newspapers were not much into rock concert reviews at the time, as I recall, and even less inclined to review "unknown" bands.
That is how I saw the night.
---
JOHN MAYALL
John Mayall, with Randall's Island, performed two shows on May 16, 1971, presented by the Walker.
John Mayall
Jim Gillespie's review in the Star reveals that Mayall's current band consisted of Larry Taylor on bass, Harvey Mandel on guitar, Sugarcane Harris on electric violin, and Paul Lagos on drums.  Mayall played guitar, keyboards, and harmonica, but in Gillespie's opinion, none of them too well.  Gillespie wrote that the group's sound was not very cohesive, although Mayall did say that they were stretching out the songs because of the excellent acoustic qualities of the theater.  Gillespie found Mayall's voice all but inaudible and most of the music disappointing.
Randall's Island

In Gillespie's opinion, the opening act, a little-known band from New York, put on a far better show than the headliner.  Led by Elliot Randall, a "wizard at distortion, on lead guitar, they played a loud but exciting set of original material.  The high point was a pro-ecology song called "Oil on the Waters."  Gillespie had high praise for the band in the future.
---
LIVINGSTON TAYLOR
Livingston Taylor, with Dave Ray, performed on May 30, 1971, presented by the Walker.  The audience numbered about 1,000.
Livingston Taylor
In Michael Anthony's review for the Tribune, a lot of print was spent comparing Livingston with his more famous brother James.  Livingston sang mostly songs from his album – about 20 songs in all – plus a few by Lennon & McCartney, Chuck Berry, and even "Over the Rainbow."  Gillespie found his stage manner to be a little "too cute," but the audience loved him.  He got a standing ovation and did several encores.
Peter Altman of the Star also compared Livingston to James, calling Livingston an extrovert who enjoyed giving a show.  Wheras James weaves a delicate spell over his listeners, Livingston establishes a lively relationship with his hearers.  He was supported by Walter Robinson on bass.
Dave Ray

Dave Ray played his usual impeccable guitar work, both acoustic and electric in a half-dozen blues and boogie numbers, reported Anthony.
Altman characterized Ray's set as "instrumentally excellent if somewhat monotonous."
---
TOM PAXTON

Tom Paxton, with Judee Sill, performed on June 13, 1971, presented by the Walker.
Tom Paxton
Peter Altman of the Minneapolis Star counted the house at about 800.  Altman was disappointed with Paxton's songs:  "Musically, Paxton's works were commonly marred by unfortunate effects.  Emotionally, they were inconsistent and at times evasive.  Verbally, they seemed to be skipping around pointlessly from idea to idea and not expressing essences."
Michael Anthony at the Tribune found Paxton to be mellower in the '70s, singing like a poet-minstrel, singing songs with deep feeling and melodic reichness and sensitivity.  His sidemen were Herb Busher on bass and David Horowitz on piano.
Judee Sill

Altman reported that Judee Sill just started performing professionally in January 1971.  The review was mixed; he had nothing good to say about her voice, and her lyrics were "poetic in adolescent ways," "obscure,sometimes clumsily symbolic, and at other moments mawkish."  But he gave her points for a dry wit, beautiful melodies, and an interesting, sensitive personality.
Anthony wrote that Sill sang a half-dozen of her own songs, starting with an apology to the audience that her first album would be out until Wednesday – "Then you would have heard of me."  He found that she sang well and foresaw that she would be around for some time.
---
JOHN DENVER
John Denver performed three sellout concerts at the Guthrie on three nights, June 18, 19, and 20, 1971. The first two dates were sold out in a day.  When the Guthrie added the third night, it sold out in three hours.  This was the first time that the Guthrie Theater itself booked a concert, instead of the Walker Art Center.
Denver was backed by Mike Taylor on guitar, Dick Kniss on bass, and his friends Bill Danoff and Taffy Nivert (a/k/a Fat City) on vocals.
The concerts were to be recorded by RCA Victor for a double live album called "John Denver at the Guthrie," to be released in the fall of 1971.  The album did not come to pass.
Minneapolis Star critic Peter Altman found him to have an unusually affable stage personality, and to have grown beyond "fraternity-row notions of romance and poetry," committing himself more seriously to the anti war movement.  Some of his affectations (the incessant "Far Out!" being one) was annoying to Altman, and he didn't particularly like the "several vague, dreamily adolescent songs about sunshine and freedom and truth," but it would seem that his audience came to rely on it.
---
CAT STEVENS
Cat Stevens, with Judee Sill, performed two shows on July 4, 1971, presented by the Walker.
Cat Stevens
Michael Anthony of the Tribune noted that the audience for the first show begged for more until the room had to be cleared for the second show.
In performance Stevens sings with more abandon than on recordings.  He sings and plays guitar with rapt concentration in near-perfect accord with his able sidemen:  Alun Davies, guitar; Larry Steele, bass; and Gerald Conway, drums.  Most of the material was taken from the last two albums:  "Wild World, "Hard Headed Woman," and the dialogue, "Father and Son," among others.  In the middle of the set he changed to piano accompaniment, playing simple but effective gospel style on "Miles From Nowhere" – perhaps his best vocal of the evening – and "Sad Lisa."
Jim Crawford, reviewing for the Sun Newspapers, had one word for the concert:  "Incredible."  Both reviewers wrote of Stevens' struggle with tuberculosis after writing hits for others in the mid 1960s.
Marshall Fine, reviewing for the Star, hated to admit it, but he liked the concert as well.  He was fed up with people liking anyone who came to town.  But he found Stevens to be a passionate yet intense performer with a fascinating voice and an amazing range.
Judee Sill

Anthony:
Judee Sill played and sang the first set of the evening – primarily the same material she sang a month ago at the Tom Paxton concert.  Her songs have a Western tone about them with a kind of loping-along rhythm.  They seemed even better on a second hearing.  They're difficult songs with numerous large vocal jumps that give her a little trouble in the upper register.
---
SKOGIE & THE FLAMING PACHUCHOS
Skogie and the Flaming Pachucos, with Blue Freedom, performed on September 16, 1971.  This performance was most likely in the Walker Art Center Auditorium.  Both were local groups.
---
CROSBY & NASH
David Crosby and Graham Nash, with Judee Sill, performed on September 19, 1971, presented by the Walker.  It was a capacity audience.
Crosby and Nash
Peter Altman of the Star complained that very little of the long time on stage was spent actually making music.  "Dreary Persiflage" (light and slightly contemptuous mockery or banter) was tedious and was out of tune with the songs that were trying to be introspective, poetic, sincere, emotional, or some combination.  They both had colds, which may or may not have accounted for their lack of communication and singing ability.
Michael Anthony of the Tribune put it more bluntly, calling the two performers "loose to the point of buffoonery.  Crosby sang better but drowned out Nash.  Anthony was annoyed at how the audience applauded at whatever they said, to the point of being ingratiating.
Judee Sill

This was the third time Judee Sill opened for a Guthrie act in three months.  Altman found the same offbeat sense of humor, and streak of poetry and melodic originality she showed in June.  He opined that she has the potential for stardom, but that she needed to learn more songs.
Anthony also noted that Sill included much of the same material from her two previous performances.
---
SHAWN PHILLIPS
Shawn Phillips appeared on September 26, 1971, presented by the Walker.  He drew a capacity audience to his first local show.
Peter Altman of the Star wrote that Phillips did not yet have a hit record, but apparently enjoyed an underground reputation and had the audience had confidence in Suzanne Weil's instinct for spotting up and coming talent.  His review uses the word powerful over and over again in different ways.  Phillips plyed seven instruments:  two electric guitars, three six-string acoustic guitars, a 12-string guitar, and a sitar.  Sometimes he sang in his natural baritone, and sometimes in falsetto.  Altman did not find that Phillips was consistently conveying much emotion, and despite his skill, "I was not truly affected."
---
IT'S A BEAUTIFUL DAY – CANCELLED
It's a Beautiful Day was scheduled to appear on October 3, 1971, at the Guthrie but the concert was cancelled due to a shakeup in the group that would necessitate hiring a new manager.
---
JOHNNY RIVERS
Johnny Rivers, with Fanny, appeared on October 10, 1971, presented by the Walker.
Johnny Rivers
Johnny Rivers came out with just an acoustic guitar and took it easy, reported Jim Gillespie of the Star.  His set was a mixture of old and new tunes, met with loud cheers and applause from the audience.  Gillespie wrote that his voice sounded better than ever.
Fanny
Fanny was an all-female group made up of Nicolee Barclay on Keyboards, June Millington on guitar, Jean Millington on bass, and Alice deBuhr on drums.  They had one semi-hit, "Charity Ball." Gillespie had a lot of good things to say about them, except that their mostly original material sounded too much the same and tended to get a bit monotonous.  But he called it a cooking little band.
---
CARLY SIMON – CANCELLED
Carly Simon was scheduled to do two shows on November 14, 1971, but not enough tickets were sold.  When the Walker contacted her management and asked them if she could do one show at a reduced fee, she declined, and the whole thing was cancelled.  (Minneapolis Tribune, November 14, 1971)
---
BEACH BOYS
The Beach Boys gave two sellout shows on November 21, 1971, for their "Surf's Up" tour, presented by the Walker.
The six official Beach Boys at this time were Carl and Dennis Wilson, Mike Love, Al Jardine, Bruce Johnston, and Daryl Dragon (later of Captain and Tenille).  There were also seven supporting musicians and more instruments and speakers than had probably ever been set up on the Guthrie stage.
Peter Altman of the Star wrote:
Remarkable was the way sso much was blended.  Melodies were counterpointed, rhythms alternated and opposed, harmonies fused and special effects integrated as one would have thought possible only by studio editing of separatly made tracks.
Michael Anthony of the Tribune tells us the band took requests at the end of the first show, and after a standing ovation did five encores before clearing the room for the second show.  There were sound problems, with excessive feedback and too much bass making the lyrics hard to hear, but there were some lovely moments.
Ron Szybatka remembers:
I can honestly say I was at that one….and ( I know this will sound like BS, but it is true ) we sat front row just left of center. The band was phenomenal. Of course Brian was not there, and although Dennis was there they also had another drummer who could play well. There was quite a group of people on that stage, probably mostly session folks….as in….Daryl Dragon and Toni Tennille, who a couple years later became the Captain and Tennille. Both playing keyboards on either side of the stage and Toni contributing to the vocals. The vocals were beyond great, they were stellar and perfect. I would be remiss if I did not mention Carl Wilson's superb vocals, especially on " God Only Knows."  They did all the old kind of hokey stuff (but great) and did the stuff from "Pet Sounds," which was amazing. We dumb lucked into those tickets because one of the guys in the band's girlfriend worked at the ticket office. She called him and said that the tickets just came in and she could get five. The four guys in the band went, along with her. Of all the concerts I have seen in my life this one was one of the top for quality of performance, and I'll say again, stellar vocals.
---
SEATRAIN
Seatrain, with Jonathan Edwards, appeared for two shows on November 28, 1971, presented by the Walker.
Jim Gillespie of the Star wrote that hardly anyone showed up for the first show, which was too bad, because the musicians were very good.  They were Andy Kulberg on bass, amplified flute, and an echo-plex unit that enables a musician to play duets with himself with a tape delay.  Lloyd Baskin was on keyboards and vocals, and Peter Rowan was on guitar and vocals.  Rowal also yodeled.  Richard Greene played electric violin and mandolin, and Larry Atamanuik was the drummer.
---
RANDY NEWMAN
Randy Newman, with Bonnie Raitt, appeared on December 5, 1971, presented by the Walker.
Randy Newman
Peter Altman of the Star called this a relaxed and entertaining musical evening.  Newman performed alone for an hour, singing and playing the piano with a combination of humor and sadness.  Newman is best heard live, in order to get the essence of his humor.  "He's one of a kind."
Bonnie Raitt
Bonnie Raitt, with eight accompanists, played blues for the first hour.
---
LEO KOTTKE
Leo Kottke performed on December 26, 1971, presented by the Walker.  The concert was sold out.
This was the second annual Leo Kottke Day After Christmas at the Guthrie Concert, but it was considerable hampered by sound problems and a sore throat, reported Jim Gillespie of the Star.  He did some instrumentals, and sang a new number, but for the most part his voice was inaudible.  He did tell some funny stories, though and established a warm rapport with the audience.  During intermission there were some adjustments made to the sound system and there was a vast improvement.
---
1972
SEALS AND CROFTS – JACKSON BROWNE
Seals and Crofts, with Jackson Browne, performed on January 9, 1972, presented by the Walker.
Seals and Crofts
Jim Gillespie of the Star reported that by the fourth encore, eight couples were dancing  to the "frenzied fiddling and manic mandolin" of the duo.  Jim Seals played guitar, fiddle and saxophone, and Dash Crofts played electric mandolin and electric piano.  They were backed up by Bobby Lightig on electric bass.
Crofts was magnificent, whether picking out a delicate melodic passage or stomping on the fuzz-tone and using a wah-wah pedal.  Seals complemented him perfectly with his light, jazzy guitar playing, and Lightig moved things along quite nicely with his subtle bass work.  Both of the stars sing lead and they harmonize beautifully together.
At the end they invited the audience backstage to talk about the Baha'i faith.
Jackson Browne "was good too."
---
William Clauson, a folksinger, performed on January 23, 1972, at 2:30 pm.  His appearance was sponsored by the American Swedish Institute and the Institute's male chorus, under the direction of Edgar Eklof, which was also on the program.
---
BILL WITHERS
Bill Withers performed on January 30, 1972, presented by the Walker.
Charles Quimby, reviewing for the Star, wrote that his style was best suited to a night club rather than a concert hall, given his low-keyed manner and personal lyrics.  Withers was backed by four graduates of the Watts 103rd Street Rhythm Band, led by guitarist Bernard Blackman.
M. Howard Gelfand of the Tribune came to the same conclusion, and also mirrored Quimby's complaints about Withers' bad jokes.  Gelfand gave the last name of the band's guitarist as Jackson.  His name was actually Benorce Blackmon.
---
PRINE – GOODMAN – KOLOC
John Prine, Steve Goodman, and Bonnie Koloc performed on February 5, 1972, presented by the Walker.  The crowd was estimated at 900.
Steve Goodman started the show, described by the Star's Peter Altman as engaging, lively, droll, bouy, likable, and entertaining.
John Prine's solo set included just two songs not on his recently released debut album.
Bonnie Koloc sang with a four-piece band.  Altman wrote that she had a clear soprano voice and was reliably on key, but her interpretations were unimaginative and unaffecting and she never gained any momentum.
After each performer had done their solo set, they teamed up for a short set featuring "Jamalaya."
---
SKOGIE AND THE FLAMING PACHUCOS
Skogie and the Flaming Pachucos, with Blue Freedom and Michael Yonkers, performed at the Walker Art Center Auditorium on February 20, 1972, presented by the Walker.
Skogie and the Flaming Pachucos was made up of:
Jim Greenberg : Woodwinds, Bass, Percussion, vocal.
Mark 'Bugs' Goldstein : Keyboards, Guitar.
Al Galles : Drums, Piano, Vocals.
Dennis Peterson : Bass, Vocals, Guitar.
Rick 'Skogie' Moore : Vocals, Guitar, Keyboards, Drums
In the photo below, Denny, who usually played bass, was playing keyboard.  Mark, who usually played keyboards, was playing guitar.  Jim, who most often played woodwinds, was playing bass. Rick was on guitar and Al was on drums.
Blue Freedom was organized by Milo Fine.
---
MAHAVISHNU ORCHESTRA
The Mahavishnu Orchestra, with Michael Johnson,  performed on February 27, 1972, presented by the Walker.  There was an almost capacity crowd of 1,200.
John McLaughlin
John McLaughlin was a British guitarist with a background in classical music, blues, and jazz.  The music of the Orchestra reflected his interest in Indian philosophy.  Members were William Cobham on drums, Rick Laird on bass, Jerry Goodman on violin, and Jan Hammer on piano.
Roy M. Close, reviewing for the Star, called this one of the most exciting and exhilarating concerts he had heard in a long time.  The opening number was "The Inner Mounting Flame," which lasted 20 minutes.  After a pause that lasted just long enough for McLaughlin to announce the next number, the orchestra launched into "Dawn," which featured an intricate and demanding solo by McLaughlin.  Close deemed the performance "vibrant, musically interesting and artistically proficient."   The audience gave the orchestra a rousing – and well deserved – standing ovation after close to two hours of virtually non-stop performing.
Michael Johnson's set was deemed articulate.
---
SHAWN PHILLIPS
Shawn Phillips returned to the Guthrie for four concerts on April 23 and 24, 1972 (2 sellout shows each night), presented by the Walker.  He played the guitar and sitar.
Roy M. Close of the Star reported that Phillips started with several solo numbers, then brought on his sidemen for the final 45 minutes.
Throughout the concert, he deonstrated vocal versatility and power, solid if unspectacular musicianship and infectious stage manner.  He played several new songs that tend to make more frequent use of dissonant chords and unpredictable melodic skips than his earlier numbers.
Close rightly predicted:  "I think his popularity will not fade quickly."  An indication was that most of the people who had bought tickets for the first show had also purchased tickets for the second show.
---
PHILLIP GLASS
Philip Glass performed on April 29, 1972, at the Walker Art Center Auditorium, presented by the Walker.
---
TOM RUSH
Tom Rush performed on April 30, 1972, presented by the Walker.  He was backed by three sidemen.
Peter Altman of the Star expressed disappointment in Rush's movement away from his initial traditional blues and folk music of the '60s, writing that his recent records had been increasingly overproduced and gimmick-riddled.  The Guthrie concert confirmed that he had "lost musical determination and self-awareness."  Even his songs from the past were performed in an "offhand, almost ramshackle" manner.  The new material was almost consistently uninteresting.  His singing and stage style was mannered, with a phony hillbilly facetiousness.
---
IT'S A BEAUTIFUL DAY
It's a Beautiful Day, with Jim Croce, performed two sold-out shows on May 7, 1972.   This was no doubt the rescheduled concert that was cancelled in October 1971.
It's a Beautiful Day
The six-member group formed in 1967 by Pattie Santos.  Other members were David LaFlamme (vocals, violin), Bill Gregory (lead guitar), and Val Fuentes (drums).  Star reviewer Roy M. Close was not impressed with the group during the first half, but the second half was when they performed their signature songs "Hot Summer Day" and "White Bird."
Jim Croce
Many thought that opener Croce blew the main act away.  Croce may have been a replacement for Billy Joel, whose name is on one Walker list.  Close wrote that Croce sang and played acoustic guitar with spirt and an entertaining style that he found appealing.
---
TODD RUNDGREN
Todd Rundgren made his Twin Cities debut at the Guthrie on June 4, 1972, with the Hello People opening.  The show was presented by the Walker.
Marshall Fine's review in the Minneapolis Star the next day describes a strange show – but maybe not so strange for 1972.  About 350 people were "congregated in the center of the main floor" – sitting on the floor?  Okay, even Fine calls the opening strange.  His review is so lovely that I will quote most of it.
Four guys in red leotard tops can be seen milling around on the dim stage.  Over the sound system, crowd noises, symphony warmups, then a gruff voice, saying, "And now, the Todd Rundgren Show, with the Hello People."
And the lights come on and those four guys in red leotard tops are all wearing makeup, yes, makeup – white-face and eye highlights.  They do a perfunctory little warmup tune.  Then there there's no sound – they're doing a mime about eating apples.
In extreme slow motion, they glide back to their instruments and play a song that slows to a steady "chukk-chukka-chukk" as one of them marches forward and describes, in words and motions, the hacking open of a person's chest with an ax by "the mad red ant lady," who then puts ants all over the wound.  The crowd is in stitches.
Then on marches an additional trio, more conventionally dressed.  The one at the organ looks like some insane buccaneer, with a scarf on his head and what looks like a Chiquita Banana sticker on his forehead.  The guitarist, whose name is Tom Cosgrove, sings a short blueser, ending in a sweeping five-part a cappella chorus.  The crowd cheers.  A voice on the mike says, "And now Todd Rundgren," and this wraith slides onto the stage, two-tone blue blazer glimmering.  Into his guitar and whammo – this gigantic St. Bernard growling voice is blowing the guts out of everyone.
Which wouldn't be so odd, except Todd Rundgren is noted for his high school love songs.  He's skinny enough to hide behind a microphone stand and he's got a sort of demented high school dopey smile on his face.
Rundgren was right in there, though, yesterday, sailing through his hit, "I See the Light" (not a religious song: the light is "in your eyes"), plus tunes from his album, "Something-Anything?" and a golden oldie from his days with Nazz, "Hello It's Me."
---
MAHAVISHNU ORCHESTRA
The Mahavishnu Orchestra with John McLaughlin  returned to the Guthrie on August 13, 1972.  The sold-out show was presented by the Walker.
Michael Anthony's review in the Tribune reported that the audience cheered and applauded as soon as the orchestra walked out on the stage.  Anthony called them "perhaps the most contemporary group around."  He described their music as "Loud, restless, generally atonal improvisations, usually opening and closing with a somewhat ethereal ensemble melody."  McLaughlin played a double necked guitar, one neck with twelve strings, one with six.  Much of the program came from the group's album, "Inner Mounting Flame."
The rest of the orchestra was Jan Hammer, a Czechoslovakian pianist and synthesizer player; Rick Laird, an Irish bassist; Billy Cobham, drummer; Jerry Goodman, violin.
Roy M. Close, writing for the Star, noted that, compared to the show at the Guthrie the previous February, there were some technical difficulties, including a persisten buzz in the loudspeaker system and sloppy handling of spotlights.  The show was not as precise as it was six months previous either, Close said.
---
PURE FOOD AND DRUG ACT – [ARGENT]
Pure Food and Drug Act took the stage on August 20, 1972.  The group was hired to be the opening act for Argent, but the English group missed a plane connection in Seattle due to a sky-jacking incident on the West Coast.
Some chose to get a refund for their tickets, but most of the audience stayed to hear the Americans, and the theater was three-quarters full to see the PF&DA.  The group had some veteran musicians, said reviewer Marshall Fine:
Don (Sugarcane) Harris on violin – Frank Zappa and John Mayall
Harvey Mandel on guitar – Canned Heat and John Mayall
Paul Logos, Percussion – Mayall and a longtime studio musician
---
ARGENT
Argent made up the date on September 3, 1972, presented by the Walker.  Rod Argent was the former head of the Zombies and the group had a small but ardent (!) audience at the Guthrie.  The theater was only one-third full and the show was an hour and five minutes late, but Star reviewer Marshall Fine called it one of the most exciting sets seen here in months.
It contained elements of heavy blues, pretty harmonies, well-coordinated and numerous time changes, odd syncopation and even boogie woogie.  Rod Argent showed himself to be a diverse and skillful keyboard artist, fervently unleashing solo after well-wrought solo, both on organ and electric piano.
Other members of the band included Russ Ballard, lead guitar and vocals; and Jim Rodford, bass.
(Marshall Fine review, Minneapolis Tribune, September 4, 1972)
---
NEWMAN AND CROCE
Randy Newman, with Jim Croce, performed on October 8, 1972, presented by the Walker.  A near-capacity crowd turned out.
Randy Newman
Croce and Newman often played double bills, according to Michael Anthony's review in the Tribune.  Newman was Newman, and Anthony called him "one of the most competent and interesting songwriters today."  He was called back after his set for several encores.
Peter Altman, reviewing the concert for the Star,  wrote that Newman was consummately artistic. He played mostly familiar works with few surprises, but his songs are acute and well-crafted.
Jim Croce
Anthony wrote that Croce's opening set consisted of about half from his album "You Don't Mess Around With Jim."  His back-up guitarist was Maury Muehlheisen, who also added occasional vocals.  Altman detected a disconnect between Croce's melodies and lyrics, and his rather unclear enunciation made it difficult to understand.
Altman wrote that Croce's set was unremarkable if pleasant enough.  Croce told amusing anecdotes and his songs evidenced some sophisticated musicianship, but were considerable less distincitive.
---
COMMANDER CODY
Commander Cody and His Lost Planet Airmen, with Merry Clayton, performed on October 29, 1972, presented by the Walker.  The crowd was about 90 percent capacity.
Commander Cody
In his review for the Star, Peter Altman reported that Commander Cody gave not the customary one, but two shows, lasting from 8 to 11: 15 pm.  It was advertised as one concert, so they must have just kept going.
The group's members included Andy Stein on fiddle and saxophone, Bobby Black on pedal steel guitar, John Tichy on lead guitar and vocals, and Commander Cody on stride piano.  On most songs there were three singing guitarists.
Merry Clayton
Altman characterized Merry Clayton as singing "funky but not particularly distinctiv or affecting blues accompanied by five instrumentalists."
---
PAUL WINTER CONSORT
Paul Winter Consort – a six man jazz group – performed on November 5, 1972, presented by the Walker.
---
CURTIS MAYFIELD
Curtis Mayfield, with Danny Holien, performed two shows on November 12, 1972, presented by the Walker.  Mayfield sold out both shows, but the first was only 45 minutes long because he got lost in the Lyndale Ave. bottleneck and eventually had to call for an escort to find his way to the theater.
Curtis Mayfield
Tom Murtha, reviewer for the Star, reported that Mayfield received a warm welcome, and performed material from "Superfly" in his trademark falsetto.  He made note of his young age (around 30) and his 12 years' experience in the Impressions; his band members were from the Impressions:
Craig McMullen:  guitar
Tyrone McCullen:  drums
Lucky Scott:  bass
Also in the group was Henry Gibson on bongos, congas, and tumbas, reflecting Mayfield's growing interest in Afro-Cuban rhythms, influenced by Santana.
Murtha analyzed Mayfield's deepening maturity as a songwriter:
His view is that of a humanist, seen through black eyes.  His songs take a slice of life.  A musical journalist, he can talk of blacks and whites sitting on the same big city bus, all working the same job for the same pay and all staring at each other with the same mistrust.
His rhythm and blues is soul with a vision.
Danny Holien
The show opener, Danny Holien, was a native of Cannon Falls, Minnesota, who had a folk record called "Colorado" on the local charts.  His band Eat featured Minneapolis bassist John Sutphen.  Murtha deemed the music "tight, punchy, energetic," but smacked of country rock and "was about as welcome to the crowd as a polka band would have been at the closing concert of the Fillmore East."  In fact his opening headline was "Pre-Show Not Welcome."   Ouch.  To make matters worse, the sound system got unplugged five bars into his first song.
---
TAJ MAHAL
Taj Mahal, with Steely Dan, gave two sold out shows on November 19, 1972, presented by the Walker.
Taj Mahal
While Mahal appeared in 1971 with an eight-piece band, for this show he performed solo.  He accompanied himself on piano, guitar, steel-bodied guitar, banjo, and an African thumb-piano called the kalimba.  Minneapolis Star reviewer Roy M. Close described his music as traditional Southern black blues, inspired jazz renditions of songs like "Jelly Roll," and his own blues-oriented tunes.  They were humorous, whimsical, and always captivating, said Close.
Michael Anthony's review in the Tribune reported that Taj came out alone and dedicated the proceedings to chasing "the devil out of the room."  His material was "old plantation work songs," although he was born in New York City.  Anthony found it tedious.
Steely Dan
This was apparently the local debut of Steely Dan, who opened with a half hour set of what Close deemed to be "solid but utterly ordinary."  "The group played cohesively and at times well – but its music was predictable and uninteresting, and its lead singer resembled Mick Jagger much less than he thought he did."
Anthony found some of Steely Dan's set undistinguished, but with a couple of good, old-fashioned rock and roll numbers.
---
DRAFT BENEFIT
On November 26, 1972, Willie and the Bumblebees, Dave Ray, Mark Naftalin, and Tony Glover performed a benefit for Minnesota Draft and Military Help, a draft counseling program.  The show was sponsored by the Newman Center and held at the Guthrie.
---
PATTI SMITH
Patti Smith, with Susan Martin and Tony Glover, read some of her poetry in the Walker Art Center Auditorium on December 3, 1972, presented by the Walker.
There was no review in the Star or Tribune; I'll bet there was in the Minnesota Daily, but the Daily went offline.  The articles in the Star and Tribune on the day of the event said that Patti described herself as a "New Jersey swamp child/New York street poet."  Turns out that it was Tony Glover who was trying to promote his favorite poet, according to the Tribune.  Glover and Martin would accompany her on guitars and harmonicas.  Glover described her poetry:
It's real good, man, she's the best poet I know.  It's not just intellectual and academic, it's more natural, like street rhythms, rock rhythms.  It's kind of horny.  I'd call it horny; she'd call it dirty, dealing with sex and sensuality.  Not like those other cats, you know, who write, "I was walking by the sea and saw a sand crab," and then write 45 pages on the sand crab.
She's hip to Lorca and Rimbaud, and she has style and class and she performs when she reads; she doesn't just stand there and get the audience up tight.  She's a good performer.
She's acted off-Broadway and she used to be an assistant to a fire eater on the Paris streets.  She co-authored a play that ran one performance and she warms up the audience before rock shows at the Mercer Arts Center in New York for two shots of Wild Turkey and four bucks a night.
She's a combination of tough, hillbilly chick – she was mistaken for Keith Richard once in the Paris airport and chased by four chicks who caused her to miss her plane – but she can be a little girl, too.  That's enough.  For the rest, you gotta see her.
Patti Smith would return to the main stage on March 7, 1976.
---
BOZ SCAGGS, DR. JOHN
Boz Scaggs, with Dr. John the Night Tripper, performed two shows on December 10, 1972, presented by the Walker.
Boz Scaggs
Marshall Fine, reviewing for the Star, found Boz Scaggs' music to be crisp, clean, and extremely likeable.  He touched all bases:  rock, blues, rhythm and blues, samba, even classical.  Many comparisons were made to Van Morrison, and indeed one of his sidemen, Jack Schroer, on tenor and soprano saxophones, appeared on Morrison's "Too Late to Stop Now" seminal live album.  Scaggs was also backed by Joachim Young on four keyboard instruments.
Dr. John
Dr. John rated a complete description in Fine's review:
Dr. John, whose real name is Mack Rebennack, played the whole show in one of the most flamboyant get-ups evr displayed on the Guthrie stage.  Leathers, furs, talismen and puches hung from his chest.  His face and beard were spangled with purple glitter and his head adorned with a headdress topped by multi-colored feathers.
Dr. John sang growly, bouncy blues in a voice that sounded like metal dragging on asphalt.  He had a rolling, barrelhouse piano style, which was obscured by a bad sound system.  While his music began to drag after a bit, his showmanship obscured the fact for most of the performance.
---
LEO KOTTKE
The Leo Kottke Christmas Show, performed two shows over December 19-20, 1972, was taped for a live album.  The show was presented by the Walker. Also referred to as the Leo Kottke Revue, or the Third Annual Walker Art Center Presentation of Leo Kottke at the Guthrie.
Billy Peterson and Bill Berg, who performed on Dylan's "Blood on the Tracks" album in 1974, participated in this performance.
In his review for the Star, Tom Murtha described the show as "Felliniesque."  First up was magician Bruce Russel, who chain smoked an entire pack of cigarettes which he drew burning, one by one, from his sleeve.
Next came Jose Cole, who balanced on a pedestal upon his index finger.
Finally there was Wally Pikal, who ordinarily led and old-time band.  Here he played "Stars and Stripes Forever" on three trumpets while jumping about the Guthrie stage on a pogo stick, which he brought in a guitar case.
Then it was time for Kottke, who was a hugely popular and talented guitar player.
---
1973
BACK TO BLACK
Back to Black was a benefit show put on by and for 13-17 year old musicians from the New Way Community Center on January 2, 1973.  Presented by the Walker in the Auditorium.
---
MILES DAVIS
Miles Davis performed two shows on January 28, 1973, presented by the Walker.
Tom Murtha reviewed the show for the Star, and called Davis "god-like and transcendant."
Each of his concerts is committed to legend thirty seconds after it ends.  People remember where, and with whom, they heard it – but most of all, they remember the music, because it is never the same.  The first set lasted an uninterrupted hour and a half, and bore scant resemblance to anything Davis had recorded.
Davis had assembled a new group, except for bass player Mike Henderson – young players with vitality and openmindedness, wrote Murtha.  The music was much more than rock and roll, but it was also much more than jazz.  Davis kept his "distainful" back to the audience as always.  He fumbled with his electrodes for awhile, and finally gave up and played his horn open and unelectrified.  He left the stage for 20 minutes for a keyboard solo, and when he returned he played the blues – and nobody plays a blues the way Miles Davis does.
---
DAN HICKS
Dan Hicks and His Hot Licks performed on February 4, 1973, presented by the Walker.  More than 1,400 were in attendance.
In his review for the Tribune, Michael Anthony explained that the six-member band played swing and pre-swing from the late 1920s to the early '40s, with an occasional nod at the '50s.
As front man, Hicks (who looks like a young mustached Lee Marvin) gives the group a deceptively casuall, flakey ambience via his rambling and often introductions.  But the fact of the matter is that Hicks and company are a shrewdly organized buncch of very talented musicians.  And it's a shame more oldsters, who have more memories of this kind of music, couldn't tear themselves away from the TV set on a Sunday night to see Hicks perform.
Hicks and two girls, Maryann Price and Naomi Ruth Eisenberg (known as the Lickettes) handled the vocals, with Eisenberg doubling on violin.  Sid Page played violin and mandolin; John Tichy was on guitar, and Jaime Leopold on bass.  With the exception of "I'm an Old Cowhand," the tunes were original, although reminiscent of artists such as the Boswell Sisters; Lambert, Hendricks, and Ross; Connie Francis; and Django Reinhardt.
Marshall Fine, reviewing for the Star, wrote an unusually (for him) glowing piece, calling it
one of the most strikingly original concerts I've seen in a long time, combing showmanship, humor and tight musicianship.  He turns each song into a small, many-faceted jewel that can sparkle or shine as his mood dictates.  The music is captivating and refreshing.
Fine began his review with "Why Dan Hicks and the Hot Licks isn't a super-group is beyond me."
---
WEATHER REPORT
Weather Report performed two near sellout shows on February 11, 1973, presented by the Walker.
Tom Murtha, reviewing for the Star, described Weather Report as a five man esoteric, jazz-oriented group with international roots.
Members consisted of:
Josef Zawinul: Keyboards (Vienna)
Wayne Shorter: Saxes (U.S.)
Miroslav Vitous: Bass (Czechoslovakia)
Eric Gravatt: Drums (U.S.)
Dom Um Romao: Percussion (Brazil)
Murtha was disappointed in the audience's unresponsiveness, and would have preferred dancing in the aisles to the closing standing ovation.
---
DAVID BROMBERG
David Bromberg performed to a capacity crowd on February 24, 1973, presented by the Walker.
Marshall Fine's review for the Star reveals that Bromberg had been primarily a session guitar player, and had played back-up on more than 50 albums, including work for Bob Dylan.  His favorite kind of music was urban blues of the 1920s.  Fine wrote that he was not a good singer, but that he "conveyed the despair and pain of the blues he played with a sensitivity [he] had seldom heard."
Bromberg's band, The Unnatural Act, included Neal Rossi on mandolin and fiddle, and John Paine on saxohones, clarinet and flute.  The group got three standing ovations.
---
PRINE – RAITT

John Prine with Bonnie Raitt performed two sold-out concerts on March 10, 1973, presented by the Walker.
John Prine
Michael Anthony, reviewing for the Tribune, called Prine "the best lyricist in the country today."  His concert was "rich with humor and originality."
Judging from the response from the young audience, Prine's tune "Illegal Smile" had become a drug culture anthem.  The subject of his songs is often lonliness.
Anthony found Prine as a performer to be "a bit shy, to say the least.  With his guitar at his chest he looks like the proverbial youngster forced out into the living room to perform for the neighbors.  But his delivery, with a voice so reminiscent of the early Bob Dylan, is immensely effective, nonetheless."  The material performed was made up largely from Prine's two albums.
Roy M. Close  of the Star was effusive, calling Prices show one of the finest Walker-sponsored concerts of this or any other season at the Guthrie.  "This tunes, mostlyy about the personal relationships of  'ordinary' people, are simply the best pop songs being written today.  They are witty, poignant and unfailingly fresh in their use of detail."
Prine sang 17 songs, from his two albums plus three others.  "All considered," Close wrote, "Prine's hour-long set was distinctive, first-rate entertainment."
Bonnie Raitt
Anthony found Bonnie Raitt to be anything but shy, however.  He found her music to be "a delightful blend of country blues tunes plus material by Joni Mitchell, Jackson Browne and Fred McDowell.  She sings well, in a rich flexible, bluesy voice and her guitar work (nicely backed by her bass player Freebo) is more than competent."
Close wrote that Raitt was neither an outstanding vocalist nor an unusually remarkable interpreter, but she coste interesting material, used her range effectively, and handled her songs well.  He thought she sounded tired, but found her set pleasant and enjoyable.  Her material included songs by Christ Smither, Joel Zoss, Eric Kaz, and "Spider" John Koerner.
---
BETTE MIDLER – CANCELLED

The Divine Miss M was originally scheduled to appear at the Guthrie on March 13, 1973, but for some reason that fell through.  The file at the Walker has notes that she was negotiating to appear that fall at Northrop Auditorium, perhaps co-sponsored by the Walker and the MSA Bookstore of the University of Minnesota, but that didn't happen either.  According to a website listing her concerts, she didn't make it to Minnesota until 1983.
---
MAHAVISHNU ORCHESTRA
John McLaughlin and the Mahavishnu Orchestra performed two sold-out shows on March 18, 1973, presented by the Walker.  This was its third appearance at the Guthrie in 13 months.
Roy M. Close of the Star opined that the group coninued to be one of the most imaginative and interesting jazz ensembles that enjoys a popular following.  The first set showed nothing especially new in terms of its harmonics and rhythms, but most of the music was comparatively new.
Distractions haunted the performance:  humming speakers, sticky keys on Jan Hammer's piano, and a spotlight that was meant to turn the performers different colors, handled badly.
The opening act was the Capital Quartet of the St. Paul Chamber Orchestra, which performed George Crum's "Black Angels."
Close:
The 1970 work, scored for electric string quartet, is so stuff with dar, abstruse symbolism that one literally needs a chart – supplied, somewhat surprisingly, with the program – to begin to comprehend it.
---
STEVE GOODMAN
Steve Goodman played two shows on May 6, 1973.  Jim Croce was scheduled to headline, but cancelled at the last minute due to illness.  Minneapolis Star reviewer Roy M. Close said that many people chose refunds, but 700 stayed for two sets by singer-composer Goodman.  Close called the sets appealing and well-played, especially when singing his own compositions.
---
DAVID BROMBERG
David Bromberg performed to a full house on June 3, 1973.  He and his group had just been at the Guthrie in February, 1973.
Marshall Fine's review reminded us that at the February show, the group had only been together less than a week, and that there had been some rough edges.  This June performance, lasting almost three hours, was deemed "an act to be reckoned with.
The band, whose name kept changing, included:  John Paine (saxophones, clarinet, and flute); Peter Ecklund (French horn and cornet); Neal Rossi (violin, guitar, mandolin, and piano).
The group's repertoire included a number of styles and eras of music, including reels, blues, cha-chas, and country.  The show included a guitar rendition of an old Scottish fiddle tune, and an a cappella version of a Mormon travel song of the 1800s.
As before, Bromberg, mentioned how much he appreciated the reception he got from Minneapolis audiences and how much he enjoyed playing at the Guthrie.
I have a note here that the show featured a jam with Bill Quaiteman.  That was not in Marshall Fine's review.  There was only one show.  I Googled Bill Quaiteman and came up with a Bill Quateman, who had a song at the bottom of the charts in 1973.  That Bill Quateman?  Please contact me if you know!
---
BOBBY LYLE
Bobby Lyle performed to a near-capacity crowd on August 26, 1973, presented by the Walker.
Michael Anthony of the Tribune reviewed the nearly three-hour concert by local keyboard player Lyle, who had spent two years recording and touring with Young-Holt Unlimited. Lyle was about to represent the U.S. in October 1973 in the Yamaha International Keyboard competition in Japan.
Lyle opened both halves of the concert with a 12-minute piano solo, "a kaleidoscope of various rhythms and styles, from stride to walking bass to quasi-fugal effects."
Performing with Lyle were Eric Gravatt, percussion (recently from Weather Report); Bob Rockwell, winds; and Billy Peterson, bass.
At the end, Myron Johnson of the Children's Theater lead a group of seven dancers in an "exuberent, though not totally precise" choreographed treatment to one of Lyle's compositions.
Roy M. Close reviewed Lyle's concert for the Star, and referred to it as the first of the Walker's resurrected "Jazz at the Guthrie" concerts.  Close wrote that Lyle alternated between piano, electric piano, and organ, sliding from one bench to another, or simply reach across to play two instruments at the same time.
When he finally settled at the organ for his longest solo of the evening, Lyle swiftly demonstrated the potential of thaat instrument, using stops to create whistles, shrieks, eerie sighs, tremulous bleeps and percussive pops.  There was a bit of almost everything, including a snatch of a blues melody and a passage in which the soloist held an octave's worth of keys down with his right hand while he played the stops with his left.
---
MINGUS
Charles Mingus performed two shows on September 23, 1973, presented by the Walker.  Reviewer Michael Anthony of the Tribune reported that the second show started at 10:37 and lasted for 70 minutes.
Roy M. Close of the Star reported that the audience was less than half-filled for the first show; he was told the second show drew slightly more.
His sidemen were Ron Hampton on trumpet; George Adams on saxophone; Doug Hammond on drums; and Don Pullen on piano.  Close wrote that the group gave a remarkablely unaffected performance.
---
HICKS AND MULL

Dan Hicks, with Martin Mull, performed on September 30, 1973, presented by the Walker.  The crowd was about two-thirds capacity.
Marshall Fine of the Star, who had given Hicks an exemplary review for his February 4, 1973, performance, noted that the Hot Licks had broken up and Hicks was in a personal and professional decline.
Backed by bassist Jaime Leopold and guitarist John Girton, holdover Hot Licks, Hicks slouched and drank throughout an uninspired 75-minute set, during which a number of people walked out.  His voice wandered endlessly, he had a difficult time staying on key and his approach to the show bordered upon – and sometimes crossed into – outright contempt for the audience.
Fine had lots of good things to say about opening act Martin Mull and his absurd sense of humor
Billed as "Lonesome Dan Hicks," one concert goer said he was "fall-over drunk and embarrassing…  Mull was very funny and Hicks kept saying stuff between songs like 'I hate that %#} Martin Mull.'"
Musician Jerome Lawrence Beckley was at the show and remembers:
Mr. Hicks did not have the women singers that night and that displeased the audience. Hicks proceeded to get very intoxicated onstage in front of us. After the show I went to the Home Bar and sat in with friends who were playing there that night. Hicks came into the bar with a long legged blonde and disappeared into the bathroom. When he burst into the front door of the bar I announced his presence and he shouted back, "Don't blow my cover!"   My Dan Hicks story.
Dan Hicks died on February 6, 2016, at the age of 74 of throat cancer.
---
JIM CROCE/TONY JOE WHITE – CANCELLED
Jim Croce was scheduled to perform at the Guthrie on October 7, 1973, opened by Tony Joe White.  This was probably a re-schedule of the concert Croce missed the previous May.  Unfortunately, the show was cancelled as Croce died on September 20, 1973.
---
POINTER SISTERS – MULL

The Pointer Sisters, with Martin Mull, did two sold-out shows on November 11, 1973, presented by the Walker.
Pointer Sisters
Star Reviewer Roy M. Close called the Pointer Sisters the year's hottest new singing group as they made their "sizzling" local debut.
Sisters Ruth, Anita, Bonnie, and June Pointer came from Oakland, California, and sang songs reminiscent of the 1940s, complete with fashions.  Their show was full of movement and energy, and Close wrote that they did better in the uptempo jazz songs than the slow numbers.
Martin Mull
Martin Mull was again the opening act, and he did a 45-minute set.  Close found him to be talented but he needed to prepare a routine worthy of his abilities.
---
JOHN PRINE – REDBONE

John Prine, with Leon Redbone, performed to a sold-out audience on December 2, 1973, presented by the Walker.  This was Prine's third visit to the Guthrie in less than three years.
John Prine
Michael Anthony of the Tribune noted that Prine looked a bit slimmer than in his last appearance at the Guthrie.  He played a 100-minute set that included material from his first three albums.  Anthony deemed Prine's songs, 'with their economical lines, vivid images, and bittersweet portraits of small-town fat girls, old people and veterans, some of the day's best."
Roy M. Close of the Star noted that when the Guthrie first presented Prine in February 1972 he was relatively unknown, but now he was widely known as "the most original composer of popular songs since Bob Dylan."
He stands while singing, shifting his weight restlessly from one foot to the other, occasionally interrupting a song to relate an anecdote.  The accompanies himself on a six-string guitar, an instrument on which he appears to know about a dozen chords.  His voice is husky and unreliable, but he projects well.
Close found the concert disappointing, in that Prine sang nothing that had not been released on record.  He had hoped to hear a new song or two from a performer known as a songwriter.
Leon Redbone
Anthony wrote that Redbone was new to this area – or any area- since no one seemed to know anything about him.  He had not recorded, although Anthony doubted whether a recording would do him justice.  Redbone was wearing what looked like a bus driver's cap looked like a "young Groucho (sporting an unlit cigar)" and sang like Fats Waller.  His material was country blues, 1920s jazz, and old-time songs, "all rendered in a deep, melifluous voice and above-average acoustic guitar work.
In fact, hearing all this great old material done in Redbone's style – his lips barely moving – is like hearing it on a 78 disc.
---
LEO KOTKE
Leo Kottke performed his Christmas show (two shows) to a capacity crowd on December 16, 1973, presented by the Walker. Opening act was mime Rick Shope.
Michael Anthony of the Tribune reported that Kottke, walked out onto the stage, sat down on a stool, picked up his 12-string guitar, and said, "Good evening, ladies and gentlemen, I'm Tammy Wynette."
Kottke played two 85-minute sets, displaying his "familiar rich, almost orchestral tone and fluid technique."  He was joined in the last part of his set by Billy Peterson on bass and Bill Berg on drums.  His voice was almost drowned out by these extra instruments, but they made for a lively change of pace.
Rick Shope
Rick Shope was a mime, performing the first set of the evening with a collection of brief sketches that were skillful and often amusing, wrote Anthony.  His associate, Sherry Noethe, performed in some of the pieces.  The two, along with Kurt Flick, were to soon head to Paris to study with Marcel Marceau.  The Guthrie appearance was a fundraiser for the trip.
---
MICHAEL JOHNSON
Despite freezing temperatures, Michael Johnson performed to a sellout audience on December 30, 1973, presented by the Walker.  It was his first solo concert at the Guthrie – he had appeared before at least once as an opening act.
Roy M. Close of the Star reported that the concert was two hours of "agreeable, if not overwhelming" music.  At first his playing was stiff and unsteading, as was his singing.  But he soon relaxed and found his rapport with the audience.  He showed a preferece for emotional songs, but also to humorous tunes.  What makes him unique was his musicianship.  Although not a prolific composer, he created new arrangements for the songs he sings, and was a personable performer – Close used the words mild and self-deprecating.  Close also wrote that Johnson must improve as a vocal stylist and interpreter if he wants to graduate permanently from an opening act to a headliner.
Michael Anthony's review for the Tribune revealed that although Johnson grew up around Denver, by this concert he had lived in suburban Minneapolis for four years.  He had issued one album, "There is a Breeze."  He was a local favorite, and the audience gave him a couple of standing ovations and generous applause throughout the two-hour concert.
---
1974
Duke Ellington was scheduled to do one show on January 19 and two shows on January 20, 1974, but were cancelled when Ellington was checked into a hospital with rumors that he had cancer.  The shows were rescheduled for March.
---
JACKSON BROWNE – LINDA RONSTADT
Jackson Browne, with Linda Ronstadt, performed two concerts on February 3, 1974, and another on February 4, presented by the Walker.
Jackson Browne
Roy M. Close, reviewing for the Star, opined that Browne was even better in concert than he was on record.  His songs, some of which have been recorded by other artists, "celebrate life and its attendant uncertainties.  In many there's a strain of fatalism, an expressed awareness that whatever else may be on the road ahead, death is at the end of it."
Close said that Browne displayed a dry wit and strong sense of irony, and although his singing was unremarkable, he was sure of himself at all times.
Backing him up were Doug Haywood (bass and vocals); David Linley (fiddle, guitar, pedal steel); and Larry Zack (drums)
Michael Anthony of the Tribune termed the genre of the evening California country.  His assessment of Browne tracked that of Close:  "His voice is anemic, his guitar and piano accompaniment no more than apt (ept?), so it's the songs that attract the fans, I presume.  His real forte is a kind of easy-going, engagingly crafted ballad, usually autobiographical, with sources in both the country and folk tradition …  The melodies are finely spun and the lyrics wistful."
Linda Ronstadt
Close's review spent a lot of ink on Ronstadt's performer, calling her "an interesting but not extraordinary interpreter who could be the next Patsy Cline – but isn't yet."  Close felt she was influenced by Cline in that she sang Cline's "I Fall to Pieces," although she had to transpose the song up an octave.  She "is blessed with a strong, clear, flexible voice that resonates with feeling."  Unfortunately, excessive over amplification of her voice and the band proved to be an annoyance, and she would have been able to fill the hall without electronic help, wrote Close.
As  did Close, Anthony mentioned Ronstad's attractiveness.  He also felt that the ensemble was over-amplified.
---
MILES DAVIS
Miles Davis was back with two shows on February 5, 1974, presented by the Walker.  Neither of the shows were sold out.
Roy M. Close, reviewing for the Star, was thoroughly disappointed in the direction Davis was going by becoming more electrified and rhythm-oriented.  He said that Davis's last Guthrie show "suggested that he was no longer the exciting, stimulating performer he had been for more than two decades."  This show suggested to Close that Davis was "no longer even making interesting music."  He eventually walked out of the first show.
His playing has utterly lost its eloquence, its shimmering brilliance and its power to move the listener's imagination.  It is now tuneless, toneless, and (literally) painfully loud screeching over the din produced by six able but deplorably overamplified sidemen.  In essence, Davis has turned his trumpet into an electronic percussion instrument capable of delivering tremendous volume at the expense of almost every other musical quality.  Even phrasing is no longer possible under these circumstances, so Davis uses a wah-wah pedal to outline phrases … a poor substitute for the lip.
Most of Davis' solos were staccato blasts in the upper register of his instrument.  Occasionally he moved to the organ, which he played lethargically with his right hand while continuing to hold his trumpet in his left.  His demeanor was, as always, cool, impersonal and detatched.
Michael Anthony of the Tribune covered the second show, and wrote that "For a lot of people, what he's doing now is just noise."  The volume level of the 75-minute set was painfully loud.  Davis blew a few notes on the trumpet then walked over to the portable electric organ and played a few dissonant chords.  "Miles own playing was the biggest disappointment."  The music had "little melodic structure and quickly became repetitious."
Sidemen included Al Foster (drums); James M'Tume (congas); Michael Henderson (bass); Reggie Lucas (rhythm guitar); and Dave Liebman (reeds).
Toward the end of the concert, everyone left the stage for a ten-minute conga solo by M'Tume.  Then Davis blew three clear, plaintive notes – the Miles of old.  Anthony interpreted the audience's applause as a with for the former Miles.
---
STEVE GOODMAN
Steve Goodman performed on February 23, 1974, presented by the Walker.  The audience numbered about 1,000.
Charles Quimby reviewed the concert for the Star, calling it "nearly three of the most entertaining hours I've ever spent in one place."  His material of humorous songs and touching ballads ranged from wildly funny to slightly raunchy to deeply poignant, bringing sustained applause from the audience.
Local favorite Leo Kottke made a surprise appearance to accompany Goodman for numerous encores.
---
BOBBY SHORT – No Evidence
Jazz singer Bobby Short was listed as performing on February 24, 1974, on the Walker list but there were no ads in the newspaper to be found, nor any reviews, which would be strange if such a big star had come to town.  A look at the file in the Archives shows notes of confirmation, but no documentation of cancellation.
---
DAVID STEINBERG
David Steinberg, with Peter Yarrow,  performed two shows on March 4, 1974.
Charles Quimby reviewed the show for the Star.  Steinberg's humor centered around politics, sexual insecurity, and television, including topics of obscenity and greed.  He sang Shel Silverstein's "Freakin' at the Freaker's Ball," and answered the audience's ovation with an encore routine about a psychiatrist "that had its good moments," but in all "did not quite measure up to the quality of a generally funny evening."
---
GARRISON KEILLOR
Local humorist and writer Garrison Keillor taped three radio shows for later boradcast on KSJN at the Walker Art Center on Sunday, April 7, at 3, 5, and 7 pm.  The tapings were in the Art Center Auditorium
Featured with Keillor in the programs were the West Bank Trackers, Vern Sutton, Bill Hinkley and Judy Larson, the Herrick Family Quartet and the Wolverines.  The three radio shows were:
The Lake Wobegon Academy of Song faculty recital and seminar at 3 pm;
Faded Photos-Parlor Songs and Old-Time Jazz at 5 pm; and
Jack's Anniversary Dance at 7 pm.
(Press release No. 61 dated March 29, 1974, from Walker archives)
---
ADVENT OF GUTHRIE BOOKING
The Steinberg show was the first concert booked directly by the Guthrie's management.  Most of the shows up until now had been booked by the Walker Art Center.  A few months later, on April 8, 1974, Roy M. Close of the Minneapolis Star noted that the Guthrie had established a working relationship with promoter Richard Shapiro of Greathall Corp.  Shapiro booked Steinberg and following programs by the Electric Light Orchestra, Melissa Manchester, Return to Forever, and Robert Klein.
Close wrote that the new policy seemed likely to increase substantially the number of non-theatrical events at the Guthrie, especially during the four months that the Guthrie was dark.  But he also wrote that the new policy has alarmed the Walker's coordinator of performing arts, Suzanne Weil, because it apparently altered a longstanding, unwritten agreement between the new neighboring institutions that the Walker would not compete with the Guthrie by not booking theatrical events and the Guthrie would not book musical attractions.  The only exception was the three concerts by John Denver in 1971.
Guthrie Managing Director Donald Schoenbaum said the new policy was not intended to put the Walker and the Guthrie into competition, but to put the theater into maximum use, bring a varied program to the public, and to make money for the theater.  He said he had been given a free hand to approach any attraction he felt would be profitable, provided that he could not attempt to outbid Suzanne Weil.
The system was not perfect.  Weil said she first heard of the new policy when she tried to book Melissa Manchester, only to find that she had already been contacted by Shapiro and had agreed to appear in the Guthrie-sponsored series.
---
DUKE ELLINGTON
Duke Ellington and His Orchestra performed three shows on March 15, 16, and 17, 1974.  These were rescheduled from the cancelled January 19-20, 1974 dates.
Roy M. Close, reviewing for the Star, stated that Ellington no longer gives concerts, but conducts retrospective exhibitions and events.  At 75 his voice was no longer vibrant and he looked tired, but he remained an "urbane, witty master of ceremonies, and excellent pianist and bandleader, and a brilliantly versatile and imaginative composer."  By 1974 the band had lost key members Johnny Hodges, Billy Strayhorn and Jimmy Hamilton.
The first of three concerts drew a near-capacity crowd of mostly middle-aged fans who gave him a standing ovation as soon as he reached the stage.  The second set featured singers Anita Moore and Tony Watkins.  The reed section was made up of Paul Gonsalves, Harold Ashby, Harold Minerve, and Russell Procope.
---
McGUINN – JENNINGS
Roger McGuinn, with Waylon Jennings, performed two shows on March 31, 1974.  The first show's audience numbered 1,300 and the second about 1,000.
Roger McGuinn
According to Peter Altman's review in the Minneapolis Star the next day, McGuinn was so bad that one-third the people walked out of his first show. Vocally it was disatrous – gratingly adenoidal.  Instrumentally and technically it was very bad – his PA system buzzed and caused constant distortion.  His playing of acoustic guitar, banjo, electric guitar was spotty.  The banter between songs was puerile.  "Heaven knows how McGuinn thought things were going last night."
Michael Anthony, reviewing for the Tribune, didn't even mention McGuinn in his headline, saying that he should have gone on first.  Jennings was so good that the audience had a hard time focusing on the main act.  McGuinn kept his show to half an hour and one fast encore, and seemed a bit ill at ease in the situation.  The audience dwindled, and McGuinn bowed graciously and left.
Waylon Jennings
Altman did like opening act Waylon Jennings, calling his performance "a lovely, relaxed, country-and-western hour featuring five side-men including Ralph Mooney, a superlative pedal steel guitarist.  He was a crowd-pleaser:  when he stopped after three encores, the crowd wanted more.  Altman recommended that the Guthrie have Jennings back for his own show, and they did have him back right quick.
Anthony's review was mostly about Jennings and his band, the Waylors.  He reported that despite his nasty cough, his 70-minute set was a delight.  He called it country music with rock instrumentation, as opposed to the country-rock of the mid and late '60s.
---
TEEN CORPS BENEFIT
On April 7, 1974, the Minnesota Teen Corps rented the Guthrie to hold a benefit concert.  Performing that day were some of the area's most prominent local musicians.
---
ELO

The Electric Light Orchestra, with Chi Coltrane, performed two shows on April 16, 1974.
---
---
HARRY CHAPIN
Harry Chapin performed two shows on April 26, 1974, presented by the Walker.  The audience was about 750 for the first show and the second appeared to be no larger.
Charles Quimby, reviewing the first show for the Star, wrote that Chapin mixed humor with poignant narratives for more than two hours without intermission.  There were problems:  his band spent too much time clowning around, and an amp and some microphones went dead for about five minutes.  But the enthusiasm of the crowd was not dampened by these setbacks.
The "beer-drinking, chain-smoking sidemen" were made up of Micel Masters on cello, Ronald Palmer on lead guitar and vocals, and John Wallace on bass.
Michael Anthony of the Tribune also reviewed the first show.  Chapin started out by asking the audience to consider the theater as a living room, and easily established a rapport with them.  Chapin described his material as "story songs," and some monologues, perfored sitting at the edge of the stage.  These were outgrowths from his previous career as the maker of documentaries, apparently.  Anthony was not a fan of the 2 1/2 hour show with no intermission, but that seemed to be his only complaint.
---
MELISSA MANCHESTER
Melissa Manchester, with Henry Gross, performed two sold out shows on April 27, 1974.  See ad above under ELO.  Presented by Greathall and the Guthrie Theather.
Melissa Manchester
Peter Altman of the Star appropriately wrote that she had star quality.  Her material for the show was from her first two records.  She was dressed in a loose, flowered pants ensemble in a "neo-thriftshop style."  Her four-piece band included Stanley Schwartz on keyboards, clarinet, and several other instruments.
Jon Bream, in his "R n' R Hootchie Koo" column in the TC Express magazine (July 1, 1974), also used the term "star quality" to describe Manchester.
Henry Gross
Altman was brutal when he called Gross an:
unadvertised, uninteresting hour of bugglegum rock by a band led by Henry Gross.  I hope this was not indicative of production-control standards in future Guthrie-sponsored concerts.  Walker's series has accustomed us to better.
Gross was a founding member of Sha Na Na, and in 1974 he was a solo performer promoting an LP.  He released "Shannon," about the death of Carl Wilson's dog, in 1976.
---
RAY AND GLOVER
Dave Ray and Tony Glover performed two concerts on April 28, 1974, presented by the Walker.  Their former partner, John Koerner was living in Denmark at the time.  The first was sold out.
Roy M. Close of the Star found Ray "no longer as exciting a performer," but he still had his dazzling skill on the 12-string guitar, and his voice and enunciation had improved considerably with age.  Glover's harmonica "less biting and shrill than it used to be," but he suggested that Glover had found smoother and more subtle ways of communicating through his instrument.
Close reported that the program consisted mainly of blues.  They were very attuned to each other, anticipating one another's tempo and volume changes precisely.  There was very little banter between songs.  They received a long, loud ovation when the concert was over.
---
CHICK COREA – RETURN TO FOREVER
Chick Corea and Return to Forever performed on April 30, 1974.  See ad above under Electric Light Orchestra.
John Gunter reviewed the concert for the Star and found it to be very musical and exciting.  The house was full – and young.  He described the music as:
a tapestry, rich with contemporary jazz, rock, classical and above all, Latin strands, woven together so well that generic musical categories became meaningless.  Most of the numbers played were Corea's own compositions.
 Musicians were Corea on electric and acoustic piano, Stan Clarke on bass, Lenny White on drums, and Bill Connors, guitar.
The story has it that the group's equipment was stolen before the show, and they had to borrow instruments from local musicians.  Stan Clarke used Doni Larson's bass, so they say…
---
JAMES TAYLOR
James Taylor performed two shows on May 1, 1974, presented by the Walker.
Michael Anthony reviewed the first show for the Tribune, and wrote that there were no real surprises.  As always, he found him to be a disarming, unassuming performing.  He started with a couple of solo tunes, then brought out his five-piece band in groups of two and three.  Anthony heaped special praise on bandleader-guitarist David Spinoza, who "combined inventiveness with a jazz sense of economy."
The surprise came at the end of the show, however, when JT walked offstage and brought on his wife, Carly Simon, who was traveling with him and their four-month-old daughter.  Minneapolis was the second stop on this bus tour.  The audience let out a "shriek the size of a sonic boom" and Taylor and Simon sang their hit, "Mockingbird" and did a little slow dancing during an instrumental chorus.  They walked offstage to another sonic boom, and then Taylor came back for an encore of "Sweet Baby James."
Jon Bream, in his "R n' R Hootchie Koo" column in the TC Express magazine (July 1, 1974), noted that Taylor was promoting his forthcoming album "Walking Man."  The tour started in Moorhead, Minn., of all places!  In Bream's article, the daughter was five months old and had a name – Sarah.
---
HERBIE HANCOCK
Herbie Hancock, with Graham Central Station, performed two sold out shows on May 6, 1974, presented by the Walker.
Herbie Hancock
Musicians were Hancock (keyboards – electric piano, Clavinet, ARP synthesizer); Bennie Maupin (saxello, tenor sax); Mike Clark (drums); Bill Summers (West African percussion instruments); Paul Jackson (bass).
Michael Anthony reviewed the second show for the Tribune and clocked the show at 75 minutes.  The review was fairly technical, and listed some of the songs performed.
The only low point in the set, in fact was the end, a cataclysmic coda featuring Hancok on sythesizer (an ARP Soloist, I think), which seemed more noise than anything else.  ut it certainly brought the evening to a smashing close.
John Gunter reviewed the first show for the Star, and found Hancock's hour enjoyable.
Dan E. posted this tale on Facebook:
Herbie Hancock told an amazing story about his concert at the Guthrie in the early '70s. Some drunk guy in the cheap seats climbed up on a rafter, crawled on it all the way to the area above the stage, and then dropped down on HH.  Nobody got hurt though.
Graham Central Station
Anthony had pretty good things to say about Larry Graham's outfit, calling them what used to be called a "show band."
Their big finish, a de rigeur tells-it-like-it-is ghetto number, worked to a thunderous climax – the spotlights criss-crossing the stage like searchlights, the guitars playing like machine guns – succeeded in getting a good portion of the audience up and hopping in front of their seats, as instructed.  At the Apollo Theater in New York City, I would imagine, everybody gets up.
Gunter found the band to be a "disastrous warmup act" that "slammed the half-filled house (Anthony said they were both full) into a catatonic state."
The music was loud and out of tune, the tempos dragged monotonously.  There were flashy costumes, physical gymastics, and spotlight effects likethose seen at a service station opening.  The group's only real asset was Patryce "Chocolate" Banks, whose voice cut through the din at times to reveal a clarity sadly missing from the rest of the act.
Jon Bream, in his "R n' R Hootchie Koo" column in the TC Express magazine (July 1, 1974), reported that the band was named for Larry Graham, who was an integral part of Sly and the Family Stone for seven years.  Instead of having Sly's reputation for not showing up, Graham had a hard time sticking to its 45 minute opening act time limit.  This Guthrie show lasted an hour.  Bream, too, singled out Banks as an outstanding vocalist.
Bream pointed out one mess the group was in:  Their agent had booked the band to appear on May 16, 1974, at O'Shaughnessy Auditorium at St. Catherine's University in St. Paul, only 10 days after the Guthrie shows.  Most acts won't come ack to the same market for at least 30 days, and there are usually riders in their contracts with this stipulation.  When this was pointed out to the agent, she asked, "Is St. Paul in Minnesota?  Oh, I guess it is.  Well, where is it?"  "Across the river from Minneapolis."  "Oh."
---
ROBERT KLEIN
Robert Klein isn't a musician but hip comedians count here.  He made us laugh on May 17, 1974.  Says here it was his first appearance in the Twin Cities.
---
COMMANDER CODY
Commander Cody and His Lost Planet Airmen, with Hoyt Axton, performed two shows on May 19, 1974.  See ad above under Herbie Hancock, May 6, 1974.
Commander Cody
Charles Quimby, reviewing the show for the Star, wrote that Cody and the seven Airmen "flew through a variet of styles in their half of the concert, including a fox trot and a blues done in a big band manner."  Cody's signature repertoire was country tunes infused with rock, and 1950s style rock rock done ine in a country style.  The performance was enthsiastically received by a raucus crowd, some dressed in cowboy style.  During the two encores, several dozen people broke into the aisles to dance.
The band was made up of Cody (nee George Frayne) on barrel house piano and vocals; Billy C. Barlow, singing the rockers; Bill Kirchen and and John Tichy on guitar and the country vocals; and Ernie Hager on pedal steel, recently replacing Bobby Black.
In his review in the TC Express, (June 3, 1974), Jon Bream described Cody's music as:
90 minutes of rousing rock 'n' roll, rockabilly, boogie woogie, longhair country and truckers delights, or more precisely:  Ozone music.  The band was tight and slick but uninspired  The steel guitar work of recent addition of Ernie Hager was particularly heart-warming.
Bream was upset about the hundred or so people who "filled the narrow area between the seats and the stage – and often climed on the stage – dancing and generally having a good time, but to the detriment of many other paying customers."  Fun is fun, until it infringes on the rights of others.
Hoyt Axton
Quimby described Axton's music as "hard-bitten."  He was backed by two women singers, a male vocalist-harp player, and four others.  Although Axton had been a phenomenal songwriter ("Greenback Dollar," "Joy to the World," "Never Been to Spain"), Quimby found he had a powerful but undisciplined voice, which he likened to nails in a pepper grinder.  He also was put off by his lack of stage presence, saying he looked like a derrick hand pulled out of the Texas oil fields.  The backup group strongly compensated for his flaws, opined Quimby, and made for likeable music.
Bream deemed Axton's set warmly-received.  "It was the most entertaining set by a group with a non-singer lead vocalist I've seen in a long time."  As usual, Bream had some afterstory:  "Backstage between sets, young Cody was giving the veteral Axton some pointers as the legendary Ramblin' Jack Elliott listened in."
---
JESSE COLIN YOUNG – JANIS IAN
Jesse Colin Young, with Janis Ian, performed two shows on May 26, 1974, presented by the Walker.
Jesse Colin Young
Jon Bream reviewed the first show for the Star, which lasted 80 minutes and was sold out.  Young's four man band included Young on acoustic and electric guitar, Scott Lawrence on piano, and Charlie McCarthy on horns.  But despite skillful musicianship, the concert became almost tedious because of Young's manner was too low-key to maintain such a long set.
Janis Ian
Bream wrote that Ian's opening set was marred by inconsistency.  Her personal material was engaging but lacked stylistic focus, as she sang folk, rock, blues, country, protest songs, and a couple of humorous tunes.  The hig point was her performance was her lengthy and affecting autobiographical song "Stars," about the awkward experience of teenage stardom, which whe experienced in 1966 with her hit "Society's Child."  Her set was well-received, and the audience demanded a rare opening-act encore.
---
MICHAEL JOHNSON
Michael Johnson performed two shows at his second solo appearance at the Guthrie on June 9, 1974, presented by the Walker.
Roy M. Close, reviewing the first show for the Star, called Johnson an an interesting performer but not an exciting one.  He began with 90 minutes of solo work,whichsshowed a preference for message-heavy songs and an undistinguished (although pleasant) voice.
For the last half hour, he brought on two sidemen:  Mark Henley and Ted Sherman. Close called the difference "astonishing."  Polite applause was replaced by long, loud ovations for music full of energy rather than attention to detail.
---
SARAH VAGHAN
The Sarah Vaughan Trio, with the Wolverines, performed two shows on August 18, 1974, presented by the Walker and the Guthrie Theater.
Sarah Vaughan
John Gunter, reviewing for the Star, reported a middle-aged and enthusiastic full house, and declared Miss Vaughan one of the best vocal stylist this country has ever produced.  Her musicians were Frank Delarosa on acousic bass, Jimmy Cobb on percussion, and Carl Schroeder on piano.  Her encore to a standing ovation was a medley of ballads highlighted by "Body and Soul."
In short, Miss Vaughan was magnificent.  She san fast and slow, low and high, and loud and soft, and, although professional, she never once sounded slick – she simply sounded like a great American singer.
Michael Anthony of the Tribune reviewed the first of the two shows and reported that she was given two standing ovations.  And that caftan in the picture above is a shimmering gold!
The Wolverines
Anthony reported that the first set was opened by a local Big Band of 14 members called the Wolverines, led by Ted Unseth, who specialize in the performance of classic jazz, especially of the 1920s.  He gave them marks for considerable skill, called them great fun to hear, and urged people to hear them in their later appearances around town.
---
OZARK MOUNTAIN DAREDEVILS
The Ozark Mountain Daredevils, with Ted Anderson, performed at the Guthrie on September 29, 1974, presented by the Walker.
Ozark Mountain Daredevils
Roy M. Close, reviewing for the Star, called the Daredevils solid but unexciting – he wrote that the most interesting thing about them was their name.  They played a 70 minute set that gravitated toward rock, with occasional bows to country and a slight nod to the blues.  The drums were inflexible and had no appealing alternative to their basic formula, repeaing the same song over and over again, with the same arrangements but with different lyrics and melodies.
The band members included Randle Chowning on guitar, who formed the group 2 1/2 years ago; John Dillon, and Steve Cash on harp.
Ted Anderson
Close's review of opener Ted Anderson, was brutal in its disinterest, calling him a young Wisconsin singer-guitarist who delivered a dull 30-minute set.
---
RANDY NEWMAN – RY COODER
Randy Newman, with Ry Cooder, performed two sold-out shows on October 6, 1974, presented by the Walker.
Randy Newman
Michael Anthony's review for the Tribune called Newman's delivery laconic and deadpan, singing in a voice that Henny Youngman would describe as the mating call of a pair of corduroy pants.  His themes included religion, politics, nostalgia, relationships, and sexual frustration.  Many came from his newest album, "Good Old Boys."
Jon Bream, reviewing the second show for the Star, called Newman perhaps America's best contemporary songwriter.  Newman played nearly two dozen songs in an hour, often cutting songs short by a verse or two.  He noted that "Good Old Boys" was a concept album that explored the cliches and legends of the South.
Ry Cooder
Anthony explained that Cooder was a session guitar player, and his vocal material consisted of old blues material, which carried conviction and humor. He played guitar and mandolin, and his bottleneck style can be heard on the Stones' recording of "Love in Vain."
Bream noted that Cooder opened the concert with an enjoyable set of blues and folk songs, and concurred that he was an accomplished guitarist.
---
LOUDON WAINWRIGHT III
Loudon Wainwright III, with David Loggins, performed two shows on October 20, 1974, presented by the Walker.  The opener was originally announced as Doug Sahm.
Wainwright
John Bream, reviewing the first show for the Star, wrote that although Wainwright had released a hit song and four critically acclaimed albums, he remained little more than a cult figure.  The Guthrie was half filled for the first show.  He was a less than accomplished guitar player, an unremarkable singer, but an ingenious songwriter, and a masterful live entertainer, Bream wrote.  He excelled in black humor, and came off as a poet in the middle of a two-week drunk.  Much of his material came from his upcoming album, "Unrequited."
Dave Loggins
Bream deemed Loggins' 50-minute opening set as mediocre, with original and borrowed material.  He was a pleasant enough singer (his hit was "Please Come Home to Boston"), but the performance was more appropriate for a coffee house or a college gym than a concert hall, Bream opined.  Dave Loggins was no relation to Kenny Loggins.
---
Maria Muldaur was first scheduled to appear at the Guthrie on October 27, 1974, presented by the Walker.  Then the concert was moved to the new Orchestra Hall.  Finally the concert was cancelled altogether because of illness in her family.
---
TOM PRIN
The Tom Prin Trio with Penney Perkins performed a benefit for the American Diabetes Association of Minnesota on November 24, 1974.  The show was introduced by TV personality Charlie Boone.  A segment of the show was devoted to the words and music of Twin Cities songwriter Bob Williams.
Pianist Tom Prin is the son of TV personality Toby Prin.  The rest of the Trio consisted of Clyde Anderson on bass, and Richard Lavay on drums.  Penney Perkins was a vocalist from Bloomington.
---
WAYLON JENNINGS
Waylon Jennings, with Tracy Nelson, performed two shows on November 3, 1974, presented by the Walker.
Waylon Jennings
Peter Altman of the Star, reviewing the first show, reported that the audience came decked out in boots and hats for this, Jennings' first starring appearance at the Guthrie, after appearing as an opening act on March 31, 1974.  The first show was delayed somewhat because of some airport difficulties from Nashville, but to compensate he played for 75 minutes with four encores.  There were seven members in the band, who included Ralph Mooney on pedal steel.
Tracy Nelson
The opening act was Tracy Nelson, who performed for 45 minutes with five sidemen.  Altman described Nelson's music as a rock style much influenced by the blues.  She hadn't quite found her niche, but had a strong clear contralto voice and could really whip up excitement.  Nelson also played a "meaty and driving" piano.
---
KOERNER, RAY, AND GLOVER
Koerner, Ray and Glover made an appearance on December 8, 1974, presented by the Walker.
---
KEITH JARRETT
The Keith Jarrett Quartet performed to a full house on December 22, 1974, presented by the Walker.
Michael Anthony's review for the Tribune (December 25, 1974) revealed that this was the final event in Jarrett's five day Twin Cities visit, the first four of which were in St. Paul Chamber Orchestra programs.
The Quartet consisted of Jarrett on piano and soprano sax, Dewey Redman on tenor saxophone, Charlie Haden on bass, and Paul Motian on drums.  The Quartet was not a permanent unit, each prominent jazz players in their own right, with their own ensembles and others.
Anthony opined that the event
spotlighted the straight-ahead but marvelously evocative jazz that first brought Jarrett his fame.  [But while many of the contemporary jazz figures had drifted off into the land of electronic noise (and that dreadful little instrument, the electric piano),none of them can touch Jarrett for technique or for the mystery and beauty of Jarrett's art.
---
With the opening of the new Orchestra Hall in 1974, with a seating capacity of almost 2,100, many acts that had been appearing at the Guthrie were now booking at the newer, larger facility.
(A reminder that this website stops at 1974.)
---
A new multistage Guthrie theater center on the banks of the Mississippi River opened June 25, 2006.
---
SOURCES
Several lists of Guthrie concerts have come across my desk, and my task has been to figure out which ones to post, which ones are real, and which ones are missing.
My first list may have come in 2013 from General Manager James D. Scott – a list he found when he took over his position.  It looks like it had been typed on a typewriter, and some very critical pages from 1968 were missing, but interestingly enough, it did include the fees paid to the performers and the income realized.
Someone else obviously sent me the program covers, and I'm ashamed to say that I have no recollection of who that person was.  They have been sitting on my computer waiting to be posted for a very long time, and I thank you!
Then there is a thick document entitled "Walker Art Center Presents – All Events,"  but there are concerts on here that we can't find anywhere, and I will designate those as "Unconfirmed."  I'm sorry but I don't know where this list came from.
The Walker Archives also has lists of events on its website, and I thank its curator for guiding me to those resources.  I actually hope to explore those resources further by looking at the individual files of concerts that are questionable.
Now comes Mitch Baird, who – out of the blue – sent me an awesome spreadsheet (who says "awesome spreadsheet?") of performances at the Guthrie through the years!  Mitch has been the production manager of concerts at the Guthrie since about 1984.
The penultimate source of information is the newspaper, and with newspapers.com I can bring up ads and reviews.
With all this information there were still holes, and I thank Walker Art Center Archivist Jill Vuchetich for pulling and allowing me to look through the files of the concerts that were cancelled or that never seemed to have happened.
Add to that the photos of the concerts themselves, especially those so generously provided by the premiere photographer of the 1960s and '70s, Mike Barich, and we have a glimpse into those great days when we could see our favorite stars in an  intimate setting.
I am proud to add Suzanne Weil to the list of people who have reviewed this document and provided information on her most important role as Performing Arts Coordinator.
There's always room for more memories, stories, and pictures, so please don't hesitate to contact me if you have corrections, additions, photos, or whatever.  Thanks!