Denny's Loft was located at 1183 University Ave. in St. Paul, across from the Prom Ballroom.
It was one of several bars owned by Ron Maddox, who had abandoned a successful insurance business to open the bar in March 1970.  It was a country bar – the house band was the Hanging Tree, with frontman Danny Hargrove.  Music from the bar was simulcast on Wednesday evenings on WMIN-AM radio.  It was a hangout for cops, they say on Facebook.
The venue first shows up in the paper in March 1970.
In 1973 it followed the trend, with exotic dancers at lunch.
In August 1977, Steven Billings was identified as the owner.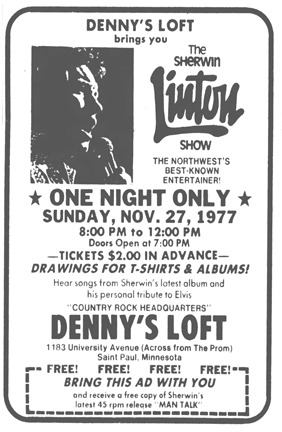 ---
In 1982 the bar featured Singles dances, with dance lessons by Dean Constantine.
The last mention was on September 4, 1982.