This page covers four venues at two locations

Curly's Theater Cafe
House of Hastings
Jimmy Heggs' Starlite Room
Jimmy Hegg's
CURLY'S

Curly's Theater Cafe opened in 1933 at 20 South 5th Street, where the Fifth Street Cash Market had been. This strip joint brought in name acts over the years, but was often in trouble. Curly was apparently Monroe "Curly" Shapiro, who was identified only as an employee in 1933 accounts, the owner being Nate Shapiro. In 1937 it was called Curly's Cabaret. Most of the time Curley's featured floor shows and local dance teams. The place was under attack by Rev. Henry J. Soltar, vice crusader and head of the Minnesota Good Government League. Thanks to him, Curly's got its dance hall and tavern license revoked for having slot machines, but got them reinstated in 1940 with a new owner.
In the early 1940s pianist Bob Zurke played here after working at Mitch's in Medota. From time to time it also featured some Dixieland bands. In the late 1940s it was "a very swinging place – it was so crowded you could hardly get to the bar." Curley's featured jazz trios at the front bar.
In 1952 owner Meyer "Makey" Gordon was convicted of selling drinks after hours and shut down, whereupon he sold the place to Oscar Rubinsky. Matchbook below from Robb Henry.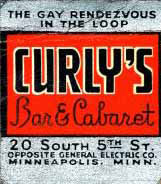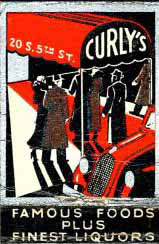 ---
A note on the back of the undated photo below says it is of some doctors whooping it up while in town for a convention (well, not in those very words..). The woman in back is a waitress, and the woman at right is Flora Bell Cook, the same woman who told fortunes at Lindy's (see that entry for another photo of Flora).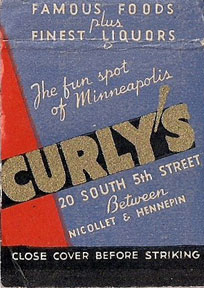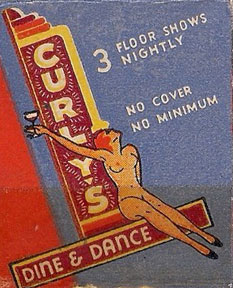 ---
HOUSE OF HASTINGS

The House of Hastings Restaurant replaced Curly's in 1952. In October 1952 the Minneapolis City Council approved the transfer of Curly's liquor license from Oscar Rubinsky to Tom E. and Harry Hastings. Tom Hastings had plans to make it over in a Hawaiian theme, but then the Nicollet beat him to it with the Waikiki Room. In October 1952 it was reported that he planned to feature prime rib with Yorkshire pudding "and make a show out of it." "Non-edible entertainment is planned, too."
---
JIMMY HEGG'S STARLIGHT CLUB
House of Hastings didn't last long – the site became Jimmy Hegg's Starlight Club in November 1953. Jimmy Hegg had been a singer at Lindy's in 1937 and at Curly's since 1938.  Doc Evans appeared on November 9th, 1953. Around 1955 or '56 Ray Komischke fronted the house band.
In April 1959 Cedric Adams reported that the club had started a dance class on Wednesday nights.  Dubbed "pupil practice night," Jimmy brought in famed dance instructor Dean Constantine to teach steps to a Latin band.
---
JIMMY HEGG'S
There was a fire in 1958/59, and Hegg reopened at 420 Second Ave. So. as Jimmy Hegg's Restaurant. It became a jazz venue in 1963. During the day it catered to cops and lawyers, but after hours it was a popular after-hours destination for theater people, and Dave Moore was a frequent guest. A remarkable feature was a block of cheese (described by one in the know as "pasteurized processed cheese food") and crackers at every table for the starving theater folk.  The restaurant closed in 1982 and Hegg died in 2001 at the age of 90.