This page covers:
The Cozy Bar and Lounge
The Riverview Supper Club
James T. "Jimmy" Fuller, Sr.
THE COZY BAR
The Cozy Bar and Lounge was located at 522 Plymouth Ave. No.
Building History

According to City permit cards, the 24′ by 72′ brick store building was built in 1898.  It was apparently built as a saloon, as Henry H. Burfreind had a liquor license at this address going back to 1899.  In 1910 it was affiliated with the Gluek Brewing Company, although it could have been from the start.  In 1923 the place was closed down as an alleged saloon – Prohibition had gone into force in 1920 – so it became a candy store, as did every other bar in town.  In 1932 it was a lunchroom serving hamburgers, and was for sale:  "no competition," claimed the ad.  On April 18, 1933, H. Eckfdahl wasted no time getting a liquor license just days after Prohibition ended, again affiliated with Gluek Beer.
In 1935 it was the Red Dot Cafe; Martin William Malzakn was the proprietor and H.F. Barney held the liquor license.
In June 1948, Gluek made alterations to the Red Dot, selling off booths and tables.
---
THE COZY BAR
The first mention of the Cozy Bar found comes in October 1951; the operator was Gust Wills until at least February of 1954.
And although people don't think of the Cozy or the North Side as a big polka spot, it was indeed, at least in 1957 to 1963.  It was billed as "Minneapolis's Hottest Polka Spot."  It was owned by polka bandleader Frank Pastuszak, who played the local ballrooms consistently throughout the 'sixties.
---
---
---
---
Frank held a mortgage burning party in February 1963 and played with his band the Polka Pals.

---
In 1963 the bar also sponsored a baseball team.
From 1965 to 1969 there seemed to be a couple shootings or robberies reported every year.
---
ENTER JAMES FULLER
At one point the Cozy Bar was purchased by James T. "Jimmy" Fuller, Sr. and his wife Margaret Fuller.
An ad from the Minneapolis Spokesman dated April 1967 calls it "Minneapolis' Newest and Most Exciting Bar and Place of Entertainment. Live Music and Dancing Nightly."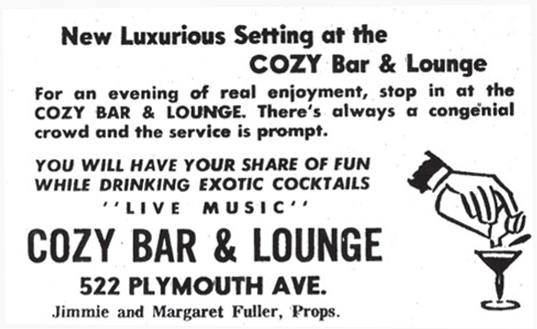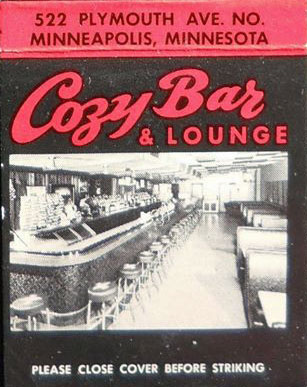 In the late '60s it was a major venue for R&B acts (Mojo Buford was a frequent performer) and one of the few black-owned bars in Minneapolis.  In 1968 and 1969 other frequent bands performing there were the Amazers and the Blazers.
---
In July 1972 the Cozy was one of at least three bars that was ordered to close by a group of 20-25 black youths, one reportedly carrying a high-powered rifle. Manager James Gibson said the youths told him to close down the bar and that if he didn't "somebody would get hurt."   It turned out that the group wanted several black-owned bars to close down that night so patrons would attend a rally to protest the beating of a pregnant black woman at the Aquatennial parade.  (Minneapolis Tribune, July 28, 1972)
Around that time the bar was raided by police at 2:30 am and customers were still there, in violation of the 1 am closing time law.
There continued to be shootings and robberies at the Cozy in the early '70s.
The photos below of the bar in the late 1960s were provided to Secret Stash by James Fuller, Jr.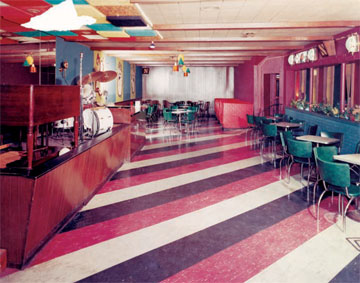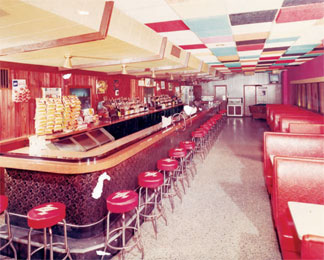 ---
Below is a photograph of a photograph by famed African-American photographer Charles Chamblis , who took photos of North Minneapolis for decades.  The quality isn't good (I don't know where the image came from), but it's the best view I have of the outside of the building.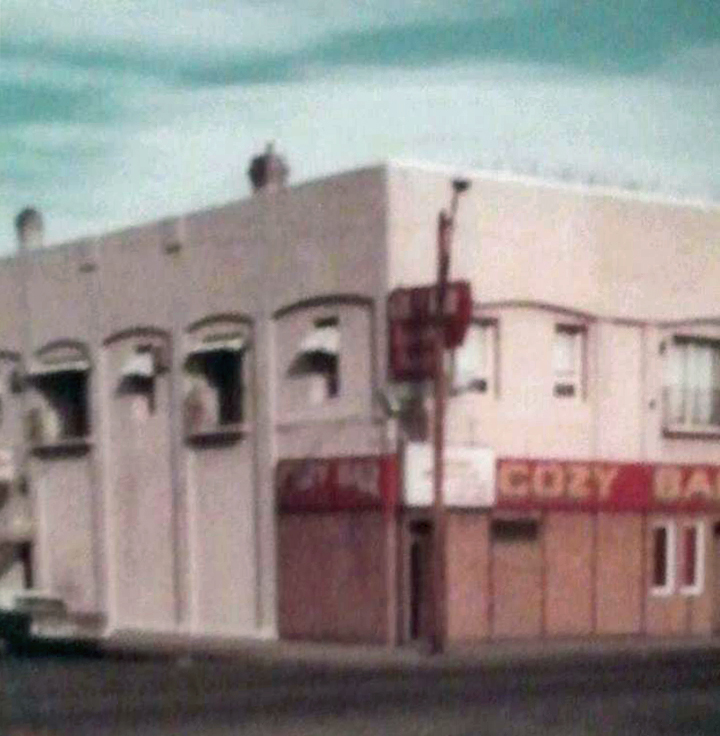 In March 1977, the building was condemned by Mn/DOT for the construction of I-94 through North Minneapolis.
---
RIVERVIEW SUPPER CLUB
Fuller sought to transfer his liquor license to a new club, the Riverview Supper Club, located at 2319 West River Road.  The transfer was held up by City Alderman Richard Miller.  When Miller was replaced on the Council by Patrick Daugherty, the new Alderman "sought reports from city officials on the impact the nightclub would have in the neighborhood and "when the reports came in in his favor, I couldn't do anything to stop him.'"  The transfer was finally approved on March 17, 1978.
The Riverview was built on three acres at the end of West River Road for about $750,000.  The land had been the end of the tracks for train engines, and a huge concrete base of an old roundhouse had to be removed, which required two months of excavation.  It was located in what was known as the North Washington Industrial Park.  Boyd's on the River and Broadway Pizza soon joined the Riverview in the area.   (Minneapolis Star, May 9, 1980)
The building had 11,000 square feet of dining space in a low, square, otherwise nondescript building, with a spectacular view of the Mississippi River through a 50 ft. picture window.  Areas of the facility included:
A large, blue and tan dining room, decorated with river-themed paraphernalia and prints.
A basement level banquet room.
A private banquet room on the main floor.
A bar near the kitchen that serves the seating terraces which face the stage and dance floor
Another bar, quiet enough for conversation.
---
ENTERTAINMENT AT THE RIVERVIEW
Fuller designed the club to offer Vegas-style live music, and to make live jazz its drawing card.  First Manager Bubbles Holloway said, "We intended to set this place up for listening and dance music, mostly jazz, and not to cater to the disco set, because we believe more people want that and because disco is going down."
Although the Riverview Supper Club opened in early April, 1980, it had its official Grand Opening on May 10 and 11, 1980, with a show by Broadway star Melba Moore.  Moore's four shows brought in near capacity crowds, and reviewer Michael Anthony found that the facility had "more than adequate sound properties and sightlines."
The venue offered jazz by Melvin Jordan and Jim Hamilton, and Roberta Davis.
Early name acts included:
1980
Millie Jackson, July 5-6, 1980
Stanley Turrentine, July 13-14, 1980
Count Basie, December 16-17, 1980
---
1981
B.B. King, February 25-26, 1981
Herbie Mann, April 3-4, 1981
Millie Jackson, April 12-13, 1981
George Shearing, May 17-18, 1981
Jazz Festival with Count Basie, August 19, 1981
Gil Scott-Heron, October 19, 1981
Doc Severinson, October 27, 1981
1982
The Stylistics, January 14 – 16, 1982
Bobby "Blue" Bland, February 14, 1982
Arthur Prysock, April 8, 1982
Stanley Turrentine, May 7 – 8, 1982
Roy Ayers, May 29, 1982
Patrice Rushen, June 15, 1982
Bobby "Blue" Bland, September 4, 1982
Evelyn King, December 14, 1982
The venue began to host boxing matches in about 1983.
After a seeming lull in national acts, they began to appear again in 1988.
Chi-Lites, June 3, 1988
Evelyn Champaign King, August 7, 1988
Bobby Lyle, August 28, 1988
Bobby "Blue" Bland, January 19, 1992
Bobby Womack, March 6, 1994
In about February of 1999, the club began to feature comedians from BET's Def Comedy Jam on Thursday nights.
By January 2000, most of the music was provided by DJs.
---
VIOLENCE DOGS THE RIVERVIEW
To the chagrin of owner James Fuller, Sr., his dream venue began to become a focus of violence.
On July 9, 1995, Bryan Evan Thomas was murdered in the parking lot of the Riverview from a gunshot wound to the neck.  The suspect, Leon M. Perry, was chased and captured by Eric Lukes, an off-duty policeman.  Perry was convicted of first-degree murder and sentenced to life in prison.
On March 23, 1996, robbery suspect Keith L. Jackson was shot and killed by an on-duty policeman in the parking lot of the Riverview.
On May 23, 1998, Gary D. Holmes was killed outside the club by a single gunshot to the back.  He had been just outside the front doors and had staggered into the restaurant, where he died.  There had been a "skirmish" in the parking lot, and Fuller thought that the killing was gang-related, but this was unconfirmed by police.  "Enough is enough and violence of any kind will not be tolerated at our establishment," said Fuller.  (Minneapolis Tribune, May 24, 1998)
---
THE END COMES TO FULLER'S DREAM
James T. Fuller Sr. died at the age of 89 on December 27, 1999.  The club's management was taken over by his son James Fuller, Jr.
According to Secret Stash, James Fuller Jr. finally closed the bar after three of the club's unarmed security guards were shot in the winter of 2000. The Riverview's last day was December 10, 2000.  It was torn down and the land was redeveloped into condos, appropriately named the Riverview.
---
JAMES T. "JIMMY" FULLER, SR.
The man behind the Cozy Bar and the Riverview (and the Regal Tavern before that) was born in Roanoke, Virginia, the son of a coal miner.  He attended Wilberforce University in Wilberforce, Ohio, where he met and married his wife Kathleen.  James Fuller, Jr. was born in 1938.
The family moved to North Minneapolis, and Fuller worked in the machine shop of the Onan Corporation, where he and co-worker W. Harry Davis sang in the Onan Corporation's men's chorus.
Save
Save
Save