This page covers two venues owned by the same man, Boyd Houser.  Additions, corrections, photos, and stories welcome:  contact me!
BOYD'S 622 BAR
Boyd's daughter Carolyn Houser Talberg reports on Facebook that for years her dad had a small bar on the NE corner of Plymouth and Lyndale.  The Minneapolis Department of Housing and  Redevelopment wanted that land to build low income housing. They gave him land on the Mississippi River for a dollar.  "What a shame, as that old bar was replaced by what is now old shambled houses. That old building was so cool!
---
BOYD'S ON THE RIVER
The new Boyd's was located at 1315 N. West River Road.  Carolyn goes on to say that "Boyd's on the River started out as a supper club and my brother Michael convinced our Dad to turn it into a rock and rock club!"  XL5 was a frequent house band.  The club featured two bands, one upstairs and one downstairs.

The undated flier below indicates a diverse musical identity, with Country, Rock, and New Wave mixed in.
---
Boyd's had a particular penchant for paraphernalia, which I love!
---
THE  T-SHIRTS OF BOYD'S ON THE RIVER
Apparently Boyd Houser put out some pretty popular T-shirts, as two different people have sent me images of their treasured barwear from years ago.  The first comes from David Kinkaid, as modeled by his daughter.  Both are cute!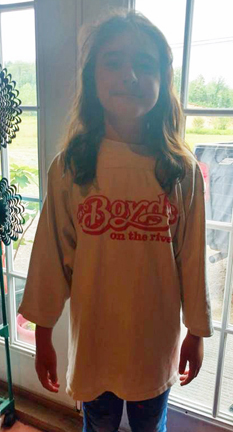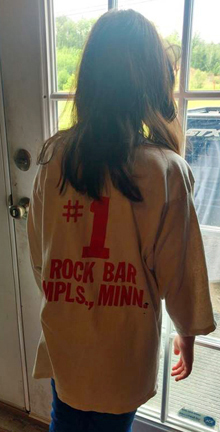 ---
Then Todd Erickson shared images of his Boyd's Ape T-Shirt with me, with this story:
Back in the old days, a friend and I headed to the TCs from Rush City to check out some bars w/music. Somehow we ended up at Boyd's – I remember it was just packed and we could hardly move.  It was wild and awesome for two country boys in the big town. Never thought about it then but now I wonder about the fire code on amount of people there? That night Boyd's was giving away T-shirts, but all they had left was mediums and I took a X-large back then. But it was so cool looking I took the medium.  Boyd Houser did not monkey around with making that elaborate  T-shirt. It just sat in my dresser drawer for years. I moved to Taylors Falls a few years ago. I got into hanging the clothing my Mom kept all these years of us kids, especially T's on my walls and now the items have started to go on the ceiling.
I am probably  interested in letting it go. I was only there there the one time, sorry to say but I can still picture the place that night. Which is enough of a keepsake. It is a very cool T-shirt but I think it is time to move it on to someone that would have way more memories of the place and would really appreciate that darn ape way more than I.  You can use the pictures if you wish and if you know of any one that might be interested in adding the ape to their collection, I would appreciate a tip.
So here's the ape – size medium. 
Let me know
if you're interested! Thanks, Todd!