1355 University Ave. W. in St. Paul was the site of several music venues over the years.  Many thanks to Jeff Neuberger for his research on this location!
THE PEACOCK INN
Opened in October 1926, the Peacock Inn offered elegant dining and dancing to live music by Don Yerkey and his orchestra.  It also offered alcohol, and on December 25, 1928, the Peacock Inn was raided by Prohibition agents and a Federal judge ordered the restaurant padlocked.
---
DEAUVILLE CHATEAU
After remodeling, the Peacock Inn reopened in 1929 as the Deauville Chateau. It was decorated to resemble the famous French seaside resort. Napoleon de Roma was the owner. He had formerly managed the Casino Room at the Saint Paul Hotel. The Deauville Chateau offered French cuisine and live music to dance to. Bill Santos and his Tropical Melody Orchestra played tango music. They also had Marshall Stanchfield and his Orchestra with Rita Gould as vocalist. A Filet Mignon steak dinner could be had for 75 cents and mixed drinks for a quarter.
---
NAPOLEON'S
By 1937 Napoleon de Roma had changed the name of the restaurant to Napoleon's and continued to offer fine cuisine to the citizens of St. Paul. De Roma ran the restaurant until his death in 1949 and then his son Herbert Napoleon de Roma took over.
Napoleon's continued to be a St. Paul institution for power brokers, society parties and business lunches.
---
BLUE HORSE
In 1963 De Roma sold Napoleon's to Ralph Kriesel, who owned the nearby Midway Chevrolet. Kriesel leased the restaurant to Vernon Warling, who after a few months remodeling reopened it as the Blue Horse restaurant.  Vernon brought in his brother Cliff to run the place, and Cliff was referred to in press reports as the owner.
The Blue Horse was primarily a restaurant, often patronized by politicians and known for  lavish dishes such as:
Steak tartare
Steak Diane
Bananas Foster
Cherries Jubilee
Family member Tom Warling tells us that the iconic Blue Horse sculpture was taken from a painting by Franz Marc.  Club owner Leo Gadbois reportedly had or has one of them at one of his properties.
Although it was not necessarily a music venue, it did have a piano bar.
It was closed by Cliff's son John Warling in October 1991.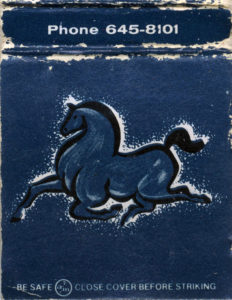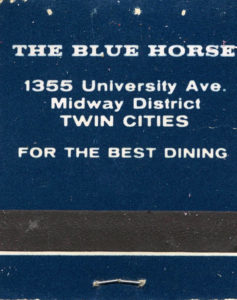 Save