More to come on this!
The building at 1229 So. 5th Street in Minneapolis housed various music venues, including:
Town Hall Cafe
Peggy's Bar-B-Que
Big Al's Jazz Club
In an article by Allan Holbert from the Minneapolis Tribune (October 6, 1968), we find that that the building, just feet from the Milwaukee Road the railroad tracks, was originally a "hotel and restaurant catering mostly to railroad men."
TOWN HALL CAFE
The Town Hall Cafe opened at this address in the summer of 1937. Entertainers in August 1937: Arthur Bell (Twin Cities), and Iola (New York). In October 1937 the new manager was Hobart T. Mitchell. In November 1937 it was redecorated in white and maroon with red tapestry and oil paintings.
PEGGY'S BAR-B-Q
"For Food That Is Out of This World." In 1948 the proprietor was Neil Berman. The undated Tribune article said that Peggy's had "a cigarette machine that dispensed booze by the pint instead of tobacco."
---
Again quoting Holbert, "For a year or so, in the late '50s, it was a fag joint."
---
BIG DADDY'S
At some point in about 1956 – '57 it was Big Daddy's jazz venue.
---
BIG AL'S
In 1961 it became Big Al's.  Did someone say that Big Al was a chicken sexer?   Big Al was Alan Robert Cohen, and he was bigger than the picture on the building, says his son!

In 1964 there were jazz groups upstairs and downstairs. To get upstairs patrons had to climb a rickety fire escape.  In 1964 they also instituted "Blue Monday" jam sessions during the day on Mondays.
In 1967 it was owned by Lloyd Beck and the Dave Rooney Trio. The 1967 ads say "Where it's Always Swingin.'"
The building was decorated with cartoons.
Holbert noted that the "smoky, second-floor piano lounge" was the haven of "married men with their girlfriends and no one said anything. It was a joint where black and white people mixed on the stage as well as at the little white tables and there were never any fights or problems. The police never had to hang around. There would be a hooker there every now and then, but she would usually be there with her pimp and they were there to enjoy the jazz, not to hustle. It was the kind of a place that tourists would have liked, but they didn't know about it because it was off the avenue."
I'm sorry, I don't know where these photos came from, but they are remarkable!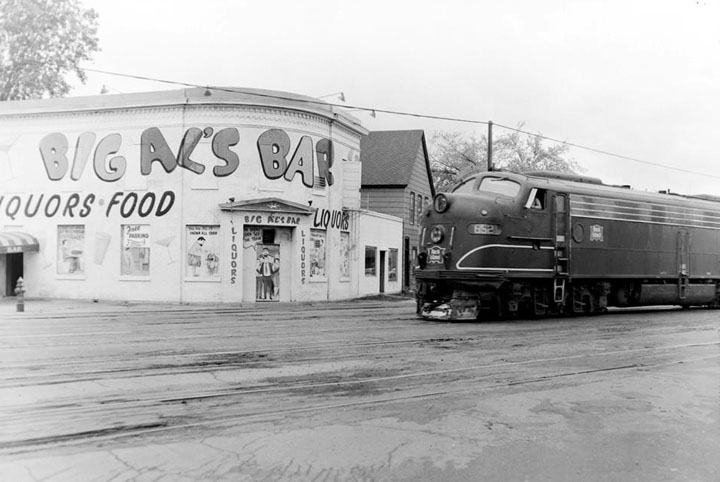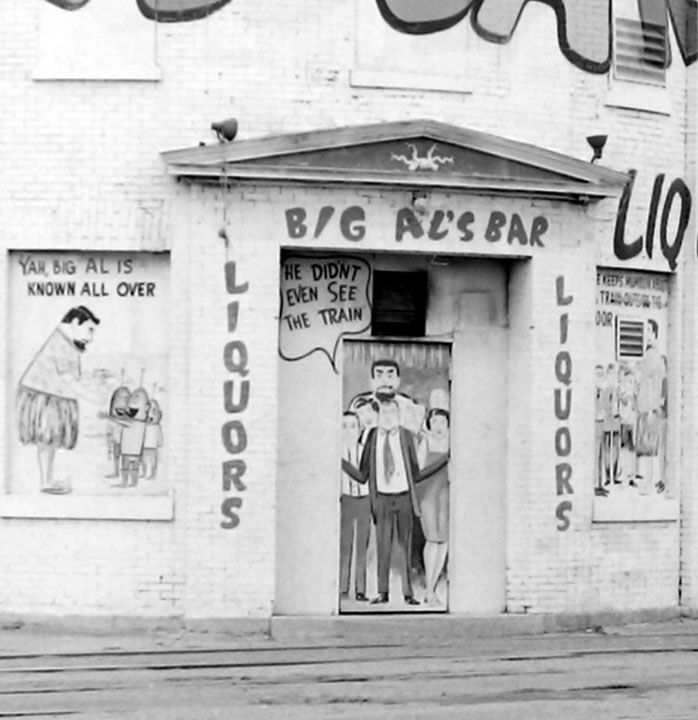 In 1959, Big Al and partners became owners of the Gay '90s and the Happy Hour in Downtown Minneapolis.
In about 1968 the building was demolished to make way for 35W.