The Bel Rae Ballroom was located at 5394 Edgewood Drive NW (Highway 10) in Mounds View (one mile west of the New Brighton Arsenal).  It was sometimes described as being located in Spring Lake Park, and sometimes in New Brighton.  On top of that, sometimes Mounds View was spelled as one word, and sometimes correctly as two.  It's a wonder anyone found it!
The Bel Rae was built by:
Elhart J. Ebel.  He booked the bands and handled the business end of the ballroom.  He died of emphysema in 1988 at the age of 64.  (Minneapolis Star Tribune, December 8, 1988)
Elhart Ebel's brother-in-law, Eugene (Bud) Ramacher.  Bud was killed in a car accident along with four of his relatives in Wisconsin on August 6, 1990.
Elhart Ebel's brother, LaVern Ebel.    Sometime before 1970, Elhart and Bud bought out LaVern's share.
Presumably the name came from Ebel and Ramacher?
In 1971, Elhart Ebel and Bud Ramacher sold the ballroom to Tony Jambor (see below).
The cavernous 18,000 sq. ft. facility offered 3.2 beer, wine, and set-ups; state law prohibited the sale of liquor in dance halls.
According to an article in 1970, Tuesdays had been Teen Nights since the ballroom opened in November 1964.  (Minneapolis Star, November 14, 1970) Future star Loni Anderson, a native of Roseville, was a frequent visitor on Teen Nights.
These went by the wayside when the drinking age went down to 18 on June 1, 1973.
---
Friday was alphabet night – people with last names starting with letters in that night's ad got in free.
Another 1967 ad just had polka acts.
---
TONY JAMBOR
In 1971, the Bel Rae was sold to Tony Jambor – in his column Dick Youngblood said for $350,000.  (Minneapolis Star and Tribune, March 31, 1985)
Tony Jambor had had his own Polka show on WTCN, Channel 11 TV from 1964 to 1968.  Called "Polka Jamboree," the show was sponsored by Lindahl Olds.
---
Like many other ballrooms, the Bel Rae had "Over 28" nights.  The number 28 was chosen so women didn't have to admit they were over 30!   This one was a little late to the game, perhaps because other ballrooms were closing.
---
---
---
A little bit rock 'n' roll in May 1974.  Floren returned later in 1974 and that time they spelled his name right.
---
Looks like the ballroom was experimenting with different kinds of music to bring their audience numbers up.
---
Monkees appeared twice?
1975:  Rock acts
1976:  Polka Festival, dog show(s), boxing
September 14, 1976:  Muddy Waters, Mojo Buford (see ad)
May 12, 1977:  Billy "Crash" Craddock (spelled ridiculously wrong), a rockabilly star amidst the polka aficionados.
April 1979:  Teen disco every Tuesday, with dance classes
Singles dances
1979:  Organized European Tours
1982:  Parents Without Partners, Thursdays:  Rockin' Hollywoods:  18 years, Johnny Holm Fun Show, Whitesidewalls
December 16, 1988:  Bill Haley's Comets with Al Rappa on bass.
October 15, 1995:  Reunion of performers from the Flame Cafe.
1996:  Run by son Butch for last 10 years, but he wanted to become a computer engineer.  Nine people died of heart attacks.  One man got arrested by the FBI at his own wedding reception.  Voting place for all of Mounds View.
June 30, 1996:  Last show, Jett Williams
---
MOUNDS VIEW COMMUNITY CENTER
The building was sold to the city on June 30, 1996, and became the Mounds View Community Center, run by the YMCA.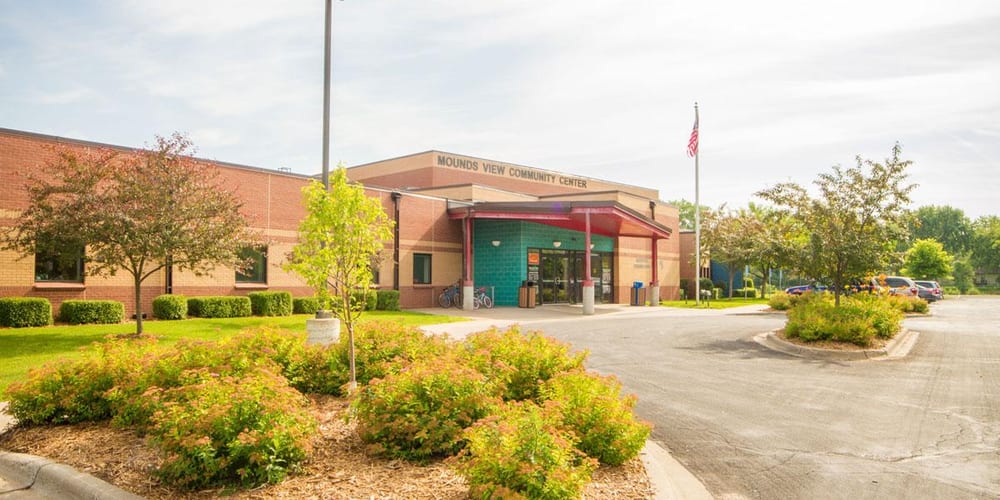 ---
FUN FACEBOOK FACTS
There is a senior housing complex on County Highway 10 just west of the Mermaid called Bel Rae and I believe the old sign from the Bel Rae has been recycled and is being used on the front of the building!

When they built the Moundsview Community Center on the site, they kept the dance floor.

"Quite the In Place to go for a while. Get ready to Rumble in the parking lot! I wonder why we made it this far in one piece!"