The Alps was located at 801 E.78th Street in Bloomington.  It opened in May 1966.
The A-frame building had three levels and was frequented by stewardesses, pilots, and other airline folks due to its proximity to the airport.
In July 1966, Will Jones reported that when it opened there was a Dixieland band and the plan was to have some Dixie, some rock, some "banjo singalong." After a few weeks, though, It became all rock. Jones' description of the place was pretty visceral:
It's easy to understand why, after a recent look-in on a Saturday night. the place was throbbing with an immense, almost frightening, youthful vitality, aided and abetted by an acoustical quirk that in most places would be considered a problem but in this hall has almost become a virtue as it magnifies the din to unbelievable proportions.
At the time the house band was Danny's Reasons, and Jones had (I think) good things to say about him:
Stevens is not a mere performer, but a writhing star among writhing stars. I'd recommend a visit before somebody grabs him and signs him for a lifetime of beach-party movies.
---
The place must have gotten too loud – in 1967 it had a "super soft" sound. The Insider reported that as of December 1968 it had been closed for many months because it was too noisy for an adjacent trailer court.
The club voluntarily closed in January 1969 after the Bloomington City Council imposed regulations on noise affecting both the inside and outside of the building.
---
In July 1969, the building opened as Anthonie's Clothing.  Anthonie's had previously been located at 4826 Chicago Ave.  Anthonie's was started by Anthonie (Tonie) Peterson, who had been in the clothing business since 1933.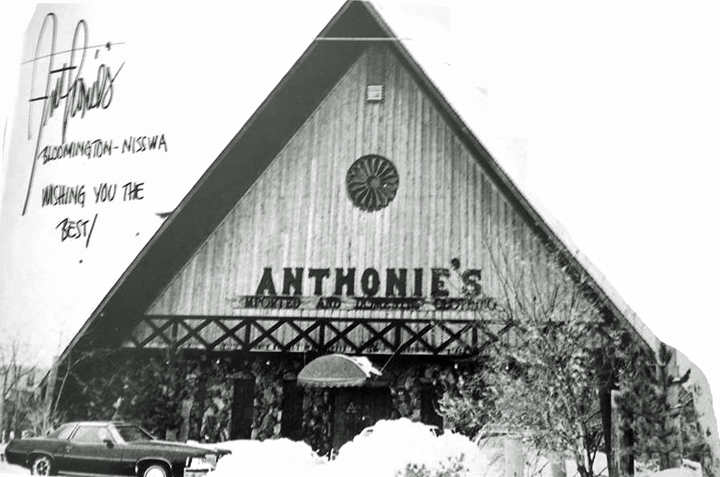 ---
The following two photos come from what looks to be a postcard: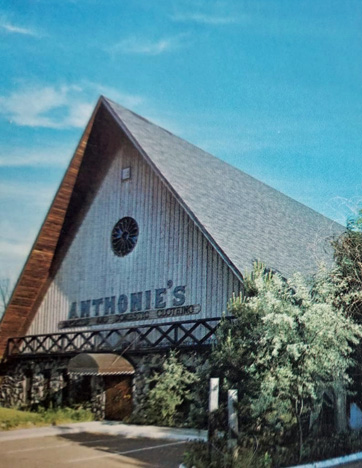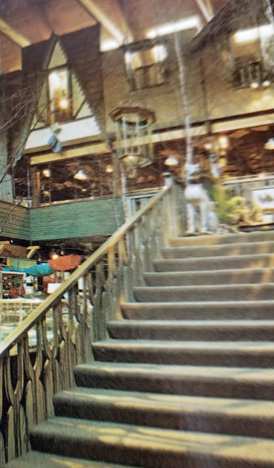 ---
On December 8, 1974, fire swept through the back of the building, causing $50,000 damage to the structure and $200,000 damage to the inventory.  Wells M. Gustafson, the owner of the building, expected insurance to pay for the damages.  Witnesses saw children playing in the area prior to the fire around 8:00 at night.  The store quickly recovered.
---
Anthonie's closed in October 1989. Tonie Peterson died in June 1990.
On June 1, 1999, the building became A Frame Antiques, an antique mall with several vendors.
A new (1999) building sits at the site today.