Addison's Bar and Lounge/Bear's Den
Addison's Bar was located at 1504 E. Franklin Ave. in Minneapolis.
ADDISON'S BAR AND LOUNGE
I found this matchbook online, and had no idea if it was a music venue or not, but I figured maybe the word "lounge" implied a lounge singer?
A peek into the Minneapolis Star and Tribune archives shows that this was a mobbed-up bar owned and managed by various members of Kid Cann's family, and I'm glad there was no music involved so I don't have to go through it all!  The first hit was in 1937, and the last was in 1988, when it was known as Addison's Bar a/k/a The Bear's Den.  It was demolished in about 1988.
I put the question about whether there was any live music on this page, and got lots of answers!  This, my friends, is why this is not a book – the information keeps rolling in!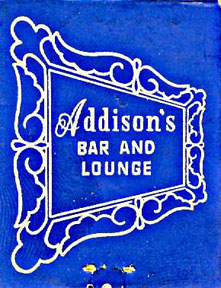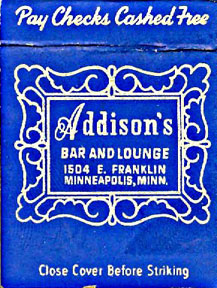 GARY BUSH
The first person heard from was Gary Bush, who wrote:
The Addisons on E. Franklin was not a music establishment. It was owned by the Litwin family. I was close friends with the sons of the owners. We often went there together when we were in our early '20s. The bears were hunting trophies.
---
JIM SCHAEFER

Then I got this great email from Jim Schaefer about the Bear's Den:
I just came across your web page asking about a matchbook you have advertising Addison's Bar and Lounge. I have information for you.
I live on the East coast now, but from 1970 – 1992 I lived in the Twin Cities. Early in that period I lived in several locations in the Seward West neighborhood and along Franklin Avenue. During that period I spent a lot of time photographing houses and other buildings there. I never printed most of those negatives and haven't looked at them for decades, but I've been spending the COVID quarantine working on them.
Two adjacent buildings I shot along East Franklin I remember well, but the negatives show no address, which I would like to know. Current Google street view shows they have both been replaced with new construction, so I googled the business names. One was a tiny "lounge" bar, the kind that has (or used to have?) only one window and that was curtained. The signs in the parking lots on either side identify it as the "Bear's Den." That is the name I googled; it shows up in only one response to my query, where it is identified as "Addison's Bar / Bear's Den" at 1504 East Franklin. That's it where your matchbook came from.  I haven't worked on this negative yet, but I've attached a quick-and-dirty thumbnail image of it.
Jim's quick and dirty image is the perfect size for me!  Thanks, Jim!
---
CINDY BLUMER
Cindy wrote to say:
My grandfather Albert Addison owned bars in Minneapolis in the '50s and I believe in early '60s. One was Bert Addison's Bar, Addison's Bar and Bert's Bar I believe. I can ask my mom for exact information. But I know they were on Franklin where The Joint currently is and other Minneapolis locations.
 I see that you were wondering if they had singers in their bar and they did not. They had some slot machines (connected with Kid Cann's Family) and a jukebox. I still have a lot of his records in storage. Haven't gotten around to looking through them yet. Someday…