KRSI – 950 kc
For airchecks and photos, a great site is:
http://twincitiesradioairchecks.com/krsiandkfmx.html
KRSI Radio was located at 4500 Excelsior Blvd. in St. Louis Park from May 16, 1958 (at 7am) to October 1972. The station was five years in construction, delayed when its two towers in Eden Prairie fell.
From the start the station played "Memory Music" – "the kind of music everyone likes to hear," according to an article in the St. Louis Park High Echo from June 5, 1958:  "No long commercials, soap operas, kiddie shows, rock 'n' roll, 'top 40,' or 'over-enthusiastic' disk jockeys…  This is the radio station that puts the 'mellow' back into music."  The owner and president was William E. Schons, and the program director was Marvin Schulz.  They conducted a "Music Poll" via a coupon in the papers where people could indicate their music preferences and help the station select what it would play on the air.  "Keep your spirits high with KRSI, 950 on your radio dial, finest in hi-fi."
In May 1961 it was purchased by Red Owl Stores, Inc. which was seeking diversified subsidiaries.  J. Warren Burke was brought in as general manager to revamp the station.  The memory music format was enlarged, a jingle by Herb Pilhofer was created, and talk shows were produced.
On about September 1, 1962, the AM station expanded to 24 hours.  At the same time, "the station will be entering the background music field, supplying a separate channel of music to supermarkets, offices, plants, and other installations," reported the Minneapolis Daily Herald on August 8, 1962.  Here's the story from Jim Stokes:
KRSI originated Red Owl Stores "storecast" from their transmitter on what is called "subcarrier." You can look it up. It's complex. So they had to have an engineer on duty at the KRSI transmitter to change the store announcements that interrupted the music. The music ran a slow speed on gigantic tape reels. The music was my kind of music, actually—other than classical music. It was Percy Faith type music. So if you went into a Red Owl store to shop, there would be a voice saying something like, "Want to perk up family meals. Try some Red Owl green beans." (blah blah)
Other new features in 1962 included:
"Suburban Editorial," with editors of 12 suburban newspapers editorializing on the air throughout the week
"Suburban Bulletin Board"
"Business Briefs"
Sports features
A two-hour show featuring audience calls discussing some controversial or current issue
Play-by-play sportscasts
In January 1965 it was reported that staff had increased from 19 to 27 since Red Owl purchased the station in 1961.
---
ALL REQUEST RADIO
In 1968 Red Owl changed the station policy from middle of the road to all request oldies to try for a high enough rating to at least make the property salable.  It was sold to Park Broadcasting [Roy H. Park].
The request line was started in February 1968, with oldies – and not just the same old ones – being their mainstay. Every sixth song was current. This station was pretty freewheeling and one could hear Jimmy Dean in the same breath as the Supremes. In the first year they logged over a million calls to the Request Line:  920-9999.  Most of them were from me.
---
---
In 1969 KRSI issued a two-record compilation of oldies called the "KRSI Request Album."   The photo below is from the album. (Thanks to David Hersk!)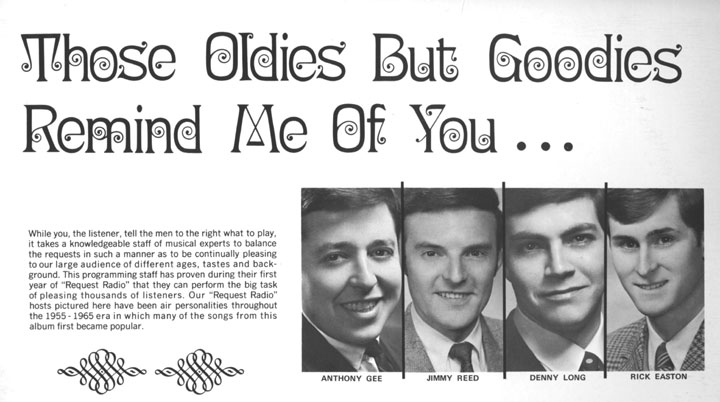 ---
UNDERGROUND ROCK
In ad in the June 14, 1969, TV Digest pictures Tac Hammer, Rick Easton, Anthony Gee, Jim Reed, and Don Shore. They look really young. Hammer and Reed had come over from KDWB in 1968.  In July 1969 the two were doing an "underground" show.
By 1972/1973, KRSI and KQRS had almost identical Progressive Rock shows.  They would play pranks like play the identical songs for an hour and see if anyone noticed.  John Fineberg was at both stations during those years and described a "KQRSI" (KQRS and KRSI) family.  Below is a photo of at least part of the family and shows how close the staffs of the two competitors were.
John Fineberg:
Front row: Susan Bradley and John Pete (KRSI). Back row: Randi Kirshbaum (KQ), John Fineberg and Richard E. Nelson (who was KQ's production studio wizard). I really don't remember which station I was on then.
We kept professional secrets from each other, but otherwise we were just one big, happy family. Well, at least with the "progressive" announcers on KRSI. (The "top 40" announcers were a different breed, and we had little to do with each other off-the-air.)
John Fine was also part of this tight social group. Though our names are nearly identical, we were two different people. Glad you got that right, as our listeners just couldn't figure it out. John was a dear, dear friend who died way too young.
---
In January 1971 the station started to gradually move away from the oldies and gradually more toward album cuts.
In a 1972 article the Insider noted the leaky roof and yellowed wallpaper at the aging studio in St. Louis Park.
Ads to rent out the St. Louis Park studio appear in January 1973 and sometime between then and March 1973 the studio moved to Valley View Road in Eden Prairie.
---
AUTOMATED COUNTRY
An interesting headline in the March 11, 1973, Minneapolis Tribune was "Automated Radio:  Nobody is there" by Irv Letofsky.  In his usual wry style, Irv describes how KRSI's General Manager, John Enoch, was testing Control Unit Model 901, which generated automated programming.  KRSI's owner, Park Broadcasting, which owned 18 radio and TV stations in 11 cities, asked Drake-Chenault Enterprises of Los Angeles to install one of its systems.  The station was the first to put in the company's prepackaged "Great American Country" service.
The station played four categories of Country:
"The all-time, sock, dynamite hits," on 15 reels of tape, 32 or 33 songs to a reel.  "The reels are changed by an actual human person."
"Oldies, the all-timers but not whammo smashes, not instantly recognizable but they sold a lot."
Top country hits – new reels sent in weekly
Older recurring hits
Drake-Chenault's sales manager explained that if a station tried to duplicate the format live, "you'd have to get supertalented country jocks, a top-notch country producer and all the other things.  Our service costs about the same if you brought in that supertalented program director."  Plus you eliminate "the stuck records, scratchy music, the jarring jock.  They want smooth, slick, uncluttered radio."
---
I-95
In September 1979 the station became known as Musicradio I-95, playing Album Oriented Rock/New Wave.
---
With the assistance of Wikipedia:
MUSIC OF YOUR LIFE
Adult Standards, February 1980 to 1982.  Despite the high hopes for I-95, it only lasted until February 2, 1980.   The station then bought the syndicated program "Music of Your Life" from Al Ham.  Both KFMX 104.1 and KRSI 950 am flipped to Music of Your Life as KRSI AM-FM that day, with Don Shore as the Program Director and morning host.  Jay Philpott was the only holdover from the old format – "they had me doing 7 to Midnight until I left for WLOL in July 1980."
Country music (SMN "County Coast To Coast") (1982-1984)
Contemporary Hit Radio – (SMN "Rock America") "Hot Rock 950 KRSI" (1984-1985)
Request Radio, 1985 to January 1986.
---
Simulcast with KRSI-FM as KJJO (1986-1988).  Jeff Lonto:  "The ratings started to go up and so ownership and management had the bright idea of pulling the plug on the whole thing, changing the calls to KJJO-AM, and simulcasting FM sister station KJJO-FM (104.1). KRSI personalities in this second Request Radio stint included Don Thompson, Jerry Anderson, Mike Records Ryan, Ray Walby and Bill Hutchinson."
Urban Adult Contemporary (SMN "Heart and Soul") 1988
Hard Rock (Satellite Music Network's "Z-Rock) as KZOW (1988-1990)
Business Radio Network (as KJJO), 1990-1992
Simulcast with FM (KJJO/KMJZ), 1992-1995
R&B Oldies as KSGS ("ABC Solid Gold Soul") with local AM Drive) ("9-5-0 Solid Gold Soul"), 1995-1999
Urban Adult Contemporary (ABC "The Touch") with local AM Drive), 1999-2001
Business Radio as KDOW, then KCCO ("Business 9-5-0"), 2001-2004
Talk, as KSNB, 2004
---
KRSI-FM (104.1) went on the air for the first time on about September 1, 1962. It was to be "a program format, readily identifiable concentrating on jazz, according to Burke.  The programming would be "segmentized," appealing to the "sophisticated audiophile with no verbal interpretation heard during the program  "We will be one of the few FM stations in the country doing all music programming in stereophonic sound."  The FM station would also offer comedy albums, folk music, and spoken word segments. (Minneapolis Daily Herald, August 8, 1962)
Jeff Lonto offers this information:
FM station (104.1) was KRSI-FM until 1974.
It was KFMX from 1974 to 1979.  During the KFMX days, one of the frequent sponsors was the Leaning Post.
KRSI-FM again from 1980-1981
KJJO-FM from January 1981 until May 1995
"After that they've changed calls as often as formats and that's pretty frequent."
The rest is exhausting – please see Wikipedia for further/better history!
Save
Save