KDWB was the former WISK.
1959
KDWB went on the air on September 16, 1959, as a top 40 station. (The name change from WISK was reflected in the radio listings in the newspaper on September 19.) To get us in the mood for another rock 'n' roll station, they played "Charlie Brown" by the Coasters – in French – non-stop for several days.
THE GOOD GUYS
Don French was the first Program Director. The first lineup of DJs was Hall Murray, Phil Page, Sam Sherwood, Bob Chasteen, Bob Friend, Randy Cook, and Dick Halvorson  John McCrae was the first General Manager, and Sam Sherwood held that position throughout the '60s. The FCC required that the station identify itself as "KDWB – Lake Elmo, also occasionally serving Minneapolis and St. Paul."  The station provided immediate competition to leading rock 'n' roll station WDGY:   See a good piece on the KDWB/WDGY rivalry from KARE-11 News.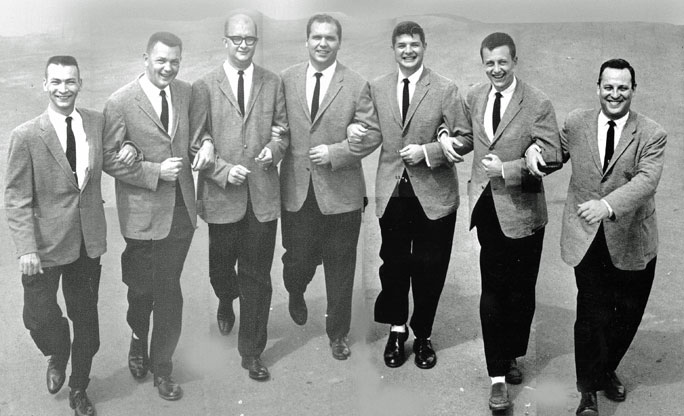 The KDWB Seven Swingin' Gentlemen, 1960:  Randy Cook, Dick Halverson, Bobby Dale, Sam Sherwood, Bob Friend, Lou Riegert, Hal Murray.  Photo courtesy Pavek Museum of Broadcasting.
---
FORMULA 63
The following is from an email dated September 19, 2007, from Chuck Blore to Rick Burnett describing the Formula 63 and "63 – That's Easy to Remember" promotions that Blore devised when KDWB first went on the air.  The material was from the then-unpublished autobiography that appeared as Okay, Okay, I Wrote the Book in 2012. 
I will cut in on occasion with additional/alternate information from Will Jones of the Minneapolis Tribune.
The Twin City stations were all on the upper part of the dial at 1070, 1130, 1490, etc., but nothing below 1000. WISK, soon to be known as KDWB, was at 630, a spot no one in the listening area had ever heard, or even heard of. So, our problem was not only to be the best station on the air there, we first had to let them know there was a 'there' there. There, at 63, where no Minnesotan had gone before.
With that in mind I had Charles Arlington record, as only he could, a theme line: "Sixty Three. That's easy to remember." Of course, we could say that sixty three times an hour, and if no one was listening, it wouldn't be that 'easy to remember.' So, we had to do something to let people know we were there … there.
Thinking about how to tell the good people of the Twin Cities there was some good radio on the South end of the dial was pretty much all I was thinking about. Billboards? I guess. But in Minneapolis-St. Paul a good part of the year was snowbound and it was really hard to see the billboards through all that sleet. Newspapers? Yeah, but I hated newspaper advertising. It's dead, it just sits there. Whatever the approach, it had to be as different as was our position on the dial.
I had hired Don French to be the KDWB PD. Don and I had both been part of the KTSA deejay team in San Antonio a couple of years earlier. I always respected his unusually creative approach to all things radio. We were thinking about this 'positioning' problem when Don remembered something which had been a national marketing phenomenon a few years earlier.
A fellow out of Texas, after first commissioning himself a Colonel, was bottling what was essentially sweet prune juice, calling it Serutan, and telling the great American radio audience over and over again, day after day, Serutan is 'Natures' spelled backwards. And, as we all know, anything that is 'natures own' is good for what ails you. Almost everybody in the country who had anything at all 'ailing' them, bought into the pitch. The Colonel became famous and very rich. Everyone agreed that this guy could sell anybody anything. Don reminded me about the Colonel and his pitch prowess. We ought to get him to tell people about how good things are when you reach 63.
Will Jones reported that the ads were recorded by Dudley LeBlanc, the former Louisiana politician who sold Hadacol years ago.
Oh, sure, was my response. What are we gonna do? Buy spots on the other stations?? We looked at each other for a long time. A moment later we were both rolling on the floor, rocking with laughter. Rocking and rolling and repeating over and over….We'll advertise on the other stations. Ha Ha Ha Ha Ha!!!
We dug up the Colonel, I called and told him what we had in mind. We thought you could come up with a new product called Formula 63. Guaranteed to make life more fun. The Colonel loved the whole idea and agreed to do it.
We did it. We hired an advertising agency which represented a large local chain of drug stores where free samples of Formula 63 where to be made available. The agency negotiated non-cancellable contracts with all eight of the Twin City Stations. (Only eight stations in Minneapolis-St. Paul. Talk about a time frame, eh?) And there was one other important requirement. They were to buy only where they could get exactly the same 'guaranteed times' on all stations at one time. The result of this was that our spot was on every radio station at the same time. At least 48 times a day, if you happened to be tuning across the dial at that exact time … all you could hear was the Colonel saying, You remember me? A couple years back I brought you Serutan, the product guaranteed to cure what ails you. Now I'm back to tell you about a product, guaranteed to cure an even bigger problem. It's called, Formula 63. And it's guaranteed to relieve ennui!
He spoke about the dangers of ennui, tedium and boredom and how these things could absolutely dull your life.
Formula 63, will relieve ennui …he promised… right from the first moment you try it. And you can try it today. A free sample is waiting for you at any Provident Drug Store. A touch of Formula 63 is the perfect way to brighten up your mundane day. 63 … that's easy to remember.
Will Jones tells us that security was so tight that the 120,000 packages were stuffed at the Society for the Blind.  Even the disk jockeys weren't let in on it until that morning.   And it was Snyder Drug Stores.
At every Provident Drug Store (not the real name) was a giant stack of tiny boxes beneath a huge sign saying, "Free Samples of Formula 63. Relieve Ennui today!" Inside the box was a piece of paper on which there was a beautiful color picture of the Twin-Cities Radio Dial with a large arrow pointing to the left end of it and an invitation to…Come on down.
'If you suffer from lusterless, uninteresting radio, etc., etc., come on down and put a little color in your life.'
Then, the station logo and the words:
'63. That's easy to remember.'
See actual photos of the insert below.
It wasn't long before the radio stations heard about the fact that they were advertising a competing radio station. Matter of fact, the spots started at 6 AM and by 10 seven of the eight stations had called the ad agency making all kinds of threats.
The stations were reminded that they had a non-cancelable contract. They all said the same thing, essentially: screw your non-cancelable contract. And, I'm sure it was after checking with their attorney, one by one they dropped our little campaign. All except for a little country station called K-COW. As a courtesy, once we had been exposed, the agency called them apologetically offering to rescind the non-cancelable clause. K-COW said, Uh uh! We have a contract and you'll be billed for 2 spots an hour for 2 days. They continued to run the spots.
WCOW was a precursor to KDWB, so it must have been another station.
WCCO, by far the Twin Cities most powerful station, called us to express their outrage and to let us know, We're taking this whole fraudulent farce to the FCC. That kind of ended when Mr. Purcell reminded them that WCCO, like every station, is required by FCC rules to know who their advertisers are.
We thought Formula 63 with the Colonel was really a good way to introduce our station. What we didn't realize was how much unexpected publicity we would get in the Twin City newspapers and on TV. Suddenly it was true, 63 … that's easy to remember.
THE CONCERT
Blore doesn't mention that on the other side of the insert was an ad for a big, star-studded show that was to take place in both Minneapolis and St. Paul on the same night, September 18, 1959.
The show was to start at 8 pm and take place at both the Minneapolis and St. Paul Auditoriums at the same time, with the stars "shuttled" by helicopter between them.  (Helicopters had to be replaced by limos when things got too dangerous.)  Proceeds were to be divided between the Minneapolis and St. Paul Community Chests.  Advertised performers were:
Dodie Stevens
Carl Dobkins, Jr.
Billy Vaughan
The Four Preps
Randy Sparks
Ed Townsend
Jan & Dean
Jerry Fuller
Sandy Nelson
Jimmy Haskell
Ernie Fields
Bobby Vee
Unfortunately, the staff was so busy working out the show and the logistics that they forgot to promote the concerts, and they were poorly attended, Sherwood reported.
---
OTHER PROMOTIONS
One early promotion involved a sticker that said "KDWB is Everywhere."  $630 would be awarded to the person who placed the sticker in the most unusual place, which turned out to be on the St. Paul Cathedral dome!  To promote the contest the jocks would ride around on a float in rush hour handing out stickers, hopelessly tying up traffic.
---
CATCHPHRASES
The first of the station's catchphrases was "My Mommy Listens to KDWB."
---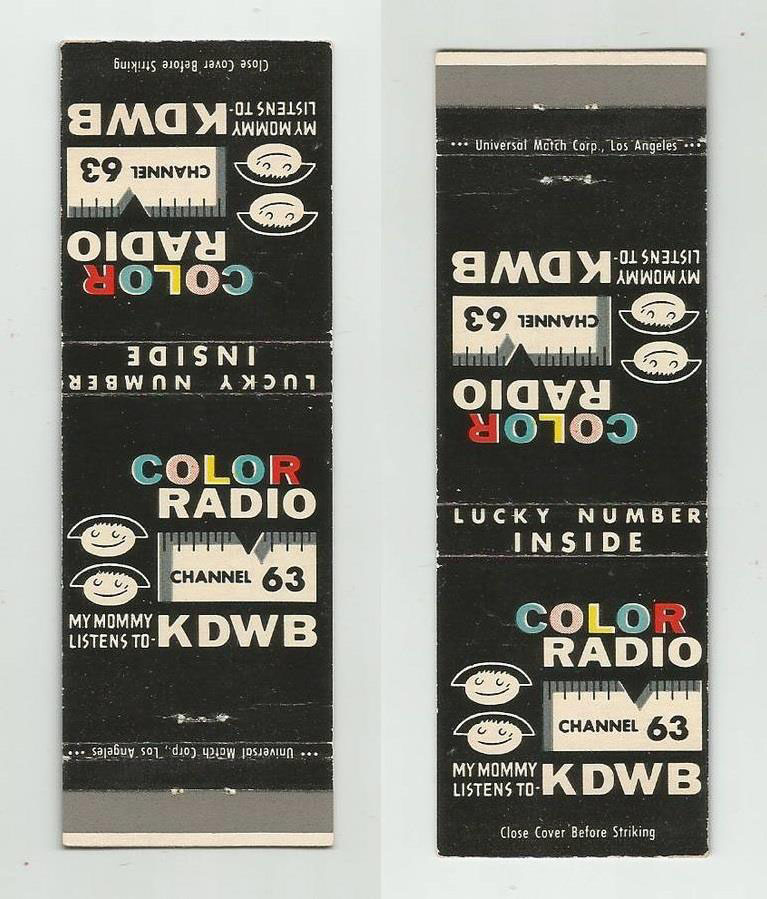 ---
1961
KDWB IN TROUBLE
Congress amended the FCC Act in September 1960 to provide penalties short of license revocation for violations of FCC rules. The first station in the country to receive disciplinary action was KDWB. The station was fined $10,000 in March 1961 for exceeding its authorized power in nighttime operations. Although authorized for only 500 watts from midnight to 4am, it had been broadcasting at full 5,000 watt strength since Crowell-Collier Broadcasting bought the station in late 1959.   Whether it actually had to pony up the $10,000 is unknown.
---
1963
THE COOKIE INCIDENT
One contest in 1963 was a challenge to bake the world's biggest Christmas Cookie.  At first the prize was proposed at 63 cents per pound, but Station Manager Don French decided that a bigger incentive might be $6.30 per pound. They never expected the gigantic turnout, and the ultra-gigantic cookie that won the contest!  Below is a photo that's not too great, but hopefully shows how big the winning monster was.  It was delivered in the back of a pickup truck and weighed 2,300 pounds, made with 1,010 pounds of cookie mix, 725 pounds of powdered sugar, and 172 pounds of shortening.  It was made by a student named Goodman, who financed the venture by selling $1 shares to his friends with a double-your-money guarantee.  It was baked in five pound slabs in a church basement and delivered just an hour before the deadline.
Program Director Sam Sherwood: "I so remember how Don French was on the hot seat for getting hit by such a large prize…he and I argued: 'I'll take the hit…no I will…no no, I will' and that's the way it went until the cookie picture hit the front pages of news papers across the country….THEN….we became heroes, both Don and I. After becoming VP and General Manager, I made sales calls in all the major markets and it never failed….'Sam Sherwood?!!! Oh the Cookie Station KDWB!!!!' …and the association never quit from New York to LA…It was the most visible thing we ever did…..!!!!"   Sam also remembered that the President of station owner Crowell-Collier was pretty mad, and annoyed when the guys on the golf course started calling him "Cookie," but when he got to become a celebrity as the story went national, everyone' job was safe.
The cookie was displayed in the lobby of the Foshay Tower, where viewers filched pieces of it until French dispatched a guard.  What to do next?  "'We may drop it from the top of Foshay,' said Sherwood, Chuckling at the prospect of the world's biggest pile of crumbs."  Sam says that what actually happened to it was "the cookie was picked by cargo plane at Twin Cities Airport and flown to the 'I've Got A Secret' Show in New York, MC'd by the late Gary Moore and after that it was just disposed of…not sure how … but that was it…!!"
---
Another crazy promotion was the time Charlee Brown styled himself as the Emperor and threatened to take over the State of Wisconsin.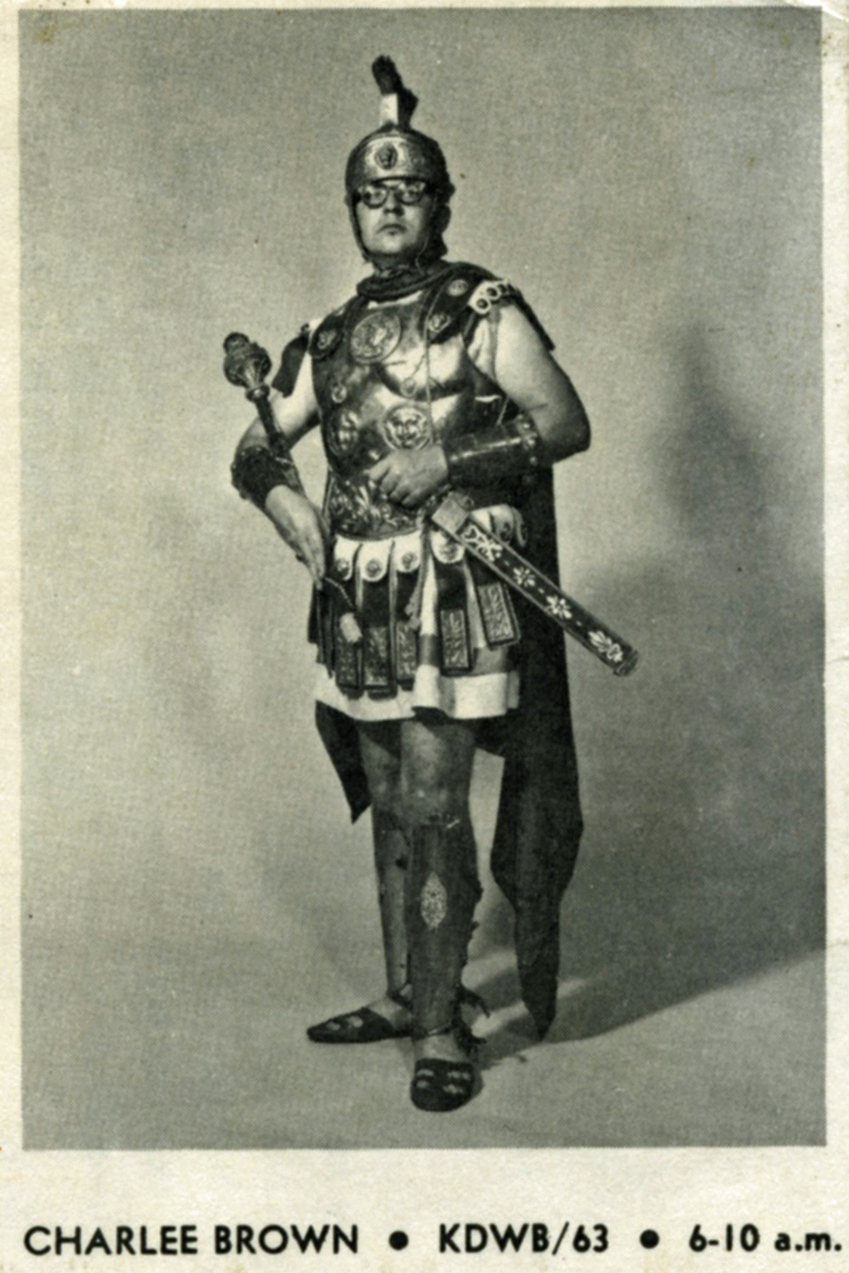 ---
1966
FLAG POLE SITTING REED
In conjunction with the 1966 Aquatennial, disc jockey Jimmy Reed spent (a reported 21 days) on top of a flagpole in downtown Minneapolis starting on July 5, 1966.  Don Betzold recalled, "It wasn't really a flagpole. It was a small shack hoisted on a small tower on the corner of 9th and Nicollet. I stopped and visited him one morning, and he lowered a Bob Dylan album for me. Although he broadcast his morning show from there, there were reports that he went inside the adjacent Young-Quinlan-Rothschild building at night. I don't recall if he spent 21 days up there, but it was a while."  A KDWB "Fabulous Forty" survey that Don donated to the Pavek Museum of Broadcasting called the shack a "four-story-high flag pole playhouse."  John Pratt saved an article from the Minneapolis Star reporting that four hoodlums set the crepe-paper wrapping on the 40-ft. pole on fire.  "Police said the wood snow fence frame beneath the paper had ignited at several points.. The whole tower and Reed's escape rope would have burned had the wood had a chance to get a good start."  Reed slept through the whole thing.
---
1967
THE AMOEBA INCIDENT
In the July 2, 1967, edition of the TMC Insider, we learn that "KDWB went off the air last Friday when a 50-foot tower was blown down and fell on top of the station's studios.  As the tower hit, a light fixture fell and narrowly missed Bob Morgan, who was on the air talking about the weather."
---
1968
CORNELIUS AND THE TEEN MACHINE
Click here for the story of a strange radio show that was sponsored by Dayton's and aired on KDWB for four months in 1968.
---
UNDERGROUND MUSIC
On August 13, 1968, KDWB started programming "underground music" from midnight to 5 am.  However, they were not playing records by local groups – Earl Trout III told the Insider that the station "was on a tighter playlist."
---
1969
TONY GLOVER
From 1969 to mid 1970, Tony Glover held down the midnight to 6 am shift.  In an article in the February 1972 Insider, Tom Murtha noted that Glover was the "prime mover in bringing more diversified programming to local radio."  Glover was not the first to present underground music in the Twin Cities – when he took on the overnight shift in 1969, George Fisher at KQRS had already been playing a diverse selection of underground rock, jazz, blues and comedy (Firesign Theatre, Cheech and Chong) for a couple of years.  But Glover was probably the most popular and well-known.
Glover did most of his programming from his own record collection.  His wry, understated wit, carefully studied word choice, and RELAXED delivery won him a following unheard of since the days of "Murray-go-round" on KDWB and "Throckmorton" at WLOL. … Glover finally finally took two weeks vacation in New York City and never came back."  [He became a freelance writer and contributing editor for Circus, a music magazine.]
---
FIRE!
On November 30, 1969, fire spread through the KDWB studio, destroying two transmitters and shutting it down for two days.   The following account was taken from Rob Sherwood's blog:
I was listening to WLOL, a smallish AM'er that at that time was doing Talk Radio. (Were they ahead of their time?) I was driving my yellow Toronado through the spaghetti part of I-94 in St. Paul. Swinging through the Heights area the freeway ended and became Highway 12. Soon, it was possible to see the lights on the six KDWB towers. The fact that there were no lights did not compute until I heard the news guy on WLOL say, "The radio station studios of KDWB burst into flame this afternoon. Fire trucks are on the scene and we'll up-date you as additional details come in."
Out of reflex, I punched the 63 button and – silence. Then I noticed the missing tower lights. No signal. No lights. No Top Forty. No KDWB!
Like an acid-etching, the events of that day in early December 1969 are sharp as cut crystal. I may get the dates wrong, but the devil is in the details and I am loaded with details. I didn't exit at McKnight drive. I continued on Highway 12 to Radio Drive. There were fire trucks everywhere. I had to park on the highway and walk up the hill to the studios. More fire trucks. The building itself was very dark. There was the terrible smell of burnt paper and charred wood. There were a bunch of people but no real activity. Everyone seemed to be just milling about.
The fire was out.
Here is what had happened. The old transmitters produced a lot of heat. This heat siphoned off through ductwork that eventually combined with ductwork from the furnace and heating system. There were baffles designed to permit travel only in one direction, so a fire in the vent-work should have just traveled out. The baffles failed. The fire from the furnace traveled to the transmitters and out the intake vents. The DJ on the air, Ron Block, noticed the pall of smoke in the hallway and left the building. Then, thinking he may have over-reacted, returned to the studio to start the next song. He tried to use the phones, but the wires all came into the building through the furnace room and they were already toast. He broadcast over the radio that there was a fire at KDWB, no joke, and that someone should call the fire department. (Phones at fire departments all across the vast Twin Cities area rang causing a ton of confusion as to just exactly where there was a fire.) Ironically, he then started the next record, "Na Na Kiss Him Goodbye" by Steam and once again left the building.
Meanwhile, the engineer, who had been in the tower field, returned to the building and was just seconds from opening the back door. If he had opened that door, the back draft would have engulfed the engineer in flame. Fortunately, the door blew open before he got there. Nobody died.
As disasters go, this one wasn't even on the radar screen. So what if a top forty am radio station in Minneapolis/St. Paul caught on fire and was off the air? You think that WDGY wasn't figuratively licking its chops? Think of all the bad karma we collected every time we played "Puppy Love" by Donny Osmond. It was payback time. When even a little pimple of a disaster like this strikes, people rise to the occasion. We are a resilient species aren't we?
KDWB went off the air at 5:21 PM, Sunday Afternoon, and was back on the air on Tuesday.
The rest of that Sunday night, people continued to mill about. So stunned were most of us, the gravity of situation was difficult to grasp. Eventually we had to accept the reality of what had happened. The transmitters were destroyed, as was the entire engineering area and furnace room. The roof hadn't collapsed, but the rafters were charred black. The hallway down the middle of the building acted as a firebreak and the hardcore damage was on one side and just water and smoke damage on the other side. In the main studio, there was a sticky sap-like residue on everything. The control board, counters, carts, walls, microphone, everything.
The fire department didn't want us beginning the clean up until the inspector could make sure the building was safe to enter. That wouldn't happen until daylight. The next morning we were all there and I still remember seeing Howie Anderson shoveling the wreckage out the engineering entrance.
While some of us labored shoveling and wives and girlfriends scrubbed the residue gunk off everything, KDWB, like a phoenix, was about to arise from the ashes. We needed new transmitters, new phones, new carpet, new roofs, new this and new that. The production room was a wreck and there was no heat in the building. No electricity.
Over the next few days, the cleaning and repairing continued. Roof rebuilt. New furnace, electricity etc. What about a transmitter? Collins, a transmitter company located in Peoria, Ill., I think, had a 1,000-watt transmitter and a 630 crystal. Don't ask me what that all means. I got my First in 6 weeks at Brown Institute. How to get it to St. Paul? I suppose at full speed, in December, the ride to Peoria would take 18 hours. Then they would have to schlep the transmitter in a big box (about the size of a single hole outhouse) back to Minnesota.
Enter Bob Reed the news director. Remember Bob? The gun-toting news director? He had a pilot's license so he rented an airplane and he and the engineer, Rey Lark, and someone else hopped in with Bob and flew through the night to Peoria where they picked up the transmitter.
Funny thing, it turned out that Bob Reed didn't have a pilot's license. He had a student pilot's license and certainly shouldn't have been flying alone, in the night, in a storm, with passengers. That night God must have liked bubble gum music because his gentle hand protected that flight.
Meanwhile, they borrowed a little trailer studio from someone and that was our production room for the next month or so. We ran through the frigid Minnesota December weather to get to the production room. Once in there, though, it was kind of cozy.
Back to the drama. After the wayward flight to Illinois and a non-stop trek through Wisconsin, the transmitter arrived, tied to a U-Haul trailer pulled by a rental car. The engineers labored through the night and the following night and on Tuesday, we signed back on. Our normal 5,000 watt, 6 tower, highly directional radio station was now a 1,000-watt non-directional radio station. People heard us in places we had never been heard before. There were many parts of our regular signal area where we were missing. The important goal was to cover the Twin Cities. We were doing just that. We were on the air.
We had been wounded, but we weren't dead.   Channel 63 was back!
---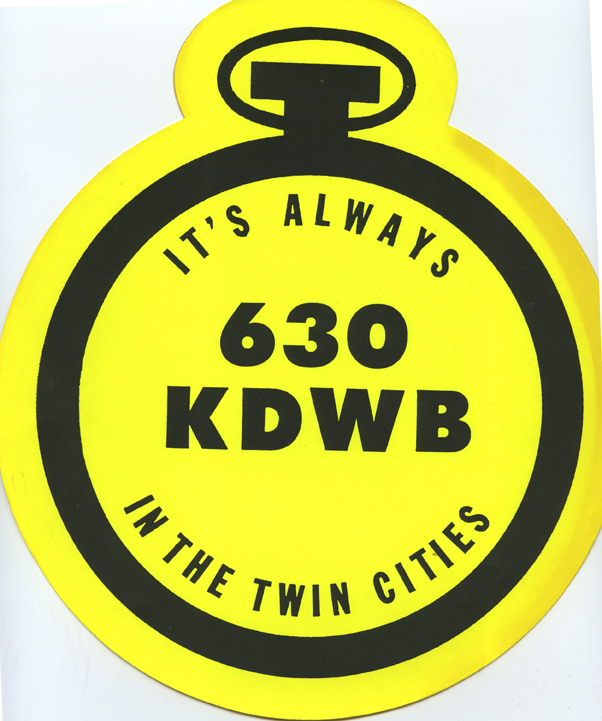 ---
1970
In March 1970, two engineers struck for higher pay and the disk jockeys honored the picket line.  The station put on its salesmen, some, like Stan Mack, were former jocks.  Everyone made up and by 1972 (and probably before) the station had a Super Shooters basketball team.
The station was innovative in its promotions, had legendary DJs, features like Solid Gold Weekends, and at least two airings of "The History of Rock 'n' Roll," an all-encompassing "rockumentary."
---
1971-1972
---
1973
KDWB had a prime spot at the State Fair in 1973, one of the great Teen Fair years.
---
NOW THIS IS REALLY WEIRD
Similar to the biggest Christmas cookie contest of 1963, in 1973 the station sponsored a contest for the biggest snowman.  The creepy monstrosity below, entered by St. Michael Elementary School, was the winner.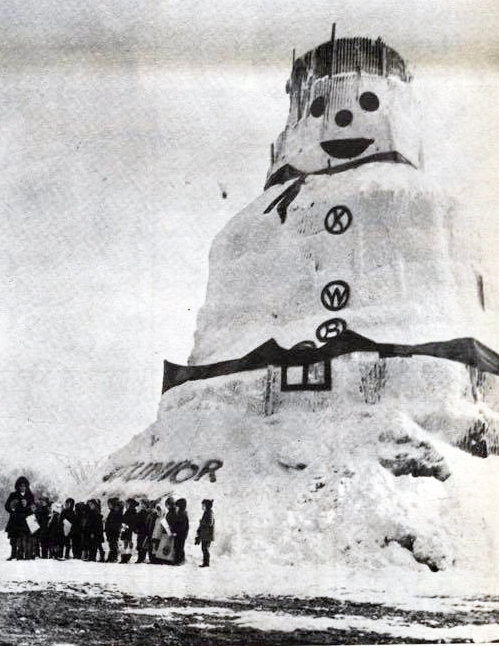 What's especially weird about this photo is that it was posted to Facebook by Scott Kramer, who says:
I am vacationing in Kauai and a person at our Luau had this in their camera. They were from Andover, MN. We were talking and I happened to mention I was a DJ at KDWB (1982-85) and they had this photo stored in their phone picture library. Thought I would share.
So many questions.  So little time.  Love it, Scott!
---
1974
Casey Kasem's American Top 40 began broadcasting on KDWB on January 6, 1974.  Follow the link to read the story of this long-running radio show.
---
1975
The ad below is for "Position 63," a rather suggestive takeoff of the popular Position 69 that every schoolboy loved to joke about.
---
1976
---
1977
Not sure where the photo above came from.  Jay Philpott posted it to Facebook, and listed the names:  Brian "Cosmic" Phenix, Bob Lange, True Don Bleu, Tim Kelly (nee Sebean), Smokin' Joe Hager, Chuck Britton, Dave Cooper (nee Hamilton), John Sebastion (PD), and Dave Thompson.
---
1984
PLANE CRASH
Four people were killed when their light plane, flying in a blinding snowstorm, hit a guy wire holding up one of KDWB's radio towers in Woodbury.  It was a single engine plane trying to land at St. Paul's downtown airport, even though it was flying without instruments.  Killed were the pilot, Thomas B. Leivermann, his daughter and son, and his son's girlfriend.
1994
On April 18, 1994, after 36 years, the 630 kHz frequency went dark. The owner, Midcontinent Media, sold the property. The state of the art facilities were dismantled, salvaged and/or destroyed to make room for the construction of the-then State Farm Insurance Companies regional headquarters.  Radio Drive still exists in Woodbury to remind us of those crazy days of KDWB-AM.
---
Scads of airchecks and music surveys are posted at
http://twincitiesradioairchecks.com/kdwb630tapes.html
http://radiotapes.com/KDWB.htm
Return to Twin Cities Radio Stations
Save
Save
Save
Save
Save