There would be no music, local or otherwise, without disc jockeys, and one of the most influential DJs in the early days of Twin Cities popular music was Jack Thayer.  Seemingly in constant motion, he worked here for years as an on-air DJ, the General Manager of our first rock 'n' roll station, the host of an "American Bandstand" type TV show before there was an "American Bandstand," and the host of Teen Hops at the popular Prom Ballroom.  Much of the information below comes from local media expert Jeff L. Lonto, with my thanks.
---
EARLY HISTORY
Jack G. Thayer was born Glover Eddy Thayer on November 22, 1922, in Chicago.  His father, Harley Thayer, worked for the U.S., Chicago, and North Western Railway for almost 48 years, working his way up from a coal shoveler to Superintendent.  Using Census data and railroad employment records, here is a sketch of where the family traveled:
1922 to 1930:  Chicago
April 1934 to 1935:  Milwaukee
January 1937 to ?:  Winona, Minnesota
1940 to 1946:  Chadron, Dawes County, Nebraska, in the Northwest part of the state.
Jack Thayer seemed to pack a lot of activity into 1941 to 1943:
On June 7, 1941, he was hired on as a laborer for the U.S., Chicago, and North Western Railway. It is unclear whether it was only for a week or not.
On June 30, 1942, he registered for the military, showing his occupation as student and his residence as Chadron.
His first job was at KOBH radio in Rapid City, South Dakota. Rapid City is about 100 miles straight north of Chadron.  KOBH would change its call letters to KOTA on January 1, 1945.
Next there was a short stint at a Chicago radio station.
Once in the Twin Cities, he enrolled in Joe Beck's Twin Cities School for Radio
---
WLOL:  1943 – 1952

In 1943 Thayer was hired as a DJ by Bob Bouchier, a classmate from the Beck School and the General Manager of the station.  His shows included "Swing Time" and "Top Tunes of the Week," the latter pioneering the Top 10 format.
Apparently it was okay for DJs to plug songs!  Billboard Magazine said that Thayer was one of the DJs that made the song "All Right Louie Drop the Gun" (the original version by Art Kassel and Gloria Hart) such a big hit in 1949.  The record below also came out in May 1949.
---
WTCN:  1952 – 1956
On August 17, 1952, Thayer moved to WTCN radio and TV.  While maintaining a daily on-air disk jockey schedule, he participated in several other TV and live shows:
"Jack's Corner Drug Store" ran at 4:00 pm weekdays, starting just days after WTCN went on the air:  September 7, 1953. This teen dance show began four years before "American Bandstand" went national. TV Guide:  "Jack Thayer, emcee.  The scene is the replica of a drug store.  High School and college students are invited to the show."  Another description went:  "jivey teen-age dance get-together.  Dance contest $180.  Tangos, rhumbas, and other South American Favorites."
---
"Jack Thayer's Beach Party" was the name of his show from June 12 to July 7, 1954.  TV Guide:  "Broadcast from the veranda of the Calhoun Beach Hotel, overlooking beautiful Lake Calhoun."
"Jack Thayer's Sun Fest" was the name of the afternoon show during the summer of 1955.
---
After the 1955 "Sun Fest," the show was renamed "Record Hop."  The afternoon show went off the air (partly because of the Mickey Mouse Club) on October 28, 1955.
"The Jack Thayer Show" was broadcast on Saturday evenings from February 20, 1954, to October 24, 1955.  This show may have also been known as "Top Ten Records."  Photos are labeled "Lip Synch Show," if that's a clue to the format.
---
He and his wife Donna hosted Miracle Mile Theater, where they showed a movie and presented 16 commercials for stores at the Miracle Mile Shopping Center in St. Louis Park.
At times Thayer even filled in as a weatherman at the station!
In 1952 Thayer launched a series of Teen-Time Dances on Wednesday nights at the Prom Ballroom.  His last appearance was on July 3, 1957; he was replaced by WDGY's Bill Bennett.
All of this activity led Minneapolis Tribune columnist Will Jones to dub Thayer the most visible TV personality in the Twin Cities.
Thayer left WTCN in January 1956.
---
WDGY
In 1956 he was lured away from his two TV shows and radio show on WTCN to go with WDGY radio.  He began his disk jockey duties on February 6, 1956.
---
In July 1957 he gave up his on-air duties and became General Manager of WDGY.
As a promotion, in November 1958 Jim Ramsburg cooked up the Radio Wonders basketball team.  WDGY Jocks teamed up with professionals Ed Kalafat, Bobby Cox, Jim Springer, and Corky Devlin, possibly former Minneapolis Lakers.  The team could not play high school and college teams, but would go out to small towns for exhibition games.  Some not so happily as others, he admits.  Proceeds would go to a charity mutually agreed upon by the two teams.  The photo below, provided by Jim Ramsburg to the Pavek Museum of Broadcasting, shows Jack Thayer holding the ball.  Clockwise from Jack are Bill Diehl, Don Kelly, Dan Daniel, Stanley Mack, and Ramsburg.
He left WDGY on December 24, 1958.
From 1958 to 1959 he served as the fifth president of the Minnesota Broadcasters Association.
In January 1959 Jack finally took a vacation; records show transit papers in Puerto Rico and Haiti.
---
AFTER MINNESOTA
In May 1959 he left Minneapolis for California.
In 1963 he moved to WHK in Cleveland, another Storz station.  One of his stunts was to invite Nikita Khrushchev to a sock hop sponsored by the station.
In January 1967 he moved to KLAC-AM in Los Angeles, where he created the call-in talk show where he debated hot issues of the day with his listeners.
From there he became General Manager of KMET-FM, owned by Metromedia, where he started the first commercial underground rock format, with deep album cuts and laid back DJs.  The station started up in June 1968.
Jack and Donna divorced in Los Angeles in April 1969.
In 1970 he was hired as General Manager of WGAR in Cleveland, and he made dramatic changes in both the AM and FM stations. The FM station had been on the air for purely technical purposes; it then went to a 24-hour operation as WNCR, (Nationwide Communications Radio) and adopted a progressive rock format that was tapped two years earlier by WMMS. The AM side saw a format shift to adult contemporary.
Thayer later became President of Nationwide Communications, a subsidiary of Nationwide Insurance Company, based in Columbus, Ohio.
---
From 1974 to 1980, Thayer was president of NBC Radio.
---
In 1975, while at NBC, he established the News and Information Service Network, which provided news "capsules" to all-news radio stations across the country, including WWTC in the Twin Cities.  The concept of all-news radio was slow to catch on, and the NIS folded in 1977; CNN didn't start its all-news format until 1980.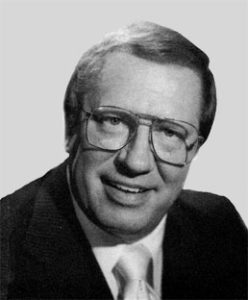 Thayer's next move was in 1980 when he became the General Manager of WNEW, Metromedia's flagship station in New York, which had a Big Band format on its AM station and album rock on the FM.
---
THE END OF A BRILLIANT CAREER
Thayer suffered a stroke in 1984, ending his broadcasting career.  He lived in a New York nursing home for the next ten years.  After a heart attack/brief illness he died on January 1, 1996, at St. Joseph's Hospital in Providence, Rhode Island, at age 72.  His obituary in the New York Times said that when he died he was the chief operating officer and executive vice president of Gear Broadcasting International, a subsidiary of Gear Telecommunications, a wireless cable operator in New England.  It also said that he lived in Providence and Manhattan.
Jack Thayer is considered an innovator of the Top 10 format, talk radio, and underground rock radio.  When he was inducted into the Minnesota Broadcasting Hall of Fame in 2013, his plaque rightly  noted that "he left behind a legacy of innovation and achievement that pays credit to his Minnesota roots."