Dick Driscoll was one of the most active, prolific, peripatetic, and hilarious disk jockeys to grace the airways of the Twin Cities.  It is telling that there are many, many people in the industry – and part-time historians like me – who can credit him with career starts and boosts, interviews, and friendships.  Dick Driscoll passed away on July 14, 2016, and will be sorely missed.   Services were Friday, July 21, 2016, at Fort Snelling.
---
EARLY YEARS
Richard K. "Dick" Driscoll was born on December 20, 1932, in St. Paul, Minnesota, and went to Mahtomedi High School.
Driscoll made his broadcast debut in high school, when he and some friends found an Air Force transmitter the school had purchased as surplus.  They got it working in the band room, and broadcast record shows and live music.  They even covered sports from the third story roof of the high school, until the wind almost blew them and the remote equipment off the roof..  "We were on the air for about a month before the FCC got to us," he said. "We were on the Air Force's frequency for the Air National guard."
His next appearance was legal.  A trio made up of Driscoll on guitar, Bill Carlson on accordion, and Dick's girlfriend (later wife), Mary Berthiaume, on vocals, won a spot on Cedric Adams's junior talent contest on WCCO.  They won three weeks in a row – which paid a $25 savings bond – until their trio was aced out by a soprano from the McPhail Music School singing from "Carmen." Driscoll and Carlson then became CBS pages at WCCO, and Dick did many "walk-on" bits with Ed Viehman and Jergen Nash.
---
Driscoll graduated from high school in 1951.  Here's his class picture, showing that he was a leader and a funny guy at an early age.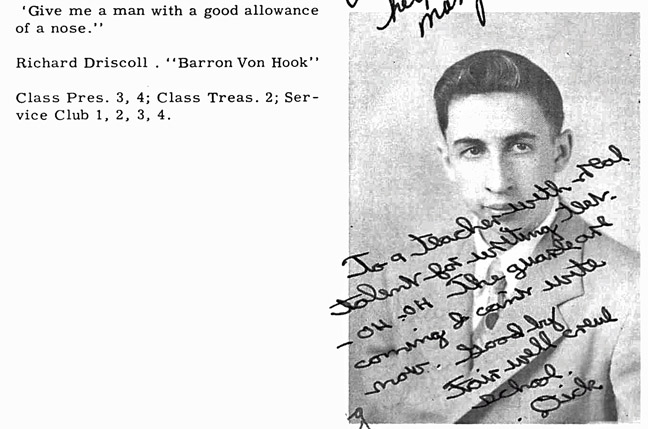 At some point, probably right after graduation, Dick was drafted into the Army and served for two years in the Armed Forces Radio in Korea.  He remembers he was home before the war ended, which was in July 1953.
---
Dick married Mary Ann Berthiaume (born March 30, 1934) and they had three children:
Patricia Lee Power
Mary Lynn Olson
Richard (Rich) Driscoll
Mary Ann died on August 29, 1983, and is buried at Fort Snelling.
---
TWIN CITIES RADIO AND TV

The indented section below is from a May 4, 1980, profile of Driscoll that appeared in the Minneapolis Tribune TV Week, provided by Jeff Lonto.
[In 1958] Driscoll broke into this market at WMIN…and within a couple of weeks found himself out with a strike. He heard that WDGY, then the town's rocker, was looking for someone and a friend talked him into auditioning.
"Don Kelley was the program director," Driscoll recalled, "and when I showed up he said he'd just turn on the mike and I should talk. So I did Dracula." He was hired and in a year had built a Count Dracula fan club numbering near 6,000. Driscoll did promotions at dances and movies, emerging from a coffin. His first attempt began badly: At the Prom with Bill Diehl, he couldn't get the lid up. As Diehl, who thought Driscoll was kidding, kept whispering to hurry, he finally shook the coffin off its stand onto the floor and rolled out.
The job at Weegee was starting out in style but shortly after he began there, WMIN's strike was settled, leaving him under a six month obligation and driving from station to station, from one air shift to another.
He lasted into 1961 at WDGY, turned down a chance to go to [WLS in] Chicago, and moved to television, joining WTCN as an announcer, producer and news and weathercaster. Later [December 1964] he went to KQRS and by the turn of the last decade, was working at WTCN-TV, WAYL and WWTC. He survived that for three years.
…Driscoll…cut down to just WTCN and WAYL four years ago [1976]. That still occupied him seven days a week. He dropped to just WAYL last spring [1979]. In December [1979] he left that moneymaker for a station barely off its bum [WWTC].
…"This place was successful when I left it; when I walked back in, it was a disaster area" economically and physically, he said. Assured by the Short family that it was willing to hang in for the long haul, he signed on.
The change from beautiful music wasn't traumatic, Driscoll said…"I had been at WAYL eight years…A good deal of that time I had been doing more than one format." But after a couple of days at WWTC, "I started saying 'What am I doing? Am I trying to relive my youth, or what?'"
---
RADIO AND TV
As you know by now, Dick's career was not linear, and not exactly conducive to a timeIine.  I interviewed him on April 22, 2013, late in his life, hoping to pin down dates for all his stations, but it was difficult, not only because there were so many, but because he often worked at more than one station at a time.  This information comes from many sources, and I am open to corrections.
KXRA in Alexandria, Minnesota, 1952
Far East Radio Network
KFYR AM and TV
WHLB
WMFG
Arrowhead Radio Network
In mid-1952 to 1955 he said he worked for WDGY, and "tried to sneak rock 'n' roll" into the station's otherwise MOR format.
In 1954 he was a booth announcer for WTCN-TV.
WMIN:  1958 for six months
WDGY:  1958 to 1961
---
WTCN-TV:  1961 to 1980 and 1983 to 1985
---
KQRS:  December 1964 – 1969.
Dick's son Rich tells the story about the time Dick met Wolfman Jack.  The Wolfman was working on the AM side, which was a low wattage station that had to shut down at sunset, while Dick was on the FM side.  Apparently Dick was the one in charge of shutting off the AM transmitter at dusk, and one day he did so just as the Wolfman was into a heavy conversation with a young girl.  The Wolfman came in screaming at Driscoll, and a true friendship was born.  Rich says that it was Dick who advised Wolf to pursue greener pastures in New York or Los Angeles, and the rest is history.
---
FLYING OFFICER NELSON
Jeff Lonto provides this story about one of Dick's antics:
In 1967 he was on KQRS. He told me that was where he created the "Flying Officer Nelson" satirical traffic reports. Supposedly, WLOL, which had real traffic reports, filed a complaint with the FCC claiming KQ was deceiving the public with the bits. Dick said a hearing was held at the St. Paul offices, the commissioners heard the Flying Officer Nelson airchecks supplied by WLOL…and busted out laughing. They ruled no reasonable person would assume those were real traffic reports and dismissed the complaint.
My notes from my interview with Dick say that Flying Officer Nelson was sponsored by Win Stephens Buick for two years.  Incidentally, Dick did hold a pilot's license with instrument rating.
---
WWTC:  1970 – 1976, December 1979 – 1985
DOOBIE BROTHERS CONCERT
Jeff Lonto offers this interesting item:
On September 7, 1971, the Doobie Brothers performed the first rock concert to air live on a Twin Cities radio station.  But the concert was not heard on KQRS; it was heard on WWTC (1280 AM) of all places.
WWTC, then primarily a middle-of-the-road music station, broadcast the concert live from Sound 80 recording studio in south Minneapolis.  The show lasted about an hour and fifteen minutes.  Dick Driscoll (who had moved from KQ to WWTC in 1969) interviewed the band.  Driscoll recalls asking them why they called themselves the "Doobie Brothers" when they weren't brothers and none of them were named Doobie.
"They looked at me like I was some kind of square," Driscoll recalls.
Performing the concert on a 5,000-watt AM station gave the Doobies much needed exposure while allowing minimal risk of pirates "Bootlegging" recordings of the show.
A Minneapolis Star article the following day pointed out that the show was unlikely to be bootlegged anyway "because the Doobie Brothers are not an extremely popular group."
The Doobies would not have their first hit until the next year.  The show consisted of an acoustic set and an electric set.
---
WAYL:  1973 – December 1979
---
KLBB:  1987- April 27, 1995
In 1987 he began working at KLBB.  In 1995 Driscoll abruptly left the station and wrote a letter of explanation that he sent to fans wondering where he had gone.  The letter said that in 1987 he began working a three hour shift, Monday through Friday.  In 1994 the shift went to four hours without a commensurate raise in pay.  Then new ownership bought the station with the intention of changing the format to rock, but fan protests quashed that idea.  For six months Dick worked the same four hour shift, but suddenly the new owner "demanded that I work an additional 11 hours per week including six hours on Sunday… FREE!!!! …  This, after my heart attack, was not the best plan I had ever had forced on me."  He continued the schedule for several months, [trying] to reason with KLBB to go back to the original KLBB agreement."  Finally, on April 27, 1995, he was told in a meeting that the owner "expressed a policy that seemed to state he would hire someone devoid of experience or qualifications who would put in Sundays rather than someone with 30 years on the air in the market who would only work Monday thru Friday."
---
ACHIEVEMENTS
Dick's resume reads:
Mr. Driscoll is highly regarded in the broadcast industry.  He was an on-the-air personality with WCCO, WDGY, KQRS, WAYL, WWTC, KLBB, Time Life Radio and Television, Chris Craft Television, and MetroMedia Television.  He was the announcer on the Howard Cosell Celebrity Roast.  The Host of the Television series "CHILLER" and the writer/director of many specials. He is a consultant to Multi-national companies and is President of a Record studio [Mystery Ranch Studios].  He is nominated for the Broadcast Hall of Fame and was given the Lifetime Achievement Award in the Rock and Roll Hall of Fame.  He is a member in good standing of The American Federation of Radio and Television Artists, The Screen Actors Guild, and The International Brotherhood of Electrical Engineers.
---
---
AIRCHECKS
Hear Dick Driscoll in action on radiotapes.com
Save
Save
Save
Save
Save
Save
Save
Save
Save
Save
Save
Save
Save
Save
Save
Save
Save
Save
Save
Save
Save
Save
Save
Save
Save
Save
Save
Save
Save
Save
Save