One of the indisputably most popular disk jockeys of the 1960s in the Twin Cities was WDGY's Johnny Canton. His smooth style contributed to the less-raucous sound of Wee-Gee, as opposed to the more frenetic KDWB, at least in my pre-teen opinion!  Johnny was kind enough to send his career highlights.  All photos except as noted courtesy Pavek Museum of Broadcasting.
Birthday:  October 4th, 1941, Kansas City
I was going to be a schoolteacher until I was 12. And then I went to a radio station one day in Warrensburg, Missouri, and I fell in love with the magic of how a guy can sit in front of a mike and be heard miles away.
My on-air "debut" was May 8th, 1958, at KLEX-AM Radio, Lexington, MO.  I was 16 years old.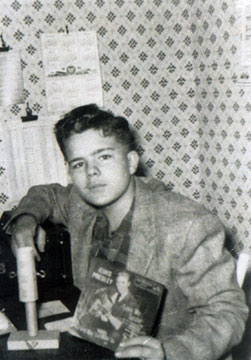 My broadcasting journey took me to stations in Colorado; Pennsylvania; Kansas City; Rochester, NY; Cleveland, OH; and the Twin Cities, MN.  In addition to being an on-air personality I have been a Program Director, News Director and Music Director at various stations.
In 1965, while at WHAM-AM, Rochester, NY, I narrated David Wolper's "The Making of a President" promotion for the CBS-TV special sponsored by Xerox Corporation.
In August 1966, while at WIXY-AM, Cleveland, OH, I introduced the Beatles at their concert there.
---
My Twin Cities career began in November, 1966, at WDGY-AM Radio, a leading Top-40 station at the time.  I was on the air as well as WDGY's Music and Program Director.  While at WDGY I received the Radio-TV Mirror Magazine "On-Air Personality Award" in 1968.
[Johnny co-emceed the Connie Awards in 1968 in an Oleg Cassini Nehru suit from Keiffer's.
On June 28, 1969, he was interviewed on "American Bandstand" in their "Hollywood Hotline" segment, reported the Insider.
From a 1970 ad:  "Good Morning Twin Cities!  Johnny Canton takes the morning in easy stride.  A Touch of music, a few laughs, entertaining you from 9 til noon.   Request your favorite song, hear it, and win it on Johnny's Phon-A-Song Line, 827-9955."]
---
In late 1977 I joined WCCO-FM Radio which changed call letters to WLTE-FM in 1984.
---
On Twin Cities TV I hosted "Bowling for Dollars on KSTP-TV 5, 1977-1978, and hosted "Bowlerama!" on KMSP-TV 9, 1983-1987.
---
I have appeared in many radio and TV commercials; narrations; industrial films/videos; newspaper, magazine and catalog print ads – many national, including Whirlpool  Total Cereal, Golden Grahams Cereal, Montgomery Ward, Culligan Water, Hamm's Beer, Polaris Snowmobiles and others.
---
I have had several acting roles, including that of an airlines ticket agent in the Ross Hunter/Universal film, "Airport," which was partially filmed in the Twin Cities.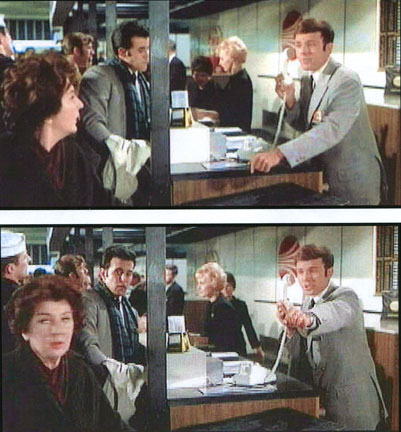 ---
I also appeared as the M.C. in the Joe Cocker film, "Mad Dogs & Englishmen," also partially filmed in the Twin Cities.
---
In his autobiography Take Me Home, the late John Denver credits me with giving his record career a substantial boost by being the first disc jockey to introduce "Take Me Home Country Roads" on radio.
Through the summer the song got into the national bloodstream.  It first aired in Minneapolis, where Annie and I were still living.  I had taken the record around to a very hot disc jockey named Johnny Canton at station WDGY, who liked the song and gave it tremendous play.  After that, word of mouth moved it.  The same thing happened from city to city.
---
In 1977 I became Executive Vice President of Masters & Associates, Inc., a Twin Cities advertising agency.  This led me to form Canton Communications, Inc., in November, 1978, a Twin Cities advertising/radio-TV production firm.
And without a doubt a huge career highlight was being inducted into the Minnesota Broadcasting Hall of Fame in October 2006.
---
Johnny retired as an on-air radio personality in December 2011.
Click here to see a great short video highlighting Johnny's career, produced by the Pavek Museum for his induction into the Hall of Fame.
Johnny Canton passed away on Saturday, December 31, 2016, due to a Cerebral Vascular Accident (severe stroke) he suffered on Monday, December 26. His family included his significant other of 34 years, Janie Meyer, and daughters Jonna and Heather.
Johnny was a Twin Cities icon and a genuinely nice guy.
Also see Johnny's page on minniepaulmusic.com.
Save
Save
Save
Save
Save