Six Days on the Road: 1963
"Six Days on the Road" by Dave Dudley made its debut on the Billboard pop chart on June 8, 1963.  The song was recorded at Kay Bank Studios. Released in mid-May 1963, went to Number 2 on the Billboard Hot Country Singles chart that summer. The record peaked at Number 32 on the Billboard Hot 100. It also reached Number 13 on Billboard's easy listening chart. From a web site that has since gone away:
Songwriters Earl Green and Carl Montgomery were a pair of over-the-road drivers for Robbin's Floor Products in Tuscumbia, Alabama, who made a regular six-day run to Pittsburgh with a load of floor tile. With a guitar along for the ride, the pair penned a factual account of their experiences, as they consumed amphetamines ("little white pills") to stay awake and tried to dodge ICC inspection stations ("I'm a little overweight and my log book's way behind"). The song's gear jammer jargon also refers to specific truck models ("Jimmy" is a nickname for GMC, while "White" was a popular brand now owned by Volvo) and driving techniques ("Georgia overdrive" is a slang term for neutral). Greene and Montgomery recorded a demo of "Six Days on the Road," which they slipped to Cajun singer Jimmy C. Newman during a visit to the Grand Ole Opry. Newman didn't think the song suited his style and had Nashville publisher Jimmy Key pass the tape on to their mutual friend Dave Dudley, in Minneapolis, who stashed the song in his guitar case. The last minute addition also worked to the strength of teen guitar sensation Jimmy Colvard, who did his best Duane Eddy impression.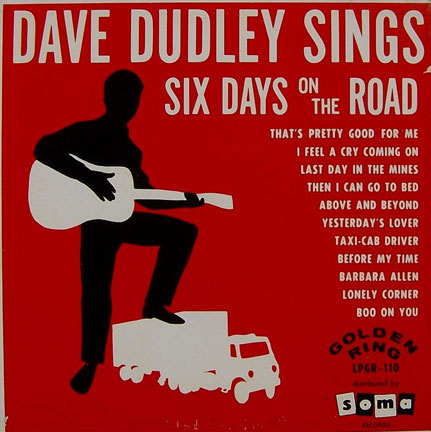 Unfortunately, according to Dudley, both Colvard and Montgomery committed suicide. About Colvard, Sherwin Linton remembered:
Jimmy moved to Nashville and became a top studio player there and was also a member of the name band "Barefoot Jerry". In 1975 he went into the North Woods in Minnesota and took his life. Warner Brothers produced a two page ad in his memory in Billboard Magazine. That was a great recognition.
About Montgomery:
he was hoping that he could always write songs as big as "Six Days" and I guess it just kind of overwhelmed him and he never could live up to that expectation again.  It just got to him.  (Do You Hear That Beat, Gary A. Myers, Page 24.)