Disk Jockey Convention II: 1959
The notorious Second Annual International Radio Programming Seminar and Pop Music Disk Jockey Convention, which became synonymous with "Babes, Booze and Bribes," was held at the glamorous Americana Hotel in Miami Beach on May 29-31, 1959, hosted by Todd Storz, owner of WDGY and several other Top 40 stations.  2,500 jocks came down to listen to speakers, make contacts, and get educated about how to make their programs better.  Ha!  The liquor flowed like… wine, prostitutes (local and imported) were on call, and the record companies were giving away cars, trips, and who-knows-what-else to curry favor with the men who could make or break a song.  Sessions were hosted by individual record companies; for example, Saturday breakfast was sponsored by Atlantic Records, co-hosted by Ahmet Ertegun and Jerry Wexler themselves.  Alan Freed was on the program, as was our own Charlie Boone, who was working in Fargo at the time.   Other big-name jocks included Robin Seymour, Gordon McLendon, and Al "Jazzbo" Collins.  The payola was flowing and so blatant that it led to Congressional hearings and the ruin of careers, most notably Alan Freed's.  But it was a fun party.
The Pavek Museum of Broadcasting has a copy of the program, and the list of entertainers was phenomenal:
Peggy Lee and George Shearing, who made the LP "Beauty and the Beat!" during one of the cocktail parties
David Seville and Julie London, who hosted a Saturday afternoon cocktail party
Count Basie and Ronnie Hawkins and the Hawks, an odd combination, at a dance and barbeque
On Saturday night there was a three-hour All Star Show emcee'ed by the "Daddyo of the Disk Jockeys," Martin Block, who was presented with a huge cake in recognition of his 25 years in the business.  Keynote speaker at the banquet and show was former Tennessee Governor Frank Clement, who stressed the importance of DJs in forming public opinion.  Performers at the extravaganza were:
Pat Boone
Cathy Carr
Chris Connor
Vic Damone
Alan Dean
Connie Francis
Johnny Horton
Peggy Lee
Lou Monte
Patty Page
The Playmates
Lloyd Price
Connie Russell
Jimmy Rodgers
Jack Scott
George Shearing
Dodie Stevens
Gary Stites
Kirby Stone Four
Jesse Lee Turner
Caterina Valente
Andy Williams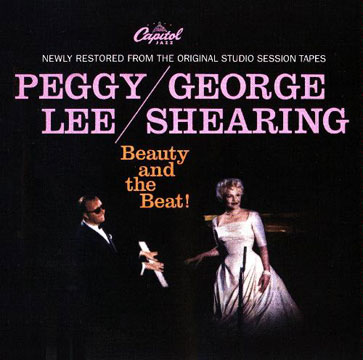 As the jocks were on their way home, readers of the Miami News were reading the famous headline on the first page:  "For Deejays: Babes, Booze And Bribes," written by Haines Colbert.  Some excerpts:
[DJs] were given the greatest buttering-up since Nero was persuaded he was a fiddle virtuoso.
There was constant praise for the apparently unbelievable talent required to put a record on a turntable, play it and sell it to all those wonderful people out there in radioland.
One promotion man said, "You can buy some of them with an air-conditioner; some with money and some with a girl."
"A lot of these guys think they're gods. You hardly can blame them, either."
"We put out one record sung by a kid with no voice and no reputation. We spent $100,000 on the promotion – most of it entertaining disc jockeys – and it got into the [top] 10 in four weeks."
"I would guess that the payoffs to the disc jockeys in one form or another run to well over $1,000,000 a year."
"It's a lousy situation, but I don't see how anything can be done about it. As we tell them all the time, without the disc jockeys we're dead."
Well, the poop hit the air conditioner, and the blatant payola led to Congressional hearings and the ruin of careers, most notably Alan Freed's.  But it was a fun party.