The Castaways were one of the big local rock bands in the Twin Cities, playing all over the urban, suburban, and exurban areas, including up north in the ballrooms and resorts.  Writing about one of the most successful Garage Bands of all time is beyond my ken, but I can share some local gigs and pictures.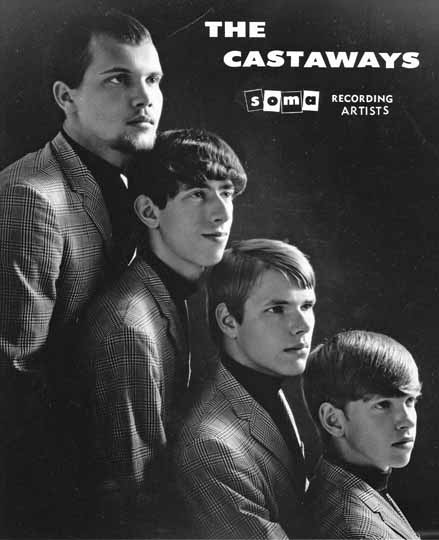 The Castaways consisted of Robert Folschow (Southwest), Roy Hensley (Richfield), Jim Donna (DeLaSalle), and Dennis "Ludwig" Craswell (Richfield). Denny's the one on the bottom, looking like he was about 12 years old.
THEIR START
On April 10, 1964, the St. Louis Park dance team the Parkettes hosted the River City Talent Tournament at the Minneapolis Auditorium. Professional acts included Jimmie Rodgers and the Big Three, a group from Greenwich Village featuring Cass Elliot. The Castaways placed first in the rock and roll category, beating out the Blazemen from North High.  They won the $50 prize with "(Turn On Your) Love Light." This big win led to professional jobs, press interviews, and more, essentially launching their career.
"LIAR, LIAR"
The band went on to have a huge monster national hit, "Liar, Liar," written by Jim Donna and Denny Craswell and produced by Timothy D. Kehr.   Kehr was also a  a booking agent, music reviewer, record producer, magazine publisher, and more. "Liar, Liar" entered the Billboard chart on August 14, 1965 and stayed there for 14 weeks, peaking at #12 on October 23, 1965.  Unfortunately, their followup, "Goodbye Babe,"  didn't fare as well – it entered Billboard's Bubbling Under chart on November 13, 1965 where it stayed for only two weeks and made it to #101.
Nevertheless, the momentum of "Liar, Liar" was huge, and in '65 they went out to California for 22 days.  They appeared on many rock 'n' roll TV shows, including "Where the Action Is," "The Lloyd Thaxton Show," "Shivaree," "Never Too Young," and "American Bandstand."  When they played on "Hollywood a Go Go," Roy Hensley ruptured a tonsil.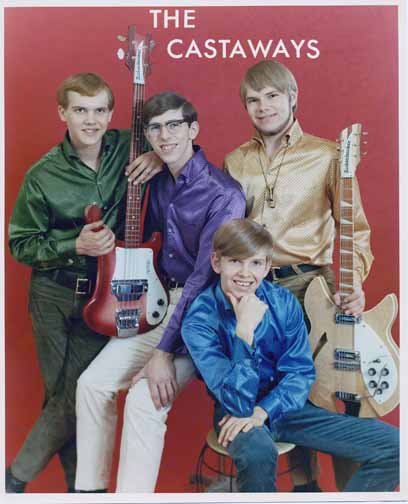 In 1967 they were even in a beach movie called "It's a Bikini World." (Only afterwards did the Beach Boys advise them never to do a beach movie.) Universal Pictures paid them $800 just for playing the song twice, reported the Minneapolis Tribune.  (Check out Denny's wink at the end of the scene!)  During their career they worked with major stars like the Animals, Beach Boys, Sonny and Cher, and the Shangri-Las.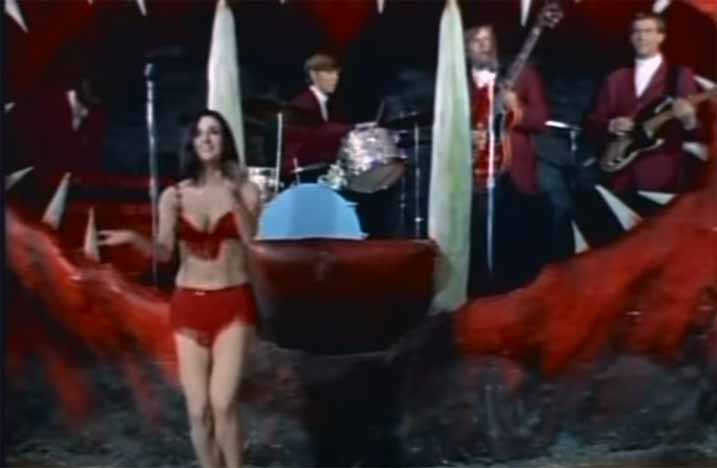 Gary Gimmestad remembers "the Castaways performing at a dance (1968?) in the gym of Incarnation (Catholic school) in South Minneapolis. It was most memorable because the Castaway's drummer had metal pans on a couple of his drums which contained the flames from burning lighter fluid during the climax to the only live version of he Beatles' 'A Day in the Life' I've ever heard."
Did I mention that Denny was kind of my cousin?  His dad's brother married my dad's sister, so his Uncle Dick was also my Uncle Dick.  And Uncle Dick was a heckuva guy.
---
CASTAWAYS II
Dennis Libby provides us with a great photo of the second iteration of the Castaways.  He wrote that they were
a vital, somewhat influential and too frequently overlooked ensemble, despite being consistently the most authentic version having two of the original members Denny Craswell and Roy Hensley as carryover mainstays of the "Liar, Liar" recording. Despite the fact this version with myself, Tom (Foot) Husting, and now legendary influencer Gregory Dee Maland out- recorded and out lasted all but the Jim Donna version, with five singles, an LP, numerous inclusions on Greatest Hits CDs extensive gigging for nearly five years, and Connie Hechter award for best album, our considerable accomplishments are often overlooked and overshadowed by the original band. Here we are from 1968 modeling leatherwear for Dayton's Department Store.