This seminal film came to Minneapolis's Gopher Theater on April 27, 1955.  It starred Glen Ford as a teacher at an all-male technical high school in New York City.  The story was a cautionary tale about juvenile delinquency – to the sound of a drum beat, a crawl read:
 We, in the United States, are fortunate to have a school system that is a tribute to our communities and to our faith in American youth.
Today we are concerned with juvenile delinquency — its causes — and its effects.  We are especially concerned when this delinquency boils over into our schools.
The scenes and incidents depicted here are fictional.
However, we believe that public awareness is a first step toward a remedy for any problem.
It is in this spirit and with this faith that BLACKBOARD JUNGLE was produced.
Then WHOMP, it goes right into "(We're Gonna) Rock Around the Clock" by Bill Haley and His Comets over the opening credits and beyond, showing some of the boys dancing to it on the playground.  This was the first time many people had heard anything resembling rock 'n' roll, and it was a sensation – many folks remember sitting through it again just to hear the song.  The movie stayed at the Gopher with an exclusive engagement for two months, then moving down to second and third run theaters.  By June 15 the Gopher estimated that 85,769 people had seen it.
The song "(We're Gonna) Rock Around the Clock" (just billed as "Rock Around the Clock" in the movie credits) hit the Billboard Pop Chart on May 14, 1955 and the R&B chart in June.  Haley had 9 songs on the Pop charts in 1954 and '55.  Jim Ramsburg guesses that only Merle Edwards would have played them on his overnight show in 1955.
Although the film supposedly led to violence in other cities, there is no evidence that anything related to the movie happened here.  There were two incidents of teen violence in St. Paul on April 27, but the St. Paul Pioneer Press attributed them to a long-running gang feud and a fight between two girls that attracted 300 onlookers.  Will Jones of the Trib spoke with Minneapolis Police Captain Clifford G. Bailey, who said that "for every kid in that schoolroom, I've known a counterpart in Minneapolis.  Fortunately, they haven't all been in the same room at once."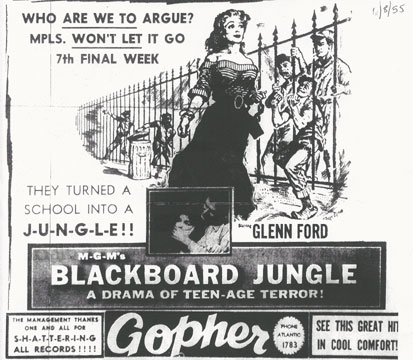 The last day of "Blackboard Jungle" at the Gopher was July 5th.  On the 6th there was a "Gala Re-Opening of our Beautiful New Theater," with the carpet, seats, concession stand, and bathrooms completely redone.  How they did that overnight I don't know.  The Grand Opening was broadcast over WTCN radio with appearances by DJs Don Doty, Sev Widman, Larry Fischer, and Jack Thayer.
The movie started up in second run theaters in July and was shown in almost every theater in the Twin Cities eventually.  It finally disappeared from the screens in the fall.