Connie Hechter Awards – 1979
The Connie Hechter Awards were held only once, in 1979.  They were sponsored by the Musicians' Insider magazine, which was intended to be a successor to the Insider when Connie Hechter died, but only lasted five issues.  These awards were different from the Connie Awards that were put on by Connie himself in 1967 through 1970.
It was an ambitious affair, with 70 bands nominated, and 100 musicians in 28 categories.  Winners were determined by a readers' poll.  More than 500 people attended, in a room designed to hold 400.
The Awards were held on April 9, 1979, in the Grand Ballroom of the St. Paul Hotel.  A comedy group called Modern Entertainment emceed the program.  (Mike Steele, Minneapolis Tribune, April 8, 1979)
After the ceremony, many headed to Thumper's North in Coon Rapids to hear Robert Gordon, while jazz fans and others "too drunk to move" stayed for 90 minutes of jazz by Eric Gravatt, Jay Young, and Mark Waggoner.
Most of the winners received gift certificates to music stores, cassette tapes, and subscriptions to magazines.  Exceptions are noted below.
The list of nominees below is that published in the February 1979 issue of Musician's Insider.  There were typos in the list, in good old Insider tradition, some of which I fixed, and I'm sure I added some of my own.  Please contact me to fix these, tell stories of this event, and share photos or anything you wish to share.
***  The winner in each category is the first one in the list and in bold.  ****
---
REGGAE
Shangoya
The Judd Group
Snake
---
POPULAR JAZZ
Wolverines
Eddie Berger
John Enwick
The Judd Group
Natural Life
Nightingale
Rio Nido
Sweet Bottom
---
ACOUSTIC GROUP
St. Paul Chamber Orchestra
John Enwick
Jay Epstein Trio
Minnesota Orchestra
Powdermilk Biscuit Band
Rio Nido
Sidewinder Band
---
BLUEGRASS
Middle Spunk Creek Boys
Sean Blackburn/Dave Hull
Bill Hinkley/Judy Larson
Pocono Mountain String Band
Red Willow Band
Whiskey River
---
FREE JAZZ
Hey Moriarty Group – This is unclear – there is definitely a typo here!
Pat Moriarty Group
Milo Fine
Natural Life
John O'Brien
Sweet Bottom
---
ELECTRIC GUITAR
Dale Strength (Brainiac)      (won Kramer electric guitar)
Randy Anderson (Jesse Brady)
Kent Appledorn
Georff Bouchier (Lakers)
Gus Dewey (City Mouse)
Dez Dickerson (Prince)
John Donaldson (Chameleon)
Jim Edwards (Grand Slam)
Tom Ferderer (Raggs)
Hoyd Forsberg (Cain)
Dean Ganros
Wilson Hall
Robin Hauge (Soda)
Devin Hazlett
Dan Lund
Willie Murphy
Chris Osgood (Suicide Commandos)
Dick Parish (Bandolero)
Mike Partridge
Jeff Peterson (Headstone)
Dave Ray (Snake)
Johnny Rey (Flamingo)
Tom Riopelle (Fairchild)
Robert "Kinky" Schnitzer (Passage)
John Thompson (Headstone)
Robert Wilkinson (Flamingo)
---
HORNS
Voyle Harris (Wiilie and the Bees)
Ken Bartel
John Boblett (Wolverines)
Mark Bruner (Wolverines)
Bob Burtis
Deome Johnson (Gypsy)
Dick Jorgansen (Gypsy)
Pete Masters (Wolverines)
John O'Brien (Willie and the Bees)
Pat Schmid (Wolverines)
Tim Sullivan (Wolverines)
---
DRUMS
Bernie Pershey (Brainiac)
Charles Adams (Chameleon)
Dave Ahl (Suicide Commandos)
Monty Alexander
Bill Berg (Flim and the BBs)
Tom Blacick
Tom Dougherty
Jay Epstein
Brett Forberg (Wolverines
Rick Foreman (Soda)
Kevin Glynn (Fingerprints)
Dallas Janes
Gordy Knutson (Passage)
"Hound Dog" Kristofferson
Paul Lagos (Natural Life)
Jim Novak (Lamont Cranston)
Ollie Manley
Shannon McDonald (Footloose)
Bob Rivkin (Prince)
Bob Strength ( Parade)
Bobby Vandell (Lakers)
Bill E. Webb (Bandolero)
---
SAX
Larry Ankrum
Maurice Jacox (Willie and the Bees)
Jose James (Snake)
Robyn Lee
Loren MacArthur (Free and Easy)
Pat Macklin (Judo)
Pat Moriarty
Dick Oatts
Rick Odell (Raggs)
Bobby Rockwell
Tim Rummelhoff
Paul Schier (Explodo Boys)
Steve Sonmer (Wolverines)
Mark Throne (Fingerprints)
Eric Thorsen
Ted Unseth (Wolverines)
Morris Wilson
---
HARP
Pat Hayes (Lamont Cranston)
Gary Cook (Firehouse)
Jim Eastmen (Bandolero)
Tony Glover
Pat Hazell (Mother Blues Band)
Bruce "Creeper" Kurnow
Jimmy Liban (Short Stuff)
Tom Lewis
Billy Steiner (City Mouse)
Rick Wiebolt
---
WOODWINDS
Eddie Berger
Larry Ankrum
Brett Gadbois
Dave Karr
Mike Kiery
Robyn Lee
Max Swanson
Butch Thompson
---
STRINGS
Pat Fredrick (Daisy Dillman)
Anthony Cox
Mary Dushane
Bruce "Creeper" Kurnow
Peter Ostroushsko
Pat Schmid (Wolverines)
Bill Scott
Jim Tordoff (Wolverines)
---
MALE SOLOIST
Robert "One Man" Johnson     (won microphone)

Mark Gaddis
Michael Johnson
 Spider John Koerner
Leo Kottke
Lonnie Knight
---
FEMALE SOLOIST
Barb With   (won microphone)

Sue Drude
Debbra Joyce
Joyce Marie
Mariam Monash
Claire Wieland
---
PEDAL STEEL
Cal Hand
Mike Cass
Jeff Dayton
Mike Jelen
Dave Knight
Mark Lee
Dick Parish
Russ Paul
Stymie Seamans
Steve Skoquist
---
ACOUSTIC GUITAR
Leo Kottke and Michael Johnson placed first and second, but declined since the prize was a guitar and neither really needed another one, so the award went to Tim Sparks.
Tim Sparks
Rod Bellville
Sean Blackburn
Roger Bruner
Mark Gaddis
Larry Hayes
Pat Hayes
James Hersch
Herbie Hind
Charles Hoffman
Michael Johnson
Lonnie Knight
Spider John Koerner
Leo Kottke
Peter Lang
Tom Lieberman
Mike Monroe
Paul Strickland
Jim Tordoff
---
BASS
Willie Murphy   (won Kramer electric bass guitar)
Steve Almaas
Andre Anderson
Randy Anderson
Jeff Carlson
Gary Charley
Pat Deremer
Jim Eastmand
Steve Fjelstad
Michael Halliday
Warren Hammer
Flim Johnson
Jeff Johnson
John Peterson
Greg Kuberg
Lenny Litchie
Dugan McNeil
Stu Nankin
Doug Nelson
Jody Ray
Andy Schrimer
Gary Snow
Bruce Thompson
Jay Young
---
KEYBOARDS
Gregg Inhofer (Brainiac)   Gregg "when collecting his award … used the opportunity to spell his name correctly:  one F.  Two Gs, two Es, two Rs, one F."  (Musician's Insider, May 1979).  2 Gs?
Mark Anthony (Chameleon)
Bill Barber (Flim and the BBs)
John Beach (Snake)
Joseph H. Behrend (Flamingo)
Julie Boston (Spys)
Bob Burtis
Bud Carroll
Gayle Chapman (Prince)
Yiannis Chryssomallis
Sid Farrar
Matt Fink (Prince)
Bob Fisher (Bandolero
Gary Gimmestad (Wolverines)
Mark Goldstein (Suicide Commandos)
Dale Haefner (City Mouse)
Jeff Harrington
Jimmy Harris (Mind and Matter)
Bruce Judd (The Judd Group)
Bruce "Creeper" Kurnow
Robin Lee
BruceMcCabe
John McKenzie (Jesse Brady)
Paul Mazo (Daisy Dillman)
Willie Murphy (Willie and the Bees)
Prince Nelson (Prince)
Ricky Peterson
Bobby Peterson
Chan Poling (Suburbs)
Byron Quom
Chuck Smith (Passage)
Jim Steinworth (Barry Goldberg and Hwy 52)
Peter Stenshoel (Mill City Band)
Butch Thompson
Lee Tomten (Soda)
Michael Tornes
---
FEMALE VOCALS
Roberta Davis     (won microphone)
Candy Anderson
Julie Boston
Char Brower
 Sue Ann Carwell
Kristin Ericson
Prudence Johnson
Jan King
Joyce Marie
Mary Jane Pengra
Ann Reed
Becky Reimer
Melanie Rosales
Betty Rydell
Jean Snell
Ruby Starr
Claire Wieland
Barb With
---
MALE VOCALS
Curt Almsted   (won microphone)
Mark Anthony
Tom Baden
Billy Batson
Roger Bruner
Steve Cauthen
Gus Dewey
Eddie Estirin
Mark Friendman
Mark Gaddis
Bary Goldberg
Pat Hayes
Gregg Inhofer
Bill Jason
Scott Kjorness
Lonnie Knight
Frank Kohler
Bruce Langevin
Steve McLoone
Duga McNeil
Howard Merriweather
Willie Murphy
Scooter Nelson
Chris Osgood
Russ Paul
Ron Pekrul
Rocky Robbins
David Rodriguez
John Thompson
Mark Throne
Robert Wilkinson
Xeno
---
R&B
Lamont Cranston
Class Action
Explodo Boys
Free and Easy
Headstone
Mojo Buford
Short Stuff
Spark
Stray Catz
TNT
Willie and the Bees
---
HARD ROCK
Brainiac
Berlin
Cain
Chameleon
Grand Slam
Granite
Jesse Brady
The Judd Group
Loafers
Mill City Band Mutuals
Rocking Horse
---
BLUES
Lamont Cranston
Crazy Legs
Firehouse
Mill City Band
Mojo Buford Short Stuff
Snake
Willie and the Bees
---
NEW WAVE
Suburbs
Fine Art
Hypstrz
NNB
St. Paul Travelers
Spooks
Suicide Commandos
Yipes
---
SWING
Daisy Dillman Band
Fatt City
Nigel Eccles
Radio Rangers
Sky Blue Water Boys
Whiskey River
---
COUNTRY
Daisy Dillman Band
Bandolero
Battle Creek Boys
City Mouse
Explodo Boys
Fatt City
Gambler's Rose
Lazy Day Band
Merwin Lee Band
Montana Starr
Nigel Eccles
North Country Band
Radio Rangers
Ricochet
Rose Canyon
Sky Blue Water Boys
Sherwin Linton
Sour Mash
Whiskey River
---
TOP 40
Class Action
Del Counts
Free and Easy Gangbusters
Harlot
Parade
Passage
Soda
Spangle
Sweet Thing
Up Front
---
ROCK 'N' ROLL
Bad Boy
Barry Goldberg and Hwy 52
Brainiac
Cain
Chameleon
Cisco Grove
Europe
Fine Art
Fingerprints
Grand Slam
Hypstrz
Jesse Brady
The Judd Group
Loafers
Mind and Matter
Music Love & Funk
Rocking Horse
Suburbs
Suicide Commandos
Sunblind Lion
---
Best Locally Released 45:  "Slack New World" by NNB
Best Locally Released EP:  "Flamingo" by Flamingo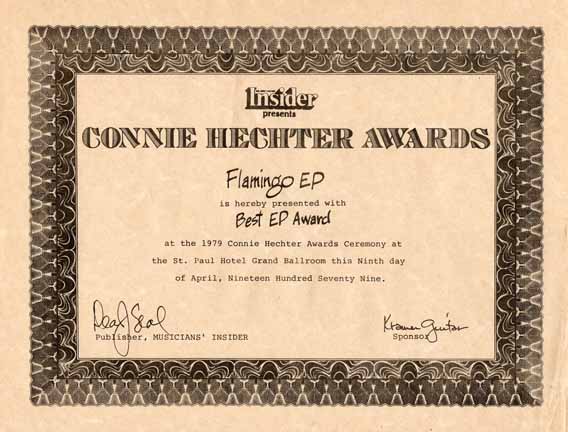 Best Locally Released LP:  "I Like to Riff" by Rio Nido
Most Promising Act:  Rio Nido (won four hours of studio time at ASI Studios)
Best Overall Band:  Wolverines and Explodo Boys (tie) (won feature stories in future Musicians Insiders – which went out of business)