This page is about the legendary clubs that have been located at 29 North Seventh Street at First Ave. in Minneapolis.  Remember that this site focuses on Twin Cities music through 1974, so the emphasis will be on the Depot and Uncle Sam's.  See Chris Riemenschneider's book First Avenue – Minnesota's Mainroom for much more information on the history of First Avenue.
Show ads are from the Minneapolis Star and Tribune, unless otherwise attributed.  Many more info, reviews, and ads to come!
---
THE DEPOT
There has probably been a bus station at the corner of Seventh Street and First Ave. as long as there have been buses.  The photo below is a previous building at that location, taking in about 1925.
---
The present building was dedicated and opened to the public in a ceremony on February 26, 1937.  The Minneapolis Tribune described it as "one of the finest of its kind and a model of convenience and scientific design."  The exterior was made of blue glazed brick with white trim, which were the colors of the Greyhound line.  The architects were Oscar Lang and Arnold Raugland, and the builder was the James Leck Company.  The occasion was the subject of a special section of the Tribune, beginning with the full-page graphic below: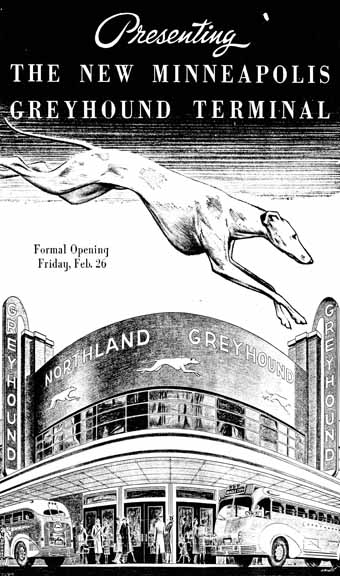 ---
---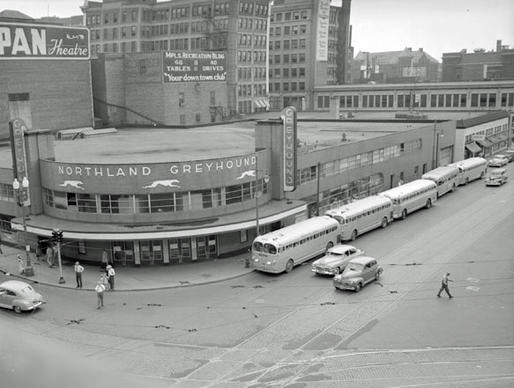 ---
From this 1952 photo below, it is apparent that the infrastructure of the building never really changed much:
---
The 1937 station was replaced with a newer facility in 1968, perhaps because it was too large for a population that traveled mostly by car or air.  It became the property of theater owner Ted Mann, possibly thrown in with another transaction.  It stood empty for years.
In 1970 it was purchased by Danny Stevens,  singer and front man of one of the top rock groups of the era, Danny's Reasons.  Stevens had a liquor license from the Hotel Hastings and contributed the initial capital.  His first partner was Elizabeth Heffelfinger, who had to drop out because of illness.   Allan Fingerhut then stepped in with the rest of the financing, and the two were joined by Abby Rosenthal, who became the manager and had been the manager of George's in the Park.
---
An article by Allan Holbert in the February 22, 1970, Minneapolis Tribune hinted at some very ambitious plans, most of which didn't materialize:
Two clothing stores:  I, Ross and East-West Ltd.
A Record shop
A Novelty shop
Three bars (there were eventually at least five).  One of the bars, The Second Floor of the World, "will have low-priced drinks and is expected to attract some of the 5 o'clock trade of young working people who now frequent such places as Buster's and Duff's."
The Interior was designed by John Neil, with many of the interior walls decorated with huge pop murals done by West Bank painters.  The decor was purple, with purple shag carpet on the stage.
Holbert noted that the venue would be opened by Joe Cocker on April 3 and 4 (which it was), but also listed other bookings of the Vanilla Fudge for April 10 and 11 and Janis Joplin for April 18 and 19 – neither shows eventually panned out
---
An article in the February 24, 1970, Minneapolis Star quoted Fingerhut as saying the acoustics were perfect – "despite the memories of some past bus riders of unintelligible public address calls there."  The new corporation was called The Committee, with Fingerhut acting as chairman of the board and Stevens as president.  Subsequent ads referred to "Allen's Committee."
---
Tony Swan, in an article in the May 1970 issue of The Twin Citian, described the place:
The curved wall which used to embrace the gates to departing buses is now the backdrop for a large, purple plush-covered stage.  On the wall above the stage, Cinemascope style, there is a large screen.  While the performers are wailing, batteries of projectors – in all eight carousel slide projectors, four opaque projectors and a 16-milimeter movie camera – shoot images onto the screen from either end of the horseshoe shaped balcony which surrounds the main floor.  There are also colored spotlights and strobe lights – all the usual implements of psychedelia.  There are five bars, three on the main floor and two on the balcony.  There is a large, prime table area right in front of the stage:  on opening night the tables went for 10 bucks a head, which could get to be a drag on the Depot's income potential in the future.
---
An article in the Minneapolis Tribune by Allan Holbert dated April 11, 1971, noted that April 1970 was not a great time to launch a new night spot.  "The economy had started turning sour.  People were being laid off.  The ones who still had jobs were forced to cut back on their entertainment spending."  Nevertheless, it had a great opening.
---
JOE COCKER OPENS THE DEPOT
The Depot opened on April 3 and 4, 1970, and an estimated 2,300 people came to the club over the two days to see the Mad Dogs and Englishman tour featuring Joe Cocker. (First choice Santana didn't work out.)  Leon Russell was the musical director of this American tour, which descended on 48 cities over 60 days. The movie Woodstock, which introduced Cocker to many Americans for the first time, had just hit theaters a week earlier, so the timing was excellent. With over 20 musicians, another 20 Englishmen on stage just for fun, two kids (allegedly on acid), a dog, and characters like the Lunar Teacake Snake Man, the Ruby-Lipped Essence of Lubbock, Texas, and the Mad Professor, it was an experience for everyone involved.

On opening night it cost only $4 to get in, but there was a $10 charge to sit down, with much poaching of seats going on.  Johnny Canton was the emcee.
The show appeared in the movie "Mad Dogs and Englishmen" along with other shows on the same tour.  The first time it came to local screens it came and went fairly quickly.
The Del Counts performed between sets on April 3.  After that came classical music accompanying Roadrunner cartoons.  On April 4 the supporting acts were Kaleidoscope and the Paisleys. Connie Hechter reported that booker Marsh Edelstein was upset that publicity about the concert did not include the local bands.  [Another account says that Pride and Joy performed, and a band called Cricket was scheduled but was bumped for time.]
---
---
---
REVIEWS OF OPENING NIGHT

Marshall Fine's review of opening night in the Minneapolis Star was scathing, citing bad planning, expensive drinks, a long wait to get in, an opening band that was "terrible," and the fact that Cocker's first set was only 20 minutes long. Fine was a student at the U of M at the time, and complained that the under-21 crowd couldn't get in.  He did appreciate the "exquisite show" put on by Cocker, but said that the "audience's response was comparable to that of an equally drunk group shouting 'take it off' at the Roaring 20s."
Allan Holbert's review in the Tribune's was more focused on the sheer numbers of people who showed up, saying that people were lined up four-deep around the block.  "Not since the truck drivers' strike of 1934 is it likely that there has been such excitement, such chaos, such congestion, such noise just off Hennepin Av. as there was Friday night."  Allan Fingerhut said that they ran out of booze by 8:00 and had to send out for more.
Holbert's account, which later calls the space the Fillmore Upper Midwest, says that carpeting and other interior decorations weren't yet installed, but the old bus station was packed by the time Cocker hit the stage just after 8 p.m.  Cocker worked hard on a stage filled with 40 people, "singing like a black man, which he isn't and doing his dancing stuff like a spastic, which he isn't either."
Swan's account in the Twin Citian said that the "beautiful people," many wearing "Cocker Power" buttons, numbered 2,000, which was 600 over capacity. He said that the first show was a dud, with too much noise and confusion and older people holding their ears and beautiful people "with resplendent sun tans and $250 hippie outfits" more interested in checking each other out than listening to the music.  But between sets "the ingredients underwent an important purge.  A lot of the older people, having seen enough, went out the door shaking their heads in disbelief, their ears ringing.  The beautiful people made a determined and lengthy run on the bar, lowering their inhibitions in direct proportion.  And the hard core rock freaks moved in on the privileged table area, surrounding it, engulfing it."  During the second set, "Everyone – everyone – began swaying in time to the music, which became so loud that it was beyond the audible – it was simply deafening.  People began throwing flowers onto the stage and the musicians began throwing them back, strengthening the two-way process. …  And Cocker kept pouring more and more of himself through those big banks of amps… until he was finished and just stood there, smiling amid all the flowers."  Fingerhut had provided the Carnations.
A reviewer named Greg noted in the April 10, 1970, issue of the underground magazine The Minneapolis Flag that what seemed like the entire Tactical Division of the Minneapolis Police Force (off duty) had been hired as floorwalkers and bouncers.
---
Will Jones of the Minneapolis Tribune tried to cover the opening, but the sound inflicted so much physical pain that he speculated that the young people had developed leather eardrums to survive.
What's been created there is an environment in which no creature born before 1940 can survive. …

The generation-communications gap may be entirely a physical thing, you know.  I never wanted to communicate with one of these creatures more in my life than when a lush, bell-bottomed, dewy-smiling young blonde came over to me and moved her lips in a way that I knew, from experience in the outside world, meant that she was speaking to me.  But the only sound I could hear was that which came from the amps.  I stared at her, dumb and helpless.  Maybe she thought I began to cry, but the tears that came to my eyes were as much from the smoke, I'm sure, as from frustration.  That's another thing that the sound does in places where these creatures and their favorite performers gather.  It blocks the ventilating system with great globs of sound, and no smoke ever escapes a club or all in which rock music is performed, no matter how well-intentioned the architects and engineers may have been.
Jones lasted about three minutes until he and his wife escaped to more sedate environs.
---
Connie Hechter's review in the April 11-18, 1970 issue of Connie's Insider was an evenhanded report, citing both the positive and negative aspects of the venue and the show.  He marveled at the superb light show with real screens instead of sheets strung together, a good sound system with excellent acoustics, and liked the fact that you could buy a drink, despite the fact that the under 21 crowd was miffed by being excluded.  But he also remarked about how incredibly loud the opening band, Bear, Beaver, Peacock, was, although he said that they probably didn't realize that the size of the room didn't require turning up the amps to full blast.  He noted that it was crowded and that promised tables were not available, but chalked it up to opening night mishaps.  Cocker's show was more exciting than previous performances here at the Guthrie and the Prison.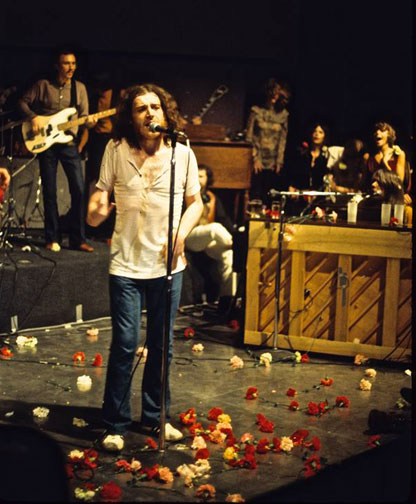 Photos above and below courtesy Darrell Brand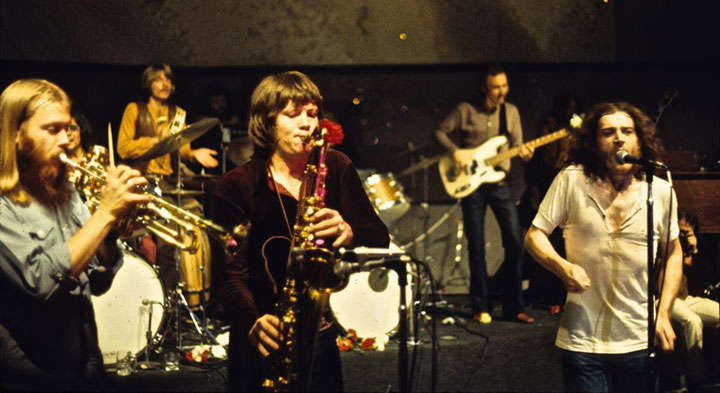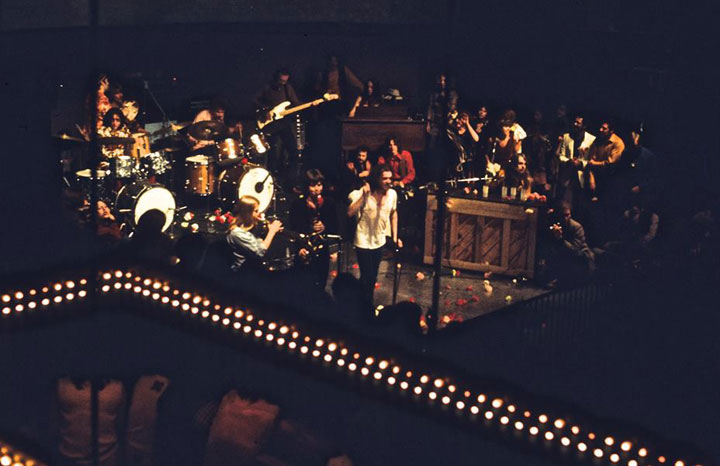 ---
The Star Tribune, December 22, 2014, reported:
Cocker returned to the club one more time when it was called First Avenue in 1994, the same year he played the 25th anniversary Woodstock festival. However, he could not remember the 1970 gig nor the venue when Jon Bream interviewed him in 2009 before what would be his last Twin Cities area performance, at Mystic Lake Casino. He said, "The Depot? I'll have to run it by Chris Stainton [his longtime keyboardist]. It doesn't ring a bell at all to me."
John Robert Cocker, known to family, friends, his community and fans around the world as Joe Cocker, passed away on December 22, 2014, after a hard fought battle with small cell lung cancer. He was 70 years old.
---
DEPOT DOINGS
An early but apparently short-lived promotion was to target the after-work crowd and tempt them with the beautiful people they might meet at the Depot.  Below, a woman eating a flower meets a local Tom Jones …  This is the only ad like this I found.
---
In late 1970 the Insider reported that Allen Fingerhut brought in his brother-in-law, Ted Deikel, to help manage the club's finances. Rosenthal was listed as the "former manager," and Skip Goucher was the "former talent booker" for the Depot.   An article in the St. Louis Park Sun  (September 21, 1983) reported that Stevens tried to get a liquor license and buy Bunny's, but was denied citing "press clippings from the early '70s in which Minneapolis city attorneys and municipal court judges complained about the large number of arrests and disturbances at the Depot overloading the court system." Stevens claims that he threatened to sue the city for the denial, but after two to three months of discussions, the two sides came to an amicable agreement.  Soon after, Bunny's was taken by the city for the development of Excelsior and Grand.
One successful promotion was Beer and Wine Mondays.  In 1971 men paid $2.50 and women $1.50 for a plastic cup at the door and all the beer or Bali Hai or Reva wine they could drink.  Even after the Depot morphed into Uncle Sam's, the promotion was continued for a cover charge of $5 or $6.  Danny Stevens noted that the night was especially popular with professors from the U of M.
---
On April 11, 1971, Allan Holbert of the Minneapolis Tribune checked in at the Depot after a year of operation.  He described the place:
Some nights it's been a madhouse, with the music – after it finally started – so loud it was painful, with cops wrestling down rowdy rock buffs at the door, with bartenders running out of booze.

Other nights the loudest noise has been the moans of the management people as they added up the lack of receipts from paid attendance.
Holbert attributed the success of the club to the hard work of  Fingerhut, who worked seven days a week at the club.  In hindsight, Fingerhut said that booking "loud, heavy groups" like Joe Cocker was a mistake, and "if I were to do it over I would start by booking top-40 bands."
Crowd control was a lesson learned as well, as customers found ways to get into the club's seven entrances and even in the windows without paying.
---
No-alcohol Sundays turned out to be the most popular nights, especially since the Labor Temple closed.  Mondays were beer and wine nights, and Tuesdays and Wednesdays were 39-69 nights:  pop was 39 cents, and alcoholic drinks were 69 cents.  On Fridays and Saturdays the cover charge was only $1 and the house band was Copperhead.
As of May 17, 1971, Minneapolis Police officers were prohibited from working off-duty at the Depot, citing a number of arrests at the venue.  Although Gordon Johnson, Deputy Chief of the Patrol Division, did not keep statistics on the number of arrests, he ballparked it at about once a day and claimed that judges and the city's attorney's office had made complaints.  At the time, Fingerhut employed about 20 officers to check IDs.
Toward the end of the Depot's run, Fingerhut was trying different ideas to attract patrons.  One was "Not-So-Original Amateur Night," which made its debut on May 19, 1971.  Planned to be an every-Wednesday night event, the contest would be award prizes according to audience response.  Rock groups were not eligible.
---
NATIONAL ACTS AT THE DEPOT:  1970 – 1971
April 3-4, 1970:  Joe Cocker (see above)
April 11, 1970:  The Butterfield Blues Band (relatively small crowd)
Underground newspaper Hundred Flowers had an adversarial relationship with the Depot from the start, it seems.  In its April 17, 1970 issue, there was this:
the decor:  amazingly tasteless

the room:  amazingly tiny

the floor:  amazingly crowded

the liquor:  amazingly costly

the sound:  amazingly loud

Cocker & Butterfield:  amazing!
---
April 17-18, 1970:  Poco (former members of Buffalo Springfield).  Opened by Big Island and the Hot Half Dozen.
Poco appeared at the Depot on April 17-18, 1970.  Also on the bill were local bands Big Island and the Hot Half Dozen.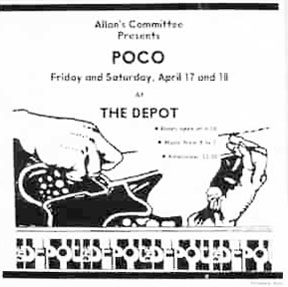 ---
Review By Ron Dachis of the Minnesota Daily:
Poco, a down home country-rock group eased into the Depot Friday night with little fanfare. But before the evening was over they had captured the small, yet receptive audience, with the ever-improving Poco sound.
From the rich sampling of new tunes we heard Friday night, especially in the second set, it appears that Poco has found itself and is well on the way to much greater success.
The bad seems to be taking more shape. It can most aptly be described as a rock band with a country feeling. The ever-present pedal steel guitar and tenor harmony produce the country effect. Hard working drummer George Grantham and bassist Tim Schmit lay down the rocking beat.
The first set started with Richie's "Come On," a real rocker that set the tone for the evening. Then Richie did "A Child's Claim to Fame" for old times sake. After this number the group seemed to relax and "Anyway Bye Bye" a blues cut from their new album went really well.
"Grand Junction," an instrumental that featured Rusty on pedal and dobro, won the crowd. Jim's lead guitar intertwined with Rusty's expert picking.
Next was "Consequently So Long," "Don't Let It Pass By," and a new version of "Nobody's Fool." "Don't Let It Pass By" featured some excellent harmonies. The new version of "Nobody's Fool" displayed extended instrumental solos by Rusty and Jim. George and Tim were driving away while Jim came off the stage to play amongst the crowd.
They closed the first set with "El Tonto de Nadie, Regresar," written by the whole group which, when translated means "Whatever happened to the Kinks?"
Poco returned to a somewhat warmer response for set two. This set included three cuts from the first album: "Calico Lady," "What a Day," and "Pickin' Up the Pieces." The rest of the songs from the new album were played and one thing became evident as the evening progressed. This group has found itself. The players are all doing the same things together with the same ends in mind. This singularity of purpose and tight control constitute Poco's music.
Poco has decided exactly what they want to be doing and they're following it through. Their new release will undoubtedly outshine the first. Poco's development can possibly be attributed to their attitude which is much like the final song they played, "Keep On Believing." They believe in their style, believe in their music, believe in their people. Poco made a lot of friends this weekend.
---
Another review, this time from Hundred Flowers:  (most typos fixed)
Poco is beautiful and just what I've been waiting for.  They're better than ever, too.  Randy Miesner, who played bass on Picking Up the Pieces, is now a gas jockey somewhere in Nebraska and Poco has made the perfect replacement.  Tim Shmidt's excellent musicianship, smooth tenor voice and little brother smile fits him right into place alongside the others, already renowned for their harmonies of spirit and voice.  In fact, his voice is almost indistinguishable from Richie Furay's, who, along with bass guitar Jim Messina (lead guitar and pedal steel with Poco) was as instrumental as any Steve Stills or Neil Young in creating the Buffalo Springfield sound.
With Neil's brother Rusty Young on organ and George Granthum on Drums, the Poco sound is just as distinctive and just as special.  Their tenor voices (all but Young sing) sound like four Richie Furays or about one octave below the chipmunks and two octaves below Graham Nash.
---
April 24, 1970:  Bangor Flying Circus, opened by Zephr
May 8-9, 1970:  The Ramsey Lewis Trio.  Danny's Reasons opened on May 8.  The reviewer for the Insider said that the band that opened the second night was so bad he was glad he forgot its name.
May 17, 1970:  Mitch Ryder and Mojo Buford.  Delaney and Bonnie were originally scheduled to be the main act, opened by Ryder.  With their cancellation, Ryder moved up to the headliner.
May 22-23, 1970:  Kinks, opened by Crockett.
May 31, 1970: Jethro Tull.  This was the first show open to kids under 21 – no alcohol was served.  Unfortunately, the air conditioning was not yet installed, and the kids worked up quite a sweat.  Peter Altman of the Star estimated about 500 people at the first show – he was impressed musically, but having reservations about the band's individuality, wit, or spontaneity.  Ron Dachis, reporting for Hundred Flowers, was there for the second show and reported a block-long line eight people wide stretching along 7th street, overflowing into the streets, waiting for the first show to end.  Will Shapira in the Trib reported that most of the material was from the albums "Benefit" and "Stand Up" albums.
The opening act was Clouds, a Scottish band touring with Jethro Tull.  On this day they were having equipment problems.  Altman deemed the trio "tedious;"  Dachis called it "repetitous and dull."
---
June 6, 1970.  Sha Na Na made a special guest appearance (they were scheduled for the next night) and Hundred Flowers reported that the 21 and over crowd was not especially impressed.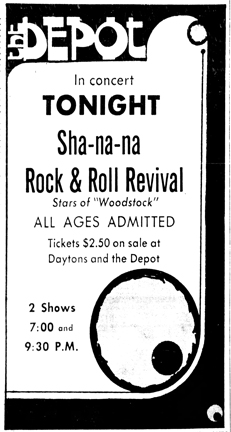 June 7, 1970:  Sha Na Na did its regularly scheduled show on teen night, and Hundred Flowers (Tom Utne?) said the younger crowed "showed the Depot what audiencing was all about."  As usual, HF had a beef, though:
Just to let you folks know, neither Sha-na-naa, nor anyone else gets anything extra for doing two shows.  They just cut ten songs out of their regular set and do it twice. …  Hasn't the time come when Minneapolis is no longer considered a sucker-town by musicians and promoters?
---
June 14, 1970:  Rotary Connection with Minnie Ripperton. Opened by Thundertree
---
June 21, 1970:  Alice Cooper
---
June 28, 1970:  B.B. King and Mojo Buford.
Memories from Robb Henry:
I was playing guitar with Mojo Buford in 1970 and we were fortunate enough to be the opening act on this show at the Depot. We got to meet B.B. King and hang out a bit in the upstairs dressing room. I was 17 at the time and really impressed by how nice and friendly he was. He was one of the few guitar players that ever sent a shiver down my spine with one note, that vibrato.

When we were hanging out at the Depot, there was a woman in the dressing room and B.B. couldn't recall her name so he discreetly told his valet to introduce himself to her so he could hear her name again. Dick Garrison and I got a big kick out of that slick little scenario. Etiquette lesson from the King.
Will Agar:
I still remember that evening at the Depot when, half way through his show, [King] took an intermission in the second floor dressing room. There as a knock on the door and a man came in with a suitcase. He opened it and it was full of cash-payment for the evening's work and insurance that B.B. would finish the second half of his performance!
---
July 19, 1970:  Bloodwyn Pig, a British group
---
July 26, 1970:  Pacific Gas & Electric.  This was the group's fourth visit to the Twin Cities, and much of the personnel had changed.  According to Hundred Flowers, the group "didn't play anything familiar – not even their new single, 'Are You Ready.'  Their format is free and fast with lots of improvising, blues cliches, and revolutionary commentary."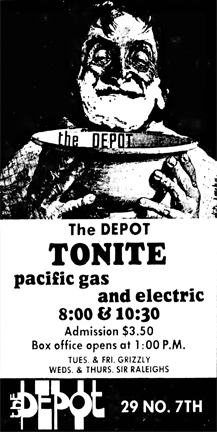 ---
July 28-29, 1970:  Al Jarreau

---
August 2, 1970:  Benefit for the Minnesota Eight and North Country Freedom Camp, as described by Tom Utne in the August 7, 1970, issue of Hundred Flowers.  Bands include:
Hundred Flowers Surfjazz Band Orchestra
Jave, with Greg Gilmer and Rocky Melina
Betty Boop
Spider John Koerner
Bamboo (Dave Ray, Donicht, Animal, and Animal's little brother)
Jam by Bamboo and Friends:  Maurice, Tommy Ray, John Beach
The ever-irreverent HF reported that Danny Stevens
digs the scene and suggests more at the Depot, where only biweekly shows are planned for the fall.  Allen Fingerhut, however, was quite pissed, does not like us not having cops at the door.  Does not like twelve year olds smoking dope in his bar, and does not like our admittedly irresponsible planning.  Sincerely Apologies Allen.  Let's do it again, okay?
---
August 16, 1970:  Exuma

---
August 30, 1970:  Crabby Appleton was replaced by ___

---
September 13, 1970:  Gathering at the Depot

---
September 27, 1970:  The Illusion, opened by Jarreau.
---
October 4, 1970:  Mason Proffit – "Back Because the Multitudes Requested Them."  Two shows.
---
October 25, 1970:  Frank Zappa and the Mothers of Invention and the Flying Burrito Brothers.  What a scene!  Hundred Flowers reported on the proceedings.
The Flying Burrito Brothers opened, minus Gram Parsons but with pedal steel guitarist Sneaky Pete, Barry Lieden, Rick Richards, and Chris Hillman, the only former Byrd in the group by this time.
Zappa and the Mothers included the Turtles (Flo and Eddie), aka Howard Kaylan.  Kaylan is the fat one, often mistaken for Larry Mondello, the fat kid on "Leave it to Beaver," and he joined the movement to petition KMSP to put "Beaver" back on TV.  Dr. John the Night Tripper was also there in some capacity
---
November 1, 1970:  Don Ellis
---
November 8, 1970:  Small Faces, featuring Rod Stewart.  Opened by local group Downchild, which played a 45 minute set.  Pat Marciniak of Hundred Flowers reported that "they brought with them a musical sound that's a big overwhelming combination of musical flowers and colors, along with bright globes of sound.  Their concert was thoroughly enjoyable, as was proved by the crowded Depot of fans who cheered with screams and whistles of cries for more."
The show started late became Ian McLagon's piano was missing, so the first set only lasted 45 minutes. HF again:
To prove how popular the group really is in the Twin Cities, all anyone wouldn't had to do was to see the long lines of people standing out in the pouring rain waiting to get into the second show.  Only a few had umbrellas, but those who didn't, didn't want to move, afraid they might lose their place to see the show.
Here's a story about that concert from Mike Guion:
The Faces were the headliners, and did two shows that night. The second show was to start at 10, but didn't until after midnight, and despite the late start, the opener did play. By far the most loud show I've ever attended, with "Around The Plynth" the highlight, with Woody's slide shaking the walls. Hard to believe now, but that show did not end until 3 or so. We stood outside in a downpour waiting for the first show to end. Rod had yet to use any hair dye, and the band had to walk from the upstairs dressing room through the crowd to the main floor. Rod's first solo album was still fresh, and the Faces were touring off their new release called "First Step." I remember all this so well because I had to be back in downtown at 6 am for my first Army physical. I never got undressed after driving my friends home. Just laid on my bed waiting to take that drive back, wondering if I got drafted where I'd go and what would happen to me. I failed the test. Said I had high blood pressure. I believe the Faces saved my life.
---
November 15, 1970:  Country Joe McDonald (without the Fish).  Opened by Wire, a local band featuring Curtiss A (Almstead).  Paul Engel of Hundred Flowers reported that
Country Joe performed admirably, what with the unresponsive audience and the plasticity of the Depot on all sides …  It was more like playing in a freakily painted bus station for the cost of a bus ride from Mpls. to St. Cloud.  The performance was lively, expertly delivered, and his material was fresh and poignant.
---
November 17-18, 1970:  Wayne Cochran and the CC Riders.  According to a couple of reviews in the December 3, 1970, issue of Hundred Flowers, Cochran's schtick was to be as racist, sexist, and generally insulting as possible to our fair city.  And the audience ate it up.  Cochran came with a 21 piece band and three backup singers.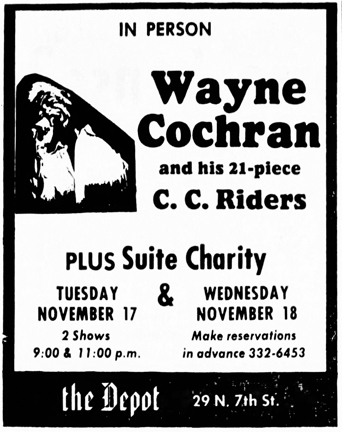 ---
November 22, 1970:  Sweetwater.  The group's signature tune, "Motherless Child," was sung by Nansi Nevins, but she was not at this performance.  On December 8, 1969, she was severely injured in a car accident, causing brain damage and permanent damage to one of her vocal cords.
---
November 29, 1970:  Exuma, with Willie Murphy and the Bumblebees

---
December 8, 1970:  James Gang.  The account below from Hundred Flowers says that the show was opened by Depot house band Ned; another account was it was Crocket.  Shows were scheduled for 8:00 and 10:00, but the second show was cut short by a family emergency.  Might be the show that was so loud that people left.  An interview with the band published in the December 11, 1970, issue of Hundred Flowers was prefaced with this paragraph:
The James Gang played two shows at the Depot last Sunday night.  About 3,000 kids paid $3.50 each to hear them.  Another 1,000 or so were turned away.  The Depot is probably the worst place in town for a concert.  Those who could ignore the hot, very crowded conditions probably enjoyed the James Gang who were at their best during the second set, even though they were too loud for the Depot.  They played a lot of their familiar favorites along with a lot of new stuff.  On the bill with them was Ned, a very good group playing nightly at the Depot.
Probably because of this and other highly critical reviews of the Depot, the Depot apparently took away Hundred Flowers' press pass.  This ensued:
---
December 13, 1970:  Savoy Brown, opened by Haystacks Balboa
December 20, 1970:  Rhinoseros
---
1971
January 3, 1971: Teegarden and Van Winkel
January 10, 1971:  Tiny Tim
January 17, 1971:  Al Kooper
January 24, 1971:  Mason Proffit, opened by Pepper Fog
January 31, 1971:  Sha Na Na, opened by Chesterfield Gathering
February 19, 1971:  Sly and the Family Stone booked but didn't show/cancelled.
February 21, 1971:  Ritchie Havens, with Otis Plum
March 7, 1971:  Crow, opened by Pepper Fog
---
March 14, 1971:  Ike and Tina Turner.  Ike and Tina were scheduled for two shows at 7:30 and 10:00.  They got there so late that the people who came for the second show were left waiting in the cold and rain for up to 4 1/2 hours and the police had to block off traffic.  Owner Allan Fingerhut was furious at their manager.  He called in comedian Ron Douglas to keep the crowd entertained until they got there, and had to do over an hour.  Ike and Tina finally arrived and said they would only do one show, but Fingerhut kept them to their contract and the second show didn't go on until midnight.  Fingerhut told Bob Protzman of the St. Paul Pioneer Press (April 11, 1971) that the antics of Ike and Tina "almost closed us down."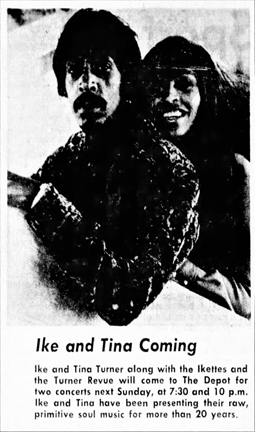 ---
March 21, 1971:  Eric Burden and War, with plans to record for their next album.
March 28, 1971:  B.B. King
April 4, 1971:  Procol Harum, opened by Curved Air.  Robert M reports, "The Procol Harum (4 piece) show was poorly attended due to really bad weather. Everyone at first set was invited to stay for second set, which included a slightly different set list.  Robin Trower played bass on a couple of numbers."

---
April 11, 1971, James Gang (Jimmy Fox, Dale Peters, and Joe Walsh).  Peter Altman of the Star called the group's sound an "instant anachronism."  While a year ago it would have been called "good but unremarkable," "a sort of lower-case version of Led Zeppelin," by 1971 "The individual is in; the group is out."
It was easy to see that the Gang members were good players.  But their music wasn't saying anything about our world, or theirs.  It had no lyricism, little sensitivity.  It was aggressive, not reflective.  And so it did not communicate directly. …

And the youthful audience, while friendly enough, never really cared; it was not involved; it will not remember vividly.
---
April 18, 1971:  Canned Heat and John Lee Hooker
---
April 25, 1971:  Gypsy
May 2, 1971:  Al Kooper, opened by Fanny
---
May 9, 1971:  Iggy and the Stooges, opened by the Litter.  Little Richard was originally scheduled, but his tour was cancelled.  Jeff G says Iggy "had a hundred foot cord on his mic and things got kinda scary when he ventured out into the crowd and got right into our faces before climbing up the wall onto the second floor."  Opening act was the Litter.

---
May 16, 1971:  Redbone
May 23, 1971:  Johnny Winter.  May be the show Mike Haselman remembers "with Rick Derringer there. Opening act, some unknown band from Boston called The J. Geils Band."
---
June 6, 1971:  Edgar Winter and his band, White Trash.  Robert M reports that this show (no Rick Derringer or Johnny Winter) "was also really, really poorly attended – like 25 [450] people at most.  They were asked to stay for second set which was exactly same as first.  No opening act."
---
CANCELLED FINAL SHOWS
June 13, 1971:  Allman Brothers show was cancelled, even as it was advertised in the paper that day.  The band got wind of the club's financial trouble and demanded full advance payment before they even left New York.  Fingerhut scraped it together, but when he called the next day they said that they had already rebooked the date.
June 15-16, 1971:  Wayne Cochran and the CC Riders
June 25, 1971:  Stan Kenton and His Orchestra
---
THE DEPOT CLOSES
Following two years of steady business, the Depot found itself under financial pressure from the bands and criticism from the press.  Although $4.50 doesn't seem like much to see a name band today, especially in a relatively intimate venue like the Depot, audiences were chafing about the prices and developing a mindset that concerts should somehow be free, leading to problems with gatecrashers at later outdoor events. It probably didn't help that the owners of the Depot were perceived to be wealthy individuals at the outset.
On June 12, 1971, the Minneapolis Star announced that June 14 would be the last night at the Depot:  "The rock and pop music house will close its doors, and operations will be suspended indefinitely for financial reasons."  Employees had been "donating" their services for the last week.  Allen Fingerhut cited the lag in the economy and curtailed spending for entertainment.
June 14, 1971:  Last day at the Depot, with music by house band Big Island. Mike Anthony at the Strib said the crowd may have been even bigger than at opening night, ironic since the reason for closing was pitifully small attendance.  Fingerhut said that the Friday before there were only 150 customers.  He was stuck with $35,000 in bills and was contemplating bankruptcy.  But he still had hopes of reopening the big hall as a concert venue.
Hundred Flowers described the very last day this way:
For a year and a half the Depot crowd, a curious collection of "now" people, freaks, and in-betweeners, never really got together on anything.  But, on closing night, June 14th, all the madness of rock-inspired frenzy broke out.  On that night over a thousand people crammed into the place for the last wine and beer night.

The Depot management had not bothered to turn on the air conditioning or provide bar girls, so what developed was a chaotic human furnace.  Add to this situation the tight, low-down, weasel-ripping music of Big Island and you have something quite close to heaven.

The band slammed into two of their own tunes "Four Days Screamin'" and "Let's Get Reamed" and when the band stopped the people kept the beat going by clapping and shouting "more!"  And that's just what they got.  Everyone moving and sweating as one body to "Jailhouse Rock" or another Big Island song "Mosquito Guts Against the Wall."  About this time the house lights were turned up and everyone was asked to leave (the cops were supposedly coming), but, of course no one left.  Everyone was really ripped and all that was important was more raw face-kicking rock.  "So the joint ke'p rockin' ..  all night long."
---
The June 26 – July 11, 1971 issue of the Insider announced the closing of the Depot.  The photo below was described as "a potential patron avoiding the 'capitalist ripoff' $3.50 admission plummeted 2 1/2 stories from the roof."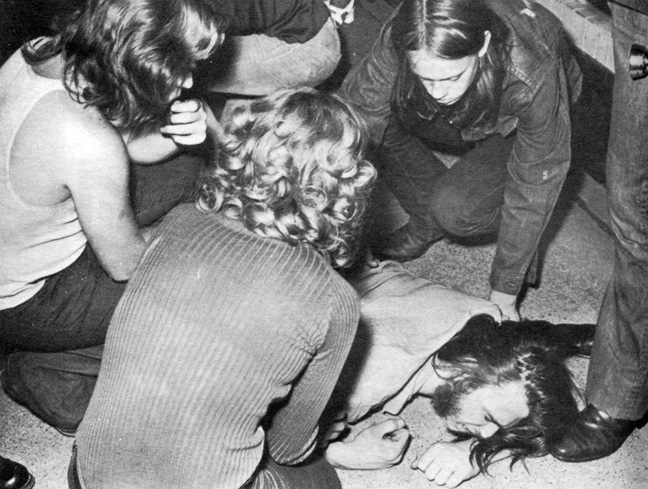 ---
Hundred Flowers was an early critic of high ticket prices.  As early as June 16, 1970, it published financial information on the first concerts, as provided by the Depot. Excerpts:
Like a lot of people, we suspected the Depot to be making a killing off our music and our people.  We asked to see their books, and here they are.  At this point, they seem to be more like benevolent patrons of the culture than vultures….
(Expenses and income for six acts, and three upcoming shows)
So that's why the tickets are priced so high.  Having the Minneapolis Fire Marshall limit the crowds to 900 doesn't help either.  Still, while many of you may be ending your personal boycott, many of us still can't afford the tickets.  When we talked to Fingerhut, the head honcho down there, he said he wan't in it for the money but then he said he'd like to stop losing money.
The article continued with some suggestions, all of which included the word "free."  Somehow making the venue into a museum would attract "every band in the country."  Or, let the "heads" do everything with volunteers.  Hmmm.
On the Depot's side, it was a large venue to maintain, and bills had to be paid.  Danny Stevens explained that one particular problem in cash flow was that national bands demanded huge deposits to hold the dates.  If the band had to cancel, which often happened, the band would return the deposit, but in the meantime the cash was unavailable for expenses.
---
UNCLE SAM'S
After being closed for over a year, the club opened again on July 1, 1972, when it was leased to the a company called American Scene, Inc. from Cincinnati, which opened another of its Uncle Sam's chain of discos. Other links of the chain were in Buffalo, Houston, Des Moines, Lincoln, Cincinnati, Dallas, Davenport, Boston, Detroit, Long Island, Providence and Syracuse.  American Scene later became known as the American Events Corporation (AEC).  The Insider reported that Danny Stevens and Allen Fingerhut were staying on as managers for the Ohio backers.  Irv Letofsky of the Trib noted that the City Council had reversed its policy of not allowing off-duty policemen to work as bouncers, as they had done at the Depot.
Uncle Sam's was an instant hit, with over 1,000 paying patrons a night on its first Friday and Saturday (despite the fact that it seated 650).  Will Jones reported that there was originally a dress code of no blue jeans and no hats "to keep out undesirables.  They relented on the jeans, "But still no hats, because other people grab them and cause trouble."
Attendance was given a boost on June 1, 1973, when the drinking age in Minnesota was lowered from 21 to 18.  On September 1, 1976, the drinking age was raised to 19, and on September 1, 1986, it was back to 21 after passage of federal law in 1984 that said states would face 10 percent reductions in federal highway funds unless they raised their age to 21.
At first Uncle Sam's was a disco in the sense that it mostly played records instead of hiring live bands.  Many times they would hire a live drummer to accompany the records.  Denny Craswell, an original member of the Castaways, South 40, and Crow, was one of those drummers, with a full-fledged "Apeman" show. Wednesdays were often live music nights.
The advent of Disco with a capital D is a matter of discussion, but I remember sitting upstairs one night in 1976 and hearing something foreign to my ears.  I did not like it.  "What the hell was that?" I asked.  Born too late, I was a child of the '70s – fortunate to be 18 when the drinking age was lowered to 18, but subject to music I found to be boring.  At least there were "famous movies and slides" for people to watch when the dancing got too dull.
And another thing.  The first time I went to Uncle Sam's (1975) there was a wet T-shirt contest.  Girls got up on stage in special T-shirts (probably promoting a radio station) and their underwear.  Some guy poured a pitcher of water on each.  Applause for each, some were eliminated.  Off go some of the T-shirts.  Applause, applause, still no winner.  Guys were standing on the bars and pool tables (did they have pool tables?) shouting "Beaver! Beaver!"  I did not know what that meant.  Off go some of the underwear, and presumably the prize was worth the attention.  Or vice versa.  All I know is that I was 18 and my sister should have warned me!!
In 1979 AEC returned the club to Fingerhut and Stevens. In April 1980 Sundays at Uncle Sam's were opened to teens. See a video of the band Mind and Matter made at Uncle Sam's Here.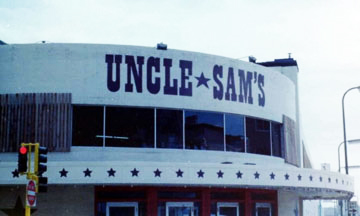 ---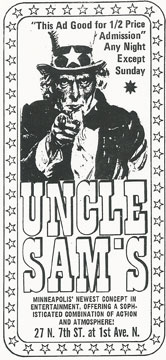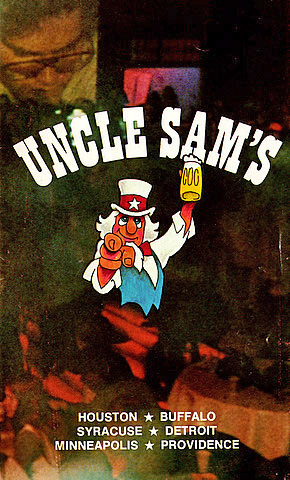 ---
FIRECRACKERS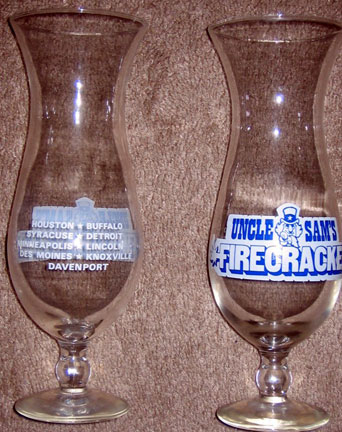 Firecrackers were the signature drink at Uncle Sam's – I was too busy dancing to drink one. The ones above are what I remember – the ones below with the  redesigned "A" must have come later.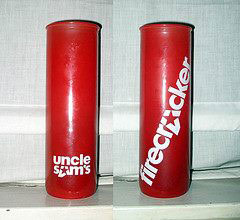 ---
SEVENTH STREET ENTRY
On March 21, 1980, club manager Steve McClellan started booking live acts in a smaller part of the building that used to be the bus station's restaurant and Uncle Sam's coat-check room – this was known as Seventh Street Entry.  The first act in the room was Curtiss A, opening for Wilma and the Wilburs.  Stevens remembers that they started to consider using the name First Avenue around this time.
---
SAM'S
By May 1980 American Events was out of the picture, and Stevens and Fingerhut rebranded the venue again to just Sam's.  The first notice of the name change I found in the Strib was on May 9, 1980, in an announcement of the return of the Ramones on the 11th.   It was at this point that the neon dance floor was removed and the entire place – inside and out – was painted black.  Prince made his first appearance here on March 9, 1981.
---
SAM'S, A DANCETERIA
By September 1981 the ads read Sam's, A Danceteria.
---
FIRST AVENUE
Finally disco died, the live music moved to the big hall, and on New Year's Eve 1981 the building was renamed First Avenue. The venue became nationally famous as the central setting for Prince's 1984 film Purple Rain, which was filmed between November 26 and December 20, 1983.  The song "Purple Rain" itself was recorded at First Avenue on August 3, 1983, during a benefit concert for the Minnesota Dance Theater, which had been providing dance lessons to the cast.   The film opened on July 27, 1984.
There's a list of First Avenue's live performers Here.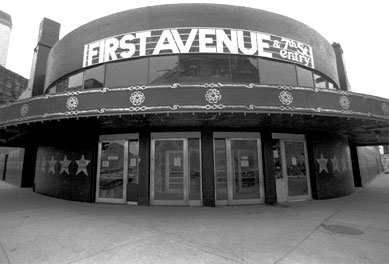 ---
THE DEPOT TAVERN
In June 2010 the historic downtown Minneapolis nightclub opened the Depot Tavern, a new bar and restaurant next door to the 7th Street Entry.  The walls are covered with photos of concerts spanning the club's 40 year history, and multiple widescreen TVs feature live video feeds from both the Mainroom and the Entry.
Save
Save
Save
Save
Save
Save
Save
Save
Save