This page is about the legendary clubs that have been located at 29 North Seventh Street at First Ave. in Minneapolis.  Remember that this site focuses on Twin Cities music through 1974, so the emphasis will be on the Depot and Uncle Sam's.  See Chris Riemenschneider's book First Avenue – Minnesota's Mainroom for much more information on the history of First Avenue.
Show ads are from the Minneapolis Star and Tribune, unless otherwise attributed.  Many more info, reviews, and ads to come.  Please note that the synopses of the reviews are my interpretations of longer articles.
---
THE DEPOT
There has probably been a bus station at the corner of Seventh Street and First Ave. as long as there have been buses.  The photo below is a previous building at that location, taken in about 1925.
---
The present building was dedicated and opened to the public in a ceremony on February 26, 1937.  The Minneapolis Tribune described it as "one of the finest of its kind and a model of convenience and scientific design."  The exterior was made of blue glazed brick with white trim, which were the colors of the Greyhound line.  The architects were Oscar Lang and Arnold Raugland, and the builder was the James Leck Company.  The occasion was the subject of a special section of the Tribune, beginning with the full-page graphic below: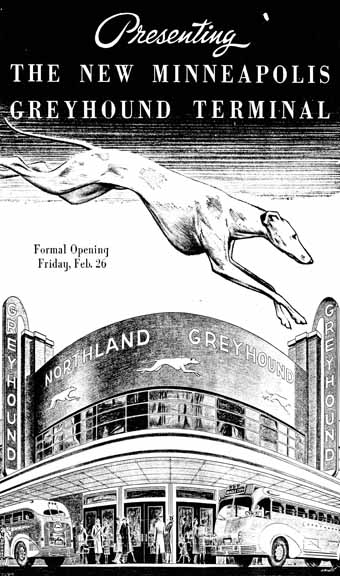 ---
---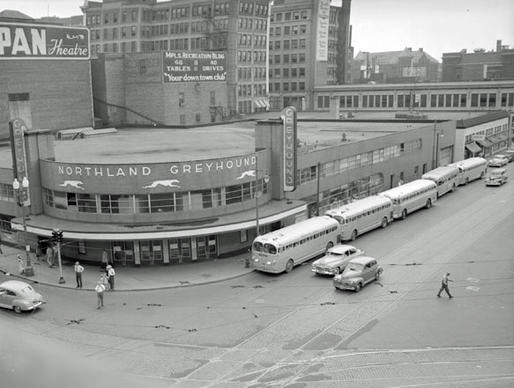 ---
From this 1952 photo below, it is apparent that the infrastructure of the building never really changed much:
---
The 1937 station was replaced with a newer facility in 1968, perhaps because it was too large for a population that traveled mostly by car or air.  It became the property of theater owner Ted Mann, possibly thrown in with another transaction.  It stood empty for years.
In 1970 it was purchased by Danny Stevens,  singer and front man of one of the top rock groups of the era, Danny's Reasons.  Stevens had a liquor license from the Hotel Hastings and contributed the initial capital.  His first partner was Elizabeth Heffelfinger, who had to drop out because of illness.   Allan Fingerhut then stepped in with the rest of the financing, and the two were joined by Abby Rosenthal, who became the General Manager.  Rosenthal had been the manager of George's in the Park in St. Louis Park.
---
An article by Allan Holbert in the February 22, 1970, Minneapolis Tribune hinted at some very ambitious plans, most of which didn't materialize:
Two clothing stores:  I, Ross and East-West Ltd.
A Record shop
A Novelty shop
Three bars (there were eventually at least five).  One of the bars, The Second Floor of the World, "will have low-priced drinks and is expected to attract some of the 5 o'clock trade of young working people who now frequent such places as Buster's and Duff's."
The Interior was designed by John Neil, with many of the interior walls decorated with huge pop murals done by West Bank painters.  The decor was purple, with purple shag carpet on the stage.
Holbert noted that the venue would be opened by Joe Cocker on April 3 and 4 (which it was), but also listed other bookings of the Vanilla Fudge for April 10 and 11 and Janis Joplin for April 18 and 19 – neither shows eventually panned out.
---
An article in the February 24, 1970, Minneapolis Star quoted Fingerhut as saying the acoustics were perfect – "despite the memories of some past bus riders of unintelligible public address calls there."  The new corporation was called The Committee, with Fingerhut acting as chairman of the board and Stevens as president.  Subsequent ads referred to "Allen's Committee."
---
Danny's Reasons, posing on a scaffold inside the club, were pictured in the Tribune on March 29, 1970.  At the time it was expected that the Reasons would be one of the house bands of the club, but frequent house bands were more likely to be Grizzly, Suite Charity, Ned, Crockett, the Sir Raleighs (who became Copperhead), and Big Island.   The Reasons mostly played Beer and Wine Nights on Mondays.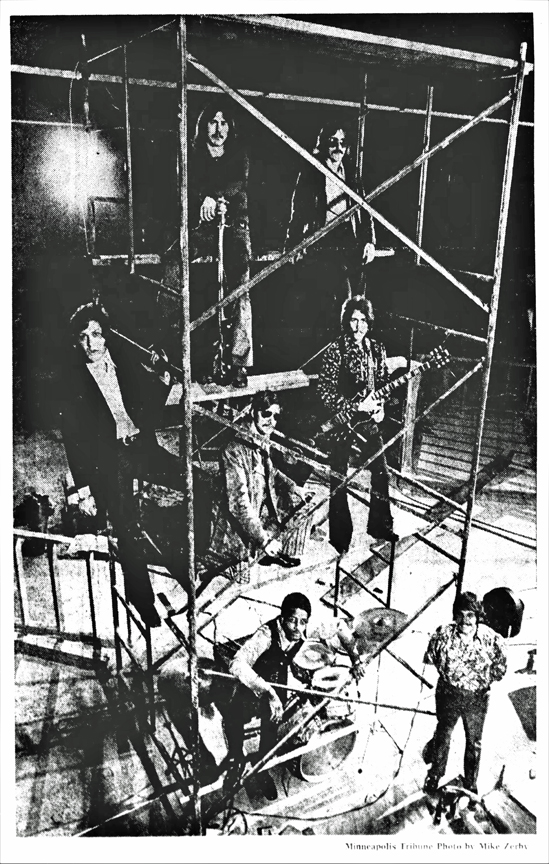 ---
Tony Swan, in an article in the May 1970 issue of The Twin Citian, described the place:
The curved wall which used to embrace the gates to departing buses is now the backdrop for a large, purple plush-covered stage.  On the wall above the stage, Cinemascope style, there is a large screen.  While the performers are wailing, batteries of projectors – in all eight carousel slide projectors, four opaque projectors and a 16-milimeter movie camera – shoot images onto the screen from either end of the horseshoe shaped balcony which surrounds the main floor.  There are also colored spotlights and strobe lights – all the usual implements of psychedelia.  There are five bars, three on the main floor and two on the balcony.  There is a large, prime table area right in front of the stage:  on opening night the tables went for 10 bucks a head, which could get to be a drag on the Depot's income potential in the future.
---
IN RETROSPECT
Jim Klobuchar's hilarious column of March 26, 1971:
Come closer, visitors, so that I may share with you the latest and possibly most melancholy adventures of The Depot since it switched a couple of years ago from Mankato, St. Peter and LeCenter to the Pacific Gas and Electric.  The latter is a musical organization of a type that The Depot now gives asylum against the ravages of the Golden Strings culture in Minneapolis.
It is operated by a boy-impressario of 27 named Allan Fingerhut, who is squat, mod-groomed, flawlessly muschached and agreeably lathered with suntan creams from widow's peak to jawbone.  Mr. Fingerhut is a cordial sort who smiles often although nervously, as though the next hand he shakes is almost sure to contain a subpoena.
An article in the Minneapolis Tribune by Allan Holbert dated April 11, 1971, noted that April 1970 was not a great time to launch a new night spot.  "The economy had started turning sour.  People were being laid off.  The ones who still had jobs were forced to cut back on their entertainment spending."
---
JOE COCKER OPENS THE DEPOT
The Depot opened on April 3 and 4, 1970, and an estimated 2,300 people came to the club over the two days to see the Mad Dogs and Englishman tour featuring Joe Cocker. (First choice Santana didn't work out.)  Leon Russell was the musical director of this American tour, which descended on 48 cities over 60 days. The movie Woodstock, which introduced Cocker to many Americans for the first time, had just hit theaters a week earlier, so the timing was excellent. With over 20 musicians, another 20 Englishmen on stage just for fun, two kids (allegedly on acid), a dog, and characters like the Lunar Teacake Snake Man, the Ruby-Lipped Essence of Lubbock, Texas, and the Mad Professor, it was an experience for everyone involved.

On opening night it cost only $4 to get in, but there was a $10 charge to sit down, with much poaching of seats going on.  Johnny Canton was the emcee.
The show appeared in the movie "Mad Dogs and Englishmen" along with other shows on the same tour.  The first time it came to local screens it came and went fairly quickly.
The Del Counts performed between sets on April 3.  After that came classical music accompanying Roadrunner cartoons.  On April 4 the supporting acts were Kaleidoscope and the Paisleys. Connie Hechter reported that booker Marsh Edelstein was upset that publicity about the concert did not include the local bands.  [Another account says that Pride and Joy performed, and a band called Cricket was scheduled but was bumped for time.]
---
---
---
REVIEWS OF OPENING NIGHT

Marshall Fine's review of opening night in the Minneapolis Star was scathing, citing bad planning, expensive drinks, a long wait to get in, an opening band that was "terrible," and the fact that Cocker's first set was only 20 minutes long. Fine was a student at the U of M at the time, and complained that the under-21 crowd couldn't get in.  He did appreciate the "exquisite show" put on by Cocker, but said that the "audience's response was comparable to that of an equally drunk group shouting 'take it off' at the Roaring 20s."
Allan Holbert's review in the Tribune's was more focused on the sheer numbers of people who showed up, saying that people were lined up four-deep around the block.  "Not since the truck drivers' strike of 1934 is it likely that there has been such excitement, such chaos, such congestion, such noise just off Hennepin Av. as there was Friday night."  Allan Fingerhut said that they ran out of booze by 8:00 and had to send out for more.
Holbert's account, which later calls the space the Fillmore Upper Midwest, says that carpeting and other interior decorations weren't yet installed, but the old bus station was packed by the time Cocker hit the stage just after 8 p.m.  Cocker worked hard on a stage filled with 40 people, "singing like a black man, which he isn't and doing his dancing stuff like a spastic, which he isn't either."
Swan's account in the Twin Citian said that the "beautiful people," many wearing "Cocker Power" buttons, numbered 2,000, which was 600 over capacity. He said that the first show was a dud, with too much noise and confusion and older people holding their ears and beautiful people "with resplendent sun tans and $250 hippie outfits" more interested in checking each other out than listening to the music.  But between sets "the ingredients underwent an important purge.  A lot of the older people, having seen enough, went out the door shaking their heads in disbelief, their ears ringing.  The beautiful people made a determined and lengthy run on the bar, lowering their inhibitions in direct proportion.  And the hard core rock freaks moved in on the privileged table area, surrounding it, engulfing it."  During the second set, "Everyone – everyone – began swaying in time to the music, which became so loud that it was beyond the audible – it was simply deafening.  People began throwing flowers onto the stage and the musicians began throwing them back, strengthening the two-way process. …  And Cocker kept pouring more and more of himself through those big banks of amps… until he was finished and just stood there, smiling amid all the flowers."  Fingerhut had provided the Carnations.
A reviewer named Greg noted in the April 10, 1970, issue of the underground magazine The Minneapolis Flag that what seemed like the entire Tactical Division of the Minneapolis Police Force (off duty) had been hired as floorwalkers and bouncers.
---
Will Jones of the Minneapolis Tribune tried to cover the opening, but the sound inflicted so much physical pain that he speculated that the young people had developed leather eardrums to survive.
What's been created there is an environment in which no creature born before 1940 can survive. …
The generation-communications gap may be entirely a physical thing, you know.  I never wanted to communicate with one of these creatures more in my life than when a lush, bell-bottomed, dewy-smiling young blonde came over to me and moved her lips in a way that I knew, from experience in the outside world, meant that she was speaking to me.  But the only sound I could hear was that which came from the amps.  I stared at her, dumb and helpless.  Maybe she thought I began to cry, but the tears that came to my eyes were as much from the smoke, I'm sure, as from frustration.  That's another thing that the sound does in places where these creatures and their favorite performers gather.  It blocks the ventilating system with great globs of sound, and no smoke ever escapes a club or all in which rock music is performed, no matter how well-intentioned the architects and engineers may have been.
Jones lasted about three minutes until he and his wife escaped to more sedate environs.
---
Connie Hechter's review in the April 11-18, 1970 issue of Connie's Insider was an evenhanded report, citing both the positive and negative aspects of the venue and the show.  He marveled at the superb light show with real screens instead of sheets strung together, a good sound system with excellent acoustics, and liked the fact that you could buy a drink, despite the fact that the under 21 crowd was miffed by being excluded.  But he also remarked about how incredibly loud the opening band, Bear, Beaver, Peacock, was, although he said that they probably didn't realize that the size of the room didn't require turning up the amps to full blast.  He noted that it was crowded and that promised tables were not available, but chalked it up to opening night mishaps.  Cocker's show was more exciting than previous performances here at the Guthrie and the Prison.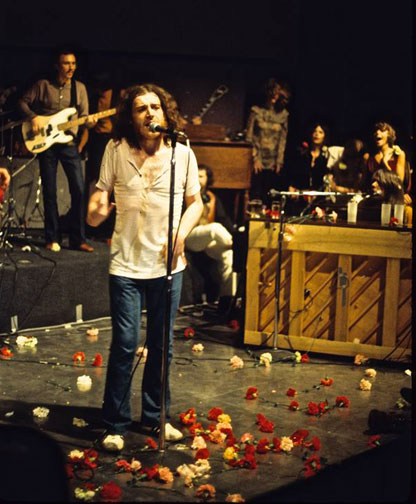 Photos above and below courtesy Darrell Brand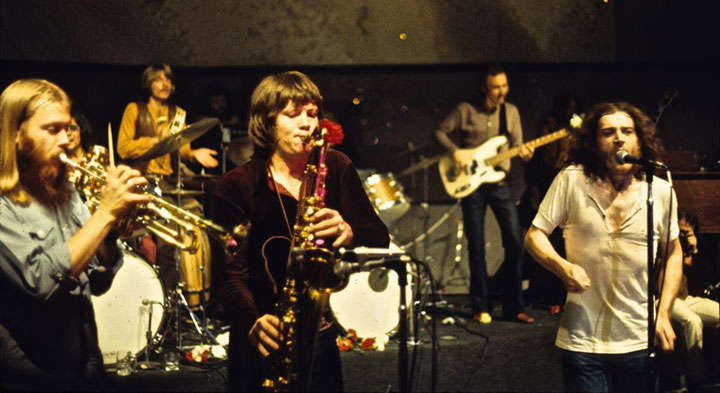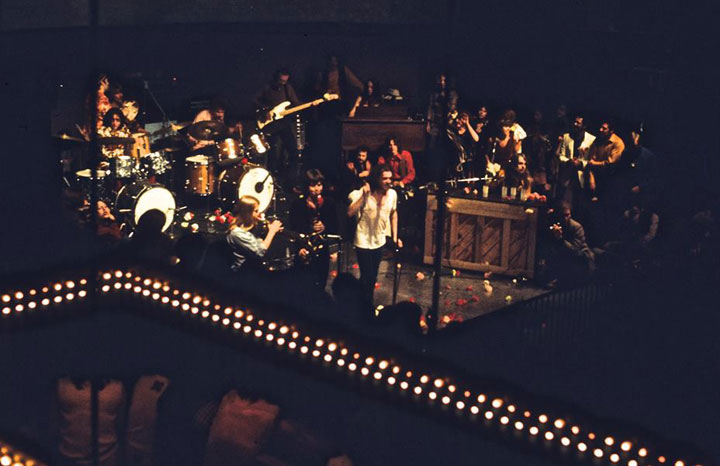 ---
The Star Tribune, December 22, 2014, reported:
Cocker returned to the club one more time when it was called First Avenue in 1994, the same year he played the 25th anniversary Woodstock festival. However, he could not remember the 1970 gig nor the venue when Jon Bream interviewed him in 2009 before what would be his last Twin Cities area performance, at Mystic Lake Casino. He said, "The Depot? I'll have to run it by Chris Stainton [his longtime keyboardist]. It doesn't ring a bell at all to me."
John Robert Cocker, known to family, friends, his community and fans around the world as Joe Cocker, passed away on December 22, 2014, after a hard fought battle with small cell lung cancer. He was 70 years old.
---
DEPOT DOINGS
An early but apparently short-lived promotion was to target the after-work crowd and tempt them with the beautiful people they might meet at the Depot.  Below, a woman eating a flower meets a local Tom Jones …  This is the only ad like this I found.
---
In late 1970 the Insider reported that Allen Fingerhut brought in his brother-in-law, Ted Deikel, to help manage the club's finances. Rosenthal was listed as the "former manager," and Skip Goucher was the "former talent booker" for the Depot.   An article in the St. Louis Park Sun  (September 21, 1983) reported that Stevens tried to get a liquor license and buy Bunny's, but was denied citing "press clippings from the early '70s in which Minneapolis city attorneys and municipal court judges complained about the large number of arrests and disturbances at the Depot overloading the court system." Stevens claims that he threatened to sue the city for the denial, but after two to three months of discussions, the two sides came to an amicable agreement.  Soon after, Bunny's was taken by the city for the development of Excelsior and Grand.
One successful promotion was Beer and Wine Mondays.  In 1971 men paid $2.50 and women $1.50 for a plastic cup at the door and all the beer or Bali Hai or Reva wine they could drink.  Even after the Depot morphed into Uncle Sam's, the promotion was continued for a cover charge of $5 or $6.  Danny Stevens noted that the night was especially popular with professors from the U of M.
---
On April 11, 1971, Allan Holbert of the Minneapolis Tribune checked in at the Depot after a year of operation.  He described the place:
Some nights it's been a madhouse, with the music – after it finally started – so loud it was painful, with cops wrestling down rowdy rock buffs at the door, with bartenders running out of booze.
Other nights the loudest noise has been the moans of the management people as they added up the lack of receipts from paid attendance.
Holbert attributed the success of the club to the hard work of  Fingerhut, who worked seven days a week at the club.  In hindsight, Fingerhut said that booking "loud, heavy groups" like Joe Cocker was a mistake, and "if I were to do it over I would start by booking top-40 bands."
Crowd control was a lesson learned as well, as customers found ways to get into the club's seven entrances and even in the windows without paying.
---
No-alcohol Sundays turned out to be the most popular nights, especially since the Labor Temple closed.  Mondays were beer and wine nights, and Tuesdays and Wednesdays were 39-69 nights:  pop was 39 cents, and alcoholic drinks were 69 cents.  On Fridays and Saturdays the cover charge was only $1 and the house band was Copperhead.
As of May 17, 1971, Minneapolis Police officers were prohibited from working off-duty at the Depot, citing a number of arrests at the venue.  Although Gordon Johnson, Deputy Chief of the Patrol Division, did not keep statistics on the number of arrests, he ballparked it at about once a day and claimed that judges and the city's attorney's office had made complaints.  At the time, Fingerhut employed about 20 officers to check IDs.
---
AMATEUR NIGHT
Toward the end of the Depot's run, Fingerhut was trying different ideas to attract patrons.  One was "Not-So-Original Amateur Night," which made its debut on May 19, 1971.  Planned to be an every-Wednesday night event, the contest would be award prizes according to audience response.  Rock groups were not eligible, but apparently hula dancers were.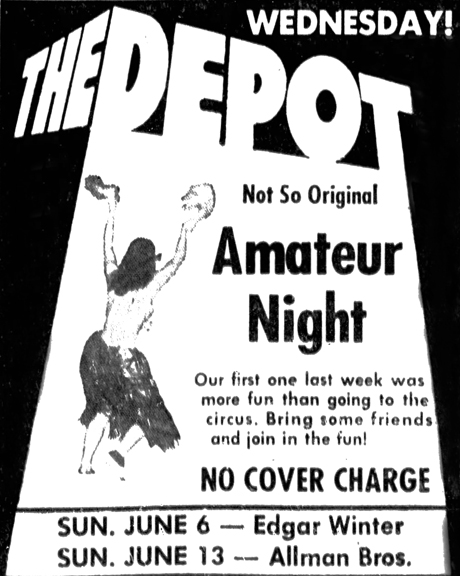 ---
NATIONAL ACTS AT THE DEPOT:  1970 – 1971
April 3-4, 1970:  Joe Cocker (see above)
---
April 11, 1970:  The Butterfield Blues Band (relatively small crowd)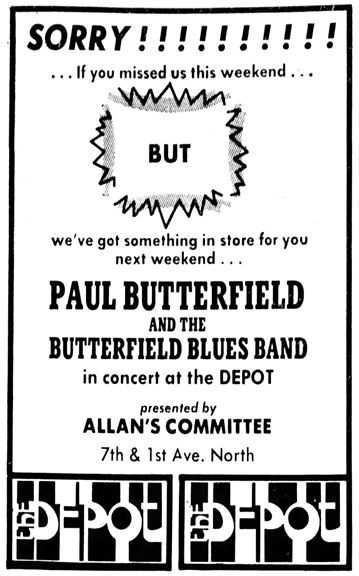 Underground newspaper Hundred Flowers had an adversarial relationship with the Depot from the start, it seems.  In its April 17, 1970 issue, there was this:
the decor:  amazingly tasteless
the room:  amazingly tiny
the floor:  amazingly crowded
the liquor:  amazingly costly
the sound:  amazingly loud
Cocker & Butterfield:  amazing!
---
April 17-18, 1970:  Poco, opened by Big Island and the Hot Half Dozen.
Richie Furay and Jim Messina, formerly of the Buffalo Springfield, made up the nucleus of Poco, and according to reviewer Marshall Fine, put on a fine show.  Furay, a country music fan, made Poco into one of the first country-rock bands.  They played songs from their first album and from their yet-to-be released second album.  Fine had exemplary things to say about each member of the band, and headed his review "Poco show builds to stunning climax."
Fine also had this to say about the venue itself:
The Depot, in two weeks, has mellowed quite a bit.  The crowd is smaller, quieter.  The whole atmosphere is calmer than when it opened.  Its potential is consideralbe and it has turned into, generally, a pretty nice place.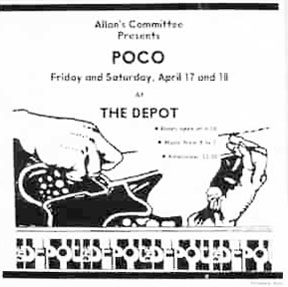 ---
Review of Poco by Ron Dachis of the Minnesota Daily:
Poco, a down home country-rock group eased into the Depot Friday night with little fanfare. But before the evening was over they had captured the small, yet receptive audience, with the ever-improving Poco sound.
From the rich sampling of new tunes we heard Friday night, especially in the second set, it appears that Poco has found itself and is well on the way to much greater success.
The bad seems to be taking more shape. It can most aptly be described as a rock band with a country feeling. The ever-present pedal steel guitar and tenor harmony produce the country effect. Hard working drummer George Grantham and bassist Tim Schmit lay down the rocking beat.
The first set started with Richie's "Come On," a real rocker that set the tone for the evening. Then Richie did "A Child's Claim to Fame" for old times sake. After this number the group seemed to relax and "Anyway Bye Bye" a blues cut from their new album went really well.
"Grand Junction," an instrumental that featured Rusty on pedal and dobro, won the crowd. Jim's lead guitar intertwined with Rusty's expert picking.
Next was "Consequently So Long," "Don't Let It Pass By," and a new version of "Nobody's Fool." "Don't Let It Pass By" featured some excellent harmonies. The new version of "Nobody's Fool" displayed extended instrumental solos by Rusty and Jim. George and Tim were driving away while Jim came off the stage to play amongst the crowd.
They closed the first set with "El Tonto de Nadie, Regresar," written by the whole group which, when translated means "Whatever happened to the Kinks?"
Poco returned to a somewhat warmer response for set two. This set included three cuts from the first album: "Calico Lady," "What a Day," and "Pickin' Up the Pieces." The rest of the songs from the new album were played and one thing became evident as the evening progressed. This group has found itself. The players are all doing the same things together with the same ends in mind. This singularity of purpose and tight control constitute Poco's music.
Poco has decided exactly what they want to be doing and they're following it through. Their new release will undoubtedly outshine the first. Poco's development can possibly be attributed to their attitude which is much like the final song they played, "Keep On Believing." They believe in their style, believe in their music, believe in their people. Poco made a lot of friends this weekend.
---
Another review, this time from Hundred Flowers:  (most typos fixed)
Poco is beautiful and just what I've been waiting for.  They're better than ever, too.  Randy Miesner, who played bass on Picking Up the Pieces, is now a gas jockey somewhere in Nebraska and Poco has made the perfect replacement.  Tim Shmidt's excellent musicianship, smooth tenor voice and little brother smile fits him right into place alongside the others, already renowned for their harmonies of spirit and voice.  In fact, his voice is almost indistinguishable from Richie Furay's, who, along with bass guitar Jim Messina (lead guitar and pedal steel with Poco) was as instrumental as any Steve Stills or Neil Young in creating the Buffalo Springfield sound.
With Neil's brother Rusty Young on organ and George Granthum on Drums, the Poco sound is just as distinctive and just as special.  Their tenor voices (all but Young sing) sound like four Richie Furays or about one octave below the chipmunks and two octaves below Graham Nash.
---
April 24, 1970:  Bangor Flying Circus, opened by Zephr
---
May 8-9, 1970:  The Ramsey Lewis Trio.  Danny's Reasons opened on May 8.  The reviewer for the Insider said that the band that opened the second night was so bad he was glad he forgot its name.
---
May 17, 1970:  Mitch Ryder and Mojo Buford.  Delaney and Bonnie were originally scheduled to be the main act, opened by Ryder.  With their cancellation, Ryder moved up to the headliner.
---
May 22-23, 1970:  Kinks, opened by Crockett.  This was the first appearance by the Kinks in the Twin Cities.
Reviewer Scott Bartell opened his piece with a review of the Depot itself, after the ticket taker complained that the press was giving the place a bad rap.
On the good side, The Depot has beautiful acoustics and brings in very fine groups.  Even the local groups are at least pleasant.  The drinks are good and not too expensive and our waitress was friendly and attentive.  It is clean and, if you are going to drink, tables are a good idea – I'm glad they added more of them to their original seating arrangements.
But the atmosphere is still very much "money" and it does not make one feel warm and receptive.  The freedom of rock was not in the air.
If the Kinks, the featured group, are any indication, the performers may feel the same vibrations.  Their set was less than half an hour long, and was very fast and without much emphasis…  Last night they seemed to be smoother and faster than in their recordings, almost as though they were in a bit of a hurry.
Dave Davies on lead guitar has a little more presence, both in his voice and instrument, but his brother Ray, lead vocalist, really does the show visually, moving around the microphone, waving a hand in the air, and keeping the audience hooked with his curiously indescribable voice – sort of a frankly imperfect trumpet.
Reviewer Jim Gillespie voiced disappointment in the performance after waiting for six years for the Kinks to come to the 'Cities.  Again he noted the short first set, and said that the group did no material from its rock opera "Arthur."  They opened with "The Last of the Steam-Powered Trains," then the obligatory medley of their older hits.  The high point for Gillespie was a tune sung by Dave Davies called "You're Looking Fine."
Dave's voice is harder and more gutteral than Ray's and eminently suitable for singing blues.  His guitar work on the song was the best best he played, piercing sustained notes and staccato runs, perfectly complementing the chopped-off rhythm pattern laid down by the rest of the band.
---
May 31, 1970: Jethro Tull, opened by Clouds
This was the first show open to teens under 21 – no alcohol was served.  Unfortunately, the air conditioning was not yet installed, and the kids worked up quite a sweat.
Peter Altman of the Star was disappointed at the first show.  Although he found the group to be outstanding, he posited that they had not become "super-popular" because they don't stand out.
What was missing in the first set was individuality and a quality one might call repose or ease.  There was little sense that the musicians had anything very personal to say.  Wit was not pronounced.  Solos lacked variety.  There was not a great deal of attention devoted to free musical conversation.  Often the musicians seemed to be playing by the book or off in their own private worlds.
Make no mistake.  The sounds Tull provided were superior.  The quintet has substance, and Anderson has showmanship, too.  Tull played about an hour and a half and never dried up.  They gave enjoyment.  But whether or not they were up for their first set Sunday, they didn't really switch on the Depot crowd of perhaps 500.  There seemed to be thousands of people in line for the second show as I left the old Greyhound terminal.  Maybe that inspired a really exciting session.
Ron Dachis, reporting for Hundred Flowers, was there for the second show and reported a block-long line eight people wide stretching along 7th Street, overflowing into the streets, waiting for the first show to end.
Will Shapira in the Trib reported that most of the material was from the albums "Benefit" and "Stand Up" albums.
The opening act was Clouds, a Scottish band touring with Jethro Tull.  On this day they were having equipment problems.  Altman deemed the trio "tedious;"  Dachis called Clouds "repetitous and dull."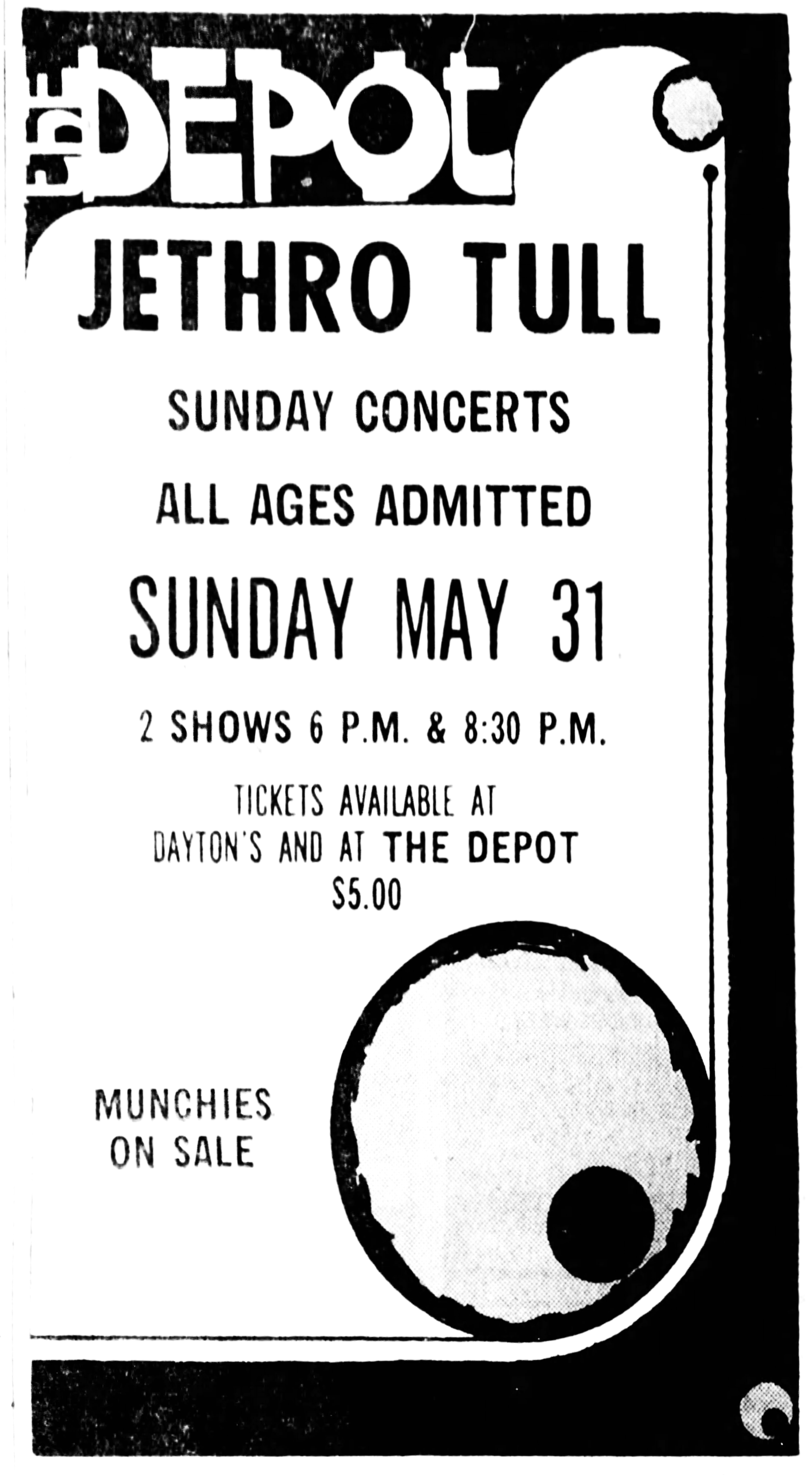 ---
June 6, 1970.  Sha Na Na made a special guest appearance (they were scheduled for the next night) and Hundred Flowers reported that the 21 and over crowd was not especially impressed.
---
June 7, 1970:  Sha Na Na did its regularly scheduled show on teen night, and Hundred Flowers (Tom Utne?) said the younger crowed "showed the Depot what audiencing was all about."  As usual, HF had a beef, though:
Just to let you folks know, neither Sha-na-na nor anyone else gets anything extra for doing two shows.  They just cut ten songs out of their regular set and do it twice. …  Hasn't the time come when Minneapolis is no longer considered a sucker-town by musicians and promoters?
Marshall Fine reported that the "audience alternately laughed at and cheered the group's antics, were they hair combing or doing the twist.
Sha-Na-Na's act is slick, possibly even greasy.  The group spits, scowls and does its best to ape James Dean.  It is more musically talented than it first appears, and also wildly funny.  The humor in the group's act depends on the ability of the audience to laugh at itself.  For Sha-Na-Na is satirizing American youth as it was.  Few in the crowd were too young not to remember the songs and styles mimicked.  The humor could easily be misplaced.  If any member had the slightest disdain for what he was doing, Sha-Na-Na's hole thing would have come off ass too campy and the joke could have disappeared after the first song.  Sha-Na-Na takes its role very seriously on stage, however, and it can create the mood that reigned in the days of the four-chord progression.
Adding to the atmosphere last night was the fact that the Depot's air conditioning was not working.  The sweaty, steamy temperature provided the decor that probably existed in the oven-like auditoriums of yesteryear.
This next part of Fine's review needs clarification:
Danny's Reasons preceded Sha-Na-Na and put the crowd in the mood for the headliners.  Everyone was so fed up with the Reasons that they were all the more ready to hear a good group.
Danny says it must have been someone else:  "We never did play with Sha-Na-Na.  We only played on seldom occasions on Beer and Wine Night and on the Gathering at the Depot album.  We were never a supporting act for any of the national groups."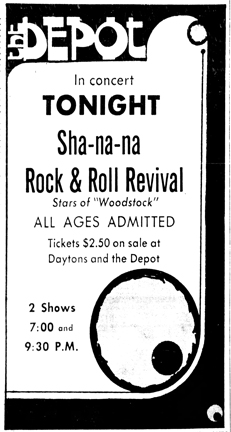 ---
June 14, 1970:  Rotary Connection with Minnie Ripperton. Opened by Thundertree.
Reviewer Jim Gillespie, a student at the U, reported that the seven-piece group with two lead singers had an instant rapport with the audience.  Apparently the world was not aware of the charms of Minnie Ripperton:  "Most of the time the girl sang along in a screamingly high itched voice, at times creating the effect some groups obtain by using an electronic instrument called the theremin.  Her range was amazing and she added much to the total sound of the music."  Songs performed included:
Sunshine of Your Love
Ruby Tuesday
Stormy Monday Blues
Soul Man
Gillespie was impressed with local band Thundertree, remarking that they were better in person than on their record, they played several interesting original songs, and their version of "16 Tons" was "really stunning."
---
June 21, 1970:  Alice Cooper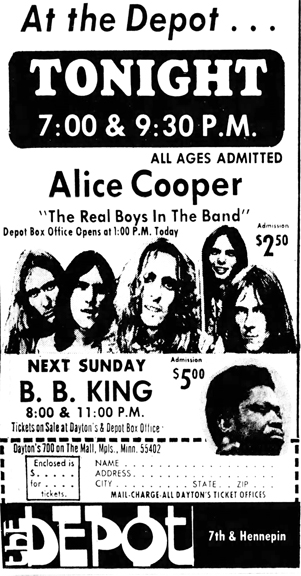 ---
June 28, 1970:  B.B. King, opened by Lazy Bill Lucas and Mojo Buford's Blues Band
Jim Gillespie's review in the Star is worth repeating in full:
The Depot was a blues freak's paradise Sunday night as it presented three fine acts including the incomparable "crown king of the blues, the man himself, B.B. King."  And B.B. is the King, make no mistake about it.
Lazy Bill Lucas, a transplanted Chicago blues pianist now living in town, opened the concert with a short set of traditional songs in his old-time boogie woogie style
Mojo Buford's Blues Band then took over and played a fast-paced set of city blues like "Five Long Years" and "Messin' With the Kids."  Mojo's harp playing was fine, as usual, and his new back-up group, while sounding a little ragged in spots, was more than adequate.
Then came B.B.'s back-up band, Sonny Freeman and the Unusuals.  The band is made up of two saxophonists, a bassist, drummer, pianist and trumpeter.  They opened with a heavily jazz-flavored instrumental which featured solos by everyone in the group.  Then the King walked on stage to appreciative applause and yells from the near-capacity audience.
With the first knife-sharp notes wrenched from his guitar, it was clear that we were in the presence of one of the masters.  King can wring more emotion out of those six metal strings than practically anybody else in the world and that includes his big-name disciples like Mike Bloomfield and Eric Clapton.  It's all the more impressive when you realize that he invented this style almost single-handedly, more than 20 years ago.
But King's talent is not limited to the guitar.  He is also one of the finest blues singers alive, with a powerful voice and a range that extends all the way from a low-down growl to an exquisite falsetto imitation of a woman telling off her man.
The Depot is not the warmest house in the area but King's amazing stage presence,  fine sense of humor and consummate musical ability transformed it into an intimate, friendly place overflowing with good vibes.
A lot of performers don't seem at their best in Minneapolis because they can get away with playing a sloppy set and still receive the obligatory standing ovation.
But King is one of the finest showmen in the business and he works hard to make ssure eveeryone has a good time.  And they did, too.  The next time B.B. comes to town, be sure not to miss him.  It's a are and pleasurable experience.
Memories from Robb Henry:
I was playing guitar with Mojo Buford in 1970 and we were fortunate enough to be the opening act on this show at the Depot. We got to meet B.B. King and hang out a bit in the upstairs dressing room. I was 17 at the time and really impressed by how nice and friendly he was. He was one of the few guitar players that ever sent a shiver down my spine with one note, that vibrato.
When we were hanging out at the Depot, there was a woman in the dressing room and B.B. couldn't recall her name so he discreetly told his valet to introduce himself to her so he could hear her name again. Dick Garrison and I got a big kick out of that slick little scenario. Etiquette lesson from the King.
Will Agar:
I still remember that evening at the Depot when, half way through his show, [King] took an intermission in the second floor dressing room. There as a knock on the door and a man came in with a suitcase. He opened it and it was full of cash-payment for the evening's work and insurance that B.B. would finish the second half of his performance!
---
July 19, 1970:  Bloodwyn Pig, a British group
Always kvetching about ticket prices, Hundred Flowers  announced that "the Depot is trying its damnest to relate to the community Sunday night by down-pricing tickets to $1.50 for Bloodwyn Pig.  Bloodwyn Pig probably has the ugliest album covers in the world but there's a lot of beauty between those covers.  Mick Abrahams is the leader and former lead guitar for Jethro Tull."
---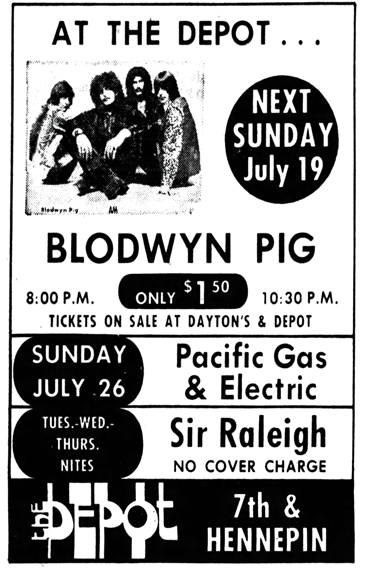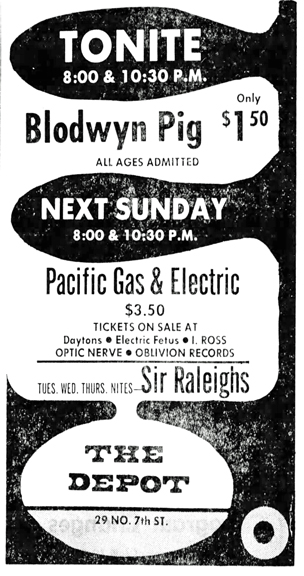 ---
July 26, 1970:  Pacific Gas & Electric.  This was the group's fourth visit to the Twin Cities, and much of the personnel had changed.
According to Hundred Flowers, the group "didn't play anything familiar – not even their new single, 'Are You Ready.'  Their format is free and fast with lots of improvising, blues cliches, and revolutionary commentary."
Maybe the reviewer from Hundred Flowers left early, because according to Dodd Lamberton's review, "Are You Ready," the group's one hit wonder, was the last song in the first show, and the only one that was worthwhile.  More from Lamberton, a music student at the U at the time:
PG&E's music is mostly fast, driving blues, which can be an exciting idiom.  Rock musicians rave about the magic quality of the blues that makes it so great to listen to and to play.  But if the performers do not control themselves, numbers can stretch into 20-minute studies in boredom, with drawn-out solos by each member of the band…  The group was capable of much more than it produced and the crowd knew it.
The opening band was Wagner and Little, a four-piece group from Chicago that had been playing together for only a week.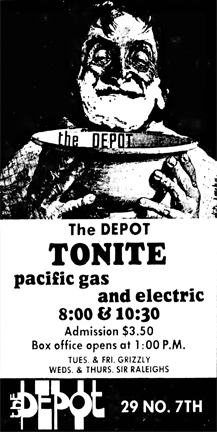 ---
July 28-29, 1970:  Al Jarreau

---
August 2, 1970:  Benefit for the Minnesota Eight and North Country Freedom Camp. 
Tom Utne in the August 7, 1970, issue of Hundred Flowers said that bands included:
Hundred Flowers Surfjazz Band Orchestra
Jave, with Greg Gilmer and Rocky Melina
Betty Boop
Spider John Koerner
Bamboo (Dave Ray, Donicht, Animal, and Animal's little brother)
Jam by Bamboo and Friends:  Maurice, Tommy Ray, John Beach
The ever-irreverent HF reported that Danny Stevens
digs the scene and suggests more at the Depot, where only biweekly shows are planned for the fall.  Allen Fingerhut, however, was quite pissed, does not like us not having cops at the door.  Does not like twelve year olds smoking dope in his bar, and does not like our admittedly irresponsible planning.  Sincerely Apologies Allen.  Let's do it again, okay?
---
August 16, 1970:  Exuma, opened by Zarathustra (first show) and White Lightning (second show)

The Trib's Mike Steele attempted to prepare Minneapolis for Exuma, the Obeah Man, in an article on August 9.  Steele described him as
a strange mixture combining heavy, primitive rhythms, ecstatic use of drums, a pulsing Caribbean beat, electric instruments, and a rock vocal presentation that soon becomes primitive chants.
Exuma is originally from Cat Island, Bahamas, but he came to Greenwich Village in 1961.  His first album was overseen by his friend and producer, Daddy Ya Ya, with backing by the Junk Band.  …
Exuma denies a connection with voodoo, but many claim that the connection is there.  Exuma says only that he writes his music during seances.  His lyrics are heavy on zombies, dead men, ghosts, devils and angels.
It all sounds weird, but otherwise serious men who have spoken to Exuma believe it all.  His record is curiously successful.  His first live appearance here should be one of the more interesting events of the year.
Reviewer Dodd Lamberton described the band as a group that defies description.
Their music brings together primitive chants, moaning and wailing, and a large variety of rhythms and instruments, including a bass drum, congo drums, whistles, bells and tamborines.  It has a refreshing freedom to it, as the members of the group do not seem to have prescribed notes to sing and play – each performance is different.  Exuma sings the verses of each song and the rest of the group joins in on the choruses.  … In both shows, they had the standing-room-only crowd clapping and dancing to the catchy Caribbean beat.  "Obeah Man," their best-known song, was their best offering.
Reviewer Will Shapira's review described:
Their music is nearly as exotic as their names.  It's basically Afro-Cuban rhythms over which Exuma wails, growls, moans and screams incantations to the devil, the damned and the ungrateful dead.
There was a large crowd on hand for the first set.  Primed by extensive air play on local stations of Exuma's first recording, they clapped and swayed to the music which constantly throbbed and was occasionally thrilling.
Shapira later checked out Exuma's first record, and concluded that the live performance should have included an echo mike on the bass drum and a tape of the thunder used on the record for maximum effect.
Both Lamberton and Shapira had great things to say about local band Zarathustra, which was booked through August 21.  Lamberton called the band "outstanding," saying that Dick Hedlund on bass, Rick Dworsky on organ and Bobby Schnitzer on guitar are "unparalleled on the local scene."  Shapira  said "There was excellent vocal, lead guitar and mouth harp work throughout the set and outstanding arrangement of a song called "White Bird."  It's a Wonderful Zarathustra!

---
Don't know what happened to Crabby Appleton.  Maybe they had to "Go Back" to Los Angeles.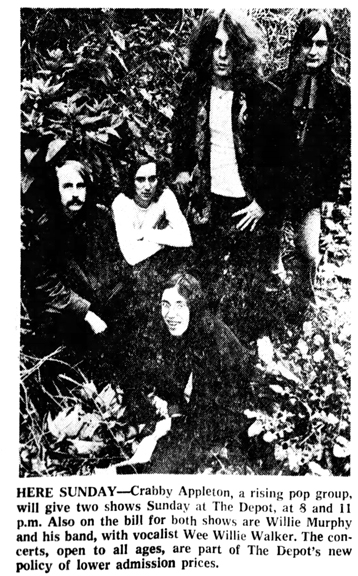 ---
August 30, 1970:  Mason Proffitt (replacing Crabby Appleton), opened by Willie Murphy

Reviewer Dodd Lamberton referred to Mason Proffitt as the group that "saved" the Iron Butterfly concert at the Minneapolis Auditorium a few months back.  Here at the Depot, "they really turned on the crowds with their smooth, country-western sound."  Unique aspects of the group were that they tuned their instruments one-half step higher than normal, and they used a dobro as a kind of fourth voice.
Lamberton also commented on the opening act:
Willie Murphy and his band made up for their disorganized appearance at the Guthrie two weeks ago with two acceptable sets of mostly original songs.  Of these the best was Murphy's "Eyes of Temptation."  The group's sound resembled that of the original Electric Flag on the blues tunes.
And as for the Depot's light show, Lamberton thought it was "as imaginative and as effective as any local show seen recently."
---
September 13, 1970:  Gathering at the Depot

The Gathering was a day-long event involving 10 bands that became one of the Twin Cities most sought-after LPs.  The force behind the event was 21-year-old booking agent Jeanette Arithson, who worked for Alpha Productions.  The concert was recorded on-site by Sound 80.  Admission to the show was $2.  The LP was originally seen merely as a promotional item, to be sold at the shows of the bands on the record.  If a school booked one of the bands, it could sell the records at $1 profit each.  Heck, I paid $40 for mine!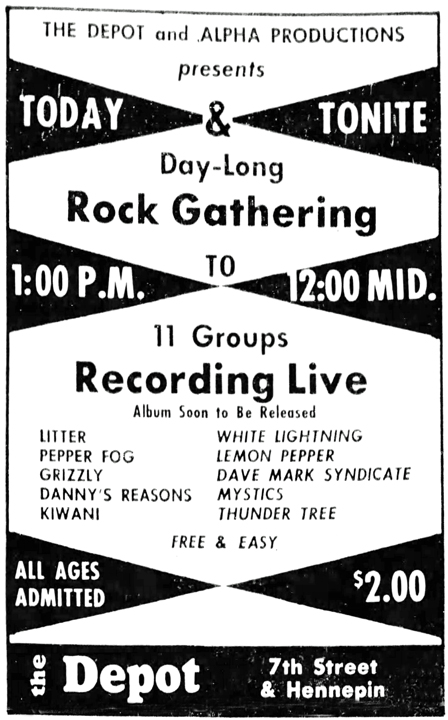 ---
September 27, 1970:  The Illusion, opened by Jarreau
The Illusion was a psychedelic hard rock band from Long Island  They released three full-length albums in the U.S., produced by Jeff Barry. Their only hit here was "Did You See Her Eyes."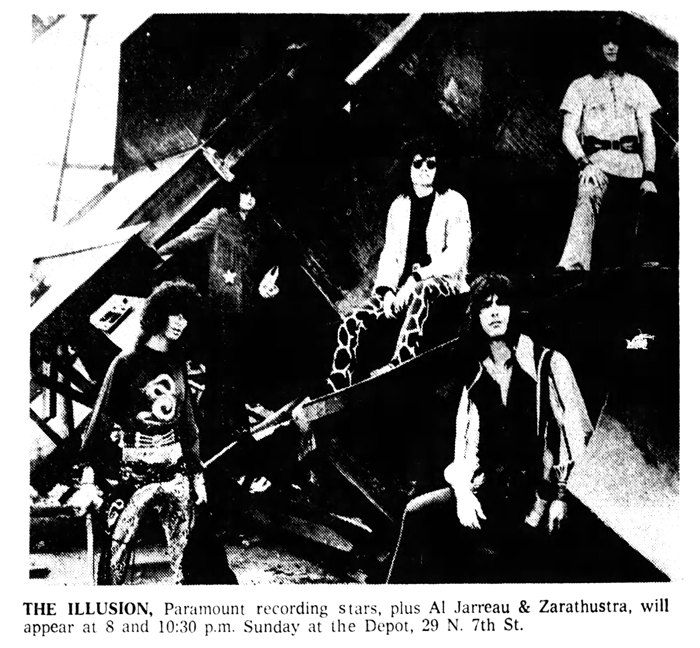 In 1970 Al Jarreau moved to the Twin Cites from Milwaukee. Shortly thereafter he formed a band called Jarreau. The nucleus of Jarreau were members of Zarathustra (Rich Dworsky, Kinky Schnitzer, Dick Hedlund, Dick Bortolussi). They gigged at, among other spots, the Depot and Puff the Magic Dragon. In 1971 Jarreau (the band) broke up and Jarreau (the singer), along with Dworsky, moved to LA. The rest is (better known) history.  (Thanks to Paul Strickland for this Insider info!) Below is Jarreau appearing on Bill Carlson's "This Must be the Place" program three days after forming the new band.
---
October 4, 1970:  Mason Proffit – "Back Because the Multitudes Requested Them."  Two shows.
---
October 25, 1970:  Frank Zappa and the Mothers of Invention and the Flying Burrito Brothers.
What a scene!  1,500 people jammed the Depot for each of two shows.
Hundred Flowers reported that the Flying Burrito Brothers opened, minus Gram Parsons but with pedal steel guitarist Sneaky Pete, Barry Lieden, Rick Richards, and Chris Hillman, the only former Byrd in the group by this time.
The Star's Peter Altman found the country-rock band to be attractive and well-balanced but "without quite enough personality and fire."  They played bluegrass breakdowns, old hits like "Hand Jive,," Byrds' favorites like "One Hundred Years from Today," neo-cowboy ballads and a song about going to Canada to beat the American draft."  They showed "fluency, a variety of styles, and recalled many eras and personalities.  There was an inescapable derivativeness about much of the groups music, however, and a consistent failure to come up with the unexpected."
Zappa and the Mothers included the Turtles (Flo and Eddie), aka Howard Kaylan.  Hundred Flowers was fixated on Kaylan, the fat one, apparently often mistaken for Larry Mondello, the fat kid on "Leave it to Beaver." Kaylan joined the movement to petition KMSP to put "Beaver" back on TV.  Dr. John the Night Tripper was also there in some capacity.
Altman was not at all impressed with Zappa, at least the short 35-minute first show that he saw.  "There were scattered shafts of outrageous  insult and vulgarity (which were few but funny), but not much else.  Musically the group was content to get by with bang, and there was almost none of the weird, oddly appealing sentimentality which in contrast with so much grossness is the key element in the usual Mothers' formula.  [Only] very isolated glimpses were all that could be seen of the Mothers' antic invention and power to touch…"
Scott Bartell's review reveals that the Mothers did three long pieces, the first two of which were "Call on Any Vegetable" and "Duke." Bartell said that Zappa told the audience that they were the most laid-back group he'd ever seen, and downtown Minneapolis was the most laid-back place he'd ever seen.  Was that a compliment or a dig?  Later Bartell reiterated that Zappa said this was the most polite and receptive audience he'd played for.

---
November 1, 1970:  Don Ellis and 23 Friends, opened by Dean Granros, Jazz composer and guitarist from Minnesota.

Reviewer Marshall Fine called this "one of the brassiest, most exciting concerts Minneapolis has seen in a long time."  The gig happened because the group Mountain was supposed to perform on October 31 at the Minneapolis Auditorium, with Ellis as warmup.  Leslie West of Mountain fell ill and couldn't perform, so that concert was cancelled and Ellis was booked into the Depot.
Fine described the group as a "killer band, specializing in polyrythmic swing."  Ellis, "a grinning madman," played the trumpet and directed the band "with the savagery  of a samurai warrior and with the abandon of a man completely  married to his work."  Clarinetist Sam Falzone played something called "The Bulgarian Bulge" in 33-16 time.  "I mean, nobody plays that fast," mused Fine.  Ellis used something called the Condor, a device that could change the tone and timbre of his trumpet and hook into a tape loop, which allowed Ellis to play a duet with himself.
Ellis and band made an appearance on Bill Carlson's show "This Must be the Place," airing on Channel 4 – apparently on December 25, if I'm reading Will Jones's column of December 27, 1970, correctly.  Jones rued that he had missed the live performance at the Depot, and noted that the band had four drummers.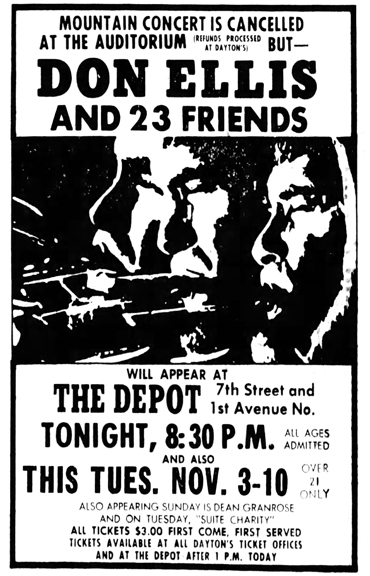 ---
November 3, 1970:  Don Ellis and 23 Friends, opened by Suite Charity
One show at 10 pm.  See November 1 above.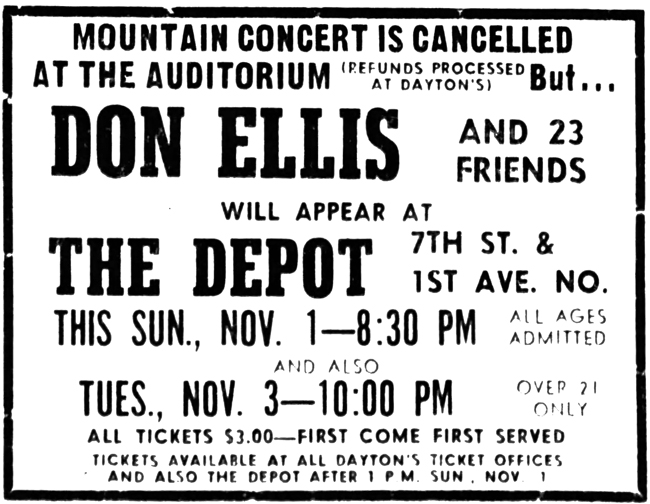 ---
November 8, 1970:  Small Faces, featuring Rod Stewart.  Opened by local group Downchild.
Pat Marciniak of Hundred Flowers reported that "they brought with them a musical sound that's a big overwhelming combination of musical flowers and colors, along with bright globes of sound.  Their concert was thoroughly enjoyable, as was proved by the crowded Depot of fans who cheered with screams and whistles of cries for more."
The show started late because Ian McLagon's piano was missing, so the first set only lasted 45 minutes. HF again:
To prove how popular the group really is in the Twin Cities, all anyone wouldn't had to do was to see the long lines of people standing out in the pouring rain waiting to get into the second show.  Only a few had umbrellas, but those who didn't, didn't want to move, afraid they might lose their place to see the show.
Scott Bartell's review in the Strib revealed that it was Early Days for the Faces, and the first show was two-thirds full.  Rod Stewart was such a new "face" that Barthell had to describe his voice and approach, which he compared to Joe Cocker, but "minus the worst spastic seizures."  Each song seemed different, with excellent contributions from Ron Wood, Ron Laine, Ian McLagon, and Kenney Jones.
Here's a story about that concert from Mike Guion:
The Faces were the headliners, and did two shows that night. The second show was to start at 10, but didn't until after midnight, and despite the late start, the opener did play. By far the most loud show I've ever attended, with "Around The Plynth" the highlight, with Woody's slide shaking the walls. Hard to believe now, but that show did not end until 3 or so. We stood outside in a downpour waiting for the first show to end. Rod had yet to use any hair dye, and the band had to walk from the upstairs dressing room through the crowd to the main floor. Rod's first solo album was still fresh, and the Faces were touring off their new release called "First Step." I remember all this so well because I had to be back in downtown at 6 am for my first Army physical. I never got undressed after driving my friends home. Just laid on my bed waiting to take that drive back, wondering if I got drafted where I'd go and what would happen to me. I failed the test. Said I had high blood pressure. I believe the Faces saved my life.
Barthell had a lot to say about Downchild, too, calling them "competent within their tradition (that vast commercial tundra bounded by Blood,Sweat and Tears on the jazzy side and Gary Puckett and the Union Gap on the money side) but they don't add much to it.  I could only listen with half an ear after the first few songs, which gave me time to consider the light show.  I considered it pretty dull, though perhaps the groups asked them not to get too flashy.  I did like some of the photos of girls, however."
---
November 15, 1970:  Country Joe McDonald (without the Fish).  Opened by Wire, a local band featuring Curtiss A (Almstead).
Paul Engel of Hundred Flowers reported that
Country Joe performed admirably, what with the unresponsive audience and the plasticity of the Depot on all sides …  It was more like playing in a freakily painted bus station for the cost of a bus ride from Mpls. to St. Cloud.  The performance was lively, expertly delivered, and his material was fresh and poignant.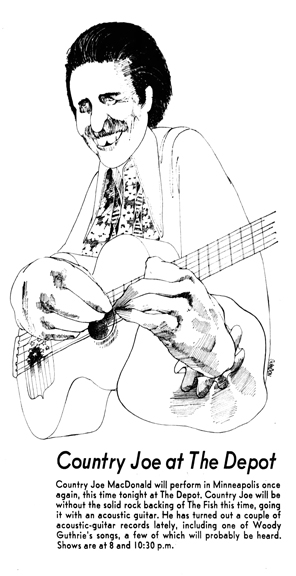 ---
November 17-18, 1970:  Wayne Cochran and the CC Riders, opened by Suite Charity
According to a couple of reviews in the December 3, 1970, issue of Hundred Flowers, Cochran's schtick was to be as racist, sexist, and generally insulting as possible to our fair city.  And the audience ate it up.  Cochran came with a 21 piece band and three backup singers.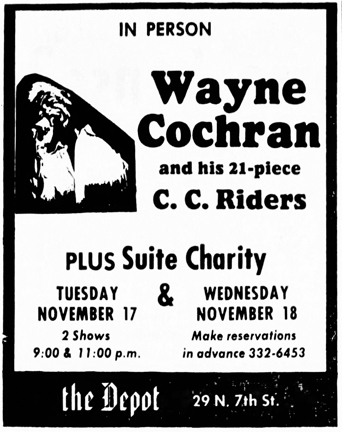 ---
November 22, 1970:  Sweetwater, opened by Wagner Little
Sweetwater's signature tune, "Motherless Child," was sung on record by Nansi Nevins, but she was not at this performance.  On December 8, 1969, she was severely injured in a car accident, causing brain damage and permanent damage to one of her vocal cords.
Reviewer Scott Bartell mourned Nansi's absence, but deemed the sound of the remaining six members as "rich and compelling, their stage presence relaxed and genial.  They only played five songs for their first set, perhaps holding off for a larger crowd.  Yet even those five numbers demonstrated the intricate workings between the Afro-Cuban rhythm section, the highly flexible keyboard work of Alex Del Zappo, and the jazz stylings of flutist Albert Moore and cellist August Burns."
Wagner Little was deemed a creditable warmup group, playing rock, blues, and a little folk.  Bartell was unsure about where they came from.  He was both amused and maybe annoyed at the "circus tricks" of the drummer, who was very adept at drumstick twirling and hitting snare drums mounted above his head, but deemed a better singer than drummer.

---
November 29, 1970:  Exuma, with Willie Murphy and the Bumblebees
See August 16, 1970, above for a description of Exuma's act.

---
December 6, 1970:  James Gang.  The account below from Hundred Flowers says that the show was opened by Depot house band Ned; another account was it was Crockett.  Shows were scheduled for 8:00 and 10:00, but the second show was cut short by a family emergency.  Might be the show that was so loud that people left.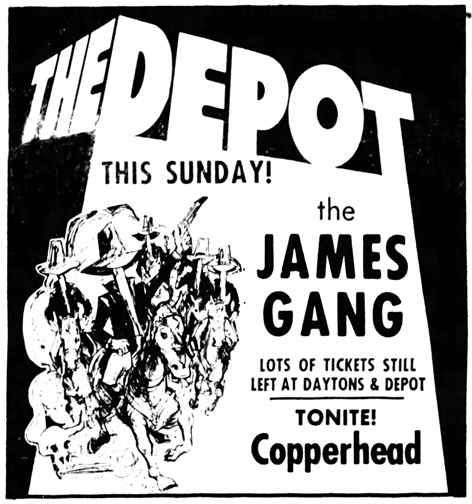 An interview with the band published in the December 11, 1970, issue of Hundred Flowers was prefaced with this paragraph:
The James Gang played two shows at the Depot last Sunday night.  About 3,000 kids paid $3.50 each to hear them.  Another 1,000 or so were turned away.  The Depot is probably the worst place in town for a concert.  Those who could ignore the hot, very crowded conditions probably enjoyed the James Gang who were at their best during the second set, even though they were too loud for the Depot.  They played a lot of their familiar favorites along with a lot of new stuff.  On the bill with them was Ned, a very good group playing nightly at the Depot.
Probably because of this and other highly critical reviews of the Depot, the Depot apparently took away Hundred Flowers' press pass.  This ensued:
---
December 13, 1970:  Savoy Brown, opened by Grizzly
Well, Grizzly was on time, opening at 7 pm, but there was no sign of Savoy Brown, and poor Allan Fingerhut was wishing cell phones would hurry up and be invented.  The band was supposed to go on at 8, according to Allan, and 9 according to the band's manager.  They finally showed up – their plane was late and the contract apparently did say 9 pm – and gave a 40 minute first set, according to reviewer Scott Bartell.  "They played only six songs, but each one was long and loaded with music."  The encore was "Shake, Rattle & Roll," with lead singer Lonesome Dave getting it on with voice and a mean guitar.
As for local group Grizzly, Bartell reported:
They are a pretty decent band with a good sound and some possibilities.  They write some of their own songs (the lyrics are weak but delivered well), and know enough to vary their line-up:  a medium-heavy boogy version of "It's All Over Now," an ominous "Summer in the City," then a couple tunes of their own (one countrified and the other a fast rocker) and so forth.
---
December 20, 1970:  Rhinoseros
---
1971
January 3, 1971: Teegarden and Van Winkel
Okay, this is a bizarre picture, predating the ED commercials by decades.  Teegarden and Van Winkel's one hit was "God, Love and Rock & Roll."  It was their first appearance if the Twin Cities.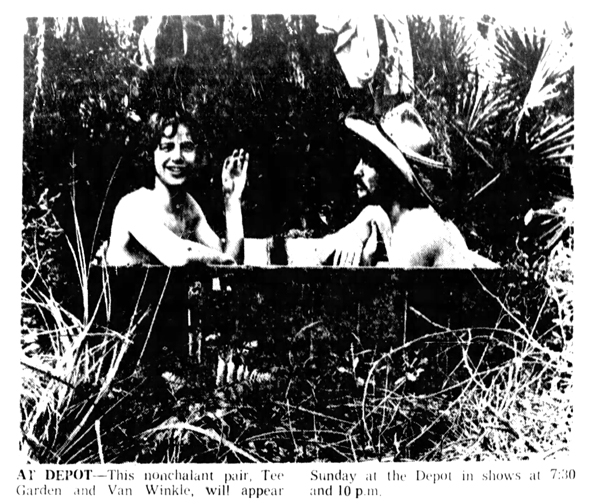 ---
January 10, 1971:  Tiny Tim, opened by the Sorry Muthas

By all accounts this show was poorly attended, probably because Tiny was also in town for the International Auto Show at the Minneapolis Auditorium all weekend where anyone who really wanted to seem him could probably do so for $2.  He also appeared on KSTP-TV's "Dial 5" program.  Tiny didn't care, telling Star reviewer Scott Bartell that "even if there's only one person – the tables and chairs are listening."  Tiny was interviewed by local TV columnist Forrest Powers, where it was revealed that Miss Vicki was pregnant and that Mr. Tim had not been asked back to "Laugh-In," the show that launched his career.
But according to Bartell, it wasn't necessarily a bad show – in fact, he called it "funny and engrossing."
He began with "The Waltz of the Bells" and "The Good Ship Lollipop."  Then he brought the band in for a super-long medley beginning with a World War I tune asking war critics, "What kind of American are you?", switching to "Bad Moon Rising," and proceeding through a very mixed bag of perhaps a dozen more fragments of songs. …  He gives different treatment to all his songs — relative reserve on older tunes; writhing on the floor and throwing his necktie away on "Great Balls of Fire," singing "Yankee Doodle Dandy " through a bullhorn to get the old Victrola effect – yet he stamps each song with his own identity and people can't help laughing and enjoying themselves.
At the same time he commands a strange respect – perhaps for sheer guts, but also because he does some things very well.  For instance, he manages  a duet with himself, imitating Sonny and Cher on "I've Got You Babe."  I guess it is that ambiguity  that makes his work so captivating.
Bartell characterized the Sorry Muthas as a "good-time country and jug band."  "Numbers such as 'Okie From Muskogee' created the same kind of humorous tension between song and singer as Tiny did.  The rest was just good, happy listening."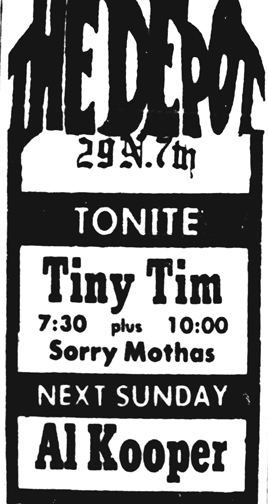 ---
January 17, 1971:  Al Kooper, opened by Thundertree

According to reviewer Marshall Fine, Kooper gave an "enjoyably funky show" to a packed house.  He started the show with Elton John's "Border Song," and while Fine was not so impressed with his voice, he loved his instrumental work.  Other songs included James Taylor's "Country Road" and Nilsson's "Without Her." 

Fine deemed Thundertree to be "a competent group with a lot of feeling in their music," but lead singer Jeff (Schleppy) Shapira's style was too much like Joe Cocker's and got to be irritating after a while.
Fine also had a beef about the Depot's light show, which was "one of the dullest since Edison discovered the tungsten filament."  But then, apparently, no one in Minneapolis knew how to put on a decent light show.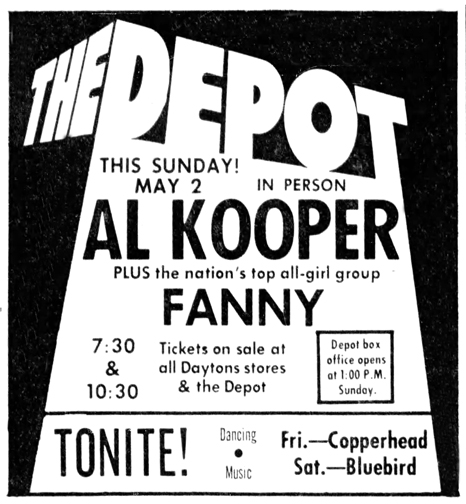 ---
January 24, 1971:  Mason Proffit, opened by Pepper Fog and Bluebird
Scott Bartell described Mason Proffit as a country-rock band, very much appreciated by the crowd.
They have a way to working with an audience getting them on their feet, clapping and yelling, that brings a whole crowd together.  And they are funny, too; commenting on the quiet house, Terry Talbot admonished them not to "try to partake us – we just ain't that good!"
Bartell did not have a chance to hear Pepper Fog, but he did hear "surprise group" Bluebird, which used to be called Noys.  He called them "definitely together," and said, "They do some very competent though fairly commercial stuff.  'Keep on Keepin' On,' a gentle little song they wrote, is very pleasant and I hope they do just that.
---
January 31, 1971:  Sha Na Na, opened by Chesterfield Gathering
---
February 21, 1971:  Richie Havens, with Otis Plum, a three-man group from Chicago.
Freelance reviewer Ann Payson described Havens as "an incredibly warm and charismatic performer" at the two sellout shows.  His first set included several songs from his first album, such as "High Flying Bird," "Just Like a Woman," "Fire and Rain." When he "ripped into" the show-stopping "Freedom," Payson noted, "we saw the other side of Havens, his whole body moving, dancing in a frenzy across the stage and finally breaking two guitar strings as he pounded them in an amazingly sustained and powerful finale."
---
March 7, 1971:  Crow, opened by Pepper Fog
---
March 14, 1971:  Ike and Tina Turner
Ike and Tina were scheduled for two shows at 7:30 and 10:00.  They got there so late that the people who came for the second show were left waiting in the cold and rain for up to 4 1/2 hours and the police had to block off traffic.  Owner Allan Fingerhut was furious at their manager.  He called in comedian Ron Douglas to keep the crowd entertained until they got there, and had to do over an hour.  Ike and Tina finally arrived and said they would only do one show, but Fingerhut kept them to their contract and the second show didn't go on until midnight.  Fingerhut told Bob Protzman of the St. Paul Pioneer Press (April 11, 1971) that the antics of Ike and Tina "almost closed us down."
Reviewer Scott Bartell reported that the band riffed while Ike was trying to change the details of the deal.  Finally the Ikettes – "three black bombshells dressed in dayglo orange – burst on to sing and dance 'Get Back' and set the stage for Tina."  Most of their songs were covers:
Piece of My Heart
Wanna Take You Higher
Honky Tonk Women
Come Together
Proud Mary
I've Been Lovin' You Too Long
Son of a Preacher Man
River Deep, Mountain High
but Bartell said that "they bring each number alive in a brand new way.  They never seem to waste a second, and almost everything they do is worth seeing and hearing.  Perhaps the best moments came when Tina was doing little dialogues with Ike on the blues "You Just Won't Let me Be."
Peter Altman, reviewer for the Star, noted that the Ike and Tina Review was a well-oiled machine: "so carefully lit and costumed, musical arrangements (for all their sock) so meticulous, choreography so closely ordered and pace so shrewdly varied that even when the Turner Review is at its most dynamic one always appreciates that it is a smartly packaged entertainment based on strict adherence to a proven formula."  He noted that at some shows Tina "becomes a dervish  who moves across the stage without touching the ground or the Ikettes abandon unison for ecstasy, and a few free choruses are allowed before Ike reasserts order.  Such things did not happen this time" – or at least at the first show.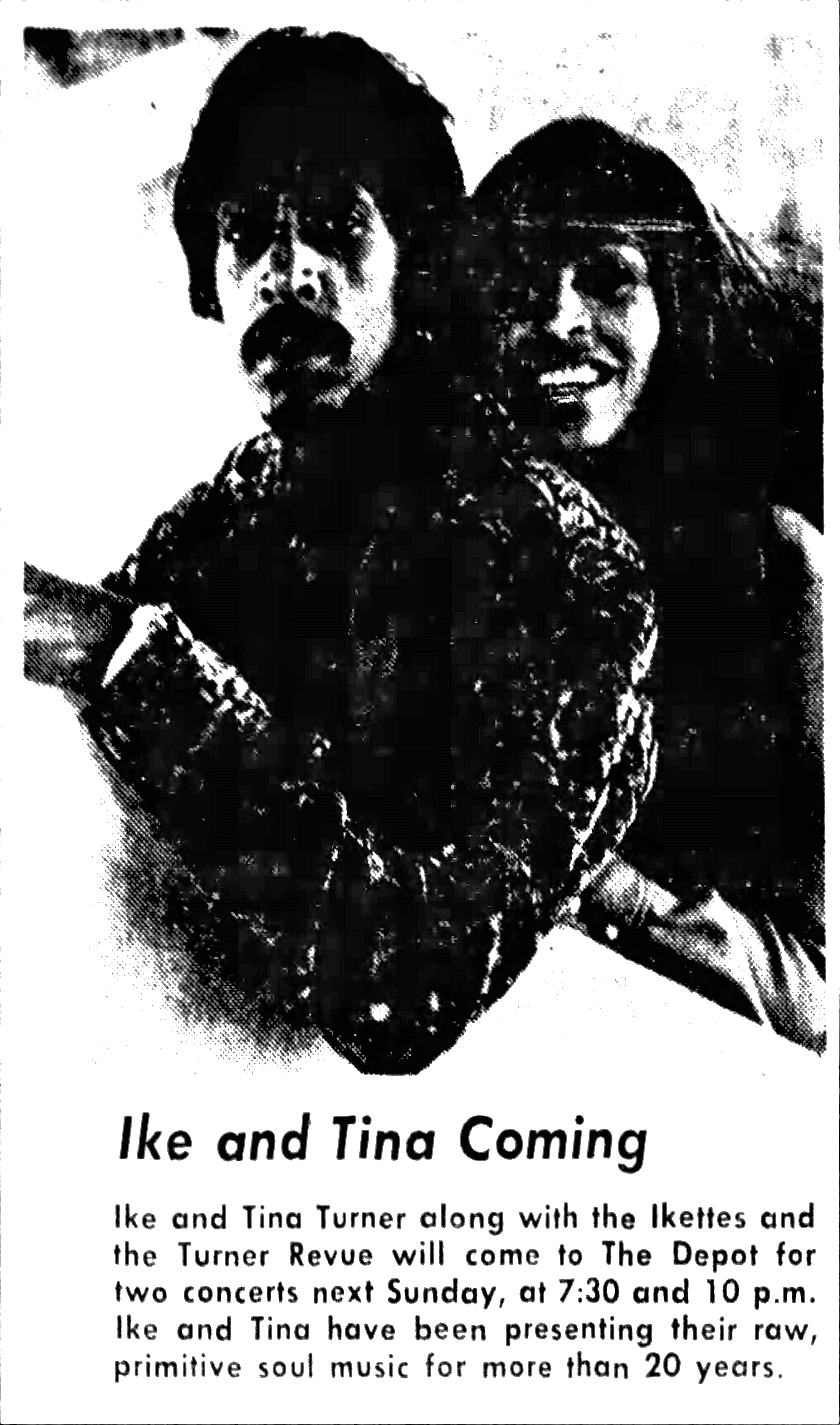 ---
March 21, 1971:  Eric Burdon and War, with plans to record for their next album live.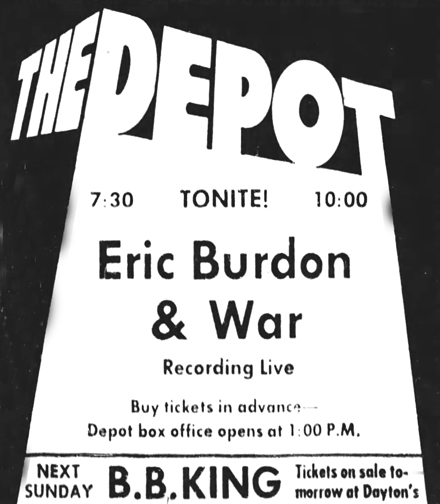 ---
March 28, 1971:  B.B. King
---
April 4, 1971:  Procol Harum, opened by Curved Air.
Robert M reports, "The Procol Harum (4 piece) show was poorly attended due to really bad weather. Everyone at first set was invited to stay for second set, which included a slightly different set list.  Robin Trower played bass on a couple of numbers."

---
April 11, 1971, James Gang (Jimmy Fox, Dale Peters, and Joe Walsh).
Peter Altman of the Star called the group's sound an "instant anachronism."  While a year ago it would have been called "good but unremarkable," "a sort of lower-case version of Led Zeppelin," by 1971 "The individual is in; the group is out."
It was easy to see that the Gang members were good players.  But their music wasn't saying anything about our world, or theirs.  It had no lyricism, little sensitivity.  It was aggressive, not reflective.  And so it did not communicate directly. …
And the youthful audience, while friendly enough, never really cared; it was not involved; it will not remember vividly.
---
April 18, 1971:  Canned Heat and John Lee Hooker

Reviewer Jim Gillespie's headline gives away his impression:  "Too Much Canned Heat."  John Lee Hooker opened the show with a short set on electric guitar, with songs such as "It Serves Me Right to Suffer" and a short version of "Boogie Chillun."  Gillespie had the impression that Hooker's set was cut short to let Canned Heat take the stage.  By this time, co-founding member Alan Wilson had died, and Gillespie found the music to have a sameness that became boring.  Hooker came back to join the group for the last number, "On the Road Again," but did not stay, and Canned Heat closed the show.
Reviewer Michael Anthony agreed that Hooker's set was too short (25 minutes at the most), saying "Hooker was a little subdued for an audience that came to stomp and shout."  He also mourned the passing of the group's original lead singer, Alan Wilson.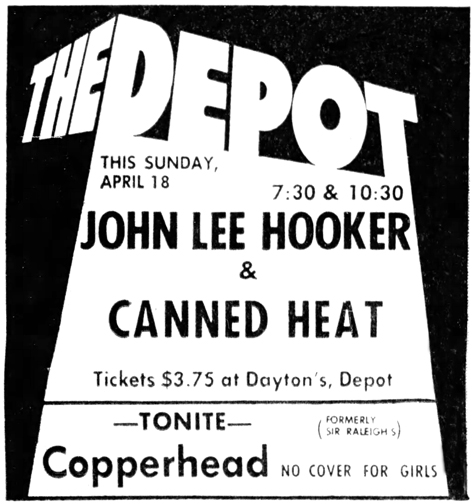 ---
April 25, 1971:  Gypsy
Gypsy was a local group that grew out of the hugely popular '60s band the Underbeats to become nationally famous.  Read the whole story of Gypsy at Minniepaulmusic.com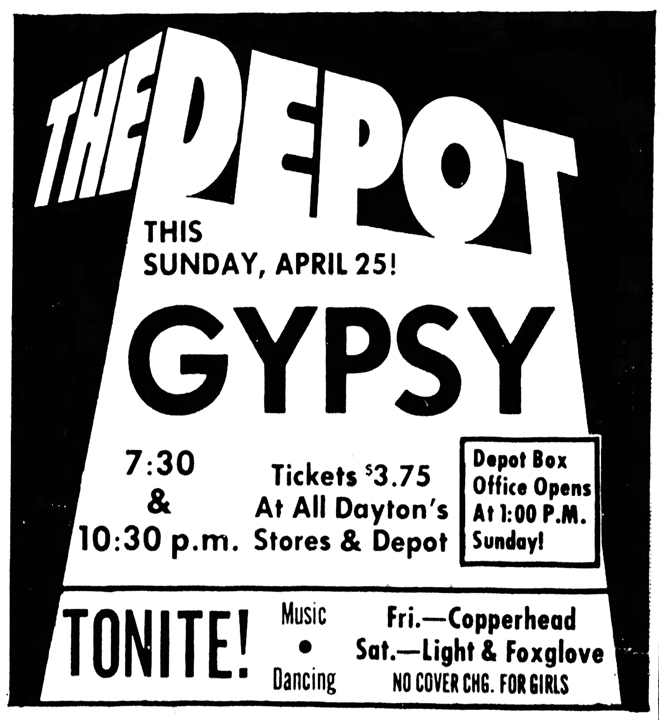 ---
May 2, 1971:  Al Kooper, opened by Fanny
---
May 9, 1971:  Iggy and the Stooges, opened by the Litter.  Little Richard was originally scheduled, but his tour was cancelled.
Jeff G says Iggy "had a hundred foot cord on his mic and things got kinda scary when he ventured out into the crowd and got right into our faces before climbing up the wall onto the second floor."

Reviewer Michael Anthony cited "interminable setting-up problems and much hand-clapping from the audience," but finally out came Iggy:  "topless, frosted hair, lips painted, sequined, greased body."  Here's more of Michael's review:
Iggy's act makes Mick Jagger look like Rudy Vallee.  He minces, prances, crawls on the floor, and turns his long pouting lips to the audience.  He works mainly in the audience, falling, shoving, jumping on the back bar and up onto the balcony and occasionally singing.  Looking from the balcony, with Iggy below, the people mobbed around him, clapping, it looked like Friday night in Haiti.  Forty-five minutes after they began, the other Stooges, mightily bored, walked off the stage and Iggy got up off the floor, climbed on stage and walked off.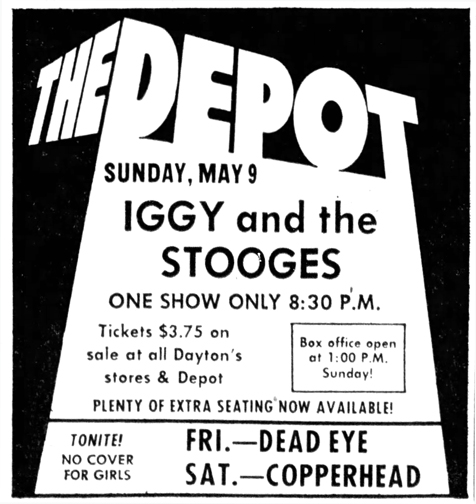 ---
May 16, 1971:  Redbone
---
May 23, 1971:  Johnny Winter, J. Geils Band
Marshall Fine noted that this was Winter's fifth appearance in the Twin Cities, but that the group was getting "too obvious."
Winter used to project a stage image of a white ghost, dancing some secret ballet with his guitar.  There were high points and low points, climaxes and crescendos.  He built his songs and then methodically, carefully took them apart.
His present band simply overpowers its audience.  There are no real ups and downs in the songs because they all start on far too high an energy level.  It's simply  power music, the genre that Grand Funk Railroad hass made pupular.  The difference is that Johnny Winter knows what he is doing and consequently  never becomes repetitious or dull.
The J. Geils Band was a relatively unknown group from Boston, which Fine found musically more interesting than Winter, akin to the Allman Brothers Band in their "hard-drinking approach to blues and the same smoothness and fluidity in their instrumental work."  Fine awarded kudos to the group's harmonica player, Magic Dick, who "plays the most delicious harp since Paul Butterfield."
---
The ad below appeared in the Strib on June 4, 1971.  Wine and  beer night had been extended to Thursdays, Nostalgia and Amateur Nights had been added, and cover charges were gone on Friday and Saturday nights.  (The big concerts were on Sunday nights.)

---
June 6, 1971:  Edgar Winter and his band White Trash
Reviewer Marshall Fine enjoyed Johnny Winter's brother, saying he was every bit as good, if not better, than his older, more famous sibling.  "They have the precision of BS&T, the toe-tapping rhythms of Chicago, the harmonies of Three Dog Night, plus one other distinguishing ingredient:  guts."   The set's showpiece was a long version of "Tobacco Road."  With Edgar's "wildly soaring voice, the song lost its oldness, as he gave it new dimensions and feelings."  Fine would have preferred that Winter do more of the singing, but that was left mostly up to Jerry la Croix, who Fine accused of looking, sounding, over-emotionalizing, and hamming shamelessly like David Clayton-Thomas.  The first part was not necessarily his fault.
Robert M reports that this show (no Rick Derringer or Johnny Winter) "was really, really poorly attended – like 25 [450] people at most.  They were asked to stay for second set which was exactly same as first.  No opening act."
---
In Will Jones's column of June 10, 1971, it was revealed that the low attendance at the Edgar Winter show threw the club into a financial panic.  Said Fingerhut:
We didn't take in more than two-thirds of what we needed to pay the group.  We were emptying out our safe, and even going into the cash registers to get change that we would need to open up on Monday, in order to pay them.  Then something happened that you're probably not prepared to believe.  You  know about rock groups and their reputations, and their wanting all the money before they go on and all that.  Edgar Winter's manager came to me and said he knew the club was in trouble, and he gave us back some of the money.  He said he liked the club..  He gave us enough so that we could open up Monday.  If you know this business, and the kind of people who usually run the rock bands, you know how unusual that is.
---
CANCELLED FINAL SHOWS
June 13, 1971:  Allman Brothers show was cancelled, even as it was advertised in the paper that day.  The band got wind of the club's financial trouble and demanded full advance payment before they even left New York.  Fingerhut scraped it together, but when he called the next day they said that they had already rebooked the date.
The Allman Brothers show was supposed to be supported by a group called debb johnson, made up of high school kids playing Big Band Swing.  There was no debb johnson, but the leader was Bill Barber, Jr., who played several instruments.  Barber was the son of a jazz pianist father and a jazz singer mother.  Will Jones really liked debb johnson.
---
June 15-16, 1971:  Wayne Cochran and the CC Riders
June 25, 1971:  Stan Kenton and His Orchestra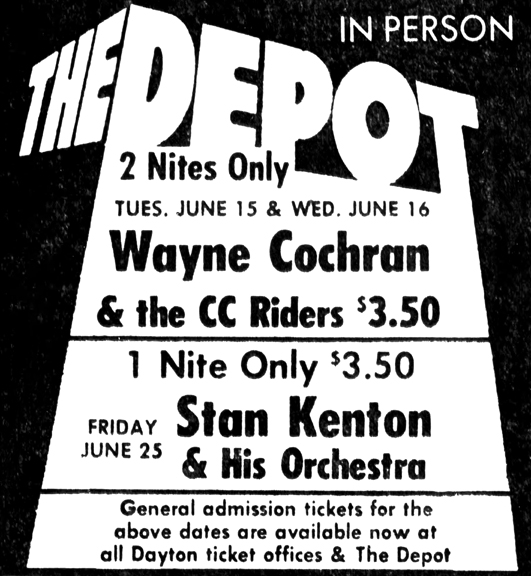 ---
THE DEPOT CLOSES
Two factors closed the Depot, after two years of steady business.  First, the cost of talent had skyrocketed, with well-known bands wanting upwards of $50,000 for a night's work.  Fingerhut could only pay $7,500 – charging $4.50 a ticket – to break even.  Although $4.50 doesn't seem like much to see a name band today, especially in a relatively intimate venue like the Depot, audiences were chafing about the prices and developing a mindset that concerts should somehow be free.  Teens didn't have a lot of money, and the 1970s – with their crushing inflation – were in full swing. It probably didn't help that the owners of the Depot were perceived to be wealthy individuals at the outset, although Fingerhut reported that he had gone through his entire $280,000 fortune and eventually had to declare bankruptcy.  In an article by Michael Anthony on May 23, 1971, Fingerhut said he's tired of being called a "capitalist pig."
Hundred Flowers was an early critic of high ticket prices.  As early as June 16, 1970, it published financial information on the first concerts, as provided by the Depot. Excerpts:
Like a lot of people, we suspected the Depot to be making a killing off our music and our people.  We asked to see their books, and here they are.  At this point, they seem to be more like benevolent patrons of the culture than vultures….
(Expenses and income for six acts, and three upcoming shows)
So that's why the tickets are priced so high.  Having the Minneapolis Fire Marshall limit the crowds to 900 doesn't help either.  Still, while many of you may be ending your personal boycott, many of us still can't afford the tickets.  When we talked to Fingerhut, the head honcho down there, he said he wasn't in it for the money but then he said he'd like to stop losing money.
The article continued with some suggestions, all of which included the word "free."  Somehow making the venue into a museum would attract "every band in the country."  Or, let the "heads" do everything with volunteers.  Hmmm.
It wasn't just the Depot that felt the squeeze.  Anthony  noted that many rock halls were either closing or changing their formats as a result of higher costs.  The Fillmores East and West had just closed, along with some other huge places like Philadelphia's Electric Factory and the Boston Tea Party.   Bill Graham, owner of the Fillmores, noted that rock stars were now corporations, "doing it for the money or to fulfill their ego needs."
Danny Stevens explained that another problem with cash flow was that national bands demanded huge deposits to hold the dates.  If the band had to cancel, which often happened, the band would return the deposit, but in the meantime the cash was unavailable for expenses.
The second reason why clubs were failing was the increasingly "unruly young audiences."  Arrests were increasing at the club  – Fingerhut said one or two a week, mostly on Mondays when the club served cheap beer and wine.  As a result, on May 11, 1971, the Minneapolis Police Department issued an edict that off-duty policemen could no longer work at the Depot.  The Depot had employed 20 such officers to check IDs.
To solve the problem, Fingerhut resolved to drop the rock-only policy and start booking acts that would appeal to an older and "straighter" crowd. He proposed acts like the Platters, Four Seasons, Pat Paulson, country western acts, or big bands.  He already had the Stan Kenton Orchestra booked for June 25, which did not come to pass.  Fingergut said, "Maybe we'll get a more appreciative audience, not my age group, but  more appreciative, anyway.  We'll have rock maybe once a month, but they'll be just the good ones."
In his column on June 10, 1971, Will Jones reported that Allan Fingerhut had put the last of his personal fortune into the club and told his staff of about 50 people that he couldn't meet the payroll.  Jones thought that was a charitable move, since Fingerhut had warned them in advance instead of stiffing them.  Then the staff voted to work for free for a week in an attempt to keep the club open.  At that point they were all hoping that the upcoming shows would come off.
On June 12, 1971, the Minneapolis Star announced that June 14 would be the last night at the Depot:  "The rock and pop music house will close its doors, and operations will be suspended indefinitely for financial reasons."  Employees had been "donating" their services for the last week.
---
LAST DANCE
June 14, 1971 was the last day at the Depot, with music by house band Big Island. Mike Anthony at the Strib said the crowd may have been even bigger than at opening night, ironic since the reason for closing was pitifully small attendance.  Fingerhut said that the Friday before there were only 150 customers.  He was stuck with $35,000 in bills and was contemplating bankruptcy.  But he still had hopes of reopening the big hall as a concert venue.
Hundred Flowers described the very last day this way:
For a year and a half the Depot crowd, a curious collection of "now" people, freaks, and in-betweeners, never really got together on anything.  But, on closing night, June 14th, all the madness of rock-inspired frenzy broke out.  On that night over a thousand people crammed into the place for the last wine and beer night.
The Depot management had not bothered to turn on the air conditioning or provide bar girls, so what developed was a chaotic human furnace.  Add to this situation the tight, low-down, weasel-ripping music of Big Island and you have something quite close to heaven.
The band slammed into two of their own tunes "Four Days Screamin'" and "Let's Get Reamed" and when the band stopped the people kept the beat going by clapping and shouting "more!"  And that's just what they got.  Everyone moving and sweating as one body to "Jailhouse Rock" or another Big Island song "Mosquito Guts Against the Wall."  About this time the house lights were turned up and everyone was asked to leave (the cops were supposedly coming), but, of course no one left.  Everyone was really ripped and all that was important was more raw face-kicking rock.  "So the joint ke'p rockin' ..  all night long."
---
The June 26 – July 11, 1971 issue of the Insider announced the closing of the Depot.  The photo below was described as "a potential patron avoiding the 'capitalist ripoff' $3.50 admission plummeted 2 1/2 stories from the roof."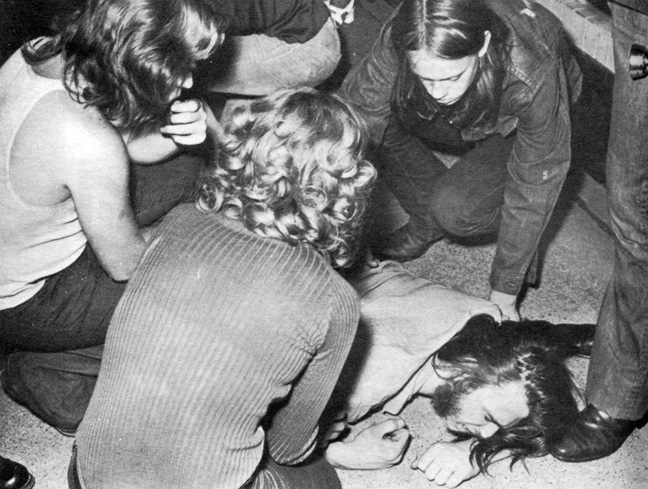 ---
UNCLE SAM'S
After being closed for over a year, the club opened again on July 1, 1972, when it was leased to the a company called American Scene, Inc. from Cincinnati, which opened another of its Uncle Sam's chain of discos. Other links of the chain were in Buffalo, Houston, Des Moines, Lincoln, Cincinnati, Dallas, Davenport, Boston, Detroit, Long Island, Providence and Syracuse.  American Scene later became known as the American Events Corporation (AEC).
The Insider reported that Danny Stevens and Allen Fingerhut were staying on as managers for the Ohio backers. Danny still owned the liquor license and continued as President of the corporation that owned the building.
Irv Letofsky of the Trib noted that the City Council had reversed its policy of not allowing off-duty policemen to work as bouncers, as they had done at the Depot.
Uncle Sam's was an instant hit, with over 1,000 paying patrons a night on its first Friday and Saturday (despite the fact that it seated 650).  Will Jones reported that there was originally a dress code of no blue jeans and no hats "to keep out undesirables.  They relented on the jeans, "But still no hats, because other people grab them and cause trouble."  Trib columnist Irv Letovsky reported that the club was drawing 5,000 people per week since it opened, well above break-even.
Attendance was given a boost on June 1, 1973, when the drinking age in Minnesota was lowered from 21 to 18.  On September 1, 1976, the drinking age was raised to 19, and on September 1, 1986, it was back to 21 after passage of federal law in 1984 that said states would face 10 percent reductions in federal highway funds unless they raised their age to 21.
At first Uncle Sam's was a disco in the sense that it mostly played records instead of hiring live bands.  Many times they would hire a live drummer to accompany the records.  Denny Craswell, an original member of the Castaways, South 40, and Crow, was one of those drummers, with a full-fledged "Apeman" show. Wednesdays were often live music nights.
The advent of Disco with a capital D is a matter of discussion, but I remember sitting upstairs one night in 1976 and hearing something foreign to my ears.  I did not like it.  "What the hell was that?" I asked.  Born too late, I was a child of the '70s – fortunate to be 18 when the drinking age was lowered to 18, but subject to music I found to be boring.  At least there were "famous movies and slides" for people to watch when the dancing got too dull.
And another thing.  The first time I went to Uncle Sam's (1975) there was a wet T-shirt contest.  Girls got up on stage in special T-shirts (probably promoting a radio station) and their underwear.  Some guy poured a pitcher of water on each.  Applause for each, some were eliminated.  Off go some of the T-shirts.  Applause, applause, still no winner.  Guys were standing on the bars and pool tables (did they have pool tables?) shouting "Beaver! Beaver!"  I did not know what that meant.  Off go some of the underwear, and presumably the prize was worth the attention.  Or vice versa.  All I know is that I was 18 and my sister should have warned me!!
---
UNCLE SAM'S RECORDS
This was probably a one-off, but there was an actual disc to go with the disco!  It was a 45 called "Young Emotion," sung by Danny's Reason's and produced by Timothy D. Kehr.
---
In 1979 AEC returned the club to Fingerhut and Stevens. In April 1980 Sundays at Uncle Sam's were opened to teens. See a video of the band Mind and Matter made at Uncle Sam's Here.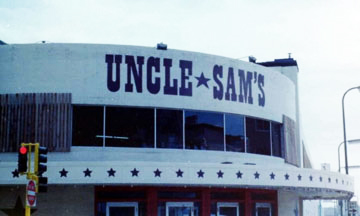 ---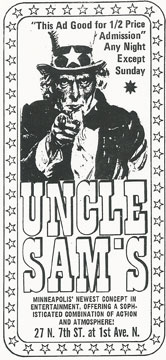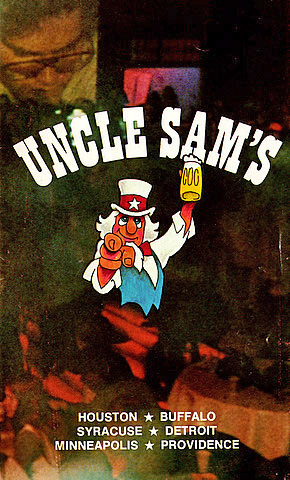 ---
FIRECRACKERS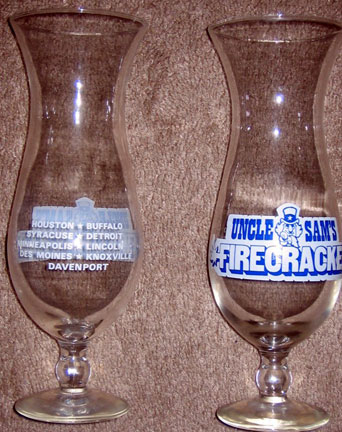 Firecrackers were the signature drink at Uncle Sam's – I was too busy dancing to drink one. The ones above are what I remember – the ones below with the  redesigned "A" must have come later.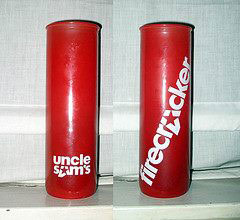 ---
SEVENTH STREET ENTRY
On March 21, 1980, club manager Steve McClellan started booking live acts in a smaller part of the building that used to be the bus station's restaurant and Uncle Sam's coat-check room – this was known as Seventh Street Entry.  The first act in the room was Curtiss A, opening for Wilma and the Wilburs.  Stevens remembers that they started to consider using the name First Avenue around this time.
---
SAM'S
By May 1980 American Events was out of the picture, and Stevens and Fingerhut rebranded the venue again to just Sam's.  The first notice of the name change I found in the Strib was on May 9, 1980, in an announcement of the return of the Ramones on the 11th.   It was at this point that the neon dance floor was removed and the entire place – inside and out – was painted black.  Prince made his first appearance here on March 9, 1981.
---
SAM'S, A DANCETERIA
By September 1981 the ads read Sam's, A Danceteria.
---
FIRST AVENUE
Finally disco died, the live music moved to the big hall, and on New Year's Eve 1981 the building was renamed First Avenue. The venue became nationally famous as the central setting for Prince's 1984 film Purple Rain, which was filmed between November 26 and December 20, 1983.  The song "Purple Rain" itself was recorded at First Avenue on August 3, 1983, during a benefit concert for the Minnesota Dance Theater, which had been providing dance lessons to the cast.   The film opened on July 27, 1984.
There's a list of First Avenue's live performers Here.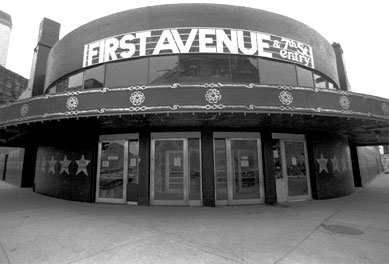 ---
THE DEPOT TAVERN
In June 2010 the historic downtown Minneapolis nightclub opened the Depot Tavern, a new bar and restaurant next door to the 7th Street Entry.  The walls are covered with photos of concerts spanning the club's 40 year history, and multiple widescreen TVs feature live video feeds from both the Mainroom and the Entry.
Save
Save
Save
Save
Save
Save
Save
Save
Save