KRSI – 950 kc
KRSI Radio was located at 4500 Excelsior Blvd. in St. Louis Park from May 16, 1958 (at 7am) to October 1972. The station was five years in construction, delayed when its two towers in Eden Prairie fell. From the start the station played "Memory Music" – "the kind of music everyone likes to hear," according to an article in the St. Louis Park High Echo from June 5, 1958:  "No long commercials, soap operas, kiddie shows, rock 'n' roll, 'top 40,' or 'over-enthusiastic' disk jockeys…  This is the radio station that puts the 'mellow' back into music."  The owner and president was William E. Schons, and the program director was Marvin Schulz.  They conducted a "Music Poll" via a coupon in the papers where people could indicate their music preferences and help the station select what it would play on the air.  "Keep your spirits high with KRSI, 950 on your radio dial, finest in hi-fi."
In May 1961 it was purchased by Red Owl Stores, Inc. which was seeking diversified subsidiaries.  J. Warren Burke was brought in as general manager to revamp the station.  The memory music format was enlarged, a jingle by Herb Pilhofer was created, and talk shows were produced.
On about September 1, 1962, the AM station expanded to 24 hours.  At the same time, "the station will be entering the background music field, supplying a separate channel of music to supermarkets, offices, plants, and other installations," reported the Minneapolis Daily Herald on August 8, 1962.  Here's the story from Jim Stokes:
KRSI originated Red Owl Stores "storecast" from their transmitter on what is called "subcarrier." You can look it up. It's complex. So they had to have an engineer on duty at the KRSI transmitter to change the store announcements that interrupted the music. The music ran a slow speed on gigantic tape reels. The music was my kind of music, actually—other than classical music. It was Percy Faith type music. So if you went into a Red Owl store to shop, there would be a voice saying something like, "Want to perk up family meals. Try some Red Owl green beans." (blah blah)
Other new features in 1962 included:
"Suburban Editorial," with editors of 12 suburban newspapers editorializing on the air throughout the week
"Suburban Bulletin Board"
"Business Briefs"
Sports features
A two-hour show featuring audience calls discussing some controversial or current issue
Play-by-play sportscasts
In January 1965 it was reported that staff had increased from 19 to 27 since Red Owl purchased the station in 1961.
In a 1972 article the Insider noted the leaky roof and yellowed wallpaper at the aging studio in St. Louis Park.  "In 1967 Red Owl changed the station policy from middle of the road to all request oldies to try for a high enough rating to at least make the property salable.  In 1968 Park Broadcasting [Roy H. Park] added KRSI to its list of 18 AM, FM and TV stations."
In 1967 the format went from MOR to oldies.  The request line was started in February 1968, with oldies – and not just the same old ones – being their mainstay. Every sixth song was current. This station was pretty freewheeling and one could hear Jimmy Dean in the same breath as the Supremes. In the first year they logged over a million calls to the Request Line:  920-9999.  Most of them were from me.
In ad in the June 14, 1969 TV Digest pictures Tac Hammer, Rick Easton, Anthony Gee, Jim Reed, and Don Shore. They look really young. Hammer and Reed had come over from KDWB in 1968.  In July 1969 the two were doing an "underground" show. Also in 1969 they issued a two-record compilation of oldies called the "KRSI Request Album."   The photo below is from the album. (Thanks to David Hersk!)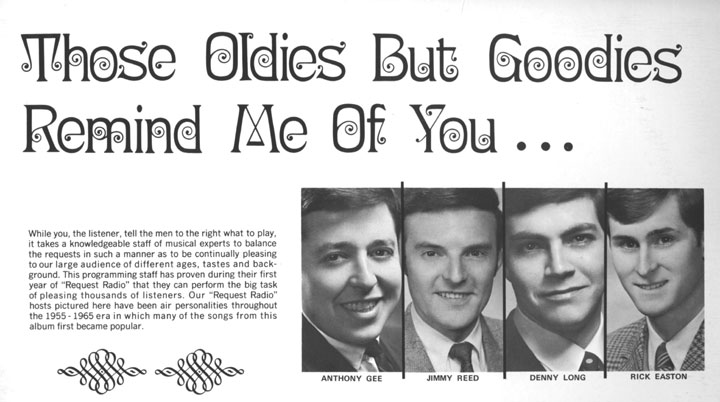 In January 1971 the station started to gradually move away from the oldies and gradually more toward album cuts. In March 1973 the station became the first affiliate of Drake-Chenault's automated "Great American Country" format and the studio moved out to Eden Prairie.
Jeff Lonto:  "AM station (950) was KRSI from the time they went on the air until January 1986. In their last year on the air they brought back Request Radio after a long secession of format changes.  The ratings started to go up and so ownership and management had the bright idea of pulling the plug on the whole thing, changing the calls to KJJO-AM, and simulcasting FM sister station KJJO-FM (104.1). KRSI personalities in their second Request Radio stint from 1985-86 included Don Thompson, Jerry Anderson, Mike Records Ryan, Ray Walby and Bill Hutchinson."  The AM station was never called KFMX.
"FM station (104.1) was KRSI-FM from 1962 or so until 1974. It was KFMX from 1974 to 1980, KRSI-FM again from 1980-1981 and then KJJO-FM from 1981 until the mid-90s.  After that they've changed calls as often as formats and that's pretty frequent."  During the KFMX days, one of the frequent sponsors was the Leaning Post.
For airchecks and photos, a great site is http://twincitiesradioairchecks.com/krsiandkfmx.html
---
KRSI-FM (104.1) went on the air for the first time on about September 1, 1962. It was to be "a program format, redily identifiable concentrating on jazz, according to Burke.  The programming would be "segmentized," appealing to the "sophisticated audiophile with no verbal interpretation heard during the program  "We will be one of the few FM stations in the country doing all music programming in stereophonic sound."  The FM station would also offer comedy albums, folk music, and spoken word segments. (Minneapolis Daily Herald, August 8, 1962)
Save
Save